Last Updated on
Trekaroo generates revenue from purchases made through links to our partner brands.
There's a lot to see in San Francisco, there's no doubt. But, should you decide to venture outside the City by the Bay, here are some of the best family-friendly day trips from San Francisco and the approximate driving time for reaching them.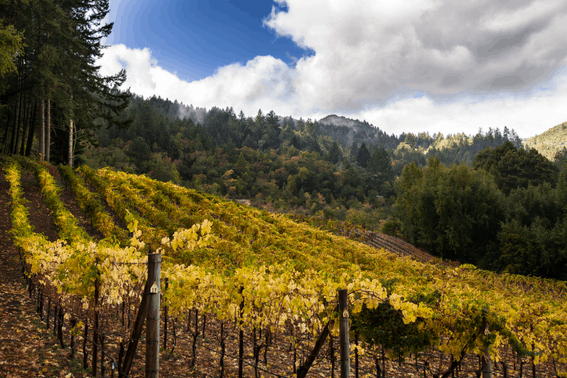 Photo By Big Stock/KarenWibbs
Look for current hotel deals in San Francisco
Day Trips From San Francisco
Muir Woods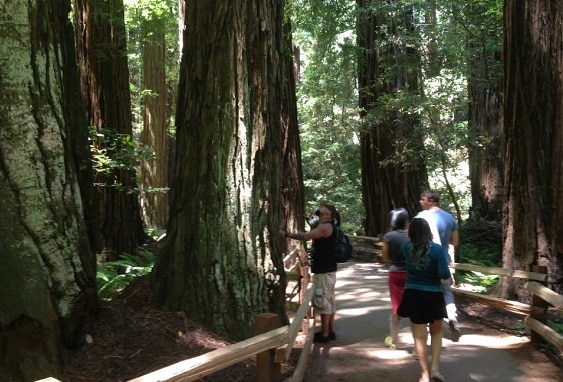 Photo by Krisitne Dworkin 
Nothing will show you how tiny your place in the world really is like walking in a forest of trees standing more than 250 feet tall! This is why Muir Woods is often described more like a pilgrimage than an excursion. This majestic collection of redwood trees ranges in age from 400 to nearly 1,000 years old. Douglas fir, maples, tan oaks, and red alders sprout up in the sprays of light that squeeze in between the redwoods' huge trunks and wildlife like owls, deer, chipmunks, and woodpeckers play and live among their branches and roots. Flat, easy trails loop through the park and several of them include ways to cross Redwood Creek, which flows all year-long. Feel the sacredness of the aptly named Cathedral Grove where many visitors can be seen lovingly running a hand over the massive tree trunks or standing at their large roots looking up into their heights as if they were acknowledging a visitation by one of nature's miracles.
Driving Time: Just a hop across the Golden Gate Bridge, Muir Woods is a 43-minute drive from San Francisco.
Read what other Trekaroo families have to say about visiting Muir Woods.
Point Reyes National Seashore / Stinson Beach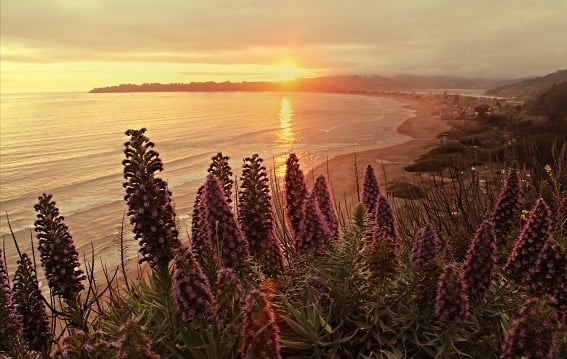 Photo by Flickr/Mark Gunn 
Point Reyes National Seashore is made up of more than 70,000 acres designated for the purpose of simply getting outside. The area boasts more than 70 miles of hiking and horseback riding trails as well as numerous hike-in campgrounds. Wild coastal beaches and headlands, estuaries, and uplands make up the peninsula of this preserve. Hike down to the historic Point Reyes Light House; it's a great place for watching the gray whale migration and observing raptors and shorebirds, among other animals. There are opportunities for learning more about the San Andreas Fault and 16th-century maritime history. You can even set off on your own searches for oyster shells and sand dollars. Just a short drive away, Stinson Beach offers three miles of white sand beach on the edge of the bay that are popular with windsurfers, rafters, surfers, and body boarders. Book some lessons and learn how to catch a wave of your own.
Driving Time: All of this natural wonder is just a one-hour drive north from San Francisco.
Check for hotel availability in San Francisco
Sausalito/ Tiburon/ Angel Island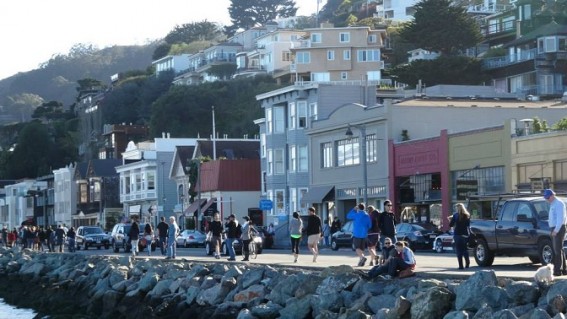 Photo by Kristine Dworkin
Get a different perspective of San Francisco's cityscape by visiting the quaint little village of Sausalito. Located just across the bay, you'll get a great view of that famous skyline from the Sausalito side. Check out the Bay Model, a working hydraulic scale model of the San Francisco Bay and Sacramento-San Joaquin River Delta System. Families with young ones enjoy the Bay Area Discovery Museum for its exhibits, play areas, and activities. The picturesque town of Tiburon is just down the road. Here you can catch the Angel Island Ferry to Angel Island State Park. Stop by the Immigration Station to learn about the experiences of many immigrants who came through the park after crossing the Pacific Ocean, as well as a darker chapter in American history when the island served as a detention center housing Japanese Americans after the Pearl Harbor attack.
Travel Time: If you plan to drive, be aware that Bay Area traffic can be a challenge. Luckily these spots are accessible by ferry boat. The travel time hovers around 40 minutes, but you will ride with an ocean breeze and scenic wonders to enjoy rather than fighting traffic and repeatedly yelling at the kids to stop kicking your seat as you hunt for an elusive parking space.
Find out what else Sausalito has to offer families.
Napa Valley
                                                                                        Photo by Kristine Dworkin 
Fine wine and culinary arts may be the first things that come to mind when folks think about the Napa Valley but don't be fooled, there are family-friendly attractions in this bucolic area as well! Take the kids love to see the Old Faithful Geyser erupt; conduct a geological study in the Petrified Forest, and get a look at Napa's rural heritage at the Bale Grist Mill, a restored water-powered grist mill. Gather your little lords and ladies for a visit to Castello di Amorosa, an authentically-styled 13th century Tuscan castle winery complete with a moat, drawbridge, high defensive ramparts, courtyards, a deep well (like the kind Lassie might save kids from), an apartment for the Nobles, a colorful Great Hall, as well as a prison and torture chamber. Like this one, there are about 78 other Napa Valley wineries offering family-friendly features on their tours that include grape juice and coloring books for the kids
NOTE: Due to recent fires, some areas of Napa County have not yet reopened. Please contact the places you plan to visit to make sure they are ready for visitors. But for sure, both Napa and Sonoma County need your tourism dollars, so please come visit and enjoy the beautiful area.
Driving Time:The Napa Valley is a 1 hour and 17 minute drive from San Francisco.
Check out family-friendly activities in the Napa Valley.
Sonoma County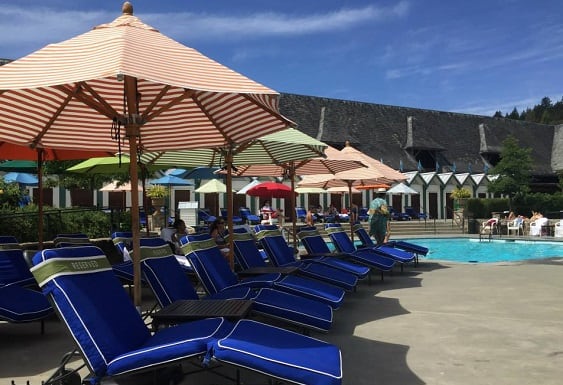 Photo by Kristine Dworkin 
A rolling patchwork of vineyards, small farms, and acres of scenic lands, Sonoma County is also often quickly connected to the wine industry. But many surprises await in this area! Should you hear the loud buzz of race cars piercing the quiet landscape, you must be near the Sonoma Raceway. Peanuts Gang creator Charles Schultz was from Sonoma County and you can visit the Schulz Museum to learn more about his life and work. Hollywood even found its way into the landscape. Alfred Hitchcock fans frequently visit Bodega Bay locations where his thriller, "The Birds" was filmed. Director Francis Ford Coppola has figured out the perfect way to draw families to the wine country – by throwing a pool party! From movie memorabilia that includes Don Corleone's desk in the Godfather to a Bocce throw down poolside, the Francis Ford Coppola Winery has something to offer every member of the family. The famous outdoor test kitchen and gardens of Sunset Magazine make up part of Cornerstone, a marketplace that brings together boutique wineries and tasting rooms, artisan foods, and art.
Driving Time: Sonoma County is a 1-hour drive north of San Francisco.
Read more about Kid-Friendly Sonoma County.
Half Moon Bay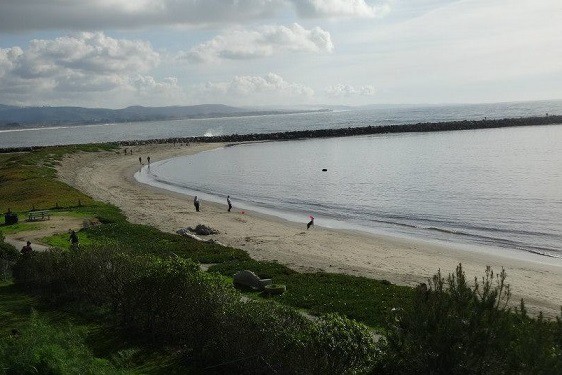 Photo by Kristine Dworkin 
Pumpkins are celebrated with an annual festival in Half Moon Bay. In fact, pumpkin patch hopping is a thing for the whole month of October. Located an hour south of San Francisco, Half Moon Bay offers a coastal lifestyle that is lived outdoors. Camping, surfing, horseback riding, and cycling are as much a part of the landscape as the ocean. The legendary surfing spot Mavericks sits just outside of the city limits near unincorporated Pillar Point Harbor. Look for clams, starfish, crabs, and other small creatures in the tide pools at the Fitzgerald Marine Preserve, just don't take them with you. This is a no-take protected marine area. Load up on farm fresh vegetables at one of the roadside farm stands, stroll one of the area's pristine beaches, or soak in the breathtaking scenery from the Coastside trail, a paved six-mile pathway with all sorts of natural delights to reveal whether visitors travel it by foot or by wheel.
Driving Time: Half Moon Bay is an hour south of San Francisco.
Learn more about the area in Five Family-Friendly Things to do in Half Moon Bay.
Santa Cruz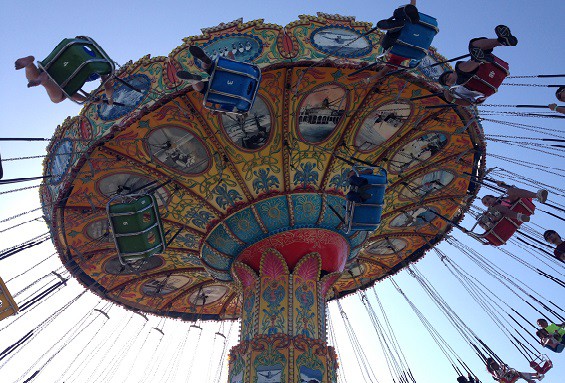 Photo by Kristine Dworkin
Creative, environmentally conscious, and filled with family fun, Santa Cruz has a thriving surf culture, ample space designated for beach volleyball and sandcastle building, and an amusement park just steps from the ocean waves. Ride the Giant Dipper, the classic wooden rollercoaster, and the antique Looff Carousel. Sample a variety of food on a stick at the Santa Cruz Beach Boardwalk. Get up to Mount Hermon and enjoy a two-hour zipline and ecology tour 150 feet above the ground with Redwood Canopy Tours. Catch the seasonal migration of monarch butterflies at Natural Bridges State Beach, a great spot to also see shore birds, migrating whales, seals, and otters. Cap the day at Santa Cruz Harbor, a great place to catch the sunset with an explosion of orange and yellow hues over the Monterey Bay.
Driving Time: Santa Cruz is roughly a 90-minute drive from San Francisco.
Read more about the area: Top 10 Things for Families in Santa Cruz
Berkeley/ Oakland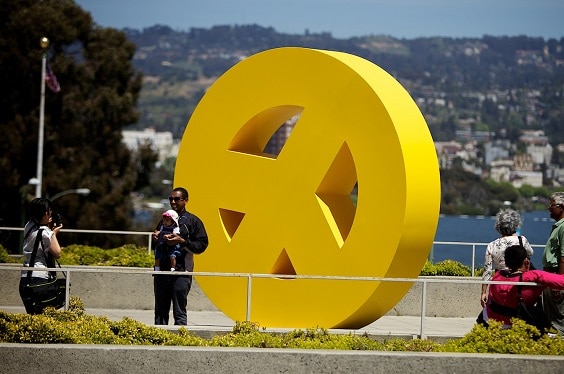 Photo courtesy of OMCA
Home to the University of California Berkeley, the city of Berkeley has a long history of activism and high-caliber education. The Lawrence Hall of Science has been offering hands on experiences in math and science for more than more than 45 years. If your crew likes getting dirty, then you'll want to check out the Adventure Playground. Adjacent to the Berkeley Marina, it is a playground built by other kids. If your kids are handy with a saw, hammer, or paint brush, they are welcome to add onto or alter what it is already there. Not far from this attraction, in nearby Richmond, Playland-Not-At-The-Beach pays homage to the beachside amusement park. Head to the Chabot Space and Science Center in neighboring Oakland for kid-friendly study in the planets and space. Get a California history lesson at the Oakland Museum of California.
Travel Time:  Berkeley and Oakland are just a short 30-minute drive across the Bay Bridge. Keep in mind though that Bay Area traffic presents challenges. A great travel alternative to either city is the Bay Area Rapid Transit or as the locals call it, BART.
Read about Berkeley Sightseeing and Family Fun in Oakland .
Lead Image by Shutterstock
SaveSaveSaveSave