There's a lot to see in San Francisco, there is plenty more to explore just beyond the city's borders. Venture beyond the City by the Bay, with these nine family-friendly day trips from San Francisco. From redwoods to beaches to wine country, there is plenty of diverse fun waiting for your family.
Thinking about heading to San Francisco? Here are the ten best things to do in San Francisco with kids.
Day Trips From San Francisco in Marin County
1. Visit Muir Woods National Monument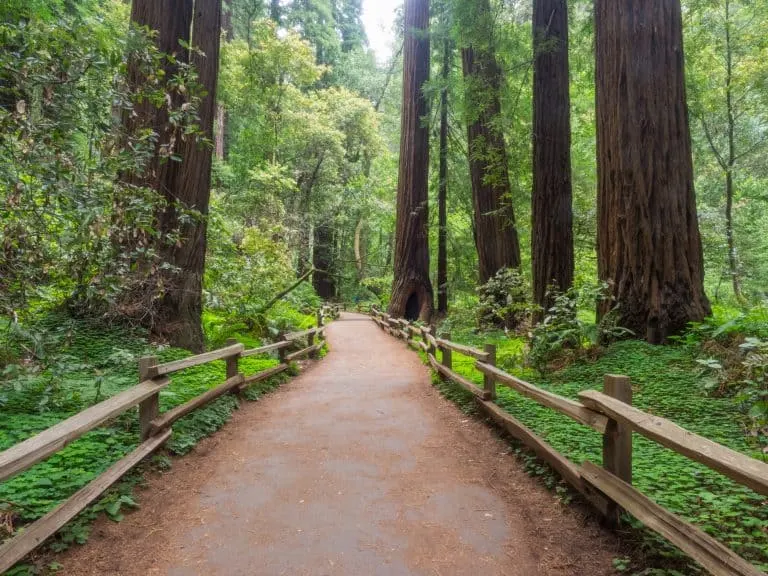 Nothing will illustrate how tiny your place in the world is like walking in a forest of redwood trees standing more than 250 feet tall! This is why Muir Woods National Monument is often described as a pilgrimage rather than an excursion.
The trees in this majestic redwood forest range in age from 400 to nearly 1,000 years old. Douglas fir, maples, tan oaks, and red alders sprout up in the sprays of light that squeeze in between the redwoods' huge trunks.
Wildlife like owls, deer, chipmunks, and woodpeckers play and live among their branches and roots. Flat, easy trails loop through the park and several of them include ways to cross Redwood Creek, which flows year-round.
Feel the sacredness of the aptly named Cathedral Grove where many visitors can be seen lovingly running a hand over the massive tree trunks or standing at their large roots looking up into their heights as if they were acknowledging a visitation by one of nature's miracles.
Driving Time: While Muir Woods is just a hop across the Golden Gate Bridge, reservations are required to visit. Visitors are also shuttled in from a designated parking area.
2. Uncover the Secrets of the Marin Headlands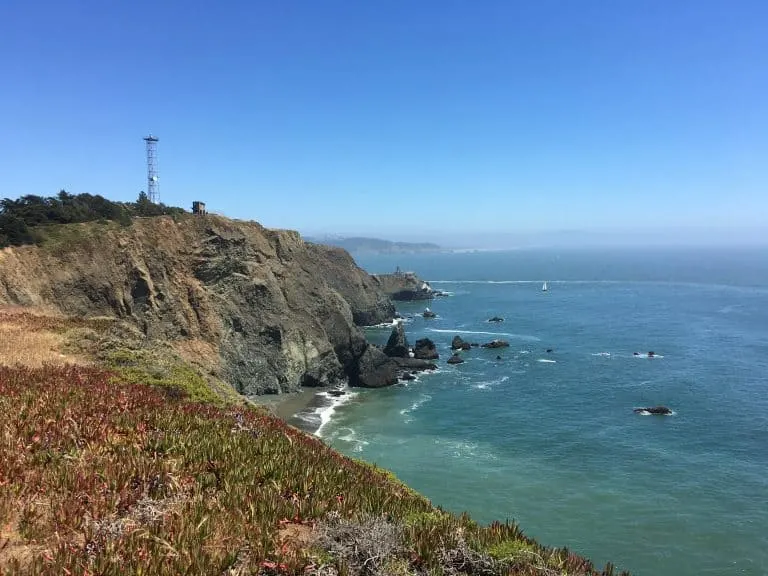 At first blush there doesn't appear much out in the Marin Headlands. For this day trip, you'll need to pack a lunch and lots of snacks and drinks. While the headlands are located minutes from downtown San Francisco there are no easy food options in the area.
The rolling peninsula of breathtaking landscape reveals a variety of natural habitats and unique geology as well as a cultural history ranging from the Miwok Indians to the American military.
Hike on a variety of trails, including dog-friendly Rodeo Beach. Explore the remnants of various military installations like Fort Baker, Battery Mendell and Fort Khronkite. Take in views of the Pacific and San Francisco. The explosion of wildflowers in the spring and hawk migration in the fall fill the Headlands with year-round excitement.
Kids will find the Nike Missile Site fascinating. The only fully restored Nike missile site in the country, it is an enduring reminder of the Cold War.
The beautiful Point Bonita Lighthouse is not to be missed. Built in 1855, it was the third lighthouse built on the West Coast. It's still active today. It appears to be precariously balanced on the jagged cliff above the ocean accessible by a small footbridge.
The Marine Mammal Center is another attraction for families. Take an informative 45-minute guided tour to get insights into the work of the center to learn more about its seal and sea lion patients.
Driving Time: Located on the other side of Golden Gate Bridge, the Marin Headlands are just a 20-minute drive from downtown San Francisco.
3. Get Wild at
Point Reyes National Seashore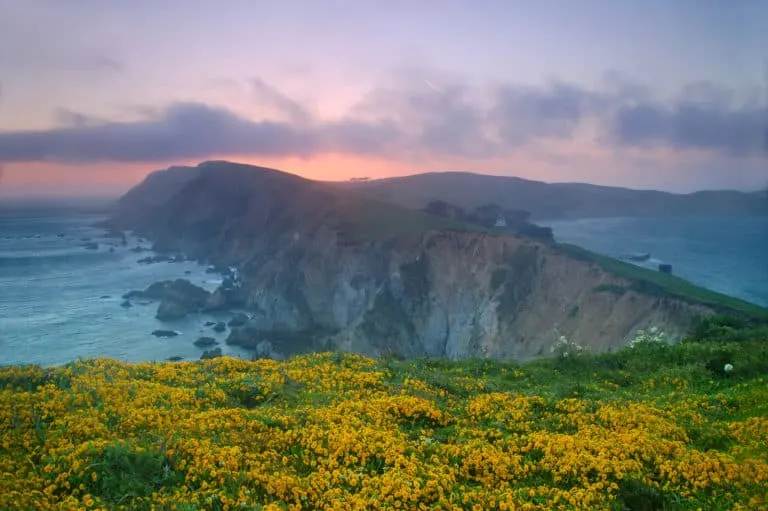 Point Reyes National Seashore consists of more than 70,000 acres designated for outdoorsy fun. The area boasts more than 70 miles of horseback riding and hiking trails as well as numerous hike-in campgrounds.
Wild coastal beaches and headlands, estuaries, and uplands make up the peninsula of this preserve. Hike down to the historic Point Reyes Light House.
It's a great place for watching the gray whale migration, spotting elephant deals, observing raptors and shorebirds, and even seeing Tule Elk grazing near Tomales Bay.
Learn more about the unique geological forces that shape Point Reyes and Northern California along the Earthquake Trailhead. Just a short drive away, Stinson Beach offers three miles of white sand beach that are popular with windsurfers, rafters, surfers, and body boarders. Book some lessons and learn how to catch a wave of your own.
Driving Time: All of this remote nature is just a one-hour drive north from San Francisco.
Check for hotel availability in San Francisco
4. Take the Ferry to

Sausalito, Tiburon, or Angel Island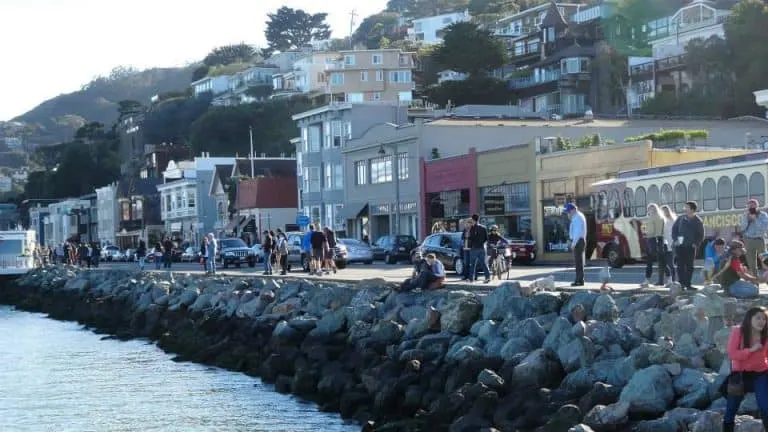 Get a different perspective of San Francisco's cityscape by visiting the quaint little village of Sausalito. Located just across the bay, you'll get a great view of that famous skyline from the Sausalito side.
Check out the Bay Model, a working hydraulic scale model of the San Francisco Bay and Sacramento-San Joaquin River Delta System. Families with young ones enjoy the Bay Area Discovery Museum for its exhibits, play areas, and activities.
The picturesque small town of Tiburon is just down the road. Here you can catch the ferry to Angel Island State Park.
Stop by the Immigration Station to learn about the many immigrants who came through the park after crossing the Pacific Ocean, as well as a darker chapter in American history when Angel Island served as a detention center housing Japanese Americans after the Pearl Harbor attack.
Travel Time: Ditch the car for this excursion! These spots are accessible by ferry boat. The travel time hovers around 40 minutes, but you will ride with an ocean breeze and scenic wonders to enjoy rather than fighting traffic and repeatedly yelling at the kids to stop kicking your seat as you hunt for an elusive parking space.
Day Trips From San Francisco in Napa Valley
5. Napa Valley Wineries Offer Tours with Family-Friendly Features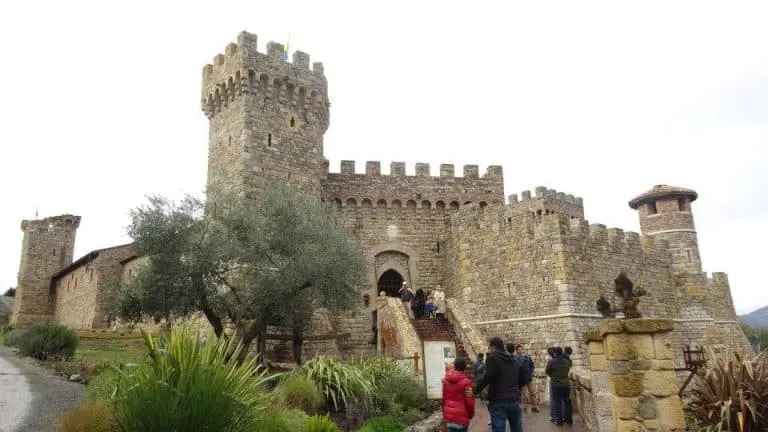 World-class wine tasting and award-winning culinary arts may be the first things that come to mind when folks think about the Napa Valley but don't be fooled, there are family-friendly attractions in this bucolic area as well!
Take the kids to see the Old Faithful Geyser erupt, conduct a geological study in the Petrified Forest, and get a look at Napa's rural heritage at the Bale Grist Mill, a restored water-powered grist mill.
Gather your little lords and ladies for a visit to Castello di Amorosa, an authentically-styled 13th century Tuscan castle winery. It features a moat, drawbridge, high defensive ramparts, courtyards, a deep well, an apartment for the Nobles, a colorful Great Hall, as well as a prison and torture chamber.
It is one of about 78 Napa Valley wineries offering family-friendly features on their tours that include grape juice and coloring books for the kids.
Driving Time: The Napa Valley is a 80-minute drive from San Francisco.
Check out our guide to kid-friendly Napa Valley.
Day Trips From San Francisco in Sonoma County
6. From Wine to NASCAR, the Adventures in

Sonoma County are Varied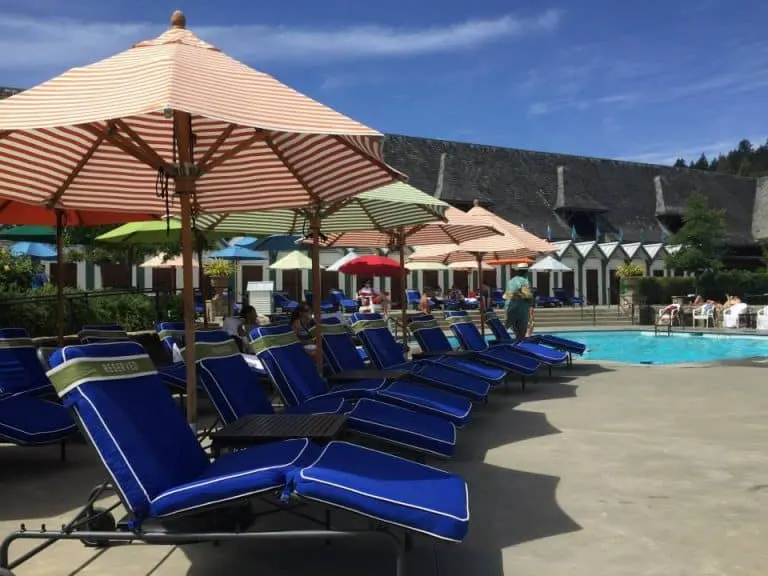 A rolling patchwork of vineyards, farms, small towns, and acres of scenic lands, Sonoma County is also often connected to the wine industry. But many surprises await in this area!
Should you hear the loud buzz of race cars piercing the quiet landscape, you must be near the Sonoma Raceway.
Peanuts Gang creator Charles Schulz called Sonoma County home. You can visit the Schulz Museum to learn more about his life and work. Hollywood even found its way into the county landscape.
Alfred Hitchcock fans frequently visit Bodega Bay locations where his thriller, "The Birds" was filmed.
Director Francis Ford Coppola has figured out the perfect way to draw families to the wine country—by throwing a pool party! From movie memorabilia that includes Don Corleone's desk in The Godfather to a Bocce throw down poolside, the Francis Ford Coppola Winery has something to offer every member of the family.
The famous outdoor test kitchen and gardens of Sunset Magazine make up part of Cornerstone, a marketplace that brings together boutique wineries and tasting rooms, artisan foods, and art.
Driving Time: Sonoma County is a 1-hour drive north of San Francisco.
Read more about Kid-Friendly Sonoma County.
Day Trips From San Francisco in Half Moon Bay
7. Celebrate Pumpkins, the Outdoor Life and a Legendary Surfing Spot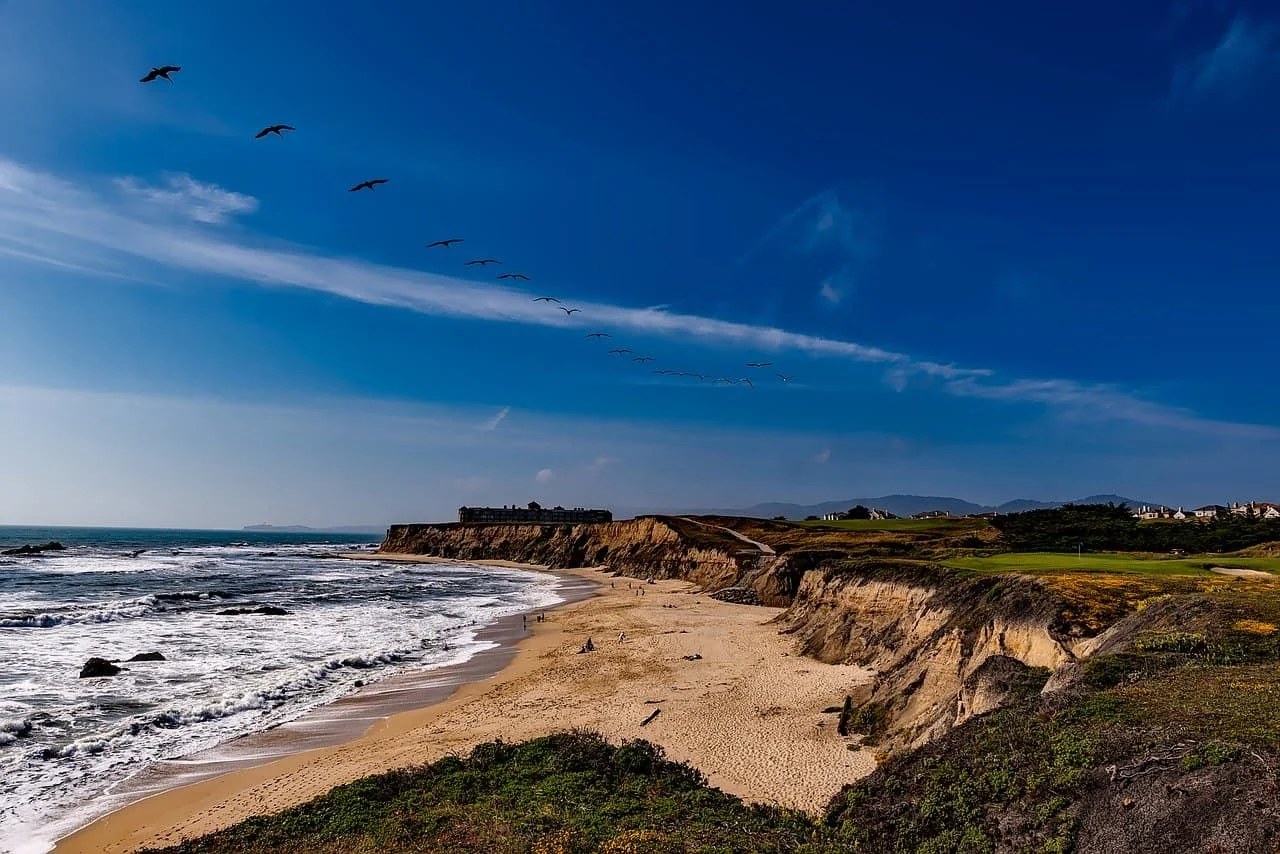 Located an hour south of San Francisco, Half Moon Bay offers a coastal lifestyle that is lived outdoors. Camping, surfing, horseback riding, and cycling are as much a part of the landscape as the ocean. The legendary surfing spot Mavericks sits just outside of the city limits near unincorporated Pillar Point Harbor.
Look for clams, starfish, crabs, and other small creatures in the tide pools at the Fitzgerald Marine Preserve, just don't take them with you. This is a no-take protected marine area.
Load up on farm fresh vegetables at one of the roadside farm stands, stroll the area's pristine beaches, or soak in the breathtaking scenery from the Coastside trail, a paved six-mile pathway with all sorts of natural delights whether visitors travel it by foot or by wheel.
Pumpkins are celebrated with an annual festival in Half Moon Bay. In fact, pumpkin patch hopping is a thing for the whole month of October.
Driving Time: Half Moon Bay is 40 minutes south of San Francisco.
Learn more about the area in Five Family-Friendly Things to do in Half Moon Bay.
Day Trips From San Francisco in Santa Cruz
8. Hit the Beach and Get Amused in

Santa Cruz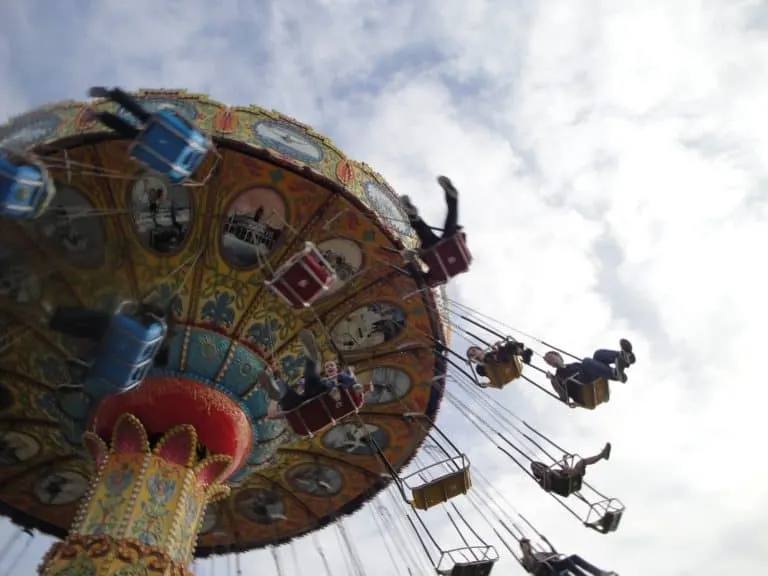 Creative, environmentally conscious, and filled with family fun, Santa Cruz has a thriving surf culture, ample space for beach volleyball and sandcastle building, and an amusement park just steps from the ocean waves.
Ride the Giant Dipper, the classic wooden roller coaster, and the antique Looff Carousel. Sample a variety of food on a stick at the Santa Cruz Beach Boardwalk.
Get up to Mount Hermon and enjoy a two-hour zipline and ecology guided tour 150 feet above the ground with Redwood Canopy Tours.
Catch the seasonal migration of monarch butterflies at Natural Bridges State Beach, a great spot to also see shore birds, migrating whales, seals, and otters.
Cap the day at Santa Cruz Harbor, a great place to catch the sunset with an explosion of orange and yellow hues over the Monterey Bay.
Driving Time: Santa Cruz is roughly a 90-minute drive from San Francisco.
Read more about the area: 10 Super Fun Things to do in Santa Cruz with Kids!
Day Trips From San Francisco in the East Bay
9. Peace Out in

Berke

ley and Oakland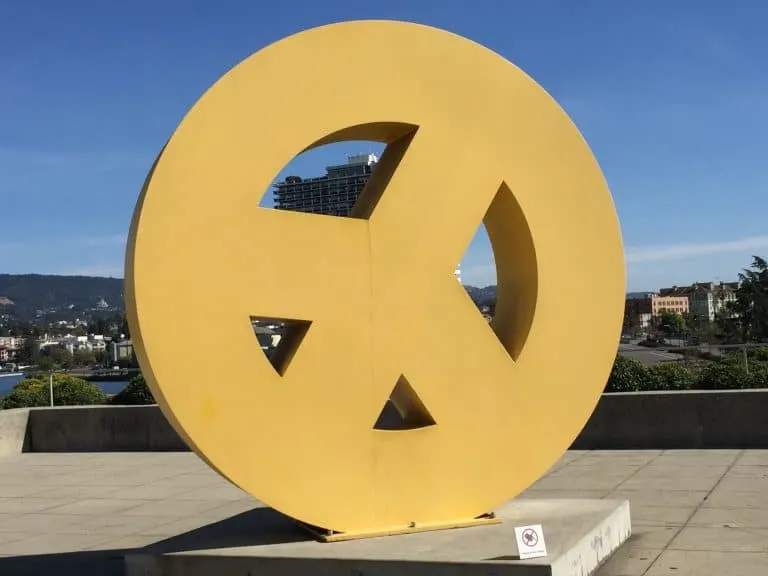 Home to the University of California Berkeley, Berkeley has a long history of activism and high-caliber education. Get hands-on experiences in math and science at the storied Lawrence Hall of Science. There are several great things to do in Berkeley.
In recent years, a popular foodie enclave has taken hold in the area. Edible Excursions offers a guided walking tour of amazing locally sourced and sustainable food served at colorful culinary landmarks in Berkeley's Gourmet Ghetto.
If your crew likes getting dirty, the Adventure Playground is the place for you! Adjacent to the Berkeley Marina, it is a playground built by kids. If your youngsters are handy with a saw, hammer, or paint brush, they're welcome to add onto or alter what it is already there.
Head to the Chabot Space and Science Center in neighboring Oakland for kid-friendly study in the planets and space. Get a comprehensive California history lesson at the Oakland Museum of California.
Travel Time: Berkeley and Oakland are just a short 30-minute drive across the Bay Bridge. Keep in mind though that Bay Area traffic presents challenges. A great travel alternative to either city is the Bay Area Rapid Transit or as the locals call it, BART.
Read about Berkeley Sightseeing and Family Fun in Oakland .
Lead Image by Shutterstock