Imagine digging into a picnic lunch with a view so expansive it feels like the world is at your feet. How about launching yourself from a swing while under the watchful eye of a goddess? These are only a couple of the ways to enjoy the best parks in San Francisco.
The city is filled with surprising green spaces, parks, and flowering gardens; some with crazy histories. From pocket parks named after early founding characters to rugged hiking trails that will feel as if you've left this urban center without getting anywhere near its city limits, San Francisco has it all.
The Best Parks in San Francisco for Families
1. Golden Gate Park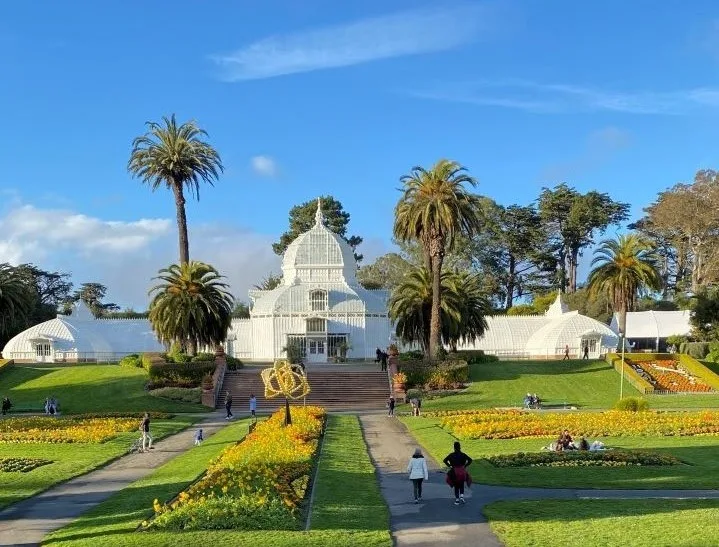 It may not be fair to the other parks on our list to highlight the most famous of San Francisco's city parks first, but 150-year-old Golden Gate Park is truly one of San Francisco's greatest assets.
This lush green gem exists because a tenacious young civil engineer transformed a bleak bunch of sand dunes into 1,017 acres of attractions that span interests and city history.
Golden Gate Park doesn't just have a playground, it has a Children's Quarter that includes a vintage carousel. Fine institutions like the de Young Museum and California Academy of Sciences attract curious and culture-loving visitors.
Explore more family-friendly fun in San Francisco. See what else made our list of The 10 Best Things To Do in San Francisco with kids!
Quirkier landmarks tell stories of the city. Hippie Hill still draws free-spirited flower children to it and the nearby Haight-Ashbury, just as it did in the '60s.
Two windmills once responsible for pumping over a million gallons of water to the city daily make for fantastic family portrait backdrops. Bison roam a park paddock as they have done since 1892.
Peaceful Stow Lake and gorgeous gardens like the San Francisco Botanical Garden, the Japanese Tea Garden, and the Conservatory of Flowers charm romantics, horticulturalists, and kids who think that flower that smells like farts is hilarious. This is just the beginning of what makes Golden Gate Park one of the best parks in San Francisco.
Explore this park further and read Trekaroo's suggestions for 10 Things to do in San Francisco's Golden Gate Park
2. Alamo Square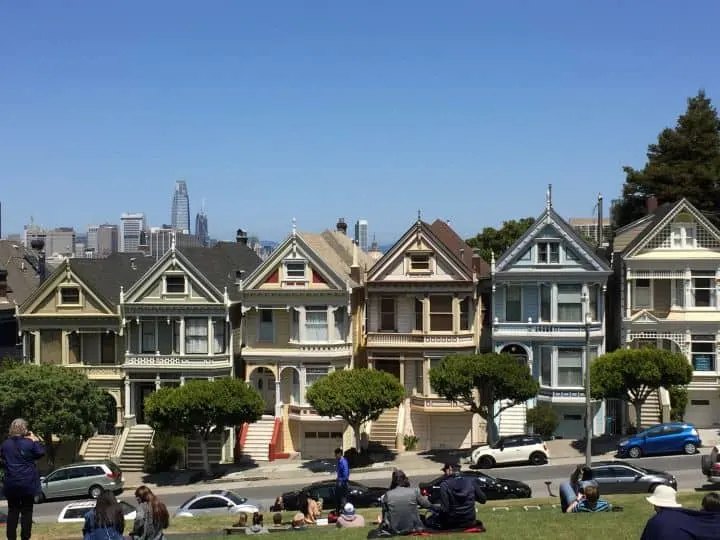 The view from 36-acre Alamo Square Park has been the subject of many San Francisco postcards. It was also featured in the opener of the popular television show Full House.
While the colorful row of Victorian and Edwardian homes affectionately referred to as the Painted Ladies is the main draw for those visiting Alamo Square, this park is also home to a great dog play area and a popular playground.
It's also a stop on Art Trail SF, a free mapped-out route taking visitors through a variety of unique neighborhoods and merchant corridors.
Discover other fun things do for free in San Francisco by reading 15 Free Things to do in San Francisco
3. Aquatic Park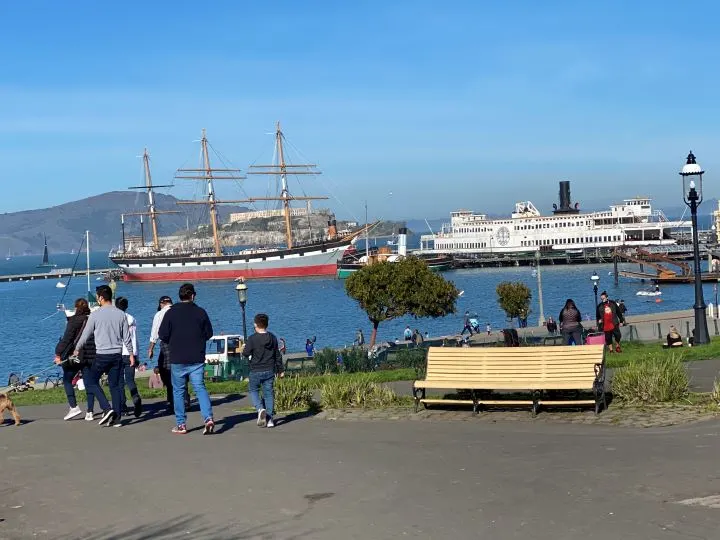 Part of the San Francisco Maritime National Historical Park, Aquatic Park is located at the quieter end of Fisherman's Wharf. It's less than a 15-minute walk from Pier 39 yet most tourists are unaware of the place.
Discover 11 amazing national parks near San Francisco.
It is one of the best parks in San Francisco for those curious about waterfront history. Aquatic Park is home to a free Maritime Museum and a waterfront path with open bay vistas that include Alcatraz.
There's a flotilla of historic ships at the nearby Hyde Street Pier and a visitors center filled with fascinating stories about the area. Swimmers are often spotted in the park's protected lagoon which has been a popular swimming spot since the 1860s.
Trekaroo Tip: If you're looking for a sweet treat, iconic Ghirardelli Square is a short one-block walk from the park!
4. Bernal Heights Park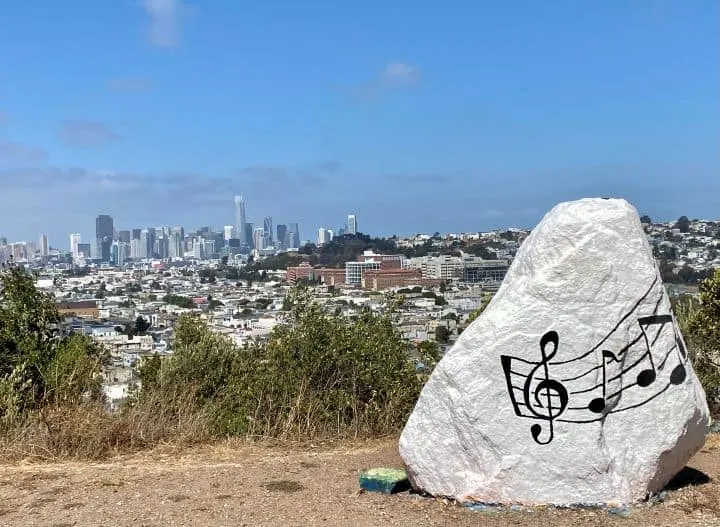 Despite its location in the middle of the city, this dog-friendly park has a very rural feel to it. Elevated above the cityscape, Bernal Heights Park is known for its hiking trails and sweeping city views.
From its highest point, visitors can enjoy panoramic views of Noe Valley, the Mission District, China Basin, and the downtown skyline as well as the Golden Gate Bridge and Marin.
Hiking trails are well maintained and easy to traverse making it one of the best parks in San Francisco for beginning hikers.
Trekaroo Tip: Don't miss Bernal Hill Rock. The theme of this colorful hand-painted rock changes from time to time. What will it be during your visit?
Book your stay in San Francisco. As an affiliate of Booking.com Trekaroo is thrilled to offer our readers the lowest rates guaranteed!
5. Crane Cove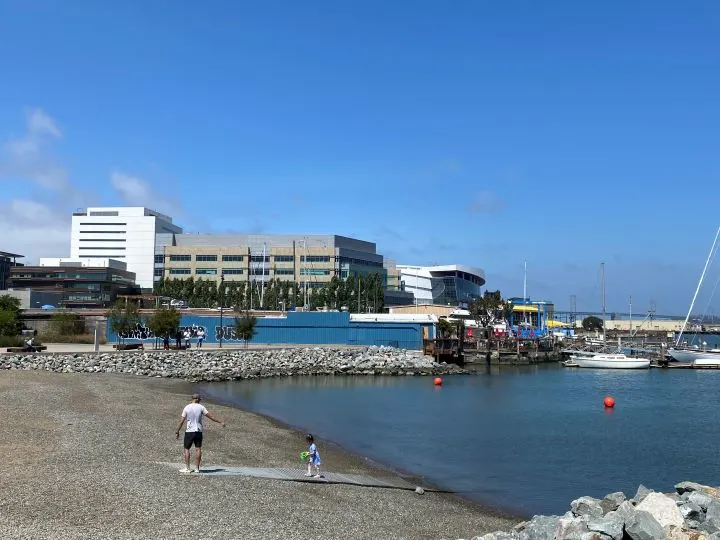 As the name suggests, there are a lot of cranes to see in this park. No, not the feathered variety, the tall rusty metal kind. This is because Crane Cove Park sits on the Port of San Francisco's Southern Waterfront.
Built with the intention to preserve the area's rich maritime history, the park offers a small beach, a green space complete with picnic tables, and pavement around the perimeter for walking, biking, and scooting.
Trekaroo Tip: Dealing with a hungry child? Nearby Third Street has a wealth of coffee shops and restaurants.
6. Ina Coolbrith Park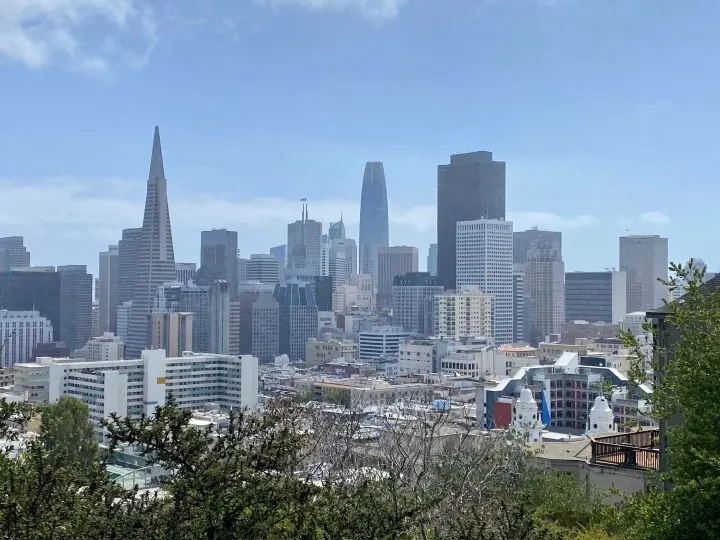 The top feature of this relatively unknown park is the stunning vista of the San Francisco city skyline. Named for a prominent figure in the early San Francisco literary scene, Ina Coolbrith Park is perched atop Russian Hill, at the base of the Vallejo Street stairs.
The park's paved zig zag inclined pathways reveal Instagram-worthy views looking over Chinatown and the Financial District. Don't miss the views of Alcatraz and Angel Island from Poets Corner. It's a nice brisk walk with plenty of places to stop, rest and take it all in.
Trekaroo Tip: Take plenty of water and snacks if you plan to visit this little park. The immediate surrounding area is mainly residential and offers few opportunities for replenishment.
7. Land's End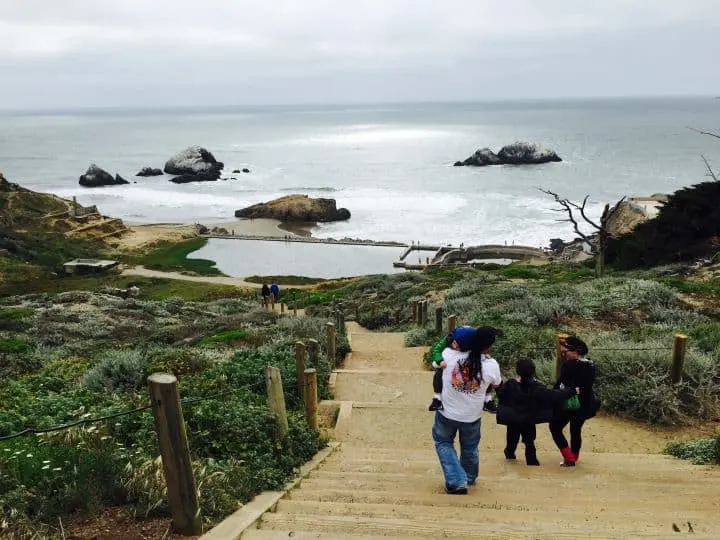 Lands End's hiking trails hug a rugged landscape that alternates between ocean vistas and views of the Golden Gate Bridge. It overlooks a corner of the bay that is strewn with shipwrecks and tales of misfortune.
The ruins of the Sutro Baths sit just below the Lands End Visitor Center and Café. Once a lavish swimming facility built in the 19th century by former San Francisco mayor Adolph Sutro, the structure was destroyed by fire in 1966. Today, it makes for an interesting look at how the ocean reclaims such things.
Other unique points of interest include Mile Rock Beach, an elaborate labyrinth walk, Fort Miley, and the USS San Francisco Memorial, a nod to a WWII cruiser that sustained 45 hits and 25 fires during the battle of Guadalcanal in 1942.
Trekaroo Tip: The West Fort Miley batteries offer a grassy picnic area among three turn-of-the-century gun emplacements.
8. Mc Laren Park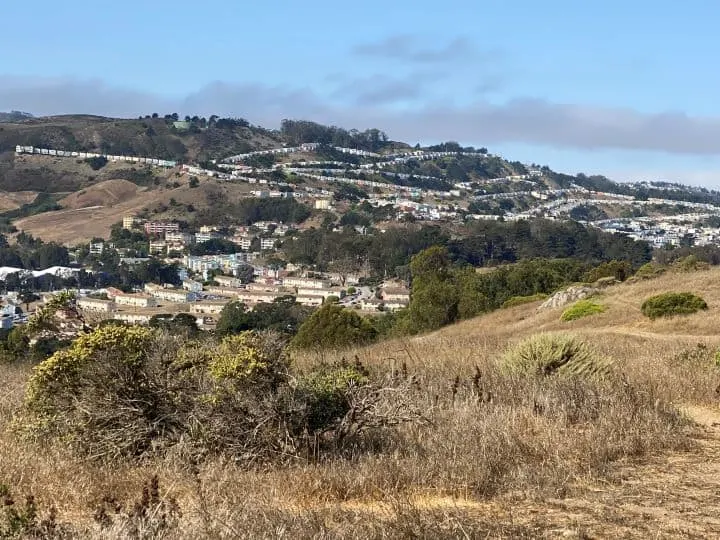 San Francisco's second-largest park offers seven miles of hiking trails spread over forests and fields. Don't miss Philosopher's Way Trail, a 2.7-mile curated hike with 14 stations featuring plaques with a bit of park history.
If all of that doesn't leave you breathless then the picnic experience in this park will. Imagine dining al fresco with San Francisco spread out before you! You will feel as if you're standing on the edge of the world.
This park is great for urban hiking, birdwatching, and spotting random coyotes. Additionally, McLaren Park has tennis courts, a golf course, play areas, and a pool!
Trekaroo Tip: McLaren Park is also home to the Jerry Garcia Amphitheater. Named in honor of the Grateful Dead founding member, the superb acoustics of this Greek-style amphitheater and the tremendous views from it makes for a magical experience.
9. Mission Dolores Park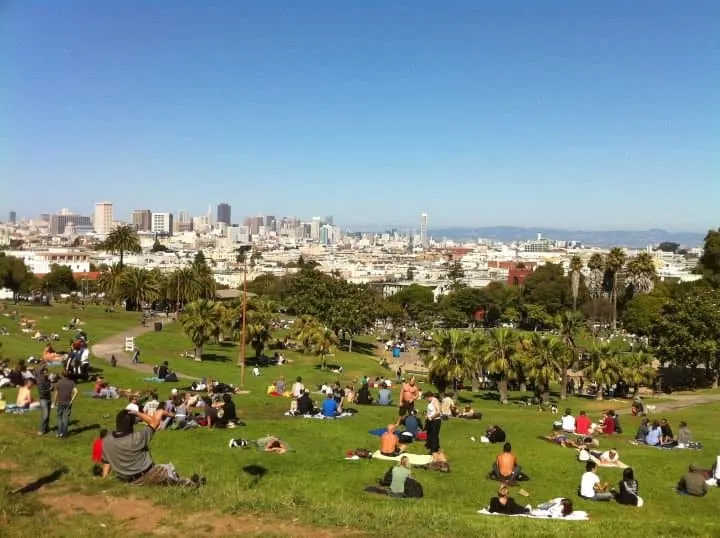 If people-watching is your thing, then this is your park!
Mission Dolores is one of the best parks in San Francisco for spotting colorful characters from the adjacent Mission District and the Castro neighborhoods. The park's grassy slopes are the locale for tanning and picnicking like you've never seen!
Mission Dolores Park is the setting for events like Easter's Hunky Jesus drag contest, free summer movie nights, and fall SF Mime Troupe performances.
Encompassing nearly 16 acres, the park includes a soccer field, six tennis courts, one basketball court, a multi-use court, a playground, and two off-leash dog play areas.
On sunny afternoons the place is consistently crowded with people who've come to picnic, lounge, walk their dogs, and enjoy spectacular views of the city's skyline and beyond.
10. Patricia's Green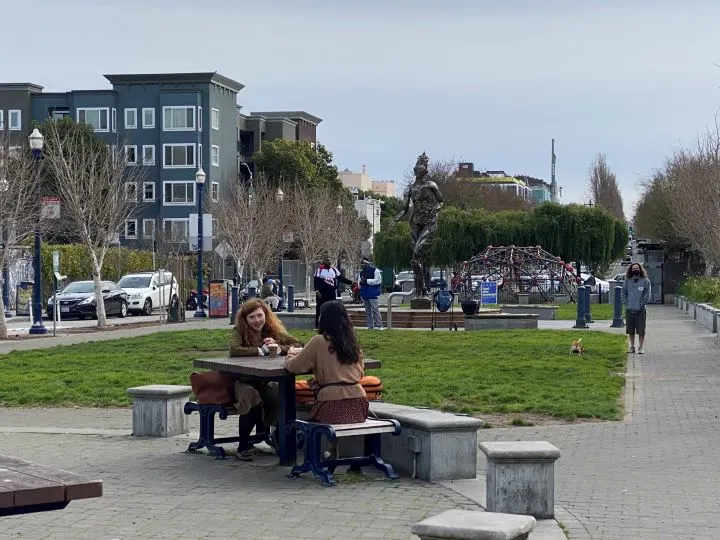 It's hard to believe that this thriving social center in the Hayes Valley neighborhood was once nothing more than a neglected parcel under the damaged Central Freeway. Its existence is due to the efforts of Patricia Walkup and her supporters who waged a fight for years to make it happen.
The damaged freeway is long gone and in its place is one of the best parks in San Francisco. It includes picnic tables, a playground, sculpture installations, and Burning Man Art.
It's also a great example of how neighborhood activism can lead to revitalization. This little park has breathed a lot of life into one of San Francisco's oldest neighborhoods!
Trekaroo Tip: Check out another quirky Hayes Valley landmark, just a five-minute walk from Patricia's Green. The Gate Guy weaves intricate masterpieces into his building's security gate in the 200 block of Page Street. How intricate you ask? Let's just say Rembrandt would be proud!
11. Pioneer Park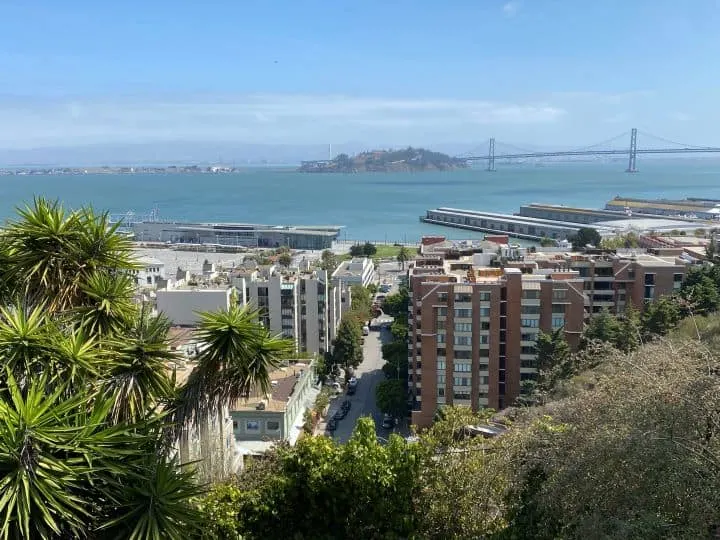 Located in the shadow of Coit Tower, almost every walkway in Pioneer Park offers sweeping views of the San Francisco Bay and a bird's eye perspective of the narrow streets and famous stairways of the Telegraph Hill neighborhood.
It's an easy, brisk walk up with plenty of benches and spots to stop and simply take in the scenery.
If you're lucky you might spot the famous wild parrots known to inhabit the area! The parrot flock began around 1990 when a pair of escaped cherry-headed conures put down roots in the neighborhood and grew their brood. Don't worry, they're harmless!
Trekaroo Tip: You'll find a free public restroom and a small kiosk-style café dispensing refreshments at the base of Coit Tower.
12. Portsmouth Square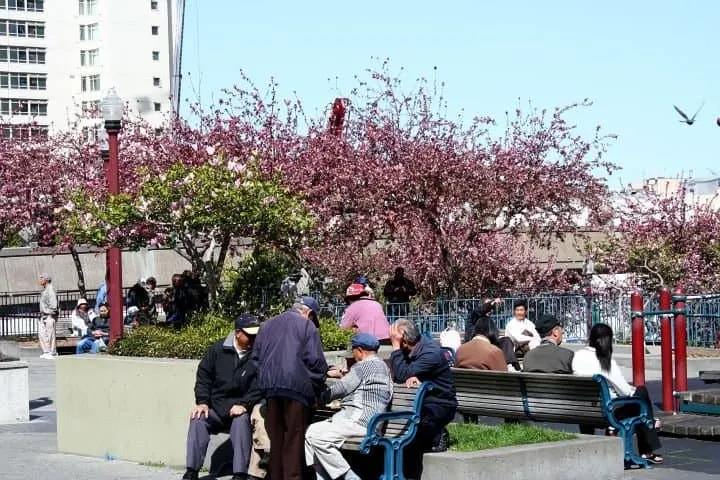 This lively park in Chinatown is a great microcosm of the neighborhood it serves.
Graced by the Goddess of Democracy, a bronze replica of the massive foam and paper mache statue created during the 1989 Tiananmen Square Protests, Tai Chi practitioners train, children release their energy in the two playgrounds and chess players strategize under the goddess' watch.
This park is a community gathering place that teems with energy from sunup to sundown. It is also affectionately referred to as the heart of Chinatown.
Trekaroo Tip: It is impossible to leave Chinatown hungry! The dining choices are endless, and the aroma of food resonates from every corner of the neighborhood. If a convenient and dependable choice is what you seek, Sam Wo's, a 100-year-old neighborhood institution, is located just across the street from the park.
13. The Presidio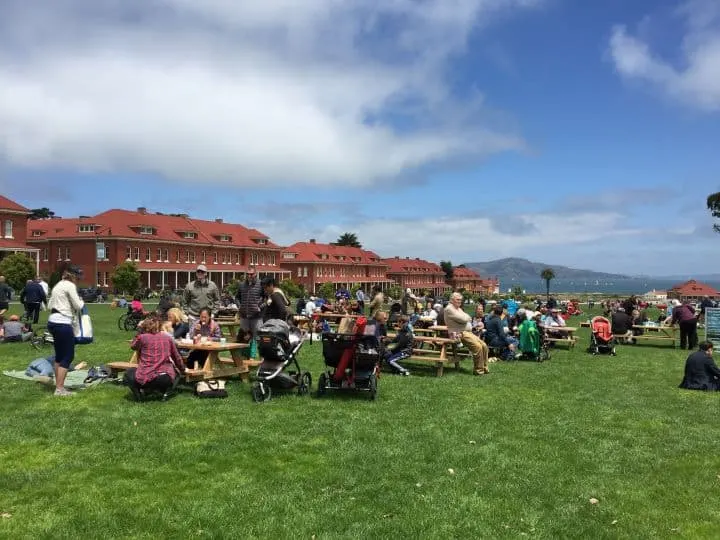 Formerly a U.S. military fort, this 1,500-acre national park site has miles of hiking trails, a golf course, opportunities for environmental education, and community events — and that's just for starters!
Within the boundaries of the Presidio you will find San Francisco's oldest neighborhood street along with its only campground. The lawn of the Main Post is a great spot for watching the shipping channel or Karl the Fog (yes, the famous San Francisco Fog has a first name) devour the Golden Gate Bridge.
It's not uncommon to see dogs chasing frisbees and kids flying kites at Crissy Field or nearby beachgoers enjoying a BBQ with iconic landmarks like Alcatraz and the bridge as a backdrop.
Other must-sees include the historic Walt Disney Family Museum and the Lucasfilm Yoda Fountain.
This is a vast park with a lot to offer. Get Trekaroo's top recommendations with 9 Great Things to do at Presidio Park of San Francisco.
14. Washington Square Park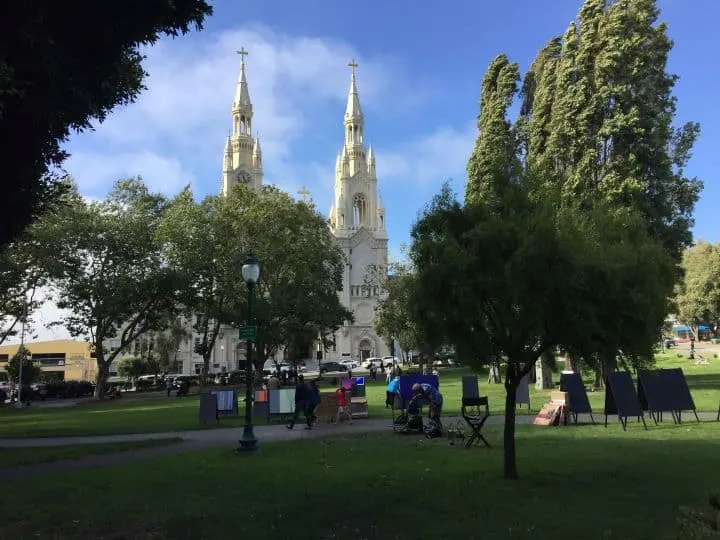 One of the earliest official parks in San Francisco (established in 1847), Washington Square Park is bordered by the North Beach neighborhood. Nearby sidewalk cafes, restaurants, and coffee houses brim with the scents of Neapolitan pizza, freshly ground espresso, and just baked focaccia.
The Square is a natural community gathering space with a history of hosting festivals, free movie nights, and other events throughout the year.
It's also a great spot to people watch. It is not uncommon to see older residents moving through a Tai Chi session while children scamper about the nearby playground. On sunny days, the lawn is filled with sun worshippers.
All of it takes place against the historic backdrop of Saint Peter and Paul's Church, the nearly century-old Roman Catholic church across the street.
Trekaroo Tip: There are numerous pizza options just a short walk from this park. We highly recommend a Margherita pizza at Tony's Pizza Napoletana or a clam and garlic pie at North Beach Pizza.
15. Sutro Heights Park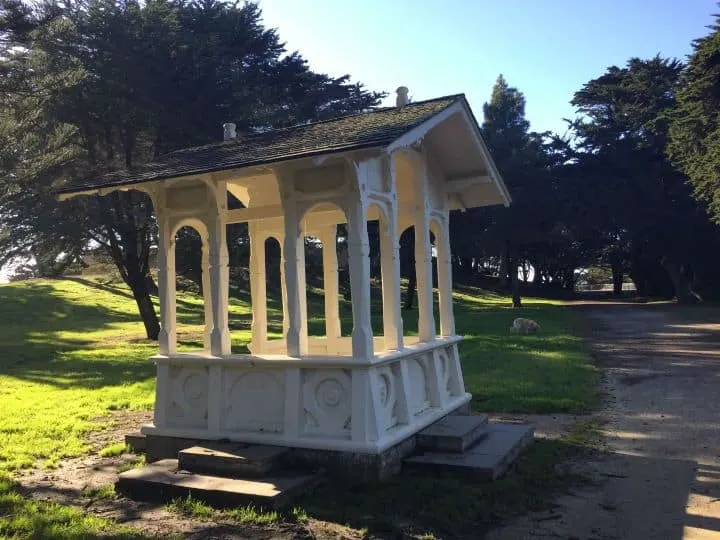 The estate of Adolph Sutro, a local entrepreneur and San Francisco's 24th mayor, once stood in what is now Sutro Heights Park.
To access it, visitors walk down the Sutro driveway which is guarded by a pair of majestic lions just as it was back in the day. While the family house may be long gone portions of the gardens still exist.
A small Victorian Well House sits on the property along with two statues, a stag, and the Goddess Diana. There used to be about 200 statues around the grounds.
Treat yourself to the best views of San Francisco's Great Highway and Ocean Beach from the remnants of the once elaborate parapet adjacent to the footprint of the Sutro home.
This peaceful place is one of the best parks in San Francisco to picnic or to simply spread out a blanket and reconnect over a book or a game.
Trekaroo Tip: Feel like doing some park hopping? Sutro Heights is just across the street from Land's End. So, you can spend time at what was once Sutro's popular bathhouse after hanging out in his garden!
16. Buena Vista Park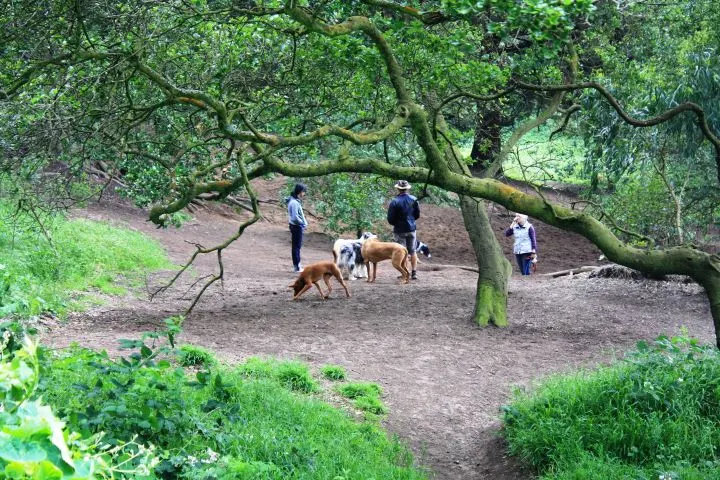 Located where the Haight-Ashbury neighborhood meets Buena Vista Heights, Buena Vista Park is the oldest park in San Francisco.
It offers amazing city views along with a sweeping perspective of the city's unusually hilly topography. This park is also home to a natural oak grove habitat as well as tennis courts, a playground, and a dog play area.
One of the oddest sights in Buena Vista Park is one you might not notice right away. Many of the gutters and retaining walls in it are constructed from hundreds of old cemetery headstones. Yep, you read that correctly! Exquisite alternating black and white marble pavers also line many of the park's trails.
No, Buena Vista Park was never a cemetery, but it offers up a strange historical reminder that San Francisco removed almost all of its cemeteries relocating the interned to the nearby town of Colma. Unclaimed headstones were recycled for building sea walls, landfills, and park gutters such as those found in Buena Vista Park.
Trekaroo Tip: Is there a Marvel Universe fan in your crew? The Pym Residence in Ant-Man is located just outside the Buena Vista Heights side of this park!
17. Yerba Buena Gardens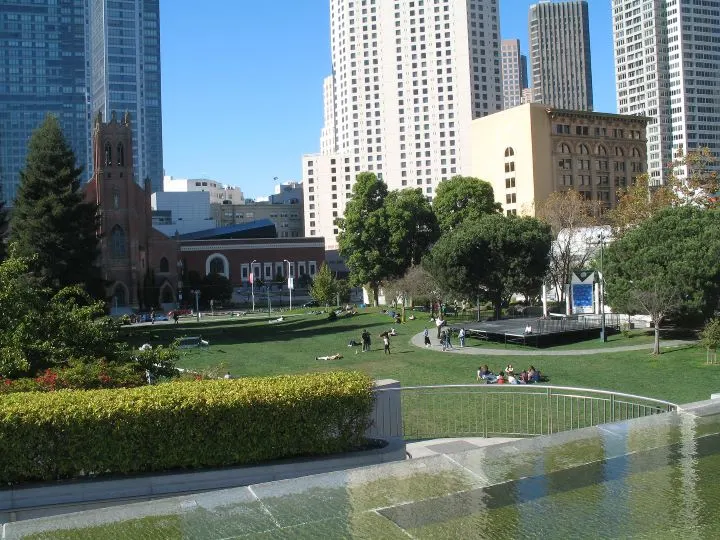 Bordered by the San Francisco Museum of Modern Art, the Contemporary Jewish Museum, and the Children's Creativity Museum, Yerba Buena Gardens is a collection of small, themed gardens that sit in a busy arts district.
The Esplanade is the perfect place to listen to a free outdoor concert. The Cho-En Butterfly Garden provides a habitat for a number of species native to San Francisco. The Reflection Garden is one of many public gardens paying tribute to the Ohlone Indians.
The Upper Terrace Garden offers views of the other gardens as well as the city they sit in. The Sister City Garden features flowering plants from San Francisco's 18 sister cities around the world. There's also the Children's Garden, an amazing space designed to engage kids in discovery, nature, and play.
One of the most poignant attractions though is the Martin Luther King Jr. Memorial. Visitors can walk under a cascading waterfall to peruse exhibits featuring the inspiring words and accomplishments of this civil rights leader and champion of equality for all.
Other attractions at Yerba Buena Gardens include a skating rink, a playground with a xylophone, and 25-foot tube slide, and a bowling center.
18. Lincoln Park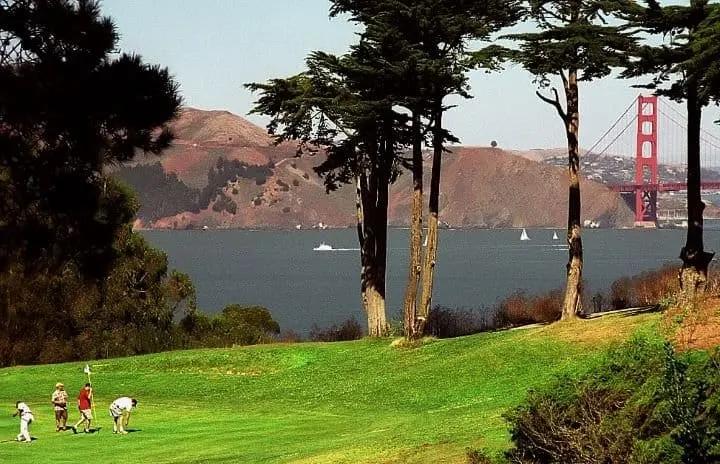 One of San Francisco's best urban hikes goes through Lincoln Park around Lands End.
It follows a partially paved coastline with glorious Golden Gate views and low-tide sightings of coastal shipwrecks. You can pick up the trailhead north of the Legion of Honor Museum or by heading up the tiled Lincoln Park Steps near 32nd Avenue.
Don't miss the haunting Holocaust Memorial! It is located in a grove of trees across from the museum and it is certain to spark a lot of conversation.
One of the park's main features is an 18-hole public golf course. There's also a nice picnic area and a good-sized playground.
19. Grandview Park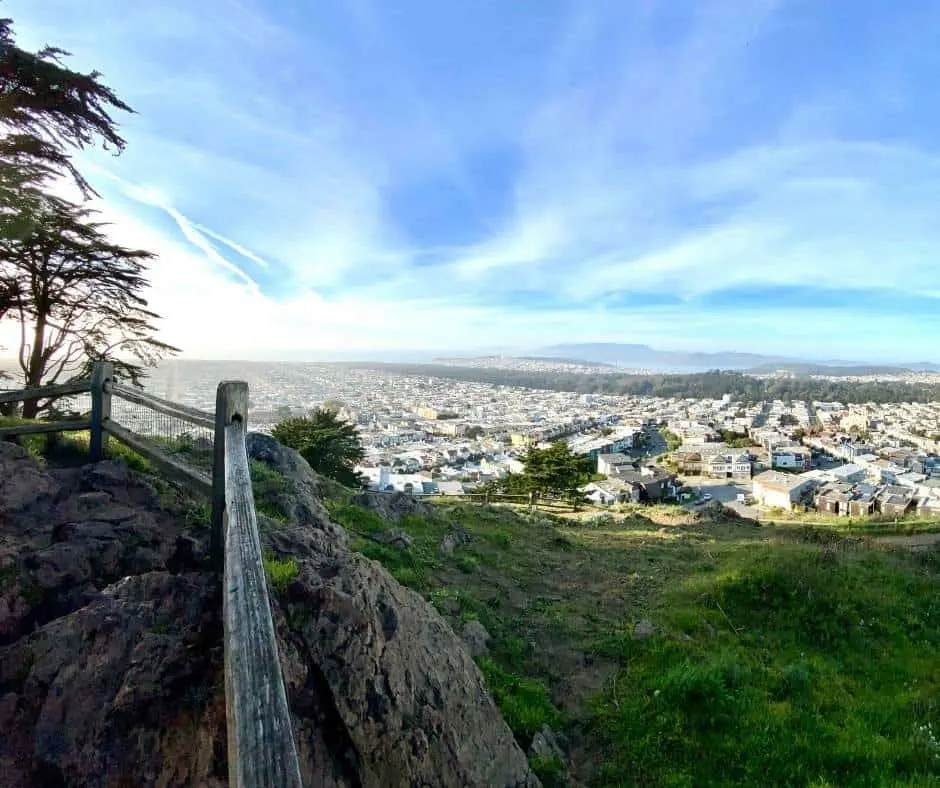 The only way to go is up if you want to get to this park. It is stamp-sized lot located high in the Sunset District and the locals refer to it as Turtle Hill.
Your most obvious reward for trekking up to this little hidden gem is a fabulous panoramic view of the city. But you are also getting a fading look at what the area used to be — a bunch of drifting sand dunes.
Grandview Park is the one of the best parks in San Francisco for getting a look at native plants. It's home to a rare dune plant community including lupin and coyote bush. It is also one of the last habitats for the endangered blue tansy and Franciscan wallflower.
Now that development has cut off the hill's source of ocean sand, the underlying chert rock is being exposed. To minimize erosion, visitors are asked to stay on the park's paths.
Leading up into the park is the Moraga Street Stairs, a whimsical mosaic-tiled staircase featuring fish, animals, and birds. More than 300 neighbors came together to sponsor and create 163 panels to apply to the step risers.
20. Fort Funston
This is one of the best parks in San Francisco for dog walkers. Located just south of Ocean Beach, Fort Funston has a hilltop dog park with a view of the Pacific Ocean.
The park features a network of trails ideal for hiking and horseback riding. Dog owners will be happy to know they can take leashes off here.
The loop trails at Fort Funston are paved and wheelchair-accessible; the trails down to the beach are not. It is not uncommon to see birds, rabbits, hawks, and other wildlife. Fort Funston is also home to a native plant nursery.
Fort Funston is former harbor defense installation, and the old military batteries make for interesting exploration and imaginative fun. Fort Funston is also one of the premier hang-gliding spots in the country. It's exhilarating to watch kites and hang gliders lift off from the cliffs in the area.
Featured image by Kristine Dworkin