-Sarah McCully is a 2012 Superoo.
One of the perks of being married to a Brit is the occasional trip to England to visit family. Due to my husband's work schedule, September is the best time for our family to go, which presents both advantages and disadvantages. The most notable are that crowds are smaller and prices may have come down a bit, but a lot of the activities are finished for the year as the children are back in school. We still found plenty to do and had a great time doing it! So here is a slightly more "insider" view of 5 things we did with our 5-year-old son on our last trip.
Royal Air Force Museum – London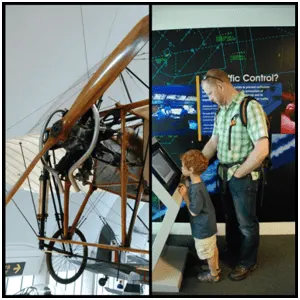 Left: An early flier – the Bleriot XI, Right: Exploring Air Traffic Control
We spent a morning at the Royal Air Force Museum in North London (Colindale). Kids who have an interest in all things aeronautic will find it especially cool! It not only houses one of the last Vulcan airplanes in existence, but over 100 aircraft from all over the world that will take you through the history of flight. Much of the collection focuses on war time planes, bombs, and a small collection of cars in the main hangar, but the museum isn't all about war. There are search and rescue aircraft, lessons about Air Traffic Control, the fastest jets in history, and exhibits about military nursing programs. Our son loved sitting in the cockpit of a few planes and pretending he was a pilot. He was able to move the ailerons on his own, which he found very exciting. The admission is free to the museum, and is offers shows, which can be seen for a price.
LEGOLAND Windsor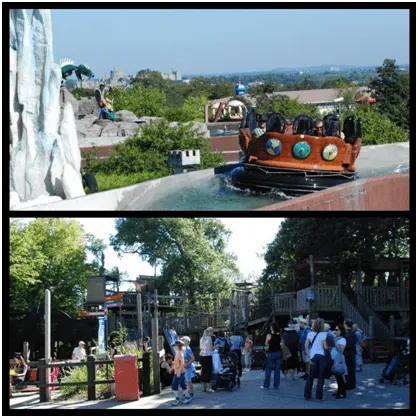 Top: Viking's River Splash with Windsor Castle in the background, Bottom: Pirate's Training Camp
One of the most amazing things for Americans as you walk into the LEGOLAND Windsor is the view of Windsor Castle in front of you. Our family has a running joke that it looks so realistic for LEGOs, and you get to see it from several vantage points in the park. Younger kids (3-8 years old) will really enjoy Legoland as they can go on the majority of the rides . The LEGOLAND website lists all of the height requirements for the kids, as they vary by ride, so you can check it ahead of time. Kids who are 36" or taller will be able to ride everything with an adult.
We were there on a glorious day, so the water rides were fun and we dried fast, which was lucky, because they were our son's favorites. Some highlights were the roller coasters, a log type water ride, the roaring rapids ride, and the 'driving school' for kids. Older kids get a city-like course, where the younger kids get their own oval race track. The new Atlantis Submarine ride was something everyone will like with real fish, sharks, and rays. You can touch cleaning shrimp in the gift shop after you exit the ride.
They have a lovely carousel and other rides that go up and down for kids who want something a little slower. Their Pirate Training Camp is a fantastic play area. Dress your kids in bright clothes so you can find them because it is huge! On hot days the water play area is really popular, so bring towels and swim suits for the little ones. One critique is the ratio between wait time and ride duration; it seems the wait times are long, even on days that aren't crowded.
Buy your tickets in advance through the website or call ahead. There are different savings deals based on how far in advance you book. The only catch is they are non-refundable and you have to go on the day you have reserved.
The Science Museum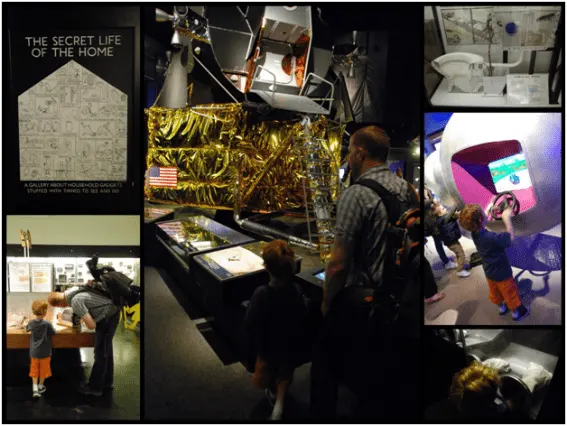 Top Right: The Secret Life o the Home, Bottom Right: Learning about locks, Middle: Exploring Space, Top Left: How the toilet works, Middle Left: Driving in reverse, Bottom Left: Working the astronaut gloves
Many of London's museums, including the Science Museum, have free admission, which is great for visitors to the city. You could spend an entire day at the Science Museum and still not see everything. There is something for absolutely everyone.
We have a kid who is crazy about flight and space. The Exploring Space exhibit at the museum helped him learn how astronauts live in space, showed him different capsules, satellites and rockets, and gave him the chance to try to work with nuts and bolts while wearing astronaut gloves.
A favorite spot for most visitors to the museum is the area called The Secret Life of the Home. Have you ever had to explain how the toilet works to your child? This covers the subject and they get to see it in action. The exhibit takes you through a history of our creature comforts at home and shows you how they work on the inside. Plus, you get a little glimpse into the English life. Check out their selection of tea maker alarm clocks from the 60s and 70s.
There is an entire exhibit dedicated to learning about DNA that tries to answer the question, Who Am I? It explains how people differ and are similar, and why we aren't a bunch of chimps. It also teaches how we are able to adapt to different situations. One of our son's favorite things in that section was trying to virtually drive a car, but the car went the opposite direction from the way you steer. It was tough!
There are 2 sections that are great for younger scientists. The Pattern Pod and The Garden allow them to experiment with science in a way the younger set understands, mainly through multi-sensory learning.
The museum has an IMAX theater, which is fee-based, featuring several movies each day.

London SEA LIFE Aquarium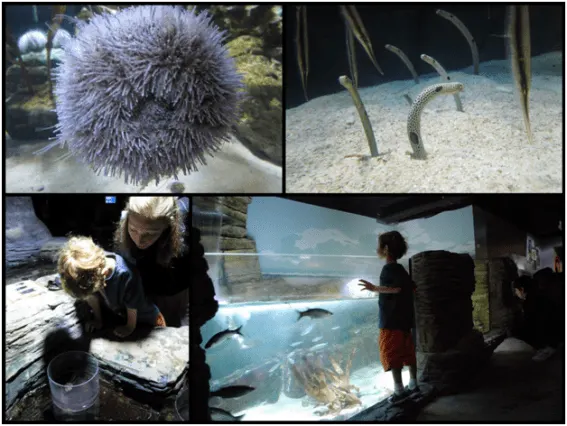 Top Left: Sea anemone, Top Right: Garden Eels, Bottom Left: Checking out barnacles in the tide pool area, Bottom Right: Some of the many fish
We took our son to the London SEA LIFE Aquarium on his first visit to London a few years ago, and thought it would be fun to head back for our family day in London. The aquarium is well located at the base of the London Eye and next to the Tate Modern, along the Thames. It puts you in the center of it all, and when you are finished here, you can easily move on to something else in the area.
We love aquariums and visit lots of them, and I would rank this one a 6.5/10. The big focus of London Sea-Life Aquarium is on saving the oceans, which is great, but it can get a little heavy handed. One highlight was one of the employees was playing trivia games with kids. Our son answered 7 questions correctly about sharks (with a little help) and won a special medal, which he wore proudly for the rest of the trip. That was really fun!
The environments are often impressive and some of the aquariums are several floors high, so you can see creatures from different angles. The big draw creatures include sharks, sea turtles, rays, octopus, and penguins.
There was a small tidal pool area, but only 2 animals were out, which was disappointing. Last time there were many more for us to experience.
Warwick Castle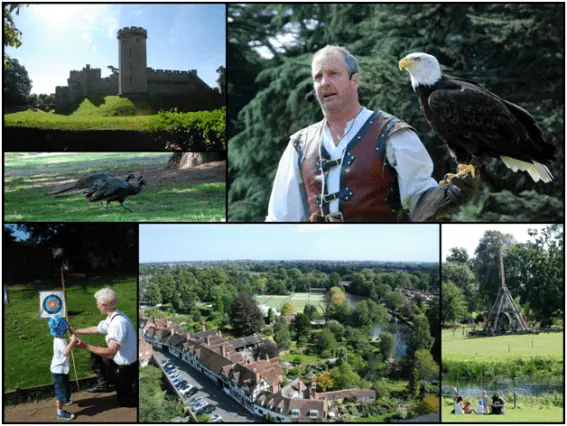 Top Left: The historic Warwick Castle, and 2 of the resident peacocks, Top Right: The Birds of Prey Show and a magnificent Bald Eagle, Bottom Left: Archery Lessons, Bottom Middle: The charming town of Warwick, Bottom Right: A picnic and the Mighty Trebuchet
Go back in time and meet brave Knights and fine Ladies by visiting Warwick Castle. The Castle is further afield, as it is about a 2 hour drive northwest from where we were staying in Surrey. If 2 hours seems too far away for you, maybe plan an overnight in the town of Warwick if you have time – it is a beautiful, historic town.
The oldest part of the Castle was built in 914 AD, with many additions and restorations made in the last 1100 years. The portcullis rises every day at 10:30a.m. to the cheers of crowds where many start their day. There is a lot to do and see at Warwick Castle. The shows vary daily, so check their schedule. Our two favorite things were the Mighty Trebuchet demonstration and the Birds of Prey show. Pack a lunch or a snack to enjoy while watching. We also spent time climbing the Towers & Ramparts and were able to check out the beautiful surrounding view. Word of warning, it is a one-way route with over 500 stairs, so if you don't think you can make it, you might be better off going to the top of The Mound, where the view is still lovely. This is a good option for smaller kids too.
Everyone can try archery (for a fee), which was a fun introduction for our son. There is someone available to teach you and help the kids aim. Walking the grounds is pleasant and you may come across a few surprises, like a party of peacocks and peahens! Make sure to check out the castle's dungeon for a bit of history. There were no actors in the dungeon when we were there, so both 5-year-olds did just fine and it wasn't scary, just a bit dark. There are various other exhibits to see, such as the Kingmaker: Eve of Battle and the Princess Tower.
In the future we would love to come back to Warwick Castle, especially to see the jousting shows in the summer!
Travel with kids to: CA |CO | DC| FL | HI | IL |MA | NC | NJ | NY | OR| PA| TN | TX | UT | VA | WA