Flathead Lake Lodge was voted Trekaroo's 2013 Best Ranch for All Around Family Fun. Want to know about other ranches that made the cut? Check out our

2013 Family Dude Ranch Vacation Roundup

.
This August, we took our four California native kids on a big road trip. Our destination: a guest ranch in Montana known as Averill's Flathead Lake Lodge. This historic ranch is located on the east shore of the largest lake west of the Mississippi, Flathead Lake. For over 60 years, the Lodge has been host to guests coming for a great family vacation filled with horseback riding, water sports, and relaxing, Montana-style. None of us had ever been to Big Sky country, and we were greenhorns when it came to riding horses. We had no idea what lay in store for us at this guest ranch, but our family motto for the week soon became, "Be willing to try new things."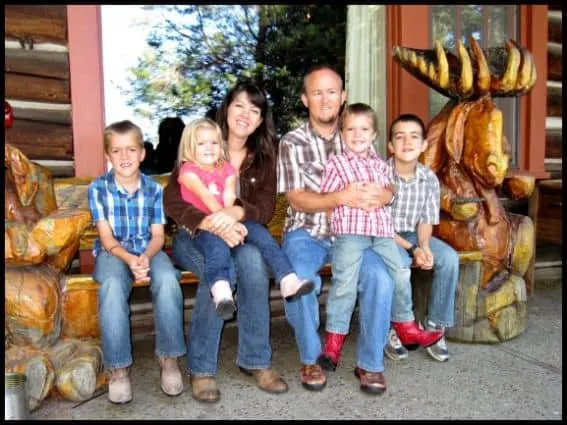 We didn't know a soul when we arrived, but we gathered with a large and friendly group of parents and kids in the Main Lodge on Sunday afternoon to meet our host and owner of the Lodge, Doug Averill. He introduced us to the events of the week and went over the general schedule, which typicallyincludes horseback riding in the morning, followed by watersports, boating, and swimming in the afternoon, then trail rides and special events in the evening. He surprised us by saying that most families enjoy breakfast together and then may not see their kids until lunchtime. To our way of California living – where you pretty much keep your kids in tow, in the house, at school, or under supervision – this was a new concept!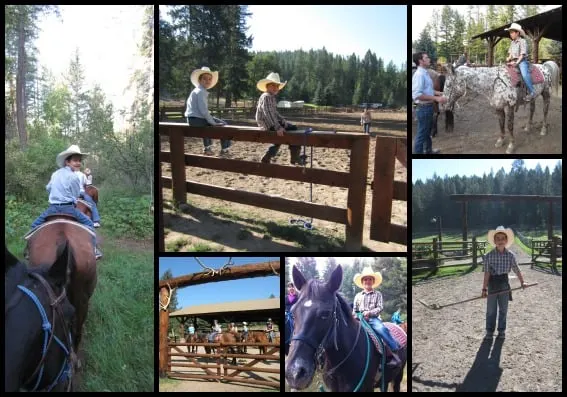 Our two oldest boys, eleven and nine, had never ridden or even been interested in riding a horse before, but on Sunday afternoon they found their first test of "Be willing to try new things." They listened carefully to the wrangler's instructions, were helped onto one of the gentle steeds, and headed out for their first trail ride. I rode with them, four other kids, and another mom, as a wrangler led us up the trail through the ponderosa pines forest. We enjoyed beautiful glimpses of Flathead Lake, and as we rode we played "pass the stick," a simple game where one rider places a stick on a bush or tree for the next rider to pick up. Our boys both did great, but it was our nine-year-old who realized that he really loved riding horses. Our oldest was the first one willing to scoop poop and help in the barn, and he loved doing both. Our motto was paying off!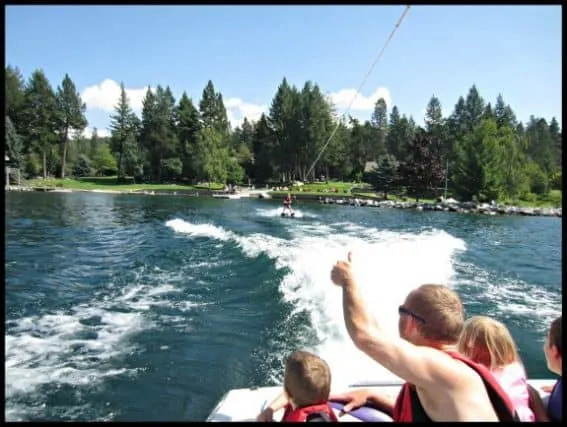 Later in the week, our motto took on new meaning for me. One afternoon, I asked my boys if they would like to try waterskiing. They both were excited to learn, so we headed to the end of the dock right after lunch. My nine-year-old got some instruction from the superb waterfront staff, we loaded into the boat, and we took off. On the second attempt, he was up, and I shed a few proud tears. We took a small loop, headed back to the dock, and he dropped into the water like a pro – a great run for a first-timer! My eleven-year-old was brave enough to try wake boarding since he loves to use the Ripstik around our driveway. After three failed attempts, he was ready to be done. We encouraged him from the boat to not stop, hang on, and give it his best shot. This time he did it! A smile spread on his face as he seemed to fly on top of the water. It was easily the best moment of my week! Later that night, my husband and I went on the adult-only horseback ride to the steak fry, while our kids loaded into the fire trucks with the rest of the guests and staff. Our wrangler took us to a wide and flat road and got us ready to ride fast. His iPod and speakers were set and he played some fun "Bonanza" music for our lope. I was a bit nervous, but my husband quickly reminded me of all my wise words to my boys earlier in the day, "Hang on and give it your best shot!" Well, that I did! I held on for dear life and had the best thrill. We rode right through a beautiful meadow at such a clip that I didn't even notice – until we had stopped – that we had passed one of the beautiful antlered elk owned by Mr. Averill on his elk preserve. The steak fry under the pines tasted so much better in the after-glory of trying something hard and giving it my best shot.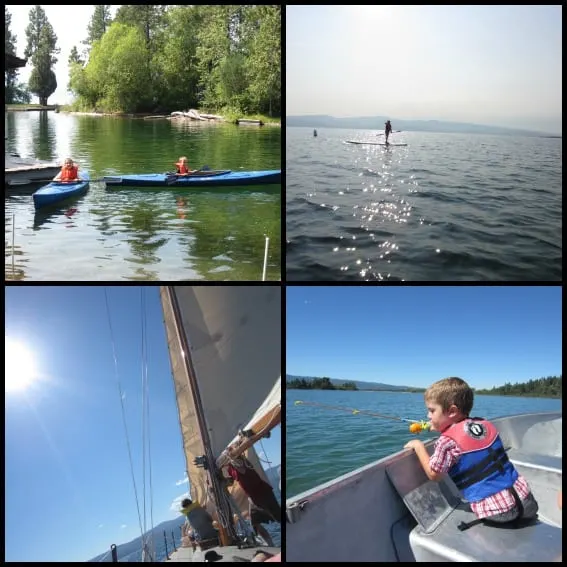 Our afternoons were glorious as we enjoyed all the opportunities that the lakefront offered. Our eleven and nine-year-old gained a ton of confidence as they became expert kayakers and stand-up paddle-boarders in the protected lagoon. They frequently braved the choppier waters of the lake past the island, and that helped us eventually win the canoe race on Thursday. They both took the advice of Kevin, the Lodge's General Manager, and jumped off of the high dock into the lake on Monday afternoon. That way, they could know how fun it was for the rest of the week. Our little ones enjoyed floating on the noodles in the shallow swimming pool right next to the lake. One afternoon we all went out on the Nor'Easter, a beautiful 1928 Q-class racing sloop, captained by a long-time member of the staff, Scott. What a privilege it was to sail under blue Montana skies on a beautiful lake on such a gorgeous boat!
There were several afternoons when the clouds blocked the sun and we experienced what real rain is all about, as opposed to the drizzle of the Southern California skies. Kids piled into the main lodge and we feasted on freshly baked cookies and played games. Speaking of kids, there were approximately 40 of them, aged 0 to 18, on this last week of families for the summer. Our kids quickly made friends with the scores of boys and girls there, and they all created their own games that they played at the dining tables and out on the volleyball court. I couldn't even begin to explain what the rules for "Moo Moo," "Jail Break," or "Nuke 'Em" are, but they sure had fun playing them.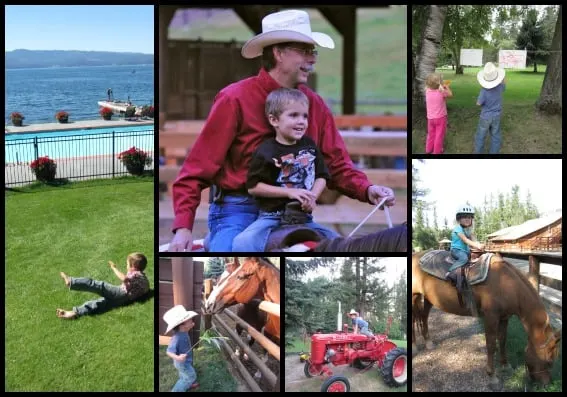 Photos by: Flathead Lake Lodge and Michelle McCoy
My husband and I didn't ride together much during the week because our three- and five-year-old were too young to ride. Our little ones loved scooping sand in the tractor box with the dump trucks. They also spent some fun evenings in the arts and crafts room with a staff member who helped them create some cute works of art. When they were tired of that, they played Connect 4 and built train tracks with the toys in the room. During the afternoons, they loved swimming in the pool, throwing rocks in the lake, and riding in the canoe with us. Even though there was plenty of fun to be had for our three- and five-year-old, I would recommend saving up for this vacation when kids are old enough to independently participate in the trail rides and other activities.
During the week we met city slickers, expert riders, and everything in between. They hailed from New York, Connecticut, Denver, Chicago, Wisconsin, British Columbia, and even near us in Southern California. It was a pleasant surprise to become friends with them as we spent the week together. We went on trail rides together, cheered for each other's kids during the kids' rodeo, shot at each other in laser tag, and teamed up for our own adult penning challenge. Some friends told us that they loved going white water rafting, while others enjoyed fishing on a charter boat on the lake. (A 20-inch fish was caught… or was it 32 inches?) We even made some great friends with the staff who were incredibly friendly and very helpful. Adult dinners in the dining hall were a time to watch the sun set over the lake and enjoy delicious food with fun company. Older kids were off on trail rides, younger ones were at arts and crafts or with us, and we learned to relax, Montana-style.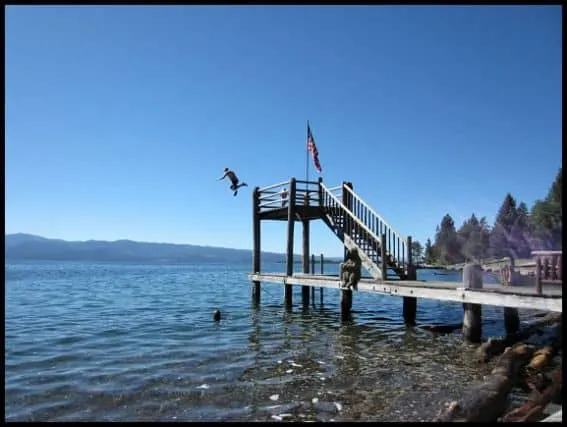 It was a nice treat to realize on Friday at lunch that we hadn't seen our eleven- and nine-year-old since breakfast. Doug was right! One was taking a trail ride, and the other was helping out in the barn. After they spent some time in the game room playing pool, they wandered down for the kids lunch buffet and were eating with their friends on the deck while we enjoyed getting our custom-made pasta cooked by the chefs. Our kids enjoyed the freedom, and with it came increased self-confidence in their ability to enjoy the activities that the guest ranch afforded. We had all taken our motto to heart, and we, as parents, had learned to relax as a result. We ended up being able to do a lot of things we enjoy, have fun with our kids, and have one of the best vacations of our lives.
Disclosure: A HUGE thanks to the Averills, Jody, and the entire ranch staff for hosting our family for a week at Flathead Lake Lodge. Another HUGE thanks to Jody at Top50Ranches for recommending this amazing guest ranch, which clearly belongs in the Top50! I was not asked to express a particular point of view and my opinion is still my own, but it clearly could not be higher. See my complete review on Trekaroo here.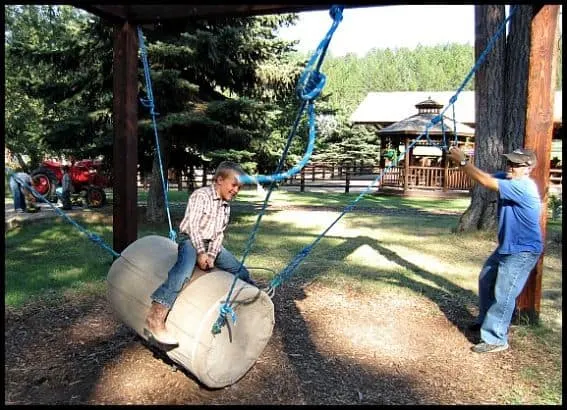 ---
Travel with kids to: CA |CO | DC| FL | HI | IL |MA | NC | NJ | NY | OR| PA| TN | TX | UT | VA | WA