Roar! From the time children are toddlers they make animal noises, and the "Roar!" of the dinosaur is many times one of the first (and loudest). There's no denying it: dinosaurs fascinate kids. It's no wonder why we have thirteen The Land before Time movies and eagerly await Disney and Pixar's The Good Dinosaur; kids think dinosaurs are awesome.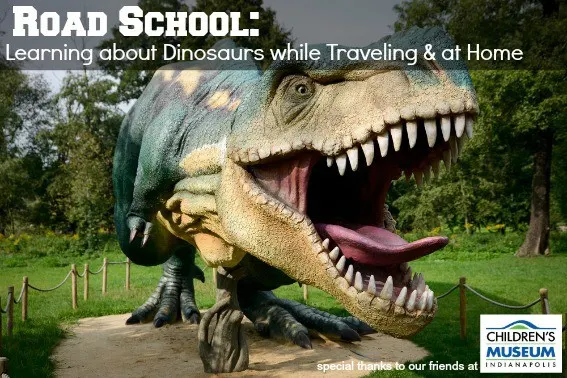 Learning about Dinosaurs while traveling & at home thanks to these tips from Trekaroo
Whether it's the size of the creatures, the thought of a time without humans, or the vast differences between what our world looks like now versus what it looked like back when, most families will find themselves with a child entranced with fossils, dinosaur play, or stories about life in the prehistoric era at some point during parenthood.
To find out more about how best to help children learn about dinosaurs, as well as the features of their incredible prehistoric program, we enlisted the help of Dallas Evans, Lead Curator of Natural Science and Paleontology for one of Trekaroo families' favorite museums, The Children's Museum of Indianapolis. This highly-rated museum has created a plethora of ways for families to learn about and engage with dinosaurs.
Here are ways to dig into paleontology while traveling on the road, close to home, or curled up on the couch.
Lead Photo by: Shutterstock/Dziurek
Road School: Learning about Dinosaurs
Why Kids Love Dinosaurs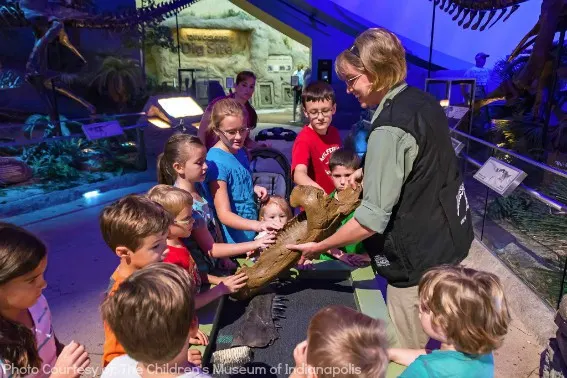 There's no doubt that kids are in awe of dinosaurs. But, why?
As Dallas Evans states, "the Earth Sciences are a perfect fit for young minds, so it is not difficult to get kids interested in paleontology. Gigantic creatures, bizarre beasts, and the thrill of science, art & discovery…Paleontology encourages people to get outside, look around, be curious, and to ask questions."
Levels of Engagement with Dinosaurs
Dallas Evans, Lead Curator of Natural Science and Paleontology The Children's Museum of Indianapolis shows visitors museum specimens.
Families can take advantage of this window of curiosity to dig deeply into the dinosaur world. As with any subject, the more ways a child can experience the information, the better. Immersing their senses in paleontology by reading about dinosaurs, seeing skeletons, touching specimens, and going to the land where they once walked will help them internalize the information at different levels.
The Children's Museum of Indianapolis, for example, offers several levels of engagement for visitors including unique specimens for families such as the Dracorex hogwartsia, a new-to-science species whose name pays homage to J.K. Rowling's Harry Potter series, and Leonardo, a mummified dinosaur. Learning about dinosaurs is easy here with multiple levels of opportunities for hands-on learning from Q&A time with the paleontologists, and a pretend dig site at the museum. The museum also encourages family digs, homeschool, family, and school field trips, and opportunities for educators as well.
Start Local: See Dinosaurs in your Neck of the Woods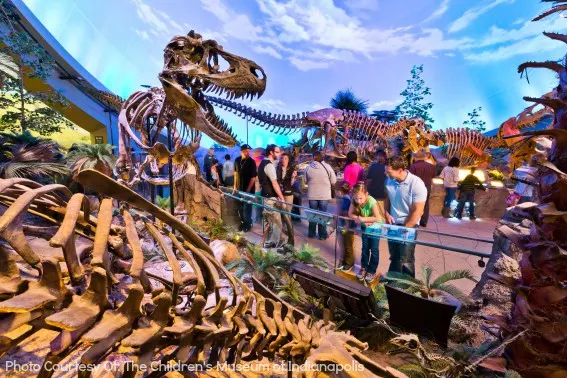 Families don't need to feel like they have to travel through the countryside to get their kids interested in dinosaurs. Head out to the closest natural history museum or stop by one when traveling to the area. My boys (ages 2 and 6) talk weekly about our trip to the "dinosaur museum." Even I still remember my own paleontology field trip from elementary school. Inside the Dinosphere at The Children's Museum of Indianapolis's, Evans remarks, "visitors see real dinosaur bones and we encourage them to participate in real science in action. We want to make sure that science, learning, fun…are available to everyone because that has the power to transform the lives of children and families."
While at the museum, families can implement some of these ideas to keep kids engaged at a deeper level.
Size Up the Competition. When posing the kids in front of the skeleton for a photo opp, have the kids look up and really study how large the skulls, legs, and even teeth are. Verbally express the comparisons. Encourage them to show their own teeth and compare them to the dinosaur on display.
Touch time. Allow them to touch any specimens they are able to. Touching makes them more real to children, especially those in the concrete thinking stage.
Study the ecosystems. Give kids the opportunity to learn about what made each species unique and important to its ecosystem and place in history. What did each dinosaur eat, how can you tell, and how did paleontologists find this out? Look for the herbivores and carnivores.
Discuss the history of the dinosaurs. As a family or with museum curators, talk through the history of the dinosaurs: the multiple eras in which they lived, what happened to them, and how they came to rest where they were found, and how they got on display at the museum.
Bring along a journal to take notes or draw what they see. For the budding photographer, a camera will spark similar creativity and connection.
Simulate a Dig. Many museums offer a way for future paleontologists to search for fossils.
Ask questions to the museum staff. The curators, paleontologists, and museum staff are experts. Take advantage of being in their presence by asking questions. For curator, Dallas Evans, the most frequently asked question is whether or not the fossils are real.
Show and Tell. Evans also notes that some families actually bring in fossils they've discovered to have them identified by the museum's Paleo Prep Laboratory. What a great idea!
Here are some of our favorite places to see dinosaurs on display in: Arizona | California | Colorado | Illinois & Wisconin | Indiana | Pennsylvania | New York |Washington DC.
Tip: If you aren't heading to Indianapolis any time soon to experience The Children's Museum for yourself, Evans recommends the following as places for families to learn more about paleontology: The Mammoth Site of Hot Springs, South Dakota; the Great Plains Dinosaur Museum Field Station in Malta, South Dakota; and The Royal Tyrrell Museum of Paleontology in Drumheller, Alberta, Canada.
Walk Where the Dinosaurs Walked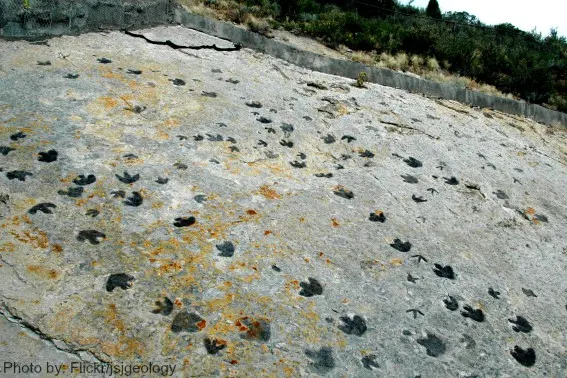 Fossils can be found all around us. But, to find dinosaur fossils and evidence of their lives take a little more planning. Luckily, a few areas are open to the public. For those in the south, head over to Dinosaur Valley State Park in Glen Rose, Texas. Travel through the river valley and walk among dinosaur prints. (Note: call ahead of time to ask about water levels as the river can sometimes obscure the prints.) While in Colorado, take the trails outside at Dinosaur Ridge. Visitors love that they can touch the fossilized bones and see footprints. Dinosaur National Monument spans the border between Utah and Colorado. It is home to a large paleontology exhibit hall and a ranger-led tour of the fossil beds. In Connecticut, families rave about Dinosaur State Park where they can make their own casts of dinosaur prints.
While exploring, think through these ways to add depth to your visit:
Make an etching of the prints. If the area allows, take along a large piece of paper and some crayons or pastels to trace the prints or make an etching of them.
Study the topography of the land. How did the dinosaur fossils come to be there? Look for signs in nature of how the area has changed over the years.
Look down. Incorporate some geology. What type of rock do you see? Why would that rock allow for fossils to be preserved in them? Search for areas nearby with no fossils. What makes those areas less conducive?
Nature journal. Once again, journaling or drawing gives the brain another way to interpret and process the information. Take a few minutes along the trail to write down some thoughts about what you're experiencing.
Record your findings. In some of the programs at The Children's Museum of Indianapolis, participants are given the opportunity to record what they see. Take this idea with you to the trail. How many foot prints did you see? What about fossilized bones? How big were they? This kind of inquiry could go on and on based on the age and developmental stage of the children.
Participate in a Dig
The Children's Museum of Indianapolis facilitates family and adult-only digs in South Dakota. Children over the age of eight are able to participate in the uncovering and removal of duckbill dinosaurs. Not only do they get to experience this hands-on learning, but they also get information from the museum's team of paleontologists and scientists.
Dallas Evans notes, "It's amazing how well people respond to digging dinosaur fossils – it's an opportunity of a life time. The countryside is gorgeous, and the dino bones are plentiful. People get to experience a real dinosaur dig–they excavate, they also map and then record their findings. Bones are then cleaned and jacketed for shipment to The Children's Museum's Paleo Prep Lab. People also get to see the South Dakota wildlife and learn a lot about life on a ranch in the American West."
In addition to the program at The Children's Museum of Indianapolis in South Dakota, there are family and youth dig programs throughout Montana and Wyoming.
Roadside Attractions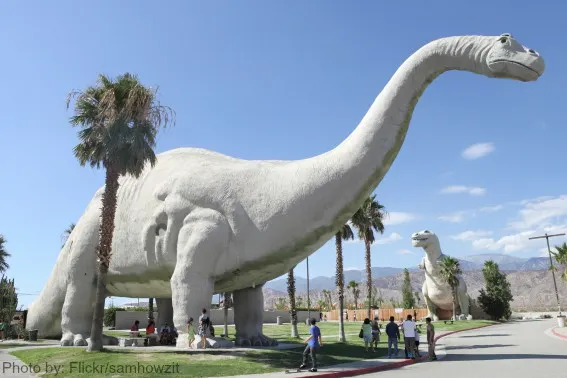 Museums aren't the only place to see dinosaurs. Fun and quirky roadside attractions all across the United States feature these prehistoric creatures. Here are a few notables. Right off of I-10 in Southern California are the Cabazon Dinosaurs. These robotic dinosaurs and accompanying museum provide a photo opportunity and a picnic area should road travelers need a rest. Kentucky, Texas, and Florida are home to Dinosaur World, which are theme parks home to 150 replica dinosaurs. While over along Highway 101 on Oregon's coastline, the Prehistoric Garden offers a walk through the rainforest alongside 23 life-size dinosaurs.
Incorporating Multiple Subjects into the Study of Paleontology
As parents and educators, we are always looking for synergistic ways to bring subjects together, to reinforce what our kids are learning in one area with activities from another. Here are some ideas to do at home or while traveling:
Draw dinosaur scenes.
Make your own dinosaur fossils using clay. Bake them, hide them, hunt for them, and put them back together.
Create your own etchings of fossils.
Write a story about what it would be like to live during the time of the dinosaurs.
Compare and contrast different dinosaur species and the environment in which they are found.
Map out what the world looked like when dinosaurs roamed the earth.
Need to add career information? Ask a paleontologist how they came to be in their job.
How about some math? Grab a tape measure to figure out the size of the child's favorite dinosaur. How does it differ from the child? What about weight difference between the dinosaur and child or between dinosaur and car or other animals?
*Many thanks to Dallas Evans, Lead Curator of Natural Science and Paleontology and the staff of The Children's Museum of Indianapolis for giving of their time to help in researching this article.
Educational Resources from Trekaroo:




Tip: Educators, could you benefit from a paleontology workshop yourself? The Children's Museum of Indianapolis offers several professional development programs and workshops for you as well. Life-long learning is important and as Dallas Evans states, "connecting with schools, families, and parent-led groups makes paleontology much more accessible. For instance, when a teacher attends our paleo dig, you witness their enthusiasm and know they will share that enthusiasm with their students who in turn are much more likely to be inspired and enjoy learning more about dinosaurs."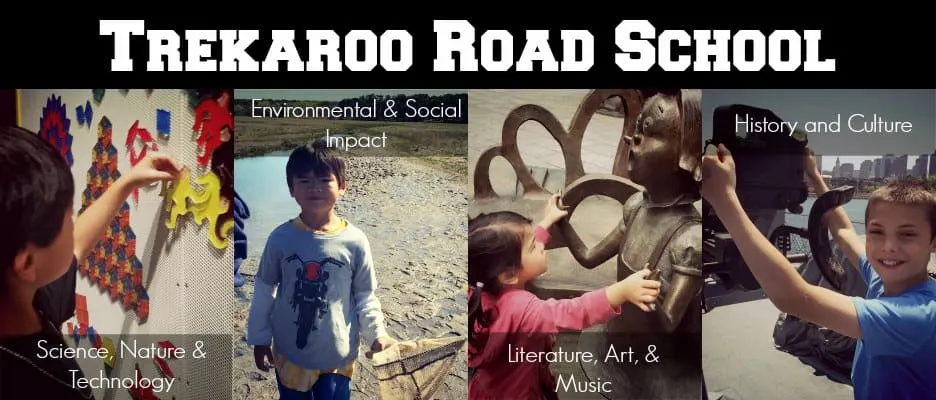 Ready to learn more? Check out our award-winning Road School Series on traveling and learning with your kids. From walking the steps of history to hands-on science & technology, to diving into literature, art, and music, and teaching your kids to understand environmental and social concerns, we've got a road school topic for your family to discover.