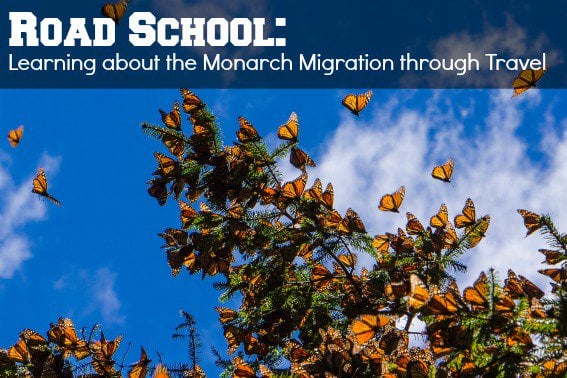 It was a late Netflix night with my kiddos when I stumbled upon Flight of the Butterflies. You know what it is like when your kids have watched 90% of the shows on Netflix; I needed something new (total #firstworldproblems but bear with me). We decided to try the butterfly-based documentary and we were not only amazed by the story of these stunning little creatures who travel thousands of miles each year in migration, we were also inspired to learn more and work to save their dwindling species.
Photo by: Bigstock/JHVEPhoto
Road School: Learn about Monarch Butterflies & Their Amazing Migration

---
Quick facts about Monarch Butterflies
Facts & information gathered from personal museum visits and the National Geographic Kids website on Monarch butterflies.
Monarch butterflies live all over the world, although the migrating species we see in the United States stay mostly in Mexico, the U.S., and Canada.
Milkweed is the only plant that Monarch butterflies lay their eggs on. It is necessary to their survival and is being depleted by over-farming and industrialization throughout North America.
North American Monarch butterflies migrate south for the winter. Sometimes this journey is over 2,800 miles.
All North American Monarchs travel to Mexico or California for the winter, even though they have

never been there before.

Not officially yet an "endangered species," the Monarch Butterfly is "Near Threatened" according to the World Wildlife Fund due to many factors including climate change, habitat loss due to deforestation, and herbicide killing off food sources.
Where to see Monarch Butterflies in the Winter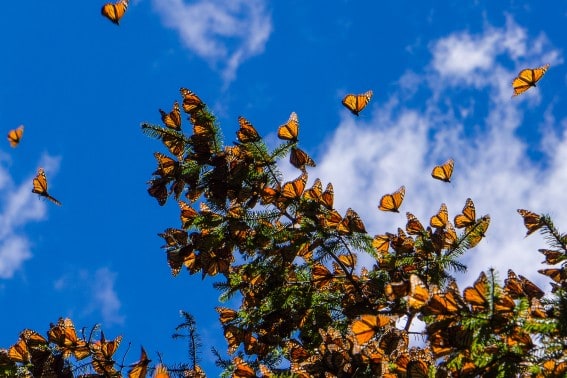 Photo by: Bigstock/JHVEPhoto
If you live in North America, there is a good chance that Monarchs will head through your town at some point during the spring and summer months. But finding the Monarch "roosts" in their winter homes is a must if you are traveling to Mexico, Southern, or Central California from late October through late February.
California Over-Wintering Sites:
Monarchs west of the Rocky Mountains head mostly to California in the winter (with a few touching down in northern Mexico). Explore this Guide to Seeing Monarchs in their Winter Sites; with map functionality, you can access it on the go! There are literally hundreds of forested locations that the butterflies tend to use (often roosting on Eucalyptus trees), but many have become "favorites" to the butterflies, often home to thousands upon ten thousands of individual monarchs during the over-wintering season.
Mexico Over-Wintering Site:
Monarchs east of the Rocky Mountains head to Mexico exclusively in the winter. Specifically, as many as 60 million to one billion Monarchs hibernate in the Reserva de la Biosfera Mariposa Monarca in Michoacan, Mexico (Monarch Butterfly Biosphere Reserve), a national protected nature preserve. It can be especially challenging to take young kids to this awe-inspiring sanctuary as the roosts are accessed via hike (often up to two miles of moderate to advanced hiking trails) at an elevation of over 10,000 feet.
Not near California or Mexico? Check out these museums with fabulous exhibits on butterflies at large.
What you can do to save Monarchs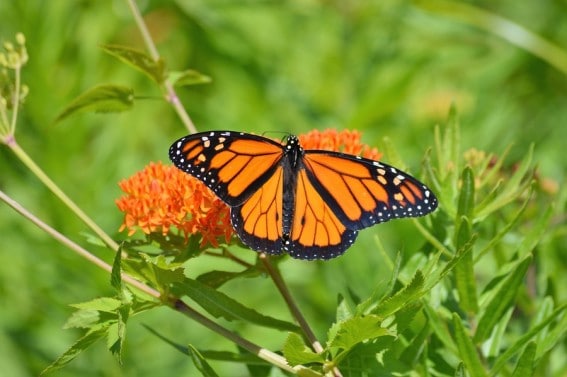 Photo by: Bigstock/Trek13
Once your kids visit a winter roosting site or even watch the Flight of the Butterflies film, they will likely want to know what they can do to help the Monarch butterfly population. And although you can't stop climate change and global warming all on your own, there are a few things you can do to help the Monarch butterfly.
Plant milkweed. Herbicides and over farming have killed off a significant portion of North American milkweed, which is the only plant adult Monarchs will lay eggs on. Planting milkweed at your home gives the species one more spot to land upon to reproduce.
Plant nectar flowers for adult butterflies; they should be large enough flowers to support the weight of the butterfly. Great options include marigolds, cosmos, and asters.
Adopt a Monarch butterfly through the World Wildlife Fund. Your donation will work towards conservation efforts including working with Mexico to stop illegal logging. Kids can choose an adorable gift for their donation, including gift bags, an adorable plush, adoption certificate, and more.
"Join the Odyssey" works directly with the Mexican Fund for the Conservation of Nature to save butterflies, forests, and natural habitats in Mexico. A donation of just $5 can help save the Monarchs.
Educational Resources for teaching about Monarch Butterflies
While teaching your kids about the Monarch butterfly migration, as well as our opportunity to help save this vital species, consider the following books and resources.
Books & Printable Resources:
Free Online Resources. Free resources abound online for educational discovery.
The Flight of the Butterflies film website features well-done and easy-to-understand research information on monarchs, from
National Geographic Kids: Monarch Butterfly – Fast facts, pictures & details about Monarchs
Monarch Butterfly Manual – This free PDF download created by the U.S. Fish and Wildlife Service and Protección de la Fauna Mexicana A.C. features lesson plans for all grade levels.
The North American Pollinator Protection Campaign – Helps students and adults learn about the issues facing our critical pollinator species, including butterflies.
Although not tailored to younger kids, the World Wildlife Fund has great information on the Monarch species and the conservation attempts being made.
Video Resources:
Flight of the Butterflies (a must!), streaming on Netflix or available for purchase on Amazon.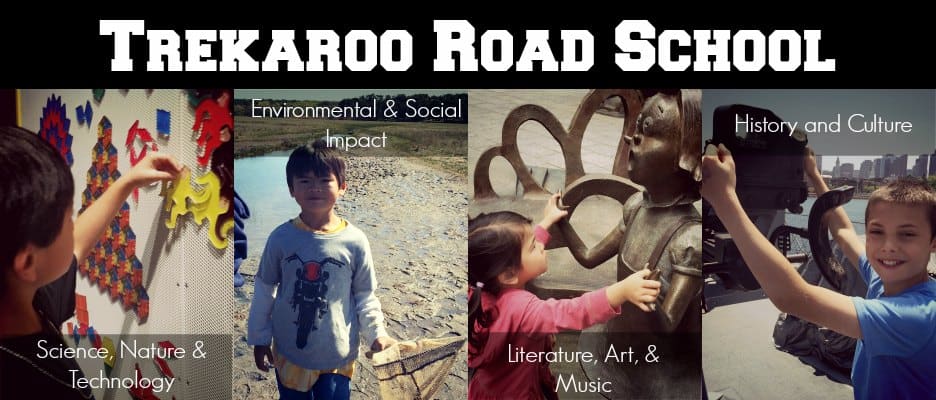 Ready to learn more? Check out our award-winning Road School Series on traveling and learning with your kids. From walking the steps of history to hands-on science & technology, to diving into literature, art, and music, and teaching your kids to understand environmental and social concerns, we've got a road school topic for your family to discover.