When my daughter asked questions about lions and tigers, we brought her to a big cat rescue. When she asked about whales and dolphins, we took her off the coast of California for a whale watching excursion. It is a bit trickier to bring dinosaurs to life. When she became fascinated with them, I immediately went on the hunt for ways to bring a little bit of life to our picture books and Google searches. Here are the best California dinosaur exhibits I found.
Check the best deals on Family Friendly Hotels in California
San Diego Natural History Museum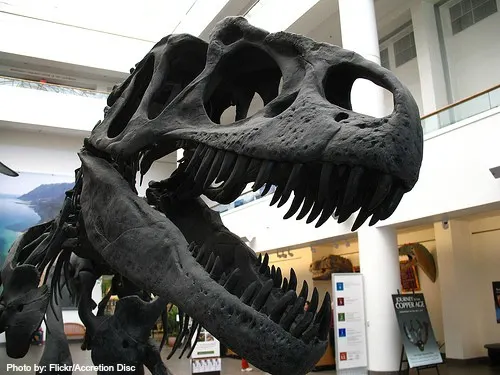 The San Diego Natural History Museum was a fabulous tool to show just how big these prehistoric beasts were. The museum houses a permanent, highly interactive exhibit called "Fossil Mysteries" that completely captivated my four-year old.
Natural History Museum Los Angeles County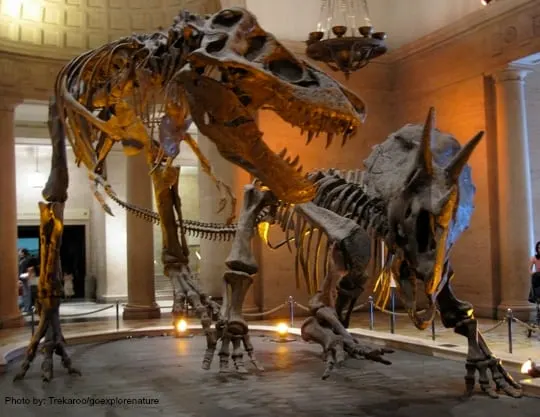 The Natural History Museum Los Angeles County might just have the coolest sounding exhibit in California. Talk about bringing dinosaurs to life, as part of the exhibit you will come face to face with realistic T. Rex and Triceratops large-scale puppets. Unfortunately, this visit will have to wait until my daughter grows out of her fear of moving life-like puppets. (She loses it when she sees Mickey at Disneyland, and I can't imagine her reaction to two large dinosaurs.) The museum also offers a behind-the–scenes look in the Dino Lab. Watching the dino experts during their day-to-day activities might just inspire your little one to become a dinosaur hunter.
La Brea Tar Pits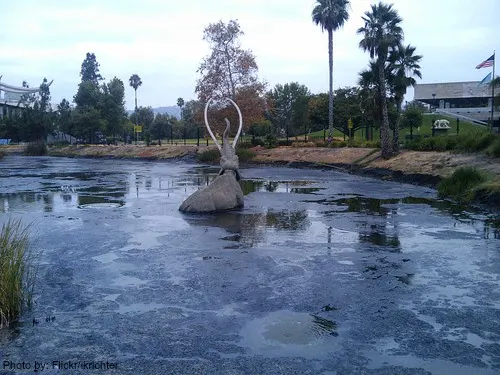 You actually won't find a single dinosaur bone at the La Brea Tar Pits; instead the focus is on Ice-age mammals. I included this in my dinosaur encounters list because of its sheer awesomeness and because I don't think it should be passed up. 40,000 years ago, the La Brea Tar Pits swallowed up and preserved animal, birds, plants, and insects. A visit to the Tar Pits will give you a tiny glimpse of what roamed the streets of Los Angeles way before the socialites of Hollywood did.
Look for the best prices on Family Friendly Hotels in California
University of California Museum of Paleontology at Berkeley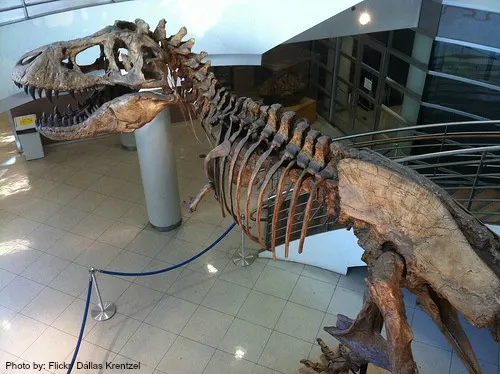 If you live in Northern California or you're plan on visiting, you might want to plan around the University of California Museum Of Paleontology at Berkeley's annual "Cal Day" in April. This is the largest collection of paleontology artifacts amongst university museums worldwide. The collection includes dinosaur bones and skulls, and a full-sized T-Rex skeleton. If an April trip is not in the cards, the university's Valley Life Sciences Building is home to many fossils, skulls, as well as the T-Rex skeleton, and is free.
Cabazon Dinosaurs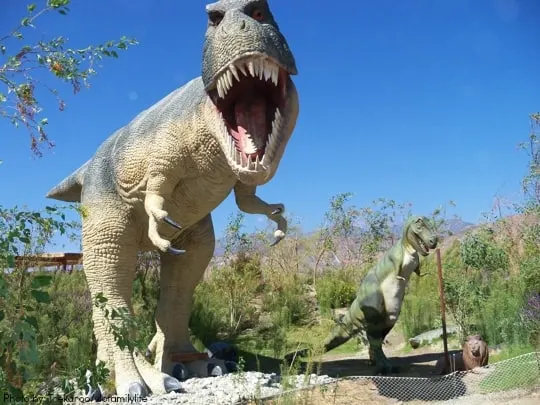 Made famous from being featured in "Pee Wee's Big Adventure", Cabazon Dinosaur Museum is a fun way to learn about dinosaurs. The giant replicas will tower over you. Robotic dinosaurs will make you feel like you're in a scene of Jurassic Park. If that's not enough, you can climb the stairs in the belly of the T-Rex like Pee Wee Herman did and experience what it feels like to be as tall as a T-Rex. Oh, and don't forget to tell them "Large Marge sent ya."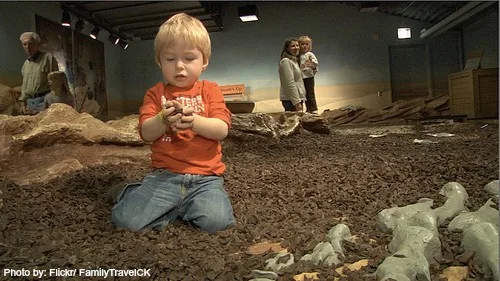 California Archaeology Month: May is California Archaeology Month. Events take place throughout California.
The Skirball Cultural Center: Dig It! The Skirball Cultural Center's Archaeology Adventures are Saturdays and Sundays from 10 AM to 4:30 PM. Free with admission.
California Dinosaur Exhibits
Dinosaurs have long captured the imagination of children and adults alike. Unfortunately, these amazing and fascinating creatures have long been extinct, making it impossible to get a firsthand account of what it must have been like to live amongst the dinosaurs. With dinosaur exhibits, we can give our children a feel of the Jurassic period.
Check for availabilities on Family Friendly Hotels in California
Lead image by: Shutterstock.com