Families departing on a Disney Cruise Line adventure have a whole boatload of fun ahead of them! Disney cruise doors are magnetic, and Disney Cruise door magnets are a popular way to show off your family's personality and also easily identify your cabin.
With a little planning and a heads up from those in the know you, can maximize the magic with your own cruise door decorations. After our cruise, we keep our magnets on our refrigerator as a fun memory and souvenir of our amazing vacation. Here are some tips for preparing Disney cruise door magnets.
Here are 10 reasons why we think Disney Cruises are worth the cost.
Disney Cruise Door Magnets- Tips and Ideas
Create a Disney Magnet for Each Member of the Family
The options for what magnets you can put on your door are endless. Here are tips on different types of magnets and themes to enjoy, where to buy them, and even how to make your own at home!
Customize a magnet for each member of your crew, with his or her name in Mickey ears, featuring Disney characters they love, or whatever floats their boat.
"My boys loved that they could easily find our stateroom by looking for their magnets," said mom and regular Disney cruiser, Heather Mikulskis.
You may also want to have a special ship magnet made to commemorate your first sailing on that particular cruise ship. Trekaroo editor Sharlene Earnshaw recently had special magnets made for her sailing on the Disney Wish from this Etsy seller and she was very happy with the way they came out. Read our full review of the new Disney Wish cruise ship.
Need more Disney Cruise tips? We have you covered.
Make Special Celebration Magnets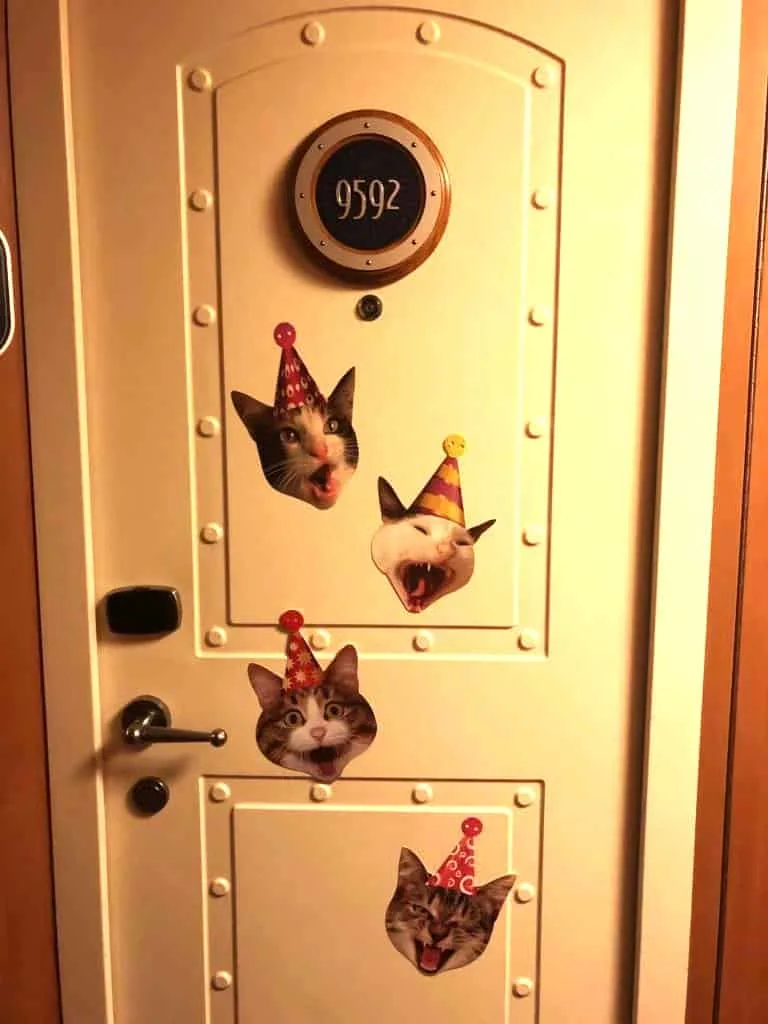 My family sailed on my husband's birthday and during Halloween on the High Seas, so we had Disney cruise door magnets for those occasions. Check out these inspiring Halloween magnet ideas for bats, ghosts, and spookiness.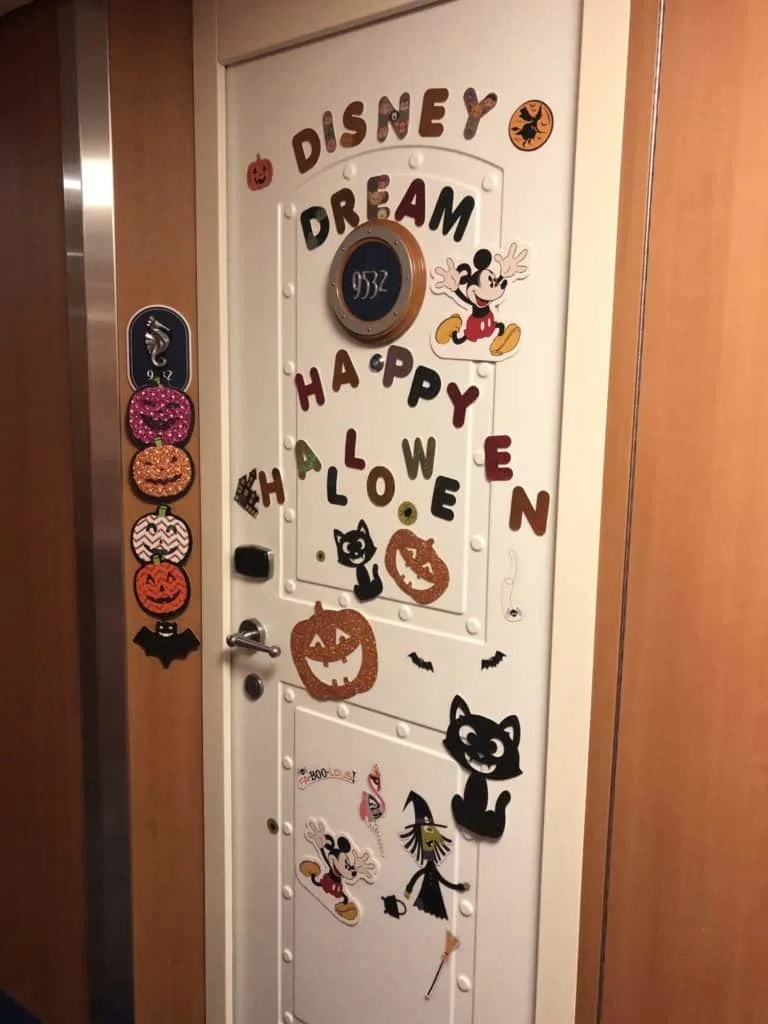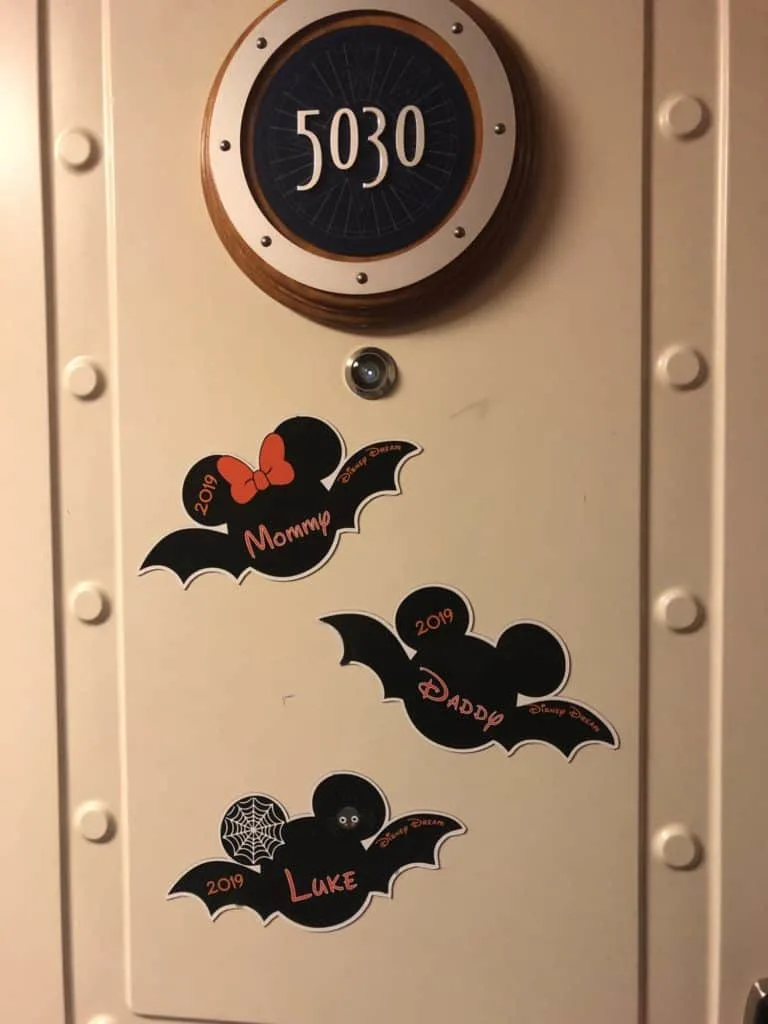 You can also rock New Years, patriotic, anniversary and other theme ideas too. Every Disney cruise features a Pirate Night, so bringing Pirate Night magnets add a nice touch suggests Heather Mikulskis.
Many Disney cruisers are multigenerational groups celebrating a big anniversary or birthday. Surprising members of your group with magnets celebrating these milestones is a great way to keep things festive.
Don't leave for your Disney Cruise without reading these Castaway Cay tips first!
Order Your Disney Cruise Door Magnets from Etsy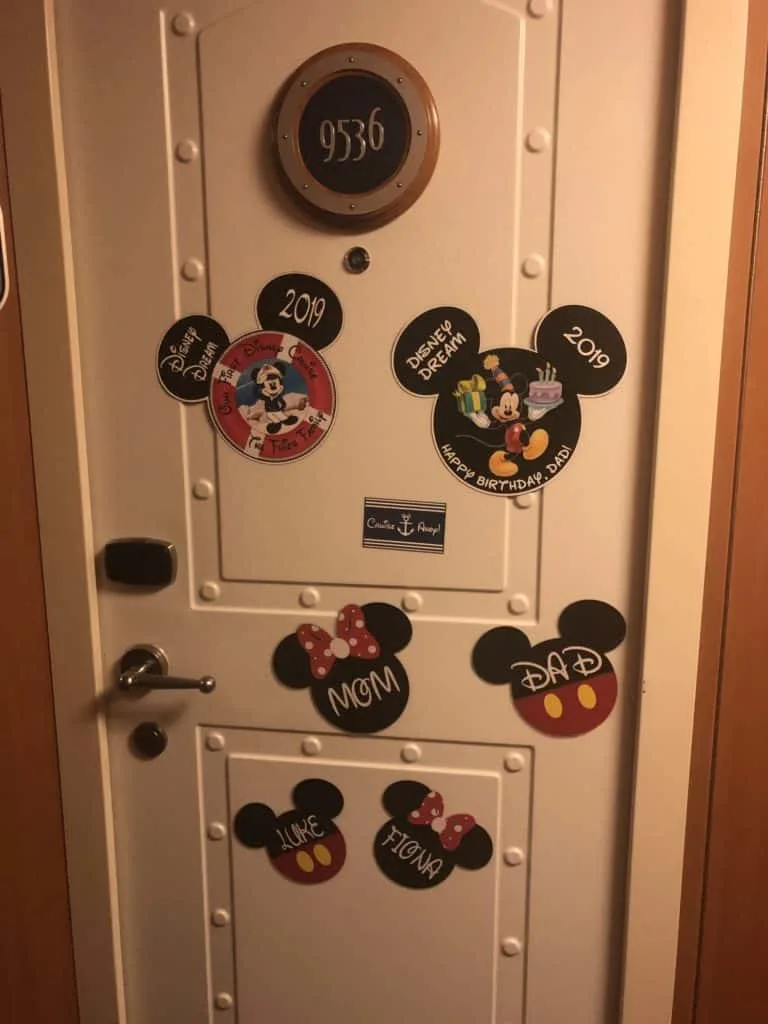 While I'd like to think I'm creative, I'm not super crafty. I relied on the experts at Etsy to help us bring awesome door decorations.
On Etsy and other creative sites, you'll find many Mickey ear designs that you can customize with names of each family member, the year, name of the ship, destination, etc. You'll also find magnets of other Disney characters, nautical elements like anchors, birthday, anniversary, and seasonal magnets.
In the photo above you can see the main Disney Cruise door magnets we ordered from CruiseDesignsBB, customized with our names and printed on magnetic paper. They came protected in photo envelopes and with a Disney Cruise countdown magnet to boot. How cute!
We also ordered a First-Timers Disney Dream door magnet to celebrate our first Disney Dream cruise.
We can also recommend the magnets from Megs Magical Crafts on Etsy. She has a large number of designs to choose from and ships quickly.
In addition to requesting artists create the magnets for you, you can also purchase digital downloads of designs on Etsy and print them on your own at home.
Etsy is also a great place to buy Disney ears, custome Disney Cruise shirts, and even Disney Cruise nail decals!
Peruse Pinterest and Facebook Groups for Disney Cruise Door Magnet Ideas
Whenever I need a little inspiration, Pinterest is a great place to go. "My wife, Julie, found our Disney magnet ideas on Pinterest," says dad Nick Deka. "Once we started, it was easy. We used a plastic laminate covering. All the supplies were purchased at Hobby Lobby. My favorite was the big family lifesaver sign."
Here is a link to a Disney Cruise door magnet Pinterest board to get you started.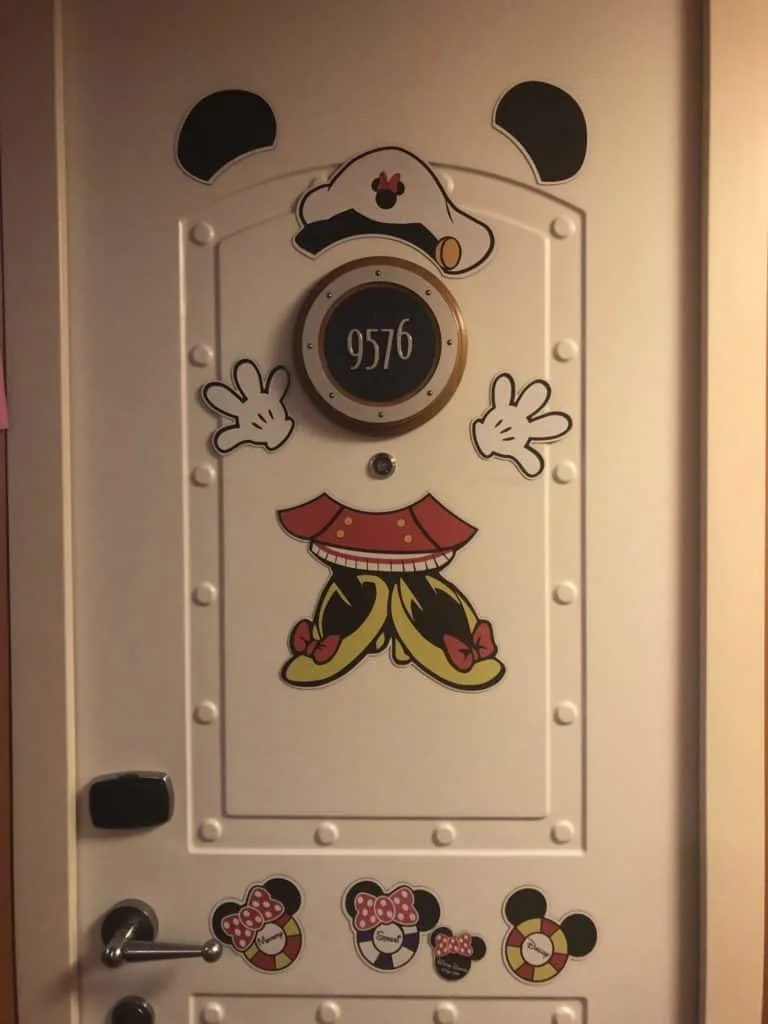 There are Facebook groups out there for practically everything! Just search for "Disney Cruise door magnets" and voila- you'll find all sorts of new friends willing to share ideas.
"I found our magnet templates on a Disney graphics Facebook page I stumbled across," says mom Katey Rybski. "I downloaded them, customized with our family's names, and printed them on magnet paper with our home laser printer." Printing at home is a great way to save money.
Bring Interactive Magnets for the Inside of Your Stateroom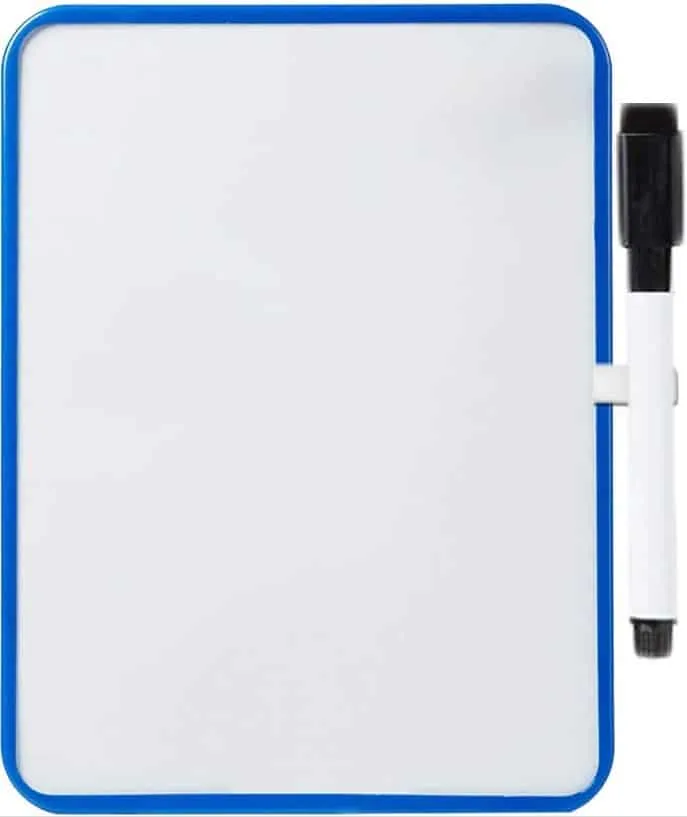 The inside of your stateroom door is magnetic too!
"Bring some fun magnets for the kids to play with on the inside of the door too," suggests mom Heather Mikulskis.
Our stateroom had a dry erase magnetic board to write notes on or play tic-tac-toe. You could also bring character-shaped magnets for kids to play out scenes, magnetic pieces that spin and move, or even magnetic letters to spell out playful messages.
Pack Your Magnets Carefully
Because they're precious, pack your creations carefully.
"You want to minimize creasing," warns dad Nick Deka.
I packed my cruise door decorations in sturdy, cardboard envelopes with tissue around each to protect them. I also suggest putting your cruise door magnets in a zippered pocket of your luggage to keep them from jumbling around or getting crushed by other objects.
DIY Disney Cruise Door Magnets
Print Designs On Magnetic Paper
A simple way to make Disney cruise door magnets at home is to print the design on magnetic paper and cut them out. You can find all sorts of images online.
Print on the glossy side of the magnetic paper. Then cut out them out. If you have square edges, you can cut with scissors. Otherwise, use an X-Acto knife, for more precise curves and edges. Magnetic Paper can be found at craft stores or on Amazon.
Have the Kids Cut Construction Paper, then Laminate and Add Magnets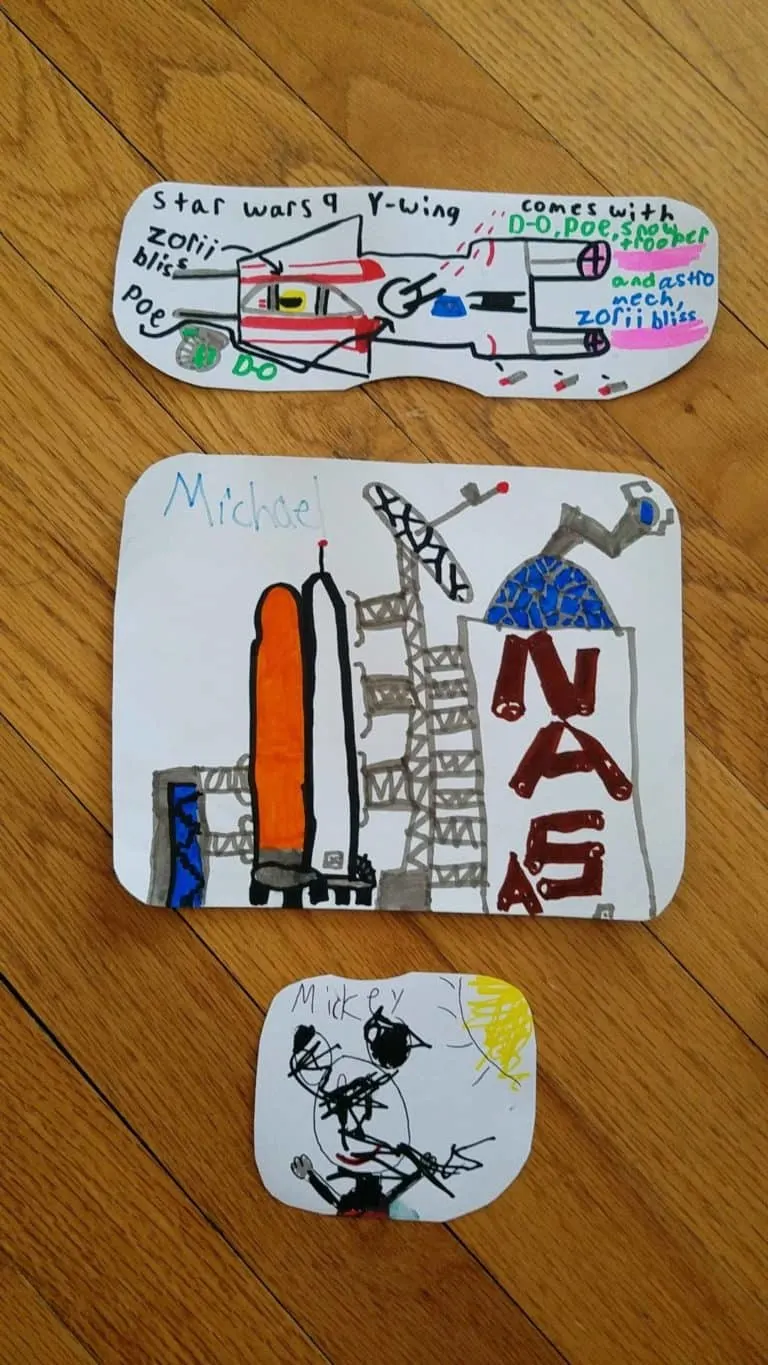 Let the kids get in on the action and watch their creative juices flow! Kids can cut shapes out from construction paper and decorate with markers.
"The kids did most of the work on our cruise door magnets," says dad Nick Deka. "We then laminated the paper and stuck little magnets on back."
You can also use self-adhesive lamination to make it even easier. Heather Mikulskis had her three boys each draw a design of their own. What a fun way to all add to the excitement for the upcoming family vacation! To make cutting shapes even easier, consider using stencils or even cookie cutters.
Cut Cloth or Crochet Designs, then Attach Magnets on Back
Grandparents and other family members can help make memorable magnets too. If you find a fun fabric with Disney characters, cut it out and put magnets on the back. Those who know how to crochet can make special shapes and designs sure to help your cabin door standout.
Think Outside of the Flat Design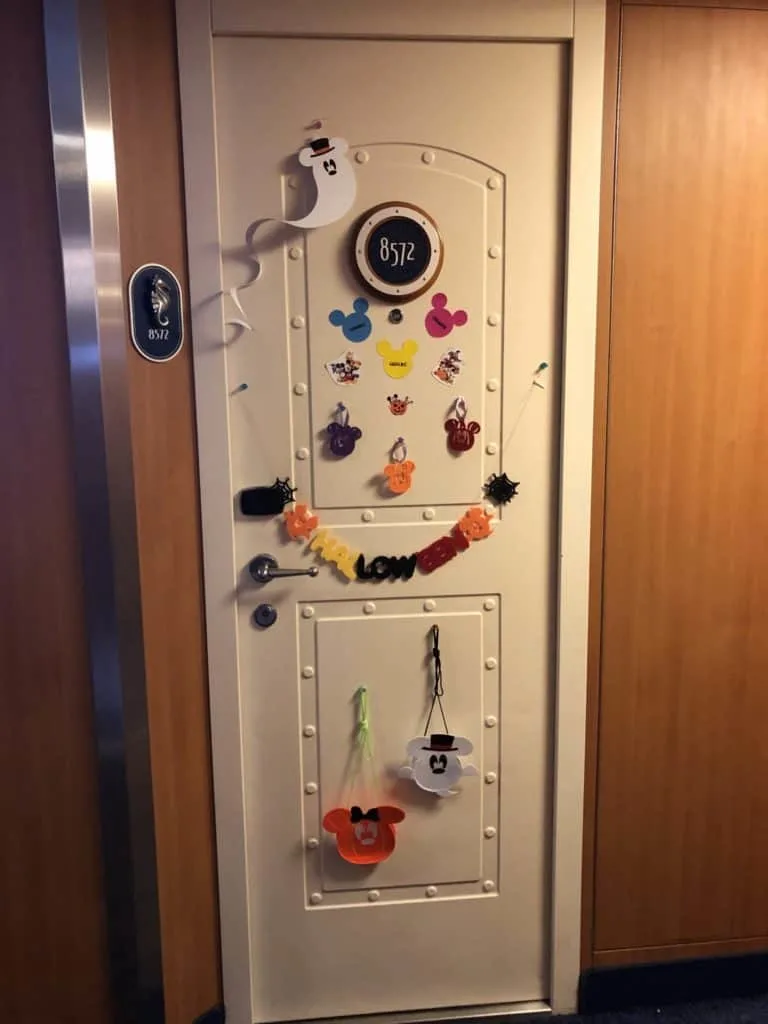 When I asked Jimmy Lynett, cruise director on the Disney Dream, about Disney cruise door magnets, he said he loves the fun surprises and how they demonstrate the welcoming spirit of Disney. The best door decorations he ever saw involved a Mickey head silhouette assembled with Dum-Dum lollipops. It definitely made him want to walk by that cabin door a few more times than necessary.
Take Picture and Gather Ideas for Next Time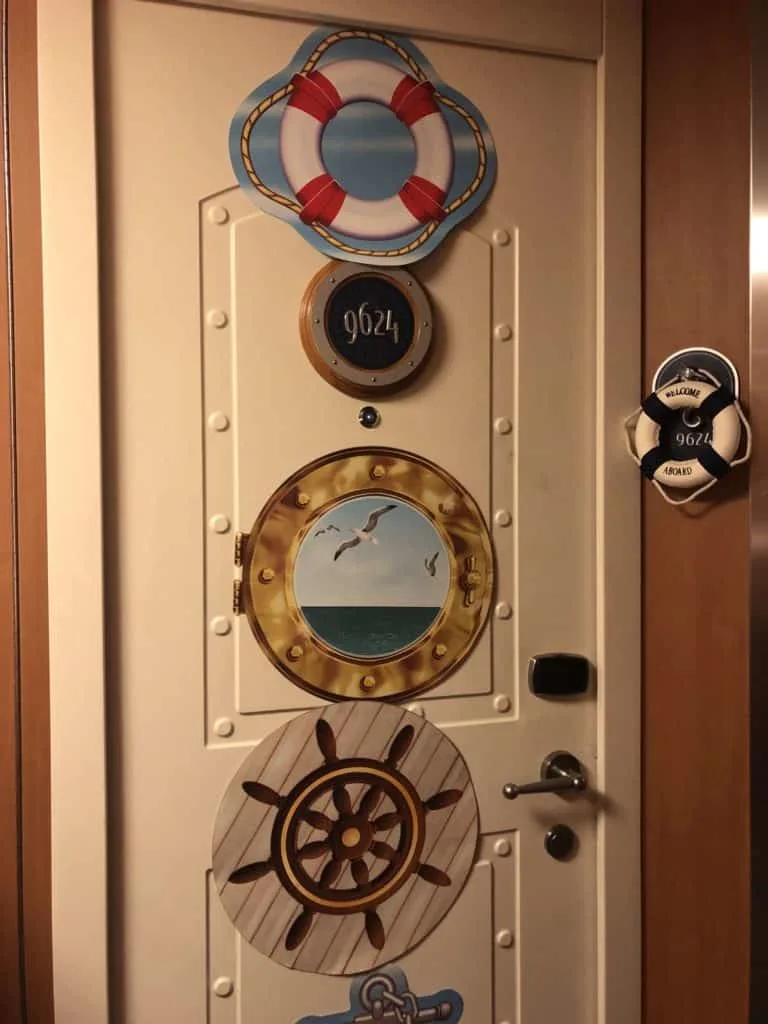 As you walk around the ship, you're sure to find many interesting and inspiring Disney cruise door magnet ideas. We saw Mickey ice cream bar magnets, porthole designs, and other ideas that really helped "seas" the day!
Snap some photos so you remember next time you're planning a Disney cruise. Because once you've been on one Disney sailing, you're sure to dream of more. Ahoy!
Disclosure: Disney Cruise Line hosted the writer's family on a Disney Dream sailing to Castaway Cay. All opinions are the writer's own.
Lead image by Disney Cruise Line