The Disney Wish, the newest cruise ship in Disney's five ship fleet, embarked on its maiden voyage this July. The new cruise ship is sure to exceed the expectations of both veteran Disney cruisers and newbies alike.
Disney Cruise Line is the leader in family cruising for good reason- Disney delivers what families want! In addition to being drop-dead gorgeous, the Disney Wish is filled with immaculate storytelling and exciting experiences that are sure to have your kids talking long after they disembark.
The Disney Wish knows how to cater to adults as well. With its spectacular dining experiences, distinctive bars and lounges filled with imaginative cocktails, and chic adult-only spaces, it is easy to see how this ship might soon become a destination for girlfriend getaways and adult-only escapes.
The Disney Wish is currently setting sail on three- and four-night cruises to Nassua, Bahamas and Castaway Cay, Disney's private island. It brings with it several new and exciting things that you won't get on any other Disney ship.
Recently, my family was invited onboard a three-day sailing of this brand new ship so we could experience and share all that the Disney Wish has to offer. Here are just some of the things you will find on the Disney Wish that you won't find on any other Disney ship.
30+ Things You Will Find on the Disney Wish That You Won't Find on Any Other Disney Cruise Ship
A Motif of Enchantment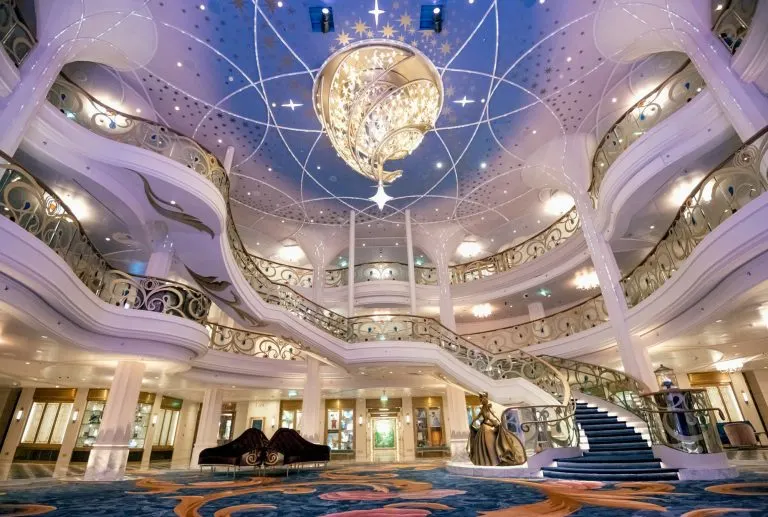 Disney's four previous ships, the Disney Magic, Disney Dream, Disney Wonder, and Disney Fantasy all have a more traditional nautical theme. Disney Wish, the first of three new ships ot join the fleet, has a theme of enchantment.
The enchantment theme better reflects what the Disney parks are best known for- grand castles, storybook-inspired design, and magical touches everywhere.
Disney describes "enchantment"as the awe-inspiring feeling you get at a Disney park or on a Diisney Cruise. When designing the ship, Imagineers strived to create experiences that evoke "enchantment" and used it as a design lens as they furnished the ship.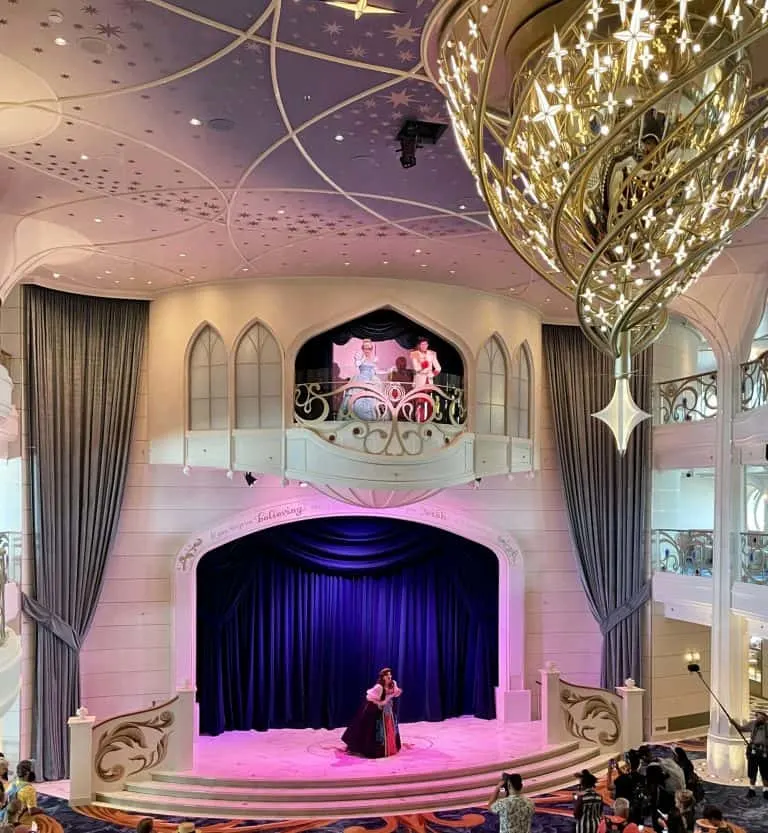 From the moment your family steps on the ship and enters the Grand Hall, the ships version of a fairytale castle, the enchantment is palpable. Guests are given wishing wands as a Disney prince and princess wave from the balcony above. They use these wands to "unlock the enchantment" on the dazzling chandelier above.
Trekaroo Tip: Head back into the Grand Hall at 7, 10 and midnight to see a special dazzling show above.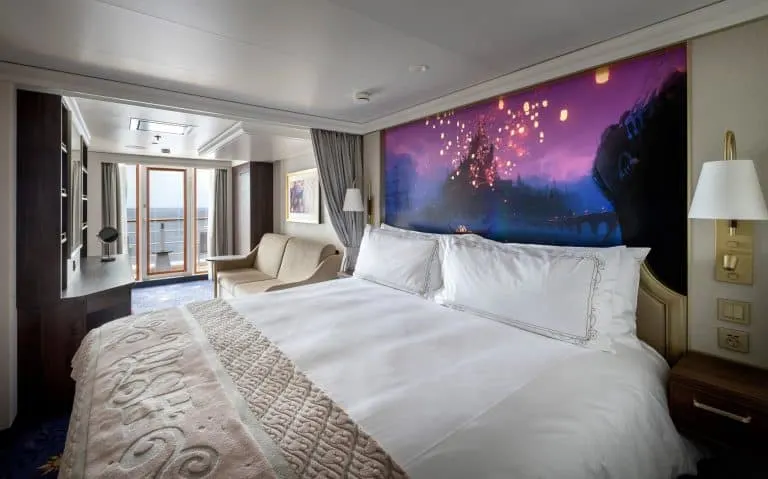 The theme is carried throughout the ship, including in staterooms which feature headboard murals showcasing scenes and character from Disney movies.
Kids will delight after they return from dinner in the evening to discover the couch has been magically replaced with bunk beds and whimsical star-filed artwork on the ceiling.
New Premium Accomodation Spaces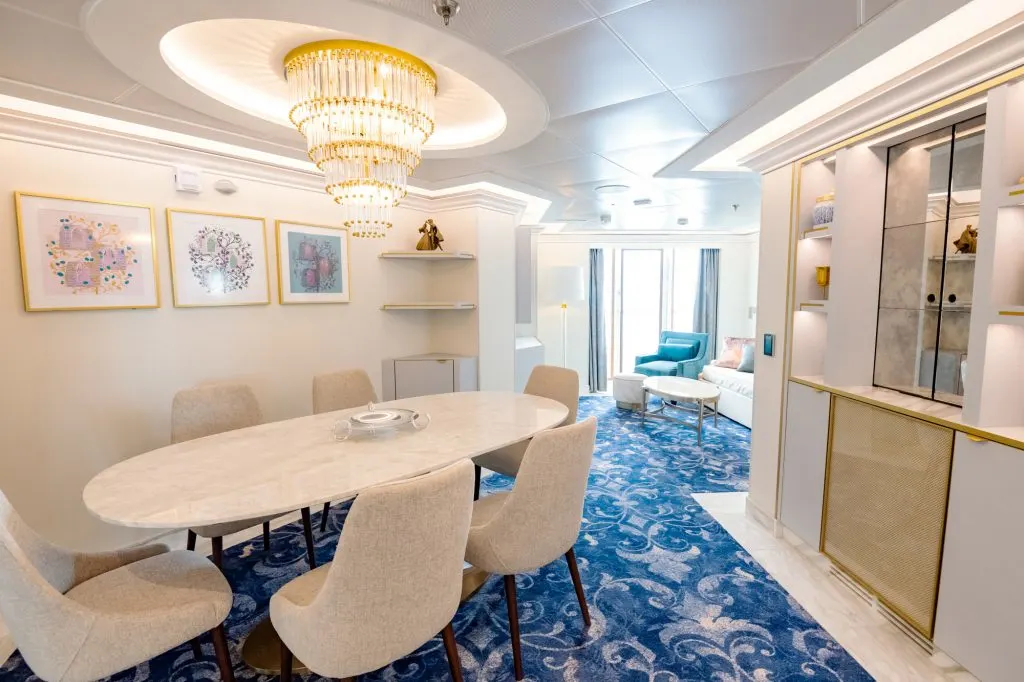 My family was very happy in our stateroom with its split bathroom (which makes getting ready so much easier) and private verandah, but some folks are looking for even more space and luxury.
There are now 76 concierge staterooms and suites, which is more than double the amount on other Disney ships. One-bedroom concierge suites have separate living rooms, two bathrooms, and even walk-in closets.
They also have access to the Concierge Lounge which has a full bar, kids' area, and private sun deck with two whirpools and a wading pool.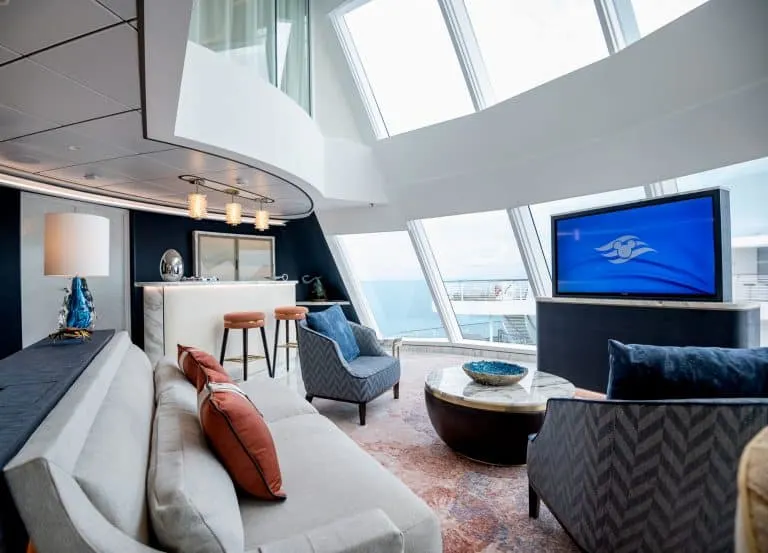 Still not enough? How about a royal suite with two master bedrooms or the Wish Tower Suite which is a 1,966-square-foot penthouse suite inside the forward funnel of the ship?
It sleeps eight and is bigger than many people's homes! We got a glimpse of the suite and I can assure you the views and accommodations are extra special.
Are you staying in Orlando before your cruise? Here are our favorite Orlando resorts for families in 2022.
AquaMouse- The First Disney Attraction at Sea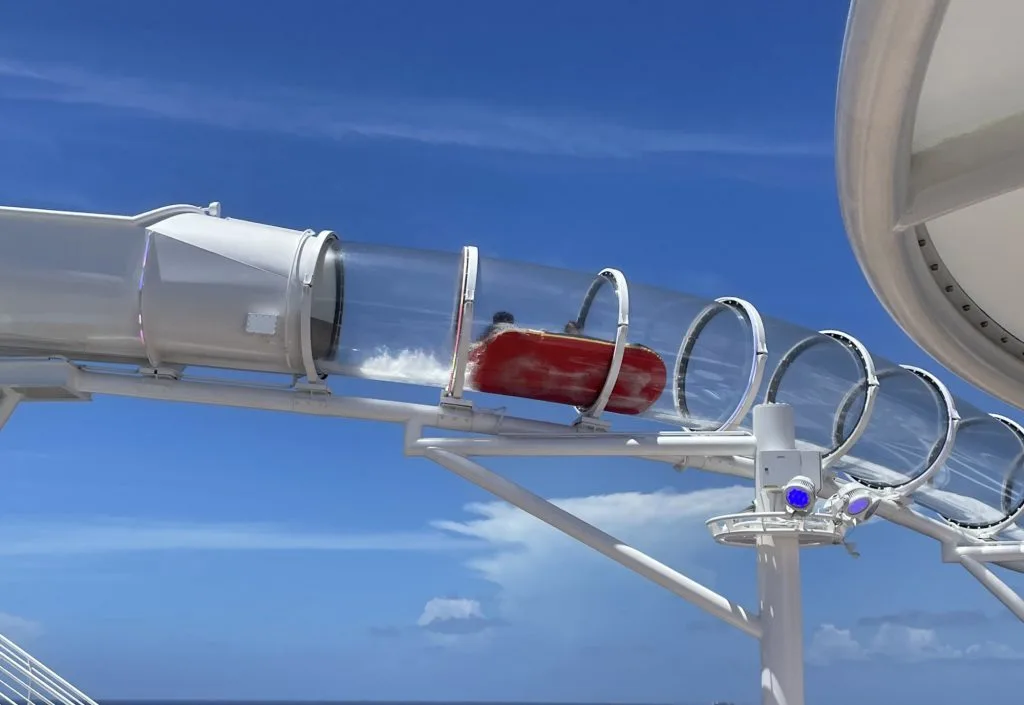 We have all spent time riding attractions at Disney theme parks but up until now, nobody had ever rode on a Disney attraction on a cruise ship.
AquaMouse is part water coaster, part Disney "dark ride", and sure to incite giggles and smiles as riders make their way up the tunnel past cute clips of the hijinks of Mickey and his friends which will result in you getting wet!
Once at the top, riders will blast out of the tunnel and onto a water ride that involves rafting through dark tunnels dazzling with effects, sprawling ocean views, and plenty of opportunities to get soaked thanks to the water powerd "speed blasters".
Plan on getting off the ride and then immediately getting back in line to go on again because it is that much fun! My daughter and I did five times in a row!
Lines can get long midday, especially on the "at sea" day, but we found that if you go just after dinner, lines are typically very short.
Trekaroo Tip: Be sure to ride the AquaMouse on more than one day of your cruise because there is more than one version of the animation in the tunnel.
Beyond the AquaMouse, there is still plenty of water-based fun for families to enjoy on the ship. There are six small pools of varying depths on decks 11 and 12 with views of a jumbo LED screen that plays Disney movies.
Love rides? Here are picks for the best rides at Disneyland Resort.
Plenty of New Water-Based Fun for the Younger Kids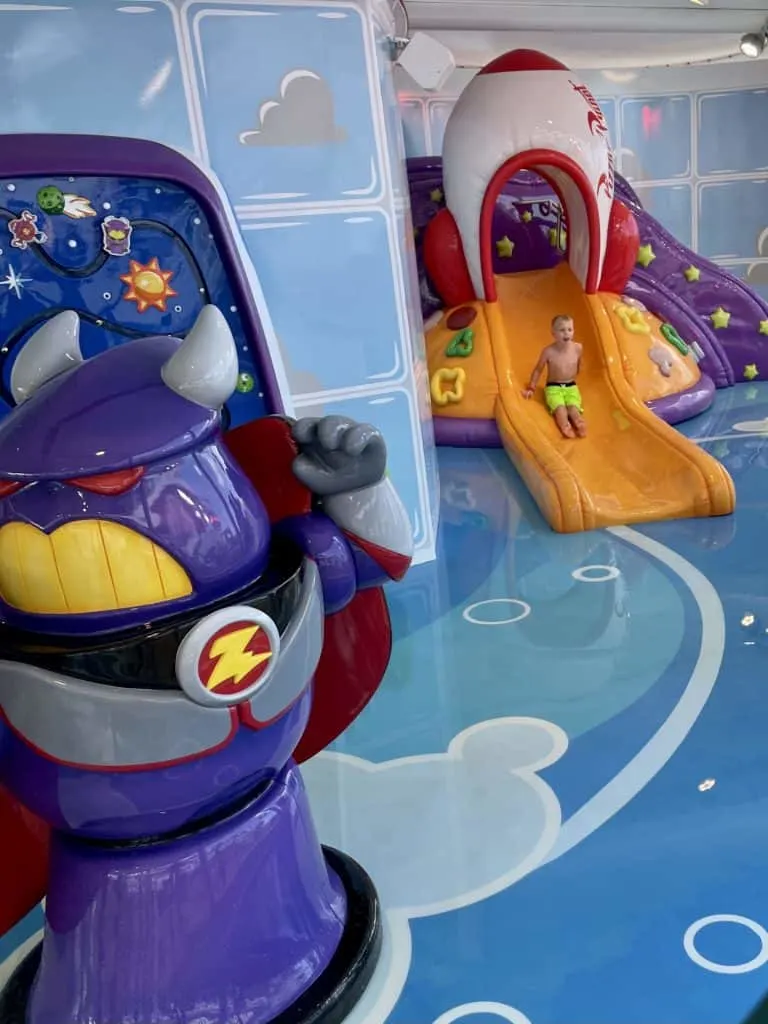 There is also a new Toy Story Splash Zone which is an adorable water playground with characters from the movie franchise reimagined as giant bath toys. There are also a couple slides that are the perfect size for preschoolers and toddlers, as well as lots of water features to splash in.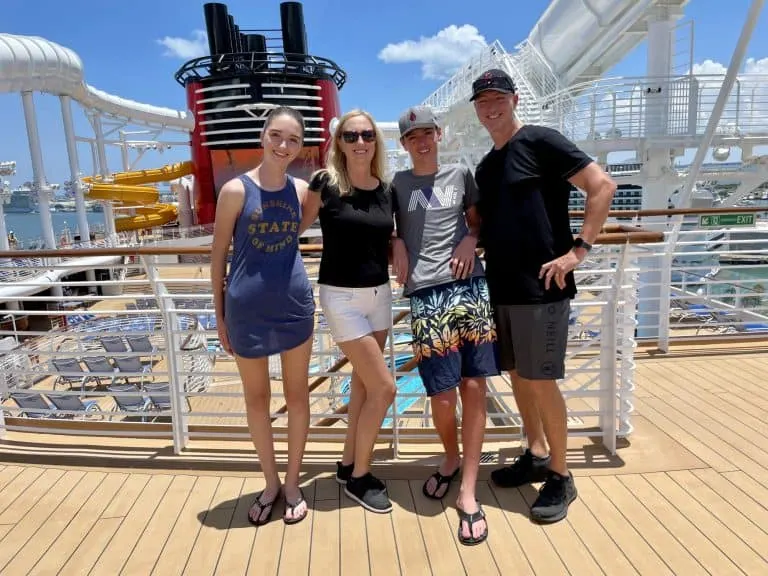 Next to the Toy Story Splash Zone you will also find Slide-a-Saurus Rex which is a double-looping waterslide. My adrenaline junkie teens found it to be a bit tame which means it is perfect for younger kids and those who prefer a less-thrilling experience.
Trekaroo Tip: If your family is looking for a quieter family pool that is less of a scene than on the main pool decks, head to the Chip 'n' Dale family pool on Deck 14 forward. Most cruisers don't even realize this pool is even there and we found the deck and pool to be even quieter than the adult area, "Quiet Cove".
Three New Broadway Caliber Shows
One of my favorite parts of sailing on the Disney Wish was the evening entertainment. As a fan of Broadway and live theater, I was absolutely blown away by the tremendous talent of the singers and dancers on stage.
There are three new shows on the Disney Wish- "Disney Seas the Adventure", "The Little Mermaid", and "Disney's Aladdin- A Musical Spectacular". As part of the media preview sailing of the Disney Wish, I had the opportunity to see two of these shows.
Disney Seas the Adventure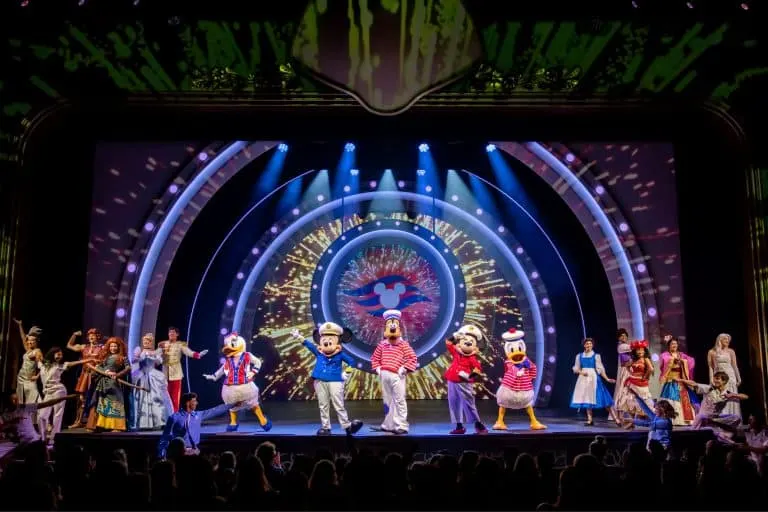 The embarkation day show is "Disney Seas the Adventure". Going in, all I knew was that it was starring Goofy and Captain Minnie, and that there would be appearances by other beloved Disney characters. I had no idea that I was in musical performances that would cover me in goosebumps!
The real highlight was when Tiana and her friends sang some of the classics from Princess and the Frog. My daughter whispered to me that she was crying from the emotion stirred up by the performers' incredible performance. I had the water works going as well. I turned to look at the lady sitting next to me and she was in tears, too! It was truly that good!
The Little Mermaid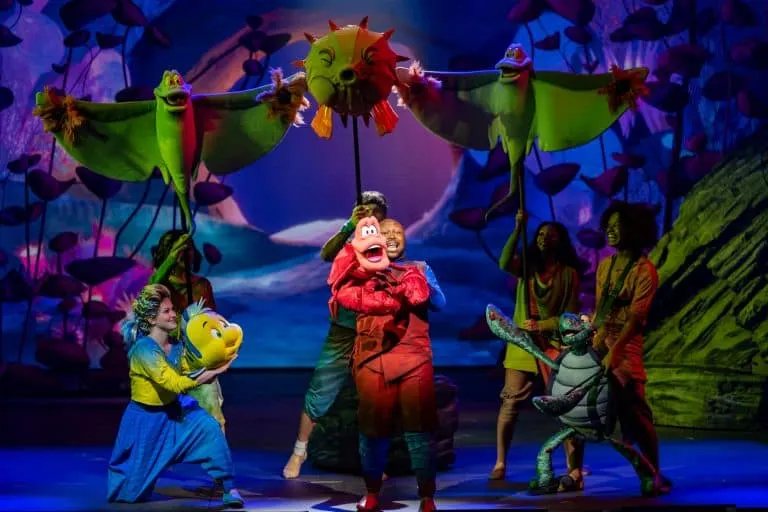 On the final night of our three-day sailing we also got a chance to see a dress rehearsal of the new rendition of "The Little Mermaid". The dress rehearsal was flawless!
This new version of the show has all the music and characters that we love, all with some puppet effects akin to the "Finding Nemo: The Big Blue… and Beyond!" show at Disney's Animal Kingdom.
All the performances were top notch (especially the performer who played Sebastian) and the new technology and creative script brought one of my favorite Disney movies to life.
Disney's Aladdin- A Musical Spectacular
We didnt get a chance to see "Disney's Aladdin- A Musical Spectacular" but according to Disney it is going to be a musical comedy with new sets, advanced technology, and more. I am sure it will exceed expectations just like the first two shows.
A New Rock n' Roll Version of the Pirate Party
Veterans of the Disney Cruise experience are surely familiar with the Pirate Party which takes place on the pool deck one night at sea. Well, Disney decided to breath new life into an already awesome tradition by premiering the all-new "Pirate's Rockin' Parlay Party".
We had so much fun at this party! It takes place on the Funnel Vision Deck Stage just below the giant LED screen.
The music selection was filled with rock songs we all know and love, and it was headlined by a live pirate band led by a descendant of Captain Redd from the Pirates the Caribbean attraction at Disneyland and Magic Kingdom. There was even an appearance by Captain Jack Sparrow!
All of this was capped off by a fireworks show at sea. Where else can enjoy a great fireworks in the middle of the ocean but on a Disney Cruise?
Trekaroo tip: Check to make sure your itinerary includes a Pirate Party before you pack for your trip. If it does, pack something fun to get into the theme of it all. Pirate gear is encouraged!
A New Indoor Sports Area Known as the Hero Zone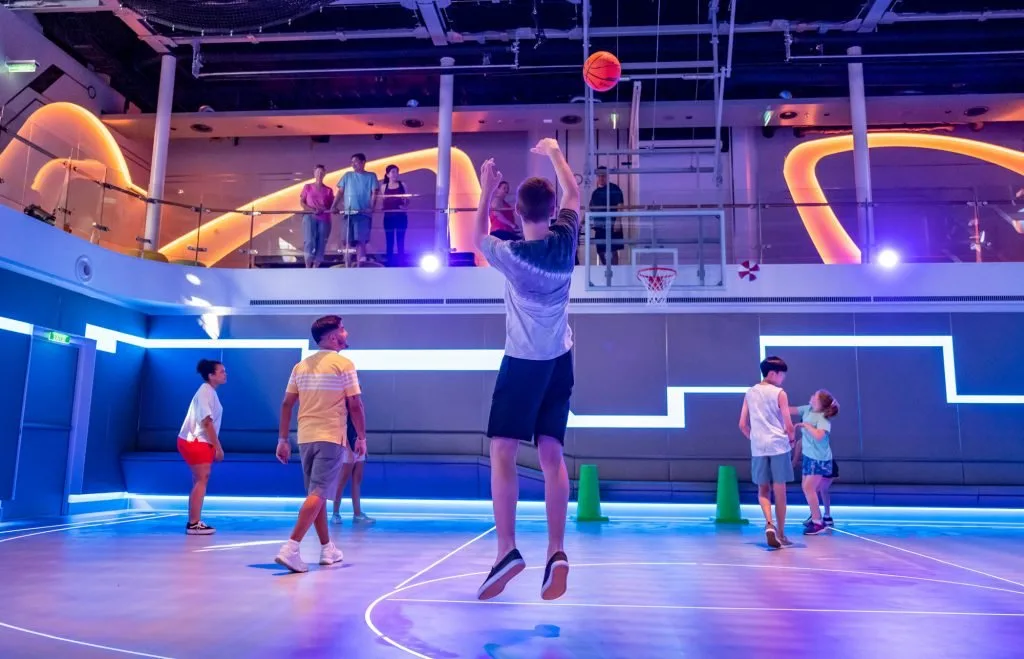 If you ask my teenage son which part of the Disney Wish was his favorite he would without a doubt say it was the Hero Zone.
As we all know Florida and the Caribbean can be very hot, so having an indoor, air conditioned place to play is brilliant. The Hero Zone is smartly located next to Vibe, the area exclusively devoted to teens 14-17.
The Hero Zone has a basketball court on the ground floor (which is where you will find most teenage boys in the evenings) and a variety of games like ping pong, shuffleboard, foosball, and air hockey on the balcony area above.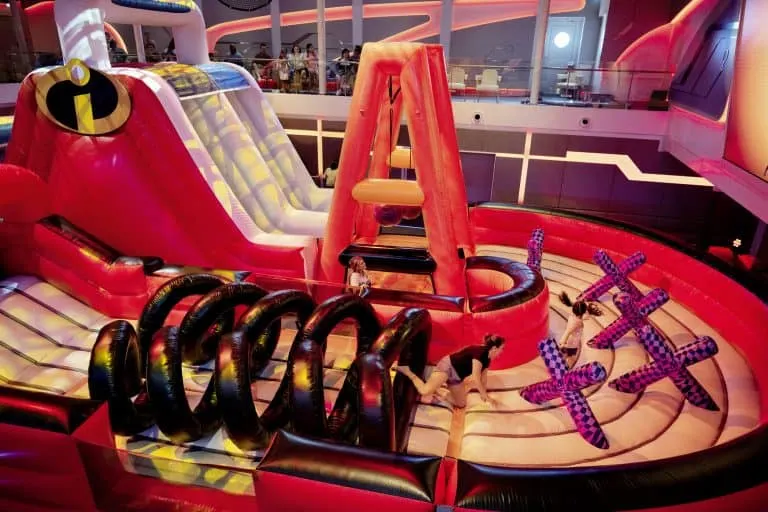 They also host the Incredi-Games in the Hero Zone. This is when the sports court is covered with a massive inflatable obstacle course where you can challenge family members to a crazy, hysterical race through the inflatible challanges. My family couldn't get enough!
Enjoy More Movies at Sea Than Ever Before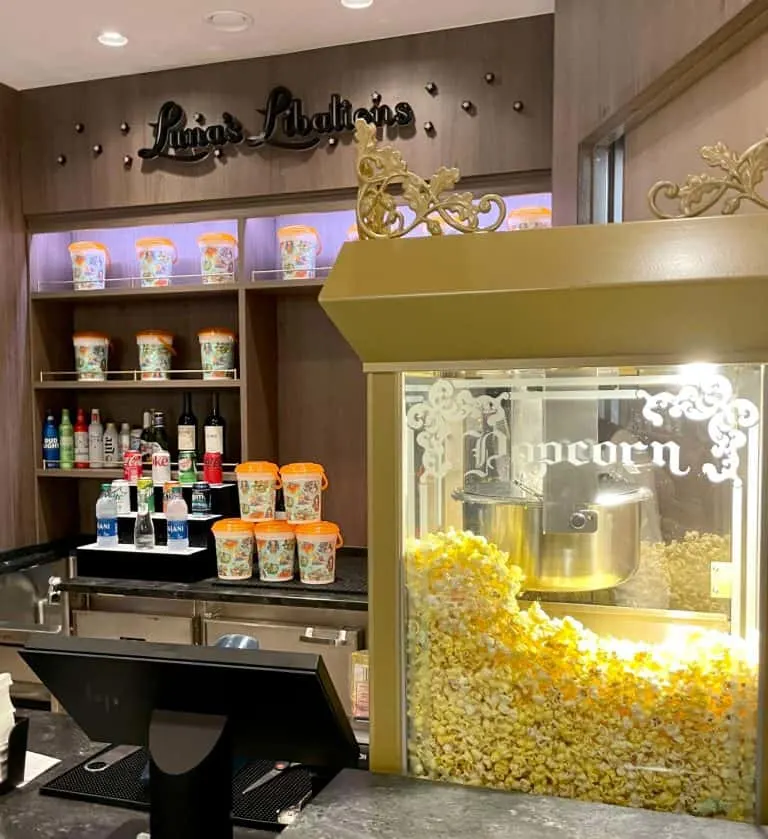 What's better than one movie theater on a Disney Cruise ship? How about two movie theaters! Two movie theaters allow guests to choose from first run films (my kids saw both Dr. Strange in the Multiverse of Madness and Thor: Love and Thunder while on board) or Disney classics.
The Wonderland Cinema is themed after Alice in Wonderland with a woodland motif and enchanted tree canopy above while Never Land Cinema takes its inspiration from Peter Pan and is decorated with scenes like Skull Rock and Mermaid Lagoon. Both theatres are the first in the cruise industry to have immersive Dolby Atmos 3D audio.
New Spa Spaces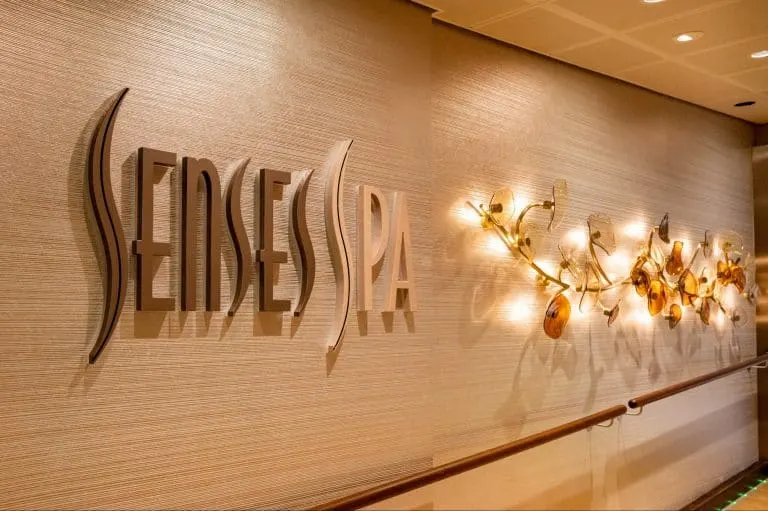 There has always been a fabulous spa space on Disney cruise ships, but on the Disney Wish, Imagineers decided they want to make the spaces larger, more distinct, and filled with Disney magic.
On this ship the spa, fitness center, and salons are all separate spaces- plus there are two new salon experiences to get excited about.
Most Disney-philes are familiar with the Bibbidi Bobbidi Boutique, a space where children can get makeovers which transform them into princesses, princes, and even pirates. There are a variety of packages to choose from which are all sure to make your child feel special.
But what about the parents? At Untangled Salon, upscale offerings include manicures, pedicures, skin treatments, hair cuts and/or styling, and even teeth whitening. The space feels chic but also still reflects that Rapunzel vibe with sheer curtains the color of her golden locks and floating lantern light fixtures.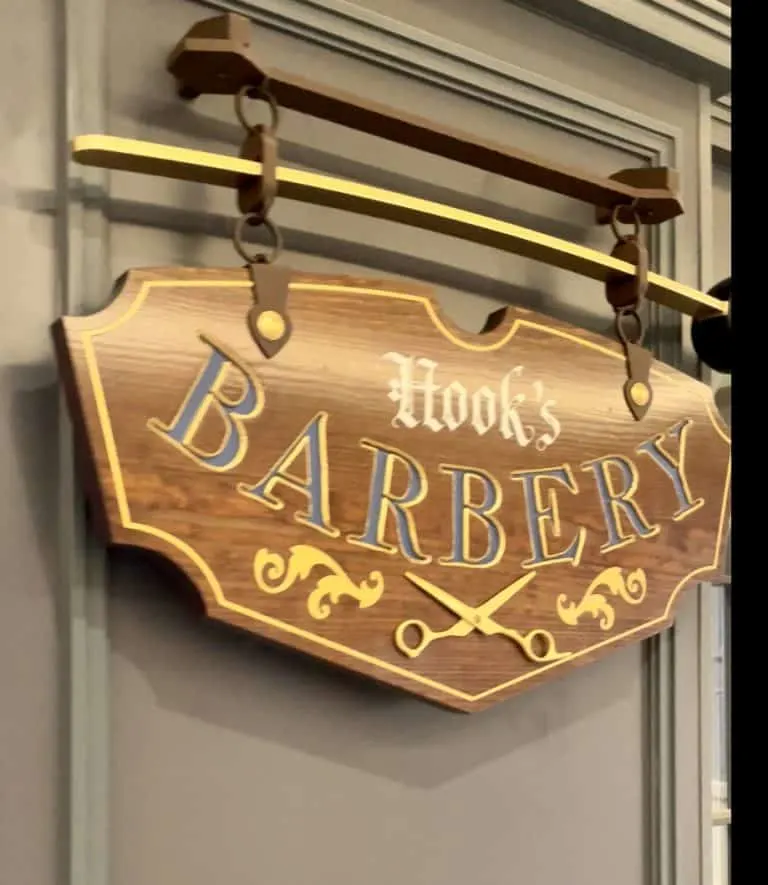 Also exclusive to the Disney Wish is the awesome new Hook's Barbery which styled after a European men's salon with hot shaves and hair cuts, as well as nail and skin care. There are subtle nods to Captain Hook but they are accompanied by plenty of dark wood and leather to make manly men feel manly while getting their salon services.
The best part of this space is that it also has a bar serving up a treasure trove of liquors like pre-Prohibition bourbons and well-aged ports. This is the spot to find the best Old-Fashioned on the ship!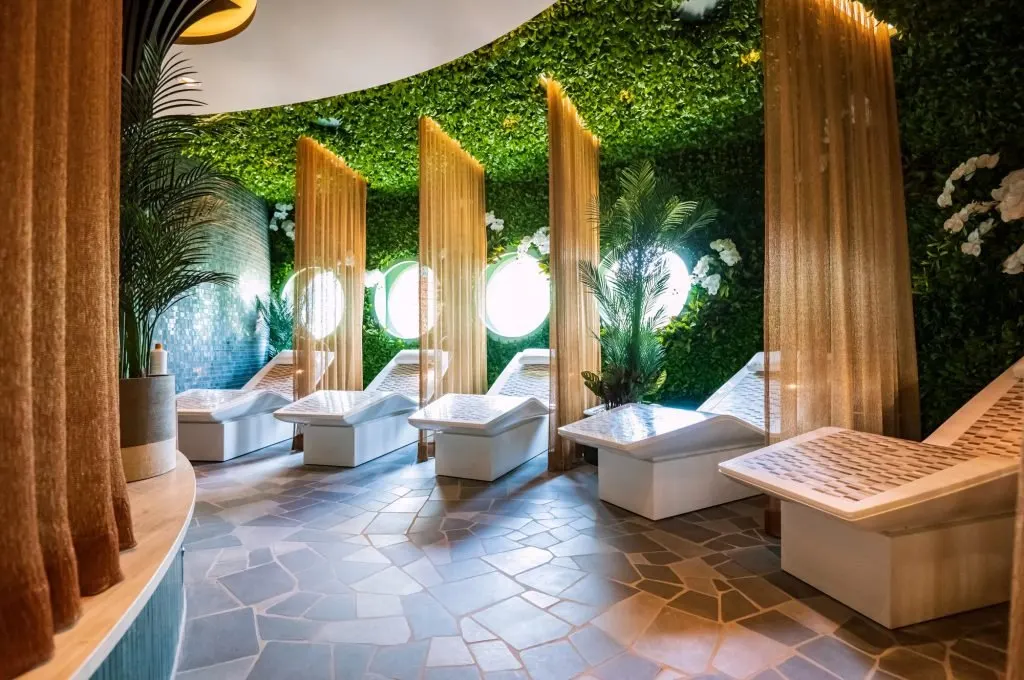 Senses Spa is three times bigger than the spas on other Disney ships. In addition to classic experiences like massages, facials, and yoga sessions, there is also an open-air rainforest experience. There are thermal therapies, heated ergonomic loungers, sensory spa showers. Day passes can be purchase to enjoy this relaxing space.
For those who love to get a good workout in while on vacation, you will happy to know that Senses Fitness space adjacent to the spa is filled with state-of-the-art equipment. It even has a cycling studio and aerobics room.
Three Incredible New Family Dining Experiences
One of the keys to a great cruise is great dining, and the Disney Wish certainly knocks it out the park with their three new family restaurants, 1923, "Avengers: Quantum Encounter" at Worlds of Marvel, and Arendelle: A Frozen Dining Adventure.
1923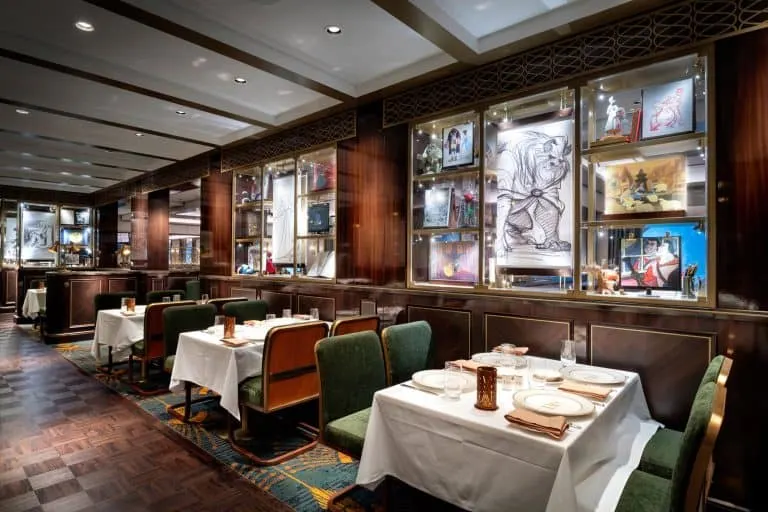 1923 is the most elegant of the three restaurants (though the dress code at all three is officially "cruise casual") and the decor is inspired by the Hollywood glamour of 1923, the year The Walt Disney Company was founded.
The dining rooms are filled with over 1,000 drawings and props from Disney animation. We sat in a section devoted to Pinnochio and enjoy a sophisticated dinner with dishes ranging from filet mignon to seared salmon filet and even vegetarian soft shell tacos.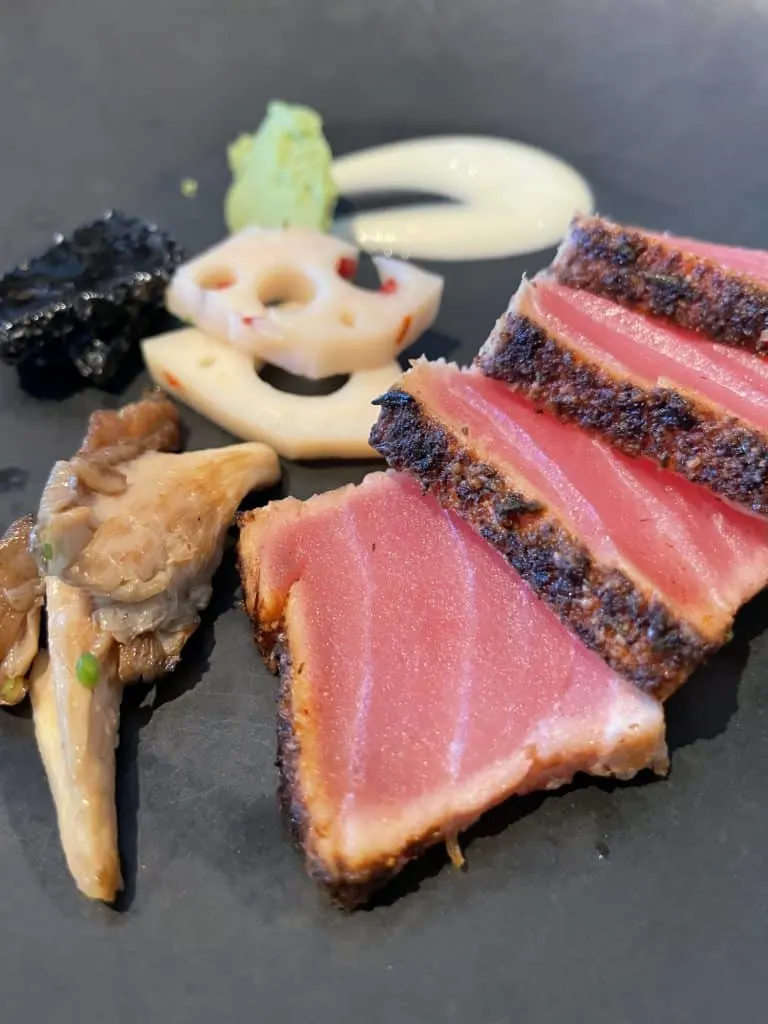 Don't worry, if your children have more of a basic palette they will still be happy to find mainstays like burgers and chicken fingers on the kids menu.
Our waitstaff followed us from restaurant to restaurant each evening of the cruise, and really got to know our preferences. We also sat at the same table number each evening.
The service was impeccable. Our waiter had extensive wine knowledge and helped us selected a bottle each evening (all were excellent).
My son and I have some food allergies and they took great care to make sure our food was safe and our options were still varied. My son was thrilled to have gluten-free rolls with dinner every night!
The staff even took care to make sure he could have a gluten-free bun with his cheeseburger on Castaway Cay. If only all businesses treated food allergies the way Disney does!
Avengers: Quantum Encounter at Worlds of Marvel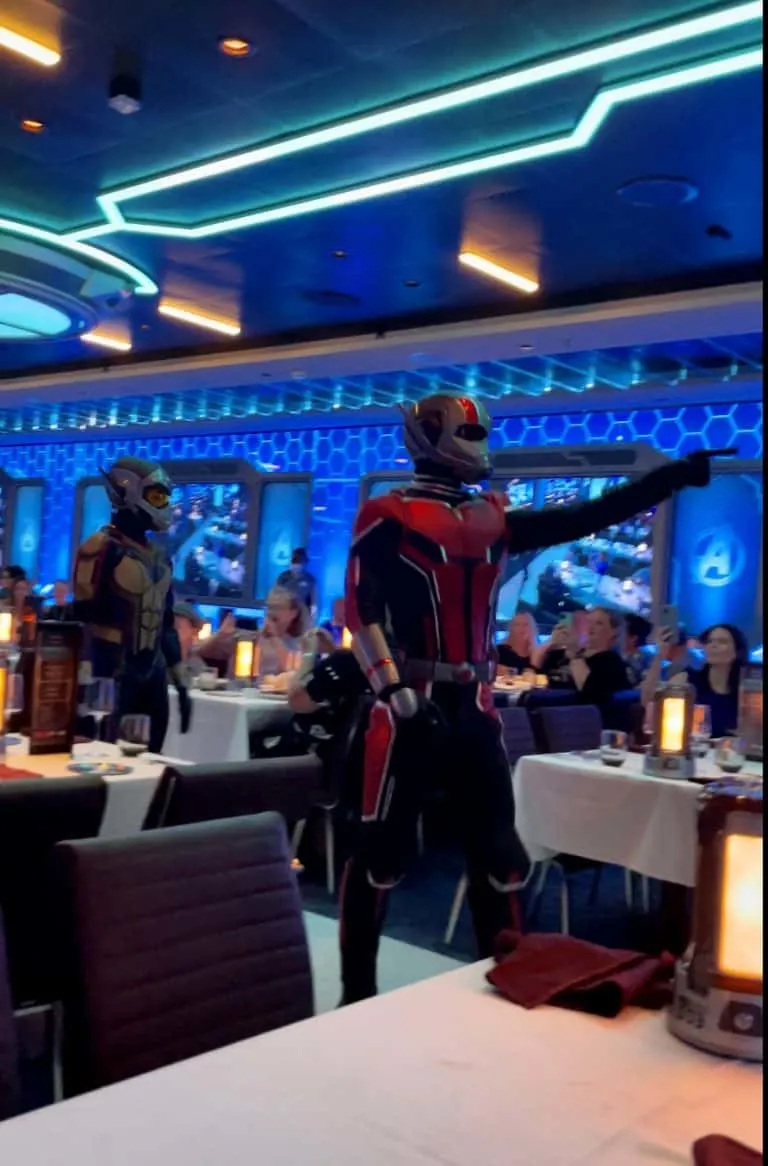 "Avengers: Quantum Encounter" at Worlds of Marvel was a dining experience unlike any other. The dining area was surrounded by giant screens. Ant-Man and The Wasp host a special presentation of Pym Tech's Quantum Core and ask diners to push the button on the Quantum Core on their tables to help shrink things or make them larger.
Of course, things go wrong and the "story" continues throughout the dinner, with clips from various Avengers films playing in between new scenes with Ant-Man and The Wasp.
While the atmosphere is certainly more casual than 1923, the food maintains that same level and quality and sophistication. Multi-course offerings included dishes like hearts of palm ceviche (amazing!), ricotta gnocchi, Delmonico rib-eye steak with black truffle butter, and seared turbot filet.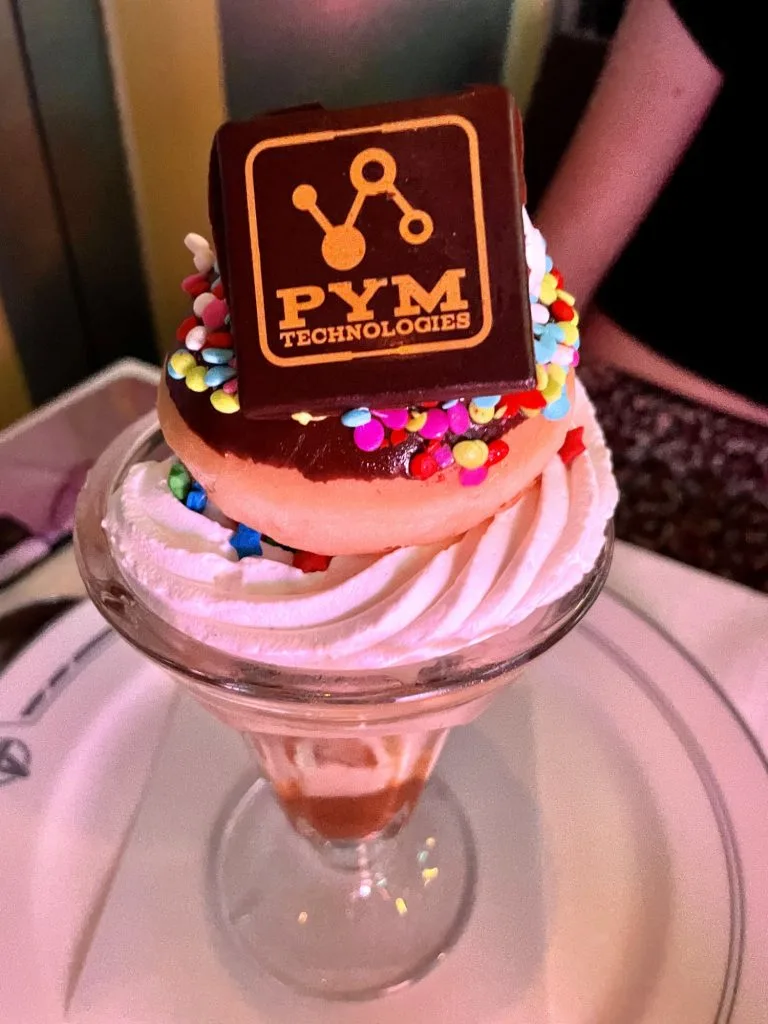 Make sure to stick around for dessert. First, because the dessert menu is ridiculous- my daughter still talks about the incredible Pym Doughnut Sundae with dulce de leche ice cream, caramel fudge sauces, and a chocolate glazed doughnut on top! But second, because you don't want to miss the in-person appearance of Ant-Man and The Wasp.
Arrendelle: A Frozen Dining Adventure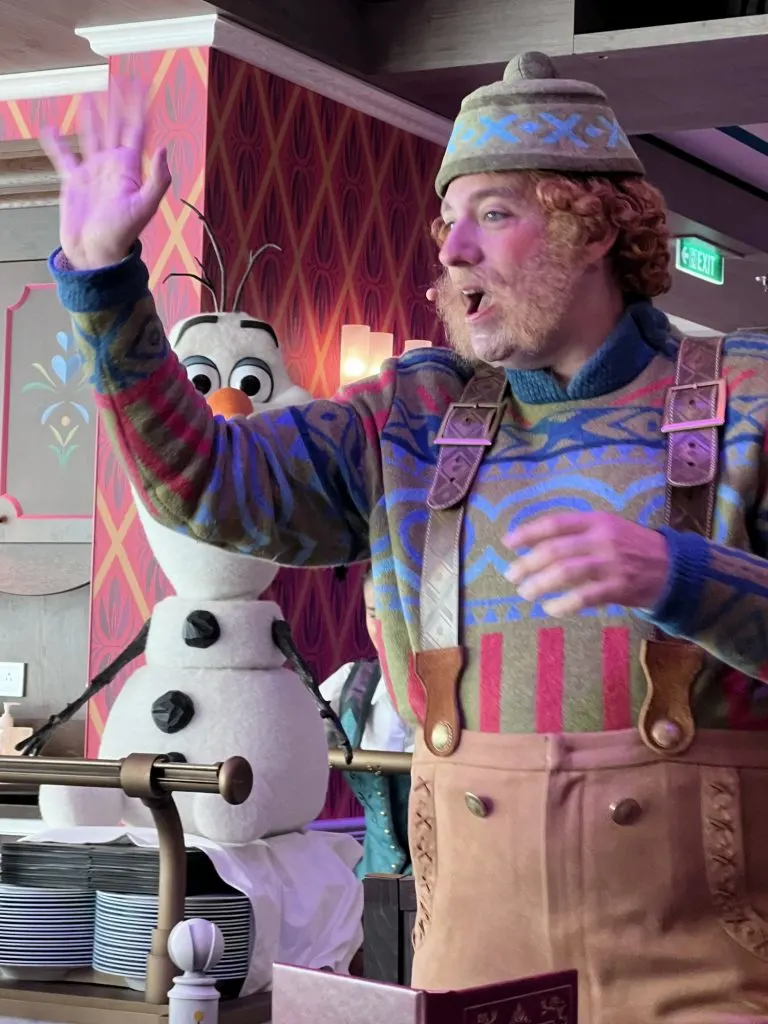 Finally, there is Arrendelle: A Frozen Dining Adventure, which happened to be my favorite dining experience on the ship. I love dinner theater, so of course dinner theater Disney-style was sure to be spectacular.
All your favorite Frozen songs and characters make appearances in this cheerful dining room filled with smiles, panoramic ocean views, and lots of great music and fun.
During this dinner we are all guests of Elsa and Olaf who are hosting a celebration in honor of Queen Anna and Kristoff's engagement.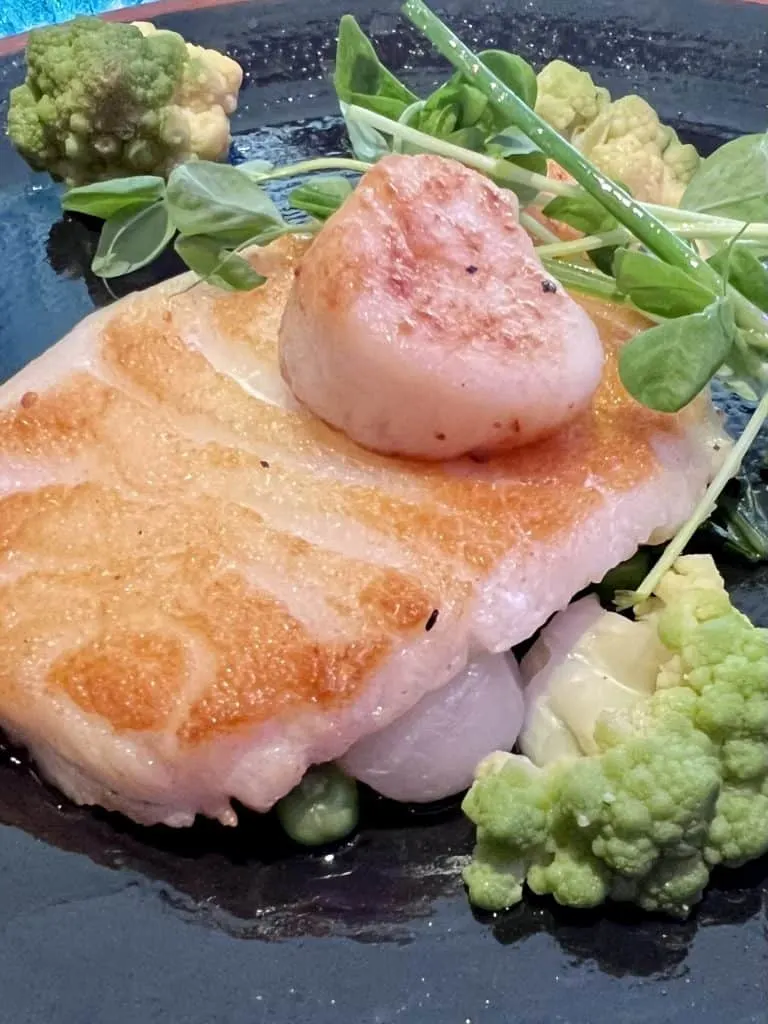 Characters make visits to all the tables while guests dine on Nordic-inspired cuisine. I had the best Chilean Sea Bass I ever had and my daughter couldn't stop raving about the Arendelle Kjottkake- braised meatballs in a rosemary cream reduction over egg noodles.
Dessert options included a traditional apple cake, Kvaefjordkake, and a super tasty mint chip ice cream sundae.
Mealtime flew by, and I honestly didn't want the celebration to end- we were having too much fun!
New Quick and Casual Dining Options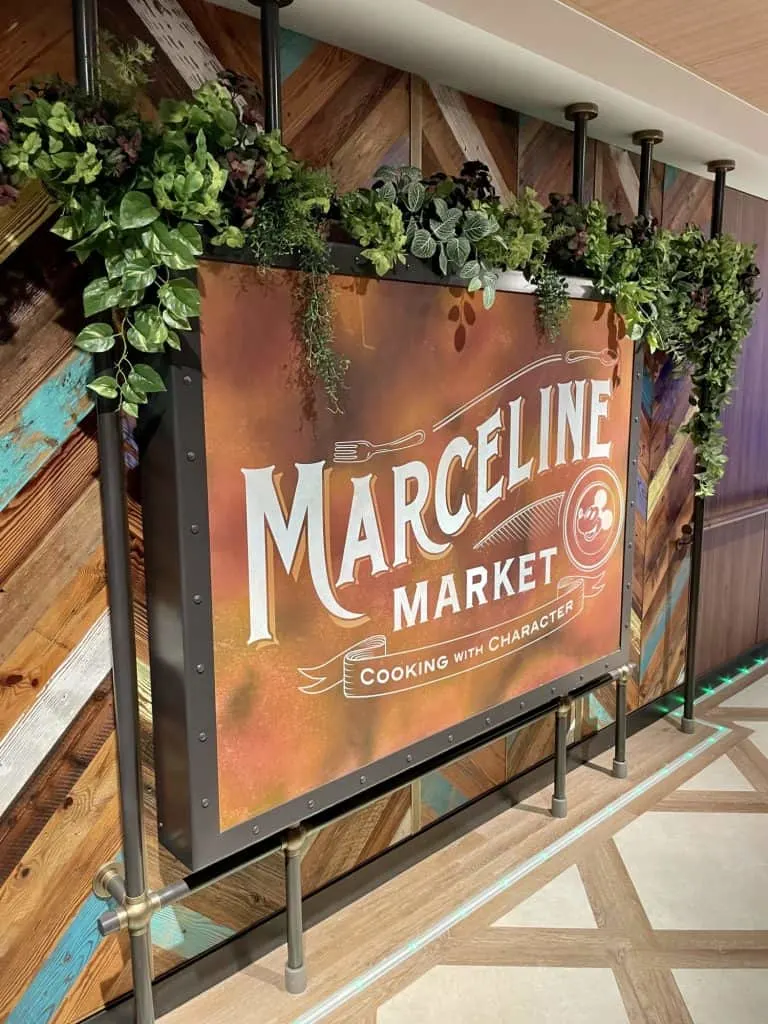 Not in the mood for a formal, sitdown meal? No problem! Up on Deck 11 (the main pool deck) you will find Marceline Market which is the ship's buffet. It is named for Walt's hometown in Missouri and has 10 food stalls serving up just about everything.
We found this to be a great breakfast or lunch spot because we wanted to eat quickly and get back to exploring and enjoying the ship.
There are also a variety of food stands next to the pool area serving up quick food eats- Mickey's Smokestack Barbeque, Donald's Cantina, Daisy's Pizza Pies, Goofy's Grill, and Sweet Minnie's Ice Cream. There are also self-service drink stalls where you can grab coffee, soft drinks, water, and iced tea.
All of this is "all you can eat or drink" so if you want four ice creams in one day, have four ice creams in one day!
Two New Adults-Only Restuarants to Get Excited About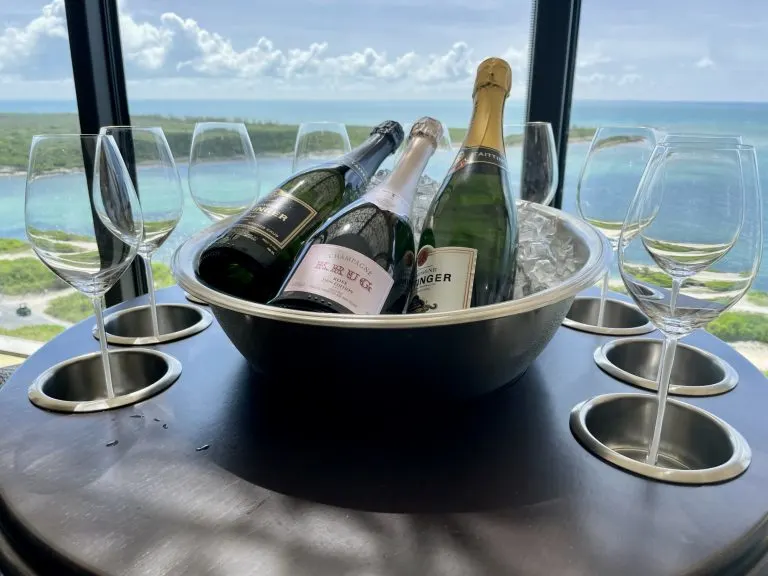 I think that when most people think of a Disney Cruise, they think about all the fun there is for kids (and don't get me wrong, there is TONS for kids to do) but they might not realize is that there are several spaces designed to cater to adults and many are adult-exclusive.
One of the greatest things about Disney Cruise programming is their amazing kids clubs (which we will get to!). Kids love these spaces and adults love that they can leave their kids in a supervised space where their children are having a blast so that they can enjoy a few hours on their own.
The opportunity for a few quality date nights is worth its weight in gold, especially when you have small children, and Disney knows how to do date night right.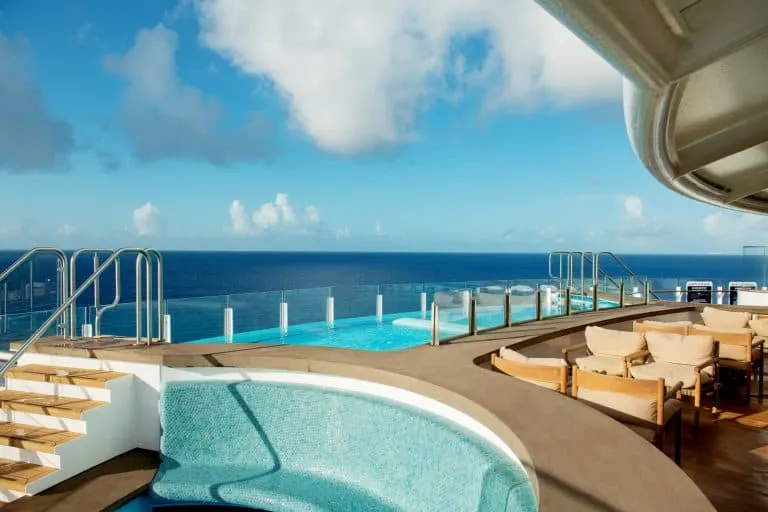 Adults can escape to the Quiet Cove Pool District which has a couple small pools, including an infinity pool with sprawling ocean views. They can also sit in a lounge chair and enjoy a cocktail or speciality drink from Cove Bar or Cove Cafe.
There are two specialty dining restaurants which are open to those 18 and older which are perfect for a high-class evening out. You don't need to put on a tuxedo or gown for formal night like you might on some ships, but most people do dress nicer (think collared shirt or a cute dress).
Palo Steakhouse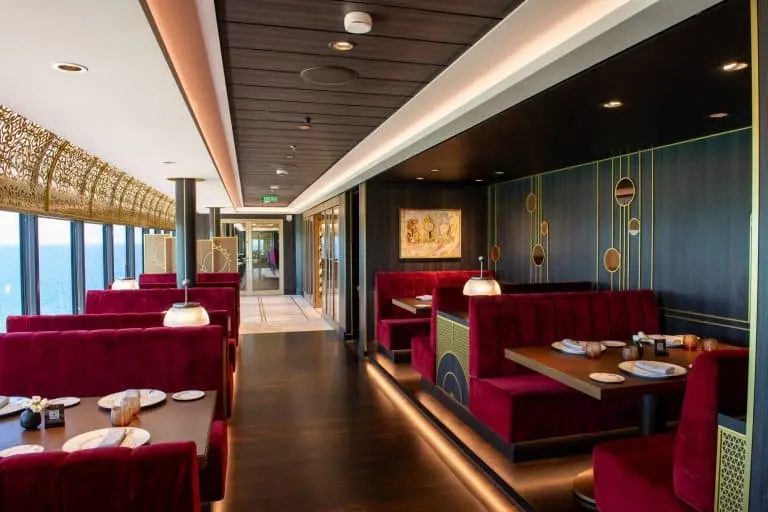 Palo restaurant has been a mainstay of adult dining on Disney ships, but the Disney Wish has an upgrade- Palo Steakhouse. It still offers the exquisite Italian cuisine that Palo is known for, but this restaurant also serves high-caliber steaks like Japanese Kobe and Australian wagyu.
In addition to fine dining, Palo Steakhouse also has fine ocean views, truly some of the best on the ship.
The restaurant offers 300 different Italian wines ranging in price from $40-$5000. They even have a water menu with over 25 still and sparkling water options from around the world!
If you are looking for a special brunch, be sure to make advance reservations for the one offered at Palo Steakhouse from 10:30-12:30pm on "at sea" days.
Enchante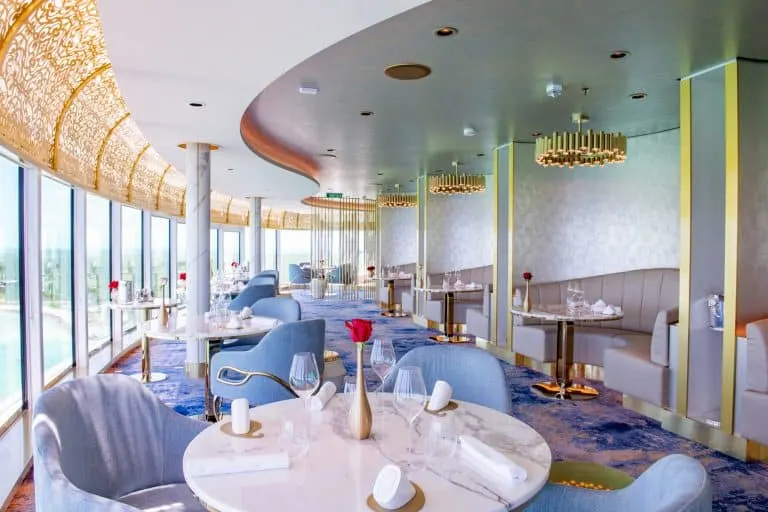 The other adult-only fine dining option on the Disney Wish is Enchante by three Michelin-starred Chef Arnaud Lallement. This romantic French restaurant focuses on seasonal cuisine in a setting surrounded by sophisticated nods to Lumiere from Beauty and the Beast which are complimented by jaw-dropping ocean views.
There are a couple different tasting menu options (with or without wine tastings) which come highly recommended or singular entrees like squab, lobster, and grilled beef. I was only able to sample a couple tastes from the menu offerings but I can assure you that everything I tried was exquisite.
Like Palo Steakhouse, Enchante offers a brunch service on "at sea" days which should definitely be booked in advance. Do keep in mind that unlike the family dining restaurant I have previously mentioned, these premium dining experiences come with an additional cost.
Four New Lounges You Will Definitely Want to Experience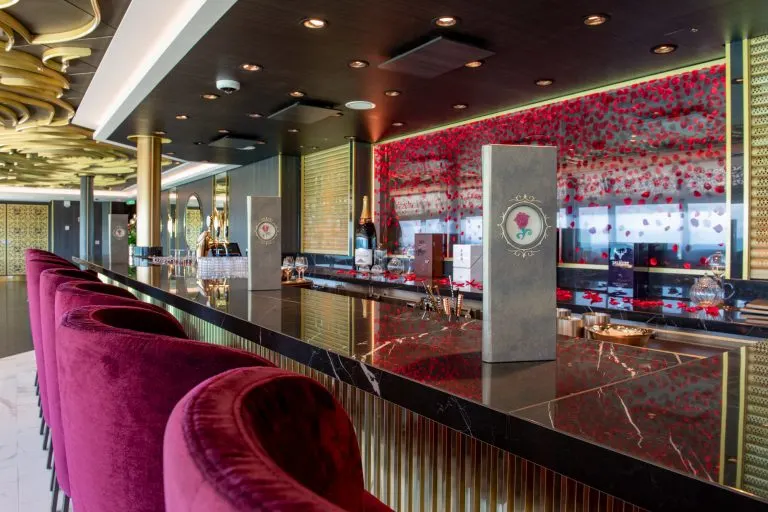 I have to say that some of the most impressive spaces on the Disney Wish were the lounge spaces. They serve up creative drinks and have fun and distinct atmospheres all to their own.
With the exception of The Rose, which is always adult-only, lounges are open to all ages during the day. Star Wars: Hyperspace Lounge and Nightingale's are adult-only after 9pm. Bayou is open to everyone all the time.
The Rose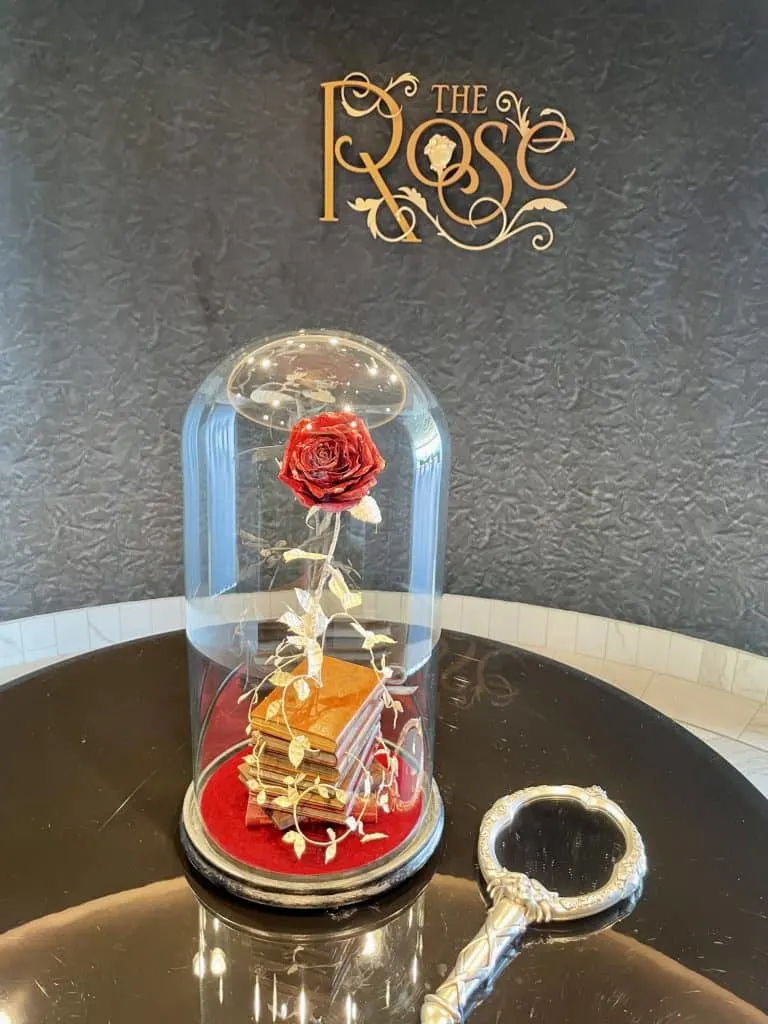 The Rose is located in the adult dining area of the ship near the entrance to both Palo Steakhouse and Enchante. It is a beautiful and sophisticated lounge with design inspired by the rose in Beauty in the Beast.
There are several craft cocktails on the menu but the most impressive and most popular is "The Rose", a showstopping cocktail made with Komos Repsado Rosa tequila, Grand Marnier, and Cuvee Louis Alexandre Perrier-Jouet Belle Epoque Rose. The glass is placed in a glass cylinder and steam with elderberry flavor is pumped in, creating an illusion of a rose floating in the mist
Nightingale's
Nightingale's is a piano bar that is inspired by the song "Sing Sweet Nightingale" from Cinderella. The drink menu is focused around bubbles- frozen bubbles, smoke bubbles, and air bubbles.
Each cocktail in the frozen bubbles section comes with a round, hollow ice cube that is filled with a portion of the cocktail. Patrons are given a small hammer to break the frozen bubble open and mix that ingredient in with the rest of the ignredients in the drink. Fun!
The Bayou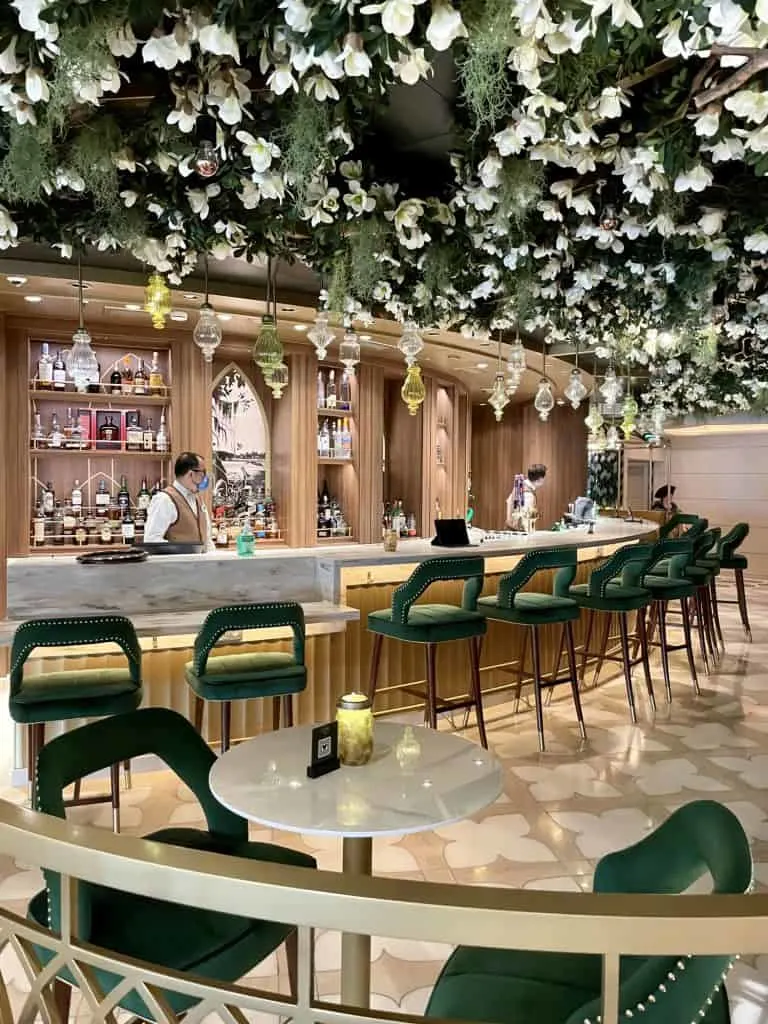 The Bayou is one of the most beautiful and welcoming areas of the ship. As you might guess, this is a New Orlean's inspired lounge, so there are plenty of nods to Princess and the Frog.
The ceiling is adorned with magnolia blossoms, lily pads, and twinkling fireflies. It really feels like you have entered a magical space. Specialty cocktails like the Hurricane and the Absinthe Frappe are nods to New Orleans culture.
There are also beignets (with chocolate dipping sauce), live jazz music in the evenings, and speciality coffee drinks earlier in the day.
Star Wars: Hyperspace Lounge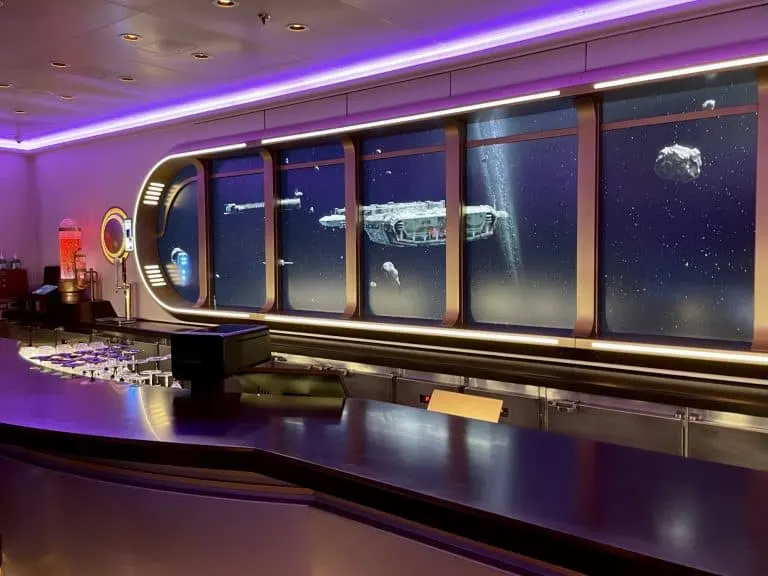 Finally, the lounge that everyone is surely most excited about is Star Wars: Hyperspace Lounge. And trust me, it doesn't disappoint! You enter the lounge with "whoosh!" as the door opens and you enter a "high-end bar in a luxurious yacht-class shape ship".
There is a huge screen behind the bar that utiilizes some kind of amazing technology that makes it look like you are floating around in space with stars, ships, and planets flying by.
Every seven minutes the lounge jumps into hyperspace and it travels at lightyear speed to a new galaxy. Expect to see famed Star Wars locales like Tatooine, Batuu, and Mustafar. You will even hear the sounds of spaceships, including the Millenium Falcon, whizzing by.
There are non-alcoholic and alcoholic drinks of the menu. You can get a Spire Sunset from Batuu, Freetown Reserve from Tatooine, and Breken's Flow from Mustafar. And yes, the rumors are true. There is a $5000 cocktail, the Kaiburr Crystal, on the menu.
As you can imagine, this spot is very popular and reservations are highly recommended, so book them as soon as you get on the ship.
New Kids Club Spaces That Adults Will Be Jealous Of
By now I think we all know that Disney knows how to keep kids happy. Their kids clubs on previous ships have been widely popular but the experiences at the kids clubs on the Disney Wish really take things to another level.
There are spaces for babies and toddlers all the way to tweens and teens.
It's a Small World Nursery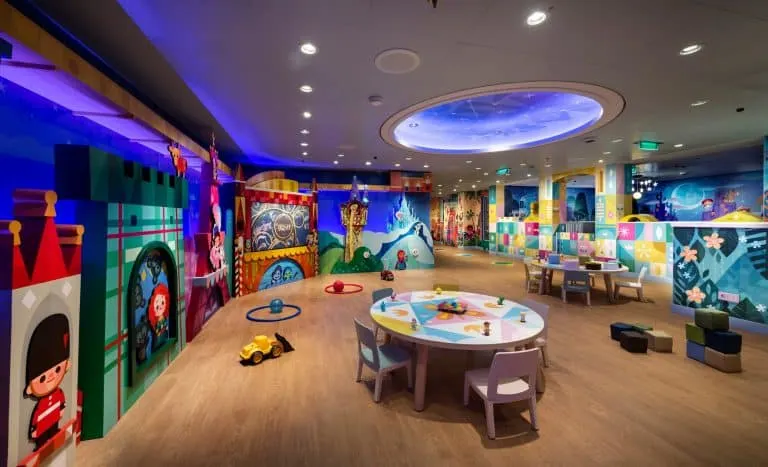 It's a Small World Nursery is one of the most adorable spaces on the ship. The artwork leading you down the path to the nursery where Disney, Pixar, and Marvel characters are reimagined as "It's a Small World" dolls is enough to cause an involuntary "awwwwwww" to escape your mouth.
Bo Peep from the Toy Story franchise tells stories to the little ones in the nursery, and playroom is filled with magical (and truly beautiful) murals that toddlers can interact with. They will also love the train that makes its way around the top of the room.
Children as young as six months and old as three years are welcome in this space. Safety and security are top priorities, as is making sure your little one is having a wonderful time while you are away.
Disney's Oceaneer Club
Disney's Oceaneer Club is open to children ages 3-12 and is the first kids club at sea that you can actually slide into! You read that right. There is a tunnel slide in the Grand Hall that leads into the kids club. You don't know how bad I wanted to go down that slide!
There is SO MUCH to do in the Disney's Oceaneer Club that I have a feeling more than one parent will have to drag their kids out of there kicking and screaming.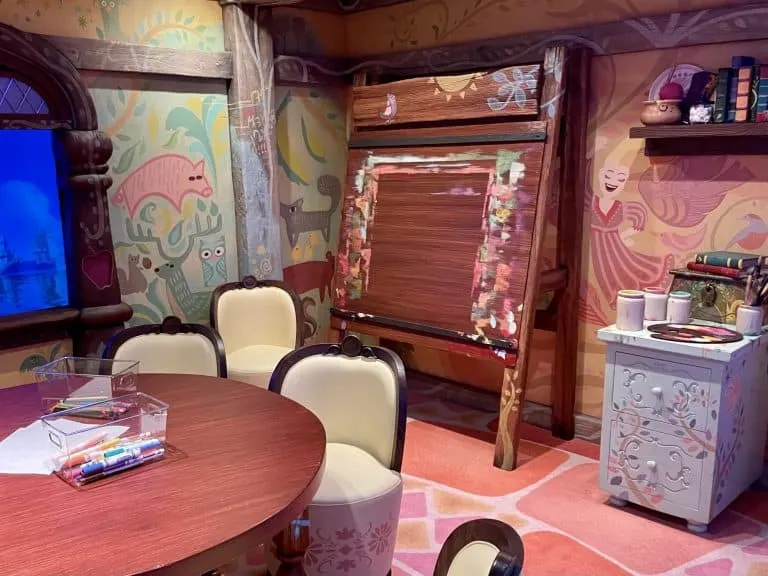 First you have Fairytale Hall which is a set of rooms filled with an art studio hosted by Rapunzel, Belle's library, and even Elsa and Anna's summer cabin.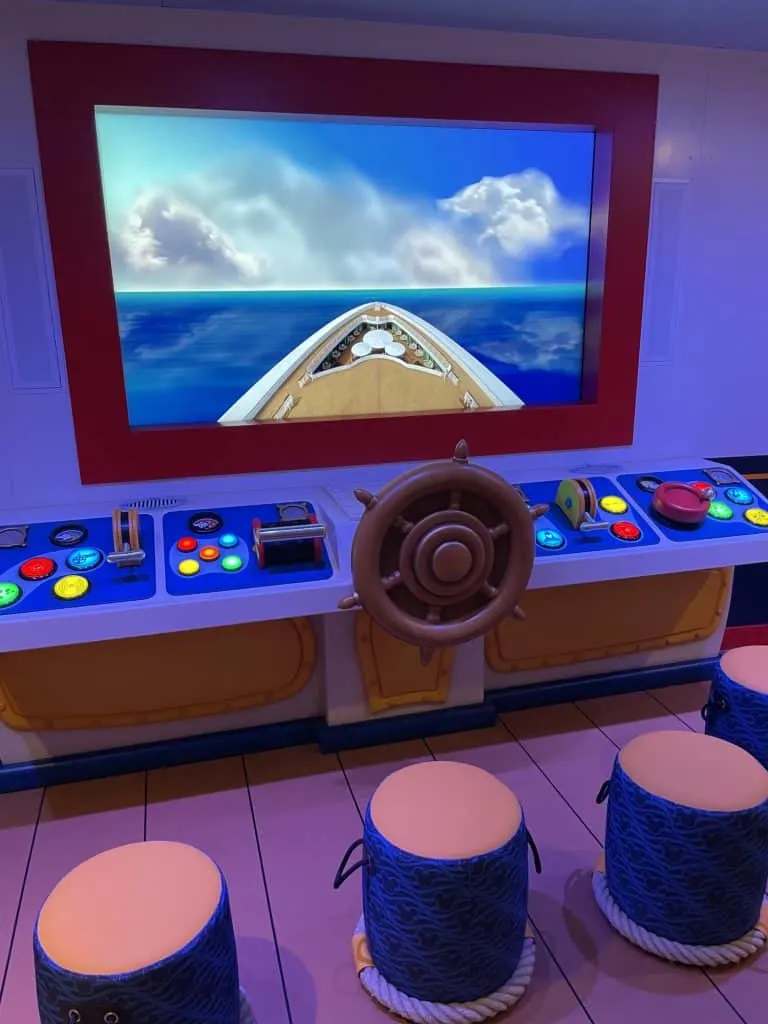 Over at Mickey and Minnie Captain's Deck, designed for younger kids, there are cheerful maritime-themed games and activities, as well as little slides and climb throughs. Kids can even participate in "Minnie's Captain Academy" which is designed to be fun and active while still being tied to STEAM principles.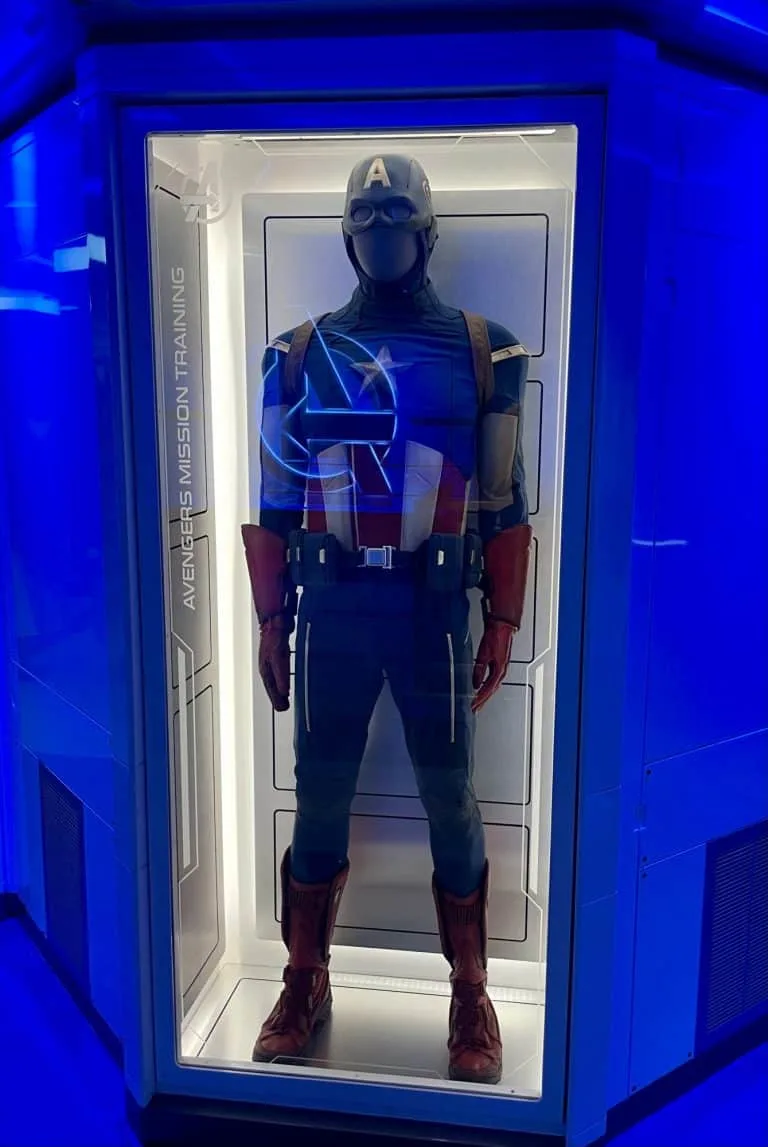 Marvel fans will be pumped to play in the Marvel Super Hero Academy where kids can train to be super heroes, design their own super hero suit, and battle bad guys virtually. The space uses immersive and innovative technology to bring it all to life.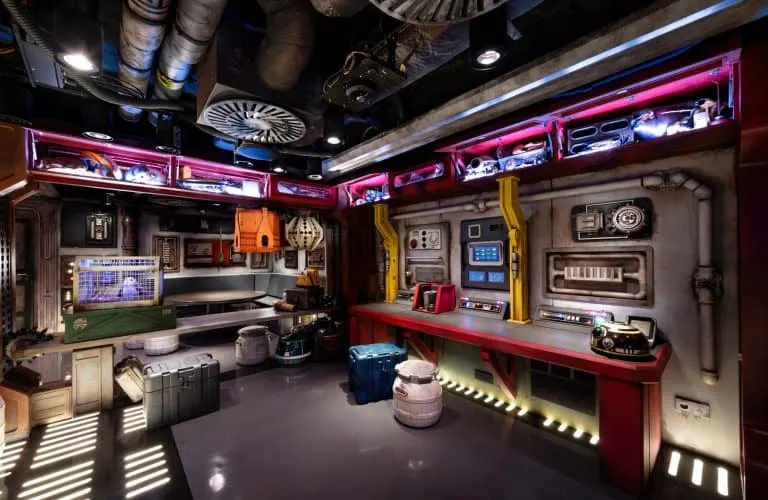 There is also Star Wars: Cargo Bay which is another new, immersive experience for kids onboard Disney cruises. They get to play the role of creature handlers to all sorts of critters from various galaxies. There is also an augmented reality mission they can join to help get Rey and Chewbacca safely back to the Resistance.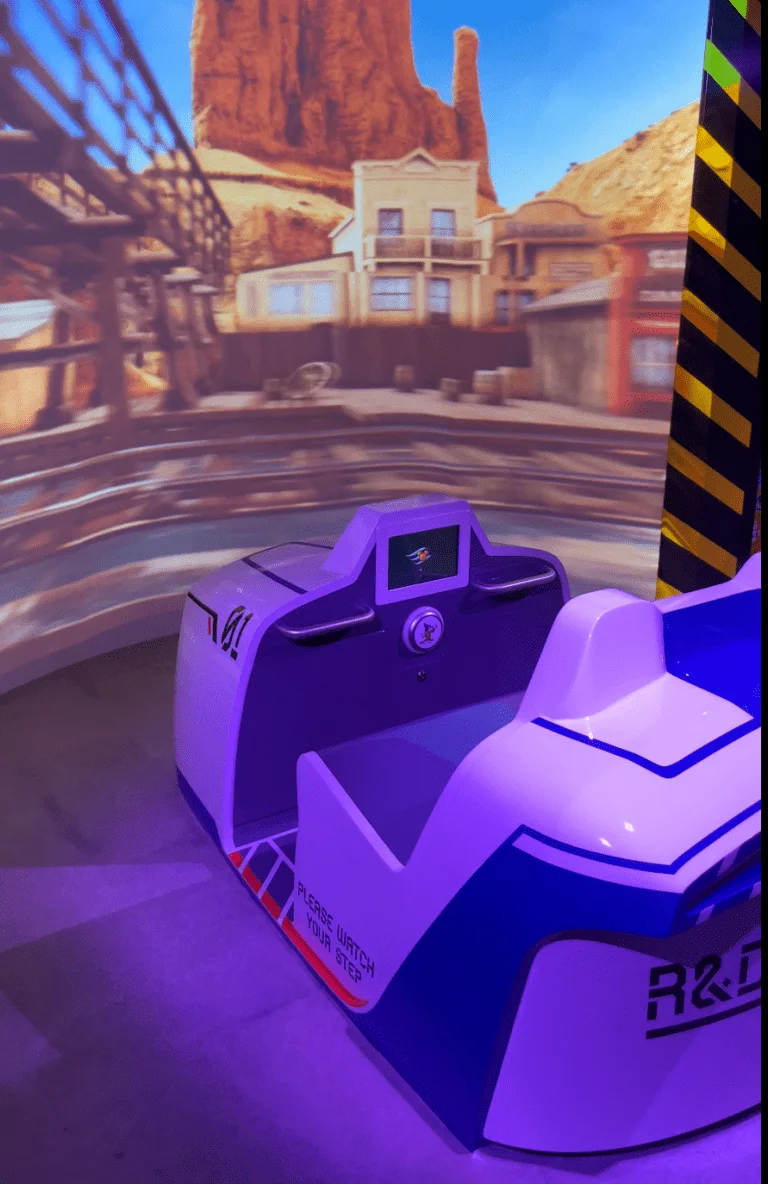 My favorite spot is the Walt Disney Imagineering Lab where kids enjoy all sorts of hands-on Imagineering activities, including the chance to design their own roller coasters, and then climb in the capsule and go for a virtual ride!
Teens and pre-teens have their own spaces as well. Edge is for kids 11-14, and Vibe is open to teens 14-17. They are hip and comfy spaces where they can hang out, play games, and participate in a wide range of activities with kids their own age.
A New Experience the Whole Family Can Play Together- Uncharted Adventures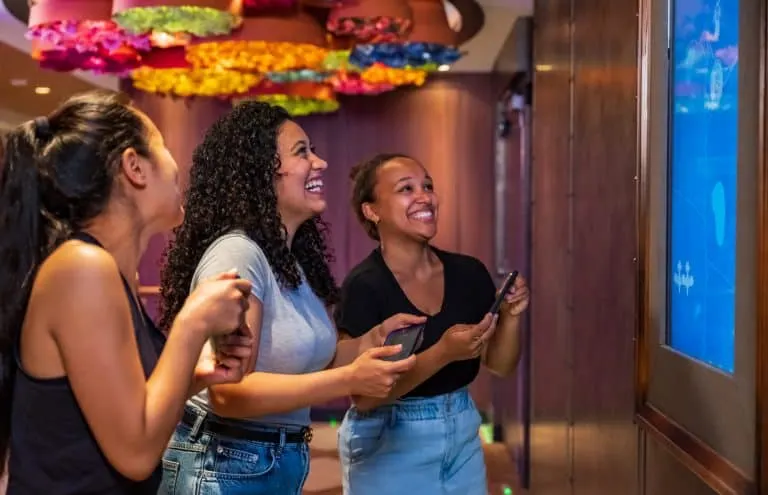 In recent years, Disney has made their apps more and more interactive with the theme parks, allowing people to play games and uncover new experiences while inside the parks. Now they have done the same thing on board the Disney Wish.
Families use the Disney Cruise Line Navigator app that transforms their phone into a "spyglass" to complete quests around the ship. There is a bit of a "choose your own adventure" aspect to Uncharted Adventures since participants get to choose which quest to tackle next.
Artwork and props around the ship will magically transform and bring the characters (Moana, Tiana, Peter Pan, Nemo, and more) and their worlds to life.
The grand finale is a live interactive experience in one of the ship's entertainment venues. Everyone gathers to battle a Disney villain and restore the ship's wishing star.
A Cruise Ship That is More Environmentally Friendly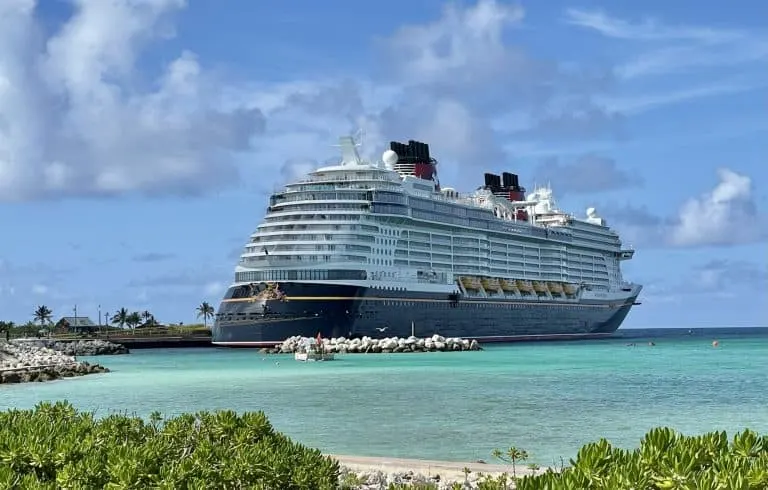 Disney is working hard to minimize its environmental impact, a hard thing to do when you have a sailing city floating around the ocean. They now use low-emission, liquefied-natural gas reduces greenhouse gas emissions by 20%. It is also 30% more fuel efficient.
There is onboard recycling, washable dinnerware (instead of throwaway plastics) is used all over the ship, and water conservation efforts onbaord save over seven million gallons of water each year.
I appreciate that the shampoo, conditioner, and body wash are in pumps instead of tiny, wasteful bottles and LED lighting is now the norm for 90% of the ship. A 1-megawatt fuel cell is expected to be added to the ship in 2023, which will help reduce the Wish's environment impact.
Disclosure: The author and her family were hosted on a media preview of the Disney Wish. She was not asked to express any particular opinion and this is an unbiased account of her experience.