Are Disney cruises worth it? As a family travel expert, I get asked this question a lot. After all, Disney cruises are certainly not on the "less expensive" end of the cruise spectrum. While cruising is never a one-size-fits-all experience, I would say that for most families, a Disney Cruise is 100% worth the cost.
A Disney cruise compares to most other large ship cruise lines in many of the same ways that Disney theme parks compare to most other theme parks. There is a focus on higher quality experiences and better attention to detail.
If you aren't a fan of the Disney brand, you won't be a fan of Disney cruises. The mouse and all his pals are well represented while on board.
And while a Disney cruise is definitely designed to keep kids happy, Disney has managed to be very successful at making its adult experiences just as enjoyable as those aimed at children. Here are 10 reasons why we believe a Disney cruise is worth the cost.
Read our full review of the new Disney Wish cruise ship.
Are Disney Cruises Worth It?- Here are 10 Reasons Why We Think They Are!
Fabulous Dining Experiences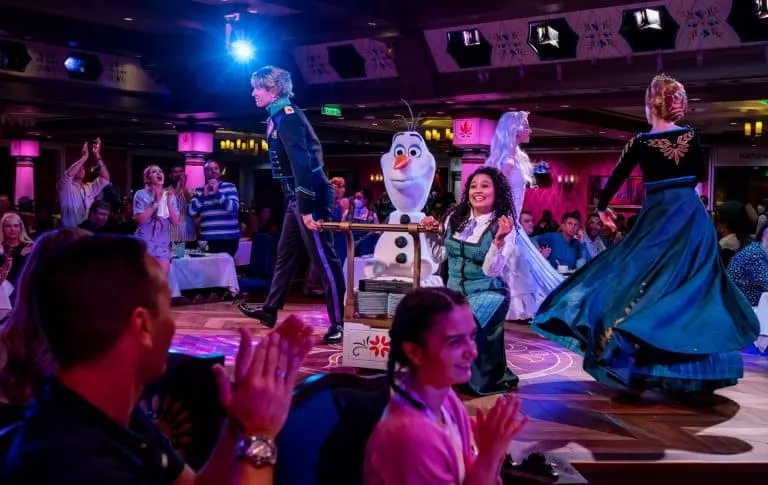 I think cruising and food go hand in hand. After all, part of the appeal of a cruise is that they are meal-inclusive experiences. I have been on cruises where the food is plentiful but subpar. Disney cruises have food that is plentiful and delicious.
A Disney cruise includes all meals, minus alcohol and specialty coffee drinks. There are a couple premium dining experiences you can pay for (like the upscale, adult-only dining at Palo), but you can opt to just eat at the included restaurants and still eat like a king or queen.
My kids loved that there was always soft drinks, juice, iced tea, and water available on the pool deck for self service. All-you-can-eat soft serve was a pretty huge perk, too. We also appreciated that we could order room service and it was included in the cost of the cruise.
Rotational dining allows you to dine at three signature restaurants on the boat without having to worry about making reservations. Each restaurant has a theme and multiple course options. Expect to enjoy everything from steak and seafood to basic food kids love like chicken fingers and hamburgers.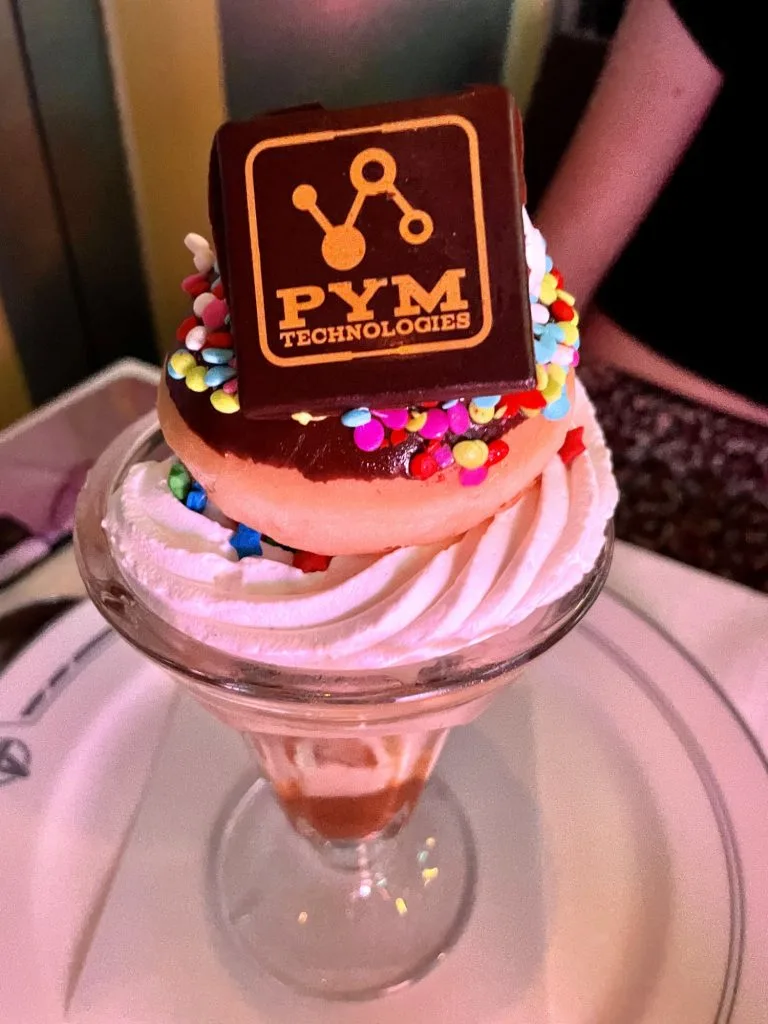 Cuisine at signature restaurants is fresh and flavorful. It feels special without being too formal. Desserts are worth writing home about, like the Pym Doughnut Sundae from Avengers: Quantum Encounter with dulce de leche ice cream, caramel fudge sauces, and a chocolate glazed doughnut on top!
Some restaurants even have live entertainment like the dinner theater experience at Frozen-themed Arrendelle restaurant on the Disney Wish or the animation show at Animator's Palate on Disney Wonder, Magic, Dream, and Fantasy.
The introvert in me appreciates the fact that I am not placed at a large table full of strangers like I have been on other cruise ships. And I love that our waitstaff travels with us from restaurant to restaurant each evening so they get to know our preferences.
If you are looking for a grab-and-go meal, there are plentiful options at the buffet (and the food doesn't taste like generic buffet food) as well as quick-service food stands on the pool deck serving up favorites like barbecue, Mexican, pizza, and more.
Staterooms Designed with Families in Mind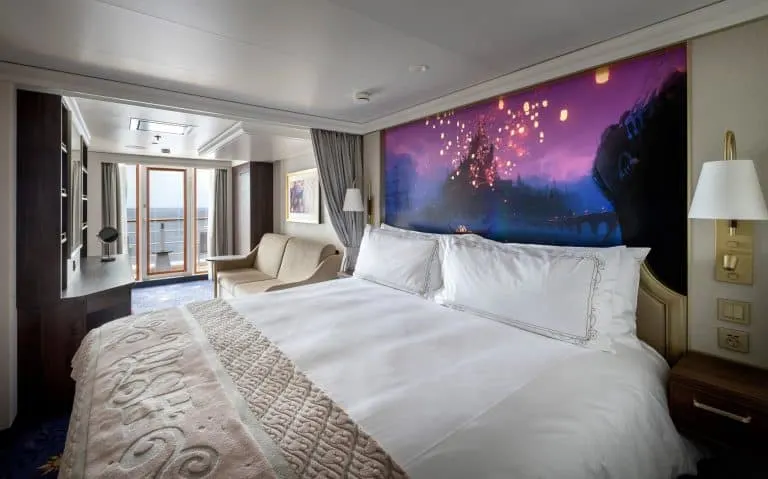 Standard rooms on cruise ships are small because space is at a premium. Many times, families have to book multiple staterooms because they usually don't sleep more than 2-3 people. Disney's deluxe family rooms sleep 4-5 people in just 284 square feet, and they do so comfortably. I never felt cramped in our stateroom with two adults and two teens.
During the day, the space where the kids sleep is a living area with a couch, but while famillies are at dinner, the room is transformed with bunk beds appearing from seemingly from nowhere and an option of turning the couch into a bed for a fifth person.
Decorate your cruise door and show off your family's personalities with these awesome Disney Cruise door magnets.
Some of the bathrooms (like those on the Disney Wish) have a split bathroom concept, with seperate toilets and showers, and sinks and mirrors in both spaces. This allows families to get ready for the day quicker.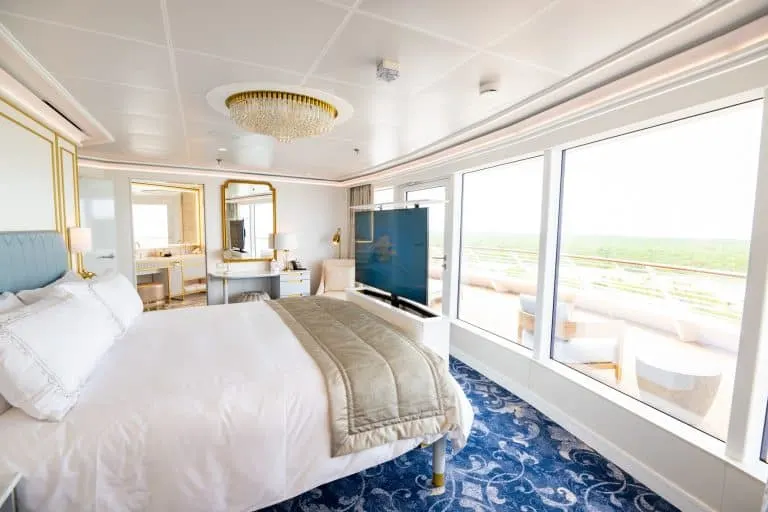 If you are looking for a more premium experience, one-bedroom concierge suites have separate living rooms, two bathrooms, and even walk-in closets.
They also have access to the Concierge Lounge which has a full bar, a private sun deck (with two whirpools and a wading pool on the new Disney Wish ship).
A Day on Disney's Private Island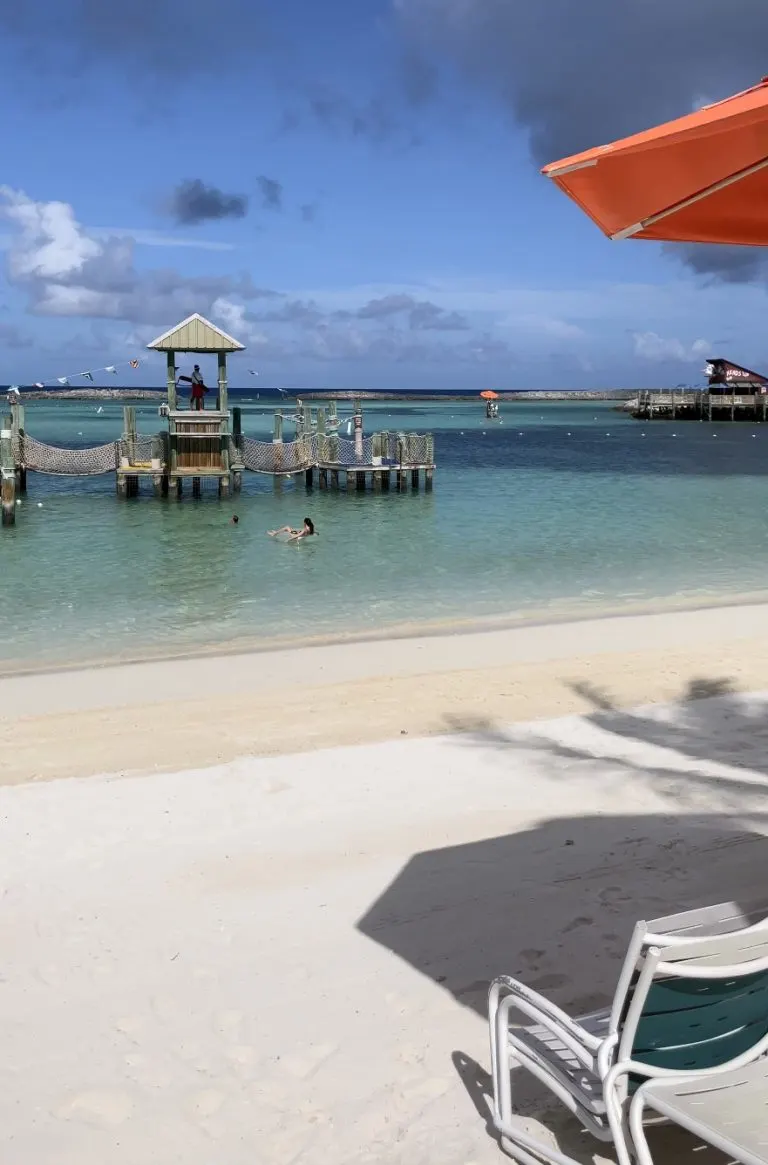 If you book a Disney cruise with a Caribbean itinerary you will surely have a day at Castaway Cay, Disney's private island, on your cruise itinerary.
Castaway Cay is awesome. It has pristine beaches (including an adults-only beach), water play structures, and a complimentary kids club where children are supervised by counselors while they splash in a water play area participate in team water balloon challenges, enjoy sand castle building, and even dig up artificial whale bones. There is also an area exclusively for teens.
Beach towels, lounge chairs, youth clubs, and umbrellas are all complimentary. There are a couple reaturants on the island serving up a buffet lunch which is included in your cruise price tag, as well as all-you-can-eat soft serve ice cream, and unlimited non-alcoholic beverages.
Non-water-based activities include sand volleyball, basketball, ping pong, foosball, and shuffleboard.
It is easy to spend a full day on Castaway Cay and not spend a dime, but there are plenty of premium experiences which might strike your fancy as well.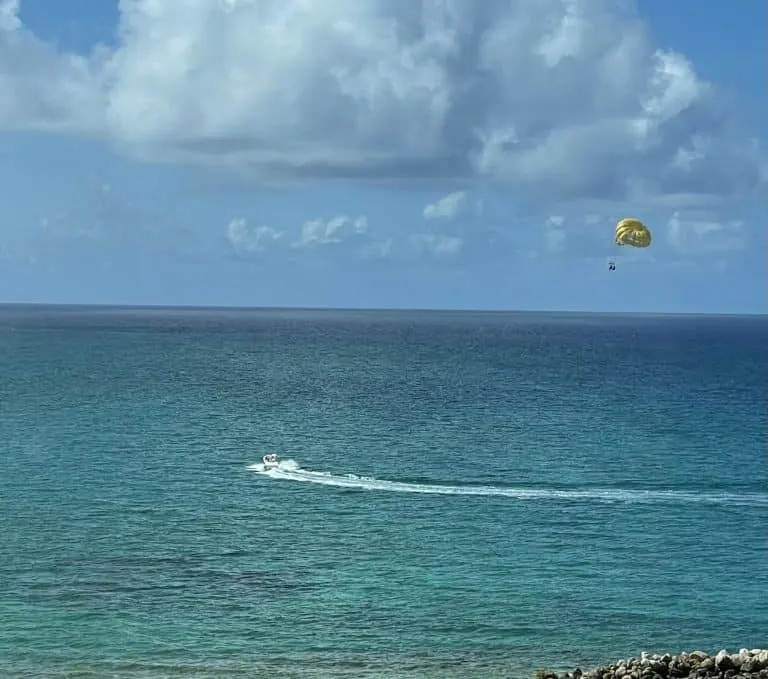 Banana boat rides, parasailing, bike rentals for exploring the island, inner tubes, and snorkeling gear are all available for an additional cost. The snorkeling area at Castaway Cay is especially fun because there are several underwater Disney characters to discover while you check out the fish.
Trekaroo Tip: If you bring your own inner tubes from home, cast members will inflate them for you for free. They will also allow you to use your own snorkel gear as long as you pick up a yellow life jacket (for free) before you enter the snorkeling area.
If you just want to sit on your lounge chair with a pina colada in hand, you can definitely do that! Alcoholic beverages do come with an additional cost, as do souvenirs at the numerous shops on the island.
Excellent Programming for Children (and Teens!)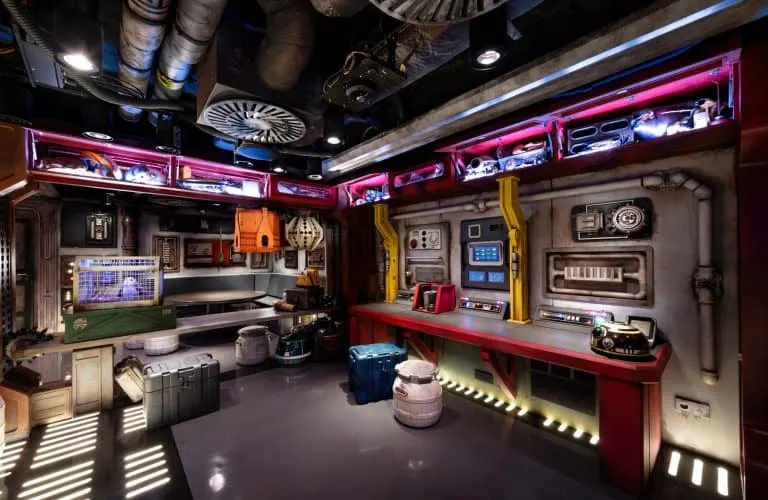 If you have young children, the childcare offered on board a Disney cruise ship might be worth the added cost alone. Knowing that your child is being cared for by the best in the business (and having a ball) is worth so much to parents seeking adult time while on vacation.
Disney's Oceaneer Club is open to children ages 3-12. There is so much for kids to do in this fabulous, supervised space that I have a feeling more than one parent has had to drag their kids out of there kicking and screaming.
With assets like Marvel, Star Wars, Pixar, and the entire Disney character franchise, you can only imagine what these special spaces have to offer. Kids can learn animation techniques, train to be super heroes, design their own roller coasters, read books in Belle's library, or make art in Rapunzel's art studio.
Teens and pre-teens have their own spaces as well. Edge is for kids 11-14, and Vibe is open to teens 14-17. They are hip and comfy spaces where they can hang out, play games, and participate in a wide range of activities with kids their own age.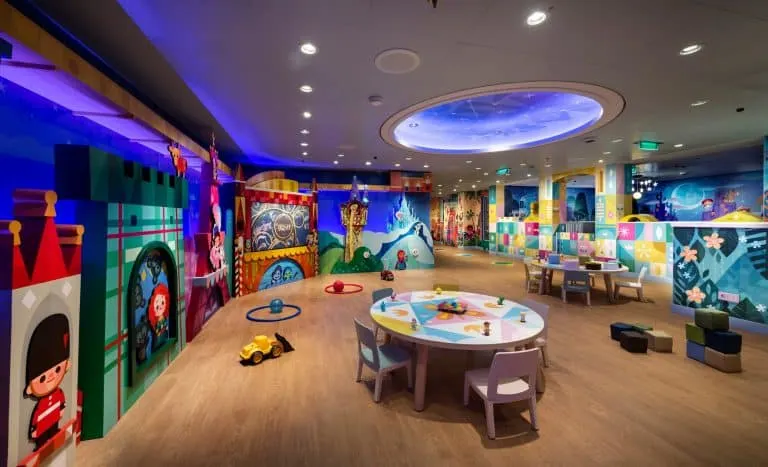 Children as young as six months and old as three years are welcome in the "It's a Small World" nursery. Use of the kids clubs is included in your cruise ship cost, but the nursery childcare does come with a small fee- $4.50 per half hour for the first child and $4.00 per half hour for each additional child. These services are very popular and advanced reservations are highly recommended.
Spaces for Adults to Enjoy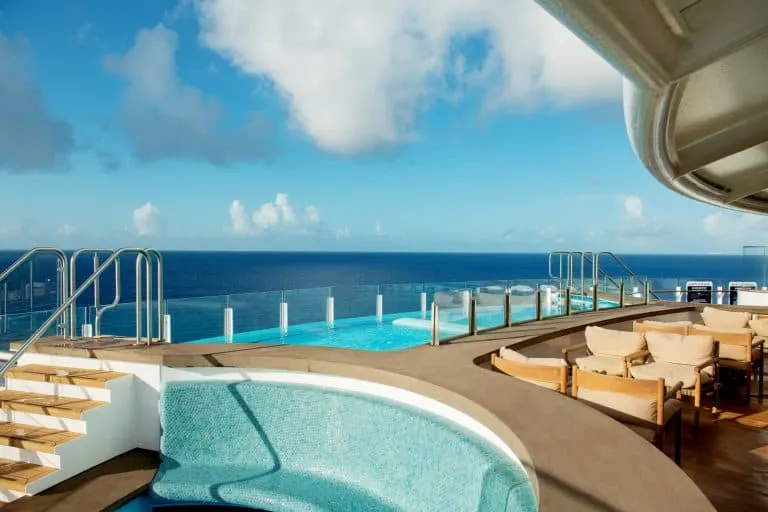 So you have a babysitter for the littles, now what? Believe it or not, Disney does an excellent job of creating adult spaces as exciting as those for the little ones.
Ships have an adult-only Quiet Cove pool area which features a bar and plenty of space to lounge without a needy child in sight.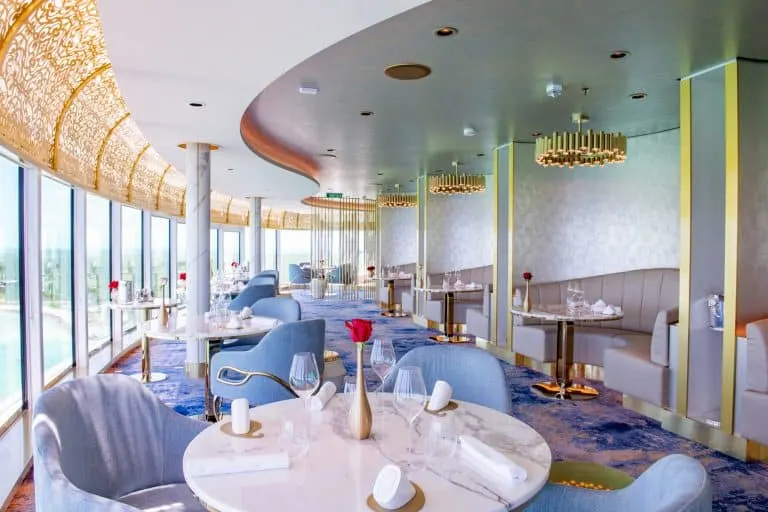 There are also two adult-only restaurants on Disney cruise ships which serve fine dining. Palo is a beloved restaurant which specializes in Northern Italian cuisine (the Palo on Disney Wish has a steakhouse as well), features hundreds of Italian wines, and even hosts special brunches on days at sea.
Three Michelin-starred Chef Arnaud Lallement is the genius behind Remy and Enchante, romantic French fine dining restaurants on Disney Dream, Disney Fantasy, and Disney Wish. There are tasting menu options (with or without wine) as well as singular entrees like squab, lobster, and grilled beef. They also offer those special "at sea" brunches.
Some of the most impressive spaces on Disney Cruise ships are the lounge spaces. Several are open to children during the day while others are adult-only all the time. Most are adult only in the evening.
They feature creative cocktails, such as the bubble-themed drinks at Nightingale's piano bar. Some are topped with giant smoke-filled bubbles and others feature frozen chocolate spheres that patron's crack open to reveal a drink ingredient.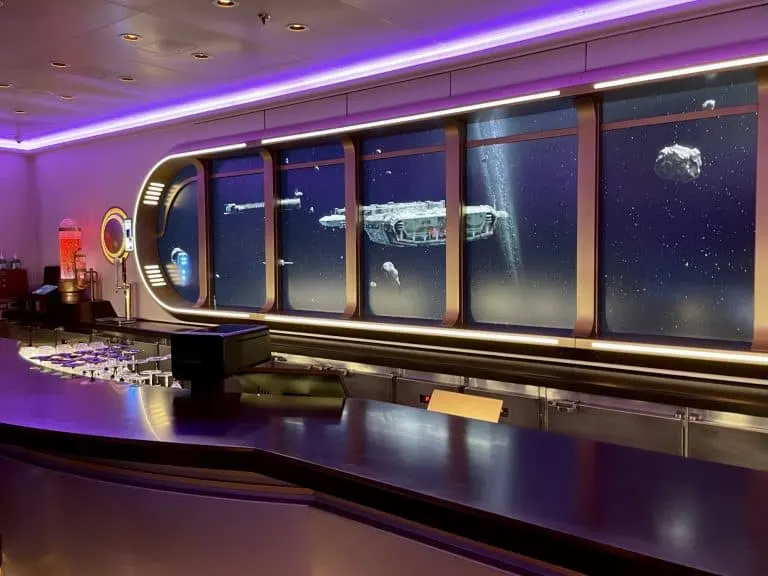 The most talked about new lounge on the Disney Wish is Star Wars: Hyperspace Lounge. It features a huge screen behind the bar that utiilizes some kind of amazing technology that makes it look like you are floating around in space with stars, ships, and planets flying by.
You can order a Spire Sunset from Batuu, Freetown Reserve from Tatooine, and Breken's Flow from Mustafar. And yes, the rumors are true. There is a $5000 cocktail, the Kaiburr Crystal, on the menu.
Included Activities Galore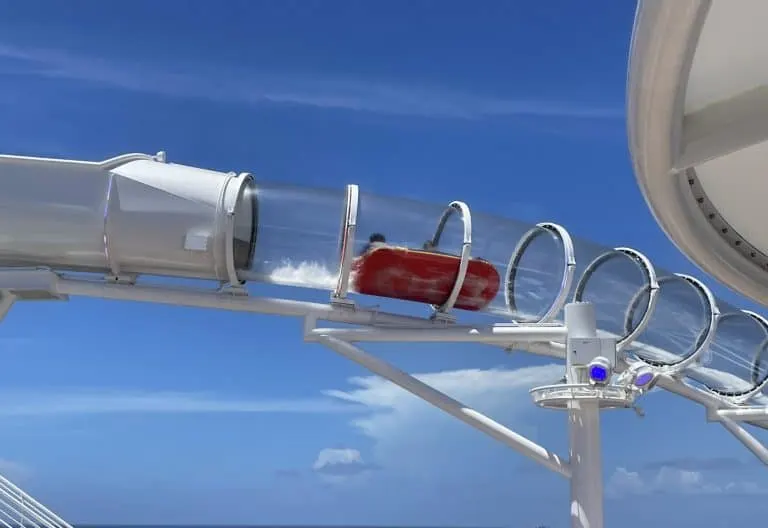 There are no worries about being bored on a Disney cruise ship. I have experienced moments of boredom on some ships that seem to focus on art shows, jewlery shows, and the casino as the main source of entertainment during the day.
Thankfully, Disney cruises offer more entertainment options than just shopping (thought there is plenty of that if you want it). Families want to be entertained without having to spend more money!
The pool decks feature several pools, large screens playing Disney classics, water slides, and even splash pads for the little ones.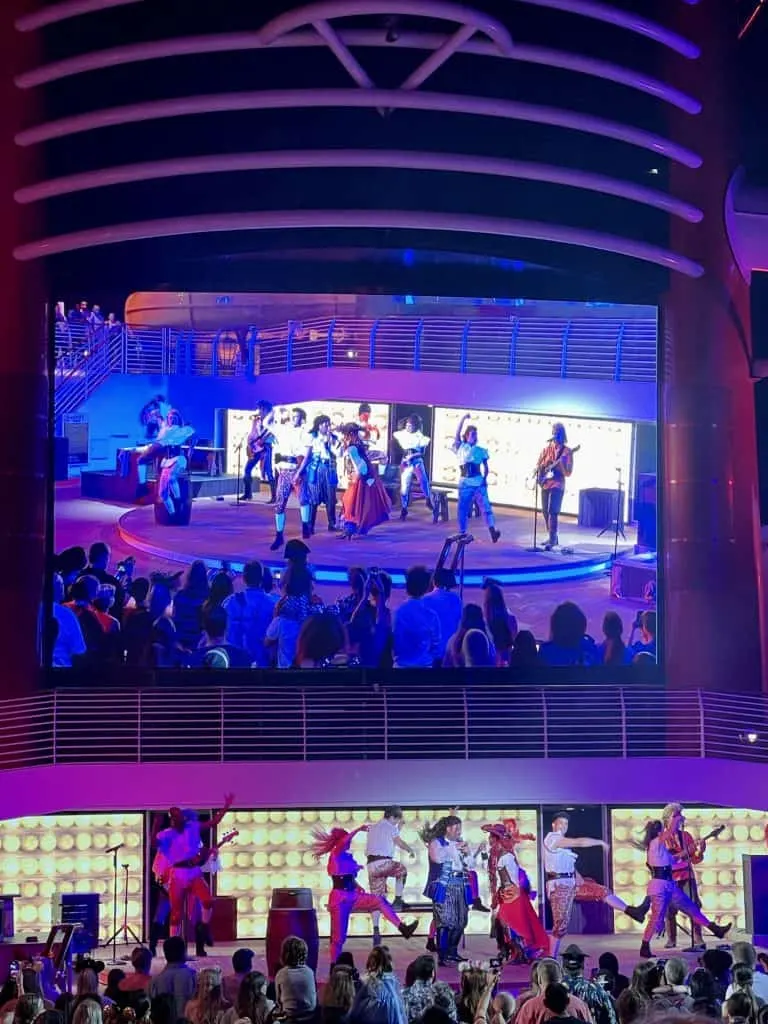 There are deck parties, like the famed Pirate Party, which are filled with music and dancing that the whole family will love. There are character greetings in various locations throughout the ship, perfect for family photos.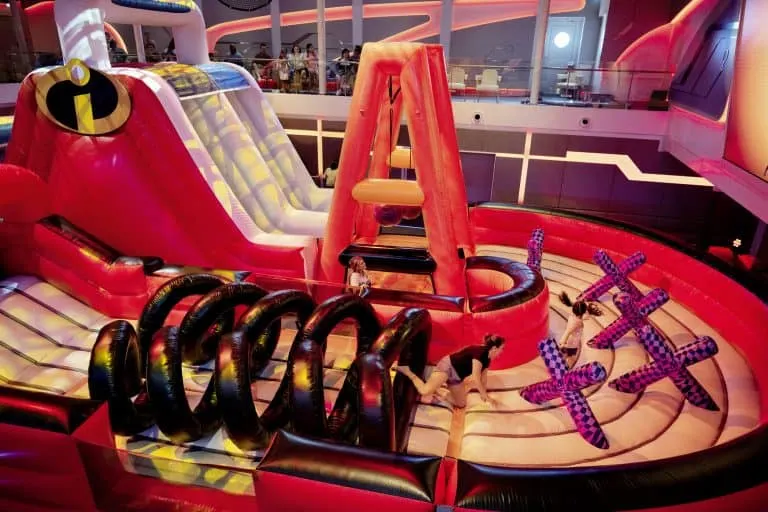 The new Disney Wish has an indoor sports court where teens and tweens especially love to play basketball, compete on an inflatible obstacle course, or play indoor table games like ping pong and foosball.
In recent years, Disney has made their apps more and more interactive with the theme parks, and now they have done the same thing with the Disney Cruise Line Navigator app via Uncharted Adventures on the DIsney Wish.
Families use the app to complete quests around the ship. There is a bit of a "choose your own adventure" aspect to Uncharted Adventures since participants get to choose which quest to tackle next. The grand finale is a live interactive experience in one of the ship's entertainment venues.
And, of course, there is evening entertainment that can't be matched.
Superior Live Shows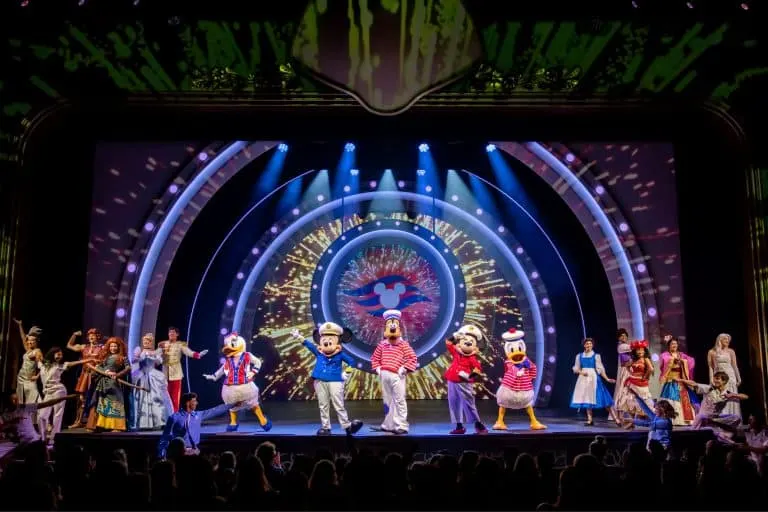 If you have ever been on a cruise, you know that evening entertainment is a significant part of the experience. After all, you are stuck on a ship in the middle of the ocean so you can't exactly hop in a cab and find something to do.
Disney cruise live shows are Broadway caliber. Disney has a lot of experience in putting together live performances that can wow an audience, and they make sure that same quality that can be found in their touring musicals and theme park shows is enjoyed on their cruise line.
Their newest ship, the Disney Wish, features three new shows- "Disney Seas the Adventure", "The Little Mermaid", and "Disney's Aladdin- A Musical Spectacular". These shows capitalize on the nostalgia and impeccable story telling that can be found in Disney film classics, but with a unique spin.
The onstage performers are truly superstars in the making, with talent that is sure to cover you in goosebumps.
A Chance to See Disney, Marvel, and Pixar Movies Onboard While They are Still in Theaters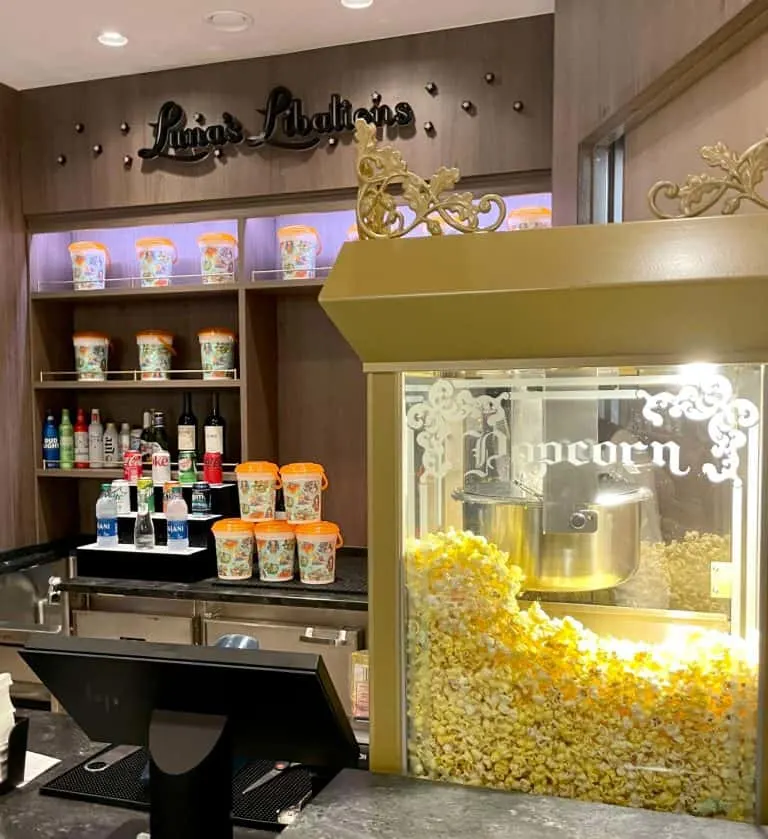 If you have movie buffs in your crew, they will be thrilled to learn that Disney cruise ships have movie theaters onboard.
And they don't just play classic films from the Disney vault, they also play films that are currently in the theater. My kids saw both Dr. Strange in the Multiverse of Madness and Thor: Love and Thunder while on board our last Disney cruise!
As if that wasn't enough, you can also purchase the infamous Disney popcorn onboard the ship for a small fee. Refillable buckets are available if you are a Disney popcorn fiend like me.
Fireworks at Sea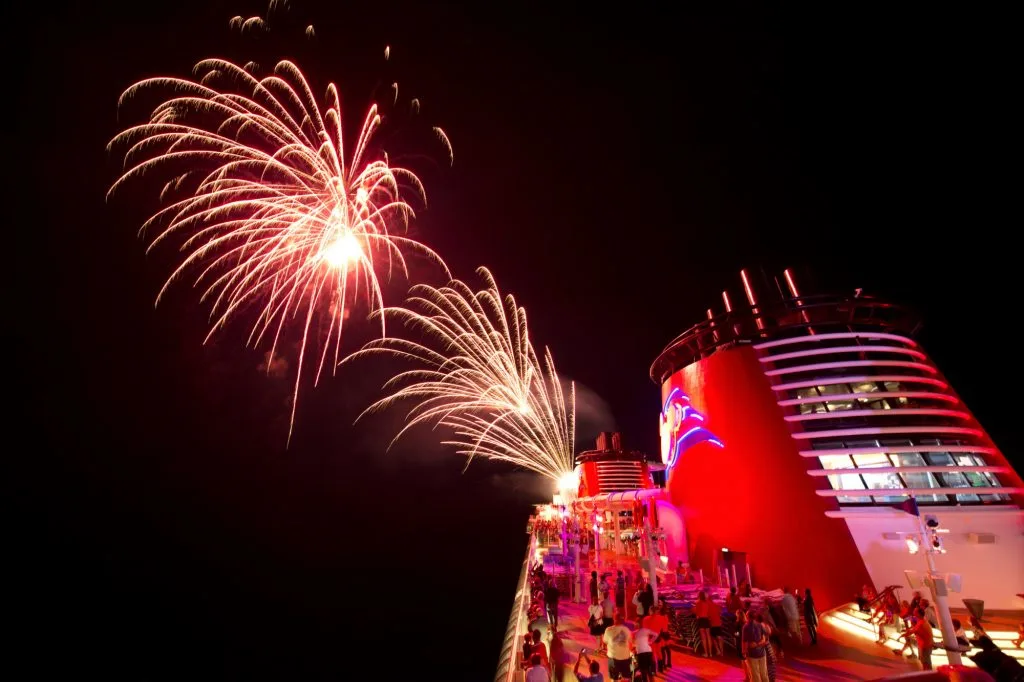 I have to admit, when I first learned that Disney was the only cruise line to offer fireworks at sea I wasn't overly excited. But after experiencing fireworks at sea, I have to say it was pretty special.
There is just something about watching fireworks from the deck of a ship with nothing but the open ocean surrounding you. It is just another bit of Disney magic that makes your cruise experience unlike what you will get with any other company.
Extras Included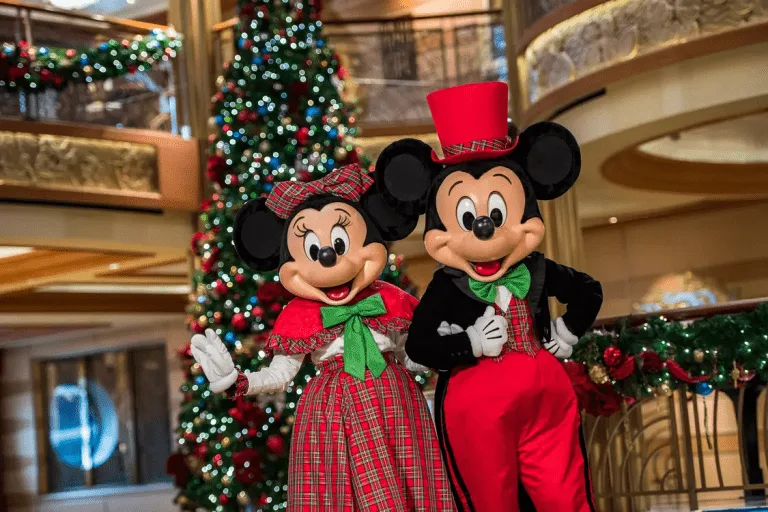 Some cruise lines have lower prices at booking, but they nickel and dime you the entire time you are on the ship. Personally, I would rather pay for a more inclusive experience up front, and then simply relax without having to worry about staying within my vacation budget the entire time onboard.
The little things add up. Soda is free on Disney ships. Room service is included in the cost of your cruise. Childcare is open later than on many cruise lines which means you don't have to rush your special kid-free night out. And, unlike many cruise ships, you are permitted to bring onboard two bottles of wine per adult.
If you book a cruise during the fall or holiday season, special themed experiences are included in your cruise. Expect costume parties and lots of themed decorations during the Halloween season and costumed characters, a holiday ball, and even "snow", during the "Very Merrytime" sailings in November and December.
Planning a few Disney World days before your Disney cruise? Here are our picks for the best rides at Disney World.