I remember thinking it was a good idea. Hanging a hammock in Yosemite along the river and resting in the shade was what I really wanted to do. But as I lugged my 20 pounds of Ecuadorian cloth woven into a beautiful hammock complete with tassels over a mile from the Curry Village camp, I realized I had made a big mistake. I might enjoy the rest in the hammock, but I also had to carry the monster back when I was done! I have always loved hammocks, from the first time as a young girl I rested in a net one in Central America to my most recent camping trip. Most surprising to me, however, is how much hammocks have changed and improved over the years – and now it seems like everyone wants one! This summer my kids and I were visiting Hume Lake Christian Camps and there were hammocks strung in front of cabins, in the trees near the lake, and for sale in the Gift Shop. Back when I was camping as a girl, I remember my dad struggling with rope to get the hammock tied to the tree. It took forever to get the tension just right, then he would oh-so-carefully try to position his body in the tight cocoon so that he didn't flip over.
If you think hammocks aren't for you – I'm here to tell you that they are one of man's best inventions. They are nap machines, comfortable seats to read in, double seats for kids to swing in, and a must-have for every family. Some genius invented webbing straps that eliminate the old "tie a rope to a tree" difficulty, and another genius attached a carabiner clip to the end of most hammocks that make hanging the hammock as easy as a simple clip-the-carabiner-into-a-strap. In the past 10 years, I've had multiple friends ask me where I got my comfortable (yet monstrously heavy) Ecuadorian hammocks and I've had to sadly tell them that my parents had to fly on an airplane to get there and bring it home for me (a hammock lover.) Now I can tell my friends that they are for sale in Costco, on Amazon, on websites, and even in the Hume Lake Gift Shop! Plus they are reasonably priced. Think of them as the best Christmas present you could give (or receive!) Here is a look at several of my favorite hammocks that I have had the privilege of napping in this summer.
And scroll below for my handy video guide to hanging a hammock. It really is super easy. Trust me.
Color Cloud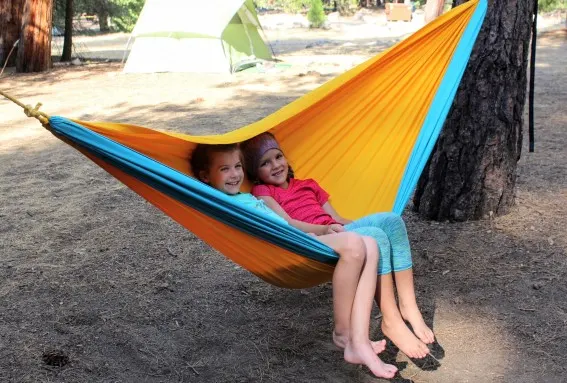 If you have ever wanted to float away on a cloud, your dreams can come true while you nap in a Color Cloud hammock. These hammocks are made from superfine polyester and are crafted by a family-owned local business in Addis Ababa, Ethiopia, primarily employing women. (I love that!!) I also love the bright colors, the light material, and the way that the width of the fabric covers over me like a soft cloud and shades my eyes from the sun. The double hammock is actually big enough to hold two small adults (or kids) side by side if you are generous enough to share your hammock time. This is actually the easiest hammock to hang that I have ever tried. Ropes are attached to the end of the fabric with a metal hook. Simply wrap the rope around a tree and hook it onto itself. The trick is to find two trees within a good distance of each other – about 12 feet. The hammock is easy to get into, and because of it's width, it's hard to fall out of. Trust me that you will feel secure and comfortable in a Color Cloud!
The hammock comes with a cinch sack, rope, hooks, and everything but the trees that you need to hang it. It weighs approximately 3 pounds and is one of the larger hammocks in this guide. A small pocket is stitched into each hammock- perfect for storing a phone, book, camera, etc. while you rest.
Recommended for: backyards, camping trips, and picnics
Buy on Amazon: Color Cloud Hammocks Double Travel Hammock (Dark Red/Yellow)
Grand Trunk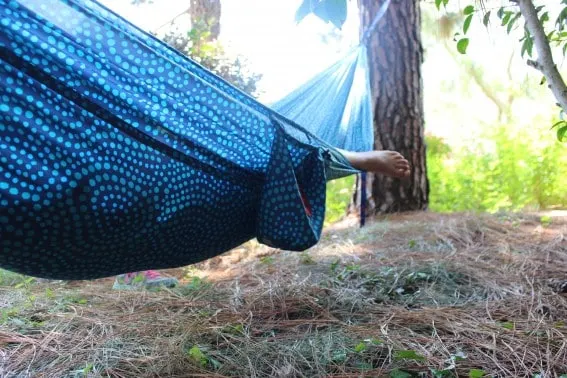 I handed my 8- and 10-year-olds the trunk straps and brand new hammock and within 2 minutes they had it hung perfectly between two trees. It is simple enough for anyone to hang due to the ingenious design of trunk straps and caribiners. I love this! Lightweight nylon and nautical-grade carabiners make the hammocks from Grand Trunk an excellent choice, but their range of fun colors and prints make them stand out among the trees as a best pick. Love the USA? Proud of your state? Choose your favorite from their flag series and #HangAnywhere with pride. Grand Trunk supports the Trees for US Program that helps protect our national forests. I especially love the bright colors of the blue batik pattern. For some reason, hanging in a beautiful fabric just makes me happy!
Purchase a hammock plus trunk straps to complete your hanging needs and to hang between two trees with ease. 1 hammock and 1 set of trunk straps weigh about 2 pounds combined. A small stuff sack is attached to the hammock to make packing it up easy.
Recommended for: backyards, camping trips, day hikes, the beach, and picnics.
Buy on Amazon: Grand Trunk Double Parachute Nylon Hammock, Batik, One Size
ENO – Eagles Nest Outfitters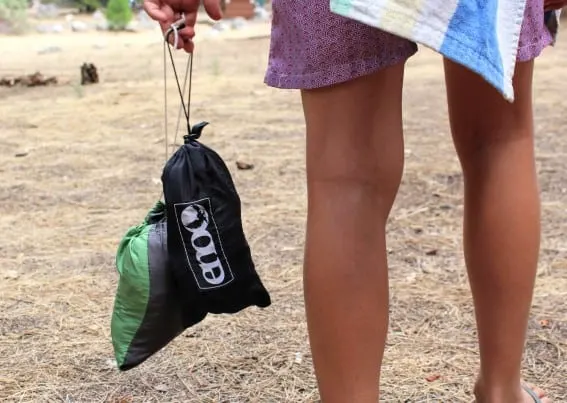 My husband has gotten super interested in backpacking with our teen sons in the past couple of years and the day he bought a backpacking hammock from ENO I was very intrigued. I could only imagine my Ecuadorian Monster Hammock weighing 20 pounds but being super comfortable and I couldn't imagine a lightweight hammock being anything but. On a recent trip to Lassen Volcanic NP, we took a small hike by a lake and packed the ultralight SuperSub hammock in our backpack. At less than 1 pound of weight for the hammock and special hanging straps, this was a perfect addition to a day hike. We rested in the nap machine and enjoyed a gorgeous day in Lassen.
ENO offers a variety of hammocks all weighing less than 20 ounces. Choose from hammocks with carabiner clips and trunk straps or lightweight suspension systems. Rain tarps, bug nets, hammock insulation, and more can make taking a hammock on a backpacking trip a great choice rather than a tent, air mattress, and sleeping bag.
Recommended for: backpacking, day hikes, camping trips, and picnics.
Buy on Amazon: ENO Eagles Nest Outfitters – SuperSub Hammock, Lichen/Charcoal
Ecuadorian Monster with Tassels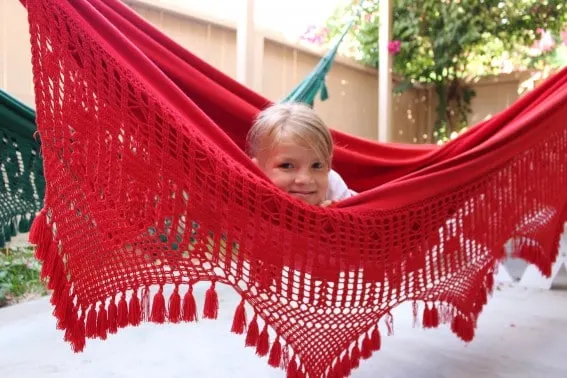 I still love my bright green and glowing red cotton hammocks from Ecuador. They were a gift from my mom and dad and lying in them is one of my favorite things to do. They currently hang in a semi-permanent manner on our back patio and are a popular resting spot. The tassels just add a spark of fun. I had to include them in this list because they are part of my heritage but I can't honestly recommend paying for a flight to Ecuador just to purchase one. But if you are on a trip to a country that handcrafts hammocks, I would highly recommend purchasing one. Not only are you supporting the local economy but you are gifting yourself or others with a comfortable place to rest for years to come.
Safety Disclosure: Please be safe when using a hammock. I must remind my readers that people and kids have fallen out of hammocks and hurt themselves. Use wisdom in choosing your hammock location. For instance – don't hang it over sharp rocks, dangerous water, or next to a cliff! Hanging it low to the ground (like 18 inches off the ground when you are in it) is generally an excellent idea. Pick sturdy trees that aren't dead and can hold your weight. Don't leave kids unattended in hammocks. They seem prone to flinging around and falling out backwards and hitting their heads and must be reminded to not go crazy in a hammock! Anything I have written in this post about how to hang a hammock is not prescriptive. Use common sense and read the directions and safety requirements on your hammock. Follow weight guidelines. And most of all- enjoy!
Note: I have not reviewed any hammocks that have wooden bars across each end to hold it open. I have never seen anyone get into these hammocks without flipping out if they didn't lay in it just right. These hammocks would never be something I recommend. I also do not recommend any hammock that is made of netting ropes or strings. Imagine your backside smushed up against a net- just not comfortable! You can thank me later.
Heading out camping? Check out these 41 creative car camping tips for adventurous families.
Disclosure: I received a complimentary hammock from Grand Trunk designs so that I could test out their fabrics, hammock, and straps. They have not asked me to present a particular point of view and all opinions are mine.
All Photos are by Michelle McCoy