Autumn in New England brings a season of change as hot summer nights are exchanged for crisp temperatures. School is back in session. Sports schedules start up again. Shorts and suits are replaced with cozy sweaters and jeans. We pick apples from local orchards and find pumpkins in a patch. Most of all we measure the change by the brilliant colors Mother Nature paints for us on winding country roads and forests lining the mountains and shores of the Atlantic Ocean. Touring the New England states during its finest hour will create amazing family memories and leave you breathless. Every state has something to offer from pumpkin patches to festivals and scenic overlooks to adventures.
Find the lowest prices on family-friendly hotels in New England
Connecticut | Maine | Massachusetts | New Hampshire | Vermont
We're an affiliate of Booking.com. When you book through us, you still get their lowest price guarantee and we get a few dollars. Thanks for helping to keep Trekaroo free.
Top New England Fall Destinations
Connecticut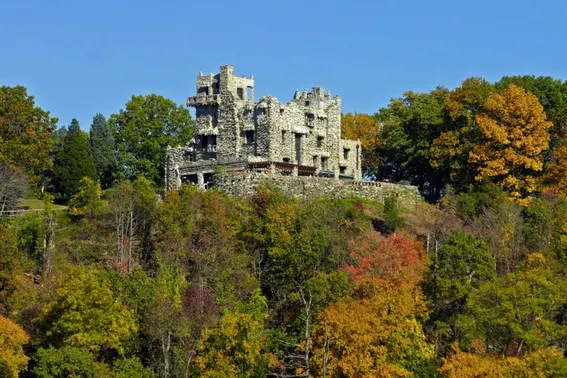 Photo by: Bigstock/raycart
Connecticut's brilliant fall colors are on display from the mountains to the shores. These vivid colors can be appreciated while riding the Essex Steam Train and Riverboat, a journey which takes families through the heart of the Connecticut River Valley and to the base of the Gillette Castle. Hike the moderate trail to the top of the castle grounds and enjoy spectacular views of Connecticut's fall foliage. Another castle beckons visitors to enjoy Mother Nature's colors at Hubbard Park in Meriden. When the road is open, fall revelers can drive to the top of East peak for a glorious foliage view from atop Castle Craig. More adventurous families might even forgo the drive and hike the strenuous trail to the top of Hubbard Park's Hanging Hills.
If apple and pumpkin picking are more of your family's style of fun, consider visiting a local farm. Karabin Farms in Southington is a small family owned farm offering hayrides to its apple orchard and pumpkin patch. Children will enjoy visiting the farm animals and Grandma's snack shed stocked with popcorn, cider, donuts, and hot dogs. Another local farm, Lyman Orchards, features a farm store, pony rides, and a corn maze that is currently themed on the 60's British invasion. In East Hampton visit Pumpkintown, a kid-friendly fall attraction offering hayrides through a whimsical pumpkin village filled with pumpkin-headed characters.
Step back in time this autumn season and experience a new perspective of Connecticut's historical sites. A visit to the Mystic Seaport will take you to a 19th-century whaling village during a changing season. Here you are invited to step aboard the last wooden whaleship in the world, the recently restored Charles Morgan. Step further back in time at Dinosaur State Park. Walk the grounds in search of dinosaur tracks on a crisp fall day and create some terrific family memories.
Check for family-friendly hotels in Connecticut.
Maine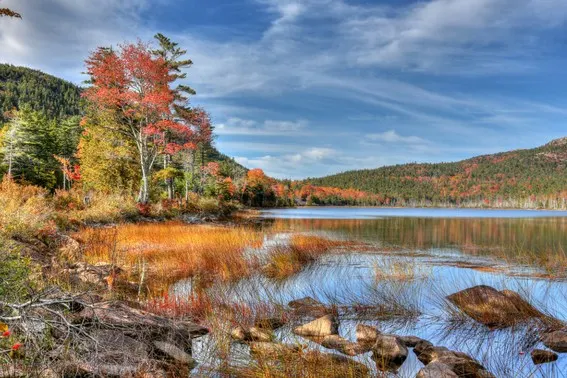 Photo by: Bigstock/styxclick
Maine is renowned for its rugged coastline, lighthouses, and beautiful Acadia National Park. Drive up Cadillac Mountain for a spectacular view of the fall spectacle. Hike the short trails from the road for visions of fall foliage as it meets the ocean. Other areas with no shortage of autumn color include The Rangeley Lakes Scenic Byway and Mount Katahdin. Kids will especially enjoy the Penobscot Narrows Observatory at Fort Knox. Here you can ride an elevator 440 feet above the river to a glass-enclosed observatory offering amazing views of the valley, river, and bridges below. A visit to one of Maine's well-known lighthouses, perhaps Portland Head Light, will leave indelible autumn memories.
The moose, the iconic beast of the Maine woods, is active during this time of year. Experience a safari with Mainely Photos where your family will certainly spot an elusive moose or you'll get your money back! Another option for animal-loving families is a visit to the Maine Wildlife Park. Here you'll walk among rescued animals and New England wildlife habitats while enjoying the lovely fall scenery.
Visit Wolfe's Neck Farm during the autumn season where families will enjoy music, animals, hayrides, seashore exploration, bicycle and canoe rentals, and seasonal garden demonstrations. Plus Wolfe's Neck Farm features a variety of festivals throughout the year including its family-friendly Fall Festival. Experience hands-on farming at Pineland Farms, a 5000-acre farm featuring story hours, butter making, and cow milking. Discover kid-friendly fun at Pumpkin Land Harvest Hill Farm exploring mazes, enjoying hayrides, making animal track rubbings, springing in bounce houses, and departing with your very own pumpkin.
Find the best deals on family-friendly hotels in Maine.
Massachusetts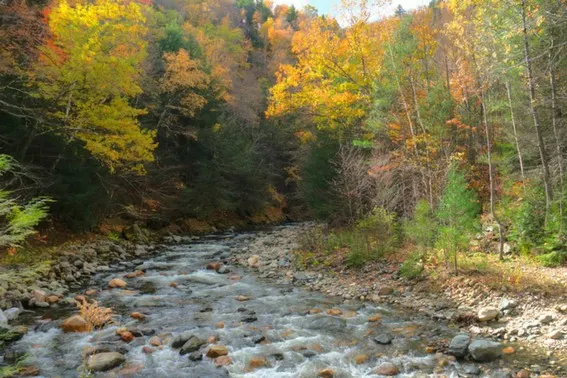 Photo by: Flickr/kim_carpenter_nj
Massachusetts offers a varied landscape with plenty of leaf peeping options during the autumn season. The Mountains of the Berkshire area allow for rustic scenic views of the countryside, while the auto road will bring you to the top of Mount Greylock, the highest peak in Massachusetts. Here you will witness foliage in 5 different states! Nearby, drive the 60-plus miles along the famous Mohawk Trail dotted with state parks, mountain viewpoints, and iconic New England covered bridges. A terrific stop on the Mohawk Trail is the Bridge of Flowers in Shelburne. Each year this bridge is covered with seasonal flowers and is certainly a lovely spectacle. Adventure seekers will love the foliage view from the trees at the new treetop adventure course at Ramblewild.
Cape Cod is a bustling place in the summer, but in the fall, the crowds subside and glorious beaches yield uncrowded places to walk and look for shells and sea life while enjoying the fall colors. Kids will especially love the outdoor learning adventure found at Boston's Arnold Arboretum. Here you can check out a discovery backpack and explore the area with your little junior scientists.
Edaville USA has something fun for families to do in every season. Fall weekends bring festivals honoring pumpkins. Yes, Edaville USA was once a cranberry farm but has since transformed into an amusement park for younger children with kiddie rides and themed train rides. Throughout October, Edaville USA invites guests to stroll through its garden decorated with pumpkins during its annual Pumpkins Aglow event. Pumpkin fun can also be found at Belkin Family Lookout Farm. This 180 farm features a pumpkin patch, apple orchards, musical entertainment, play areas, bounce houses, and more. Similarly, Davis Farmland offers pumpkin and apple picking, farm animal interaction, peddle cart racing, and the very popular Davis Mega Maze, a kid-friendly adventure corn maze.
Check for deals on the top family-friendly hotels in Massachusetts.
New Hampshire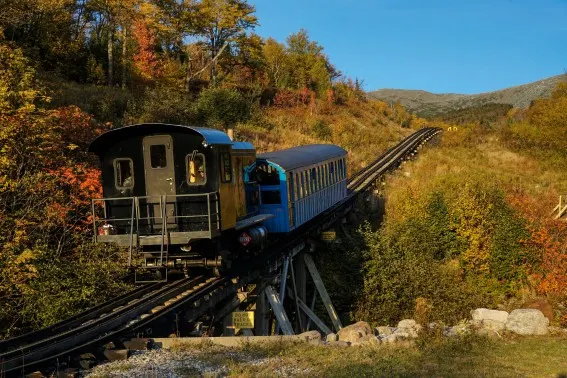 Photo by: Flickr/alan48
New Hampshire is a fall foliage gem in the New England royal crown. The White Mountain National Forest and Mount Washington display some of the most brilliant fall foliage colors in the world. Visitors from across the globe trek to New Hampshire for world-class leaf peeping and kid-friendly fall activities.
Families can center their exploration around Mount Washington. There are several unique ways to ascend this grand mountain, allowing for excellent foliage viewing. By train, hop on the Mount Washington Cog Railway which slowly makes its way up the mountain while climbing the steepest railroad tracks in North America. By car, drive the Mount Washington Auto Road in your own vehicle or comfortably seated in a guided tour van. Kids will enjoy standing atop the grand mountain while admiring viewpoints and later exploring the visitor center. After your trip down the mountain, stop in the town of Jackson and pick up a Return of Pumpkin People map which guides visitors through magical pumpkin displays created by local businesses and residents.
The Mount Washington area offers several family friendly fall sites and attractions. The Kancamagus Highway makes for a Sunday Drive hyperbole where incredible views abound. This highway features scenic viewpoints and educational stops all along the way. Families will love the Cannon Mountain Aerial Tramway located in the White Mountain National Forest. Rides on these large trams lovingly referred to as Ketchup and Mustard, will provide views for miles around. Rime ice may look like snow from afar on particularly cold autumn mornings. Nearby, Flume Gorge and the Basin make terrific fall hikes.
Train loving families will enjoy the Conway Scenic Railroad with its foliage touring train rides and fall themed weekends. Kids are encouraged to dress in their costumes and they'll be treated with a pumpkin upon departure. For a spookier time, families with older children might consider visiting the Ghoullog. Hosted by Cranmore Mountain, the Ghoullog is open select weekends and provides a scary haunted house attraction for kids aged 10 and older. Guests are invited to ride the chairlift in the dark, walk through a haunted house, and enjoy all of the mountain adventure park attractions.
Outside of the mountains, the Lakes Region of New Hampshire beckons families to Squam Lake Natural Science Center, an outdoor animal rescue area with hands-on activities, educational kiosks, and hiking trails offering fantastic views of fall foliage. Near the shore, visit Strawberry Banke, a living history museum that celebrates famous local ghosts during the annual Ghosts on the Banke event each October. This festival commemorates 17th-century pirates and captains and invites kids to trick-or-treat, carve jack-o-lanterns, tour the graveyard, and enjoy a big blazing bonfire.
Book a family-friendly hotel in New Hampshire.
Rhode Island

Photo by: Credit: Thomas Tetzner/USFWS
Rhode Island may be small in size, but it is big on fall family fun. Beaches are clear of summer tourists and ripe for fall exploration. Explore the beautiful Rhode Island coastline while hiking along the 3.5 mile Cliff Walk trail in Newport. This trail is close to Newport's popular First Beach and the very kid-friendly Save the Bay Aquarium.
The Blackstone Valley Explorer riverboat ride is a great fall activity and a unique way to view the beautiful Blackstone River Valley foliage. Here families will spy wildlife such as swans, herons, ducks, turtles, and hawks while the tour operator entertains with stories about the region and its people. Families can learn about historical farming while spending a day at Coggeshall Farms, a living history farm where guests are invited to help take care of the animals and perform farm chores while learning about sustainable farm life as lived in the year 1799.
Near the shore, Trustom Pond Wildlife Refuge allows for foliage viewing along the seaside while exploring the well-groomed trails. Expect to see giant snapping turtles, swans, herons, deer, and maybe even an otter, all in their natural habitat. As a bonus, admission to this venue is free!
In nearby Providence, families can witness Waterfire Providence, a water lighting event scheduled during select fall evenings. Although there is minimal foliage, the crisp autumn air and fiery spectacle are enough to provide a fun family night out. Also in Providence, families will enjoy attending the Jack-O-Lantern Spectacular at the Roger Williams Park Zoo. This event displays thousands of illuminated jack-o-lanterns representing different regions of the country. The highlight of the Jack-O-Lantern Spectacular is the Laughing Tree display, a show of intricately carved pumpkins enhanced with "laughing" music and fog. This event is a New England treasure.
Find family-friendly hotels in Rhode Island.
Vermont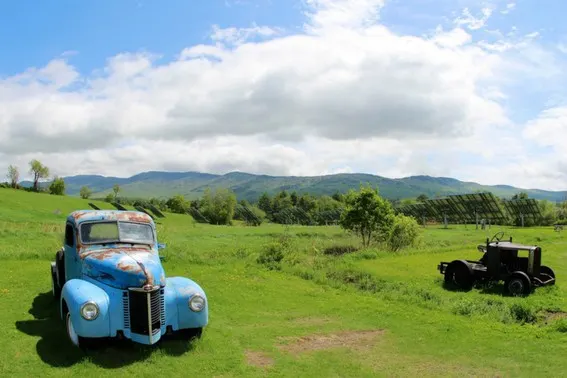 Photo by: Flickr/daveynin
Vermont is all about the great outdoors so there may be no better place to witness the fall foliage spectacular. The Green Mountains of Vermont turn so many shades of crimson, yellow, and gold that it is dizzying.
There is no shortage of farms and orchards in Vermont where apple picking and pumpkin patch hunting abound. Many Vermont orchards have teamed up with the state and local businesses to feature the Apples to iPods program where you might win an iPod if you spot a wooden apple while harvesting. Visit the Cold Hollow Cider Mill in Stowe and see apples pressed into cider then purchase local products at their quaint country store. Also in Stowe, your family might enjoy exploring the 5.5 mile Stowe Recreation path which meanders through the village. For a greater foot challenge, visit the Great Vermont Corn Maze in Danville. This maze is considered to be one of the most challenging mazes around and features underground tunnels, petting zoo, and haunted wagon rides. Visit Shelburne Farms for a tamer version of farm fun where educating about farm practices and farm life are routine. Fall programs at this farm include butter making, story walks, farmyard stories, and tractor programs.
Outdoor adventure in the trees is not out of the question in Vermont. Adventurous families will enjoy fabulous fall foliage at Arbortrek Canopy Adventures at Smugglers Notch. Here kids as young as 8 can ride the zip line and kids as young as 4 can complete tree top obstacles. Similarly, at Okemo Adventure Zone, pre-ski season fun includes zip lines, ropes courses, a mountain coaster, giant air bag, and more.
Check for the best deals on family-friendly hotels in Vermont.
Lead Image by Shutterstock