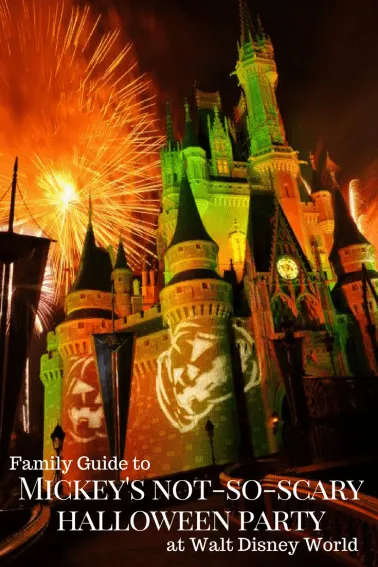 In true Walt Disney World fashion, Disney knows how to throw a party. Mickey's Not-So-Scary Halloween Party is one you'll definitely want to be on the guest list for! This "Not-So-Scary" night is a separately ticketed event that happens select nights in the fall (from August 25th to November 1st, 2017). Your little goblins will be super excited (and not frightened) to see the Magic Kingdom all dressed up for Halloween! Every lamp post to Cinderella's Castle along with every corner of the Kingdom is decorated for the season! Walt Disney World this time of year is a treat in itself and you don't want to miss out!
Look for current hotel deals in Walt Disney World
How Mickey's Not-So-Scary Halloween Party Works
If you've never been to one of the special parties that happens during the holidays (such as Mickey's Very Merry Christmas Party), these events are not included in regular day admission to Magic Kingdom. This is a separately ticketed event; it's best to purchase these tickets early as there is only a limited number of tickets available for each night! Prices can actually be less than a regular single-day admission to Magic Kingdom, but prices are dependent on the date you are attending (prices begin to climb the closer you get the Halloween.)
To dress or not to dress? Why yes! It might be September when you visit, but it's Halloween at Magic Kingdom and everyone gets into the spirit! From Halloween Mickey ears to fully swagged families dressed in group themed costumes, don't be shy. Show your Disney Side! It's so much fun when you're definitely not the only one!
Insider Tip: It is still hot in Florida in September and October, so find costumes that are light and comfortable. If you are worried about the heat, consider bringing a change of clothes so you can enjoy the night longer!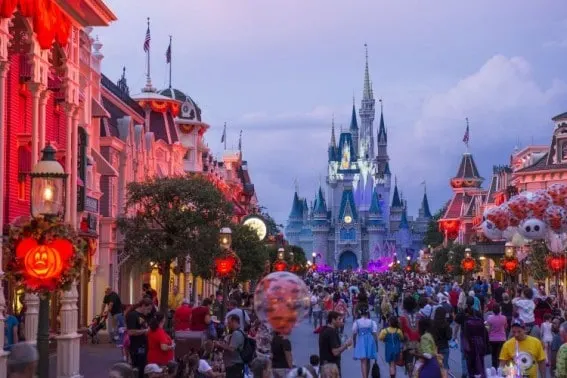 When To Arrive at Mickey's Not-So-Scary Halloween Party
Mickey's Not So Scary Halloween Party typically starts at 7pm. HOWEVER, with your special event ticket, you can enter the park at 4pm and receive a wristband that will allow you to stay the whole night! Regular park guests that have come for the day will leave the park at 7pm leaving you and your guests free to enjoy the party with much slimmer crowds.
Insider Tip: The park is still a little crowded from 4pm-7pm, so we recommend skipping the rides; maybe try catching the last parade of the day or getting something to eat!
Less guests mean shorter lines! No FastPasses are redeemed during the party but the longest we waited for a ride was 20 minutes! And as the night goes on, the lines get shorter as tiny toddlers fall asleep and their parents leave the park.
Insider Tip: Make a list of what rides you might want to ride. As you get further into the night, the lines become very short (think 5 minutes to ride Toy Story Mania in Tomorrowland) so there won't be much waiting then.
Check for hotel availability in Walt Disney World
How the Treats Work at Mickey's Not-So-Scary Halloween Party
In 2017, there are 14 treat stations located all throughout the park. They do not open up until 7pm but when they do, you will spot them as they are lit with large inflatable lanterns and are very obvious. Simply make your way around the park for handfuls of treats to take home!
In addition to the complementary trick-or-treat stations, special Halloween treats galore will delight your taste buds as specialty treats have been created just for the season at Magic Kingdom! Dive into pumpkin ice cream, pumpkin Mickey waffles, candy corn soft serve ice cream, and more of the many Halloween-themed sweets that are specially made for these parties!
Insider Tip: Bring bags to Trick or Treat! Although Disney does provide you with a small bag, you'll likely find that it's not big enough to hold all the treats!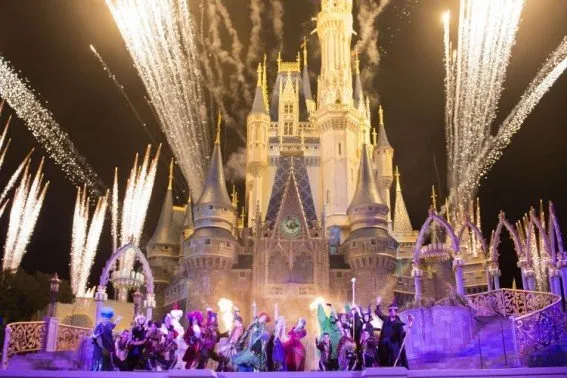 The Night's Game Plan at Mickey's Not-So-Scary Halloween Party
Plan to stay the whole night if you can and your kids can stand. If the kids are little, try to get a late nap in before you come! The lines for all rides are literally minutes by the end of the night and it's so cool to step outside of the box and do something you've never done before.
Grab a schedule and plan your night around shows, parades, and fireworks!
Read more Trekaroo reviews about Magic Kingdom
Insider Tips for 2017! The Fireworks happen only once in the night. The Hocus Pocus Villain Spelltacular show is at the Castle Forecourt Stage and happens 3 times in the night. I recommend the early show if you have younger kids that might fall asleep before the later shows happen. There are 2 Mickey's "Boo-To-You" Halloween Parades and the route is long. Try to plan to see one of them!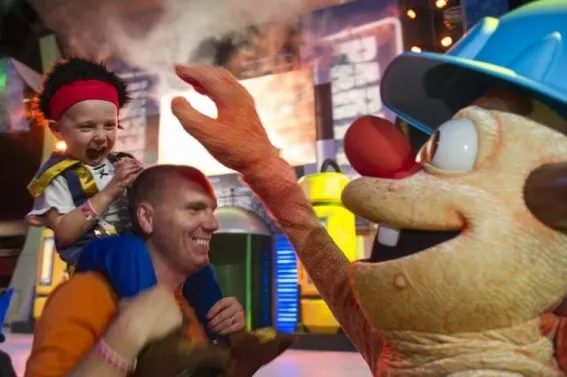 What to Pack for Mickey's Not-So-Scary Halloween Party
I would highly recommend not bringing much. If your kids can walk the whole time, you won't need to bring a stroller. However, for kids 6 and under, I might consider bringing one along so the younger one can fall asleep and the older ones can still ride rides.
I always pack a backpack with cash, my wallet, hand sanitizer, a few snacks like GoGO squeeZ and Pirates Booty, trick or' treat bags, a refillable water bottle, and rain ponchos. Don't forget the rain ponchos.
At the end of the night, you'll realize that this fun and frightful night was full of delights that night they won't ever forget. Halloween just won't be the same without visiting Mickey Mouse again. I hope that this tradition will be something your families enjoy too!
See Trekaroo's Ultimate Disney Guide and best hotel prices in Walt Disney World
If you like this special event, check out the Mickey's Very Merry Christmas Party happening November 9th– December 22 at Walt Disney World Magic Kingdom! Tickets are on sale now here.
The author was hosted at a Mickey's Not-So-Scary Halloween Party event for the purpose of this guide. She was not required to state any particular view; all opinions are her own.
Images by Walt Disney World Resort