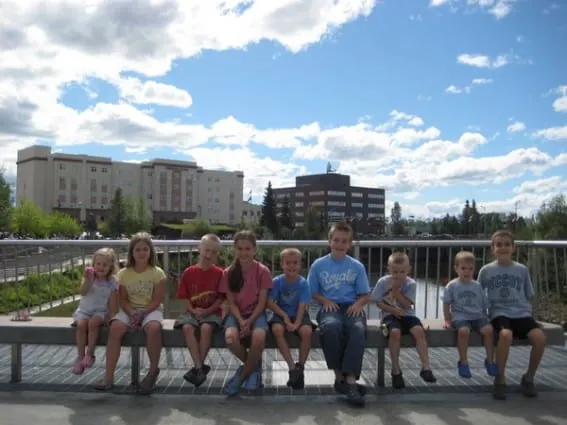 Taking a summer trip to Alaska has been one of my family's greatest memories. My kids remind me often of the times we spent picking wild strawberries and raspberries, taking a train ride through a gold mine, trying to fall asleep at 10pm while it was bright daylight outside, and spending more than three weeks with their favorite cousins.
As I was planning for our trip, I naturally assumed that the further north you travel in Alaska, the colder it would be. I was pleasantly surprised to find this not to be true! Fairbanks is warmer in the summer than other parts of Alaska because it is further away from the ocean. Even though it rained on us frequently during our visit, many days were a balmy 75 degrees and sunny. With almost 24 hours of daylight, the wild berries were ripe for the picking any time of the day.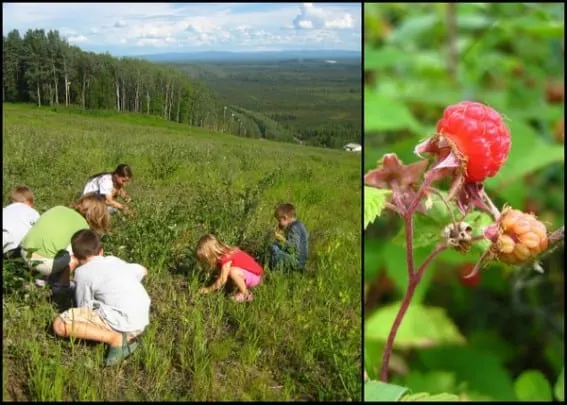 If visiting Alaska is on your "bucket list", I would highly recommend visiting Fairbanks. Most tourists only make it to the southern sections of this beautiful state, but visiting the central area is like discovering a pearl in an oyster. If you can fly into the area and spend a week discovering all that it has to offer, I'm sure that your family will create memories to last a lifetime.
Our Top Family Friendly Activities in Fairbanks
Riverboat Discovery
We took a three hour Riverboat Discovery cruise down the Chena River on a 4-story paddle wheeler that showed us the heart and history of Alaska. Nearly everything I wanted my kids to experience in Alaska happened during those three hours. We watched a float plane take off and land, viewed a team of sled dogs race through the forest, tasted smoked salmon, visited a native Athabascan village, learned their early methods of arctic living, and grew to love the state of Alaska. This was the most "touristy" activity we participated in during our vacation, but it is definitely recommended.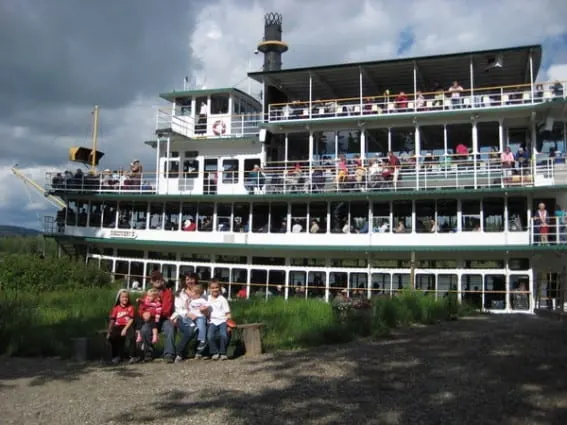 Need a place to stay in Fairbanks? Try the Hampton Inn & Suites, Pike's Waterfront Lodge, or Sophie Station Hotel
Pioneer Park
Large and free, Pioneer Park is often visited by tourists and locals alike because it features museums, fun playgrounds, and a train ride. Our proudest moment while at the park was braving the -40 degree icebox to get a sense of what it feels like outside in Fairbanks during the winter. It was incredible to throw hot water into the air and see it fall down in ice crystals. After using a frozen banana to pound in a nail, I was more than happy to open the door and step outside to more reasonable temperatures.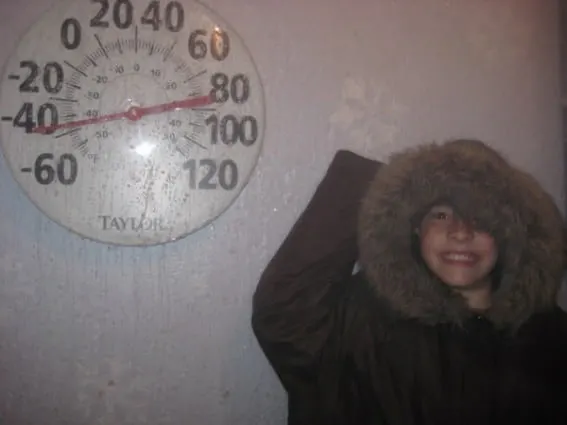 Been to Fairbanks in the winter? Tell Trekaroo readers all about it!
Georgeson Botanical Garden
Everything is big in Alaska, including the vegetables and flowers. At Georgeson Botanical Garden, a kid friendly garden maintained by the University of Alaska, families will enjoy seeing massive cabbages and zinnias the size of a dinner plate. My children absolutely loved playing in the hedgerow maze and in the little log cabin, both located in the children's garden.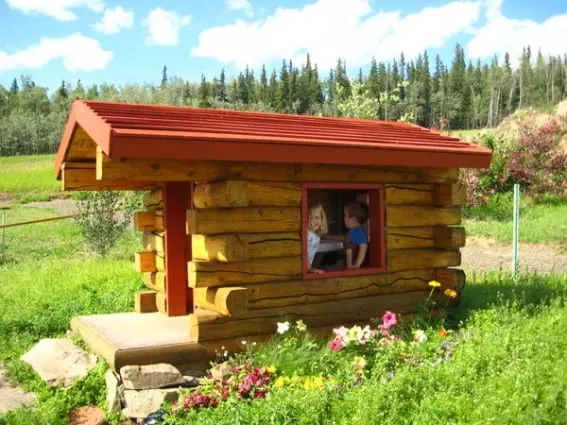 Have you been to the University of Alaska Museum of the North?
El Dorado Gold Mine Tour
Gold fever struck our family after finding eight or nine flakes of real gold in our pans at the El Dorado Gold Mine Tour. This tour is a great mix of history, excitement, and adventure in finding gold. Complete with a train ride, a sluice box demonstration, and instruction in proper panning techniques, all ages will appreciate the time spent here. Perhaps the greatest treasure for my kids was finding the free cookies and hot chocolate in the gift shop.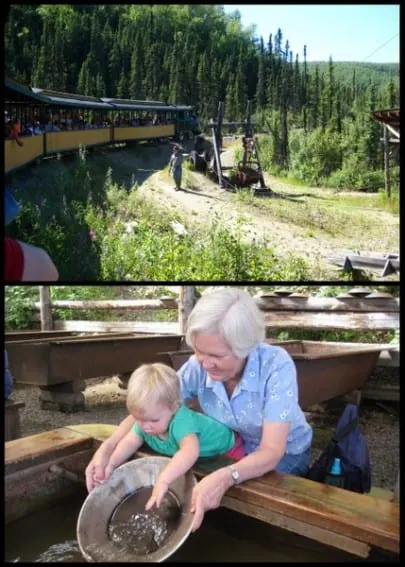 Eat a "miner's dinner" at Gold Dredge No. 8
Alaska Pipeline
I vividly remember learning about the Alaska Pipeline in my elementary school Social Studies class and was amazed at how it could stretch all the way across the largest state in the US. Seeing an "Alaska Pipeline" sign on the side of the road to the El Dorado Gold Mine got me quite excited to see this big thing up close and personal. Looking at a big pipe might not be on everyone's "must-see list," but I appreciated the history, diagrams, and viewpoint of this great pipe. And it made for a great place to take a picture of our family in Alaska!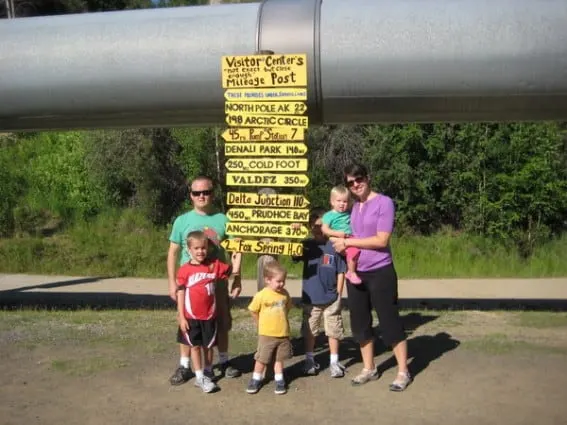 View more of the Alaska Pipeline on the Dalton Highway and stop at the Artic Circle Trading Post.
Creamer's Field Migratory Waterfowl Refuge
Walking through the quiet boreal forest was one of my favorite memories of Alaska. At Creamer's Field Migratory Waterfowl Refuge, boardwalks line the path through the white-barked birch trees, while ferns and various conifers dot the landscape. My kids spied sandhill cranes enjoying a lunch in the meadow. A series of trails takes visitors by the meadow and through the forest with interpretive signs to explain the unique features.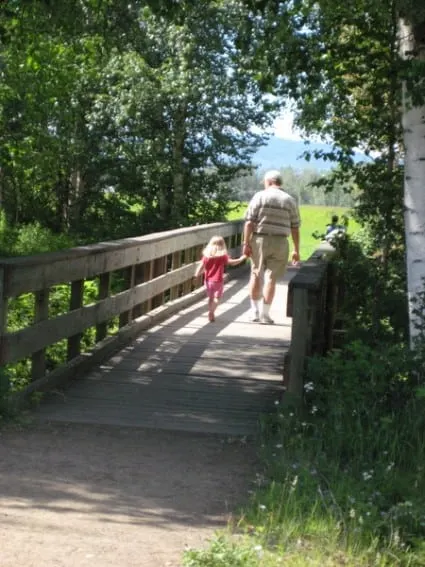 Check out the beautiful Wedgewood Resort with trails to Creamer's Field.
Fairbanks Visitor Center
I do not normally spend much time in visitor centers so stopping by the downtown Fairbanks Visitor Center was a pleasant surprise. Our kids traveled through the museum-like rooms with displays on the distinct seasons of Alaska and how animals, plants, and humans have adapted to the harsh winters. They got to enter a "cabin" in the woods and see how homesteaders started life in the early days. We watched a movie in the theater, eyed the many books and souvenirs in the gift shop, and then headed outside for a self-guided tour of Fairbanks.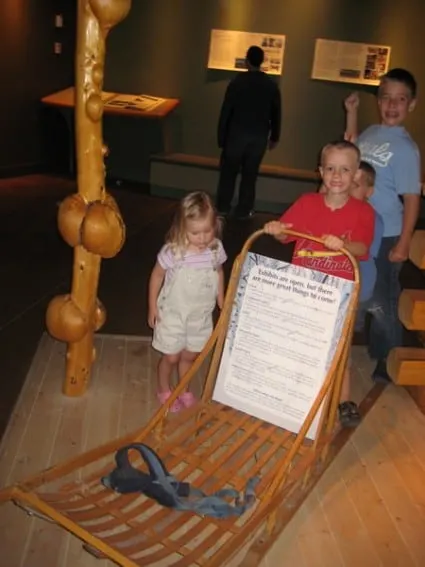 While in downtown Fairbanks, visit the Ice Museum and see Alaska winters in the summer.
Looking for a place to eat in Fairbanks?
Just 30 minutes south of Fairbanks sits a cleverly named gift shop that takes its name from the unusual growth of burls in spruce trees. This wood is then handcrafted into a variety of beautiful wood pieces that make for excellent gifts. The kids posed with the knotty wooden animals in the front yard and then we headed inside for some of the best ice cream I have ever tasted. Mounted wildlife lined the walls of the store, which was filled with authentic Alaskamade gifts. It was definitely worth the drive.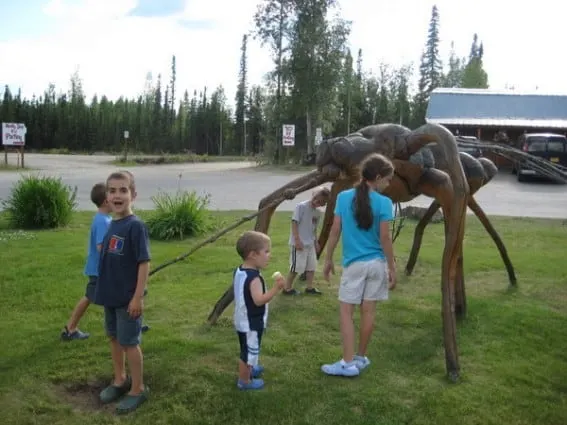 While south of town, visit North Pole and the Santa Claus House.
Been to Fairbanks? Share your scoop!
Alaska – Where Winter Fun Abounds
---
Travel with kids to: CA |CO | DC | FL | HI | IL |MA | NC | NY | OR | PA | TN | TX | UT | VA | WA
Featured photo by: Shutterstock