Vista Verde Ranch has been voted Trekaroo's 2013 Best Ranch for Luxury. Want to know about other ranches that made the cut? Check out our

2013 Family Dude Ranch Vacation Roundup

.
I'm a Mommy Travel Agent for a family that loves road trips: lodging, dining, activities, maps, schedules, …another thankless Mommy job. This winter we visited Vista Verde Ranch, an all-inclusive luxury guest ranch located near Steamboat Springs, Colorado, and I (aka, "Mommy Travel Agent") actually had a vacation where I wasn't responsible for every family member's wants, needs and desires!
It all became evident that I could have a real vacation during our first meal at Vista Verde Ranch; a good looking ranch hand sat down at the table and asked every one of us just exactly what we wanted to do that day. Hubby's response: "Anything with horses." Eleven-year-old's response: "Snow tubing." Seven-year-old's response: "Horse riding lessons." My response: "Really? You care what I want to do?……Okay; I'd like to learn how to cross-country ski."
On day one, the kids became horse riding experts and were adequately spoiled tubing down and then snowmobiling up a perfect snow covered hill. Hubby, adorned with cowboy boots and hat, trotted along snow-covered forested trails; me, I learned that I'm a natural cross-country skiing genetically Nordic hero (or at least that is what Steve, Jess, and Zack, my wonderful guides suggested).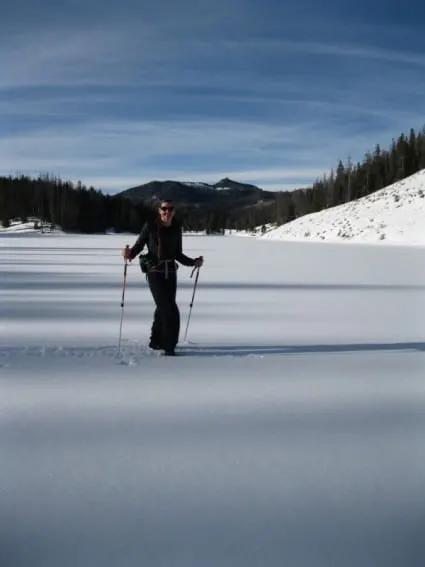 To top it off, in the middle of all of our wants, needs, and desires, we dined well. Sometimes just as a family with other guests and other times alongside Vista Verde Ranch's staff , some of the most interesting ranch hands, ski guides, and managers, all with a story that engaged. These ranch hands are former accountants, medical students, sojourners back from visiting a long-lost Grandmother in Poland and even older folks who have given up a high-paying administration jobs to motivate others and ski. I could sit at a bar and converse with this interesting staff for hours and walk away with amazing lessons learned.
The following day I again heard the sweetest question a Mommy travel agent can ever hear: "What do you want to do today? Oh, and don't forget tonight you and hubby get a gourmet dinner while the kids gather together for kid-food and some fun ranch activities with our awesome staff." I think I had to wipe away a tear at this point.
Okay, so what about family time? I am the first to say that the number one reason we travel as a family is to strengthen bonds, play together and make more family memories. So why should we separate during our vacation and fulfill our individual wants, needs and desires? That is what I loved about Vista Verde Ranch, while you can choose your own itinerary on the spot, they offer both individual and family activities.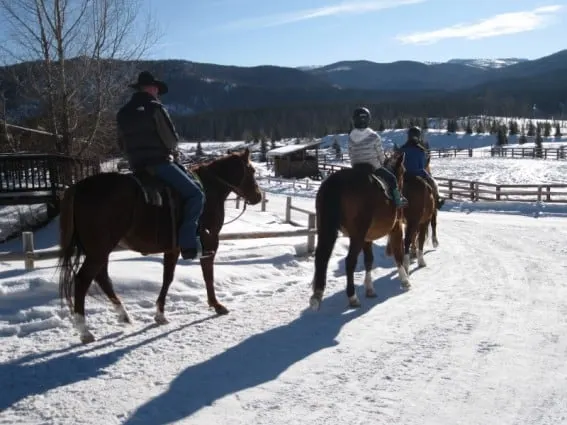 If you're so inclined, feel free to join in on the fun at the children's program. Who doesn't have the desire to build a snow fort or paint while riding a horse? Take a family trail ride together and be impressed with the new horse skills your kids have acquired while at the ranch. I learned that my 7 year old has an ingrained love of horses; my 11 year old is fearless on a snow tube, and my hubby can actually separate himself from a high-stress job while riding his horse through snow-covered pastures and blue skies. Me, must I remind you; I'm a natural cross country skiing genetically Nordic hero – don't dare call me Mommy travel agent again!
Read my detailed review of Vista Verde Ranch to see all the activities, both individual and family based, that this beautiful ranch has to offer.
Big Ranch Bonus:
Vista Verde Ranch has offered Trekaroo readers a winter discount, allowing you to hand over all of those unpaid "Mommy Travel Agent" duties for a few blissful days:
Book 4 winter season nights (ends March 18) and get the 5th night free at Vista Verde Ranch! Simply mention Trekaroo at the time of booking and this discount is yours.
Calling All "Agents":
No matter where you are vacationing, if you feel like a "Mommy Travel Agent", head to this forum to chat about tips & hints for managing your role; a few moms have already shared some awesome and helpful resources to alleviate stress and enjoy your vacation.
---
Travel with kids to: CA |CO | DC | FL | HI | IL |MA | NC | NY | OR | PA | TN | TX | VA | WA