Newfoundland is a travel destination relatively unknown to American families; in fact, most children in the United States likely can't even point to this Canadian island on a map. If you've been considering taking a family vacation to Canada, you might be surprised to learn that Newfoundland's most scenic landscapes are not that much more difficult, or expensive, to reach for most US families than the streets of Montreal. Families looking to travel to Newfoundland can arrive by air or take a ferry from Nova Scotia to Newfoundland. Those families who have already discovered Newfoundland have found that it is the ultimate North American outdoor destination for families, from kayaking in Gros Morne National Park to zip lining over Marble Falls in the misty rain. This remote land simply begs to be explored so don't forget to pack your hiking boots!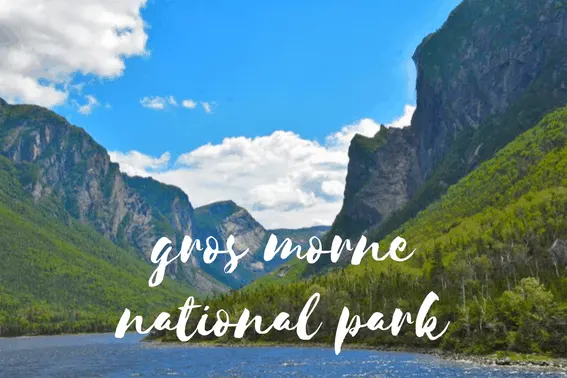 Exploring Gros Morne National Park in Newfoundland with Kids
Hike on the Earth's Mantle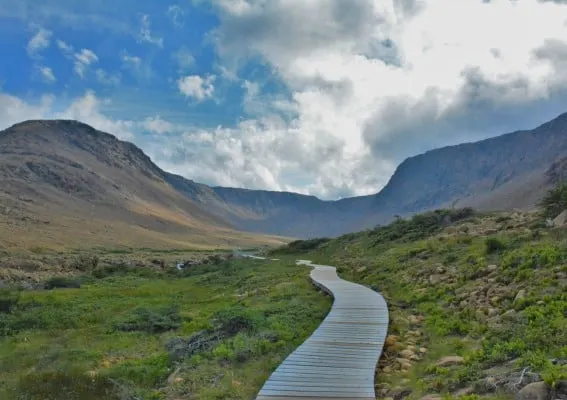 One hike that families visiting Gros Morne National Park simply must complete is the Tablelands Trail. It is a relatively flat in-and-out hike to a viewpoint. While the viewpoint is nice and there is a small waterfall along the way, the real thrill is walking along the metallic rocks that compose the earth's mantle. This is one of the few locations on earth where the earth's mantle, the layer under its crust, is exposed. Learning about the geology of the Tablelands is one of the highlights of Gros Morne's Parks Canada Xplorers booklet. If you have kids ages 6-12 make sure you pick up your booklets at the park's Discovery Centre just a few miles down the road before hitting the trail.
Learn the Local Traditions and Customs when Traveling to Newfoundland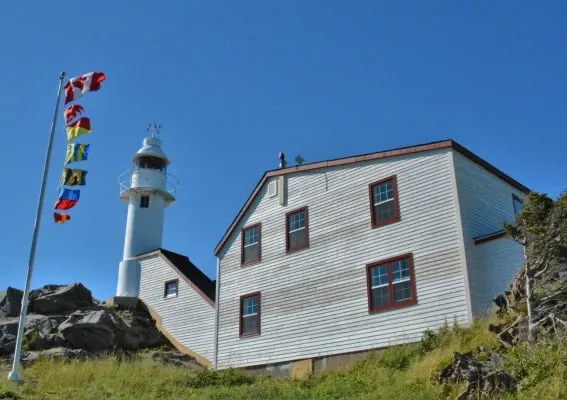 Another place to pick up and complete the Xplorers guide for Gros Morne National Park is the Lobster Cove Head Lighthouse. The lighthouse is the starting point of many hiking trails and the perfect access point for some of the best tide pools in the area; it also has an amazing view of the coastline and a fun kid-friendly museum. My children had fun learning about coastal life in western Newfoundland as they pulled out boxes of hands-on activities teaching them everything from rug hooking to reading nautical flags. The Parks Canada staff at the lighthouse patiently taught my kids wooden strategy games in the lighthouse kitchen and helped them learn about the optics of the lenses used just under the tower.
Take a Leisurely Cruise through a Fjord in Newfoundland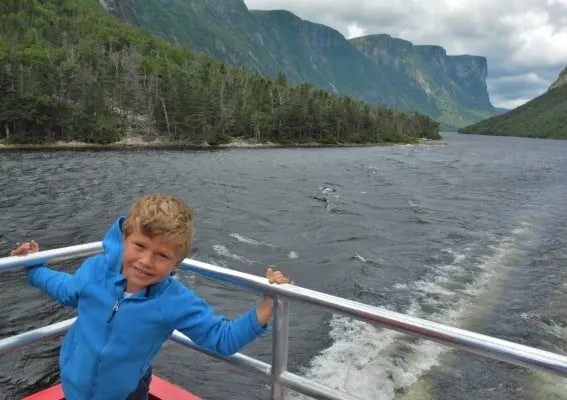 Honestly, I can't say that our Western Brook Pond Tour was my children's favorite experience in Newfoundland. What young child likes to spend two hours on a very full boat slowly cruising past towering mountains? Certainly not my kids; they'd rather be climbing those mountains! However, Bontour's Western Brook Pond Tour is really the only way to see this unforgettably spectacular landscape, and I recommend the boat tour to everyone traveling to Gros Morne National Park. My solution for inevitable kids' boredom is to give the kids a camera and let them burn through a memory card or two. Yes, I've got a few dozen pictures of my son's nostrils and a couple hundred images of my daughter's shoes, but I also have several hundred pictures of these beautiful fjords from every angle and two kids who will never forget the experience.
Paddle Bonne Bay and Discover the Local Marine Life in Newfoundland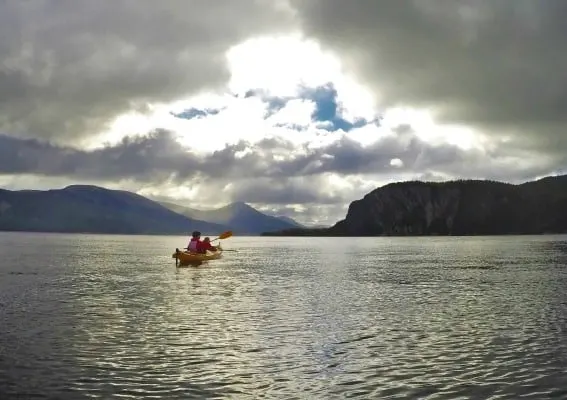 Newfoundland is a rocky island that has been carved out by water, both freshwater rivers and the salty sea. One of the most memorable ways to experience this rugged landscape with your family is a kayak tour with Gros Morne Adventures. Being down low in the kayak, you'll see crabs and other marine critters through the glassy water. Our guide, a marine science student at the nearby Bonne Bay Marine Station, had a wealth of knowledge to share with us; she explained geology that formed this expansive bay and later found samples of seaweed for us to taste.
Speed through the Air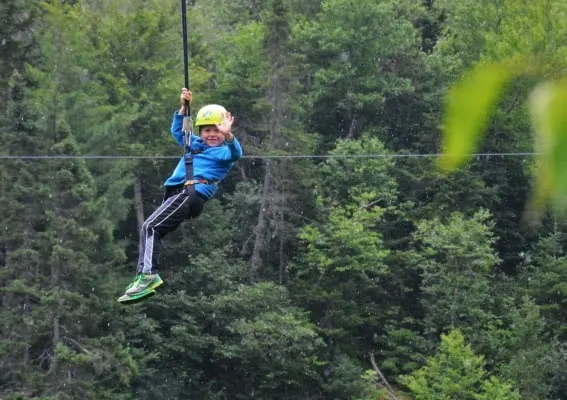 When my children went back to school after our month-long road trip across New England and Eastern Canada, they were, of course, required to write about their favorite summer memory. I'm not surprised that both of them chose to write about our zip lining experience across Marble Falls. MarbleZip is truly one for the bucket list: the guides are goofy, the equipment couldn't be safer, and when it's just a bit rainy, this is one fast zip line. My daughter showed off by flying down a line totally upside down and my son ran with gusto from one line to the next. This tour just outside of Corner Brook is definitely a must-do when in Newfoundland!
Enjoy a Scenic Drive in Newfoundland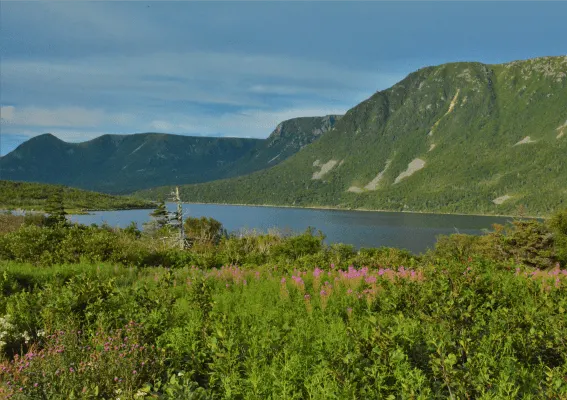 I admit that my obsession with road trips might be a bit crazy; after all, I have averaged at least 3,500 miles of travel by car with my kids the past three summers. However, I can confidently say that Newfoundland is one of my favorite places to drive. There are beautiful views and vistas around each turn in the road and most all the roads are lined with pretty, purple wildflowers in the summer months. From where the ferry dropped us off in Channel Port Aux Basques to Gros Morne National Park, every inch of the scenery was simply amazing.
Play!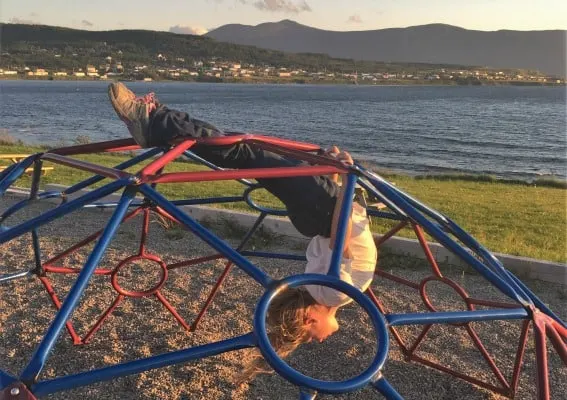 One of our favorite discoveries in Newfoundland was the playgrounds in Rocky Harbour and Norris Point. I've found that there is no better way for my kids to wind down at the end of the day than to spend their excess energy at the playground. Often I hesitate to include a stop at the playground after dinner because I'd rather pack one more activity into our day or watch the sun set somewhere spectacular. I loved that in Rocky Harbour, I could both see the sunset over the ocean and watch my kids happily running around the playground at the same time. It's a win, win!
And There's So Much More to See When Traveling to Newfoundland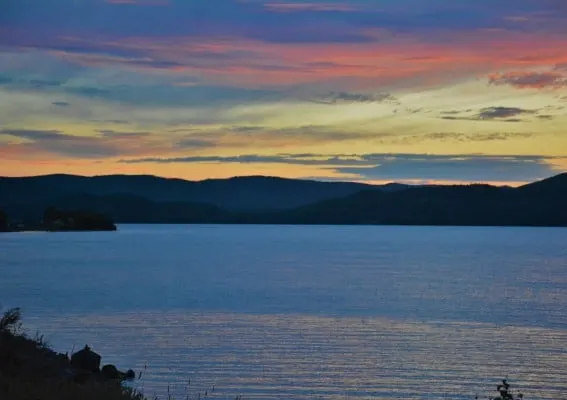 My family only spent four nights in Newfoundland. We barely scratched the surface of what this land has to offer families. We did not visit the historic site of L'Anse aux Meadows at the northernmost tip of Newfoundland where archeologists have found evidence of a Viking settlement. Nor did we have time to drive the seven hours across the island to its capital St John's and walk out to the end of Cape Spear, the easternmost point in North America. We even missed the icebergs that float off the eastern coast of the province in the late months of spring and early summer.
Where to Eat in Gros Morne National Park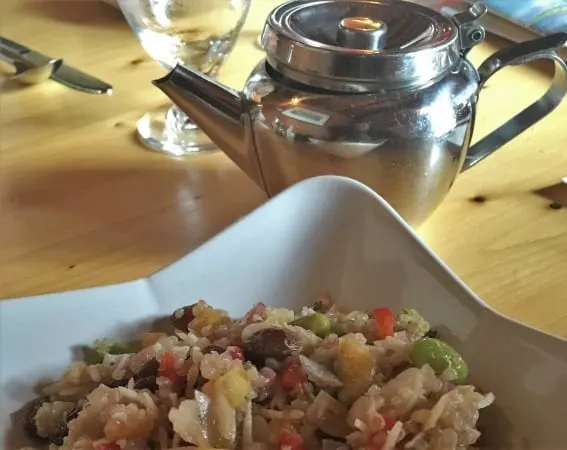 It's not hard to find fish and chips in Rocky Harbour. But beyond that, dining options are a bit slim in Gros Morne National Park. The Old Loft Restaurant in Woody Point has a cozy ambience, interesting menu, and a nice selection of local teas that will warm you up on a cold summer day. In Rocky Harbour, we sampled a few restaurants, but the one that stands out is Java Jack's Restaurant; like the Old Loft Restaurant across the bay, it has local art and crafts for sale and serves much more than just fish and chips. The Old Store Café in Norris Point serves up yummy paninis for lunch that hit the spot after our kayaking tour on Bonne Bay.
Where to Stay when Traveling to Newfoundland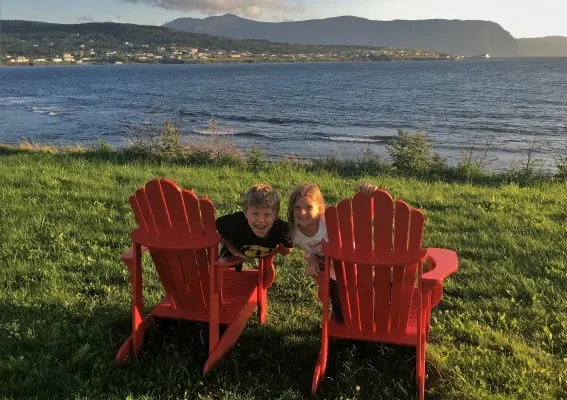 The lodging options inside Gros Morne National Park are limited. This is especially true if you do not camp and are not driving an RV. In my research I found most of the lodging options in this area to be either cabins or bed and breakfasts. The cabins tend to be family-friendly. If you do not plan to cook for yourselves, you'll ideally want to look for a cabin within a 15 minute drive of Rocky Harbour or possibly Woody Point as those towns have several dining options. (Also be aware that if you do plan to cook for yourselves grocery items are difficult to come by in the park even in Rocky Harbour.) My family reserved our August accommodations near Rocky Harbour about eight months in advance as soon as we decided upon our dates; I highly recommend reserving as early as possible.
While visiting Gros Morne National Park my family stayed at Meeting Hill Cottages between the Lobster Head Cove Lighthouse inside Gros Morne National Park and the small business district of Rocky Harbour. It was the perfect location, and we loved our cabin.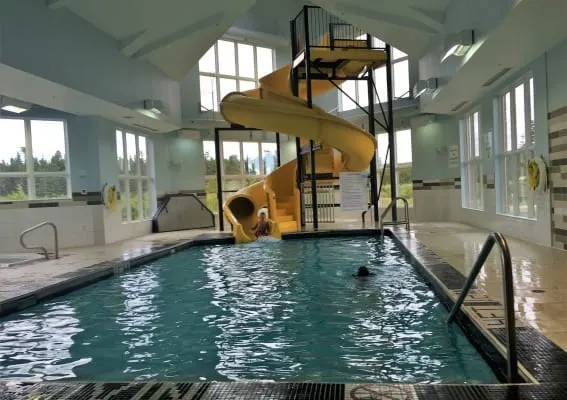 My family also spent one night at the Glynmill Inn located in Corner Brook after arriving on the ferry from Nova Scotia and another night at the Holiday Inn Express in Deer Lake due to its proximity to the Deer Lake Airport during our visit to Newfoundland. While neither of these hotels are close enough to be a convenient home base while exploring Gros Morne National Park, they are great family-friendly locations to spend the night as you traverse the island of Newfoundland. We especially enjoyed the slide and pool at the Holiday Inn Express in Deer Lake.
How to Get To Western Newfoundland – Take the Ferry from Nova Scotia to Newfoundland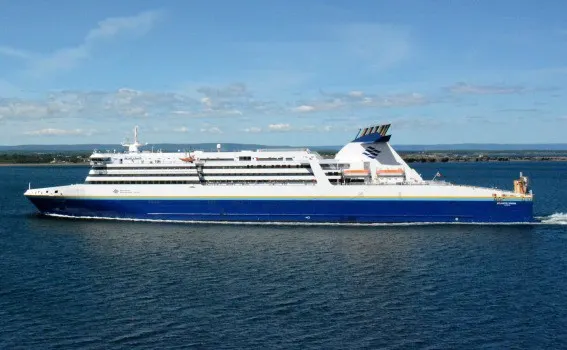 While getting to Western Newfoundland in itself is not simple, the options for traveling there are; your family can arrive by airplane, ferry boat or car. The most straightforward option is arriving by airplane into Deer Lake, the gateway city to Gros Morne National Park. Yes, you will need to rent a car in Deer Lake; there are simply no other options.
Second, families can travel via car ferry from Nova Scotia to Newfoundland; Marine Atlantic operates a ferry twice a day during the summer months between North Sydney on Cape Breton Island to Channel Port Aux Basques on the southwestern tip of Newfoundland about three hours' drive from Gros Morne National Park. We took the ferry from Nova Scotia to Newfoundland.
Finally, families can make the seven hour drive across the island of Newfoundland from its capital city, St John's, on the eastern side of the province; St. John's has its own airport and nearby ferry terminal. To experience St John's, Gros Morne National Park and all the interesting stops between these two destinations, families should plan to spend at least a week on the island exploring by car.
Tips for Taking the Marine Atlantic Ferry from Nova Scotia to Newfoundland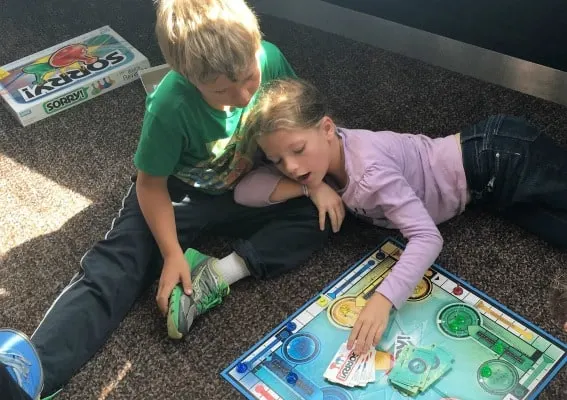 Our family traveled via ferry from Nova Scotia to Newfoundland as part of a long road trip. I didn't know quite what to expect from our full-day ferry ride. But, I learned a few lessons based on our experience.
Book your reservations for the ferry from Nova Scotia to Newfoundland as far in advance as possible. The ticket purchasing process and boarding process is most comparable to an airline flight.
The food on the ferry from Nova Scotia to Newfoundland is sub-par; if you are the sort of person that packs lunches, snack and food, by all means bring your own food.
It is hard to predict what the temperature will be on the boat; we were very hot on a sunny day and cold on a cloudy day. Be prepared to make a quick trip down to your car to grab some blankets or jackets after boarding but just before the cars are locked up for the journey.
There are board games available to check-out onboard the ferry to Newfoundland. Checking out a new game every 30 minutes kept my kids busy for quite a while. (There is also a small children's area, but there is nothing there except a television.)
Bring ear phones and set-up in front of an age-appropriate television show. However, be aware that the audio doesn't always work properly.
There is no real scenery of note on this ferry to Newfoundland so being seated near a window or door is not of importance.