Visiting Montréal with kids is a wonderful way for American families to get their feet wet with international travel. Imagine the perfect city to introduce your child to international culture, food, art, language, and history; it should feel distinctly different from home, yet family friendly and easy to get around. Fortunately, Montréal, Quebec fits that bill perfectly! This French-speaking city looks, feels, and tastes like Europe. Wrapped around narrow city streets, you'll see people of every nationality bringing a little something of their part of the world to the fabric of this charming town. Yet, getting around is a breeze because everyone switches to English with ease, and city signage is bilingual.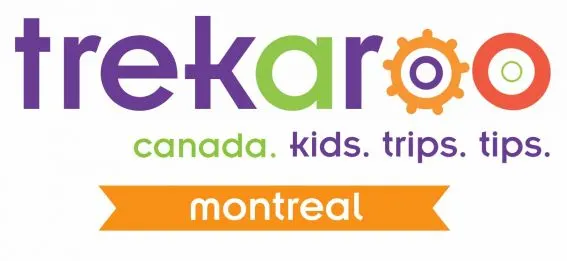 Explore Charming Ethnic Neighborhoods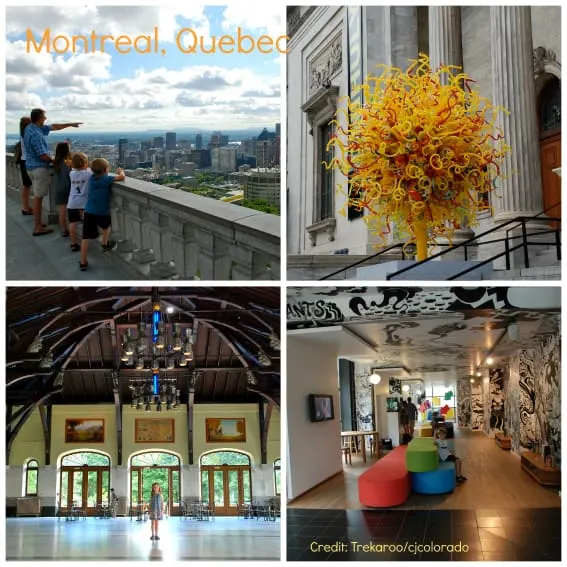 Walk through Old Town Montréal and the Old Port and you'll be transported for a few square city blocks to an old European city with beautiful french stone architecture and flower baskets hanging from awnings. Courtesy of its rich French heritage, Montreal offers a myriad opportunities to introduce kids to classic foods and desserts. Start the day with sweet crepes from Muru Crépe or Crépe Suzette to energize yourselves before deciding what you want to explore and how you want to explore it. Then, step back in time, as we did, while you wander the narrow, scenic streets. Or take a break at the harbor near the fast-moving St. Lawrence River by jumping on a boat or Amphibus tour to see Montréal with kids from the water. Change your pace by pedaling a quadricycle together down the waterfront bike path or taking a horse-drawn carriage ride and tour. Notre Dame Basilica rivals Europe's many famous cathedrals in grandeur and is a must see city landmark. For lunch or dinner, Stash Cafe is rich in old world charm and authentic Polish food. It's hard for kids to resist trying their wonderful pierogis or potato pancakes. To enrich your experience of this historic neighborhood, a visit to Pointe-à-Callière Museum of Archaeology and History has fun interactive exhibits for kids.
Look for current hotel deals in Montréal
Montréal might as well be deemed the United Nations of Canada. Throughout the city, you'll find people hailing from every part of the world, and the Mount Royal Plateau (Le Pleateau as the locals refer to it) neighborhood embodies the eclectic nature of Montréal like no other. From the "Freperies" (stylish consignment stores), to ethnic eateries and vibrant markets, it's a great place for families to people watch and enjoy some no-frills ethnic foods. Kids will love stopping at St. Viateur Bagel and Fairmont Bagel to gaze into huge brick fired ovens with their regiment of little bagels and weigh in on the infamous Montréal Bagel War.
As synonymous as the Philly cheesesteak is to Philadelphia, so are smoked meat sandwiches to Montréal. So squeeze yourself in at the famous greasy spoon Schwartz Deli for some of this heart-stopping goodness. (Take out might be a better option for little ones.) Then get in line at Kem CoBa for some of the city's best gelato. In Montreal, do as Montrealers do: shop at Jean Talon Market. Your little suburbanites will be wide-eyed at the colorful stalls, interesting smells, and wide array of artisan foods.
Montréal's Wonderful Kid-friendly Festivals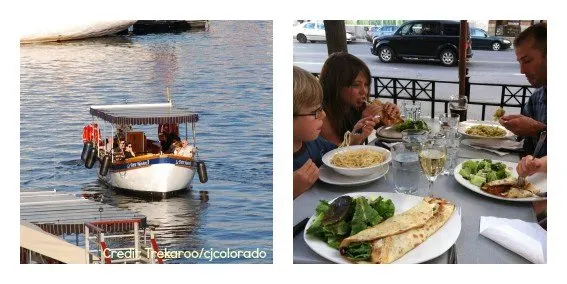 Montréal is Canada's City of Festivals. In the summer months, a visit to Montreal with your children would not be complete without making time to check out some of the events at one of the city's many festival venues. Quartier des Spectacles is the cultural heart of Montreal hosting a myriad of events. Many include free street performances involving circus acrobats and jazz musicians taking to the street. The Montréal Botanical Gardens also hosts a yearly lantern festival at the Chinese Garden in October that is a much beloved family-friendly event.
Find a wonderful festival: Montreal's favorite kid-friendly festivals.
Top Things to Do in Montréal with Kids: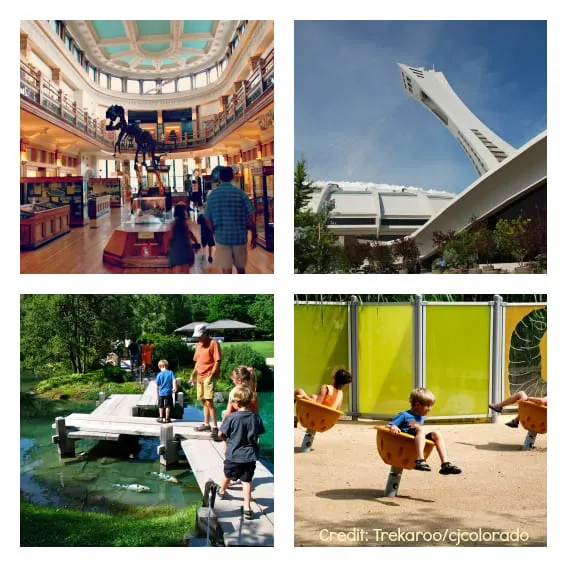 Montreal is both kid and pedestrian friendly and opens its arms wide to visitors eager to learn about its rich history and vibrant culture, but it also makes exploring with kids easy. In the winter, some of Montreal's favorite kid-friendly attractions are indoors. The Biodome, Planetarium, and Montreal Tower thrill kids with animals, space exploration, and a Guinness Book of World Records attraction. The Botanical Gardens has a conservatory with an exquisite collection of plants from around the world, while the Insectarium will baffle your mind with its collection of odd-looking bugs and butterflies.
Check for hotel availabilities in Montréal
Getting around Montreal with kids is a breeze. The first thing our family noticed upon arriving in Montreal is the relaxed vibe in this urban city. Bike paths flow everywhere and offer a great way to explore the sights. The subway system (the Metro) is efficient and takes you to all of the city's main sites. Best of all, when it's too cold to walk outside you can dive underground to the massive Underground City (RESO) which connects large portions of city and the subway system. Just remember to ditch the big bulky stroller and bring along an umbrella stroller instead because there are lots of stairs to navigate.
Kid-friendly Hotels in Montréal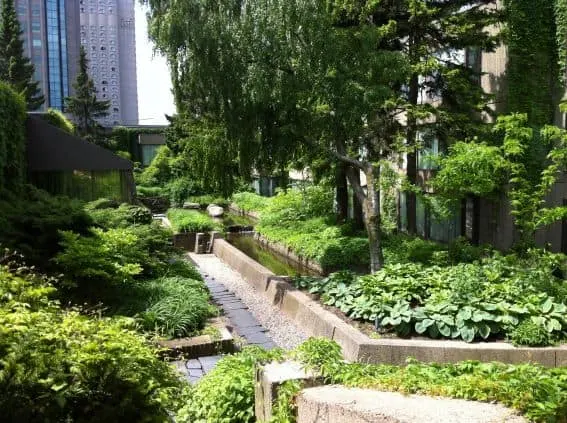 Ready to start planing your first international trip with your kids? There lots of small quaint hotels in Montreal or apartments to rent. However, we recommend the Hotel Bonaventure Montreal. This hotel is centrally located and perched on the top floors of the Bonaventure Center (which doubles as a subway stop). It's proximity to public transportation makes getting around with kids really easy. We were delighted by the rooftop garden complete with a creek, pine trees, and yes, even a heated outdoor pool open year round. This family friendly oasis was just what we wanted to come back to after a day of fun sightseeing. The rooms are spacious and comfortable and remarkably quiet for its downtown location.
[gdlr_core_button button-text="Book a Stay at Hotel Bonaventure Montreal" button-link="https://www.booking.com/hotel/ca/hilton-montreal-bonaventure.en-us.html?aid=1173371;label=blogbody;sid=d7f5f8ecf23675b0deb1199a19a680cc;ucfs=1;room1=A,A;dest_type=city;dest_id=-569541;srfid=22141d0b223c606699ac0d55aa6644d7b53a91efX1;highlight_room=" button-link-target="_blank" margin-right="20px" ]
Another great "launching point" for our daily adventures in Montreal was the hotel Delta Hotels by Marriott Montreal. We adored their European-style buffet breakfast and saltwater pool. It was centrally located near McGill University, the Museum of Fine Art, Quartiere des Spectacles, and the Rue St. Catherine shopping district. It was a perfect oasis after a long day of adventuring in town!
[gdlr_core_button button-text="Book a Stay at Delta Hotels by Marriott" button-link="https://www.booking.com/hotel/ca/d-montreal-montreal.en-us.html?aid=1173371;label=blogbody;sid=d7f5f8ecf23675b0deb1199a19a680cc;ucfs=1;room1=A,A;dest_type=city;dest_id=-569541;srfid=7ac0cd45ddb792acaef86f9be430b999a14e2c67X1;highlight_room=" button-link-target="_blank" margin-right="20px" ]
Lead image by: Shutterstock
Find Deals at Montreal's Top Family-friendly Hotels on Booking.com
More about Montreal and Quebec with Kids
Welcome to Montreal Week
Attractions in Montreal: Things to do in Montreal with Kids

Montreal: The Perfect city for a first International Family Vacation
Exploring Quebec City with Kids
Montreal travel tips: insider ideas for visiting Montreal with kids
Explore Montreal's kid friendly attractions | restaurants | hotels
Explore Quebec's kid friendly attractions | restaurants | hotels
[/tab] [/tabs]
Post written by Cindi Brothers and LiLing Pang.