The holiday season is a great time to reconnect with your family and take time to enjoy the festivities with your kids. There are so many family-friendly Christmas events in Philadelphia it is hard to choose! After visiting these destinations you are sure to leave with a touch of holiday spirit.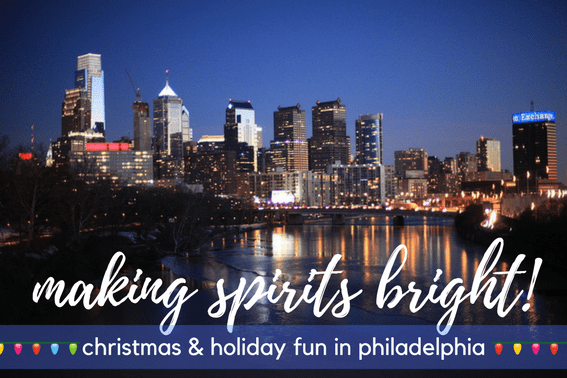 Lead image by: Bigstock/Tiden
Amuse Yourself at an Amusement Park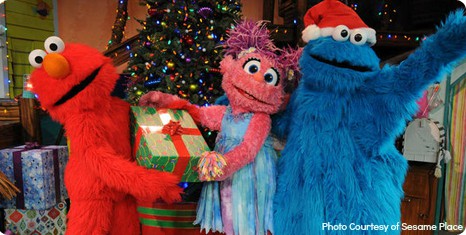 During this time of year amusement parks roll out the red carpet, or the lights and Santa's red suit, as it may be. Families can enjoy their favorite amusement parks dressed up for the holidays! You can still ride your favorite rides and enjoy added shows and festivities.
In Bucks County, PA, A Very Furry Christmas at Sesame Place decorates to the hilt, lining the entrance and the park with trees and lights. Families will delight in the Christmas parade (they even make it snow!), visits with Santa, Christmas themed shows, and holiday treats. A Very Furry Christmas is held weekends through Christmas from 1-8 pm, and everyday from Christmas through New Years Eve. Fireworks will be part of the show at year's end to culminate the seasonal celebration.
Two million twinkling lights set the stage for Hershey Park's Christmas Candyland. Families will love the festive decorations, holiday entertainment, and dining options with Santa at this family-friendly Pennsylvania park. A limited amount of rides are open for the season.
Dutch Wonderland Winter Wonderland is perfect for younger kids: here you can enjoy the Royal Light Show, festive entertainment, cookie decorating, rides and more on weekends and select weekdays throughout the season.
Look for current hotel deals in Philadelphia 
Take in the Lights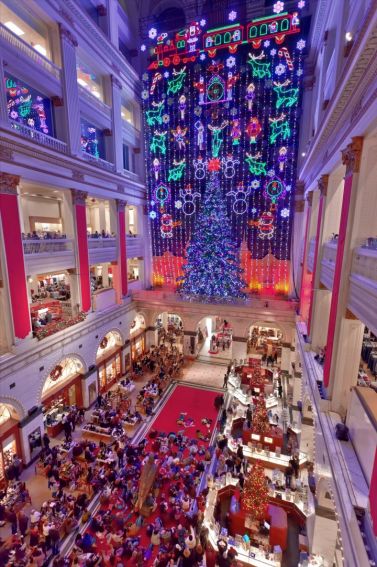 One of our family traditions is riding around the neighborhoods taking in the Christmas lights. There are so many great displays to explore beyond your neighborhood! For many families the Macy's Holiday Light Show is a time-honored tradition. Enjoy Christmas scenes illuminated by 100,000 LED lights on a 4-story tall velvet curtain while listening to the sounds of the famous Wanamaker Organ. Light shows begin every hour on the hour. After enjoying the light show, head to the third floor for Dickens Village. Here, A Christmas Carol is brought to life with animated figures. Don't forget to check out the brilliant window displays while you are there!
The Comcast Holiday Spectacular is a sight to be seen. The world's largest LED screen displays holiday imagery set to the music of an orchestra. This 15-minute show is free and occurs at the top of the hour. Returning this year to the city's holiday celebrations is the Franklin Square Holiday Light Festival and Electrical Spectacle. The show here features a 12-foot-tall kite made of lights and hundreds of feet of holiday garland lit up to the thrill of all who watch. The lights come to life eight times daily, every 30 minutes between 4:30-8pm, weather permitting. Two seven-minute shows alternate throughout each evening, so stay for both of them if you can.
Families have the option to drive through the wonderful Holiday Light Show at Shady Brook Farm or enjoy a horse-drawn wagon ride; you will travel through acres of farmland while enjoying the whimsical displays and millions of lights. This is a lovely holiday activity that starts off each year with a Run The Lights event that's also fun and very family-friendly.
A walk through Longwood Gardens, a beauty at any time of year, will leave you amazed as you enjoy half a million lights. Brilliant Christmas trees, thousands of poinsettias, fountains, and daily concerts make it a festive wonderland. Due to the popularity of the gardens at this time of year they go on a timed ticketing system so be sure to visit the website for ticketing options.
One of my family's favorite Christmas destinations is Koziar's Christmas Village. From the moment you drive over the hill towards the village, you are captivated by the beauty of the lights reflecting on the pond. Visitors enjoy walking the paths and observing the lights, displays, and the model trains. Be sure to take a moment to visit with Santa, he'll be waiting for you on Santa Claus Lane. If you get chilly, warm up with some hot chocolate and snacks. The village is open for your enjoyment from the first Saturday in November through the beginning of January and is even open on holidays.
Holiday Trains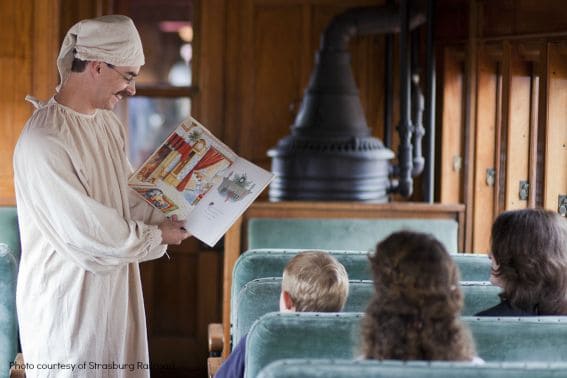 This year the Holiday Train Garden returns at Morris Arboretum. Visitors of all ages will be amazed by the miniature displays and buildings of Philadelphia landmarks made of natural materials and decorated for the holidays. Fifteen train lines, including two cable cars, run over a quarter mild of track, around loops and through tunnels.
Check for hotel availability in Philadelphia 
My children have always enjoyed a train ride with Santa. Thanks to the popularity of The Polar Express, more railroads than ever are offering their own Polar Express experiences and rides with Santa. Strasburg Railroad is offering Santa's Paradise Express where families will enjoy a train ride with Santa himself while The Night Before Christmas Train creates special memories and excitement. A visitor dressed in his night-dress reads this classic tale and children will enjoy cookies and milk. The New Hope-Ivyland Railroad is also a fun excursion with kids, and offers riders a visit with Santa, hot chocolate and a cookie, and a scenic train ride through Bucks County.
Find a railroad near Philadelphia and New Jersey where you too can enjoy in this holiday tradition.
Fun Places to Shop and Enjoy the Festivities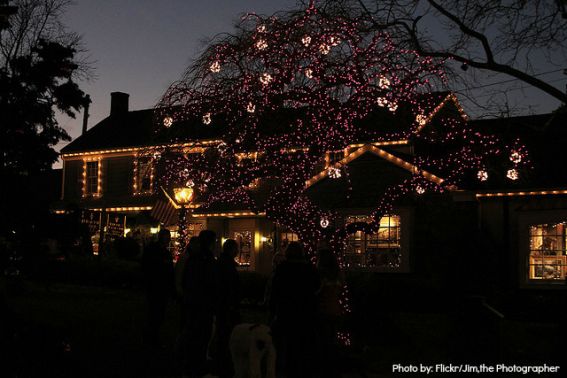 The Christmas Village located in Love Park is an outside holiday market. Visitors will enjoy the holiday lights and the Christmas tree while exploring the booths that offer up a unique shopping experience and traditional food and sweets. Enjoy the entertainment presented by choirs and dancers throughout the season, and even fit in a visit with Santa. This year Love Park is fresh off of a wonderful remodel, and the market is headed back here. Be sure to take some time to enjoy the park and the market, and then stop at Dilworth Park across the street for some skating and hot chocolate afterwards!
In historic Bucks County, Peddler's Village offers up unique stores and restaurants. The village is beautifully decorated with hundreds of twinkling lights for the season.  Enjoy the Christmas Festival and the Gingerbread House Display, with entries from people of all ages for the annual competition! When the kids get tired of the shopping, be sure to treat them to a stop in to Giggleberry Fair to ride the wonderfully restored carousel, tackle Giggleberry Mountain and play the arcade games.
Look for the best hotel prices in Philadelphia 
Where to Stay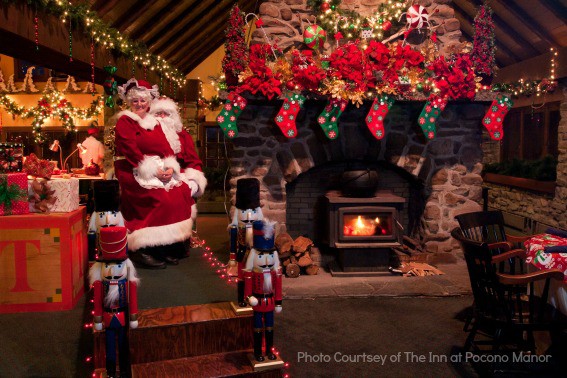 Many hotels offer holiday packages but for an extra-special, one-of-a-kind memory maker, head out of the city to The Inn at Pocono Manor for a Magical Fireside Christmas.  Enjoy hot cocoa, decorate cookies, take a horse and wagon ride, create crafts, enjoy story time with Santa and so much more.  Don't forget to inquire about adding elf turndown service to your overnight package!
 Read a full review of The Inn at Pocono Manor.
Pin this to bookmark all the holiday fun; we update it yearly: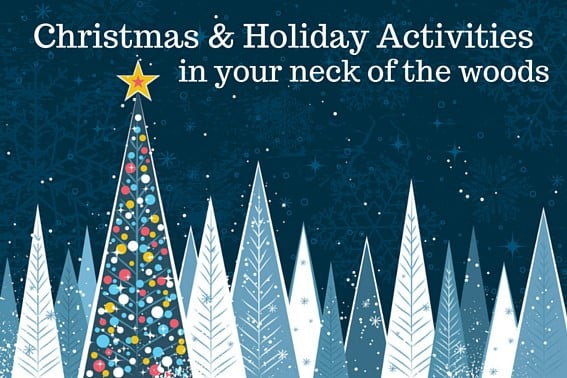 Find holiday activities and events in your neck of the woods.  We've got the inside scoop on cities across North America.
Lead Image by Shutterstock