Every time I return to West Virginia, the beauty of its mountains and the friendliness of its people strikes me anew. What a pleasant change from my carefully-managed, packed-full daily routine living just outside Washington DC! A couple of nights away from the city in Appalachia, and my family is refreshed. It's even more special when a layer of snow glitters over the trees and we can go skiing in West Virginia at Canaan Valley. Just a short drive from Canaan Valley, Blackwater Falls is beautiful in the winter. These are some of the best West Virginia weekend getaways! Winter in West Virginia's Canaan Valley is simply magical, and skiing at one of the best West Virginia ski resorts is fun for the entire family.
Planning a weekend getaway to West Virginia this winter to go skiing with the family? Don't miss Blackwater Falls! Check more of Trekaroo's Top 10 Things to Do in West Virginia with Kids.
Skiing in West Virginia at Canaan Valley Resort State Park with the Family
Canaan Valley Resort State Park – Go Skiing in West Virginia with the Family
It was a such treat driving into Canaan Valley State Park's ski area on a Thursday morning in late January. The trees and ground were covered in a couple inches of fresh powder, perfect for skiing in West Virginia. I parked our SUV right in front of the small ski lodge alongside just a few other vehicles.There were only a some avid skiers and a couple of families there at opening ready to make first tracks on the fresh fallen snow on a West Virginia weekend getaway.
Looking to ski at one of the best ski resorts in West Virginia for families? Check for current hotel deals in Canaan Valley Resort State Park
Ski School at Canaan Valley
First, I stopped to register my kids with the ski school and got them geared up in their rental equipment. Soon their instructor, Monica, was leading them out to the slopes. I was off to get my own rental gear. Both my kids and myself have skied a few times and are starting to really enjoy the green trails at the ski areas which we visit. Occasionally as I practiced my turns on B Slope, I crossed paths with my children and Monica. After parting from Monica with lots of hugs, the kids were so excited to show me their skills on the 1.25 mile long Timber Run trail.
Skiing in West Virginia with My Kids – A Weekend Getaway to West Virginia
After my first experience on the Timber Run Trail, I didn't feel the need to explore further; instead, I kept heading up to the top of the mountain to wind gently down again and again. In the afternoon the sun came out and the snow really began to sparkle. With 160 inches of snowfall on average a year, chances are good that if you plan a visit to Canaan Valley, you'll enjoy fresh snow too!
The lodge at Canaan Valley ski area is simple, classic and even a bit rustic. However, that's just part of the laid-back charm of skiing in West Virginia. Food is easy to purchase in either the restaurant or the cafeteria. The lodge has all the basics you'll need for a day out on the mountain skiing in West Virginia.
Snow Tubing at Canaan Valley State Park
There are plenty of thrills at Canaan Valley, even for those that don't ski or snowboard. With clear blue skies and 45-50F temperatures the afternoon that we visited, conditions were perfect for some super fast runs at the snow tubing park. Unlike we've experienced at some of the larger resorts in the region, the snow tube runs at Canaan Valley were not quite smooth and not quite straight; however, the unexpected bumps and turns just increased the thrills and added to the fun. Be sure to go snow tubing too when you are skiing in West Virginia!
Looking to ski at one of the best ski resorts in West Virginia for families? Check for availability in Canaan Valley Resort State Park
Depending upon conditions and the staff in charge of the course, linking up and riding face first on one's stomach are allowed at Canaan Valley. Our entire family linked tubes for a few memorable rides down the hill. If you're fearless, Canaan Valley is certainly one of the best places to tube in the region.
Looking for more family West Virginia weekend getaways? Check out Oglebay Resort in Wheeling.
Snowshoeing and Cross Country Skiing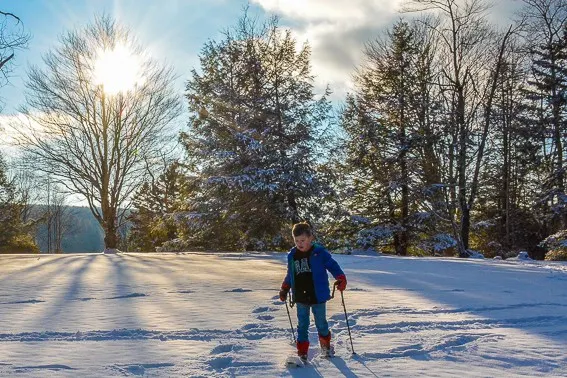 Unfortunately, there was not enough natural snow for our family to go snowshoeing together during our visit to Canaan Valley. My children had been begging to snowshoe since a large Mid-Atlantic storm two years previous, and I had even purchased kid-sized snowshoes for my son. So we found a place with a few snow drifts and let kids strap on the snowshoes to explore a bit; fortunately, they were satisfied, but still wishing for large drifts of snow to fill our own neighborhood sometime this winter.
When the snowfall is good, there are more than 30 km of snowshoe and XC ski trails open at Canaan Valley Resort. We'll just have to try again another time; it certainly is a beautiful area for hiking, snowshoeing and cross country skiing. Canaan Valley and Blackwater Falls is one of the best winter West Virginia weekend getaways for families!
Accommodations at Canaan Valley Resort and Conference Center – One of the Best West Virginia Ski Resorts
Skiing in West Virginia with your family at Canaan Valley? Good choice, it's one of the best West Virginia ski resorts for families. Whether you are looking to a stay in a cabin or at the Lodge with hotel-like accommodations, there is something for everyone at Canaan Valley Resort and Conference Center. For a short stay, the convenience of the Lodge can't be beat; rooms and suites generally have either a king bed or two queens. Breakfast is available in the dining room. Pizza can be ordered from a small cafe in the lobby opposite of reception. I hate cooking on vacation so the convenience of the dining options at the Lodge won me over. However, if you are visiting with a larger group a cabin or cottage is certainly the way to go. Each cabin and cottage has a fully furnished kitchen and wood burning fireplace.
Day Trip to Blackwater Falls State Park
Canaan Valley State Park is simply lovely in the snow, but it's not the only state park in the area that deserves your attention. Blackwater Falls, arguably one of the most recognizable sights in the entire state of West Virginia, is only a 15-20 minute drive from Canaan Valley Resort. Blackwater Falls and the gorge are beautiful in any season. However, they might be at their most photogenic with icicles adorning the falls and snow covering the trees. Sledding and XC skiing are available at Blackwater Falls State Park during the winter months dependent upon conditions.
Looking for more West Virginia weekend getaways? Consider a visit to Charleston, West Virginia's Capital City.
All Photos by Melissa Moore unless otherwise credited.
Disclosure: My family was hosted by Canaan Valley Resort State Park. All opinions are my own.