It's no secret that I love to travel with my kids. We've shared adventures from the Alps of Switzerland to the coastline of California. However, as much as I enjoy showing my kids the world, my children's favorite vacation memories tend to be our more simple travels closer to home. Yes, if given the choice, my children would probably choose a week of family togetherness on the ski slopes in Virginia over a jaunt through the Swiss Alps. One of our favorite Virginia vacation spots is at Massanutten Resort. The kids already asking for a return visit to Massanutten Resort — and we've been home less than 48 hours.
Favorite Virginia Vacation Spot – Massanutten Resort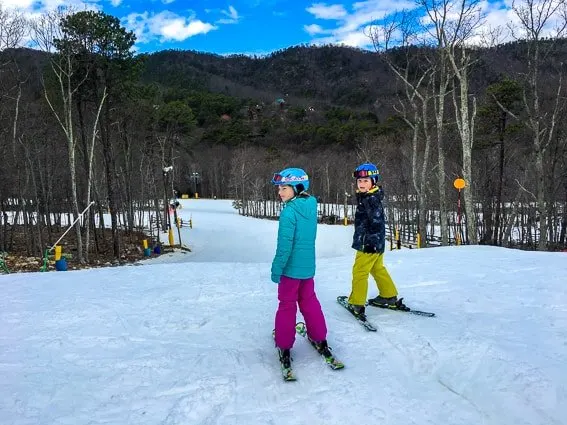 I was surprised how simple it was to make family memories on our recent weekend getaway to Massanutten Resort in Virginia's Shenandoah Valley. Forget about the buttery croissants and hot chocolate breakfasts in Europe, my kids were beyond thrilled that I let them watch Sponge Bob while eating Honey Nut Cheerios for breakfast in our condo at Massanutten Resort. Massanutten Resort offers everything from ski slopes in Virginia to an indoor waterpark, and it's only an easy 2-3 hour drive from the Washington DC area. It's one of our favorite Virginia vacation spots!
Winter Fun on the Mountain – Skiing in Virginia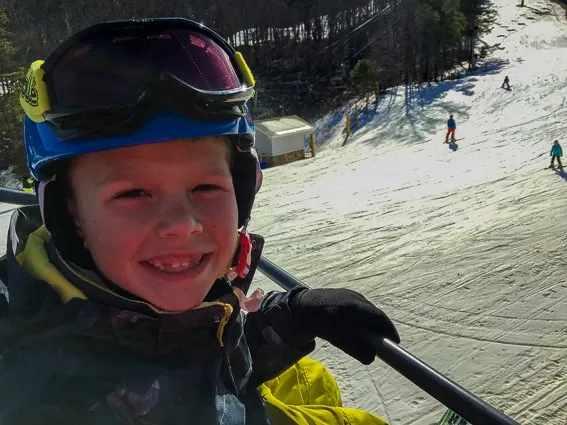 My family doesn't need inches of fresh powder and a full network of trails to have fun out on the ski slopes. Like many families in skiing in Virginia, we're having a good morning on the slopes if we can make it down the greens without falling. Over and over again we skied Massanutten's easy beginner slopes until our muscle-memory from previous years slowly brought our skills back. Fortunately, my kids were so happy about finally skiing together in Virginia as a family after a winter with virtually no snow in 2017, that they didn't even ask me to give the blue trails a try on our January 2018 visit to Massanutten. (Though families that are ready for more thrills will be happy to know that there are both blue and black trails available at these ski slopes in Virginia.)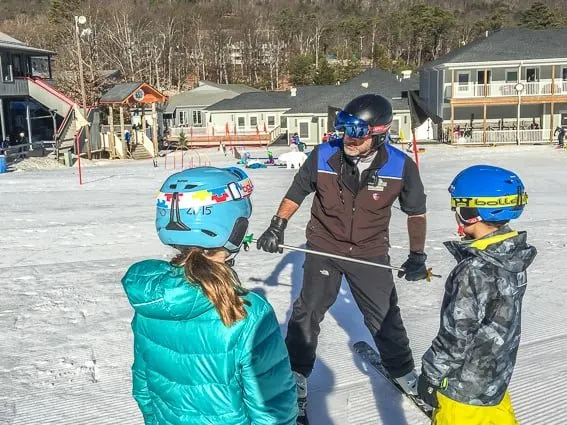 While we had a private lesson to help us get started on our ski day on the ski slopes in Virginia, Massanutten Resort does have Mountain Cruisers, a 9AM-2PM children's program available for kids ages 4-12. It's clear that Massanutten knows beginners — from tots on up. Out of the four Mid-Atlantic ski areas that we've visited I was most impressed with the assistance that Massanutten gave its beginning skiers getting geared up for the day; both my kids were given one-on-one attention as I watched. Massanutten's lesson area has two magic carpets where tiny beginners spend their first day; generally, once little skiers can stop efficiently, they can ride the lift and go out on the easiest beginner green that I have experienced at ski slopes in Virginia.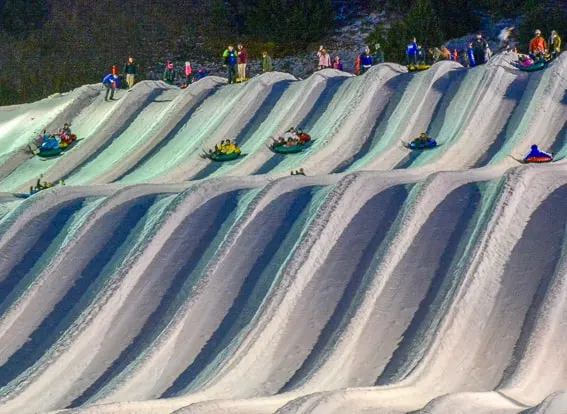 Like most other ski slopes in Virginia, Massanutten also offers snow tubing. My children and I linked up our tubes and rode down the hill again and again; even on a peak Saturday night, the snow tubing hill was managed in a safe, organized, and efficient manner. As my kids took goofy selfies on the slow magic carpet ride to the top, we certainly made the sorts of memories that will stick with them for a lifetime.
Indoor Fun at Massanutten's Water Park and Arcade – Ideal Virginia Vacation Spot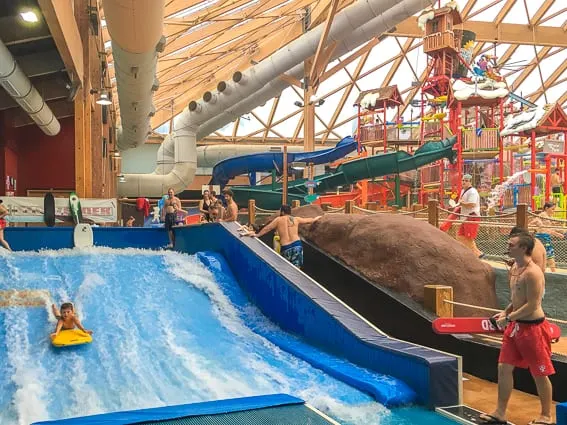 As much as I enjoy sharing a nice scenic hike with my kids, they love hotel pools — preferably hotel pools with water slides. I never hear the end of it if we neglect to visit the pool while traveling. Let me tell you, my kids were more than satisfied with the Waterpark at Massanutten. (They may have even told their ski instructor to hurry up their lesson so that they could make it to the FloRider before it closed for the evening.) The water park has a short lazy river, a large play area with slides, a dump bucket, three slides that accommodate inter-tubes, a toddler area, and a hot tub; there is also an outdoor seasonal water park area. While I've heard that the water park can get busy (and I can only imagine how busy it might be on a chilly day), we enjoyed the water park during the evening hours of our stay at Massanutten, which was quite nice. There is an additional fee for the water park; various activity packages include a visit to the water park.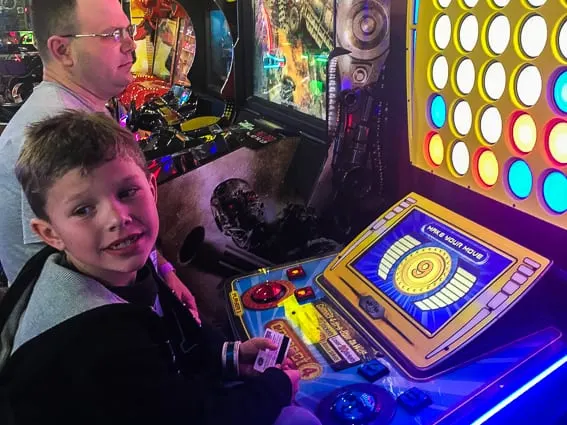 Inside the water park complex, Diamond Jim's Arcade offers dozens of kid-appropriate games for families to enjoy. We raced each other, played multiple games of air hockey, and even a few games of duck pin bowling.
Summer Fun is Available Too – Favorite Virginia Vacation Spots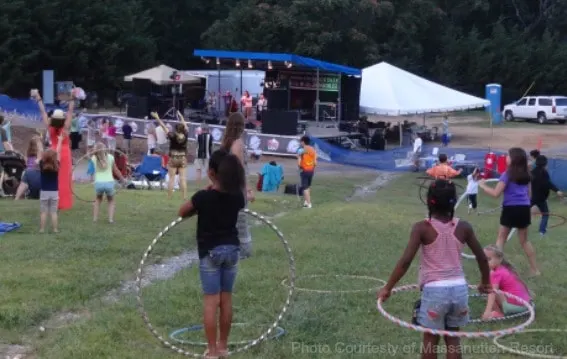 Photo Courtesy of Massanutten Resort
My family visited Massanutten during their winter ski season, but they have fun activities available for families year round. In the summer months, Massanutten hosts many evens including kid-friendly music festivals (pictured above.) For the animal lover in the family, trail rides on horseback are available for families with older children ages 10 and up. For the more adventurous, Massanutten's Family Adventure Park offers thrills for the entire family featuring summer tubing, a children's adventure course for children under 12 years old and over 50 pounds, and a canopy zip-line for ages 10 and up. In the summer months, the ski slopes become a mountain bike park; my son spotted the trails from the lifts this winter and is already begging me to schedule a summer visit to Massanutten. There's no question Massanutten Resort is a favorite Virginia vacation spot year round.
For a full reviews and restaurant recommendations around Massanutten, check out my guide for A Family Vacation to Massanutten Resort in the Shenandoah Valley.
Fun Adventures within 50 miles of Massanutten Resort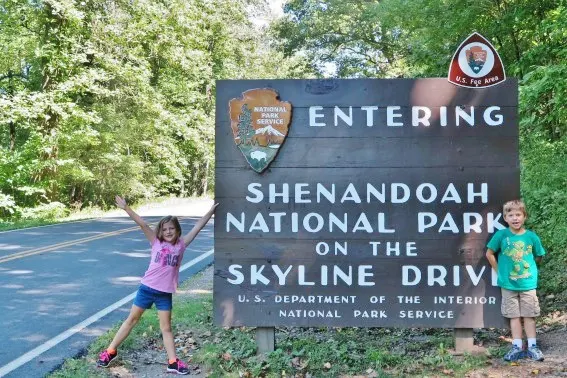 Massanutten Resort is located less than 30 minutes from Interstate 81 making it a great home base for exploring the region. Washington DC and much of West Virginia are less than three hours away. There are a few top family vacation destination within an hour's drive this favorite Virginia vacation spot.
Luray Caverns or Shenandoah Caverns (40 minutes)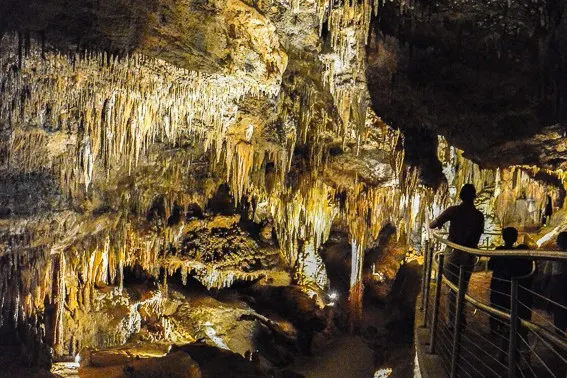 Driving along Interstate 81, you'll see signs for all sorts of caverns. Due a layer of limestone sitting beneath the Shenandoah Valley there are thousands of caves that have been discovered in this region. Six of the caves are open to the public and two of the most popular are Shenandoah Caverns and Luray Caverns, both roughly a 40 minute drive from Massanutten Resort. Generally, the caverns in the Shenandoah Valley are not far under the ground making them relatively easy to visit even with younger children.
Read Trekaroo reviews of Shenandoah Caverns and Luray Caverns for more information.
Shenandoah National Park – Harry F. Byrd, Sr. Visitor Center (43 minutes)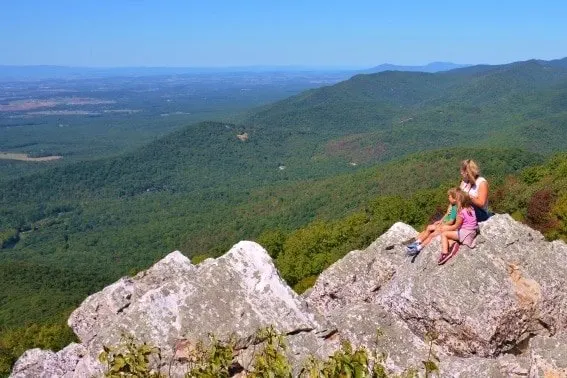 While there are more than a dozen battlefields and other historic parks managed by the National Park Service in Virginia, there is only one national park, Shenandoah National Park. The entrance to Skyline Drive, the road that follows the ridge-line of the mountains, is just a short drive from Massanutten. The closest visitor center (Harry F. Byrd, Sr. Visitor Center) is less than 45 minutes away. Shenandoah National Park has some of the best hiking in the Mid-Atlantic.
For more information on Shenandoah National Park and its hiking trails check out Trekaroo's Hiking in Shenandoah National Park with Kids.
Charlottesville (63 minutes)
Charlottesville is one of my favorite cities in Virginia. It is the home of the University of Virginia as well as Monticello, the historic house where Thomas Jefferson once lived.
Check out Trekaroo's Family-Friendly Historic Charlottesville, VA for more information about planning a day trip to this charming city.
All photos by Melissa Moore unless otherwise credited.
Disclosure: The author's family was hosted by Massanutten Resort. All opinions are her own.