As a home schooling family, we are always looking for new and exciting ways to teach our daughter. Zoos have long been one of our favorite places to spend time and learn. This is where my daughter has acquired a fondness for animals and where we can see these animals in the flesh instead of just in the pages of our books. We decided to take it a step further, and we began to seek out other places to find animals in Southern California such as conservation centers and sanctuaries; in these concentrated environments you can connect with the animals on a more personal level. We learned the animals' names and heard their stories. We looked them in the eyes and we made a connection.
Many of the animals' stories start out with a hard plight or were unable to be cared for anymore. What the sanctuaries and conservation centers that I explored have done is given the animals back their dignity and quality of life. What all this teaches my daughter and those who come in contact with these animals, is compassion and perseverance. It's amazing when you start your day thinking you will be teaching your child something, but it turns out an animal is the one that has today's lesson covered.
Gibbon Conservation Center in Santa Clarita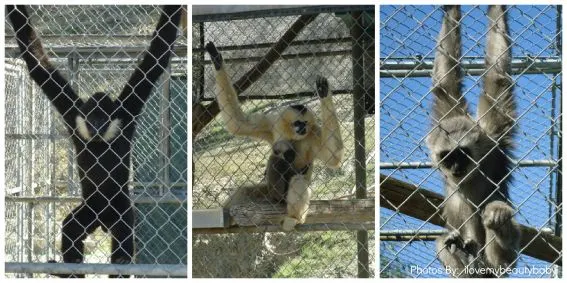 The Gibbon Conservation Center was a complete riot. These playful apes sang and swung themselves right into our hearts. Gibbons have a lot of personality, so expect to get drawn in. These special apes have a morning ritual called "the morning song." This was the absolute highlight of our visit. It felt like we were flies on the wall witnessing something wildly special. My suggestion to anyone planning a visit is to come early and take the tour. You wouldn't want to miss "the morning song," and Chris our tour guide was not only knowledgeable but also hysterical.
Farm Sanctuary in Acton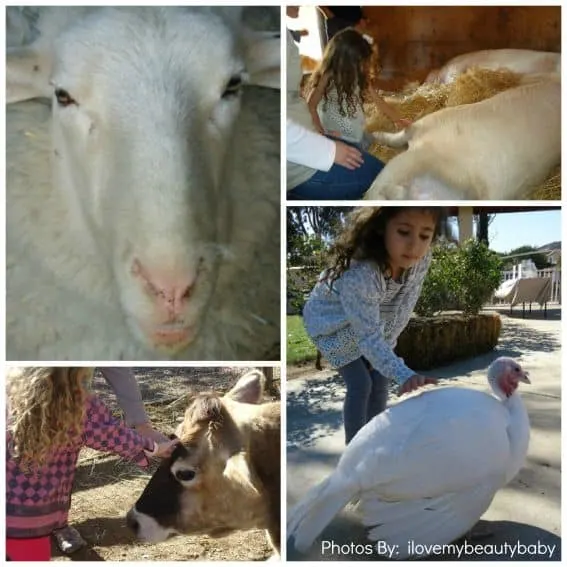 I was brought up on a farm that raised animals as pets, not food. Now living in a big city and having a big city husband that doesn't want to live on a farm, Farm Sanctuary is the perfect place to teach my daughter about animals that are sometimes forgotten. In America, farm animals are oftentimes seen as just food producers and not as one of the "important" animals. Farm Sanctuary helps us understand that all animals are important. They also helped my meat-eating husband realize the importance of knowing where our food comes from and slowing down, if not eventually eliminating meat all together. My daughter loved this hands-on experience. She was able to hug turkeys, pigs, cows, goats, and sheep, all while hearing their stories and learning of their importance on this earth.
The Gentle Barn in Santa Clarita


The Gentle Barn was like being at a large petting zoo. My usually cautious four-year-old daughter really opened up here. The Gentle Barn is absolutely titled correctly. The animals are so gentle and kind that you can really tell that they are loved and well taken care of. And quite honestly, who wouldn't be in a wonderful and relaxed mood after receiving massages, acupuncture, and tons of love? You read that right, massages, and acupuncture; after all we are in California!
Shambala in Acton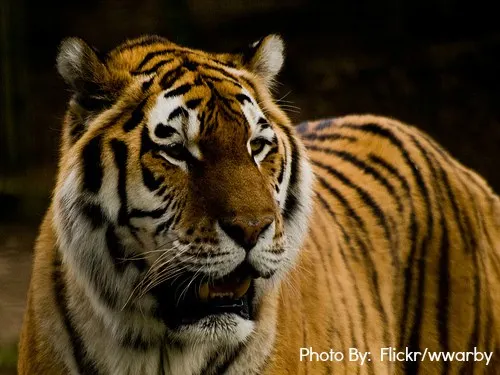 Disclosure: This is a photo of the kind of big cat you can expect to see at Shambala. This is not actually one of their tigers.
Best known for its founder Tippi Hedren (actress and mother to Melanie Griffith), Shambala has long been the gold standard for big cat rescues. I have had the pleasure of meeting Tippi Hedren several times at charity functions, and can attest to the fact that her passion shows through while striving to educate. Please note that Shambala Safari's are for visitors 18 years of age and older, no exceptions.
Project Survival Cat Haven in Dunlap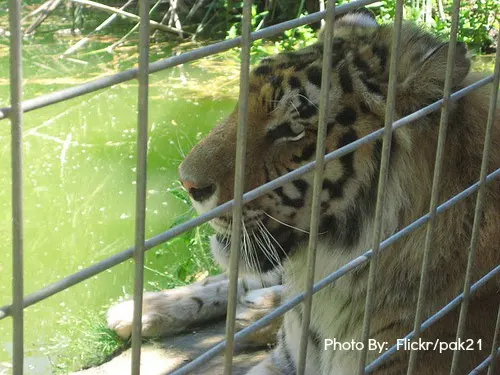 Dale Anderson was introduced to a mountain lion in his seventh grade classroom. From that day he knew he wanted to save wild cats. Home to some of the rarest cats in the world, Project Survival Cat Haven founder Dale Anderson has made his childhood dream come true. There is not an age restriction for visitors, so bring the whole family. Who knows, you might be raising the next Dale Anderson!
America's Teaching Zoo in Moorpark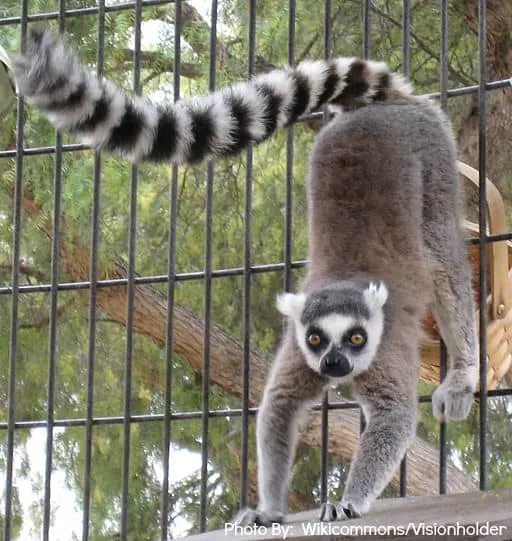 With over 200 animals, America's Teaching Zoo allows you to get up close and personal to the animals and their caretakers. Part of the Moorpark College Exotic Animal and Training Management program, these dedicated students will turn the tables and become your teachers for the day.
Fellow Earthlings' Wildlife Center in Morongo Valley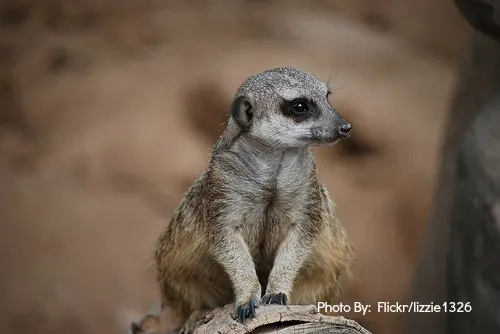 Disclosure: This is a photo is to represent what you can expect to see at Fellow Earthlings. This is not actually one of their meerkats.
Fellow Earthlings' Wildlife Center is located in the High Desert of California. The location makes it the perfect climate to specialize in meerkats. Meerkats have gained popularity with Animal Planets television show Meerkat Manor. Fellow Earthlings' Wildlife Center has a four-person maximum with age requirement of 8 years old.
Next time you are thinking about taking the kids to the zoo, switch it up a bit and choose one of these alternatives. Not only will you be helping a wonderful cause with your donation, you will be giving your child a different perspective on animal life. Animals hurt just like we do and if we teach our children about how special they are, imagine the compassion we will be building in them.
A special thanks to the Gibbon Conservation Center, Farm Sanctuary, and The Gentle Barn for inviting us to experience your cause first hand. Keep up the good work! My family and I will be seeing you again soon!
Discover more Wildlife Centers in Southern California
Explore some Southern California Animal Habitats