I am ravenous for nature and love seeing creatures in the wild, but with sea-life, it's always been from some large tour boat with a crowd. So, when the opportunity arose to kayak the beautiful San Juan Islands in Washington State over three days courtesy of Outdoor Odysseys, to see wildlife up close on a more intimate scale, I jumped at the chance. But first I had to persuade my family to come with, none of whom (myself included) had ever kayaked.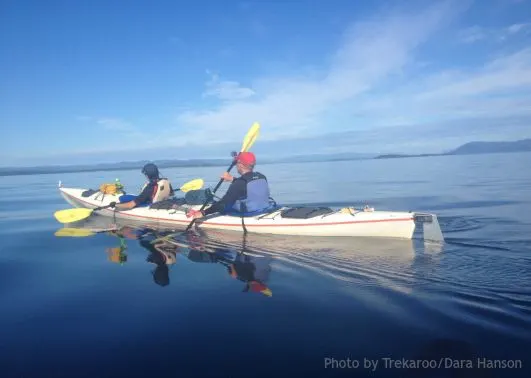 The San Juan Islands are certainly one of the it paddles in the sea-kayaking world. The islands themselves are listed in 1000 Places to See Before You Die. A mere hour drive and then a short ferry ride away from the bustling, rainy metropolis of Seattle, you are transported into a different world. In the rain shadow, the islands get twice as much sunshine as overcast Seattle, yet enough rain to still have the lushness of the Pacific Northwest. There remains much wild life in the area, including three resident pods of endangered Orcas (a.k.a. killer whales). All this, combined with the sheltered calm of the Salish Sea, makes it an ideal location for a newbie paddling family in search of a wildlife encounter.
Persuasion worked its magic. Hubby, myself and our 3 kids (10, 13 and 16), found ourselves on the west side of San Juan Island at the county park with our guide from Outdoor Odysseys, Taryn. We all helped to load our kayaks with all equipment and food needed for our three day, two night excursion. By mid-morning, we were on the water on a perfect day: mid-70's with the sun shining and a slight breeze.
We hugged San Juan Island, heading north toward our destination, Stuart Island, through sheltered Mosquito Pass. Taryn took it slow and chose the easiest route for us, knowing that it was our first kayak excursion. We got a close up view of some lovely homes built along the water and a nice look at the luxury yachts moored at Roche Harbor. Along the way, we were treated to fishing cormorants and sun-bathing harbor seals.
After two hours on the water, we stopped on tiny Posey Island for a lunch break which fortified us for our bigger challenge: paddling across the Speiden Channel in open water to our campsite on Stuart Island. We surprised ourselves and by 4:30pm in the afternoon (a total of four hours of paddling time), arrived at our site in plenty of time to unload and set up our tents while Taryn made dinner. Taryn served us appetizers and wine, with a delicious smoked salmon pasta dinner. No complaints from the kids about heading to bed; they had certainly gotten their exercise.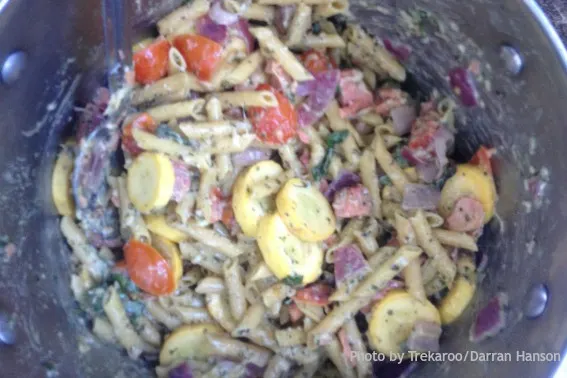 The second day, we were able to take it easy. We had lots of options: hiking a ridge trail on Stuart Island, circumnavigating Stuart Island, a shorter paddle to Henry Island next door, or just relaxing, since it was a customized trip for just our family. We finally opted for a short paddle out of Reid Harbor to look for a kelp bed and find some wildlife. It was a lovely relaxing paddle. As we got up close to some of the shoreline to view the nesting shore birds, harbor seals and bald eagles, we relished the quiet and peace of gliding past with a gentle flick of the paddle and the slight rocking of the kayak.
We stopped for lunch of freshly prepared veggie and bean wrap on tiny Gossip Island, whose beach was made up almost entirely of shells, a legacy of the days when Native American tribes would come to Stuart Island to harvest shellfish. We then headed back to camp where we each relaxed in our own way while Taryn cooked up a delicious, from scratch meal of curry and rice accompanied by a kelp salad with kelp we harvested on our paddle. Food was definitely a highlight with mostly locally-sourced ingredients and inventive recipes.
Later that evening, Taryn showed my youngest how to make and sound a kelp horn. Before dusk, we walk along the beach and discovered a friendly harbor seal in the shallows. My son tried to befriend him by blowing bubbles into the water with his kelp horn. Eventually, the seal was intrigued and headed in his direction. The two eyed each other with curiosity, following each other between the driftwood and the beach. With the beautiful sunset at the mouth of the bay and the beach in growing shadows, it was a magical moment between animal and boy.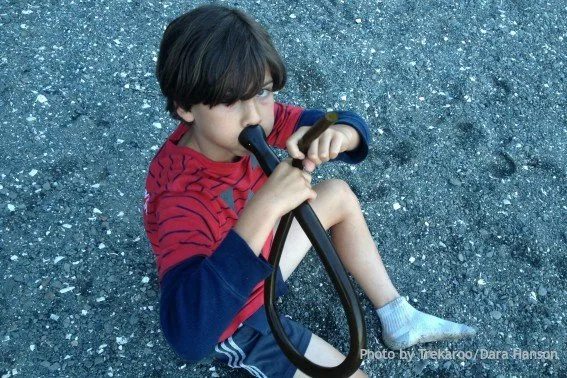 The next day, it was unfortunately, time to head back to civilization (primitive campsite with chemical toilet not withstanding!) After consulting her tide charts and map, Taryn suggested that we wake at first light to head back as the water would be calmest then, and she was right. On the third day, everyone's paddling technique had improved considerably, so that paddle back seemed much easier than the one out.
Just as we were about to turn into the Smallpox Bay to take-out, we spotted a flotilla of boats stopping: a sure sign that orcas had been spotted in the Haro Strait where we were! So, we parked ourselves on kelp bed as we watched the parade of orcas, spread over several miles. Even though they were about 600 feet away, we could hear them slapping their enormous tails and one even breached and jumped with its entire 40 foot body out of the water: a magical end to our adventure.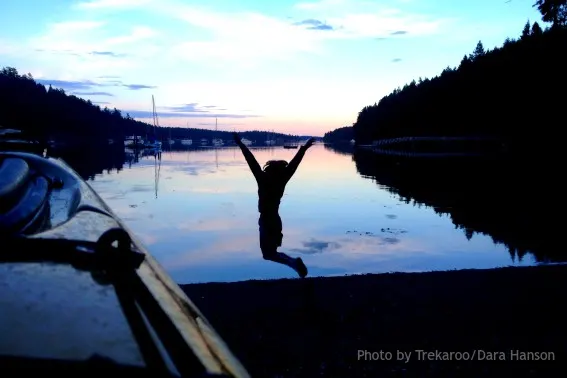 Travel Styles
Throughout our trip, I kept thinking about other families and how they would experience something like this. While my family is experienced with car and tent camping, kayaking was completely new. We do enjoy nature, but mostly, we enjoying seeing it out of a vehicle and with shorter hikes. This kayaking trip was a stretch and a challenge for us, but it was overall a positive experience because we anticipated it, took steps to get in shape, and prepared the kids for what to expect. For some practical tips on how we did that, see my review on Trekaroo.com.
I also compared notes with a friend whose travel style is more active them mine, Amy Whitley of Pit Stops for Kids. She and her boys have kayaked several times before and they had gone on the same trip with a different outfitter. They had a great time, though they too, found the paddling strenuous at times. They also packed a hike and a longer paddle in on the second day as they did not need as much down time to recover as we did.
That was the beauty of our customized trip experience, it gave us more flexibility to do as our family needed. We also spoke at length with Tom of Outdoor Odysseys who listened well to our needs and made some excellent suggestions. If you have upper-elementary aged or older kids, this is something that your family can do with the right preparation and good communication with an outfitter.
Looking for great camping gear? Here's Trekaroo's Amazon shopping list of our favorite camping gear.
Can a really experienced family attempt this without a guide? Given how important to a positive experience that reading the currents, weather, and prevailing winds is, going with a guide who is skilled and knowledgeable about the area is highly preferred. While my family had very calm conditions, I can see how even an experienced sea-kayaking family may need an expert given the unexpected which can never be discounted when dealing with Mother Nature.
Disclosure: Our family's trip was heavily discounted by Outdoor Odysseys for the purposes of this review but the experiences and opinions expressed are entirely ours.