Trekaroo's Weekend Wanderings series offers ready-made weekend itineraries for busy families set to explore directly from major cities! Need a weekend itinerary from Atlanta or Nashville? Check out Blue Ridge, Georgia!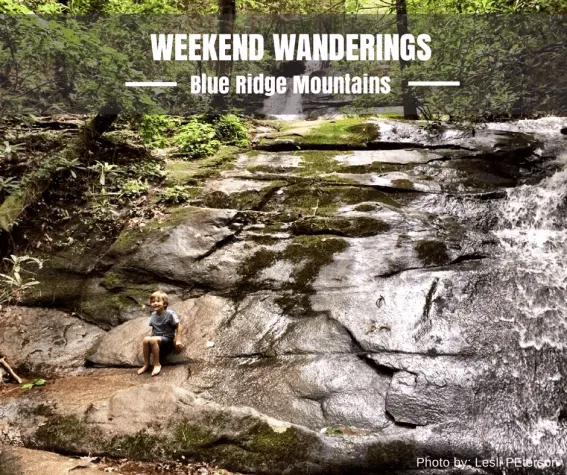 Weekend Overview
My family and I were looking for a summer escape in the mountains. We wanted to commune with nature, but also enjoy a few activities specifically for the kids. We decided on Blue Ridge, Georgia – home of the Blue Ridge Scenic Railway and Mercier Orchards. Our family explored the terrain, took to the rails, and feasted on delicious local fare. It was relaxing and peaceful, and the perfect break from the big city. Bring the family, and escape with us to this marvel in the mountains.
Sponsored by Shell: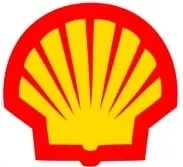 The Fuel Rewards Network™ program is a free loyalty program that helps you turn your everyday spending into fuel reward savings. Fuel Reward Network members save a minimum 3c/gal every time they fill up at Shell. And now, for a limited time new members can get a 25c/gal sign-up bonus when they join the program. To qualify, you must purchase at least 8 gallons of fuel on your first fill-up using your Fuel Rewards Network Card, while enjoying at least 3c/gal savings. Then, the 25c/gal will be credited to your account for your next fill-up.
Day 1: Drive to Blue Ridge, GA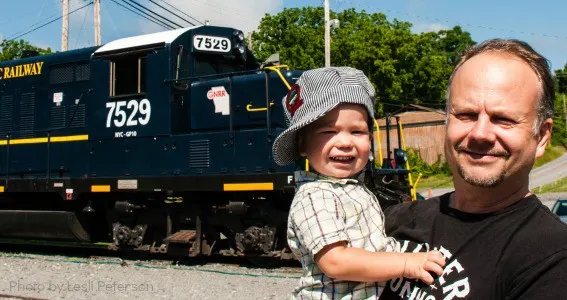 Blue Ridge Scenic Railway

The Blue Ridge Scenic Railway begins in Historic Blue Ridge, GA and winds through the mountains, along the Toccoa River, to the border town of McCaysville, GA. I recommend a ride in the open-air car, where you can feel the breeze and smell the honeysuckle. During your mid-day layover, kids can stand with one foot in Georgia and one foot in Tennessee. Take lunch overlooking the river at Serenity Garden Cafe, and meander the town's shops until the train toot-toots from the station when you'll climb aboard for the ride back to Blue Ridge. The entire trip lasts about four hours, but my boys could have rode the rails all day. Looking for a special treat? Purchase a ticket to hop aboard with the engineer up front!
Gem Mining, Mini Golf, and Fishing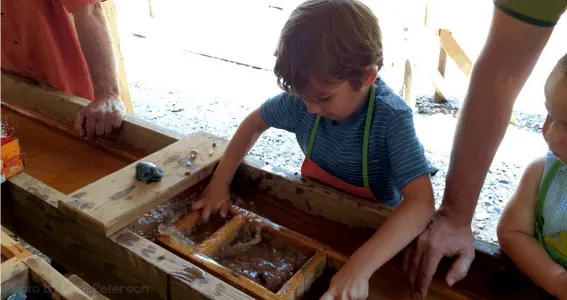 Spend the latter part of your day on several kid-friendly activities, all in one great location. At Lilly Pad Village, kids (and adults) can mine for gems in a special water trough. My son was lucky enough to find a large purple amethyst, among other gems and treasures. The family can then head over to the woodland mini-golf course, which twists and turns within the pines along the mountain side. Still not enough? The fully-stocked pond is available for catch-and-release fishing. Prices for all activities are a la carte or discounted through special package promotions, making it ideal for a limited budget.
Day 2: U-Pick Fruit and Hiking
Mercier Orchards
Family traditions are forged in the mountains at Mercier Orchards. For over 70 years this family-run farm has served up u-pick events for apples, strawberries, blueberries, cherries, peaches, and more using sustainable practices and bushels of hard work. In addition to the seasonal u-pick events, try your hand at fishing in the lake. The Market serves an incredible breakfast for early morning pickers – or lunch, if your belly isn't too full of Mother Nature's morsels from the rolling hills. Pick up something special from the bakery or deli, or shop the meat and local veggie section, like we did, for a dinner delight back at your cabin.
Scenic Driving Tour
Knowing that the glorious mountain vistas, lush forests, and rushing creeks are a significant draw for visiting families, the Fannin County CVB designed a series of self-guided driving tours (available on their website). I recommend exploring the Mountain and Countryside Tour in the afternoon. Glimpse the Toccoa River Rapids, with class I, II, and III rapids. Stop at Fall Branch Falls for a short but serene hike to the base of the 30-foot falls, where you can splash and relax. Continue driving along the Toccoa River to Swinging Bridge. Here you can take a short walk to the 250-foot bridge – the longest swinging bridge this side of the Mississippi. Play in the river, fish for Blue Ridge's famous trout, or hike in the mysterious mountains. Finally, circle back to the Historic Blue Ridge area for dinner or fun at the cabin.
Exploring Main Street in Historic Blue Ridge, Ga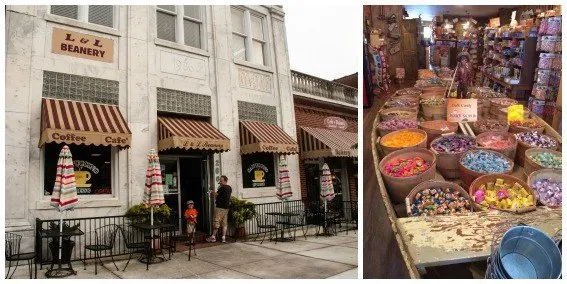 Don't skip the opportunity to browse downtown Historic Blue Ridge. Grab a pail with the kids, and fill it to the brim with old-fashioned candy at Huck's General Store. You'll also find cane-sugar drinks, toys from the past, and fun mountain tchotchkes. Indulge in a delectable latte from L&L Beanery, preferably for breakfast, because you'll want to pair it with their mouth-watering cheese grits. The kids will smile at the "Funny Face Pancake," and enjoy a peek inside the vault – this restaurant used to be a bank! Other places we enjoyed include GawdyBobbles (unique jewelry), Blue Ridge Olive Oil Company (sample and purchase over 65 types of olive oil and vinegars from around the world,) and Sycamore Crossing (garden accessories, including a life-sized tee-pee the boys fell in love with).
Where to stay during your weekend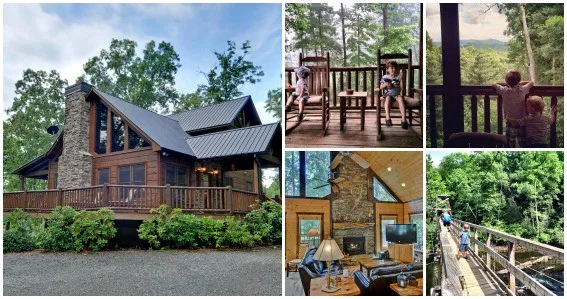 When in the mountains, a hotel room will not do. Families interested in "roughing it" can't do better than pitching a tent along the Toccoa at Swinging Bridge. Otherwise, rest in comfort at one the many cabins in the mountains. We stayed in a Mountain Top cabin, with a gorgeous wrap-around porch, spectacular views, a hot tub, and comfy-cozy decor. Our nights included roasting marshmallows in the fire pit, grilling steaks on the porch, and posting pictures for family back at home with free WiFi. While the boys played pool in the game room downstairs, mom relaxed in the shower upstairs, washing away the previous week under three high-pressure shower heads. It's definitely my favorite way to enjoy a weekend in nature.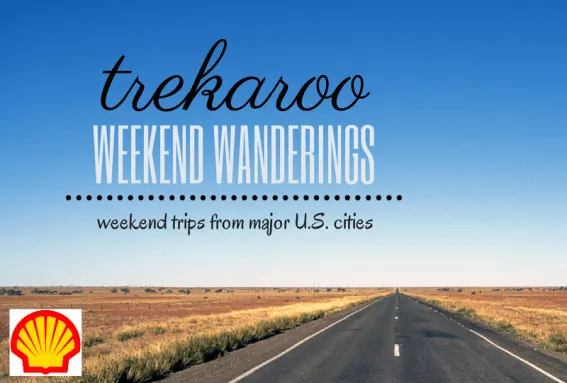 Where will your family wander this weekend? Looking for some more inspiration? We've got four weekend wandering posts heading your way this coming month:
Read Trekaroo's Family Road Trip Travel Tips
Disclosure: Thank you to LRC-Media and Fannin County CVB for hosting my family and me in Blue Ridge, Georgia. While I appreciate their southern hospitality, it in no way affected my opinions.