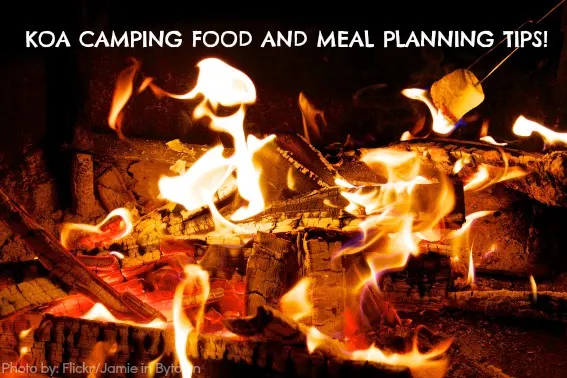 Camping has been low priority on my family's travel bucket list. Spending a weekend without electricity or running water and sharing a tent with two very energetic children (one who is not fully potty trained, mind you) seems more stressful than fun. My husband, however, loves camping and has been begging me to plan a camping weekend ever since our daughter was born. A few weeks ago, KOA invited my family to spend a weekend with them. I thought a glamping (glamorous camping) getaway in a deluxe cabin would be a good compromise and a great way to celebrate Father's Day and our son's third birthday. My husband does the whole camping thing every year with his buddies and all he talks about afterwards is the food. They may be sleeping on the ground in sweltering heat but they don't skimp out on breakfast, lunch, or dinner. I wanted to do something similar for our family's first "camping" trip so I opted for foil packet meals, steak, cupcakes, and of course s'mores. Here are KOA camping meals and tips I learned that helped keep those campers happy .
Food and Menu Planning Tips for a KOA Glamping Getaway
Staples to Pack in the Cooler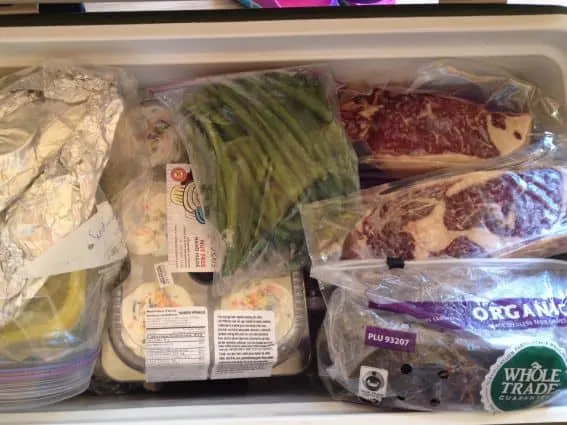 Make a list of dishes that can be prepared either ahead of time or prepped quickly at the campsite or cabin. I came up with a menu a week before our KOA trip. Here's what I brought:
Meat – Adobo chicken (chicken thighs sprinkled with adobo seasoning), steak, and bacon.
Fruits and Vegetables – grapes, apples, oranges, green beans, cucumber, onions, tomatoes, potatoes, and pre-made Cesar Salad.
Drinks – water, juice, and milk.
Other – eggs, cupcakes, jello, salt, pepper, olive oil, butter, garlic powder and parsley, microwaveable popcorn, microwaveable mac & cheese, and pre-made foil packet meals.
Breakfast Options
If you love cooking over a campfire or grill, head outside to prepare breakfast over the fire pit or on the BBQ. If you're like my family and aren't the most energetic people first thing in the morning, utilize the griddle pan in the cabin to cook eggs and bacon. Need to get your caffeine fix? There's a coffee maker in each cabin so mom and dad can have their cup of coffee or tea first thing in the morning.
Lunch Options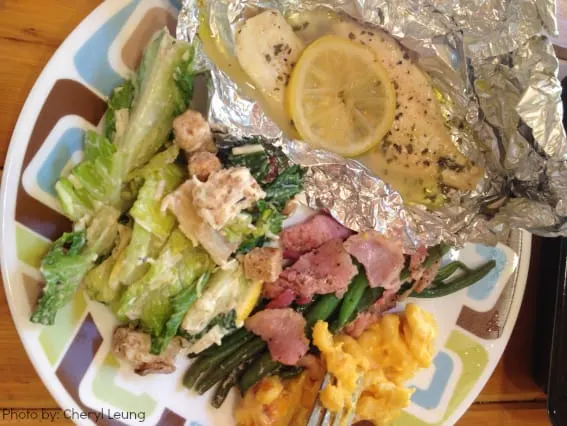 Pre-made foil packet meals allow families to spend more time playing and less time cooking. Foil packet meals can be cooked over the fire or on the BBQ. If it's raining outside, the contents of each packet can easily be emptied and cooked on the griddle pan or in the microwave.
Need some easy foil packet recipes? Here's two that we put together before our KOA weekend:
Fish Foil Packet Recipe
Place frozen or fresh fish fillets on a piece of foil.
Top with olive oil, salt, pepper, lemon slices, and parsley flakes.
Fold foil into a pouch while leaving room for heat circulation.
Cook on BBQ for 10 – 15 minutes.
Sausage & Vegetable Foil Packet Recipe
Place bite size pieces of sausage, potato, and onion on foil.
Add vegetables. (We used green beans but this recipe works well with many other vegetables like peppers, zucchini, mushrooms etc.)
Top with olive oil, salt, and pepper.
Fold foil into a pouch while leaving room for heat circulation.
Cook on BBQ for 20 – 25 minutes.
Simple salads (or pre-made salads), fruit, and prepackaged macaroni and cheese cooked in the microwave accompanied our main dishes.
Dinner Options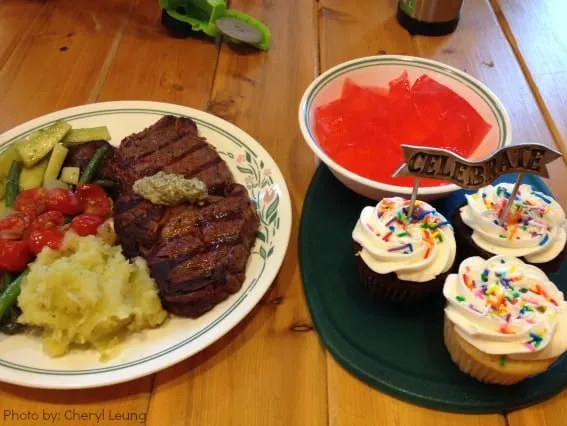 Dinner is the meal that many people look forward to when they go camping – including my family. Steak and Adobo chicken cooked over the fire – delicious! I quickly put together some vegetable foil packets (green beans, bacon, onion, tomato, garlic powder, and olive oil) inside while the kids watched TV and handed them to my husband to throw on the grill beside the meat. Want to make steak a little more special? Try herb butter! I made one with parsley flakes and garlic powder. One night I used the microwave to make mashed potatoes at the request of our six-year-old.
Dessert Options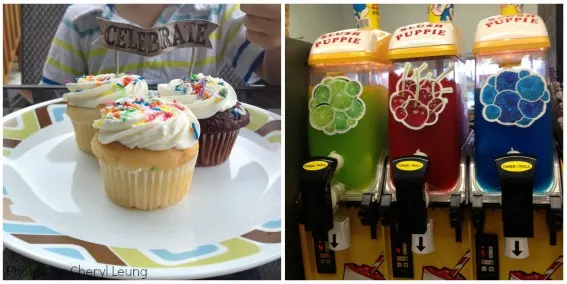 What's a birthday and Father's Day celebration without dessert? We brought a dozen cupcakes, jello and a little "Celebrate" sign (instead of candles) from home. In addition to polishing off 12 cupcakes in 3 days, we also indulged in ice cream sandwiches and Slush Puppies from the KOA Kafe.
We have even more camping recipe ideas and family camping tips!
Forget Something?

You don't want to know how the kids reacted when I realized we left the ingredients for s'mores on our kitchen counter. It was bad. Very bad. Clearly we were not the first family to forget this stuff. We ended up buying a s'mores kit, fire wood, fire starter, roasting sticks, and milk from the KOA Kafe. So I forgot more than just s'mores ingredients! This happens when you're not a regular camper. Thanks KOA for saving the day and keeping meltdowns (mine included) to a minimum. Campfire s'mores is a 1000 times better than those made in a toaster oven or microwave.
Glamping at KOA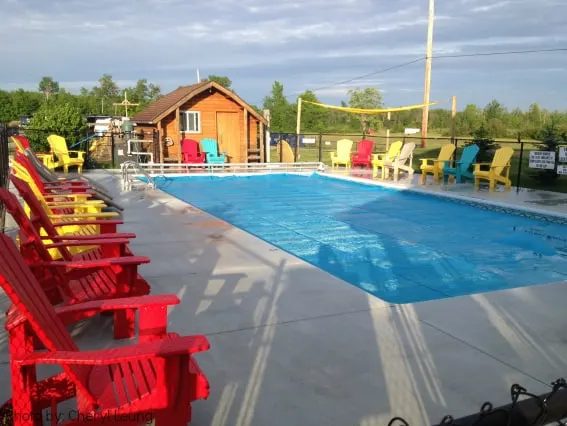 I'm still not convinced tent camping is something our family would love, but glamorous camping definitely has the potential to become an annual tradition. Glamping in a deluxe cabin at KOA allows city folk to experience the best of the outdoors with the comforts of home. Enjoy delicious dishes made on the BBQ or over the campfire, spend time outdoors swimming, golfing or playing on a giant chess board, and head indoors at the end of the day. Steak, cupcakes, s'mores over a campfire, onion rings from KOA Kafe delivered to you by a golf cart, movie under the stars, Wi-Fi, TV, and private bathroom in an air-conditioned cabin – these are the things memorable glamping trips are made of.
Book a vacation with KOA today!
Ready to take a KOA family camping trip?
Learn more about "What's behind the yellow sign?" Head here to read the KOA experiences of other Trekaroo families.
Disclosure: My family received a complimentary stay at KOA via KOA Kampgrounds of America. The opinions stated are my own. This is a sponsored post on behalf of Trekaroo.