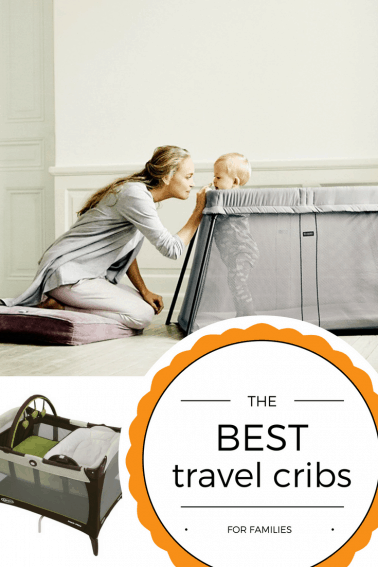 For parents with small children who love to travel, a baby travel crib is an essential piece of equipment. I have two little boys (ages 6 months and 2 years old) and have experimented with half a dozen different types of portable cribs. After much trial and error, these are our family's favorites. Explore the best travel cribs for babies.
Kidco Peapod Travel Tent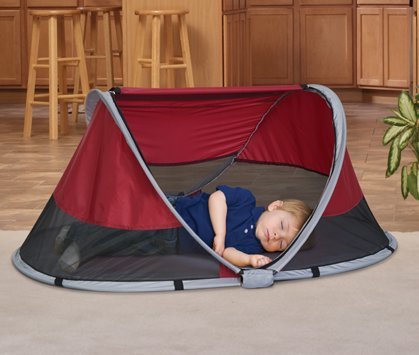 *Although Trekaroo loves this product as a travel accessory, there's been recent news of a few infants dying from suffocating in the peapod.  We feel very sorry for those families. Read more about the Canadian Health Advisory.
Pros:
Good for use for birth through age 6
Can be used outdoor (provides UV protection)
Door can be closed with or without the screen or folded up for easy access
Very lightweight
Folds up to a very small size, so easy to store and travel with
Easy to set up and take down
Throw a dark sheet over and easily create a "dark room"
Sells for ~$85-100, so is an affordable option
Cons:
Can be knocked over from inside or outside
Air mattress requires inflating on this model
Priced just over $50, the Kidco Peapod Travel Tent is by far the cheapest baby travel crib. It is also the lightest option, weighing under 5 pounds. Set-up is quick, popping open instantaneously, and putting it away takes just a few seconds once you learn how to fold it back up.
This kid-sized tent easily provides a shaded and well-ventilated place for your baby/toddler to nap in at the beach, park, or campground. The Peapod also has the added benefits of doubling as a playpen and transforming itself into a fun hideout tent for your toddler's bedroom or backyard once your child grows out of it for naps. My 2-year-old doesn't use the Peapod for naps anymore, but loves to put his stuffed animals to sleep in the tent.  He also turns it into a cozy nook for reading books and uses it like a play fort.
The Peapod comes with an inflatable mattress and sleeping bag which provides a little extra comfort for your child when sleeping. Kidco includes a cheap manual hand pump that doesn't work very well with the tent. This is usually not a big deal since it is possible, with some effort, to inflate the mattress by mouth, or you can just put the tent on a camping pad or pile of blankets for extra cushioning. If you're headed to the beach, you don't need the mattress or pump at all, making the tent even more compact and light-weight.
The two main drawbacks of the Peapod are its awkward shape when packed up (it's a round disk, 14 inches in diameter) and the fact that once your child is able to crawl, he can unzip the tent and get out, so it's best used for infants.
Bottom Line: This is a great option if you're looking to save money, are ok with using this as a travel sleep solution for your pre-crawling child, or are primarily looking for a portable crib for short naps when outdoors.
Graco Pack 'n Play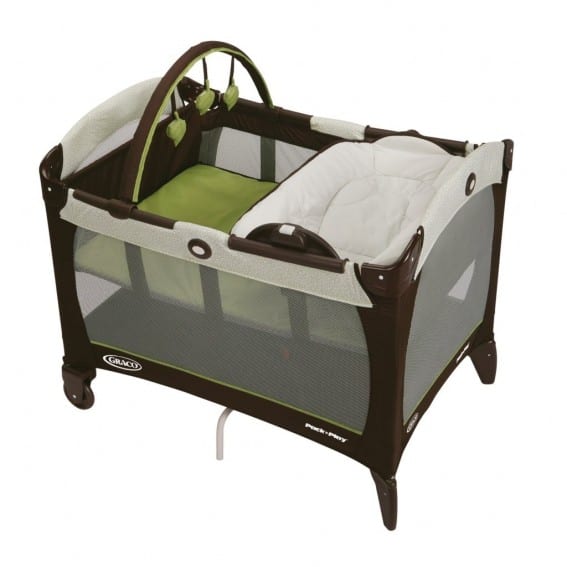 Starting at $60, the Graco Pack 'n Play is also an affordable option for baby travel cribs. Set-up and take-down are quick, requiring just a few minutes of effort. The crib is spacious – great for sleeping or as a playpen. It also comes with a bassinet attachment so you can have your newborn (up to 15 pounds) positioned up high, or use it as a changing table.
The Pack 'n Play does not have an inflatable mattress (just a thin pad), but most kids seem to be able to fall asleep on it just fine. There is no full-coverage canopy to cover the top, so the Pack 'n Play won't help shade your sleeping child from the blistering sun – less ideal if you're looking for something you can use outdoors.
Weighing over 20 pounds, the biggest detractor of the Pack 'n Play is its bulk and weight. That's not a big deal if you're primarily transporting this in the trunk of your car (or using it at home as a guest crib for visiting children). I would not recommend hauling the Pack 'n Play with you on an airplane. With a child, stroller, car seat, and extra bags added to the mix, you won't want to lug another big, heavy item to the airport.
Bottom Line: This is a good option if you're planning to primarily use this around your house or for road trips (and your car has ample trunk space!).
Phil & Teds Traveller (Travel Cot)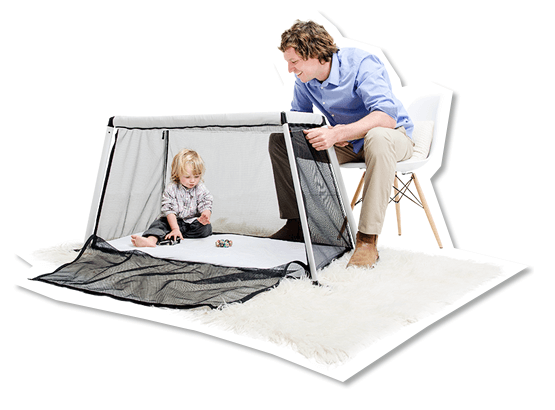 Pros:
Very lightweight
Packs up very small
Sturdy
Designed for use inside or outside
Comes with pegs to stake down Traveller if used outside for extra stability
Can access bed through either top opening or side opening and both zip completely shut
Cons:
Directions for set-up are a little confusing
Several of the pieces of the bed have to be completely taken out and disassembled each time it is put away, leaving six loose pieces of poles to be stored with the bed and the mattress in the bag
Fitting the bed in the bag with all the pieces takes some practice
Self-inflating mattress still required additional inflation
Like the Graco Pack 'n Pay, the Phil & Teds Traveller is a spacious baby travel crib, which means it's good for napping, sleeping, and as a play-yard for your baby or toddler. Set-up and take-down require a little more time (5 to 10 minutes), but is quite intuitive if you're used to setting up a regular tent.
The Traveller is incredibly versatile and can be used indoors or outdoors. Product features include washable, waterproof, windproof fabric, tent pegs, and an optional UPF 80 UV shade cover that can be purchased separately. It also comes with a miniature version of a self-inflating backpacking pad (no need for a pump like the Kidco Peapod, and much more comfortable than the Pack 'n Play pad).
Best of all, the Traveller is only 8 pounds and packs down to a convenient size and shape when unassembled and put in its carrying case. It is by far the easiest portable crib to take with you when you're traveling by plane or need to travel light. As you might expect, the Traveller is the most expensive of the portable crib options.
Bottom Line: If you don't mind the price, the Traveller is hands-down my top choice for air travel and long-term use. It's versatile, well-made, light-weight, and compact. It may be expensive, but it can handle a lot of use and your child will be able to sleep in it well into his/her toddler years.
Buy on Phil & Ted's travel site.
Baby Bjorn Travel Crib Light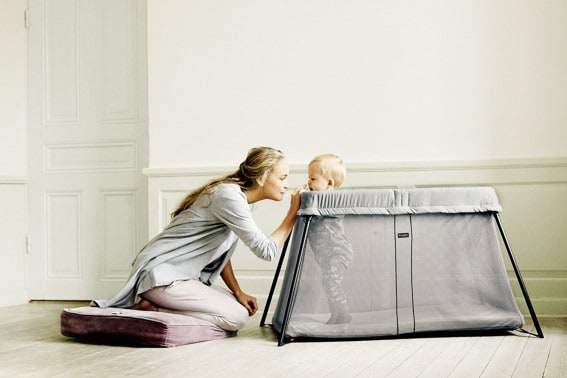 Pros:
Lightweight (11 lbs with the case)
Packs up small- easy to carry and to store
Very sturdy
Unbelievably easy to set up
The mattress cover and fabric of the crib (that's most of it!) are removable and machine washable.
Cons:
Since the legs slant outward, you have to pay attention to where the bottom of the crib is when you're walking by. This could be an issue in a small space, and is definitely something that you need to be aware of when it's set up.
Only useful for young kids, up to age 3 (possibly younger if you have a tall child)
Fairly expensive, selling for ~$225-275, depending on the website/store
I'd seen this bed on other blog posts and advertised online, but was skeptical of the advertised ease of use.  People- do not be skeptical! This is the fastest set-up bed ever. I took it out of its case, did one simple flip to get the legs down and locked in place, put in the mattress and was done.  Taking it down took only a few seconds longer than setup as you have to fold the legs up in a certain way to get everything back in the case, but it was fairly simple to figure out.
As soon as my almost-3-year-old saw the Baby Bjorn Travel Crib Light in the living room, he begged to be put in it, and he spent hours playing in there that day and the next. So I can tell you that it's sturdy and can stand up to a wiggly, kicking preschooler. My son is small for his age, but even he was pretty much at the maximum height for the bed.  It is designed for use with a 0-3 year old, and I'd agree with that suggestion.
The design of the bed makes it very sturdy- the legs slant outward so that the bed cannot be easily tipped over. My son really did put in a good effort toward pushing over, but the bed remained steady both when he was playing around inside and when my 1-year-old daughter was pushing from the outside.
On our trip, my daughter ended up sleeping in the bed and she enjoyed it and had no problems.  The mattress is soft enough to be comfortable (much softer than a pack n play mattress), but not so soft that it is a suffocation hazard.
The Baby Bjorn Travel Crib Light only weighs 11 pounds  (which is about 10 pound lighter than our Pack and Play) and folds up into a really small space, so it's easy to transport and store. The folded up size is 7.2L x 24W x 19H inches (set up it's 45L x 31.5W x 23.5H inches). We really appreciated this when we were trying to pack a week's worth of stuff in our trunk- it was great to not having a travel bed taking up half the space!  Now that we're back home, the bed is tucked neatly into a small space by my daughter's bed, not taking up a large part of a closet. I love this bed even when it's not in use!
Helpful hint: The mattress is not a standard crib/pack-n-play size, so you will need to buy the sheet from Baby Bjorn if you want a sheet on top of the mattress cover.
Bottom line: If you're a family that travels a great deal, and has very young children, this would be a good investment for you. The convenience of having something so easily transportable and so easy to set-up is worth the price of this bed.
Buy Baby Bjorn Travel Light Crib on Amazon.
A special thank you to Eunice Nichols and Carrie Yu, both of whom reviewed these products for Trekaroo. The writers received these products, with no other compensation, for review. All opinions are their own.
Comments
comments