Heading out for the family's first trip with baby? Congratulations! There's nothing like getting to see somewhere new through the eyes of children.
But, what will little one need on the trip? Between all the gear and all the clothing and all the safety items, it's hard to know what needs to go and what can stay. Well, we are here to help sift through the piles. Let's get to packing baby for vacation. There's no need to bring everything.
Download our Baby Packing Checklist to make the job even easier!
Diaper Bag
This probably goes without saying, but the diaper bag has to come. You'll want to pack a day's worth of clothing, food and drink, utensils, appropriate bottle or cup, diapers, wipes, toys, pajamas, pacifiers, loveys, and sunscreen. Make sure the diaper bag stays easily accessible during the trip.
*Tip: Have the diaper changing pad in the diaper bag work double duty as a changing area when you reach your destination.
Baby Carrier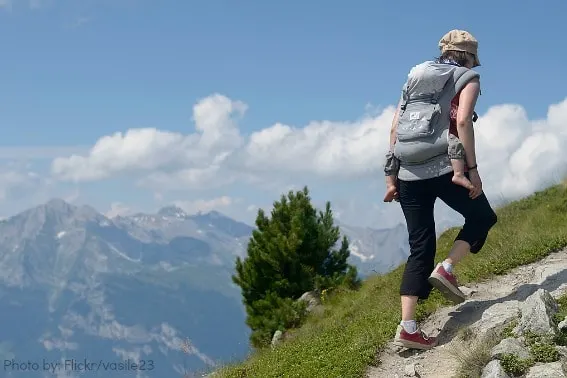 A baby carrier is definitely a must. Grown-ups need a way to keep their hands free to carry luggage, get groceries, hike, explore etc. Carriers don't take up much space (many can fit under a seat in the car), and are fabulous for keeping baby close, but occupied and entertained. Choose the model that best fits baby's age and development, whether front pack, backpack, sling, wrap, or soft-structured carrier.
Safety Items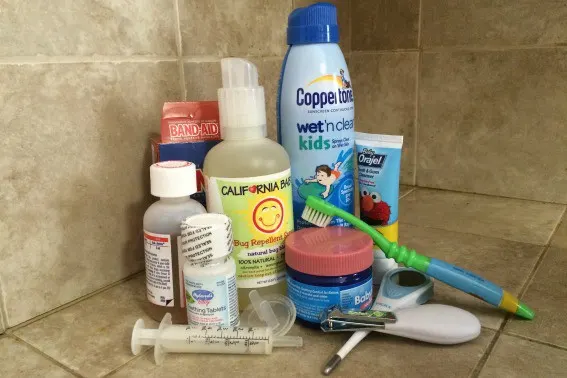 Put a baby first aid kit on the must-bring list. Stock it with pediatrician-recommended medications, ice packs, sunscreen, and baby toiletries. Another important safety item is outlet covers. I always keep them in my luggage so that no matter where we go, I know baby will be safe from hurting himself with those inquisitive fingers. While not a safety item for the baby, throw a few trash bags in the car to save parents in case baby has tummy troubles while traveling. A plastic trash bag (or re-usable wet bag) can go a long way to contain bad smells, making the rest of the trip more enjoyable for all. In a similar vein, we keep an entire extra case of baby wipes within arm's reach in case of spills, sticky fingers and the like.
*Tip: Many lodging options stock outlet covers as well, and can baby-proof a guest's hotel room. Please contact the location ahead of time to see if this service is provided, and to make sure that what it entails will be sufficient to curtail any accidents.
Check out our recommendations for building a complete baby first aid kit.
Bed and Bedding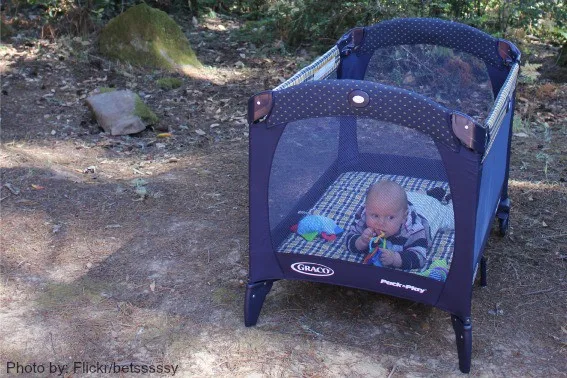 Baby's bed: home base wherever he happens to be. When our babies were tiny, we had a portable infant sleeper which barely took any room. Now, our pack 'n play goes on every overnight trip and most day trips when baby cannot sleep during the drive. They are fantastic for sleeping and also provide a way to make sure baby is safe during travel. To make the transition from home easier, we bring a sheet and blankets that have been used for a night or two at home so that they smell familiar. Some hotels make pack 'n plays available for guests. Just make sure to ask in advance to make sure you're covered. I've made the mistake of arriving at a condo just to realize the pack n play didn't make it into the car. Luckily, I was saved by the condo management team. We still used our sheets, blankets, and loveys to try to convince baby that this new pack 'n play was a safe/secure place to be.
*Tip: Fold the sheet, blankets, and loveys up in the pack 'n play. This saves space and you'll know right where they are when baby begs for rest.
Clothing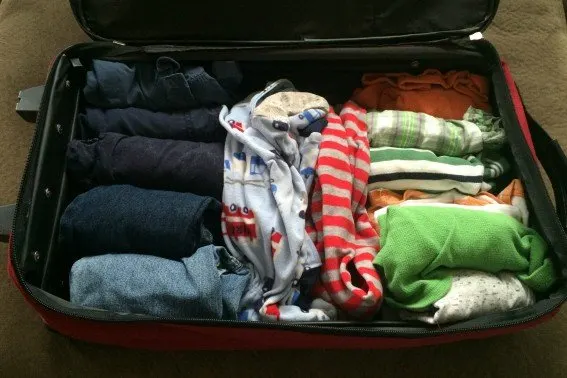 Since babies tend to go through more clothing changes than the average pop-star during a concert, plan on bringing at least three changes of clothing for each travel day plus a few changes of pajamas in case of emergencies. Also, remember that babies tend to need to be layered up, so pack a few clothing items that can help baby withstand any unexpected weather changes. Hats (both winter and summer-styles) are also handy to keep that little bald head protected from cold drafts and the sun's rays.
*Tip: Include a pack of diapers in with baby's clothes. Since baby clothes take up minimal space, the diapers will fit in easily, leaving you with extra space in the car. We use a carry-on size bag for baby, and it fits all clothing, extra blankets, diapers, and toys.
Play Space For the Home Away From Home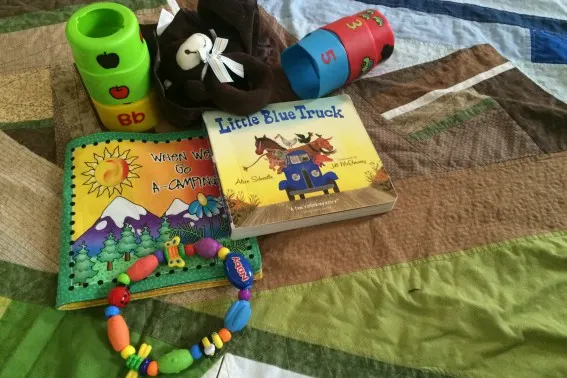 We carry a blanket with us specifically for using on hotel/condo floors or outside. Those floors get all kinds of things in them, so I try as I might to keep the non-mobile/crawling baby off of them. We bring a few favorite toys and a couple of new toys or ones that have been hidden for a while to peak interest.
If There's Additional Space:
High Chair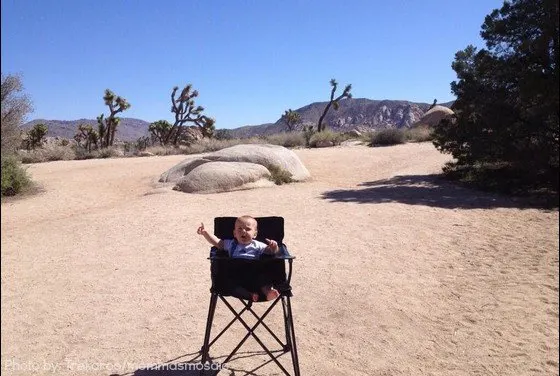 It might seem like a luxury for some, but for us, a high chair is essential. We bring a high chair with us when we travel so no matter where we end up eating we have a safe place for baby. We've fed our babies at picnic tables, campgrounds, next to the car, in hotel rooms, vacation homes etc., without needing to worry about making a mess or dealing with a newly crawling escape-artist. Our favorite is the Ciao! Baby. It's made for the traveling family, and is perfect to take anywhere you need to go. An added benefit of a high chair is that it's the perfect place for baby to be during meal preparation.
Stroller
For our family, as much as we'd like to leave the stroller behind on a trip, it always makes the cut. Being able to take baby outside and calm when a nap isn't happening in a hotel room makes it a winner for us. (Along with the fact that I'm a runner and crave getting outside while traveling.) Other reasons to consider a stroller would be if your trip consists of a lot of walking, especially in museums, through amusement parks, or if baby really loves the stroller.
*Tip: Many amusement parks and venues rent strollers to visitors. Check ahead to see if this is available at your destination.
Baby Activity Center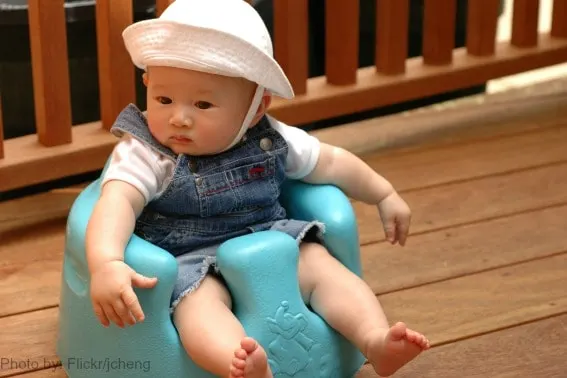 Another way to keep baby in a safe environment and contained is to bring an exersaucer, bumbo, jumperoo, or the like. If you can, choose one that can be broken down to fit into the car. We were lucky enough to be able to take the Kidco Go-Pod with us on trips. It collapses to smaller than a folding camping chair, and proved its weight in gold during a family wedding and on multiple family trips. Bonus: It fit easily into my checked luggage.
*Disclosure: This author received two baby items mentioned in this article to review on behalf of Trekaroo. All opinons are her own.
What items do you feel are essential to bring on a trip with babies? Let us know in the comments.
Lead image by: Bigstock/inarik
Featured photo by: Bigstock/Nadezhda1906