Graco Pack 'n Play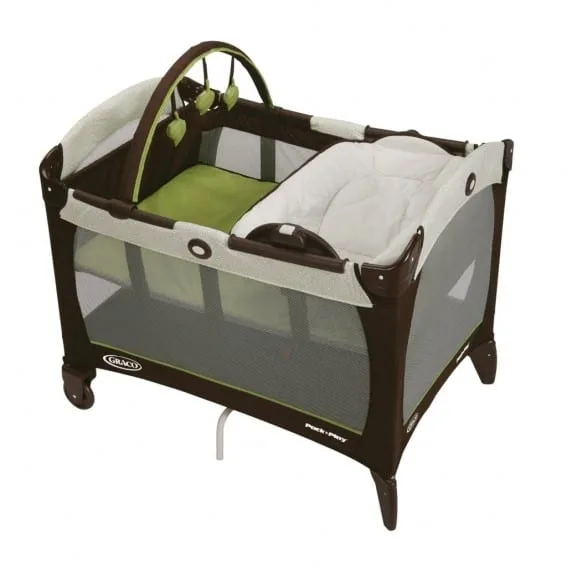 Starting at $60, the Graco Pack 'n Play is also an affordable option for baby travel cribs. Set-up and take-down are quick, requiring just a few minutes of effort. The crib is spacious – great for sleeping or as a playpen. It also comes with a bassinet attachment so you can have your newborn (up to 15 pounds) positioned up high, or use it as a changing table.
The Pack 'n Play does not have an inflatable mattress (just a thin pad), but most kids seem to be able to fall asleep on it just fine. There is no full-coverage canopy to cover the top, so the Pack 'n Play won't help shade your sleeping child from the blistering sun – less ideal if you're looking for something you can use outdoors.
Weighing over 20 pounds, the biggest detractor of the Pack 'n Play is its bulk and weight. That's not a big deal if you're primarily transporting this in the trunk of your car (or using it at home as a guest crib for visiting children). I would not recommend hauling the Pack 'n Play with you on an airplane. With a child, stroller, car seat, and extra bags added to the mix, you won't want to lug another big, heavy item to the airport.
Bottom Line: This is a good option if you're planning to primarily use this around your house or for road trips (and your car has ample trunk space!).