Phil & Teds Traveller (Travel Cot)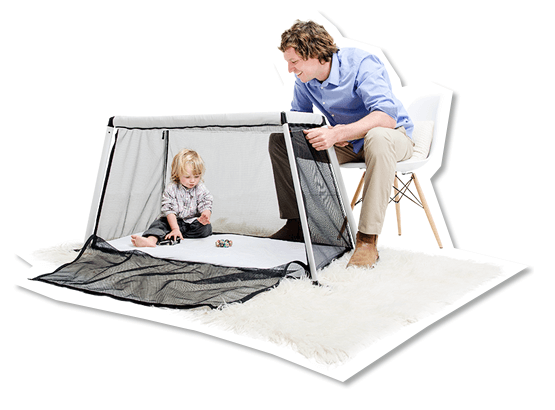 Pros:
Very lightweight
Packs up very small
Sturdy
Designed for use inside or outside
Comes with pegs to stake down Traveller if used outside for extra stability
Can access bed through either top opening or side opening and both zip completely shut
Cons:
Directions for set-up are a little confusing
Several of the pieces of the bed have to be completely taken out and disassembled each time it is put away, leaving six loose pieces of poles to be stored with the bed and the mattress in the bag
Fitting the bed in the bag with all the pieces takes some practice
Self-inflating mattress still required additional inflation
Like the Graco Pack 'n Pay, the Phil & Teds Traveller is a spacious baby travel crib, which means it's good for napping, sleeping, and as a play-yard for your baby or toddler. Set-up and take-down require a little more time (5 to 10 minutes), but is quite intuitive if you're used to setting up a regular tent.
The Traveller is incredibly versatile and can be used indoors or outdoors. Product features include washable, waterproof, windproof fabric, tent pegs, and an optional UPF 80 UV shade cover that can be purchased separately. It also comes with a miniature version of a self-inflating backpacking pad (no need for a pump like the Kidco Peapod, and much more comfortable than the Pack 'n Play pad).
Best of all, the Traveller is only 8 pounds and packs down to a convenient size and shape when unassembled and put in its carrying case. It is by far the easiest portable crib to take with you when you're traveling by plane or need to travel light. As you might expect, the Traveller is the most expensive of the portable crib options.
Bottom Line: If you don't mind the price, the Traveller is hands-down my top choice for air travel and long-term use. It's versatile, well-made, light-weight, and compact. It may be expensive, but it can handle a lot of use and your child will be able to sleep in it well into his/her toddler years.