Baby Bjorn Travel Crib Light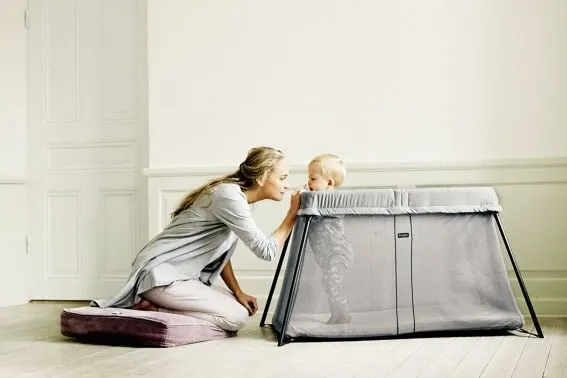 Pros:
Lightweight (11 lbs with the case)
Packs up small- easy to carry and to store
Very sturdy
Unbelievably easy to set up
The mattress cover and fabric of the crib (that's most of it!) are removable and machine washable.
Cons:
Since the legs slant outward, you have to pay attention to where the bottom of the crib is when you're walking by. This could be an issue in a small space, and is definitely something that you need to be aware of when it's set up.
Only useful for young kids, up to age 3 (possibly younger if you have a tall child)
Fairly expensive, selling for ~$225-275, depending on the website/store
I'd seen this bed on other blog posts and advertised online, but was skeptical of the advertised ease of use. People- do not be skeptical! This is the fastest set-up bed ever. I took it out of its case, did one simple flip to get the legs down and locked in place, put in the mattress and was done. Taking it down took only a few seconds longer than setup as you have to fold the legs up in a certain way to get everything back in the case, but it was fairly simple to figure out.
As soon as my almost-3-year-old saw the Baby Bjorn Travel Crib Light in the living room, he begged to be put in it, and he spent hours playing in there that day and the next. So I can tell you that it's sturdy and can stand up to a wiggly, kicking preschooler. My son is small for his age, but even he was pretty much at the maximum height for the bed. It is designed for use with a 0-3 year old, and I'd agree with that suggestion.
The design of the bed makes it very sturdy- the legs slant outward so that the bed cannot be easily tipped over. My son really did put in a good effort toward pushing over, but the bed remained steady both when he was playing around inside and when my 1-year-old daughter was pushing from the outside.
On our trip, my daughter ended up sleeping in the bed and she enjoyed it and had no problems. The mattress is soft enough to be comfortable (much softer than a pack n play mattress), but not so soft that it is a suffocation hazard.
The Baby Bjorn Travel Crib Light only weighs 11 pounds (which is about 10 pound lighter than our Pack and Play) and folds up into a really small space, so it's easy to transport and store. The folded up size is 7.2L x 24W x 19H inches (set up it's 45L x 31.5W x 23.5H inches). We really appreciated this when we were trying to pack a week's worth of stuff in our trunk- it was great to not having a travel bed taking up half the space! Now that we're back home, the bed is tucked neatly into a small space by my daughter's bed, not taking up a large part of a closet. I love this bed even when it's not in use!
Helpful hint: The mattress is not a standard crib/pack-n-play size, so you will need to buy the sheet from Baby Bjorn if you want a sheet on top of the mattress cover.
Bottom line: If you're a family that travels a great deal, and has very young children, this would be a good investment for you. The convenience of having something so easily transportable and so easy to set-up is worth the price of this bed.
A special thank you to Eunice Nichols and Carrie Yu, both of whom reviewed these products for Trekaroo. The writers received these products, with no other compensation, for review. All opinions are their own.