Paris has so much to offer and so much of it can be done without spending a dime. I have all of them detailed in my book Your Guide to Visit Paris for Free. These are my top ten, kid-friendly, free things to do in Paris.
Looking for more fun things to do in Paris? Check out our Top Things to Do in Paris
Free things to do in Paris with Kids
1. Plan a visit with a volunteer of Parisiens d'un Jour (Paris Greeters)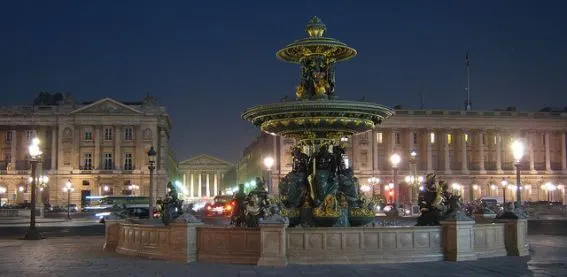 Photo by Flickr/garycycles6
Register on their website at least three weeks before arriving in Paris. Specify that you have children, their age, your areas of interest, and the preferred language for the visit. The association will arrange a guided tour that will be adapted to your family. Show up on the day of the visit and be prepared to learn and have fun at the same time.
Parisiens d'un Jour (Paris Greeters)
Website | Facebook
Limited to six participants (children count as one person)
Discover even more tips for exploring Paris with kids from a French-speaking mom.
2. Look for the

Statues of Liberty in Paris

Photo by: Flickr/Drumaboy

The first one is located by the Eiffel Tower, by the Pont de Grenelle, on the Ile aux Cygnes. Smaller than its New York sister (This one is 35 feet tall including the base whereas her New York big sister stands at 305 feet including the base), the statue was offered by the United States to France in 1885. The statue looks towards the United States and her tablet reads both the dates of the United States Declaration of Independence (7/4/1776) and the Storming of the Bastille (7/4/1789).
Ile aux Cygnes, middle of the River Seine, 15-16th arrondissement
Métro: Bir-Hakeim (Tour Eiffel) (M 6)
RER: Champ de Mars – Tour Eiffel (RER C)
Another Statue of Liberty can be found in the Luxembourg Gardens, behind the playground area. It is a bronze model that was placed in the park in 1906.
Luxembourg Gardens
Four entrances: place Edmond Rostand, place André Honnorat, rue Guynèmer, rue de Vaugirard, 6th arrondissement
Métro: Odéon (M 4 and 10)
RER: Luxembourg (B)
The third one is in the courtyard entrance of the Musée des Arts et Métiers. This bronze model is made out of the original plaster. The statue is less than three meters high.
Musée des Arts et Métiers
Website | Musée des arts et métiers | Twitter
60 rue Réaumur, 3rd arrondissement
Phone: 01 53 01 82 00
Métro: Arts et Métiers (M 3), Réaumur Sébastopol (M 4)
Free the first Sunday of the month
Extra point for Lady Liberty located in the grand central aisle on the ground floor of the Musée d'Orsay. This statue, less than three meters high, was exhibited at the 1900 Universal Exhibition in Paris. The Musée d'Orsay is free the first Sunday of the month. The line to get in is long so plan on arriving early.
Musée d'Orsay
Website | Facebook
1 rue de la Légion d'Honneur, 7th arrondissement
Phone: 01 40 49 48 14
Métro: Solférino (M 12)
RER: Musée d'Orsay (C)
Open Tues-Sun from 9.30am to 6pm (Thursdays till 9:45 pm. Closed on public holidays)

3. Visit the Cimetière du Père Lachaise (Père Lachaise Cemetery)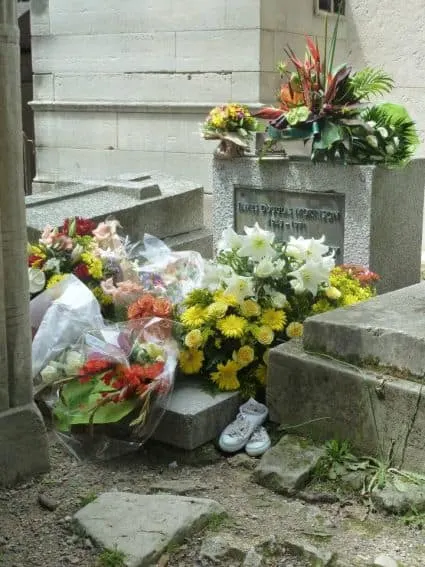 This is Paris' largest cemetery with more than 300,000 graves. Maps are available at the Conservatory inside the cemetery but its opening hours are not always reliable. For a safe bet, buy a map (2.50 Euros) at the newspaper stand or at the street vendor as you exit the Père Lachaise metro. The street vendor has a more precise map but he is not always there.
It can sound strange to take children to a cemetery but it is definitely not a creepy experience, whatever my 14 year old daughter will tell you. She did not like the visit but my 10 year old, and their cousins (12 and 16) had a really nice time and found the experience to be an interesting one. They were surprised to find out that they had such a nice relaxing time in an unexpected place.
Do not miss the graves of Oscar Wilde (Irish writer and poet), Abélard and Héloise (known for their dramatic love story), and Jim Morrison (American Singer of the Doors). Georges Rodendach's (Belgium poet) tomb is adorned by a sculpture of a man escaping from his tomb.
They are so many known people buried here that it is impossible to put the whole list, so check the map and make your pick. Children will learn about those famous people as they stand at their grave but they will also find out that anonymous graves can be as beautiful and interesting. My daughters and their cousins commented for a long time how a maid of a family was given such a majestic grave. It is full of discovery.
The cemetery boasts great views of Paris and you will spot the Tour Montparnasse and the Eiffel Tower along your walk.
Père Lachaise Cemetery
Website
8 Boulevard de Ménilmontant and 16 rue du Repos, 20th arrondissement
Métro: Père-Lachaise (M3), Philippe Auguste (M2), Gambetta (M3)
4. Take a break in a Parisian Garden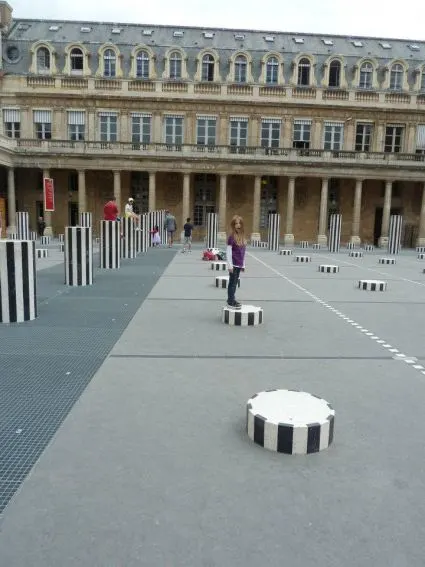 A visit to one of these gardens will be a welcome break from the city for children and parents alike.
Jardins du Luxembourg
Adults can relax on a bench or drag a chair along the pond or by the fountain while children run around. I encourage you to drop a couple of Euros for the kids to ride the antique Carrousel. My youngest daughter had a blast catching metal circles held by the employee with a wooden stick. You can also rent a model boat and a stick to guide it in the pond. Pony rides and access to the playground are more expensive and can be skipped. Do not leave without taking a picture of the original model of the Statue of the Liberty.
Jardins du Luxembourg
4 entrances: place Edmond Rostand, place André Honnorat, rue Guynèmer, rue de Vaugirad, 6th arrondissement
Métro: Odéon (M 4 and 10)
RER: Luxembourg (B)
Parc Monceau
The rotunda, the lake, lawns and gardens, shaded alleys, sculptures, trees, children's playgrounds, and concession stands will make the perfect place to have lunch after a busy morning. This is where Andre Garnerin landed from a hot-air balloon using a parachute for the first time in history (1797).
Parc Monceau
Boulevard de Courcelles, 8th arrondissement
Métro: Monceau (M 2)
Jardin des Tuileries
Lined with trees, small cafes, playgrounds, and sculptures, this is a very pleasant stop after a visit to the Louvre Museum or the Orangerie and a respite of green before heading to the Avenue des Champs-Elysées. Rides and a ferris wheel find their new home on the side of the gardens by Rivoli street during the summer months.
Jardin des Tuileries
Website
Between the Louvre and the Place de la Concorde, 1st arrondissement
Métro: Concorde (M 1, 8, and 12), Tuileries (M 1), Louvre-Rivoli (M 1)
Jardin du Palais Royal and the Colonnes de Buren
Les Jardins du Palais Royal are one of my favorite places in Paris. It is hard to believe that you are meters away from the Louvre and its crowd. It is a perfect break before heading to les Halles and the Musée Pompidou. Chairs are scattered everywhere and you can just sit and relax by the fountain or under the trees while children are playing. One of my children's favorite areas of the Jardins are the Colonnes de Buren: black and white marble pillars of different sizes that make a perfect play area. Children will love to browse through toys at the Vilac store on the other end of the gardens (9 rue de Beaujolais, phone: 01 42 60 08 22, open Monday to Saturday from 10:30 to 7 pm). Vilac specializes in wooden toys and accessories. They make perfect souvenirs for little ones.

Jardin du Palais Royal and the Coloones de Buren
Place du Palais Royal, 1st arrondissement
Métro: Palais Royal Musée du Louvre (M 1 and 7)
5. Discover Medieval Paris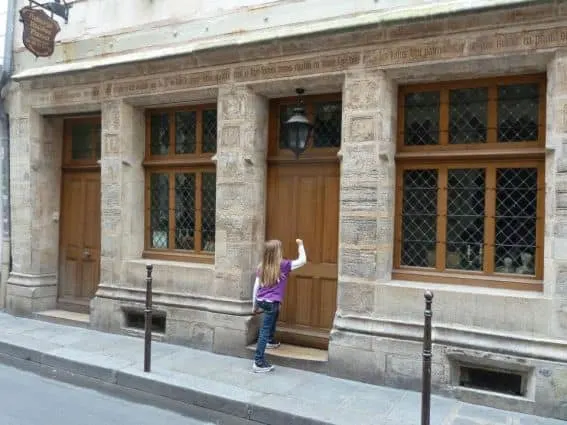 Find the oldest house in Paris in the 3rd arrondissement at 51 rue de Montmorency. This building built in 1407 was the home of Nicholas Flamel (1330-1417), an alchemist mentioned in Harry Potter and the Sorcerer's Stone and the Da Vinci Code books.
Métro: Rambuteau (M11), Arts-et-Métiers (M 3 and 11)
Spot two medieval houses at 11-13 rue François Miron in the 4th arrondissement. Admire two 14th century half-timbered houses, a rare vision in Paris. They will leave you with a glimpse of what life may have been like at that time.
Métro: Hôtel de Ville (M 1 and 11), Saint-Paul (M 1), and Pont Marie (M 7)
On the right side of the medieval homes, you will find one of the shortest street in Paris: rue Cloche Percé.
Walk to the 44-46 François Miron to the Maison d'Ourscamp, home of Paris Historique Association. Go down to the Cellier, a cave where the monks stored their goods. Be prepared to be astonished by one of the greatest gothic caves in Paris. The association also offers various guided visits of the area for a fee.
Association du Paris Historique
44-46, rue François Miron, 4th arrondissement
Phone: 01 48 87 74 31
Open daily from 11 am to 6 pm and on Sunday from 2 pm to 7 pm.
From there, head to the nearby Carnavalet Museum to learn the history of Paris.

Housed in the former home of French writer Madame de Sévigné (1626-1696), the Musée Carnavalet reveals the history of Paris with exhibits of wrought irons store displays, paintings, and an Art Nouveau George Fouquet jewelry shop decorated by Czech painter Alphonse Mucha (1860-1939). If your children get antsy during the visit, take them directly to French Revolution gallery that showcases a rock from the Bastille, hair from the Royals, a key from the Bastille, and other important artifacts.
Musée Carnavalet
Website
23 rue de Sévigné, 3rd arrondissement
Phone: 01 44 59 58 58
Métro: Saint-Paul (M 1), Chemin vert (M 8)
Open every day from 10 am to 6 pm. Closed Mondays, public holidays, Easter and Pentecôte Sundays.
6. Admire the Fontaine Stravinksy – Stravinsky Fountain
As you exit from the Centre Pompidou, you will find this whimsical fountain by French sculptor Niki de Saint Phalle (1930-2002). Sixteen colorful sculptures sit in a basin and squirt water as they rotate. Children especially will have fun admiring the elephant, fox, snake, frog, mermaid, heart, and many more. This fountain is one of my favorite overlooked Parisian attractions.
Have lunch at the Crêperie Beaubourg in the corner of the square (2 rue Brisemiche, phone 01 42 77 63 62, closed on Sunday). Enjoy good crêpes, steps away from busy les Halles and Centre Pompidou. Children can run around in plain view in the square in front of the restaurant.
Fontaine Stravinksy
Place Igor Stravinksy, 4th arrondissement
Métro: Rambuteau (M11), Hôtel de Ville (M 1 and 11), Châtelet (M 1, 4, 7, 11, and 14)
RER: Châtelet – Les Halles (A, B, and D)
7. Take your little ones to the Arc de Triomphe and go down the Champs-Elysees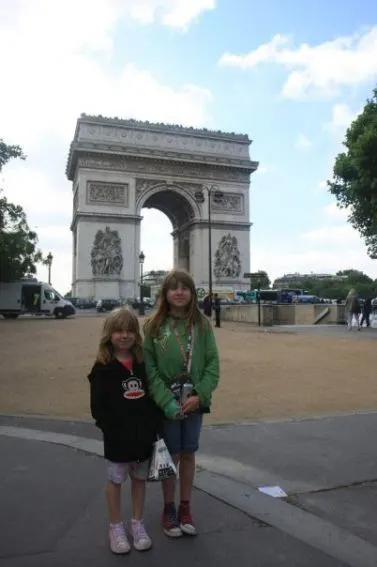 The Arc de Triomphe was built by Napoleon to commemorate all the soldiers who battled in the French Revolution and the Napoleonic war. You can access it through tunnels located on the other side of the Place de l'Etoile. Admire the sculpted pillars with engraved names of the victories and the generals who won them. The whole family can pay their respect to La Tombe du Soldat Inconnu (The Tomb of the Unknown Soldier). An eternal flame burns in memory of the soldiers who passed away in both World Wars and whose bodies were never identified.
You can go up the Arc de Triomphe for a fee and be treated to a gorgeous view.
Arc de Triomphe
Website
Place Charles de Gaulle, 8th arrondissement
Phone: 01 55 37 73 77
Métro: Charles de Gaulle Etoile (M 1, 2, and 6)
RER Charles de Gaulle Etoile (A)
Open every day from 10 am to 10:30 pm (11 pm from April to September). Closed on bank holidays.
Going down the Champs-Elysees is always an experience and if you go down the right side, take your children to the L'Atelier Renault at 53 avenue des Champs-Elysees. The French car manufacturer Renault store remodels its store and you can admire new vehicles of the brand as well as special exhibitions.
Teenagers will not want to miss the Abercrombie and Fitch store at 23 Champs-Elysees. The American store is located inside a gorgeous Hôtel Particulier that is worth checking out even if you are not planning in buying clothes (They are way more expensive than in the US). Mother and daughter(s) will not miss on the opportunity of taking a picture with a model at the entrance.
If you are in Paris on Bastille Day, July 14th, watch the military parade that go down the avenue. Towards the end of July, the famed Tour de France cycling competition ends there.
8. Attend a fashion show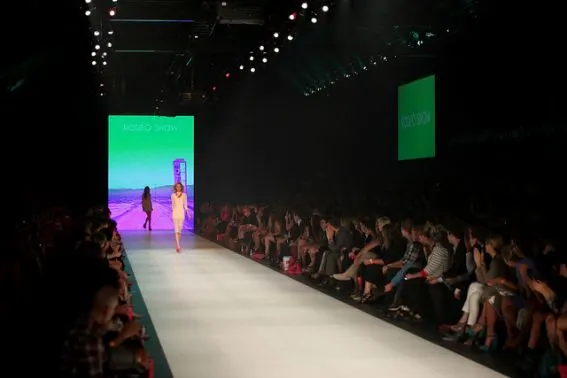 Photo by: Flickr/Chealse V
Your daughters and fashion-inclined sons will feel very special. It happens every Friday at 3pm at the 7th floor of the Galeries Lafayette in the Salon Opéra where six professional models show off the latest collections. Reservations are required. Commentary in English.
Galeries Lafayette
www2.galerieslafayette.com | Reservation Email
40 boulevard Haussmann, 9th arrondissement
Métro : Chaussée d'Antin La Fayette (M 7 and 9), Opéra (M 3,7, and 8)
Phone: 01 42 82 36 40
9. Visit the

Fragonard – Perfume Museum
Photo by: Flickr/Nico Paix

The Musée du Parfum is a perfect stop before or after the fashion show. The museum showcases perfume bottles and tools used to make perfume and explains the art of perfume making. Children will enjoy playing a 'scent game' in the last room: it is trickier than you would think.
Musée du Parfum
Website
9 rue Scribe, 9th arrondissement
Phone: 01 47 42 04 56
Métro: Opéra (M 3, 7, and 8)
RER: Auber (A)
Open every day from 9 am to 6 pm (5 pm on Sundays and bank holidays).
10. See the Eiffel Tower sparkle
Photo by: Flickr/Elsie esq.
I kept the best for last! Stand at the Parvis du Trocadéro when Paris settles in the dark. At the top of the hour, the Eiffel Tower will sparkle for five minutes. The show will repeat till 1 am (2 am during the summer months). If you do not want to go to the Trocadéro at night, do not worry, you can see the Eiffel Tower from all over Paris.
A visit during the day is of course a must do. For fun, go up the stairs to the 2nd floor. It is 5 Euros for adults, 3.50 Euros for youth (12-24), and 3 Euros for children (4-11). If your children are older than 13, you could send them up the stairs alone. My daughter, 14, and her cousins 12 and 16, had a blast going up without me!
Eiffel Tour
Website | Facebook
Champ de Mars, 7th arrondissement
Phone: 01 44 11 23 23
Métro: Bir-Hakeim (Tour Eiffel) (M 6), Passy (M 6), Trocadero (M 6 and 9)
RER: Champ de Mars Tour Eiffel (RER C)
Looking for more FREE Paris activities?
Snag a copy of Lydie's book, Your Guide to Visit Paris for Free. Use discount code is 52HSMC4J for $5 off off here on the Create Space eshop.
Featured photo by: Shutterstock