For parents with small children who love to travel, a baby travel crib is an essential piece of equipment. I have two little boys (ages 6 months and 2 years old) and have experimented with half a dozen different types of portable cribs. After much trial and error, these are our family's favorites. Explore the best travel cribs for babies.
Kidco Peapod Travel Tent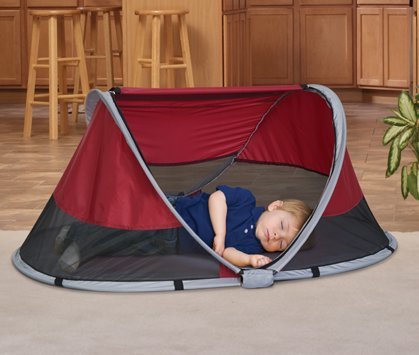 *Although Trekaroo loves this product as a travel accessory, there's been recent news of a few infants dying from suffocating in the peapod. We feel very sorry for those families. Read more about the Canadian Health Advisory.
Pros:
Good for use for birth through age 6
Can be used outdoor (provides UV protection)
Door can be closed with or without the screen or folded up for easy access
Very lightweight
Folds up to a very small size, so easy to store and travel with
Easy to set up and take down
Throw a dark sheet over and easily create a "dark room"
Sells for ~$85-100, so is an affordable option
Cons:
Can be knocked over from inside or outside
Air mattress requires inflating on this model
Priced just over $50, the Kidco Peapod Travel Tent is by far the cheapest baby travel crib. It is also the lightest option, weighing under 5 pounds. Set-up is quick, popping open instantaneously, and putting it away takes just a few seconds once you learn how to fold it back up.
This kid-sized tent easily provides a shaded and well-ventilated place for your baby/toddler to nap in at the beach, park, or campground. The Peapod also has the added benefits of doubling as a playpen and transforming itself into a fun hideout tent for your toddler's bedroom or backyard once your child grows out of it for naps. My 2-year-old doesn't use the Peapod for naps anymore, but loves to put his stuffed animals to sleep in the tent. He also turns it into a cozy nook for reading books and uses it like a play fort.
The Peapod comes with an inflatable mattress and sleeping bag which provides a little extra comfort for your child when sleeping. Kidco includes a cheap manual hand pump that doesn't work very well with the tent. This is usually not a big deal since it is possible, with some effort, to inflate the mattress by mouth, or you can just put the tent on a camping pad or pile of blankets for extra cushioning. If you're headed to the beach, you don't need the mattress or pump at all, making the tent even more compact and light-weight.
The two main drawbacks of the Peapod are its awkward shape when packed up (it's a round disk, 14 inches in diameter) and the fact that once your child is able to crawl, he can unzip the tent and get out, so it's best used for infants.
Bottom Line: This is a great option if you're looking to save money, are ok with using this as a travel sleep solution for your pre-crawling child, or are primarily looking for a portable crib for short naps when outdoors.