Calgary is Alberta's largest city, and one of Canada's fastest growing metropolitan areas. It's the heart of cowboy country, and home to the biggest and best rodeo in the world, the Calgary Stampede. Calgary's fun-loving spirit and sense of adventure infuses the city with a bold confidence. It's bright, shiny, and full of great family-friendly attractions to visit and enjoy.
Family Friendly Calgary Attractions
The Calgary Stampede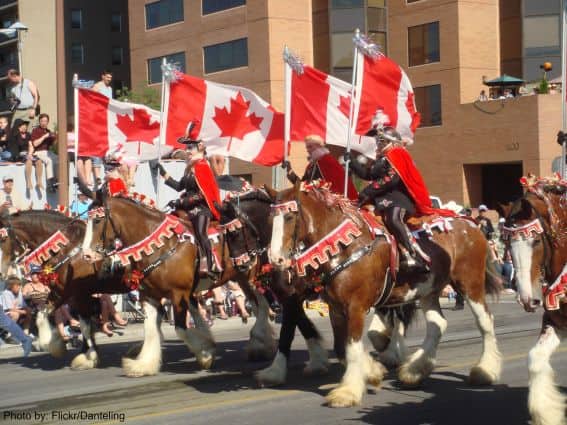 The Greatest Outdoor Show on Earth (and the biggest rodeo in the world) is the Calgary Stampede. It has everything a big show should have: a parade, rodeo, animals, music, amusement rides, food, people, cowboy fashion, and an amazing history. This year's Stampede is the 101st, and as always, Calgarians will be channeling their inner cowboy in the biggest show of community pride and celebration found anywhere.
Read kid friendly reviews of the Calgary Stampede.
TelusSpark: the New Science Centre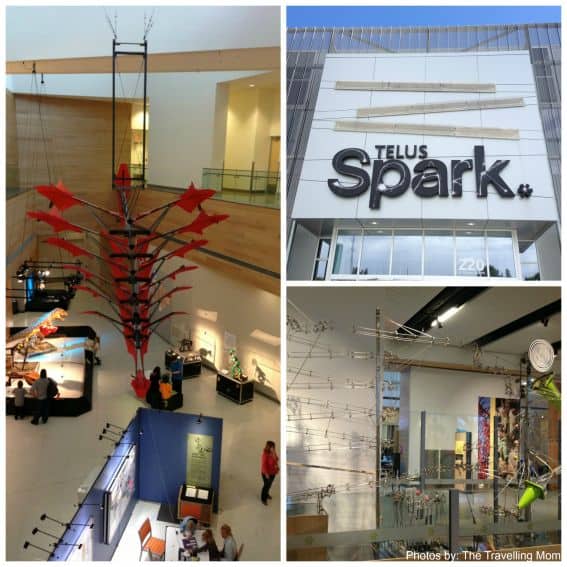 Opened in 2011, Telus Spark The NEW Science Centre, is the first new science centre built in Canada in 25 years. Telus Spark receives more than 400,000 visitors per year, and caters primarily to families and school children, while also hosting adult-only evenings and corporate events. Just 10 minutes northeast of downtown, and built on reclaimed land, this beautifully designed building and interior space houses a tempting variety of interactive, scientific exhibits that will captivate kids and parents.
The permanent exhibits include themes based on Earth & Sky, Energy & Innovation, and Being Human. The amazing Open Studio is a large space for invention and creativity. Kids and parents are invited to create and destroy in a playful, interactive atmosphere of discovery. In the Creative Kids Museum, children 9 years old and younger have the freedom to run around, play and create in the Maker Space, or put on a play in the Theatre, complete with spotlights, music and a stage. There are even toddler-sized toilets and a Quiet Room for nursing moms in this truly kid-friendly environment. Tweens and teens can play in their own creative ways in the Digital Media Studio, which hosts workshops on animation, computer programming and even 3D printing. Telus Spark is also home to the HD Dome Theatre, the third largest such theatre in North America. The HD screen is three stories high, offering an intense film experience in 4K resolution.
Read or write parent approved tips for Telus Spark.
Calgary Zoo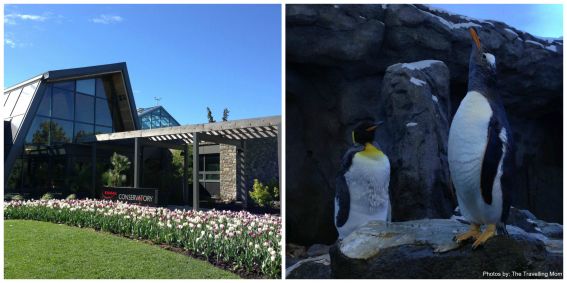 The Calgary Zoo is a local family favorite that appeals to visiting animal lovers of every age. One of only four fully accredited zoos in Canada, the Calgary Zoo offers a high level of education, interactive programming, and animal care.
The Zoo is designed in geographical zones that are all in easy walking distance along the Discovery Trail: Canadian Wilds, Antarctica, Destination Africa, South America, and Eurasia. There is also the Prehistoric Park (home to 17 large-scale dinosaur models), and the ENMAX Conservatory/Dorothy Harvie Gardens (a quiet oasis of butterflies and floral displays).
The Penguin Plunge area in the Antarctica exhibit is newest zoo attraction. The $25 million dollar amenity is built to mimic the Antarctic shoreline, with waterfalls and rock formations, and a temperature set at a brisk 8 degrees celsius. There are four species of penguins at home here –King, Gentoo, Humboldt and Rockhopper –and they are extremely popular with children and adults.
There are two playground areas in the zoo, as well as a zoo train that gives kids a lift as it chugs through the Eurasia exhibit area. The zoo offers a number of Behind the Scenes programs with the penguins, giraffe and tiger exhibits, and is focused on educational and outreach programs to teach children and visitors about animal conservation and wildlife rehabilitation.
Winsport Canada Olympic Park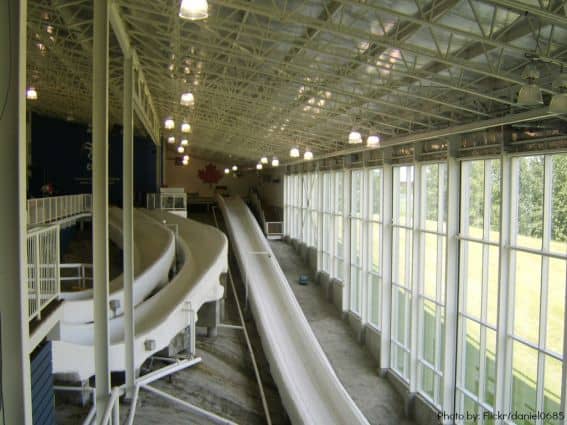 Calgary was the enthusiastic host site of the 1988 Winter Olympic Games. The legacy of those games has provided for one of the most visited and fun sporting facilities just 30 minutes from downtown Calgary: Winsport at Canada Olympic Park.
Winsport is a large, multi-sport park providing amateur and Olympic-calibre athletic facilities. For visitors, Winsport offers a wide variety of active adrenalin-rush fun including: ziplining (from the top of the former ski jump tower), skiing and snowboarding (in winter), racing down the bobsleigh run at 55 miles (90 km) per hour, mountain biking, a climbing tower, Spiderweb, mini-golf, and Eurobungy.
There is no shortage of active adventure to be had, and Winsport is adding another fun activity this summer. The newest attraction, opening in July, is the Skyline Luge – the longest luge run in the world. There are more than 50 twists and turns to navigate as you race in your luge, sitting instead of lying down, while controlling the luge sled down over one mile (1.8 km) down the mountain. Kids under six years of age can ride share with mom or dad, so everyone can participate in the fun.
Winsport is also home to several skating arenas, a gymnastics facility, Canada's Sports Hall of Fame, Hockey Canada, and a Sports Academy for young Olympians.
Heritage Park Historical Village Calgary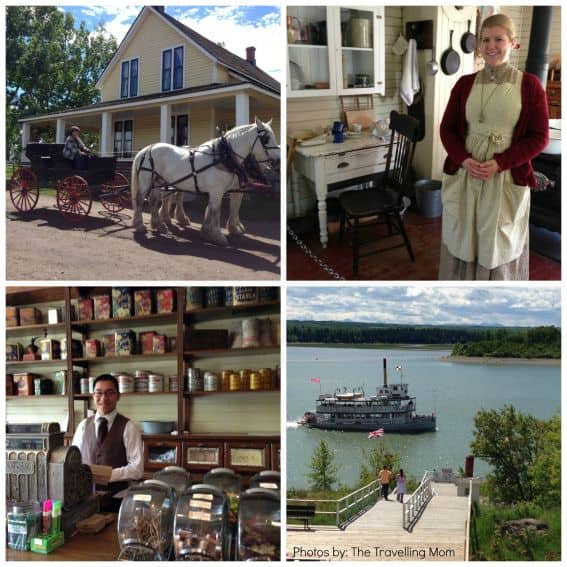 Celebrating 50 years in 2014, Heritage Park Historical Village is the largest outdoor living history experience in Canada. It's located just 20 minutes from downtown Calgary, and takes visitors back in time to how the west was once, complete with historical interpreters in period costumes.
Heritage Park operates over 180 historical exhibits and buildings on its expansive grounds. The Park showcases how the west was in four time periods: the fur trading fort and aboriginal settlement encampment of the 1860s, the pre-railway settlement of the 1880s, the Prairie Railway village of 1910, and Gasoline Alley of the 1930s to 1950s.
There is so much see and do at Heritage Park, it's difficult to pack it all into just one day. You can ride around the park in one of two fully functional steam engines from the 19th century, hop on a streetcar, ride on a horse-drawn wagon or the SS Moyie paddle-wheeler boat, grab a bus, or of course, make your way on foot. Visitors are invited to participate in many activities throughout the Park, including old-fashioned ice cream making, teepee-raising, and even removing rocks from farm fields. Heritage buildings have been moved here and restored to paint a picture of life as it was in Calgary during the past 200 years. There's a working Antique Midway with unique kid-friendly rides that you may recognize from updated versions in your own youth. The Alberta bakery produces fresh bread and delicious cinnamon buns daily, and the Anglican chapel performs wedding services upon request. And, no visit would be complete without dropping into the candy store for some penny (or nickel) candy.
The Gasoline Alley Museum of the 1930-1950 period showcases an amazing collection of fully restored cars and trucks, as well as truly artistic gas pumps from the beginning of the automobile age. The fact that much of the collection was assembled and donated by one individual (Calgarian Ron Carey) is even more impressive.
Check out parent tips on Heritage Park!
Family-Friendly Calgary Lodging
Where to stay while in Calgary: Sheraton Cavalier Calgary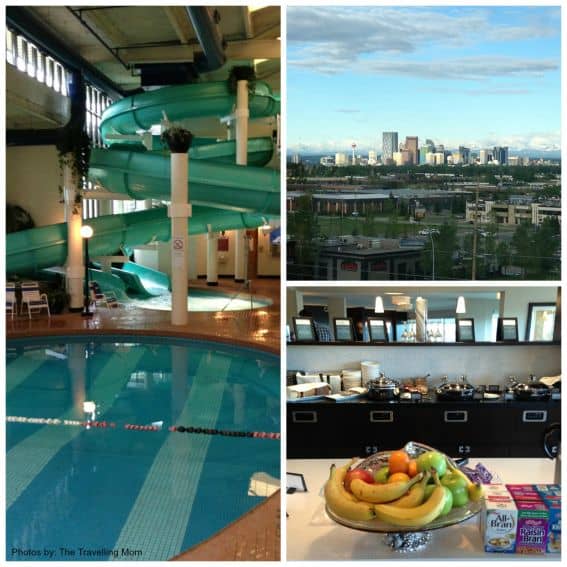 The Sheraton Cavalier Calgary Hotel is a great family-friendly accommodation choice when visiting Calgary. It's only 20 minutes from the Calgary Airport, and 10 minutes from downtown, Calgary Zoo, and Telus Spark. The hotel has been extensively renovated, including its 300+ rooms and suites, which include one-bedroom suites, one king bed rooms, and standard two queen bed rooms for families. The hotel features Sheraton's super comfy Sweet Sleeper Bed (which are indeed sweet for sleeping), and operates a Club Room with great views and tasty hot breakfasts on the top floor of the hotel (Club Floor guests only).
The biggest family (and kid) draw are the two water slides and indoor pool area of the hotel. The Cavalier has two of the largest hotel indoor water slides in North America, and offers special family packages to visitors and local residents to enjoy the popular amenities. Other family-friendly packages include the 'PJs & Pancakes' breakfast on weekend mornings, where kids in PJs eat free, and ticket packages to nearby Calaway Park amusement park. There are several dining facilities at the hotel, including Colors Bistro, Henry's Pub, and the fine dining Carver's Steakhouse, where you can peruse and choose your wine or dessert via one of ten special iPad menus.
Amenities: Complimentary airport shuttle, free Wifi, complimentary bottled water, bar fridge, and in-room coffee makers, CORE fitness centre. Check out parent approved tips & reviews.

More from Calgary:
Saddle up for the Calgary Stampede
Weekend Getaways from Calgary: where to go in Alberta with kids
Calgary travel tips: insider ideas for visiting Calgary with kids
Explore Calgary's kid friendly attractions | restaurants | hotels
Featured photo by: Shutterstock