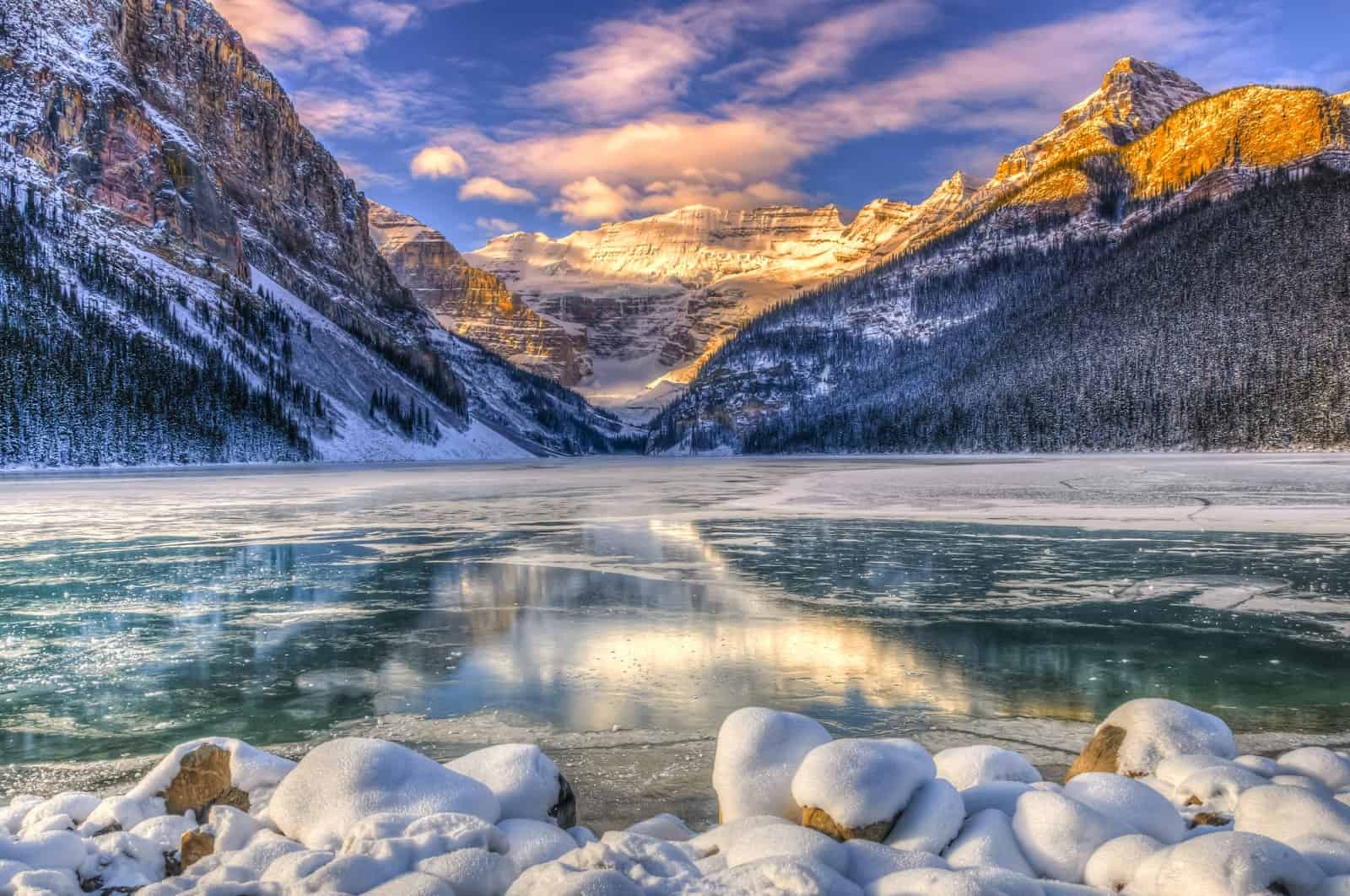 If there's one thing Mother Nature has mastered in Canada, it's creating a series of landscapes that are nothing short of visual poetry—masterpieces that need to be seen to be believed. And while Banff National Park is just a tad too big to be called a "hidden gem," it's definitely one of the jewels in Canada's great crown of must-see natural wonders. Check out this guide to the top things to do in Banff in winter.
Look for current hotel deals in Banff National Park.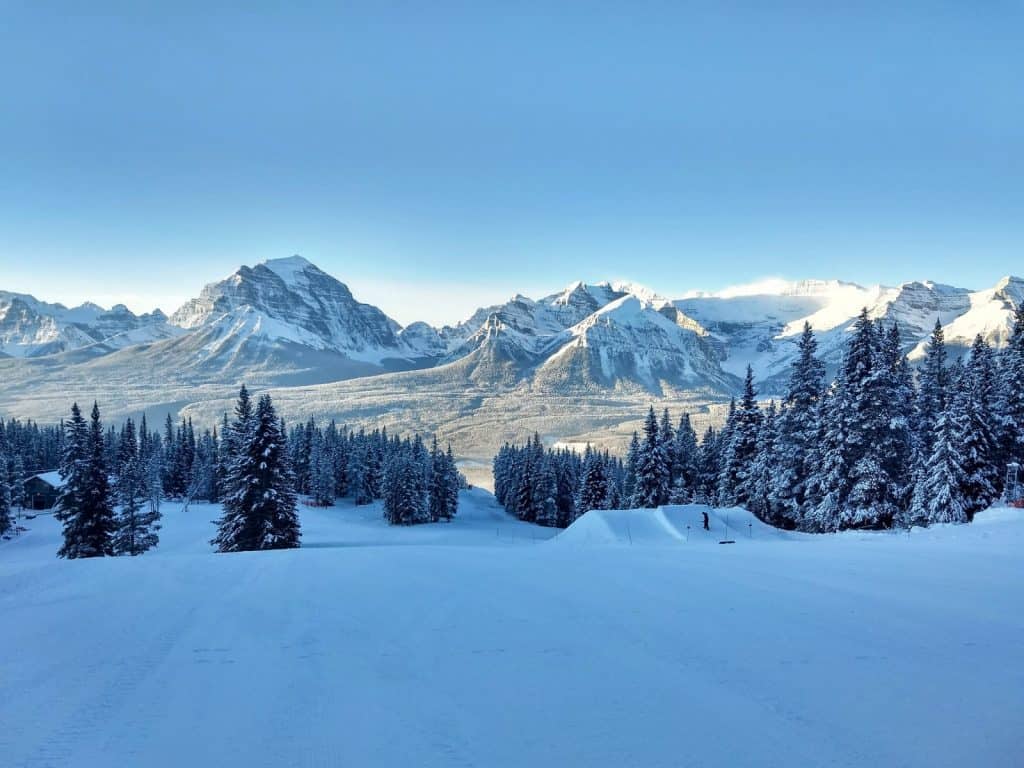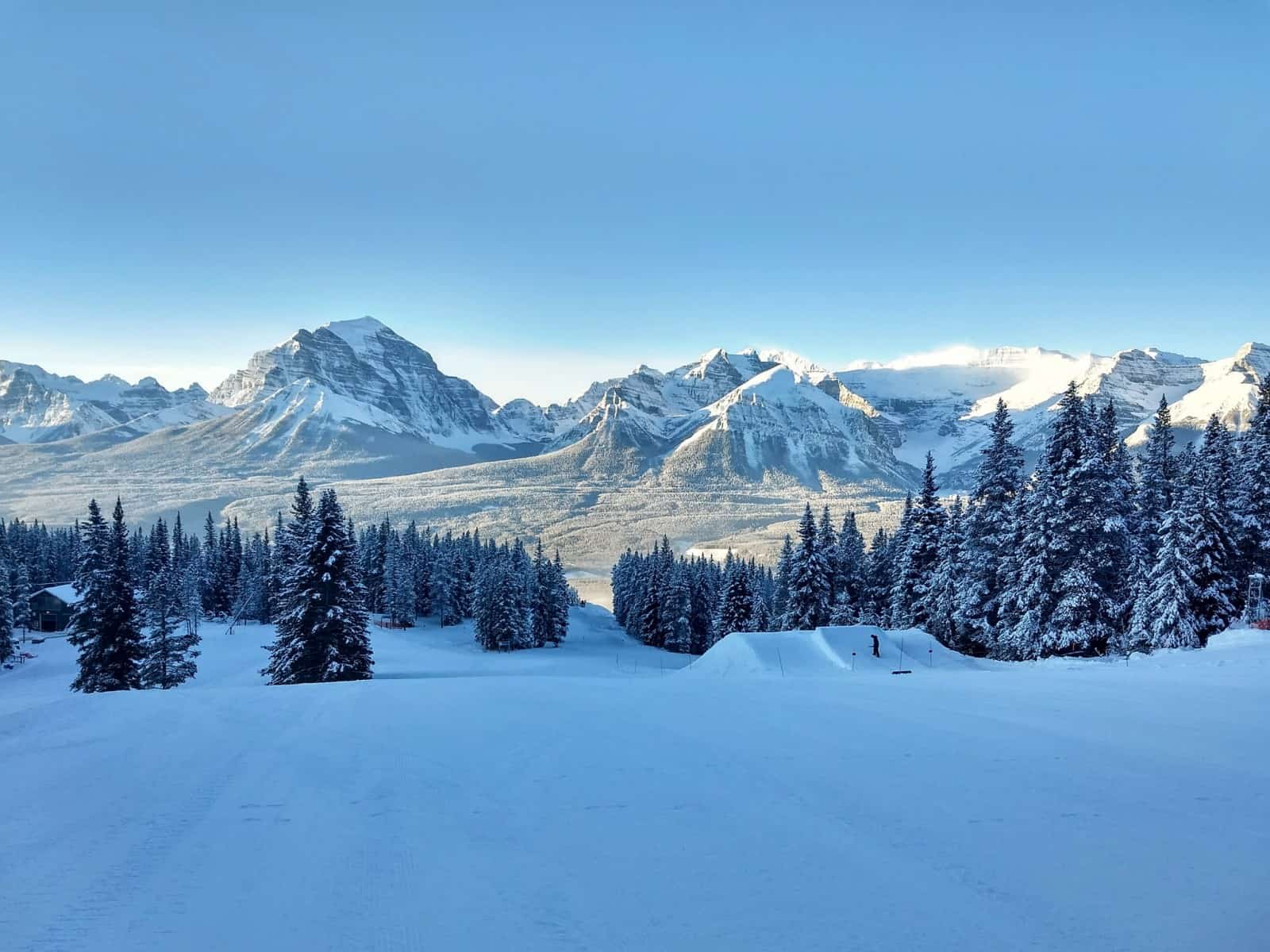 Breathing in mountain air at 8,000 feet or so atop the Rockies should be first on your list. (Photo credit: Andrea Traynor)
The drive alone from Banff to Lake Louise and back again is spectacular—flanked by the Rocky Mountains, millions of evergreens and several bodies of water frozen by the crisp mountain air.
With more than 6,600 square kilometers to explore, Banff National Park is a winter enthusiast's wonderland. There's no better place to take advantage of quintessential Canadian activities within a half-hour radius.
Here are the top 8 things to do in Banff in winter for families: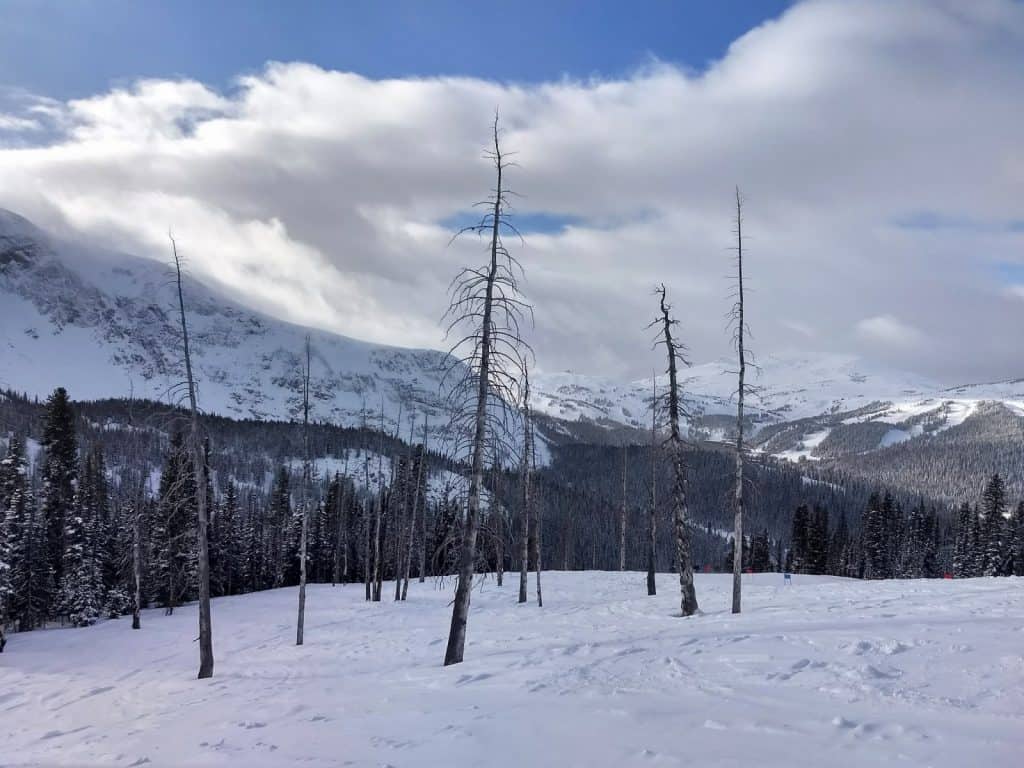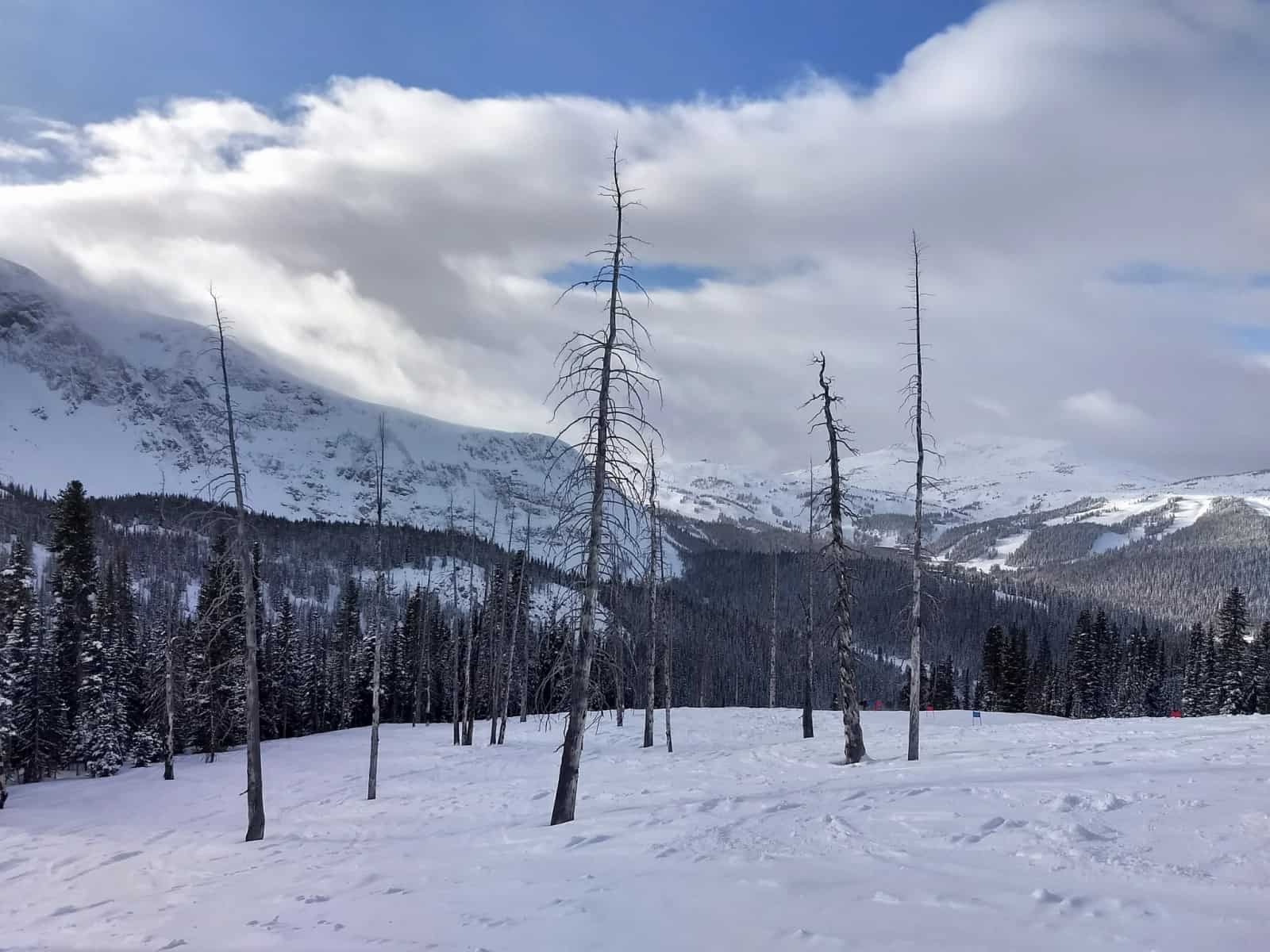 Sunshine Village's "tree graveyard" offers glade novices an easy practice route. (Photo credit: Andrea Traynor)
1. Ski or snowboard
I mean, obviously, right? Skiing is definitely one of the top things to do in Banff in winter. This is a skier's paradise and within the park itself, there are three options: Lake Louise Ski Resort, Banff Sunshine Village, and Mt. Norquay, each offering something unique. For those OMG postcard-perfect views of the Rockies at every turn, look no further than Lake Louise Ski Resort. It also offers daredevils and expert skiers some of the most challenging terrains and bowls in the country.
Banff Sunshine Village is everything one wants in a family-friendly mountain, with runs for every ability available from the top of nearly every chairlift. It's set amidst meadows with the mountains in the backdrop and allows even novices to ski through trees. Oh, and it boasts one of Canada's only heated chairlifts, too.
Mt. Norquay, though smaller scale, is the only mountain in the area with night skiing. A SkiBig3 pass gives you the flexibility to ski at all three resorts.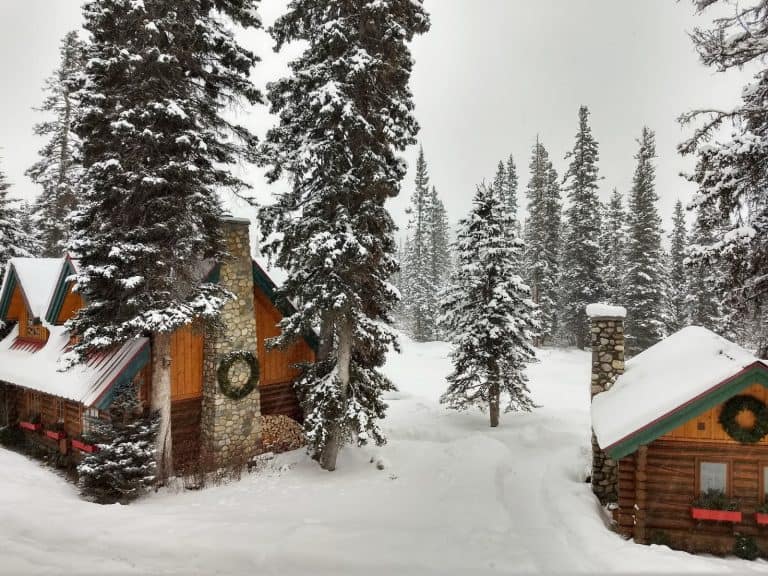 Go luxe or go home. A stay at the Post Hotel & Spa will leave you as breathless as the mountain views. (Photo credit: Andrea Traynor)
2. Stay somewhere amazing
The Post Hotel & Spa is one of Canada's few Relais & Château properties and provides guests with upscale yet relaxed charm along the Bow River, unparalleled service, free ski shuttles, and award-winning food.
Rooms and décor are Swiss-inspired, many with wood-burning fireplaces (and an unending supply of kindling and wood during your stay). The Post is less than five minutes from Lake Louise Ski Resort and only half an hour or so from Banff Sunshine Village. Its boutique feel with world-class amenities will make you want to move in.
PRO TIP: If you need to rent gear, Adventure Hub in downtown Banff is the only company that will deliver to and pick up your rentals from any hotel in Banff or Lake Louise, including The Post Hotel. For free.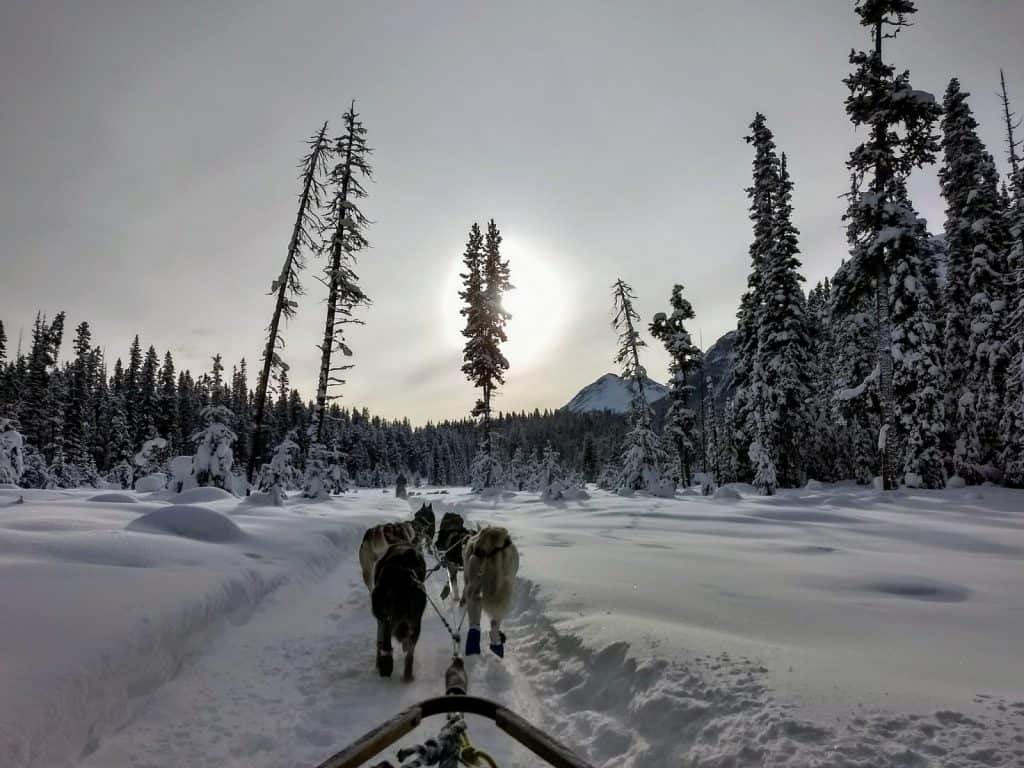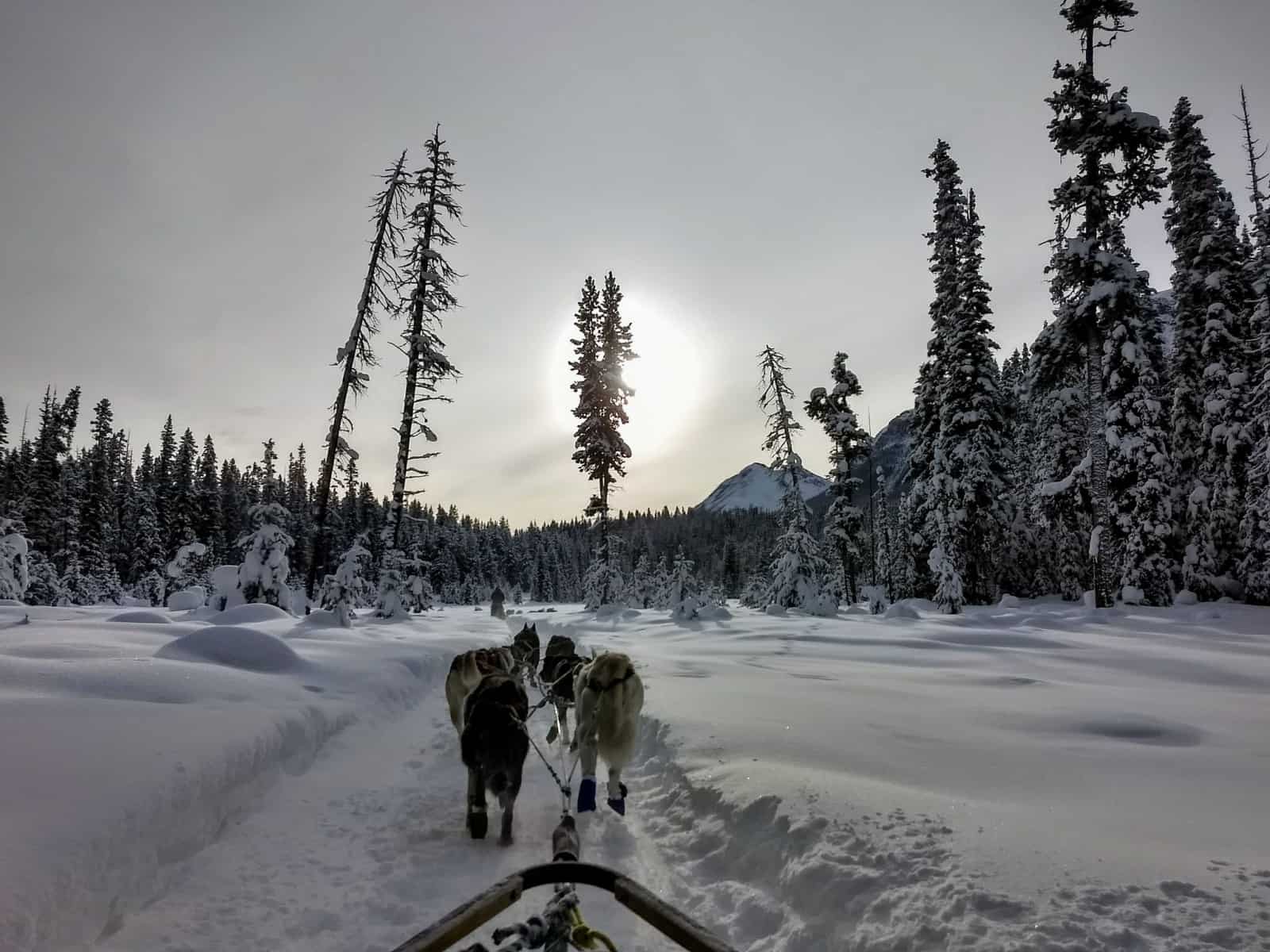 Tour with huskies that are part of the "thousand-mile" race club. (Photo credit: Andrea Traynor)
3. Go dogsledding
Wanting a bucket list adventure? Dogsledding is definitely one of the most popular things to do in Banff in winter.
Start your 16-kilometer adventure in Lake Louise and take a loop through The Great Divide, where it's Alberta on one side and British Columbia on the other. And do it all behind eight Alaskan Huskies, known for their incredible stamina. Kingmik Dogsled Tours — an ethical dogsled company with a small outfit, ensuring personal attention and care for every dog — will even teach you how to drive on the way back.
Check for hotel availability in Banff National Park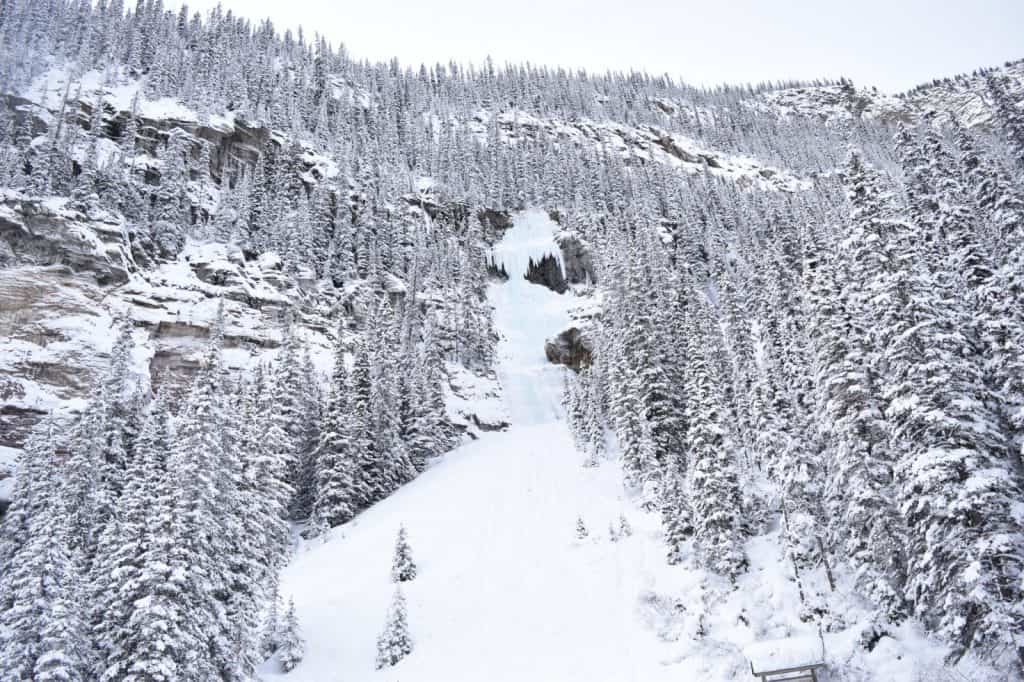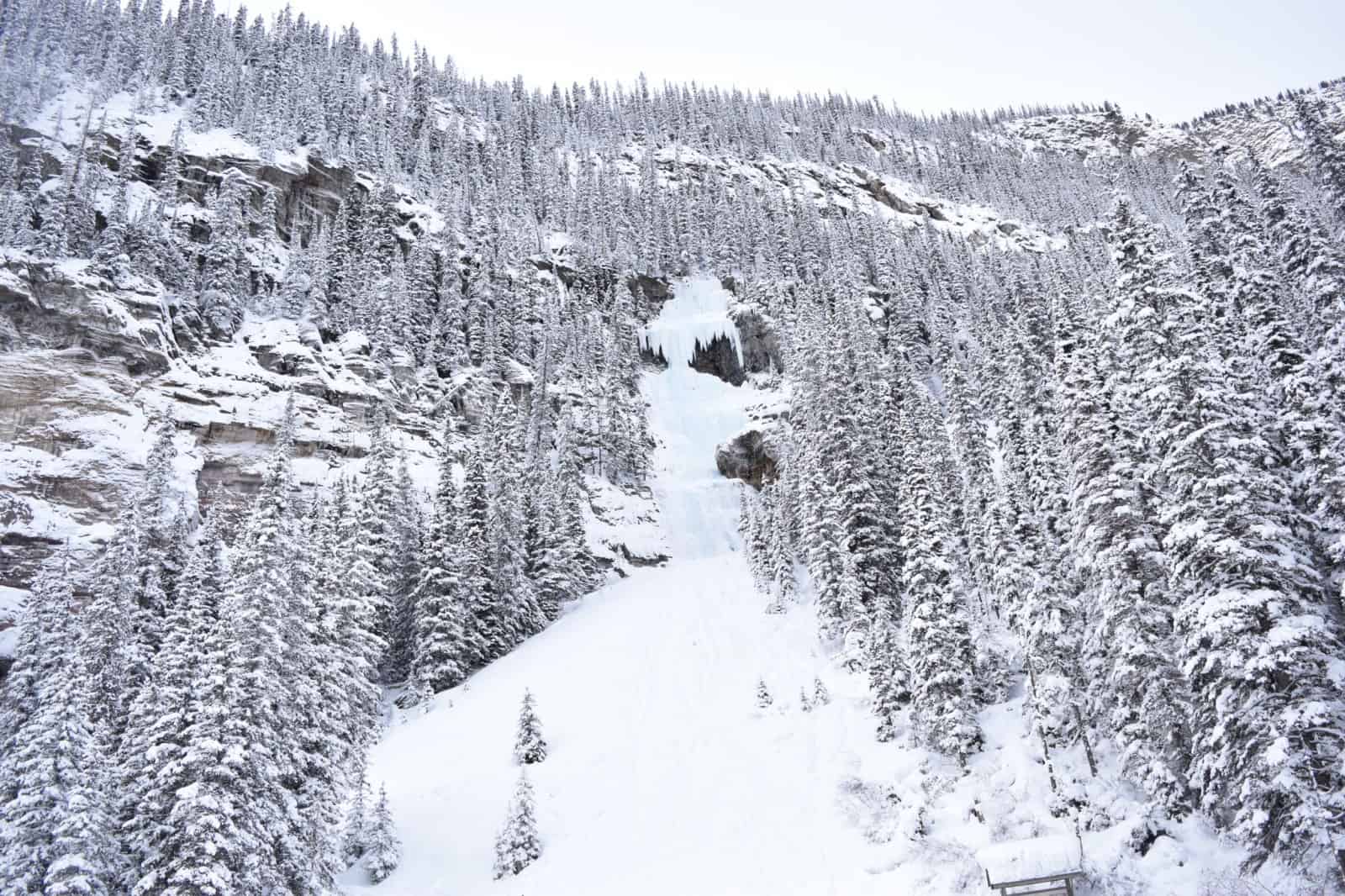 On a good day, you might also catch ice climbers repelling from the top! (Photo credit: Andrea Traynor)
4. See a frozen glacier waterfall
Take a one-hour horse-drawn sleigh ride from the Chateau Lake Louise to see blue-tinted glacier water frozen in time on a mountainside. Trust me, it's so much better in person.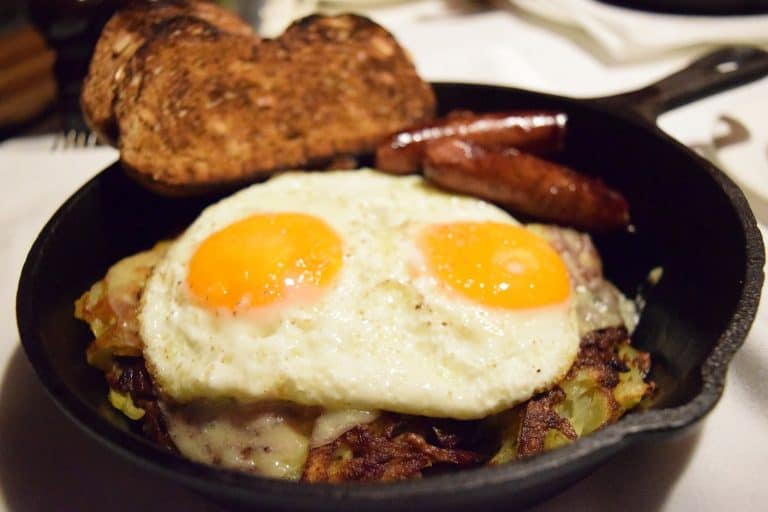 You haven't eaten breakfast until you've tried rösti with a side of duck sausages at The Post. (Photo credit: Andrea Traynor)
5. Eat (gourmet) comfort food
If you love to eat, there are plenty of options both on and off the mountain in Banff National Park. For a real treat, splurge on the rösti, fondue or six-course tasting menu at The Post Hotel's restaurants.
At Lake Louise Ski Resort, indulge in refined mid-mountain eats like bison short ribs at Whitehorn Bistro, which sits at 6,700' elevation. If you're spending the day at Banff Sunshine Village, make a reservation for lunch at Chimney Corner for fireside dining and pork belly gnocchi that'll give you enough energy to ski or board until ski patrol kicks you out at the end of the day.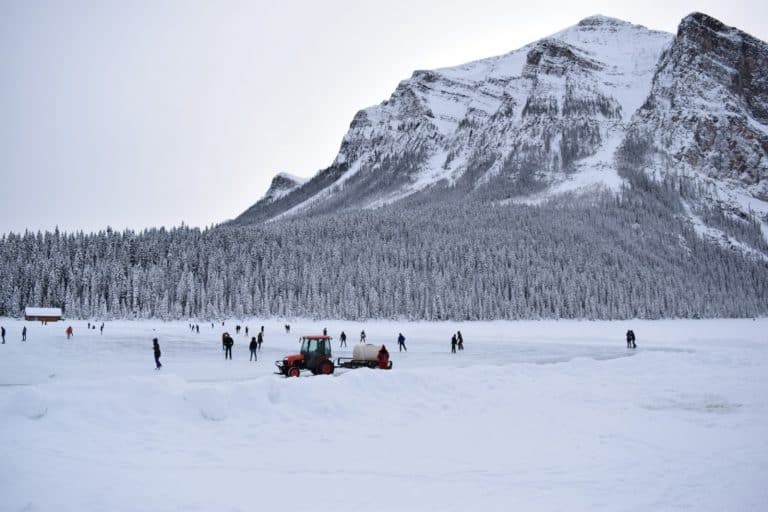 Layer up and get out there — Lake Louise is calling. (Photo credit: Andrea Traynor)
6. Ice skate on Lake Louise
One of the most iconic things to do in Banff in winter is to ice skate on Lake Louise. Whether you're a skating pro or first-timer, it doesn't get much more Canadian than skating on a natural lake "rink" in a national park beside an ice castle. There are skate rentals available for a couple of hours or the whole day, and a large section of the lake is serviced by a Zamboni that helps smooth out the surface.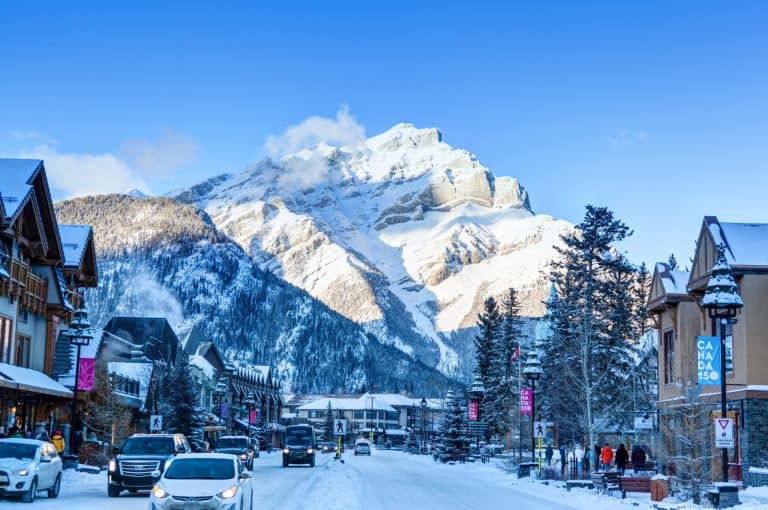 Photo by: Bigstock/ronniechua
7. Wander around downtown Banff
While exploring downtown Banff sounds cold, visiting the shops on Banff Avenue and Bear Street is another one of the much-loved things to do in Banff in winter.
From souvenir and brand-name shops to wonderful bars and restaurants, you could easily spend an afternoon exploring the downtown area. Be sure to grab a hot beverage from Wild Flour Bakery while you wander (hint: the mocha is made with divine chocolate ganache!).
Look for the best hotel prices in Banff National Park
Photo by: Bigstock/Jan Kotrbacek
8. Take advantage of the local transit
Flying into Calgary and don't want to rent a car? No problem. Both Banff and Lake Louise hotels and ski resorts are serviced by various shuttles — some of which are free. Pay attention to Brewster's airport schedule before you book flights, and get your tickets in advance to guarantee a seat at your preferred times.
Getting to and from your hotel and the mountains is free and easy thanks to the SkiBig3 shuttles; within Banff, shuttles are available daily, while from Lake Louise hotels to Banff Sunshine Village, it's two to three times a week depending on low versus peak season.
Those first mountain views are nothing short of breathtaking. Don't say you weren't warned.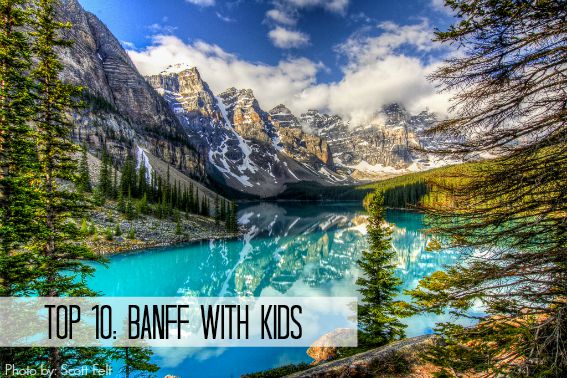 Looking to visit again in the summer? Check out our post on the Top 10 things to do in Banff year-round.
Social Media and lead images by: Bigstock/Bgsmith