Located across the border from Montana and Glacier National Park, Waterton Lakes National Park in Alberta, Canada is a not-to-be-missed destination.
There are lots of great things to do in Waterton, Canada. Waterton Village, a small town on the shores of Upper Waterton Lake, offers plenty of family-friendly hotels and dining. The town also serves as a launchpad for the endless amount of things to do in Waterton National Patk.
From hiking and paddleboarding to horseback riding and golf, you will not run out of things to do in Waterton, Canada.
Things to do in Waterton, Canada
When to Visit Waterton Lakes National Park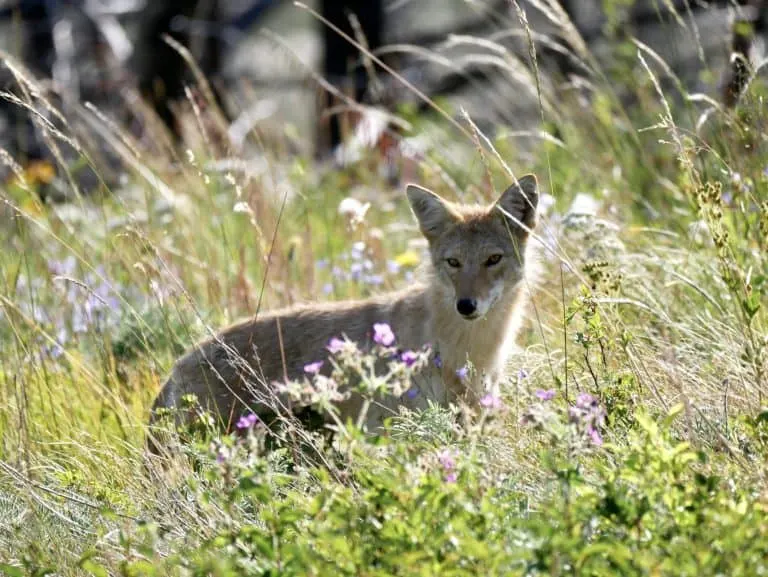 Waterton's summer season is the busiest and most convenient time to visit. While Waterton is open year-round, facilities and services are limited in the winter months.
To experience the best activities and sights Waterton has to offer, visit between May and early October. Waterton Lakes National Park weather can change on a dime. In summer, pack rain gear and extra clothes on any outing into the mountains.
While only a few hotels and restaurants are open during the winter months, families who love to cross-country ski and snowshoe will find a winter oasis in which to do so.
Visiting Glacier National Park next door? Make sure to check out Trekaroo's guide to visiting Glacier National Park with kids.
See Waterton on Horseback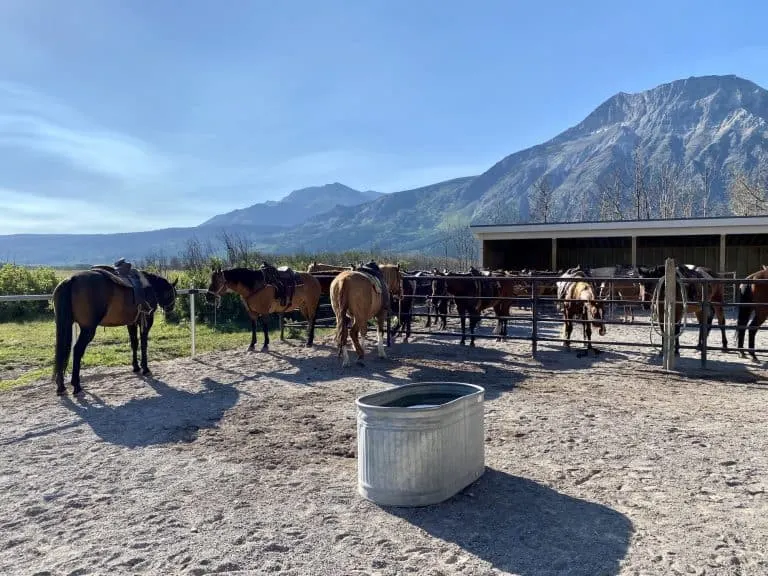 When driving into Waterton, Alpine Stables is hard to miss. The modern stable sits surrounded by horses with an incredible mountain backdrop.
The idea of riding the horses through the park is hard to resist. There are over 120 miles of horse accessible trails in Waterton Lakes National Park, and you are going to want to check them out.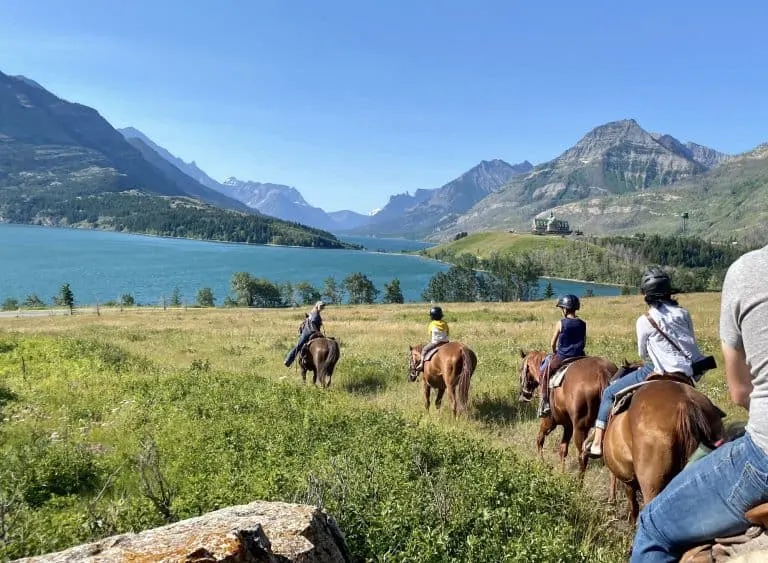 Families with children as young as five will love the one-hour introduction ride. The ride varies from a ride with slight elevation and incredible views of the sparkling Waterton lakes to a wooded meadow hike with a stop at the lake.
Kids will love sitting atop the horses while they dip their hooves into the icy water and grab a refreshing drink. More experienced riders will appreciate the opportunity to see more of the backcountry and explore some of Waterton Lakes' best summits.
Explore Waterton Lakes National Park by Bike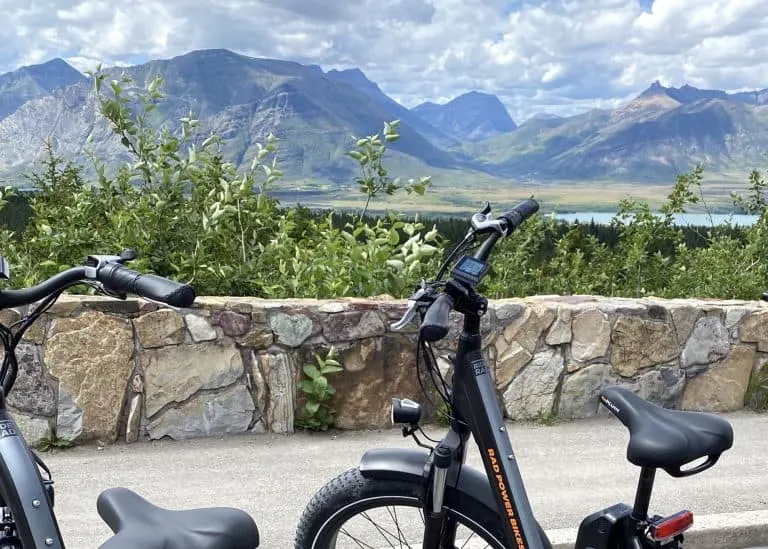 One thing you will notice when visiting Waterton Lakes National Park in summer is the number of families on bikes. Bring your own or stop by Pat's Waterton to rent bikes for the whole family.
For longer adventures, adults and teens over the age of 16 might want to try an e-bike. One of the most popular rentals in Waterton is definitely Pat's 4-seater surrey bikes.
Explore the town, visit the playground and spray park, and grab some ice cream from the well-loved Big Scoop Ice Cream Parlor.
Spend a Night Under the Stars in the World's First Trans-Boundary International Dark Sky Park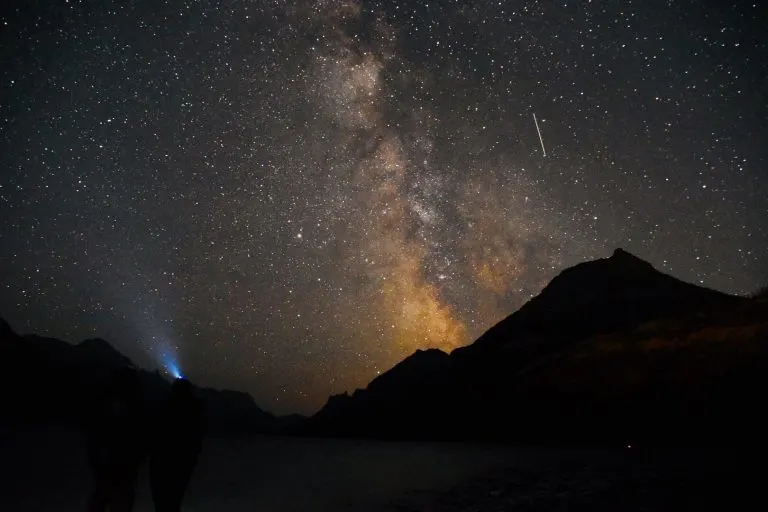 One of the most unique experiences in Waterton Lakes National Park is spending the night with the Dark Sky Guides. Both Waterton Lakes National Park and Glacier National Park share the distinct honor of being the world's first Trans-Boundary International Dark Sky Park.
This honor recognizes the work done by both parks to minimize light pollution and provide the perfect backdrop for stargazing. The Northern Lights are often also visible from Waterton Lakes National Park.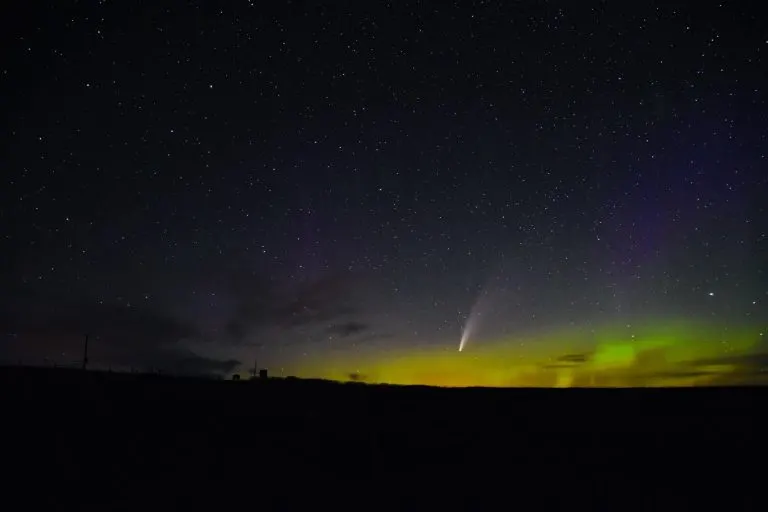 Families embarking on a tour with the Dark Sky Guides are in for a treat. The tour begins with a quick and easy hike to an isolated location. Once guests are settled in, the guide provides a truly unique look at the skies above Waterton.
Kids will love the story-telling narrative used to display constellations and the North Star. The use of a green laser pen also makes this tour easy to follow even for very young guests. The Dark Sky Guides all grew up in Waterton and their connection not only to the park but to the skies above is undeniable.
Enjoy the Best Waterfall Hikes in Waterton National Park
If you will remember two iconic things from your visit to Waterton National Park, they will likely be wildflowers and waterfalls. Both are beautiful and abundant in the park.
You merely need to step outside to see the Waterton wildflowers. Seeing the best waterfalls may take a little more work. Here are a few great family-friendly treks to waterfalls.
Cameron Falls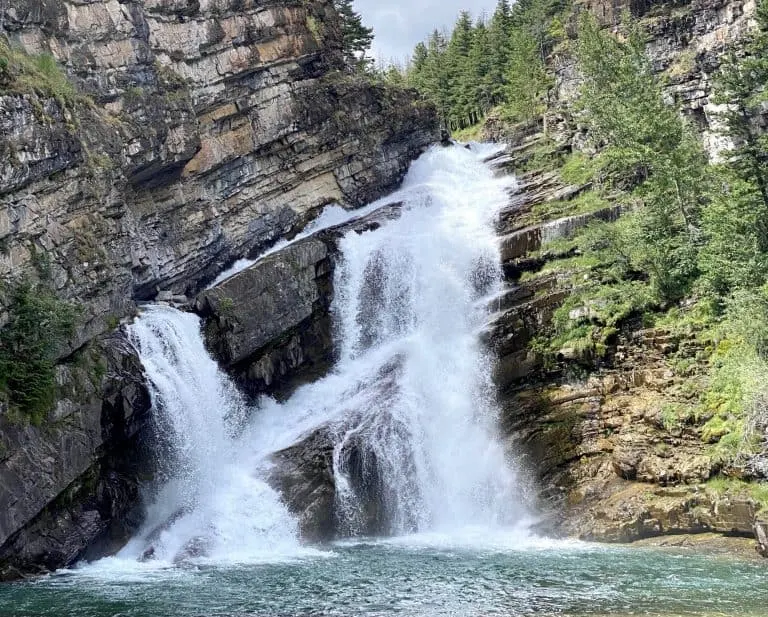 Easily the most accessible falls but no less spectacular, Cameron Falls is perfect for all ages. Located in the town of Waterton with plenty of parking, you can see the falls from below or hike up a short path to various viewpoints.
Blakiston Falls
Accessible via Red Rock Canyon Parkway, Blakiston Falls should definitely be on your list. The road itself meanders through meadows where coyotes, grizzly bears, and deer are often seen. Explore Red Rock Canyon before taking the short, 0.6-mile path to Blakiston Falls.
Bertha Falls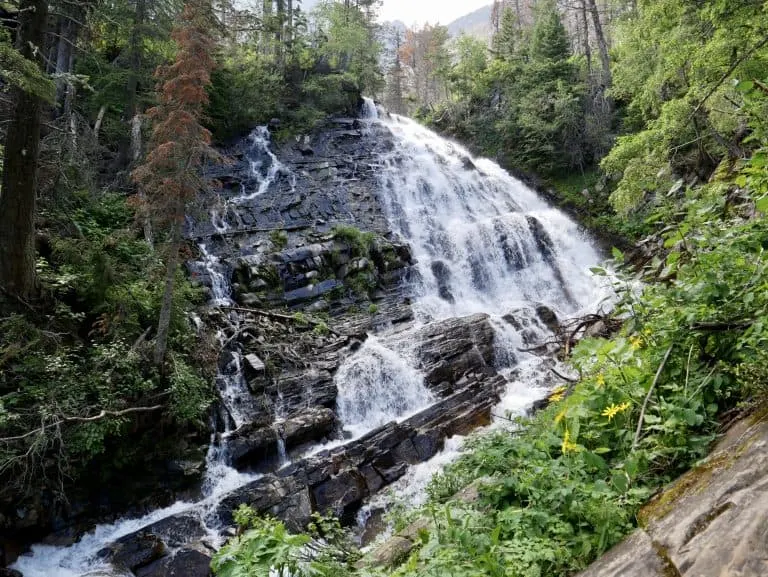 One of the most loved hikes in Waterton for kids is the hike to Bertha Falls. Only 3.3 miles separate you from the trailhead to the lower Bertha Falls, which are spectacular in spring and summer.
There are plenty of viewpoints along the way perfect for breaks and family photos. Once you have arrived at the falls, there is lots of space to explore and admire the scenery. Intrepid families will want to continue on to Upper Bertha Falls and Bertha Lake which are an additional three miles away.
Great Hikes in Waterton
Families who want to explore even more hikes with kids in Waterton Lakes National Park will want to check out these two iconic Waterton hikes.
Bear's Hump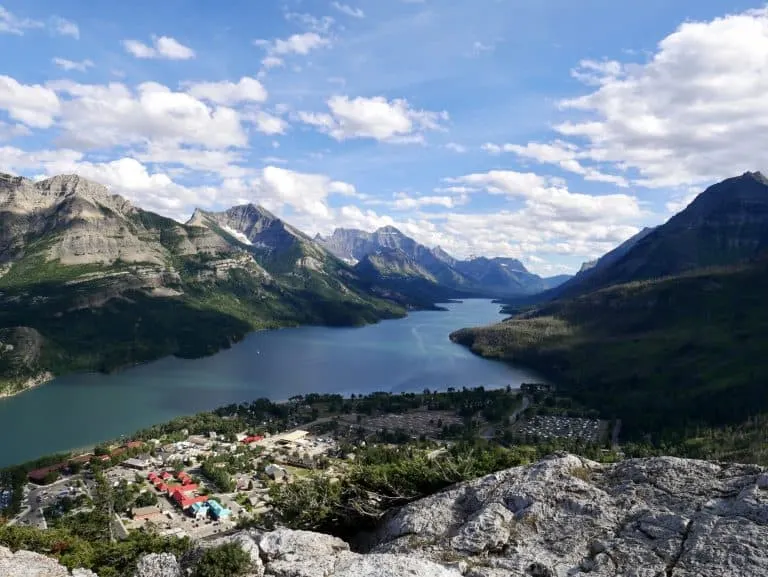 Explore the newly re-opened Bear's Hump trail up to an incredible view of the town and lakes. While the hike is short, only 1.4 miles round trip, it is a little steep. Take your time with kids and stop to admire the incredible wildflowers. The view from the top is definitely worth every ounce of effort.
Crypt Lake Hike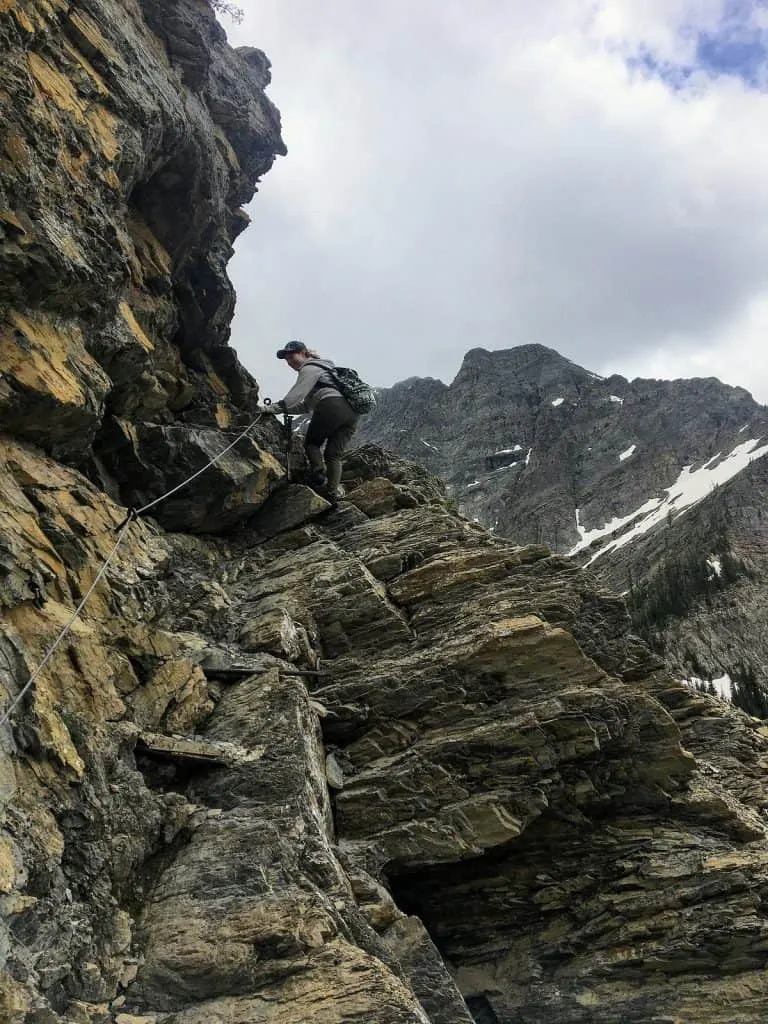 Waterton's most iconic hike is Crypt Lake. While many people ask whether you can complete with Crypt Lake Hike with kids, it is best to wait until kids reach their tween and teen years.
The hike itself has been rated as one of the best in the world. It begins with a boat ride to the trailhead. On the way to the lake, you pass waterfalls, climb through a cave, navigate a ladder, and cross a cliff holding onto cables.
Don't want to navigate the hike on your own? Check out the guided hikes offered by Tamarack Outdoor Outfitters.
See Glacier National Park by Boat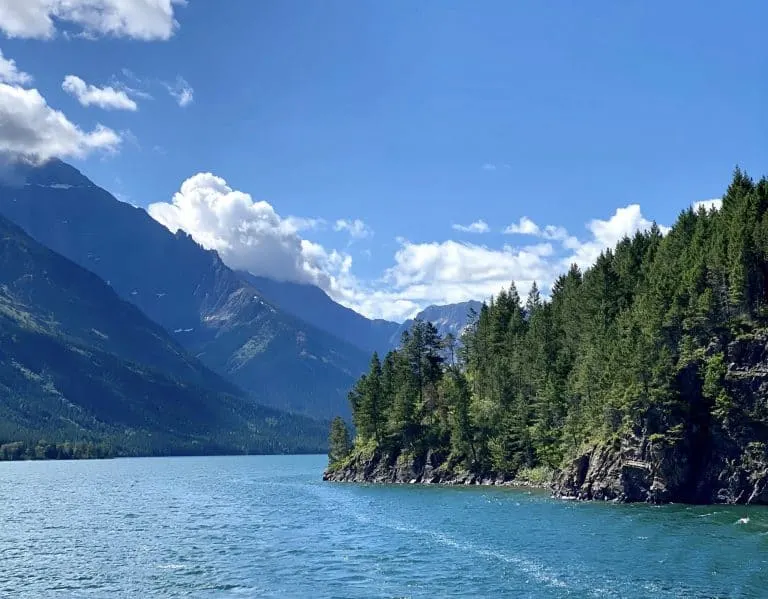 Before embarking on the Waterton Shoreline Cruise, I was unsure whether or not my kids would enjoy it. Minutes after departing the shore, I understood why most visitors rate the Shoreline Cruise as one of the best things to do in Waterton Lakes National Park with kids.
Packed full of information but delivered in a way that can be understood by children, the tour travels to the US – Canada border and into Glacier National Park. From the boat, there is ample opportunity to spot bears, moose, and deer.
I also enjoyed the information provided by the boat captain about the Kenow Wildfires that burned almost 50,000 acres of Waterton National Park in 2017. The tour is both educational and a lot of fun.
Golf with an Incredible Mountain Backdrop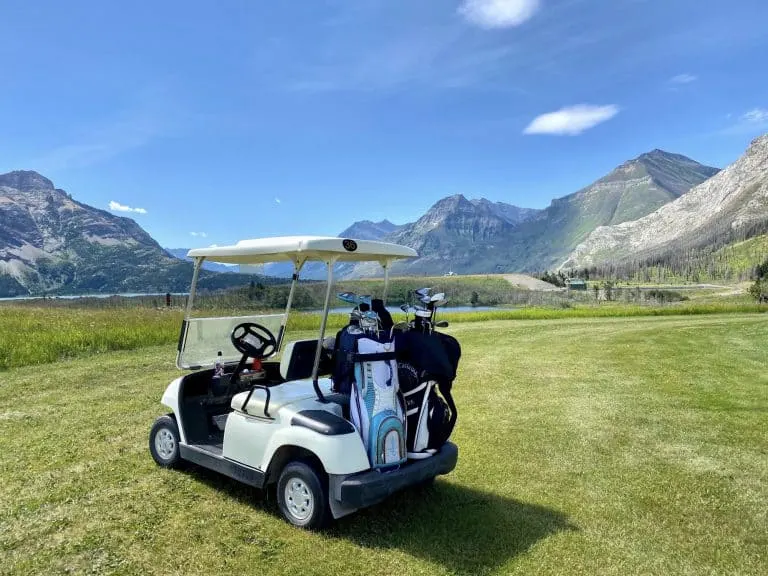 While golfing is probably not one of the first things you think of doing in Waterton National Park with kids, it is one of the most fun. Whether your kids are experienced golfers or have never swung a club, Waterton Lakes Golf Course is a great course to check out.
The minute you arrive at the course, you can sense the relaxed vibe not typical of golf courses in the Canadian Rocky Mountains. Low -priced Junior Rates make this a fun and affordable day on the links.
Where to Stay in Waterton National Park
There are numerous family-friendly hotels in Waterton Lakes National Park. Here are some of our favorites.
Prince of Wales Hotel Waterton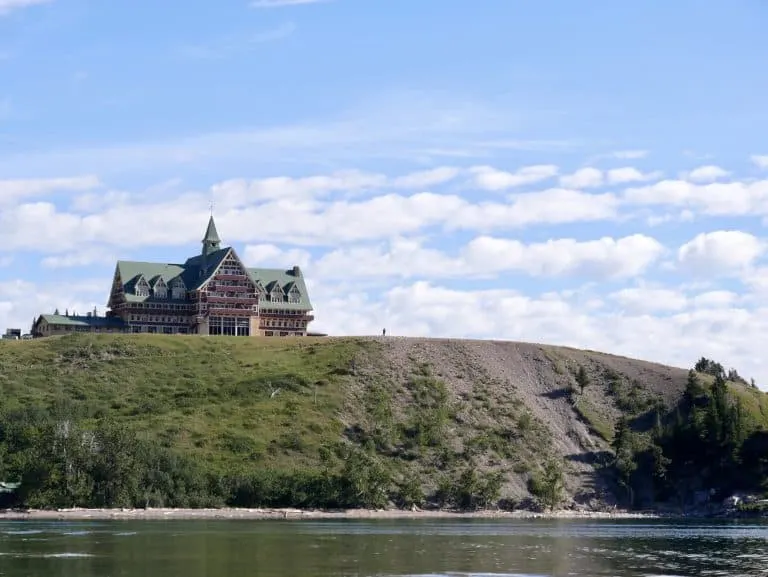 The Prince of Wales Hotel Waterton is an iconic hotel perched above the waters of Upper Waterton Lakes. Located a short walk from town, the Prince of Wales Hotel has a rich history.
Built in 1927, the hotel was designated a National Historic Site of Canada in 1992. Families will love the accessibility to beaches and the traditional Prince of Wales afternoon tea.
Waterton Lakes Lodge Resort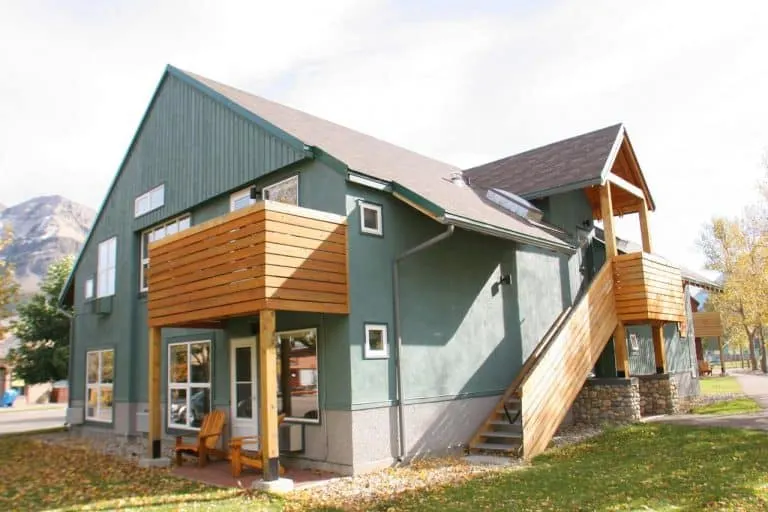 Located in the center of town, Waterton Lakes Lodge Resort is one of the only hotels that welcome guests year-round. The hotel is split into cabin style lodging with numerous hotel rooms in each cabin.
From Waterton Lakes Lodge Resort, you can easily walk to the many restaurants and shops, as well as to Cameron Falls. While visiting, make sure to stop into the onsite Taco Bar for fresh homemade burritos and tacos.
Bayshore Inn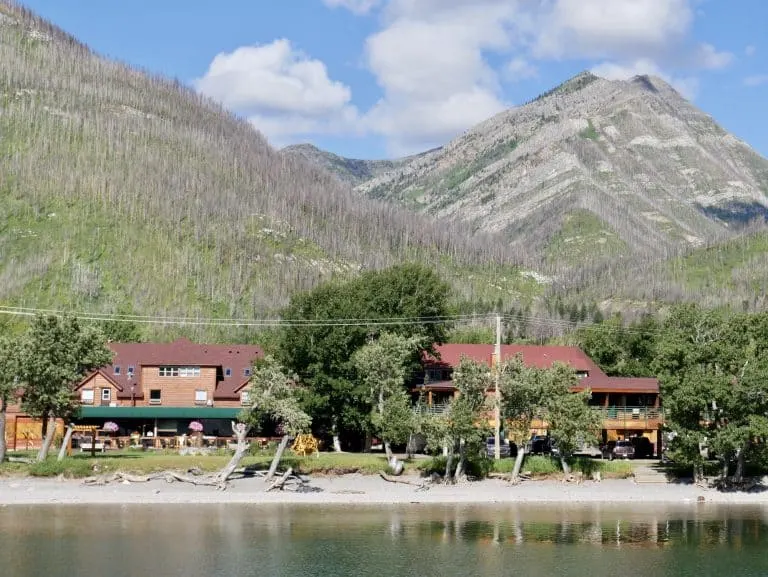 Located on the shores of the lake, the Bayshore Inn Resort and Spa is a motel with newly renovated rooms steps from everything in Waterton.
The rooms have lake views and small patios where you can sit and soak in the sun. Onsite there are some of Waterton's best restaurants, including the Lakeside Chop House.
Ready to explore National Parks in your region? Jump to Hawaii | Alaska | Pacific Northwest | California | Southwest | Mountain | Midwest | Texas | The Northeast | The South | International Destinations
Disclosure: The author visited Waterton Lakes National Park as a guest of the Town of Waterton. She was not required to state any particular view; all opinions are her own.