Vail is a great summer destination for families who love to be outside. The weather is mild, days are sunny, the scenery is gorgeous, and there are so many great things to do in Vail in summer!
There is always something fun going on in the charming town of Vail and lodging is typically less expensive than during the winter months. Foodies will also feel right at home in Vail, which has several amazing restaurants.
Discover why we think Vail is just as great of a summer destination as it is in the winter.
Things to do in Vail in Summer
1. Take a Gondola Ride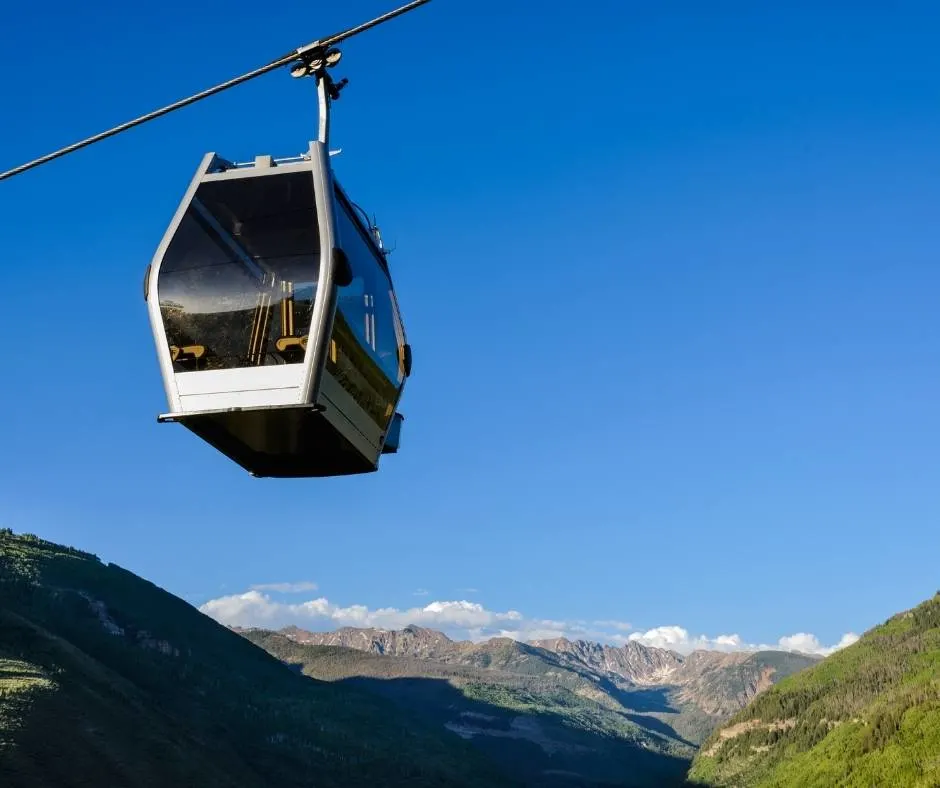 There are two different gondolas you can ride in Vail in summer. Choose from Gondola One in Vail Village or the Eagle Bahn Gondola along Gore Creek.
Both offer magnificent views as the carry you up above 10,000 feet. From the top you can hike, mountain bike, visit Epic Discovery, or enjoy a meal.
Best of all, kids 12 and under are free with the purchase of an adult Scenic Ride Ticket.
Explore more of the state! Here are the Top 10 Things to do in Colorado with Kids.
2. Enjoy a Day of Play at Epic Discovery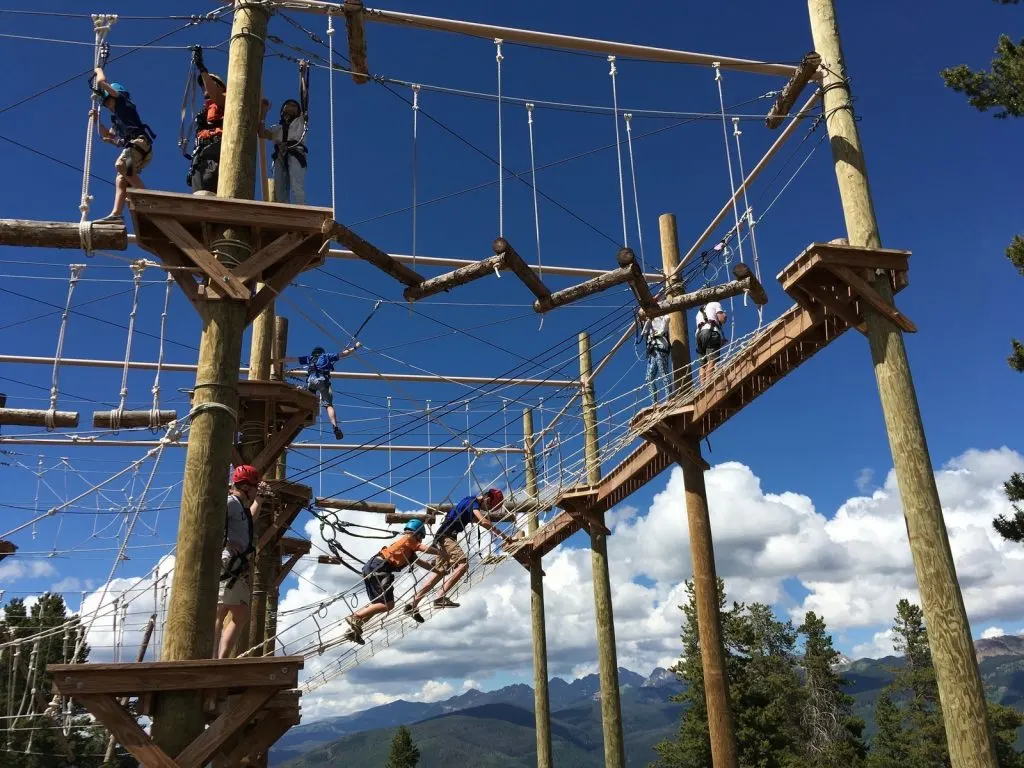 Fun, play, and adventure are the key elements of Epic Discovery at Vail Mountain. This outdoorsy mountain playland atop Vail Mountain is one of the best things to do in Vail in summer, and has something for everyone.
Highlights of this fun park include ropes courses for little kids as well as teens and adults, rock walls, bungee trampolines, a zipline for kids, tubing, and the Forest Flyer alpine coaster. Discounted passes are available for younger guests.
2. Zip Line at Game Creek Aerial Adventure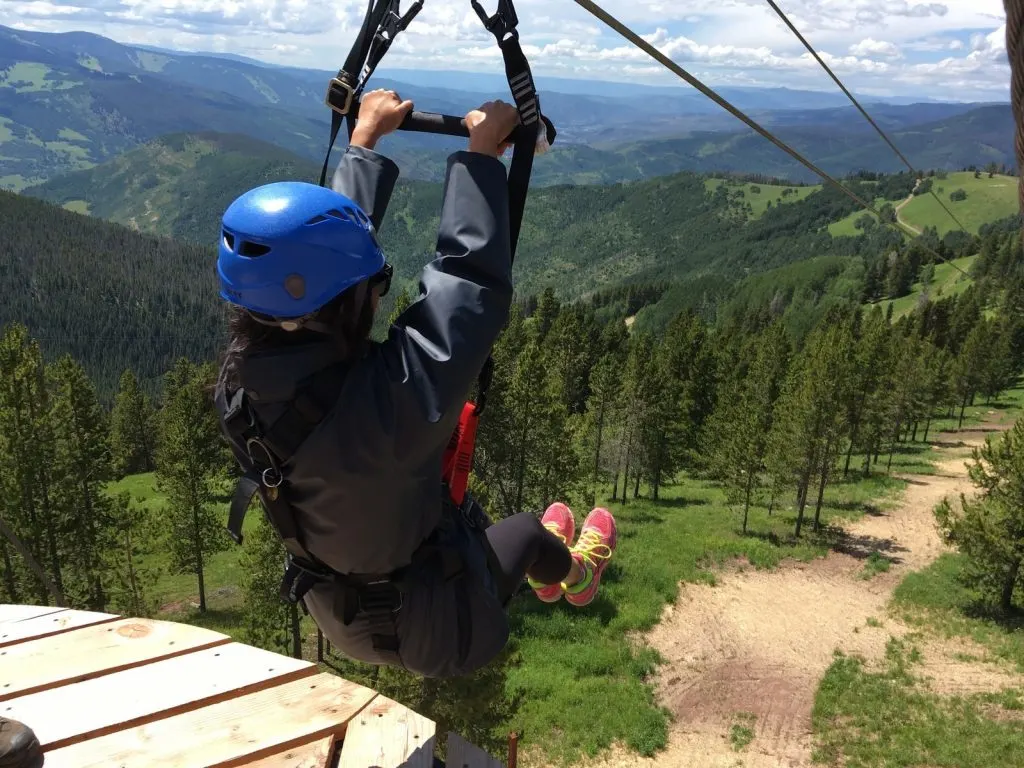 The zip line course is one of the most scenic around. The views of the Rocky Mountains are sweeping and the zips are exhilarating.
Game Creek Aerial Aventure is one of the longest string of ziplines in the United States and it is thrilling! Fly 60 mph from platform to platform over the tree tops of Vail Mountain with enthusiastic guides who make safety the first priority.
3. Hike with a Llama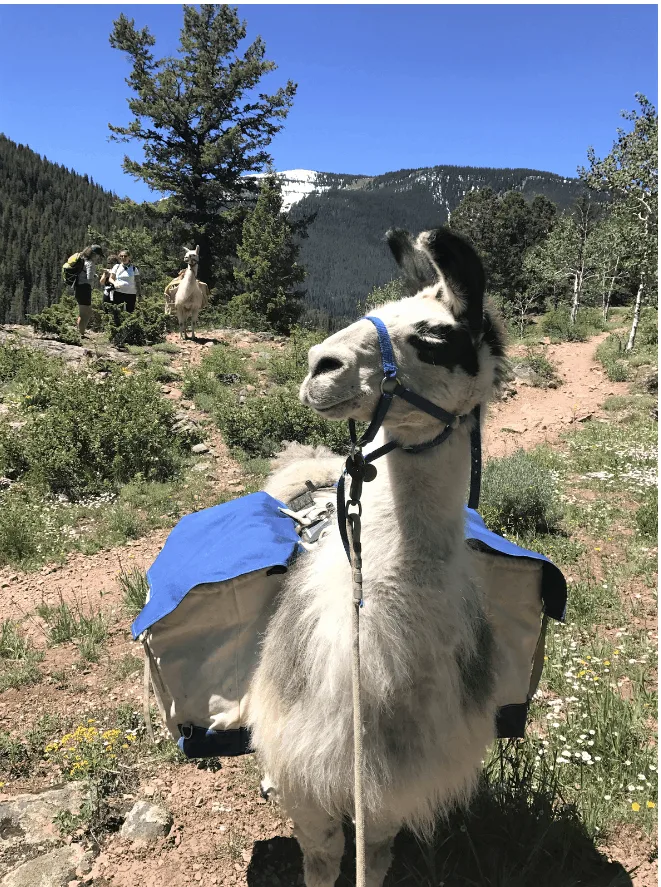 Paragon Guides offers many different experiences, including multi-day cross country skiing expeditions, but we think casual-but-oh-so-fun "Take a Llama to Lunch" program is perfect for families.
After an extensive safety talk and thorough introduction to some adorable llamas, guides take guests on a hike that is suitable for your group's needs and provide lunch which has been packed in by your new llama friends.
The llamas are gentle, easy to lead, and exceptionally charming. Expect to fall in love. Hikers are able to take the llamas lead and guide them on the trail as they climb into alpine paradise.
Pace and destination is determined by your group's ability level, making this activity great for families with children of all ages. It is honestly one of my favorite things to do in Vail in summer.
4. Go Horseback Riding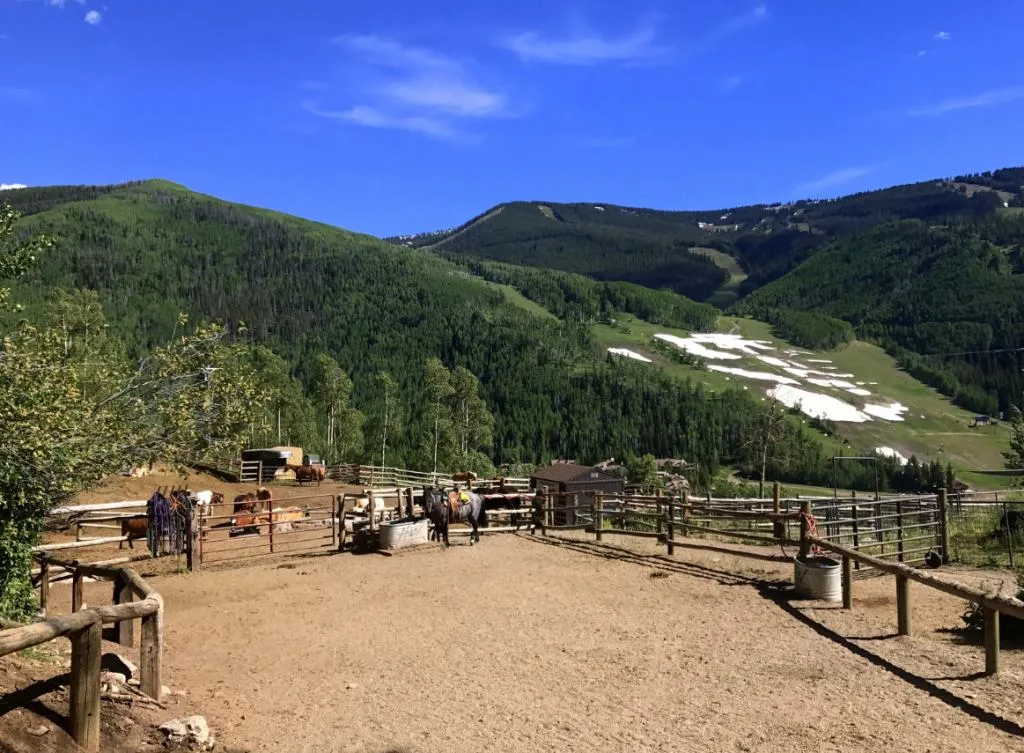 What better way to take in that beautiful mountain scenery than on horseback? 4 Eagle Ranch considers itself to be the best in all of Vail Valley and offers up one and two-hour horseback rides to folks seven and up.
Families with young kids will be happy to know they also offer pony rides to children seven and younger.
Vail Stables offers great trail rides and has a convenient location close to Vail Village. Five and six-year-olds can ride here but they will be led by guides to add an extra layer of safety.
5. Find Your Zen During Goat Yoga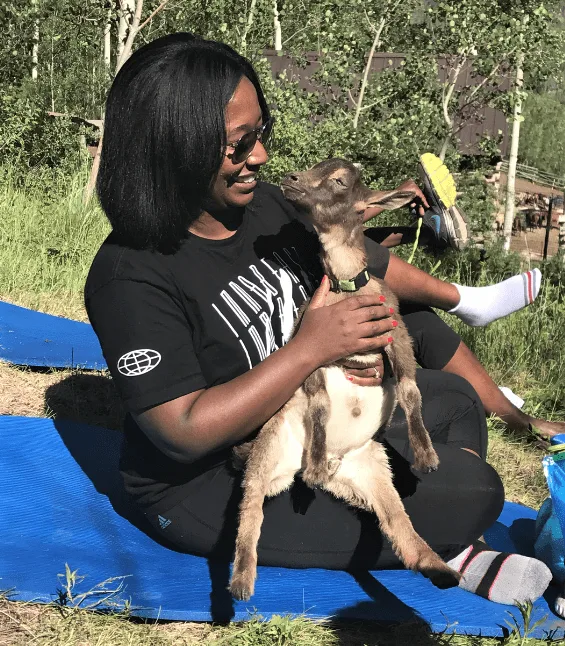 Looking for unique things to do in Vail in summer? Families with kids ages eight and older will love the goat yoga program. The atmosphere is light and fun and the goats are so adorable and entertaining.
Yoga mats are set up outdoors on a lovely hillside within view of the goat pen. A bell is rung and the goats come running up the hill and into the yoga area. It is definitely one of the cutest things I have ever seen.
All the goats are hand-raised Nigerian dwarfs so they are tiny and friendly. They are willing to sit in your lap and might even hop on your back when you are downward facing dog.
The yoga instructor is aware that she will never get your full attention and doesn't try to compete with the goats. She takes you through yoga poses but doesn't get offended if you skip a pose or two to pay attention to the adorable little guy who decided to pay you a visit.
6. Visit the Betty Ford Alpine Garden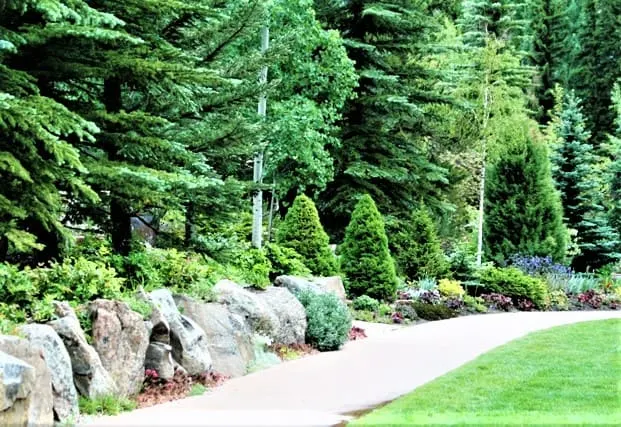 At this, the highest botanical garden in North America, stone stairs lead to paths that meander through a garden. Waterfalls flow throughout, offering a beautiful backdrop to flowering plants.
Betty Ford Alpine Garden is right next to the large playground Ford Park, an education center, the Gore River, and an amphitheater. It's definitely worth visiting.
7. Play in Children's Fountain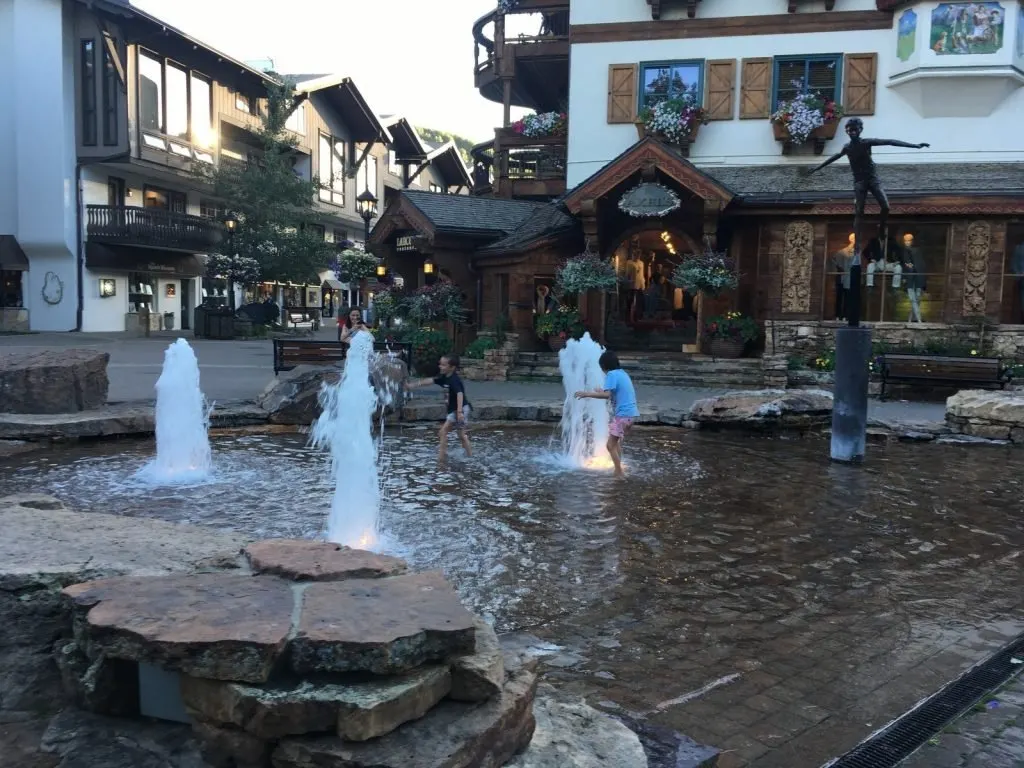 The Children's Fountain in Vail Village is located next to Fuzziwig's Candy Shop. The pool has three spraying fountains and several bronze sculptures of children at play.
The water is perfect wading depth; shallow enough to keep shorts dry yet deep enough to cool down on a hot day. There were several children running around in bathing suits enjoying the water the day we visited. Climbing, wading, and playing appeared is encouraged.
8. Enjoy Art & Play at Sunbird Playground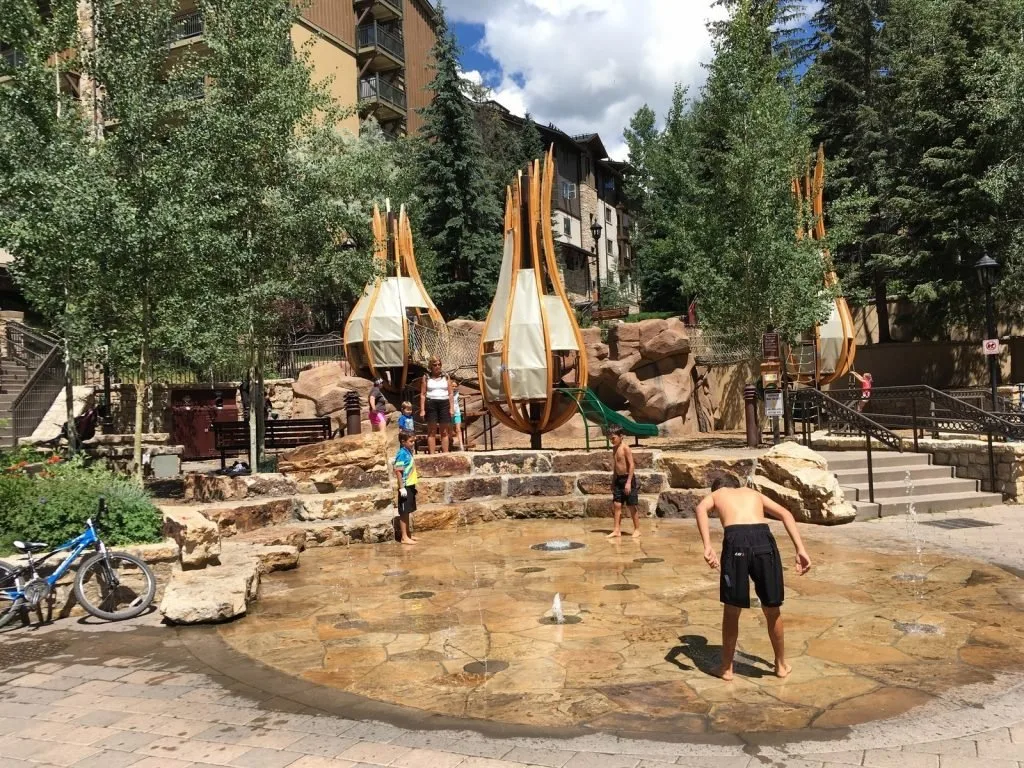 Vail is home some architecturally gorgeous parks, including Sunbird Park. This playground is basically art that kids can climb on. Travel and Leisure has dubbed this spot one of the world's coolest playgrounds.
Kids will love climbing and exploring while parents will be inspired by the park's unique beauty. There is a fun splash area next to the playground that is open during the summer.
9. Embrace Imagination at Pirate Ship Playground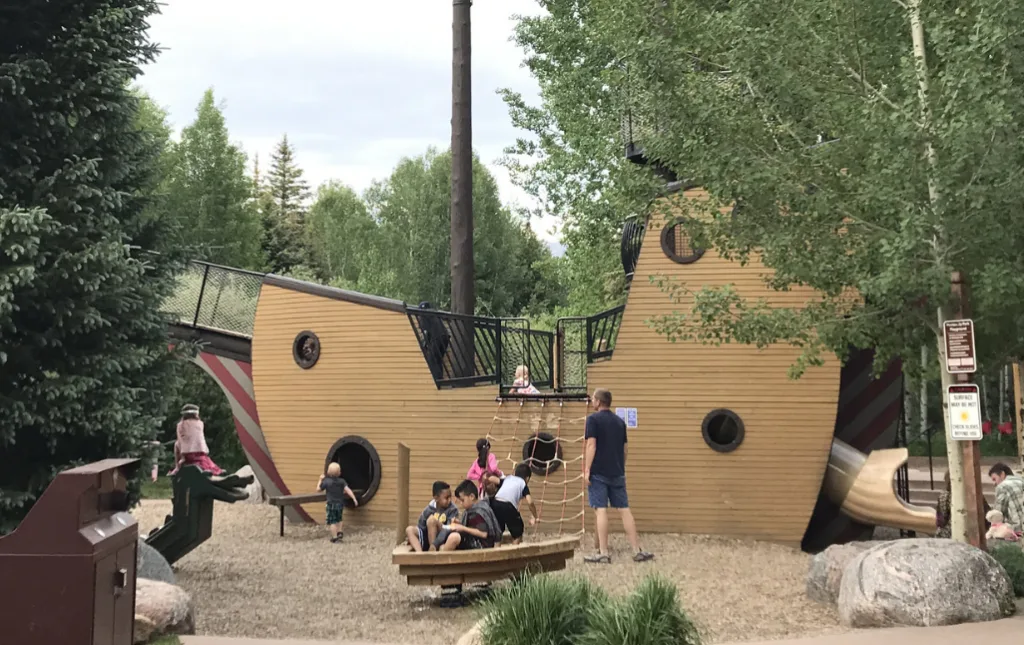 What kid wouldn't love a pirate ship-themed playground? This park is sure to kick your kids' imaginations into high gear.
This special spot is in the heart of Vail Village, not far from the gondola. There are swings, slides, and plenty of opportunities to spur pirate-themed daydreams. A nearby creek adds to the fun in the summer months.
10. Strolls the Vail Farmers Market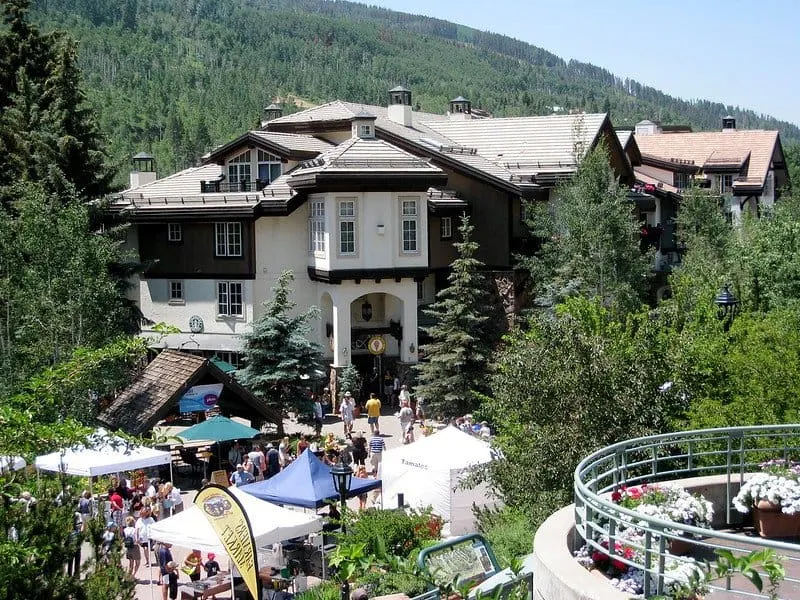 Vail's Farmers Market is always bustling. Ideally situated in the heart of Vail Village, it is a great place to buy lunch, do a little shopping, and take in the whole Vail vibe.
Since Vail is a dog-friendly town, there are several stands dedicated to products and treats for your favorite four-legged friend.
The Vail Farmers Market takes place every Sunday, June through October near Solaris.
11. Go Mountain Biking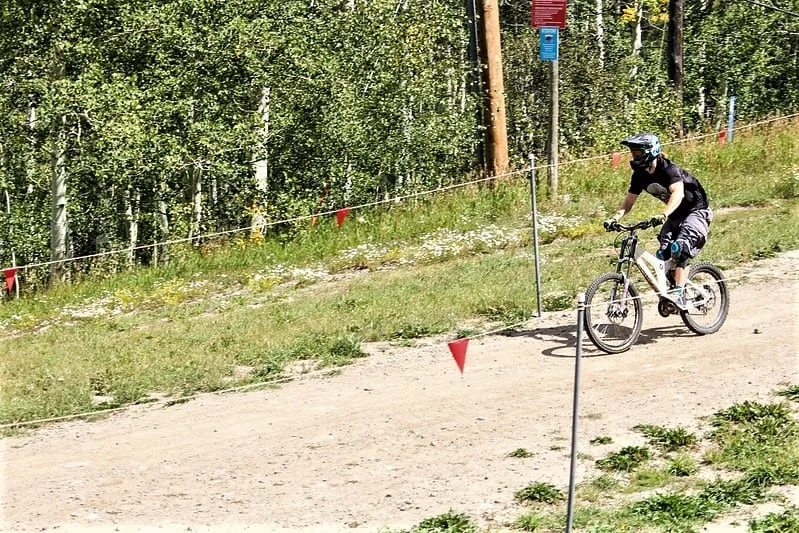 During the summer months, many of Vail's famed ski runs become mountain bike trails. There are 343 miles of mountain bike trails, from expert runs to spots ideal for beginners.
Mountain bikes can be rented in town. Vail Mountain Bike Camps even offers three-day mountain biking camps for kids ages 7-13.
13. Go River Rafting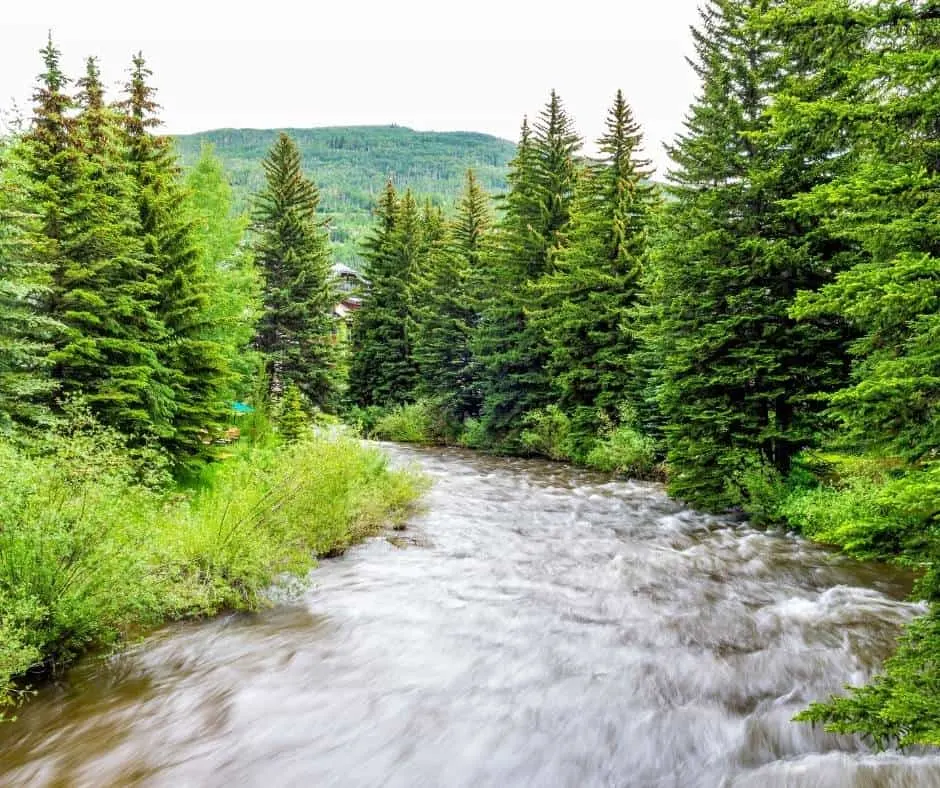 Gore Creek cuts through the heart of Vail Village and during May and June, you can river raft on the creek swollen with snowmelt.
The rapids are only Class III, making it a great option for families with children eight and older.
The best river for families to raft all summer long is the Upper Colorado River. Yes- that river that carved the Grand Canyon! But this length of the river is far more tame and surrounded by mountain scenery.
This is a great spot to raft with kids of all ages, as well as Grandma and Grandpa, because the rapids are just a bouncy Class II. This means they aren't challenging but still add an element of fun.
14. Go For a Hike!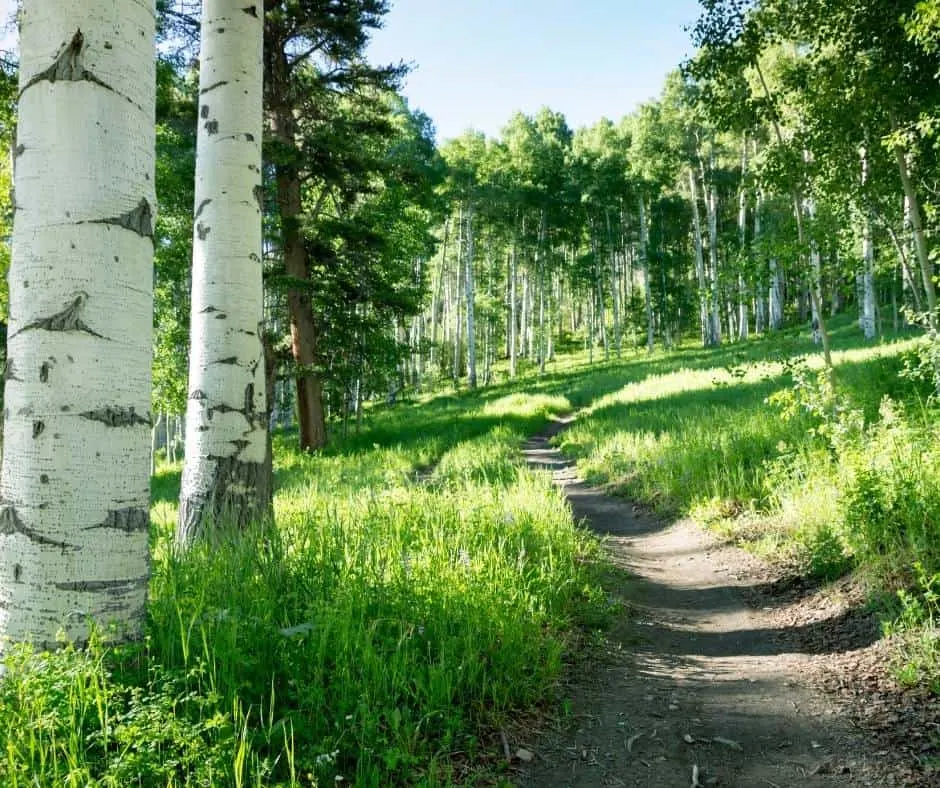 Vail is surrounded by gorgeous mountain wilderness, so strap on those hiking boots and set on one of the area's many hiking trails.
Booth Falls is one of the most popular routes around. This 4.2-mile hike has great views of surrounding river, valleys, and forests. It does gain over 1300 feet, so this trail is best for older kids or children who are experienced hikers.
Parking is limited at the trailhead but you can take the free Town of Vail bus from Vail Village to access the trail.
Another great challenging hike is the one to Lionshead Rock via the Cougar Ridge Trail. It is a decent climb up 1500 feet over two miles but the views are amazing. Obviously the two miles back are all downhill.
The Gore Creek Path is a good option for families with small children in strollers. It is a paved path that follows the creek through Vail and Lionshead. It is also a nice spot to bike.
The Lost Lake Trail is a good option if you are looking for a trail that has a slight incline and lovely lake views. It is seven miles long but you can make the hike as long or short as you would like on this out-and-back trail.
There are also several nice trail options on Vail Mountain that can be accessed via the gondola.
Hike some more! here are 5 family-friendly hikes in nearby Breckenridge.
15. Try Fly Fishing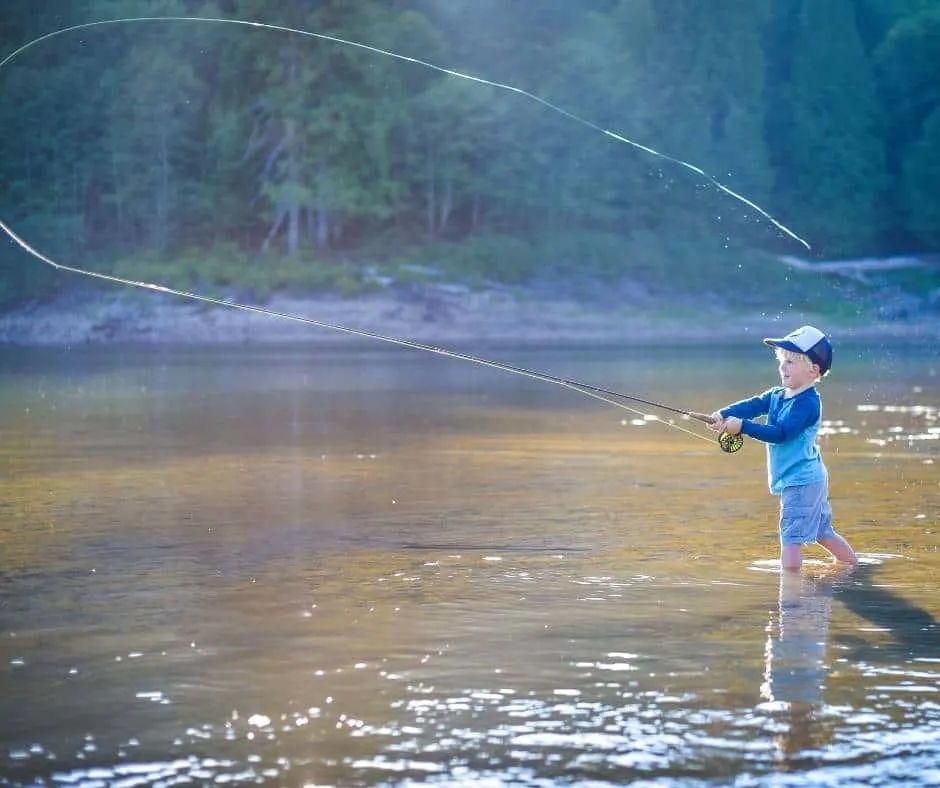 Have children who love to fish? Ready to have A River Runs Through It moment with your kids? Try fly fishing!
Fly Fishing Outfitters offers half and full day fly fishing trips. You can choose from either a walk and wade trip or one where you float on a raft.
Trips include a guide/instructor, local transportation, and all equipment. Beverages and lunch can also be provided. There are even fly fishing camps available for kids!
16. Grab a Treat at Fuzziwig's Candy Factory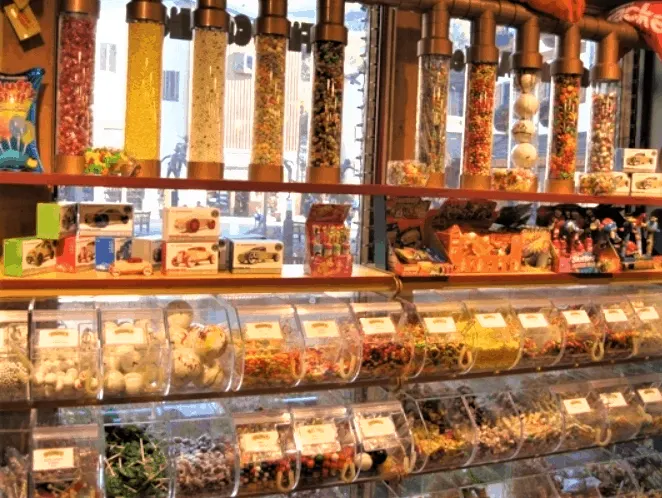 My kids love to visit candy shops while on vacation. Fuzziwigs is a fun spot filled with a wide variety of sweet treats.
Just a walk through the brightly colored aisles will delight any child. This candy store has hundreds of candies displayed beautifully, including retro items from my childhood and rare treats that I have never seen elsewhere.
17. Enjoy Something Cool & Sweet at Rimini Gelato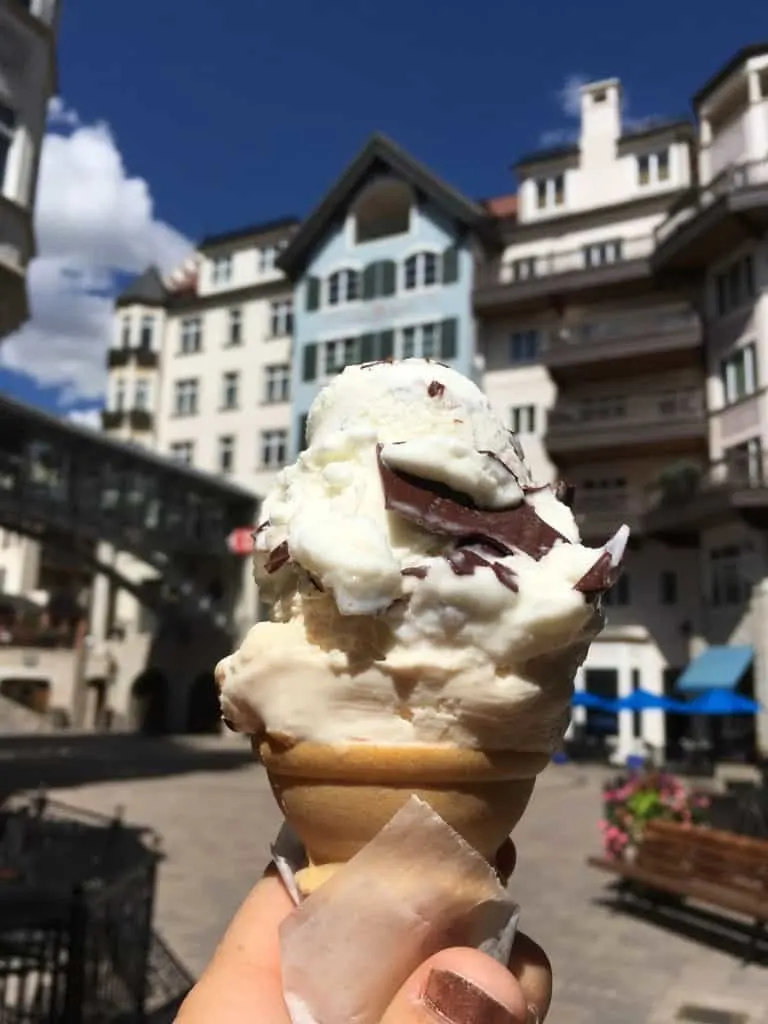 What's better after a long hike or an epic mountain bike ride than a heaping cone filled with creamy gelato? Delicious gelato is served in a cup or cone in this little shop near the ice skating rink at the Arrabelle in Lionshead Village.
Family Friendly Lodging in Vail
The Sebastian Vail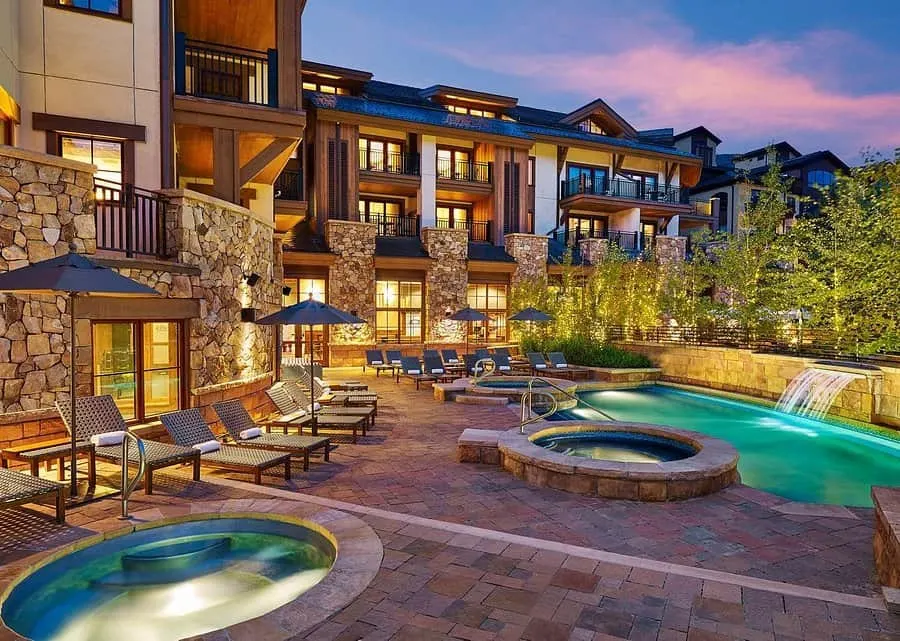 This 5-star, boutique hotel is located in the heart of Vail Village. The lobby is filled with cozy seating, a grand fireplace, and exquisite art from the owner's private collection.
The vibe is mountain chic yet comfortable. Rooms come in a variety of sizes, from a simple king size from to a four-bedroom suite. Some even feature full kitchens and washer/dryers.
Staff is friendly and accommodating, eager to go the extra mile and make sure you feel like a VIP for the length of your stay.
It is extremely family-friendly with complimentary children's programming, a game room, toddler room, build-your-own-snowman kits, kitchens, and rooms that allow for large families to stay together.
Book your stay at The Sebastian-Vail via Booking.com.
Lodge at Vail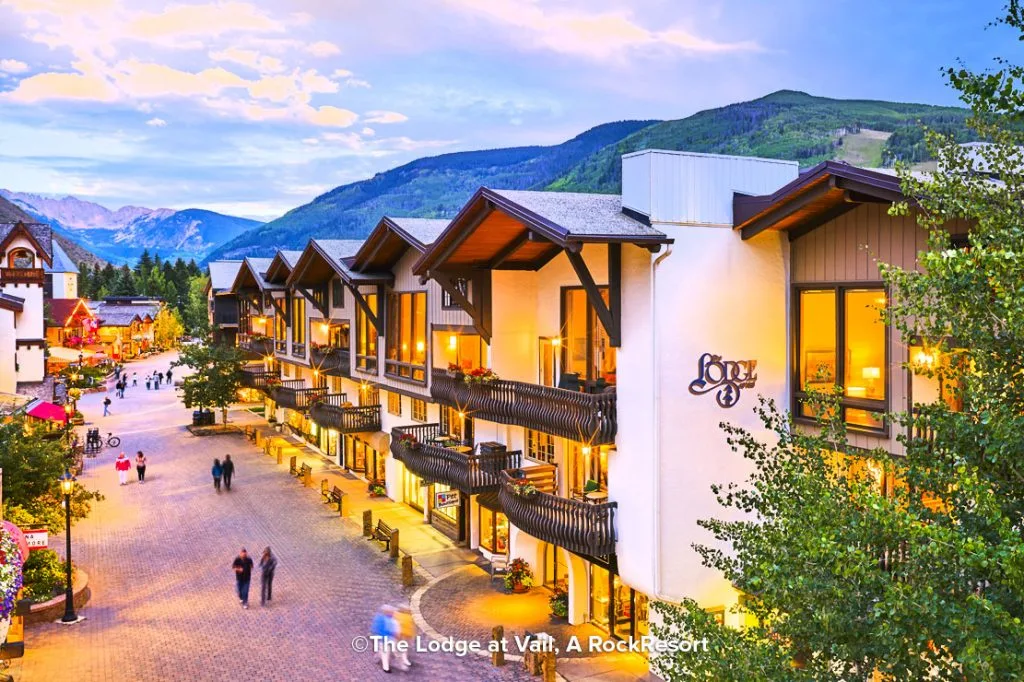 This is the original Vail resort hotel, located right next to Gondola 1, the main access point to Vail Mountain. Mort the Moose greets children at this chalet-style property which hosts a variety of room options and ski-in, ski-out privileges.
Choose from a wide variety of rooms from a nice queen bedroom for two, up to 1-2 bedroom rooms, or 1-6 bedroom luxury chalets with ski-in, ski-out benefits.
The outdoor pool is heated year round with a pool bar open in the summer.. Board games are always available to check out, and a game room in winter and on holiday weekends is open for ping pong, arcade games, and more.
This property also has an onsite spa as well as three restaurants. You can book your stay at Lodge at Vail here.
Grand Hyatt Vail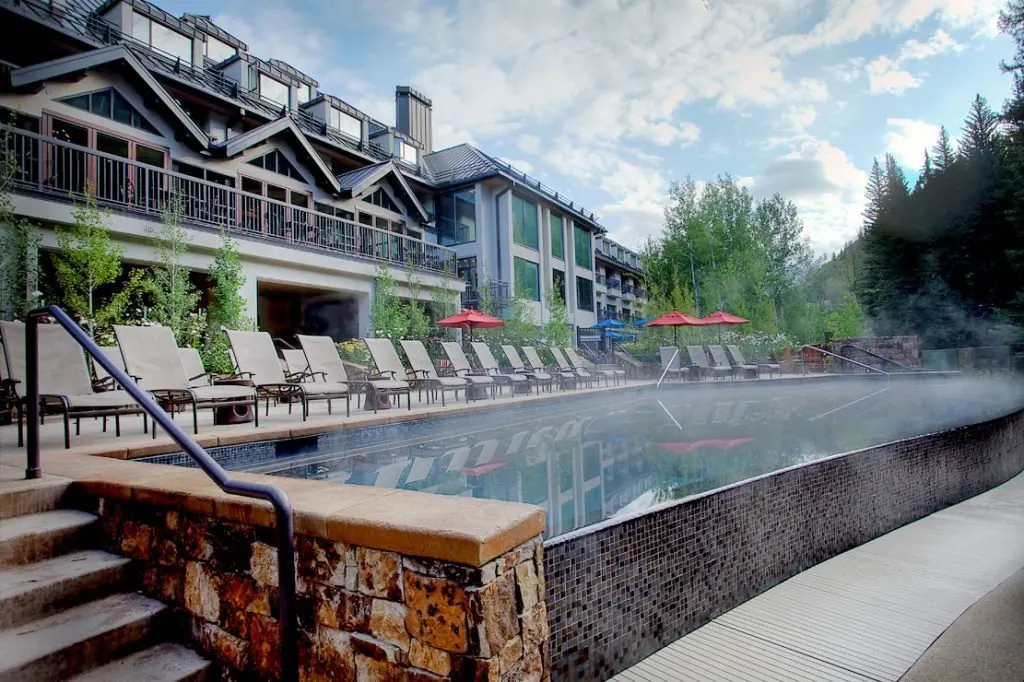 Named one of the world's best family-friendly hotels by Travel and Leisure, this property hosts an in-house summer camp which features tennis lessons, arts and crafts, supervised hikes and swimming, dive-in movies at the pool and free daily snow cones at the pool.
Book your stay at Grand Hyatt Vail. As a Booking.com partner, Trekaroo guarantees the lowest rates.
It is within steps of the Cascade Village Lift, which provides access to the largest ski resort in the United States. The resort offers an infinity pool located creek side on a beautiful patio, complete with fire pits and rocking chairs.
There is also a full spa and fitness center, as well as onsite-childcare.
9 Places to Dine in Vail
1. Blue Moose Pizza Vail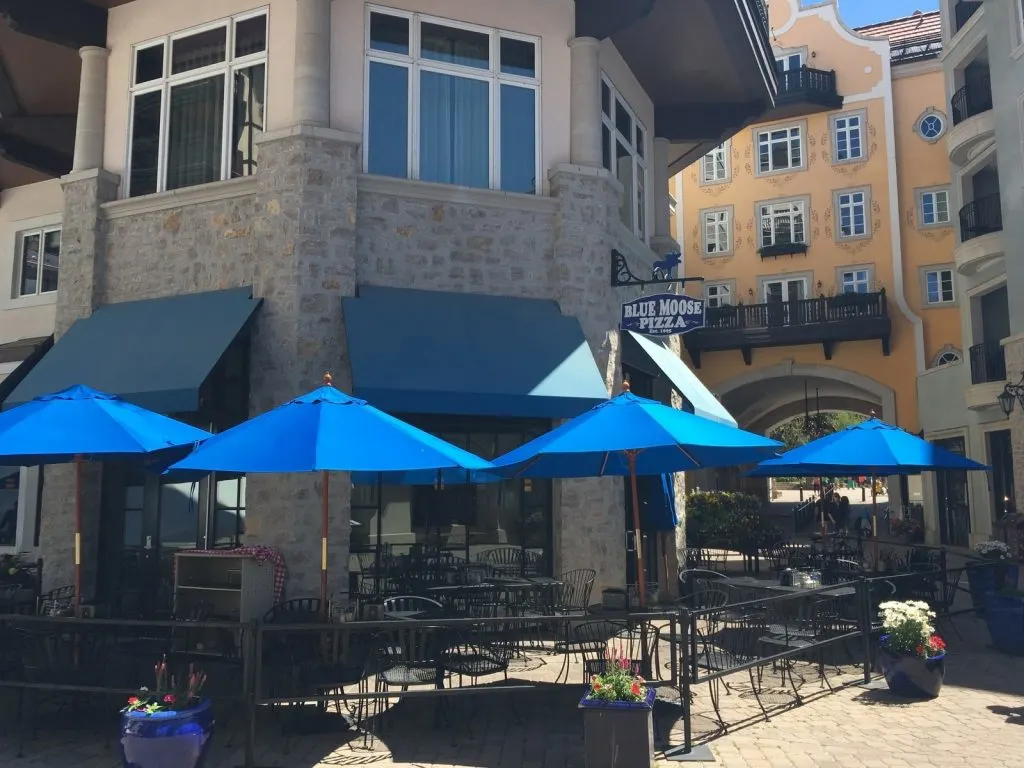 Got a craving for pizza? Head to this spot in Lionshead Village which has everything from basic cheese to gourmet options. They also offer sub sandwiches, Italian entrees, and a kid's menu sure to please the pickiest of eaters.
Its outdoor seating area has nice views of the Eagle Bahn Gondola and the delightful architecture of Vail Square.
2. Tavern on the Square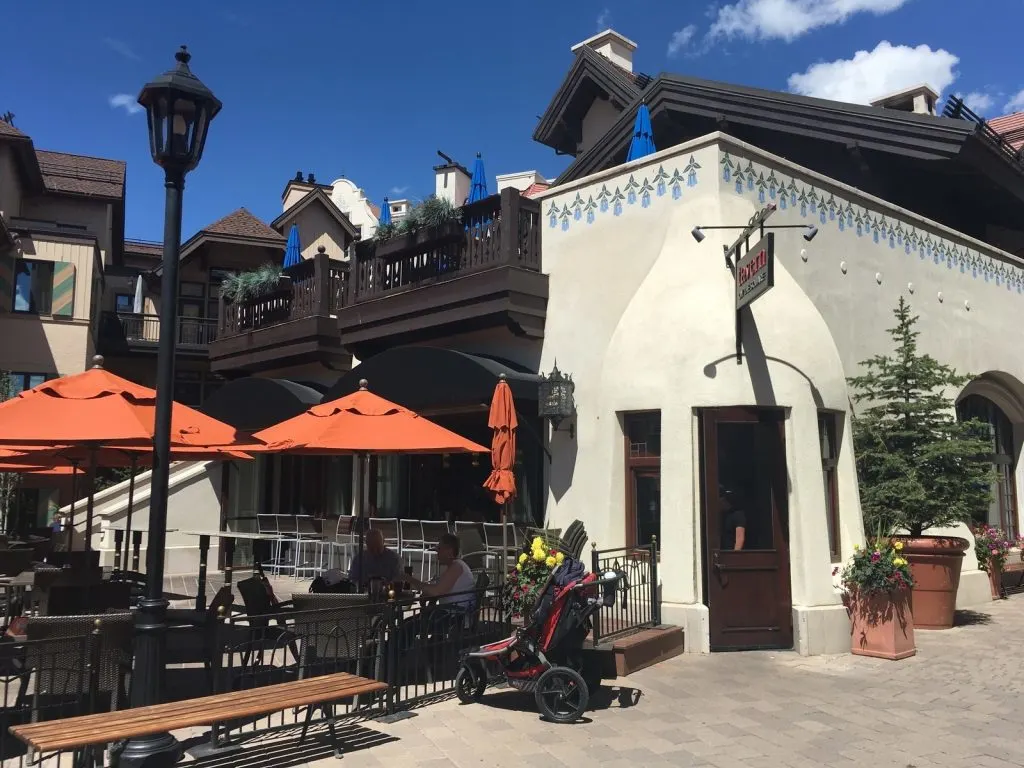 Tavern on the Square is a fun spot. They have a great breakfast buffet with outdoor seating available within view of the gondola. Options include huge omelets made fresh to order, Danishes, pastries, granola and more.
3. Sweet Basil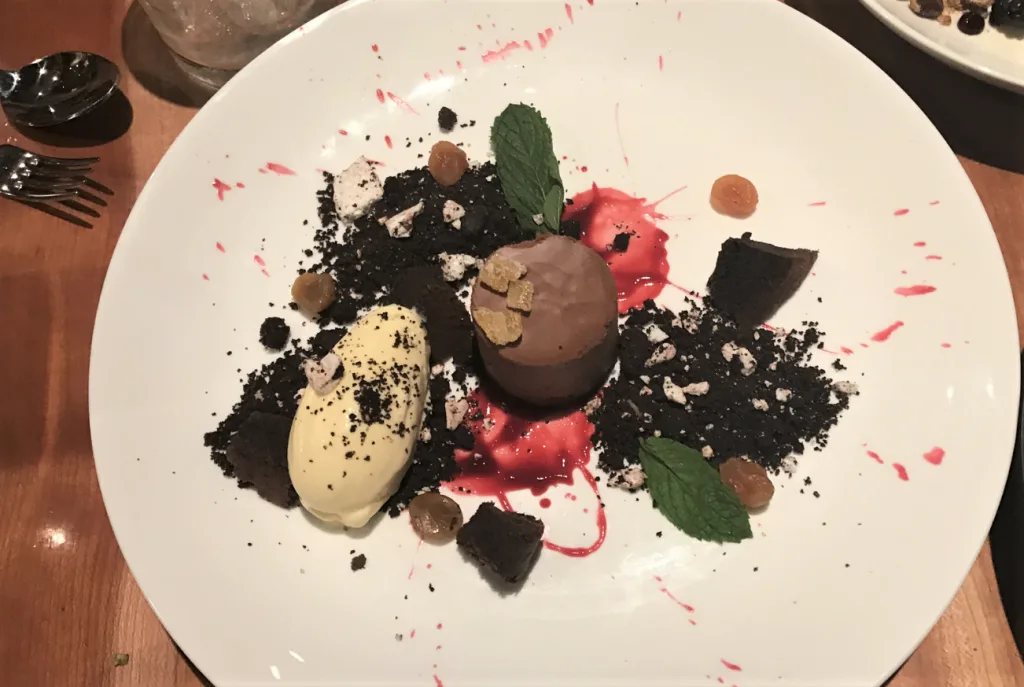 Many restaurants come and go, but Sweet Basil has been a Vail mainstay for 40 years. The atmosphere is great for a date night but still welcoming to families.
Highlights include the Gold Canyon bavette steak, Colorado lamb shank, and roasted barramundi. Entrees are typically around $25. Dessert options are decadent. I highly recommend the Valrhona Chocolate Variations and the classic sticky toffee pudding.
4. Pendulum Restaurant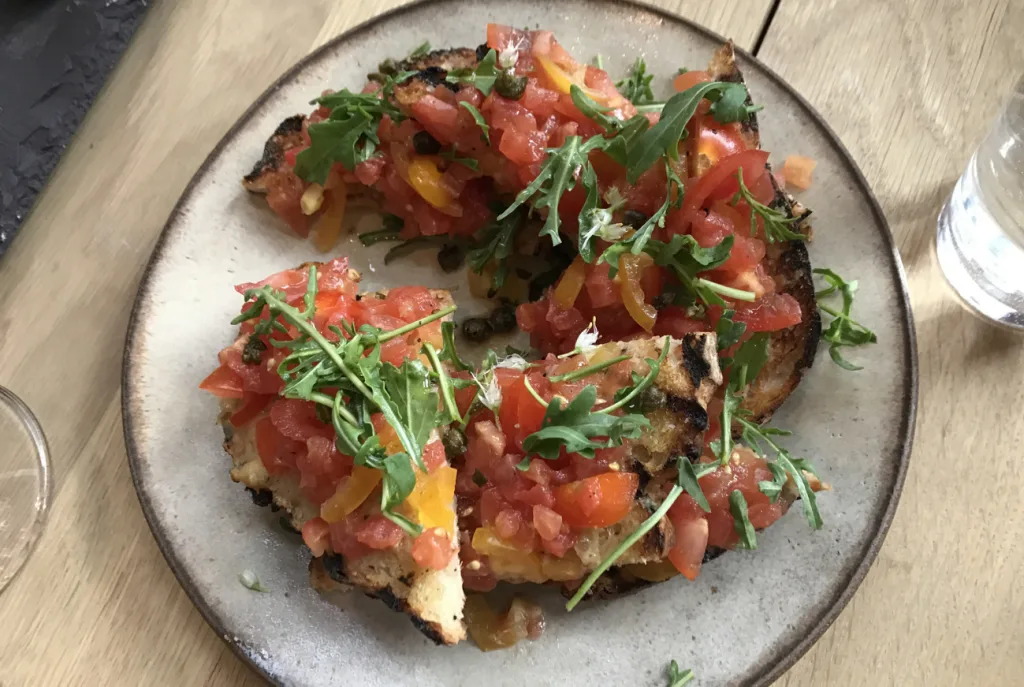 This restaurant focuses on upscale New American cuisine with Latin influences. The price point is higher (expect to pay around $40 for an adult entree), but the food is fantastic and worthy of a special night out.
This is Vail and it is very common to see children in upscale restaurants, so Pendulum has a childrens menu. Options include chicken fingers, hamburgers, pizza, fettuccine, and chicken breast.
Adult menu options change often but I have tried the heirloom tomato toast, wagyu empanadas, poached lobster tagliatelle, and corn creme brulee. All were excellent.
5. Vintage
Vintage is known for their extensive brunch cocktail menu. Choose from a variety of bloody Mary's and coffee cocktails to several champagne cocktails and floats.
The brunch menu features Benedicts (I loved the BLT Benedict), pancakes, French toast, galettes, and several salads and sandwiches.
Don't miss their signature avocado toast appetizer which includes bacon, heirloom tomatoes, a balsamic reduction, and a honey-mustard cream cheese.
The atmosphere in this restaurant eclectic is casual so kids won't feel out of place.
6. Elway's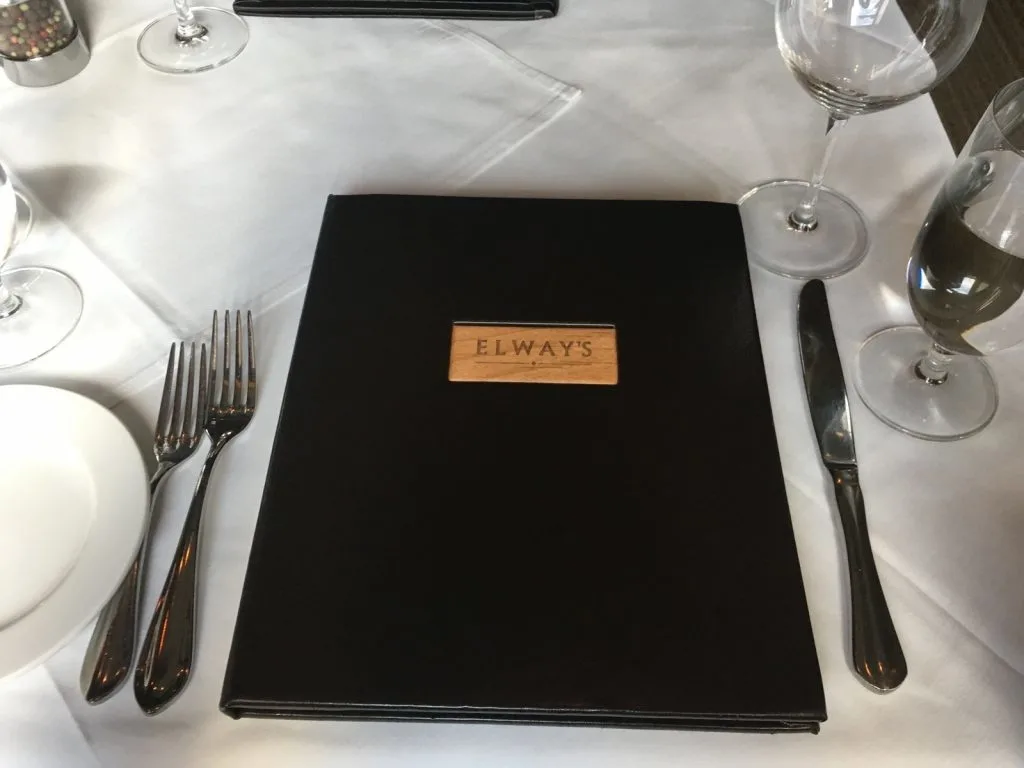 If you have a craving for steaks and cocktails, Elway's is your spot. It is a classic upscale steakhouse with a variety of steaks and sides. There is outside seating available.
Families are welcome but parents might want to use this restaurant as a date night option, especially if they are staying at the attached Lodge at Vail.
7. Matsuhisa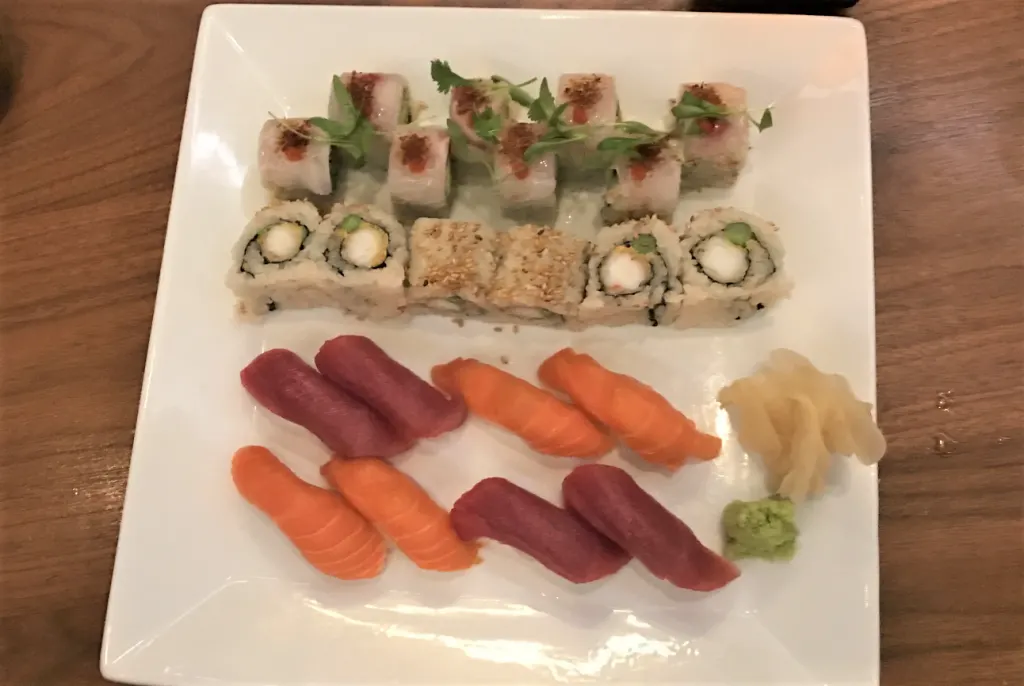 Matsuhisa is owned by Chef Nobu Matsuhisa, so it is no surprise that everything inside this Japanese restaurant is over-the-top tasty.
The restaurant is located on the second story of the Solaris complex in the heart of Vail Village. The setting has a definite mountain vibe but the food is 100% Japanese heaven.
Definitely splurge on some expensive sake, even if you don't think you are a sake fan. Matsuhisa will change your mind. Many are served in hollowed out piece of frozen bamboo.
Start with the shishito peppers and the spinach salad with shrimp, dry miso, and parmesan. It is seriously the best salad I have ever had.
Indulge in various sushis and sashimis (they are all excellent), snack on some tempura, and keep finding extra stomachs in your body to keep enjoying all the goodness.
If you still have room, order the Nobu style shave ice for dessert.
8. 10th Mountain Whiskey & Spirits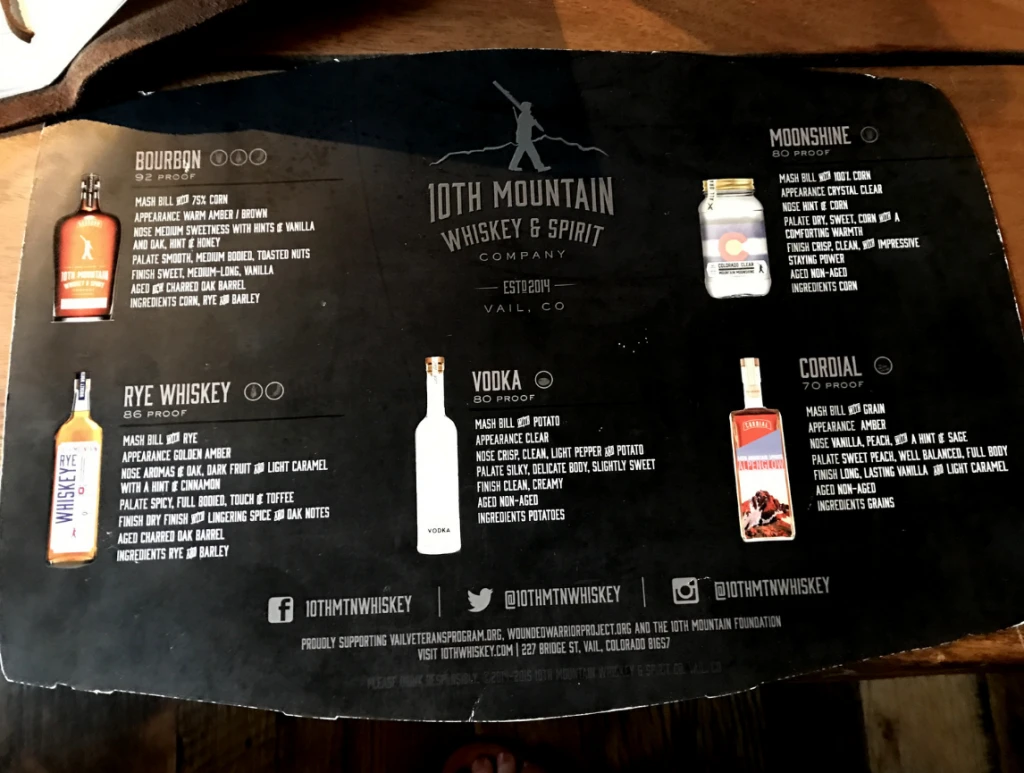 I know what you are thinking- how can a distillery tasting room possibly be family friendly? Well, this distillery welcomes families to BYOB-perhaps a sparkling apple juice or a milk shake from a spot in town- for the kiddos (and maybe a iPad to entertain them) while you taste to your heart's content.
Sure, a trip to a distillery would probably be more fun if you didn't have the littles with you, but Vail is a great family vacation destination and this is a nice work around.
There is a nice grassy area near the creek below 10th Mountain which would be a great place for older kids to play while you watched from above. Teens and tweens may just opt to walk around the village while mom and dad get sample bourbon, whiskey, vodka, and moonshine.
9. Vail Brewing Company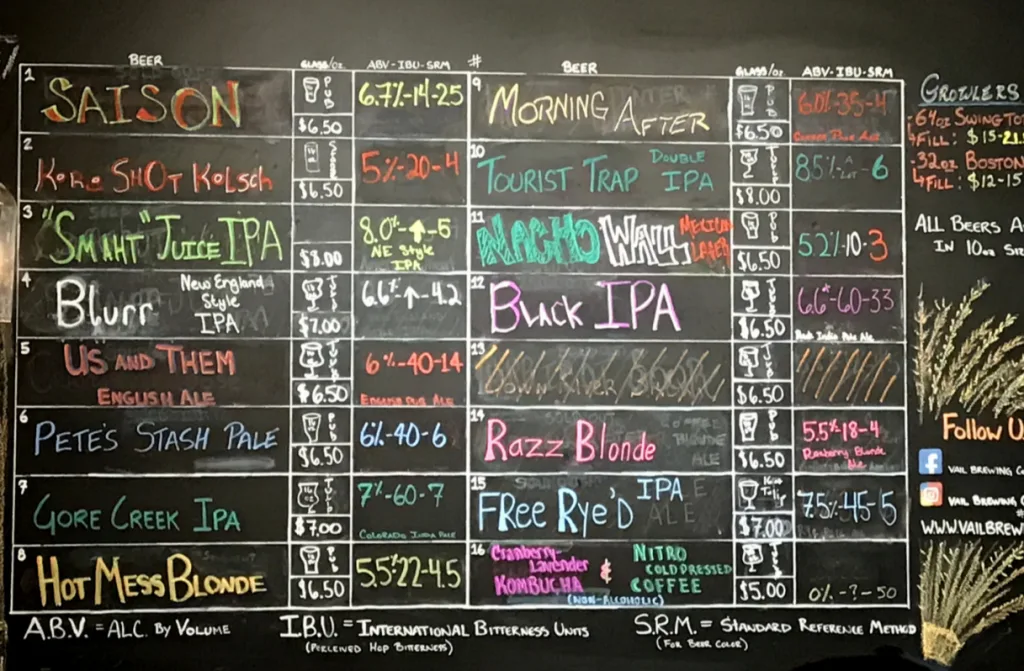 I am always a big fan of a local brewery that offers quality beer in a setting that allows me to bring along my kids, especially when we are on a family trip. Vail Brewing Company fits the bill.
First of all, Vail Brewing Co has nailed it in the location department. The tasting room sits on the second story of the Solaris, the center of all the action Vail Village. Indoor and outdoor seating is available.
The outdoor seating is great because it allows you to enjoy a beer while the kids run around on the turf area below. There is often something fun going on in the Solaris Plaza (such as Farmers Markets and Festivals) so it is easy to grab something to eat from a food truck or stand.
I suggest grabbing a flight and trying a bunch of different brews such as the Hot Mess Blonde and the Free Ride IPA.
Disclosure: The author was hosted by Vail for the purposes of covering Vail's family friendly offerings for Trekaroo. The hospitality was nice but all opinions are her own.