Highlights from our Andean adventure with Disney!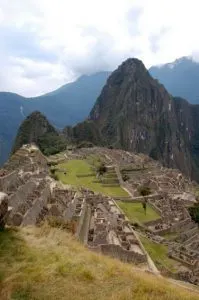 Last week I gushed about how much I loved exploring Peru with Adventures by Disney. I also shared our experience at the Center for Traditional Textiles, a place high in the Andes where gorgeous handmade textiles are still woven exactly the same way that they were woven 500 years ago. That was just one of the special experiences we had on our vacation but the reality is, our trip was truly one special moment after another. Here are some of my favorite highlights from our Peruvian Andes tour with Adventures by Disney.
Rafting the Urubamba River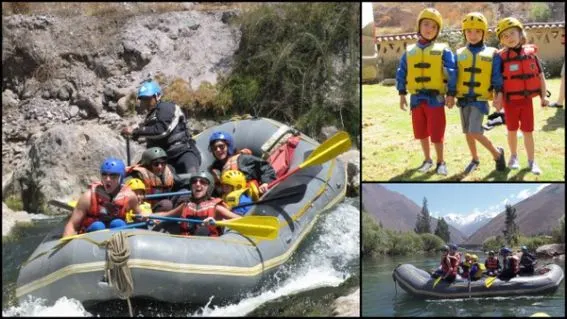 When I asked my kids to share their favorite part of our trip to Peru, they answered "Everything!". I appreciated their overall enthusiasm and enjoyment of the trip, but Mommy is a hard hitting travel journalist and she is looking for some more concrete information! After pressing them some more (and perhaps shouting "pick something already!"), they both agreed that their favorite activity was rafting the Urubamba River. Rafting the class II and III rapids of the Amazonian headwaters with Andean peaks rising up sharply all around us was pretty spectacular. My husband and I took turns pinching ourselves and exclaiming "this is amazing" as we passed by locals tending to Incan crop terraces reaching high up the mountainsides, mud bricks drying in the morning son, and chiseled boulders that never quite made it up the trail to the nearby Ollantaytambo ruins. The kids were less interested in the scenery and more interested in riding the rapids and having water fights with the other rafts.
Kids Movie Night at Sol y Luna Resort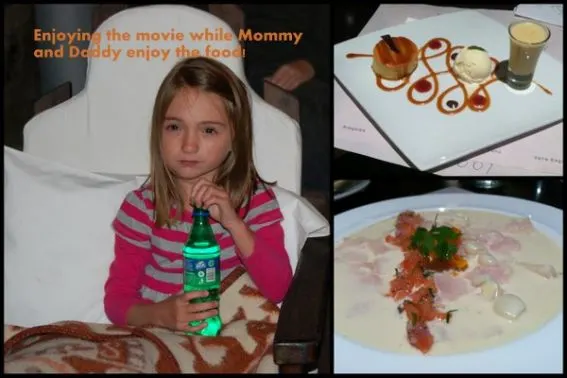 Parents were able to enjoy a peaceful three-course dinner in the resort's restaurant (a meal that doesn't involve telling a child to use their fork instead of their hands is a rarity in my house) while the kids relaxed outdoors in cushy lounge chairs with comfy blankets and watched Emperor's New Groove. The wait staff served them spaghetti and their beloved neon yellow Inka Cola for dinner while our Adventures by Disney guide watched over the kids. Suffice to say, everyone was quite pleased with the arrangement.
Ollyantaytambo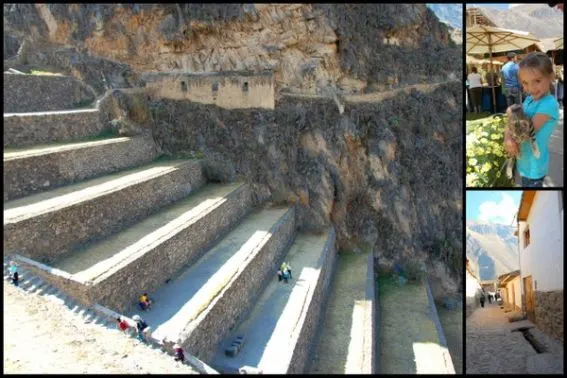 There are literally hundreds of Incan ruins all over the Andes, including those at the Sacred Valley village of Ollyantaytambo. This small town was built by the Incas in the 1500s and features some of the oldest continuously occupied homes in all of South America. Visitors are immersed in history as they stroll the narrow stone-paved streets and look down to discover the original Incan aqueduct which cuts through the town is still in use. We climbed up a tiny street and entered a courtyard where Chef Nacho from the Sol y Luna Resort met us with an incredible lunch spread. The kids were captivated with a sleepy kitten who had decided to hang out during lunch but I was in awe with both the food and our idyllic location. After lunch we climbed the steep ruins and wondered how the Incan people, whose average height was only 5'2", made it up and down the tall staircases every day. Our day in Ollyantaytambo concluded with time to enjoy the open air market and use the 3 sols (Peru's equivalent to the dollar) that Disney had given each of us to pick out the perfect gift for our group's white elephant exchange.
Cooking Demonstration by Chef Nacho

Chef Nacho Selis Martinez is a stud. He cooked us meal after heavenly meal of Peruvian regional cuisine during our time in the Sacred Valley, and it all culminated with a cooking demonstration that gave us insight in how to prepare Peruvian food at home. While we feasted on the fruits of his labor, he provided entertainment by partnering in a dance demonstration. Yep, I am fairly certain he does well with the ladies.
We received recipes for a variety of the dishes he prepared including ceviche, quinoa soup, and some of those incredible table sauces that seemed to go well with everything. We even learned how to make a Chifa dish. Chifa is basically Chinese food with Peruvian influences and is incredibly popular in Peru. I am pretty certain that I won't be able to find alpaca beef in the States so I will probably have to settle for good old American beef when I attempt to recreate the stir fry. Since no good feast is complete without a celebratory drink, we all happily consumed Pisco Sours, the official mixed drink of Peru.
While the adults enjoyed the cooking demonstration, the kids were over at a table learning how to make their own pizzas. Each kid was given their own ball of pizza dough, taught how to roll out the crust, and then given free reign at the topping bar to make their own masterpiece. They all beamed with pride when their wood-fired creations came out of the oven.
Shopping
Normally my vacations don't include very much shopping, but when malls are replaced by open air markets filled all sorts of treasures that I can't find back home, I become giddy. My children loved browsing the stalls and picking out trinkets to keep as souvenirs or bring back home to their friends. I loved that I could get my daughter a cute Peruvian doll for about $3.00 or my son a crazy knit mask (which he just adores) for about the same price. I loved picking out a Torito de Pucará (pair of bulls with a cross symbolizing prosperity) to match those that I saw on the rooftops of homes across the rural Andes. I felt honored purchasing a handmade textile from the very woman who spent so much time weaving it. The alpaca scarf I chose for my own has so much more sentimental value because I bought it at an alpaca farm where I was able to feed and pet the alpacas myself. My shopping spree didn't end until I was able to pick up a couple bottles of pisco at the airport's duty-free shop and make my own Peruvian cocktails at home. Those Pisco Sours just don't seem to taste as good in my kitchen as they did on the patio of the Sol y Luna Resort…
Machu Picchu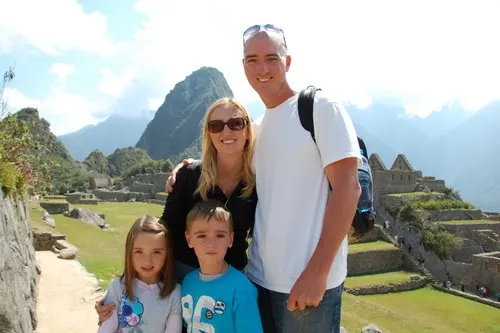 Nobody tells you about the crazy bus ride everyone has to take to get to Machu Picchu. It is a winding, steep, and narrow dirt road and the bus drivers seem completely at ease whipping around single lane blind curves. It definitely got my adrenaline pumping. All that adrenaline was replaced by complete and total awe when whipped our way around the last turn and suddenly Machu Picchu came into view. I was so choked up at the site of it that I couldn't even speak. There are no words that can accurately describe the wonders of Machu Picchu or its unimaginable beauty. There are no photographs that can capture what it feels like to stand atop one of its terraces and gaze out at the former Inca city and the lush green surrounding mountains.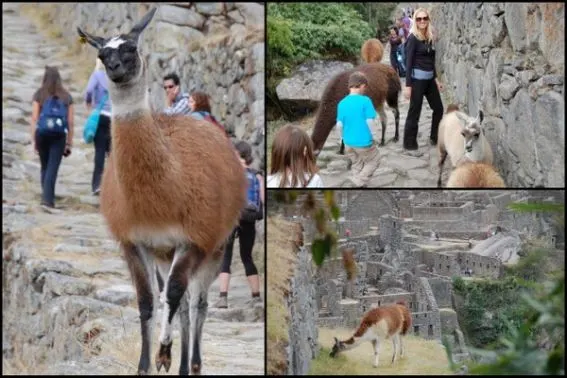 Our Disney guide made this special experience even more special by presenting us all with our own necklace made out of the same emerald green serpentine that is found in the stones of the Inca Trail. Part of our group decided to hike a one mile portion of the Inca Trail to the Sun Gate, the place where those hiking the Inca Trail centuries ago first got their own mystifying glimpse of Machu Picchu. Along the way, we were lucky enough to encounter a herd of llamas walking the trail in search of grass to graze. We could all barely contain our excitement! The 1000 foot climb to Sun Gate is definitely not for those with a paralyzing fear of heights. My own phobias were challenged as I kept a death grip on my son's hand and we made the climb together, but pushing through the fear and reaching the Sun Gate with my entire family was a true highlight.
The train ride back from Machu Picchu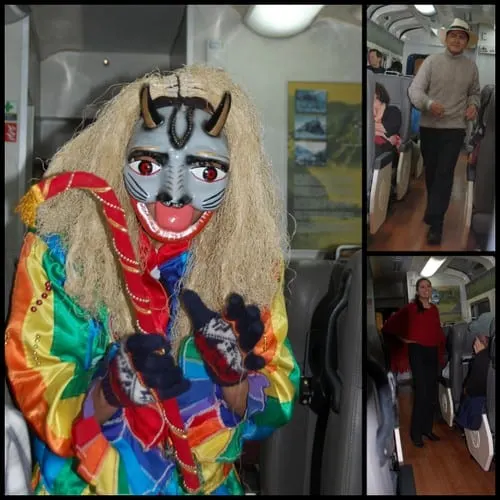 My husband will freely admit that one of his favorite moments from our trip was the fashion show onboard the train after our day at Machu Picchu. We were all trying to wind down from our adventurous day when Ernesto, our guide, informed us that there was going to be a fashion show after the meal service (they provide you will small meals on board the 90 minute train ride as well as the one hour flight from Lima to Cusco. Imagine that!). First a man dressed up like some sort of crazy masked clown danced up and down the aisles to the sounds of cheerful Peruvian music, pumping up his audience for the big show. Then, the same man and woman who served us our meals proceeded to strut their stuff, showing off beautiful high-end alpaca garments as we cheered them on. There was just something about the atmosphere in the train mixed with the kookiness of the clown and the exhilaration from the day that made it the best train ride ever!
Ready for your own Peruvian adventure? Check out the Adventures by Disney website.
More in this series
Adventures by Disney Peru- the "I can't believe we are going to Peru post".
Adventures by Disney Peru Part 1
Disclosure: My family visited Peru with Adventures by Disney as part of a media tour. Our tour and a portion of the airfare was provided by Disney but all opinions are provided by yours truly.
---
Travel with kids to: CA |CO | DC| FL | HI | IL |MA | NC | NJ | NY | OR| PA| TN | TX | UT | VA | WA