What do I need to know about the food?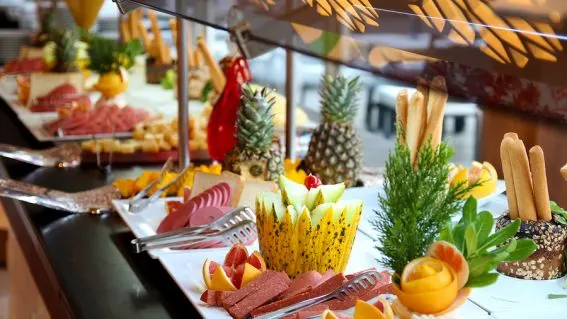 Photo by: Bigstock/RGTimeline
All-inclusive resorts are notorious for being diet-busters. Massive buffets loaded with calories tempt the palate (and let's not even mention how many calories are in your pina colada!). But will your kids like the food? What if you have food allergies or a picky eater? Here are a few tips on dining at all-inclusives.
At resorts with a la carte restaurants (typically available for dinner), reservations are almost always recommended. Check the resort policy at check in to see whether you are required schedule these dinners in advance. There can also sometimes be a limit on how many a la carte restaurants you dine at per week.
On the flip side, buffet restaurants are open to guests without reservations, although dining hours and offerings vary. Many travelers find that detailed information on restaurant hours of operation can be hard to find, even in the hotel room. Ask at check-in if there is a detailed guide to dining available.
Some all-inclusives have received a bad reputation for offering less than fantastic dishes and meals, but to counter this, many properties have begun to revamp their culinary programs to include expertise from top chefs, quality ingredients, and unique offerings.
Expect a variety of cuisine offerings, not just local fare. In addition to a la carte restaurants with themed cuisine options, even buffets are filled with favorite options that will be familiar to travelers from around the world.
Family-friendly all-inclusives will typically provide options for your kids at every meal. And while you should definitely encourage your kids to get outside of their comfort zone to try new delicacies, the traditional North-American standbys are readily available, including French fries, burgers, chicken fingers, and pasta.
Snacks are available at certain 24/7 restaurants on most properties, but if you have a picky little one who loves a specific brand of cracker every afternoon post-nap, you are going to want to pack those just in case!
Food allergies? I thought I would never go to an all-inclusive because of our family's struggle with food allergies (daughter has severe dairy and tree nut allergies, and I have celiac disease). Many resorts have begun to accommodate this difficult health trend. At Palladium resorts, I was given a dietary card at check-in that I used to communicate with restaurant staff during my stay. Written in multiple languages, and in the hands of very well trained chefs, I safely navigated the world of food allergies with ease. Accommodating, delicious safe food options were available at every restaurant, for every meal.
Character breakfasts (and other meals) are often available at resorts with a themed kids program. Check inclusion of pricing on this; at Palladium, their Breakfast with Raggs is included with the all-inclusive rate, but the character breakfasts at Karisma's Nickelodeon Experience are an additional fee per person.
Note: More than one Trekaroo writer recommends setting some culinary limits with your kids before you arrive. Seven days in a row of sugar-laden meals, desserts, and beverages can make for some incredibly irritable kiddos. Be sure that you model eating a balanced diet, even while limitless options are available.
Check out these great all-inclusive food options at Palladium Resorts Punta Cana:
…
How do you get to and from the airport on your trip? Click NEXT to find out the ins and outs of transportation.