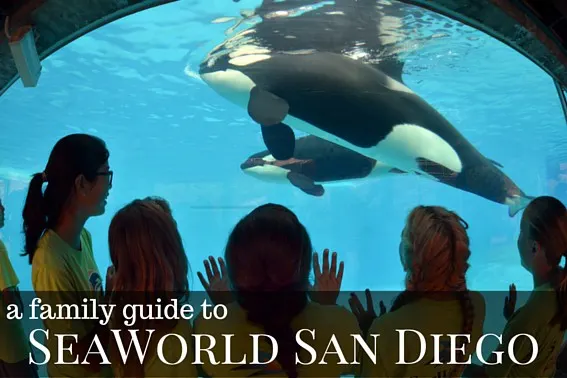 I grew up going to SeaWorld and believe it is the primary reason I am an animal lover and conservationist today. SeaWorld is inspirational to families and holds within its power the ability to amaze kids with the maginificance of nature, a giant feat in this technologically-dependent world. Haven't been to SeaWorld with your family? This handy guide will get you ready to experience the wonders of the deep awaiting your family at SeaWorld San Diego.
Sponsor Spotlight – CityPASS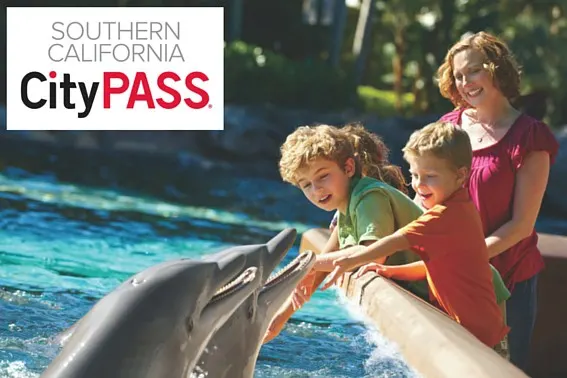 Save $128 on admission to Southern California's most family-friendly theme parks with the Southern California CityPASS card. Cost: adults, $329 (value $457); children 3-9, $294. Visit CityPASS.com. The pass includes:
3-Day Park Hopper® ticket to Disneyland Resort: unlimited back-and-forth access to both Disneyland® Park and Disney California Adventure® Park;
one-day admission to SeaWorld® San Diego;
and one-day admission to LEGOLAND® California

What to See: Live Shows

Photo by: Mike Aguilera/SeaWorld® San Diego

When I was a kid visiting SeaWorld San Diego, it was all about the show. Although the park's philosophy on entertainment-based shows has certainly changed throughout the years, animal shows still exist within the park and serves as a tool to teach about animal conservation, standards of good care, and the unique connections between the animal and human world.

Tip: Stressing about show times and arrivals can be a real annoyance for families. Try to plan your shows with flexibility in mind, knowing that you might linger longer at animal encounters (or wait longer in lines) than you anticipate.

One Ocean- SeaWorld announced last fall that 2016 would be the last year of their entertainment-based Shamu show (currently One Ocean), likely in response to criticism for use of the animals for entertainment purposes. Details have yet to be announced, but the new encounter will immerse park guests in a natural environment where they can be educated and inspired by the park's orca family. One Ocean will continue throughout 2016.

Killer Whales Up Close- This new, highly educational "show" allows guests to watch as SeaWorld trainers explain how they care for and protect these amazing animals.

Dolphin Point Playtime- As SeaWorld works on their new dolphin show (opening May 2016), visitors can enjoy Dolphin Point Playtime, a live presentation and training session that also teaches guests about conservation.

Tip: The grandstands in this theater fully face the sun. Consider an early showing to avoid fatigue and sun burn!

Sea Lions Live- This is always my family's favorite show at SeaWorld. The show spoofs SNL with funny pop culture parodies staring California sea lions, and a few other friends.

Tip: Arrive early to this show, not just for the good seat, but also for the hilarious on-stage entertainment that makes even the little ones forget the wait.

Pet's Rule- This 20 minute show is uber kid-friendly with dozens of amazing rescued dogs, cats, pigs, birds, and other more "domesticated" animals as they play, run, jump, and interact with their on-stage trainers.

Tips: Because the animals are small, try to get an up-close seat, but pay close attention to the sun. Throughout the day, the shade shifts from one side of the theater to the other. Stay after the show to pet some of the furry friends.

What to See: Animal Encounters & Exhibits

Photo by: Mike Aguilera/SeaWorld® San Diego

As much as I love a good show, I think my favorite adventures at SeaWorld have always been based around the animal exhibits. Getting up-close-and-personal to the animals in the park is truly awe-inspiring. A good portion of these exhibits are indoors – hurray climate control and shade! Small exhibits exist throughout the park, but here are a few of the biggies.

Turtle Reef- My kids love it here (I think this is mostly from Finding Nemo's influence). The turtles are so graceful and lovely. I think this is a perfect opportunity to grab a spot on the carpet mid-day when the baby naps. No one will judge you.

Shark Encounter- I have never seen the Jaws sequel that walked visitors through a similar tube-enclosed shark tank, but I still fear it. I honestly get freaked out by this exhibit, but my kids and husband love it so we venture through the underground world of massive, teeth-baring sharks in spite of my anxiety.

Tip: There is an exit just before the underground shark tube. Kids can explore the above ground area, spy some sharks, and bail if they are too afraid to journey through them.

Dolphin Point- Dolphin Point is truly magical. When I was a fourth grade student, I reached out and touched a dolphin here and was forever smitten by the bottlenose dolphin. Kids can learn about the species while the playful animals jump, splash, and play in the pool. The two underwater viewing areas are fantastic as well.

Wild Arctic- I love this beautifully themed exhibit! Families will see beluga whales (which are breathtakingly lovely!), giant walrus, and even polar bears up close. Kids love the walk-through ice cave (complete with bear sounds!), and the Wild Arctic flight simulator motion ride which "flies you" to the Arctic.

Tip: Littles (or those prone to motion-sickness) can ride a non-moving version of the ride, or, to save the time in line altogether, enter through the gift shop and see the attraction in reverse, bypassing the ride itself.

Explorer's Reef- New to the park, Explorer's Reef welcomes you to the park with hands on touch tanks. My kids could stay here for hours.

Just for Fun: Rides & Attractions

Photo by: Mike Aguilera/SeaWorld® San Diego

Even though SeaWorld is full of educational encounters, there is still a lot do for adventure seekers and families looking to have a thrilling time. "Big kid" rides include the fast and exciting Manta roller coaster, Journey to Atlantis (a hybrid coaster and water flume ride), and Shipwreck Rapids- perfect for a hot day. A front-of-the-line pass (additional fee) is available for busy days when families don't want to wait in line.

Tips: Child Swap is available on height-restricted rides, allowing parents with littles to swap turns on the big rides without waiting twice through the lines. Ask an attendant at the attraction for details.

Little ones (okay, and you might not get your tweens to leave either) will fall in love with the Sesame Street Bay of Play. Rides (including Abby's Sea Star Spin that my family can't pass up), character meet and greets, climbing structures, and bounce pits (age and height restricted for safety) will help your kiddos get their energy out while having a great time.

Tips: Pack a bathing suit for super hot days as the kids can get wet in the Bay of Play area. Also, carefully watch young children on the giant climbing structure as there are multiple exits.

Premiere Experiences

Photo by: Mike Aguilera/SeaWorld® San Diego

A variety of VIP, premiere experiences are available within the park to satisfy the need to get closer to the animals during your visit for an additional cost. Two types of experiences are offered for dolphins and beluga whales: an Encounter, where you learn to communicate and interact from dry ground, and the Interaction Program, where you get into the water with these amazing creatures to experience them up close. The Interaction Porgram is available for kids 10 and older. Additional experiences, such as the Penguins Up-Close Tour and other animal encounters, are also offered throughout the year.

Tip: Reservations for these encounters are almost always required and should be made in advance of your visit as spots fill up quickly.

What to Eat

The park boasts a variety of onsite restaurants and grab-and-go carts with full meals, snacks, and plenty of beverage options available. The official SeaWorld policy states that meal-type foods (sandwiches, etc…) may not be brought into the park, and instead must be enjoyed in the picnic area outside the park entrance. Exceptions are made for guests with medical diets and also for families traveling with baby.

Dine with Shamu is a premium experience that allows your family to enjoy a sustainable, organic, and locally sourced meal while sitting up-close to Shamu and his orca pals interacting with trainers.

Seasonal Events in 2016

Every season brings something new and exciting to SeaWorld. Here are some of the seasonal offerings for the remainder of 2016:

SeaWorld Magic Weekends (April 2-May 1): SeaWorld introduces its guests to a different version of magic as internationally headlining magicians mystify guests with their shows. Strolling magicians will also be roaming the park, enchanting guests with close-up magic.

SeaWorld Seven Seas Food Festival (May 7- June 12): If you love to eat and drink, this festival is for you. Local craft beers, gourmet wines, food from around the world, and plenty of good music round out this weekend experience.

Summer Nights at SeaWorld (May 28- September 5): SeaWorld stays open late during select dates all summer long. Special evening shows such as Shamu Celebration: Light up the Night and Sea Lions Tonite will keep families entertained before the fireworks show caps off the night.

SeaWorld's Summer Vibes (June 25- August 14): Three international variety acts show off their talents to guests at the park's Mission Bay Theater.

Fiestas Patrias (September 3-18): This three-weekend festival embraces San Diego's Mexican heritage with traditional music, food, and dance inside the park.

SeaWorld's Halloween Spooktacular (September 24- October 30): Halloween comes to SeaWorld on weekends with not-so-spooky entertainment such as a Halloween-themed sea lion and otter show. Costumes are encouraged for children and trick-or-treating will take place.

SeaWorld's Christmas Celebration (November 18- January 1): Highlights include a nightly lighting of the park's 4o-foot tree, hot cocoa, Clyde & Seamore's Christmas Special, and the Shamu Christmas Miracles show.