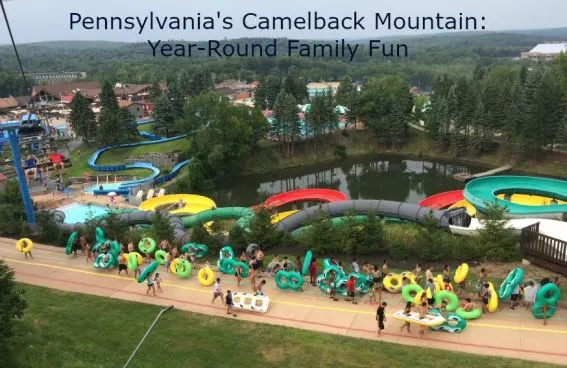 What family doesn't want a vacation where there are enough activities to please the whole brood? It may seem like a dream come true, as many times vacation destinations are selected to please either the parents or the kids and to keep costs as close to budget as possible. What happens when you find a place that caters to the whole clan, keeps you interested, entertained, and fed all in one location plus doesn't break the bank? You make plans to go there. Pennsylvania's Camelback Mountain Resort may be just that place.
Scenic and Convenient Location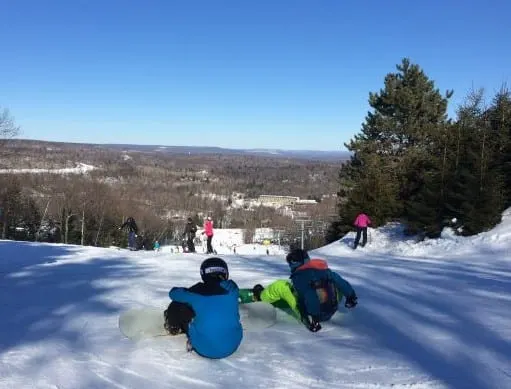 The Pocono Mountains of Pennsylvania have long been a favorite destination for travelers of all kinds. With their miles of wooded beauty and peaceful resort options, this location is great for hikers, bikers, fishing enthusiasts, and boaters. It is also convenient to areas such as New York and Philadelphia, but far enough away to feel like you've escaped the rat race. When you make reservations and stay at Camelback Ski Resort, you're right in the heart of the mountains. Ahhhh, take a long, deep breath and relax.
Upscale Lodging Options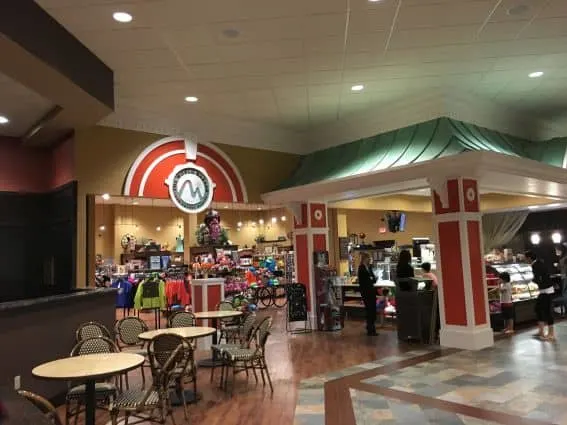 Day trips are great, but if you're hauling your family from a location that's more than a few hours away, you need somewhere to stay in order to keep your sanity. No one wants their trip clouded by the reality that they've now got to drive a long way home with a car full of tired kids once their adventures have finished. Camelback Mountain recently completed work on their on-site hotel (officially called Camelback Lodge) which houses 435 guest suites and rooms with 24 various layouts so that families can simply head up to their rooms and unwind. The resort offers all of the comforts of home with amenities to make you feel like you've treated yourself and your family. Located at the base of the scenic mountains they call home, the lodge is centrally located to participate in all of the activities that are available here. There is no other Pocono resort that combines luxury with year-round family fun.
Got a bigger family than most? There are one and two bedroom suites so that you're not all on top of one another – something that can be a deal breaker at other lodging options. Some of their layouts include lofts, which kids always seem to love. You can also request adjoining rooms should that option be best for your crowd. Most rooms have a sleeper sofa and some have a connected living room. When my family of five stayed here, we found the space adequate for our needs and were quite comfortable.
Delicious and Convenient Dining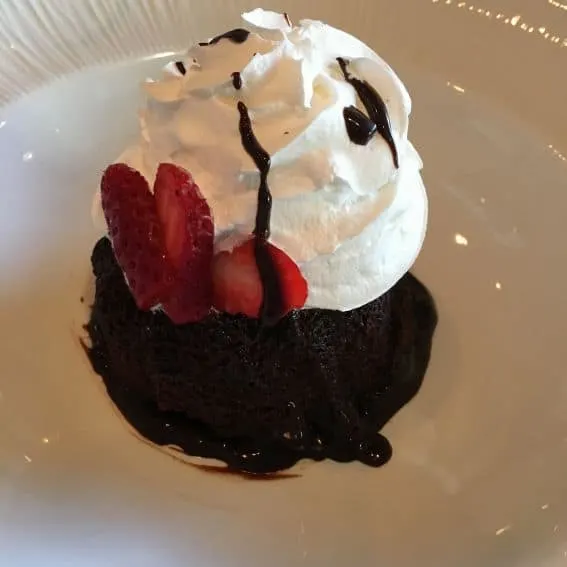 I know my family hates to leave the resort when it comes time to eat. Fortunately, Camelback has though of that as well. There are three restaurants accompanied by several snack bars and lounges to feed your needs. Hemisphere's is the main dining venue, serving a family-friendly breakfast and dinner buffet. There were a ton of choices at the buffet, and even picky eaters will find something they can nibble on. Everything from eggs to waffles, yogurt to pastries, cereals, breads, and fruit can be found at breakfast. The more kid-friendly and traditional options are even placed down at kid level to better accommodate the little ones. What a cool little touch. Kids can actually see into the pans and the more agile ones could potentially scoop their food out themselves.
Skiers will like that there is a ski-in and ski-out pub with both indoor and outdoor seating as well as a fire pit. Head inside and grab a cup of soup, a burger, a chicken sandwich or other option, then walk back outside and sit by the slopes in one of their many chairs (if you notice, the backs are made from old skis. Such a neat touch). You can even sit by the fire and enjoy the best part of skiing in my book – relaxing!
The place is also home to a coffee and dessert shop, and a bar/lounge that serves small plates, sushi, salads, and flatbread.
Entertaining Activities

Perhaps the most important part of vacationing is making sure that there's enough to do for all members of your party. Camelback Mountain offers skiing and snowboarding options for those members of your family who are into it. Should someone want to learn, they offer lessons (both group and private) and rentals as well. As someone who has done both, I found the rental staff and gear to be great, and the lessons to be quite helpful in mastering a skill that's not always easy.
In addition to skiing and snowboarding, Camelback offers snow tubing as well as a mountain coaster and a zipline to ride on. The snow tubing is roomy, features double and single tubes and there are no shortage of lanes – 42 to be exact, on two side-by-side hills. Times are purchased in advance at three-hour intervals on weekends and holidays, and midweek/non-holiday tubing is a flat rate and unlimited. The hill is just a short shuttle ride from the lodge or the main ski rental area. Nothing here is far to get to, and the shuttle service is ideal for when trucking around in snow gear is just not optimal, or walking with little kids to and from one area to another just doesn't seem like fun for you. Group rates are available for tubing, and there is a small lodge area off of the hills to warm up in or grab a hot chocolate or a snack. Folks coming for the day can also park in the nearby lot and walk over to participate in the tubing.
The mountain coaster is great fun for kids as well as adults. It's the only one of its kind in Pennsylvania. Grab a ticket when you get to the coaster, they'll hook you up with a sled of sorts, and you can zoom down the 4500-foot steel track (don't freak out, it has brakes!). It's quite scenic as you careen through the tree-lined area and down the slopes of the mountain. No experience is needed to ride this, and you control your speed, so it's nothing but fun! Parents can ride with kiddos as well, so it's great for a wide variety of folks. We have done the coaster in both winter and summer, and it's a whole lot of fun no matter what the season. For the more adventurous and older members of your clan, there's also the famous zipline, which is certainly something to be reckoned with. They also have a terrific ropes course that'll get you and your family outdoors and challenge you just enough to keep things interesting and give you something to talk about later.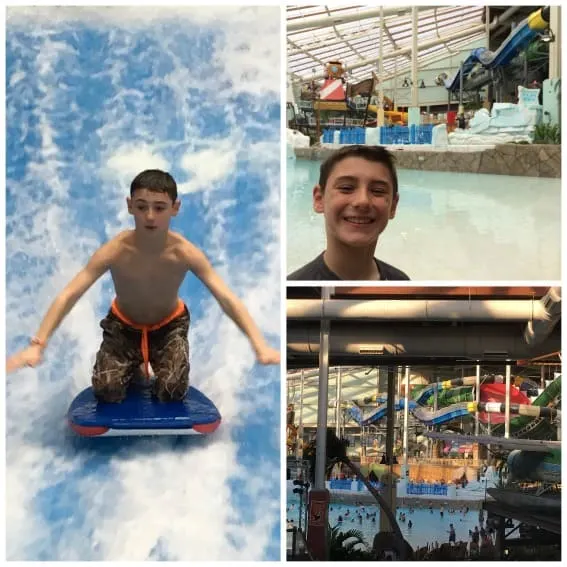 Still see nothing your family enjoys? How about an indoor waterpark complete with FlowRider and wave pool? Now you look interested! Aquatopia Indoor Waterpark is located inside the new Camelback Lodge, and can be enjoyed for the day or as part of an overnight package here. Water fun comes with the territory for little ones as well as those who like to play on the bigger slides. No matter what the weather, this activity fits the bill and can keep everyone happy for hours. When you're tired, simply head on up to your room or hit up the arcade, mini golf, indoor ropes course, or the gift shop for a little souvenir of your visit.
Finally, come here during the summer months and enjoy Camelbeach, the mountain's huge outdoor waterpark. Perfect for a hot day with kiddos of all ages and swimming abilities, Camelbeach is great family fun. Ride the lazy river and relax in your tube, race your kids on one of the many slides here, share a tube ride together, hit up the wave pool, stand under the huge tipping bucket to get soaked, or simply sit and watch the hub-bub from the comfort of your lounge chair for a bit. Water fun is something that caters to all and Camelbeach is a great place to cool off and let the kids unplug and run around for awhile.
Camelback Mountain Resort offers families something to do no matter what time of the year you choose to stay here. Scenic surroundings, nearby shopping, great restaurants, helpful staff, a wide variety of activities and upscale amenities and accommodations make this a wonderful choice for families looking to please a variety of interests and age groups. Easily gotten to from several metropolitan areas, this resort is certainly one to add to your list of great destinations to take your family.
*Disclosure: I received a complimentary stay as well as activity passes in order to accommodate this review. The opinions stated herein, however, are entirely my own.
You may like: The Pocono Mountains: Vacation in a Place of Beauty that's also Loaded with Fun!