It's spring time, when the mountains of the southeast are alive with trillium, phlox, and other small but sweet wildflowers. Mild temperatures and the blooming season make the mountains an undeniable haven for traveling families. Here are four southeast mountain towns that offer both adventure and relaxation this spring.
Four Amazing Southeast Mountain Towns to Visit with Kids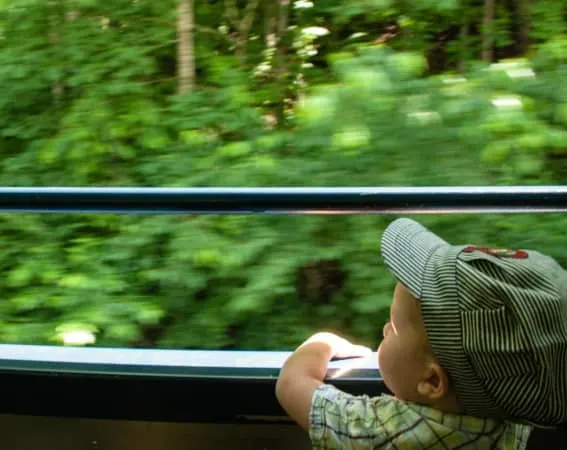 Blue Ridge, Georgia
You'll find Blue Ridge, Ga about 90 miles north of Atlanta, nestled within the Chattahoochee National Forest. From waterfalls and hiking trails to train rides and trout fishing, Blue Ridge is an oasis in the mountains for families.
A weekend adventure must include a stop at Mercier Orchards for apple or berry picking, and they make a delicious breakfast as well. Our family's favorite adventure is a ride on the Blue Ridge Scenic Railway. You'll take the train to the GA/TN line where you can stand in two states at once, enjoy lunch, and then ride back home through the forest and over the river.
Don't miss a waterfall hike or two. Long Creek Falls is most family friendly, but we also enjoy the Toccoa River Swinging Bridge. If there is time, you'll also enjoy a hike to Springer Mountain, which is the southern-most trailhead for the Appalachian Trail, running 2,200+ from Georgia to Maine.
READY FOR MORE? Other mountain towns worthy of a visit in Georgia include Helen, Dahlonega, and Hiawassee.
Gatlinburg, Tennessee
With the recent forest fires in Gatlinburg and The Great Smoky Mountains National Park, this part of the country is where to bring the family. The main part of town and the hiking sectors are preserved for your visit, and tourism is a strong force in helping heal the outlying devastation felt here.
While in Gatlinburg, explore the colorful wonders at Ripley's Aquarium, and the Guinness World Record Museum. Don't be frightened by the prices; almost every hotel in the area offers coupons for these and other local attractions.
Nature-loving families should not miss the opportunity to tour Cades Cove. If you only have a few hours then you can tour the 11-mile cove in your car; with a full day then be sure to add a few hikes, as well. You'll be pleased to see (or find evidence of) deer, bear, coyote and more!
READY FOR MORE? Other mountain towns worthy of a visit in Tennessee include Pigeon Forge, Chattanooga, and Sevierville.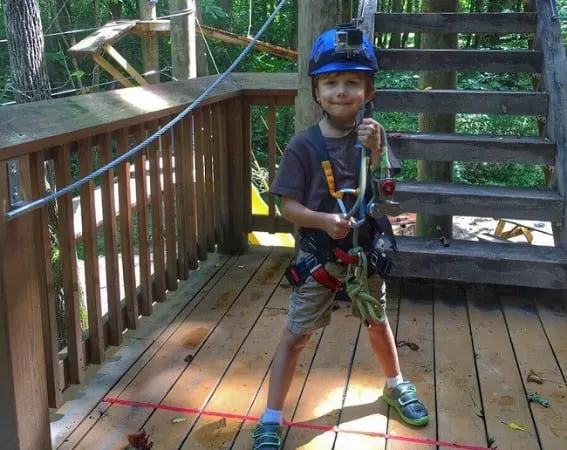 Bryson City, North Carolina
Bryson City is for families that love exploring the outdoors. The Great Smoky Mountains National Park straddles multiple states, so if you can't get to Tennessee then don't worry – there's also an entrance in Bryson City. This entrance, called Deep Creek, is a great starting point for a kid-friendly walk that offers gorgeous views to three different waterfalls.
Be sure to set up an adventure with Wildwater, also. Here you can zip line, white water raft, or take a waterfall Jeep tour! Our family paired the zip lining experience with a ride on the Great Smoky Mountain Railroad, which saved some cash!
While you're visiting, make time for the Joyce Kilmer Memorial Forest just outside of the city. It's a 3800-acre "virgin forest" with trees as old as 400 years. You can't drive through the forest, but a family-friendly 2-mile walk will acquaint you with a few of these east coast behemoths.
READY FOR MORE? Other mountain towns worthy of a visit in North Carolina include Cashiers, Beech Mountain, or Asheville.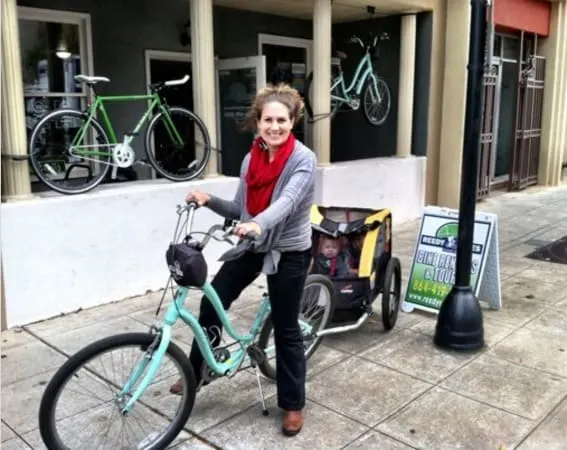 Greenville, South Carolina
Greenville isn't often thought of as a mountain town, but it sits in the foothills of the Blue Ridge range and is filled with exciting fun. For adventuring in the city, I recommend renting a bike at Reedy Rides. It offers the easiest way to explore the Swamp Rabbit Trail system, Greenville Zoo, and Falls Park.
We also enjoyed having a picnic at Runway Park, on the airport grounds; the boys loved watching the planes take off and land. Hatcher Gardens is another public woodlands area worth exploring.
Just outside the downtown area you can also enjoy Pearson's Falls, Mountain Bridge Wilderness Area or Historic Flat Rock. They offer exceptional hiking and site-seeing opportunities.
READY FOR MORE? Other mountain towns worthy of a visit in South Carolina include Asheville, Walhalla, and Cleveland.