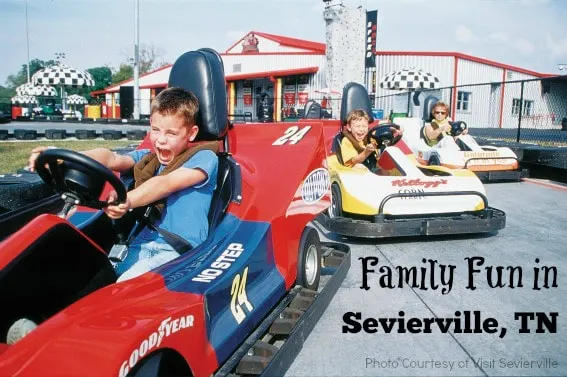 Located in the heart of the Smoky Mountains region, Sevierville, Tennessee is best known for being Dolly Parton's hometown. What you might not know about Sevierville (pronounced Severe-ville), is that it is full of family fun. I had the pleasure of exploring the area at the end of August with my son, and we can't wait to head back with the rest of our family.
Family Fun in Sevierville
From tame to adventurous, indoors and out, families have a lot of options for activities while visiting Sevierville. One of the favorite things we did while visiting this kid-friendly town was to soar through the air on a zip-line at Adrenaline Park. The staff at this park is accommodating, the set up is comfortable, and the views are stunning. We took to the air again, this time in a biplane with Sky High Air Tours. It is not every day you get aerial views of your resort and the surrounding area! If you do get the change to fly high with Sky High Air Tours be sure to stop in next door at the Tennessee Museum of Aviation to view aeronautic artifacts and a hangar full of Warbirds.
For classic fun, take the kids to Rainforest Adventures. This zoo features over 600 unique animals and over 130 different species! We saw animals I didn't even know existed. After the zoo, pop next door to the NASCAR SpeedPark. This amusement center features eight go-kart tracks, a rock climbing wall, two miniature golf courses, and amusement rides. The general admission wrist band is good for unlimited fun throughout the whole day. Enjoy America's favorite pastime and catch a Tennessee Smokies baseball game. This minor league stadium keeps games affordable and makes families feel welcome.
Area Attractions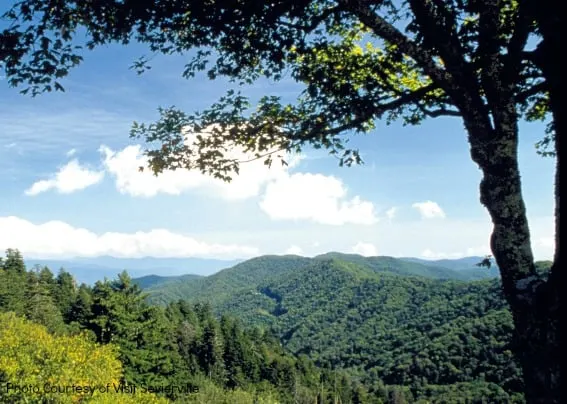 One of the best parts of Sevierville is its proximity to other kid-friendly towns and attractions in the area. Located just next door to Pigeon Forge and Gatlinburg, it is just a short drive to some of the best family friendly hot spots. The greatest of these is by far the Great Smoky Mountains National Park. Families can easily spend several days exploring this park. Start with a visit to one of the visitor centers and then head out to take a hike, explore the Cades Cove loop, or have a picnic lunch.
Make time to visit one of the many shows in the area. During our visit we were able to enjoy the Smoky Mountains Opry which served up some old-fashioned family fun in the form of a variety show. Musical performances, dancing, and some magic and comedy thrown in for good measure keep everyone in the family entertained. The Lumberjack Feud Dinner Show is another superb choice. Two feuding lumberjack families compete head to head in challenges. Even the Timber Dogs get in on the competition! Chat up the cast before the show and you may just get your own chance to participate in the show.
A visit to the area should include a visit to Dollywood. Kiddie rides, high thrill rides, top-notch entertainment, a craftsman village with live demonstrations, and even a chapel in the park ensure that everyone in the entire family can enjoy themselves. Among my favorite things in the park is the museum and Dolly's tour bus. Be sure to check their calendar for some of the largest festivals held in the south, including the upcoming National Southern Gospel and Harvest Festival and Smoky Mountain Christmas.
Where to Eat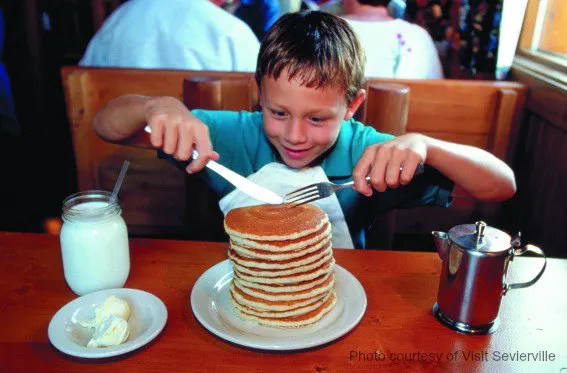 I can promise you one thing during your visit to Sevierville, you won't go hungry. The area is known for its unusually high number of pancake houses so you won't have to drive far to discover one. If you're looking for a real country breakfast you must start the day off at Applewood Farmhouse Restaurant where the homemade apple fritters and apple butter alone are worth the visit. A local favorite for lunch is Allen's Market & Grill which serves up Dolly Parton's favorite food, the slaw dog. This lunch counter style restaurant is great for a quick bite off the grill in route to your next stop. The Diner offers a throwback 50's vibe while serving up some of the best elk and bison burgers in the area. If BBQ is what you crave, then a visit to Tony Gore's Smoky Mountain BBQ is a must. Do yourself a favor and arrive hungry and save room for dessert.
Where to Stay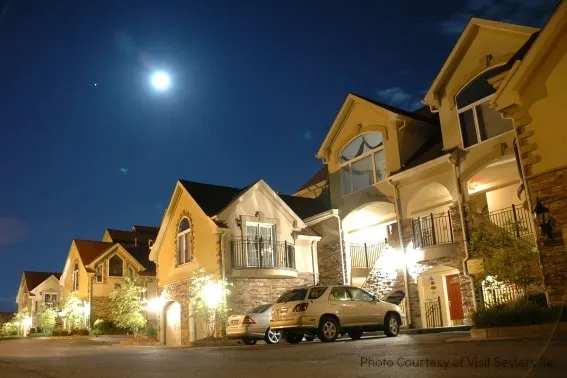 Families will be delighted at all the lodging choices they have in Sevierville, including accommodations that extend beyond traditional hotel rooms. We were lucky enough to stay at Appleview River Resort and absolutely loved our lodging. Appleview offers condos that range from 1-4 bedrooms, have multiple bathrooms, a full kitchen, and a washer and dryer right in the unit. This place offers all of the comforts of home! On the property, guests will enjoy the pool, game room, volleyball net, and the river views. It is conveniently located just off the main parkway and all of the main area attractions, yet it feels as if you are in a quiet, secluded area.
Another great choice for families is the Wilderness at the Smokies. With many room styles to choose from, including the Deluxe Family Suite that can sleep up to 12 people, you are sure to find a room that fits your needs. Families will absolutely love the indoor and outdoor water parks and the Adventure Forest, an indoor play space that features games and a ropes course. The resort is located close by to a premier golf course and area attractions.
We'd love to hear from you. Have you been to Dollywood? How did it compare to other amusement parks? What is your favorite spot in the Great Smoky Mountains National Park? Tell us in the comments.
Disclosure: The author and her son were hosted by the Sevierville Chamber of Commerce for a media press trip of the area. Lodging, activities, and meals were all provided complimentary as part of this tour. While the hospitality was greatly appreciated at no time was it expected that a particular point of view be shared. All opinions are the author's own.