With a slogan like "Keep Portland Weird," you can bet there are lots of cool things to do in Portland with kids. Where else can you visit the world's smallest park and eat a voodoo doll doughnut in the same day? Or tour a submerged submarine after hiking through the forest?
From manicured gardens to exciting kid's activities, Portland has it all. Read on to discover all the amazing things to do in Portland with kids.
Things to do in Portland with Kids
1. Have Fun at an Indoor Play Area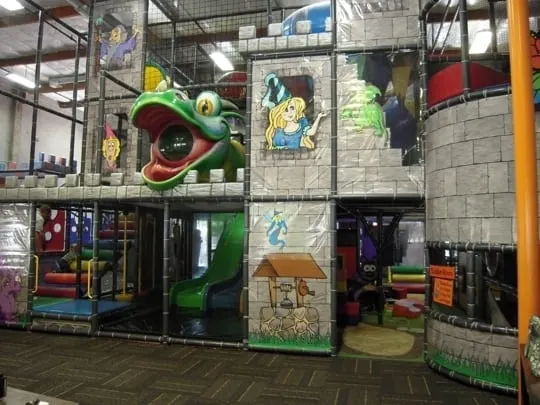 Wondering what to do in Portland on a rainy day? Let the kids get out some energy at an indoor play area. Slide, dance, and climb at Playdate PDX. This indoor playground offers a safe toddler area, plus a main area designed for children up to 12 years old.
For a place that older kids will enjoy too, try Sky High Sports trampoline park. Parents may even want to join in for a game of dodgeball.
2. Enjoy the Portland Saturday Market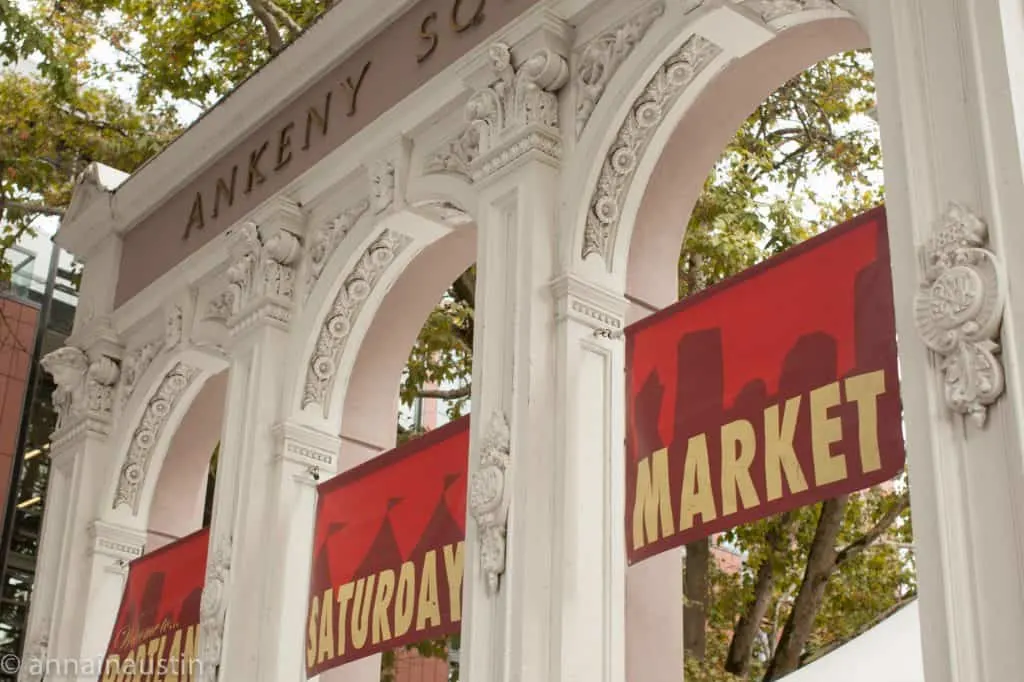 Visiting the Portland Saturday Market is a classic Portland experience. The market features music, food, and lots of stalls where you can browse unique items for sale.
Some of the stalls are actually toy stores, so the kids will love it too. Trekaroo families recommend visiting without a stroller, since it can get very crowded and aisles may be narrow. For fresh produce and local foods, check out the PSU Portland Farmers Market.
3. Visit Pittock Mansion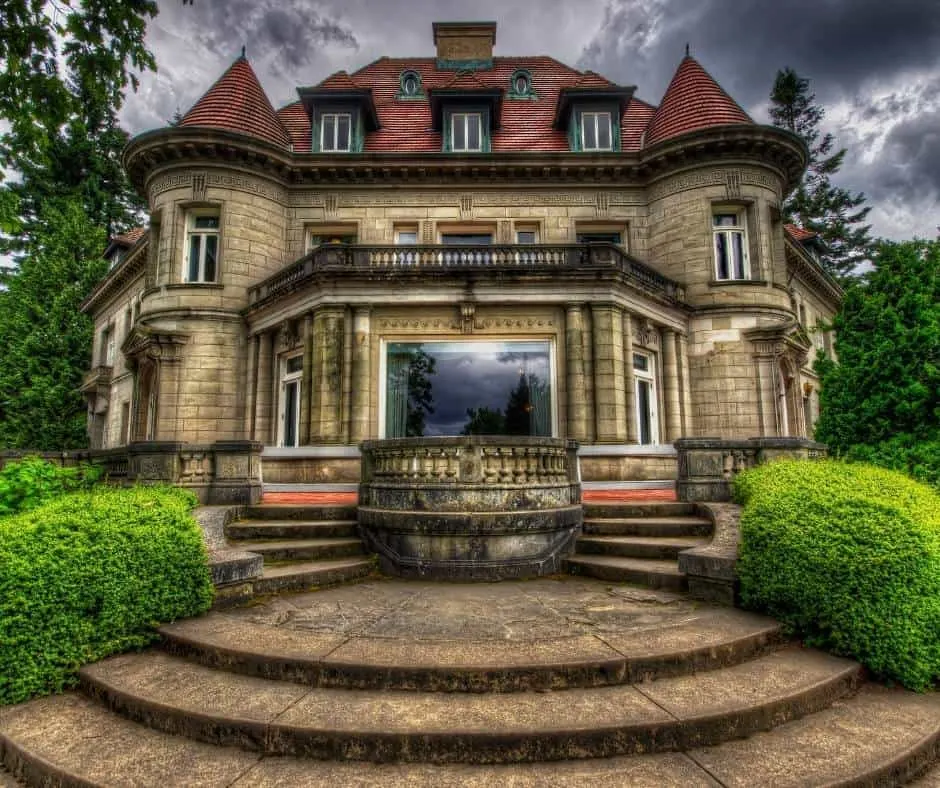 Stepping through the doors of Pittock Mansion is like going back in time. Inside the mansion, visit the beautifully decorated rooms of and learn how one of the most influential families in Oregon's history lived. Pittock Mansion is a beautiful 1914 mansion perched on a hillside above the city.
Tour the museum on your own, then explore the grounds and enjoy great views of Portland. If the weather is nice, take a hike on one of the many trails that pass by Pittock Mansion.
4. Hike Around Forest Park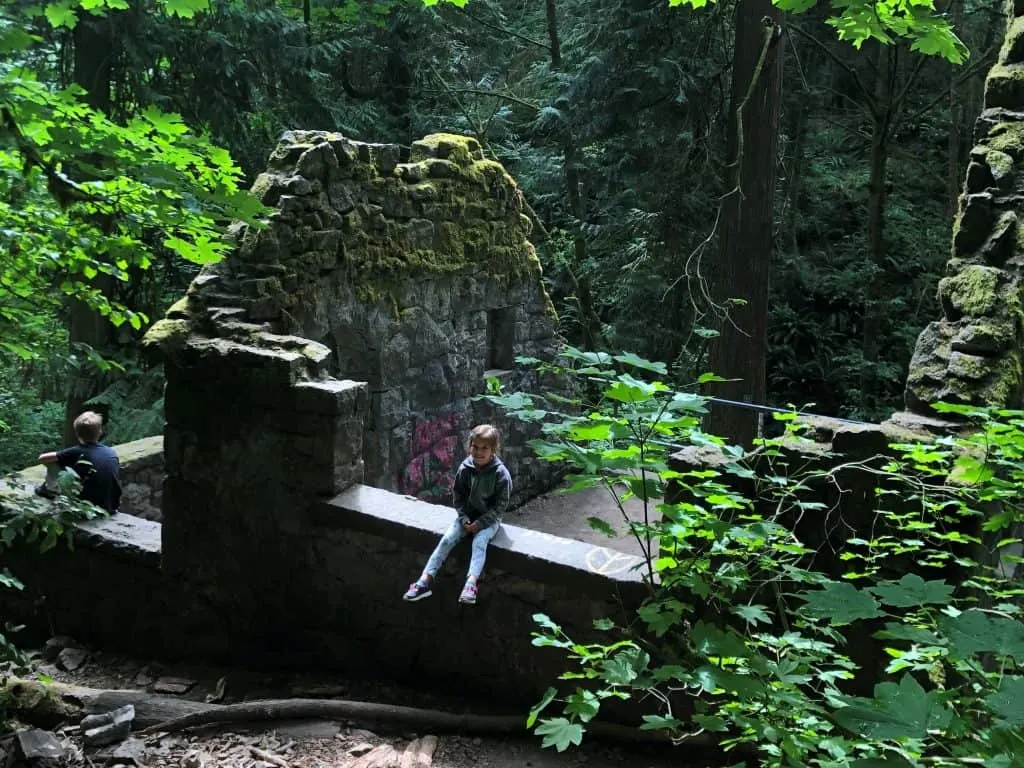 A stroll through these woods makes the world feel simple again. With over 80 miles of trails, families never get bored at Forest Park.
For you first visit, take the easy ¾-mile trail from the Lower McCleary parking lot to the mysterious "Witches Castle". Don't worry- it's actually just the ruins of an old ranger station. Along the way, kids can balance on logs across the river or even hike down to the water to dip their feet.
Can't get enough of the outdoors? Discover our Favorite Places to Walk or Hike in Oregon.
5. Experience Thrills at Oaks Amusement Park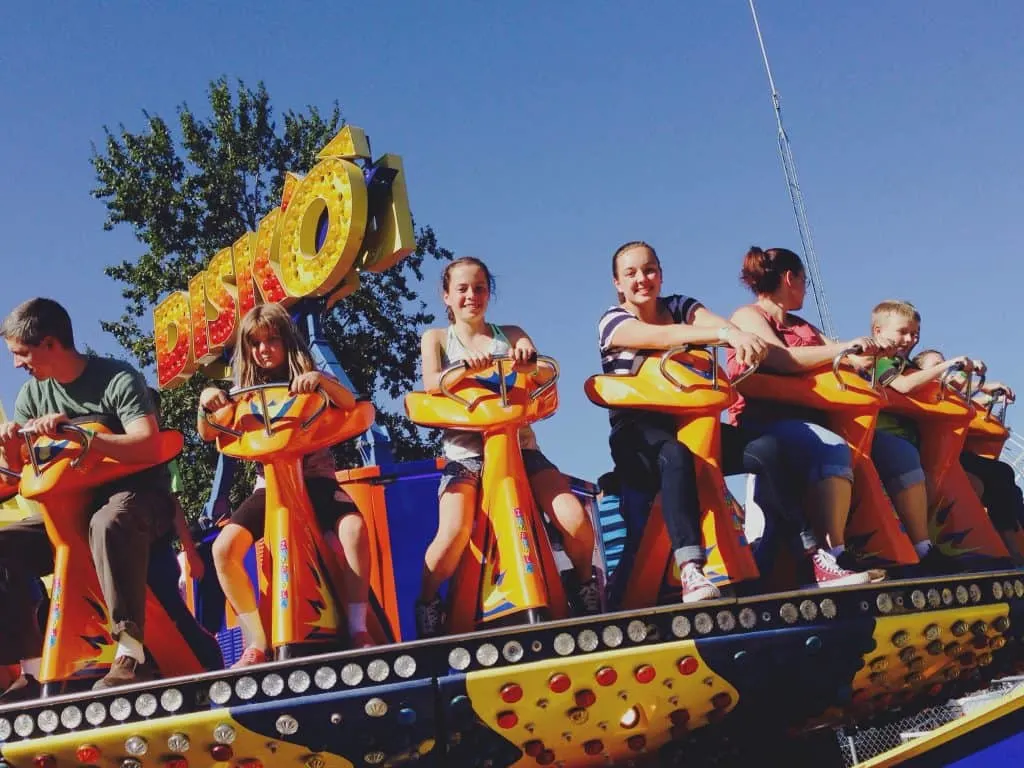 Oaks Amusement Park is an old-fashioned amusement park that has been entertaining Portland families for generations. In fact, it is the oldest, continuously operating amusement park in the United States!
It features rides (including some suitable for younger kids), go karts, miniature golf, amusement park games, and a roller skating rink with an old-fashioned wooden floor!
6. Wander Along the Willamette River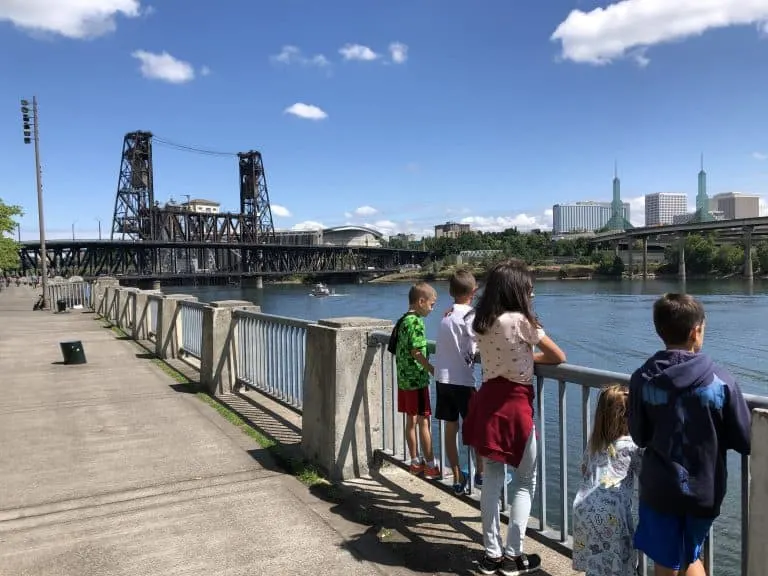 Walking or taking a self-guided bike tour along Tom McCall Waterfront Park is a great way to spend the afternoon. Along the river you'll find the Oregon Maritime Museum located on a historic steam-powered tug boat.
Just north of that is The Japanese Historical Plaza, the perfect place to admire spring cherry blossoms. And if you keep your eyes open, maybe you'll spot the world's smallest park, Mills End. Fun bike rentals such as surreys and tandem bikes are available from Wheels Fun Rentals.
7. Explore Downtown Portland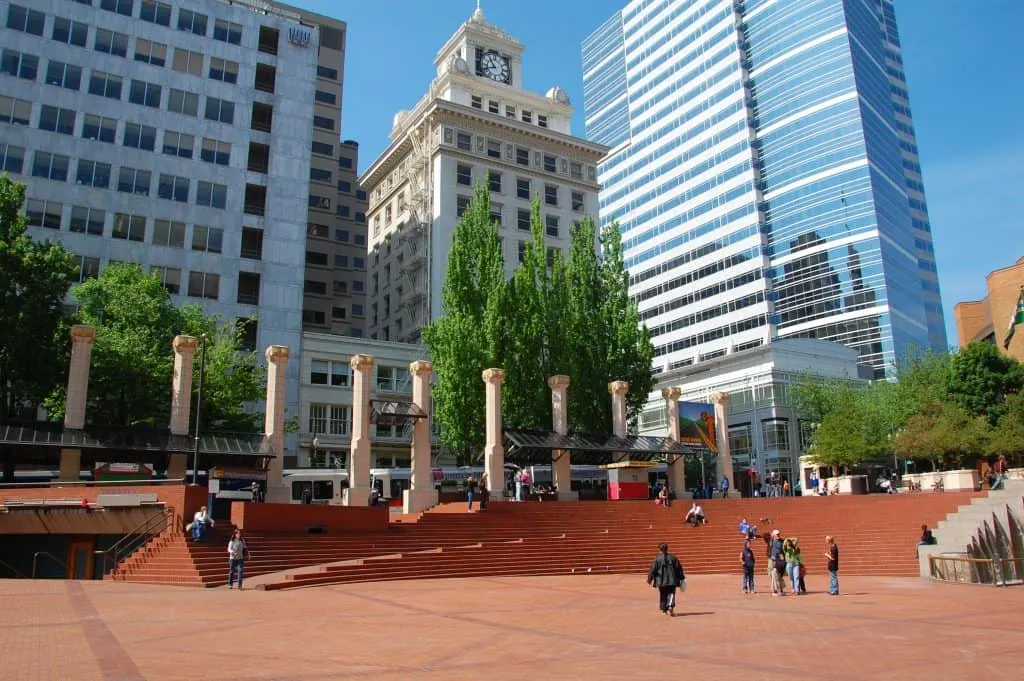 Meandering the streets downtown will bring you across a bunch of cool things to do in Portland. Start your explorations at Pioneer Courthouse Square where you may catch some live music or other events. This gathering place also houses Portland's Visitor's Center. Stop by for a free map and a sticker.
Then take a 10-minute walk to the Portland Art Museum and enjoy the coffee shop before admiring the art. The Oregon Historical Society, located just across the street, offers lots of interactive exhibits that teach about Oregon's past and present while keeping everyone engaged.
After you've had your fill of museums, wander back north to Powell City of Books. This book store covers the full city block and it is filled from top to bottom with books on every imaginable topic. Grab a map on the way in and start exploring the shelves to find a new favorite book!
8. Visit a Garden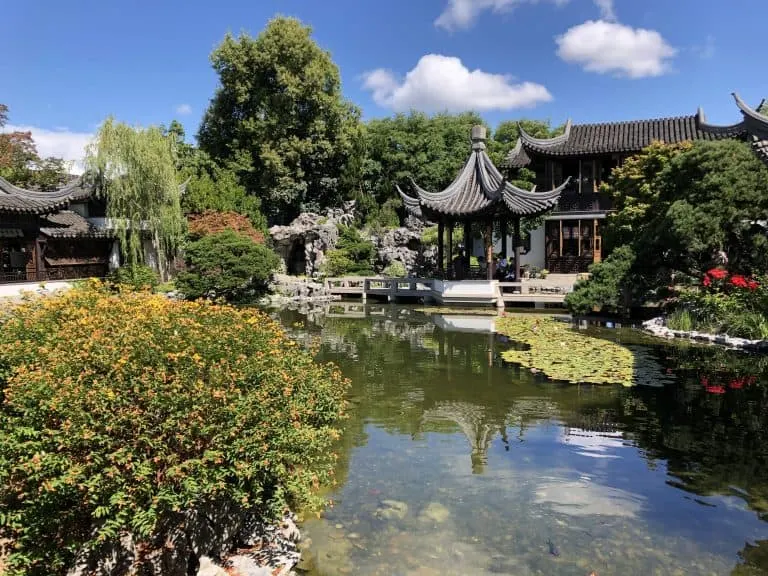 Lan Su Garden hides right in the middle of downtown Portland. This breathtaking Chinese garden not only inspires peace, but is fun and educational for families. Pick up a Family Discover Guide at the front gate to turn your visit into a scavenger hunt.
Additionally, Washington Park, located on a hill just outside of downtown Portland, is home to two gorgeous gardens. The International Rose Test Gardens are made up of rows and rows of all different types of roses and shows why Portland is known as Rose City. Wander the paths, take in the beautiful aromas, and enjoy great views. Best of all, this garden is free!
Nearby is the award-winning Japanese Garden. This 5.5 acre garden is a peaceful and beautiful place to come and admire the scenery and authentic Japanese garden structure. It also offers spectacular views of the city of Portland stretched out in the valley below.
9. Spend a Few Hours at OMSI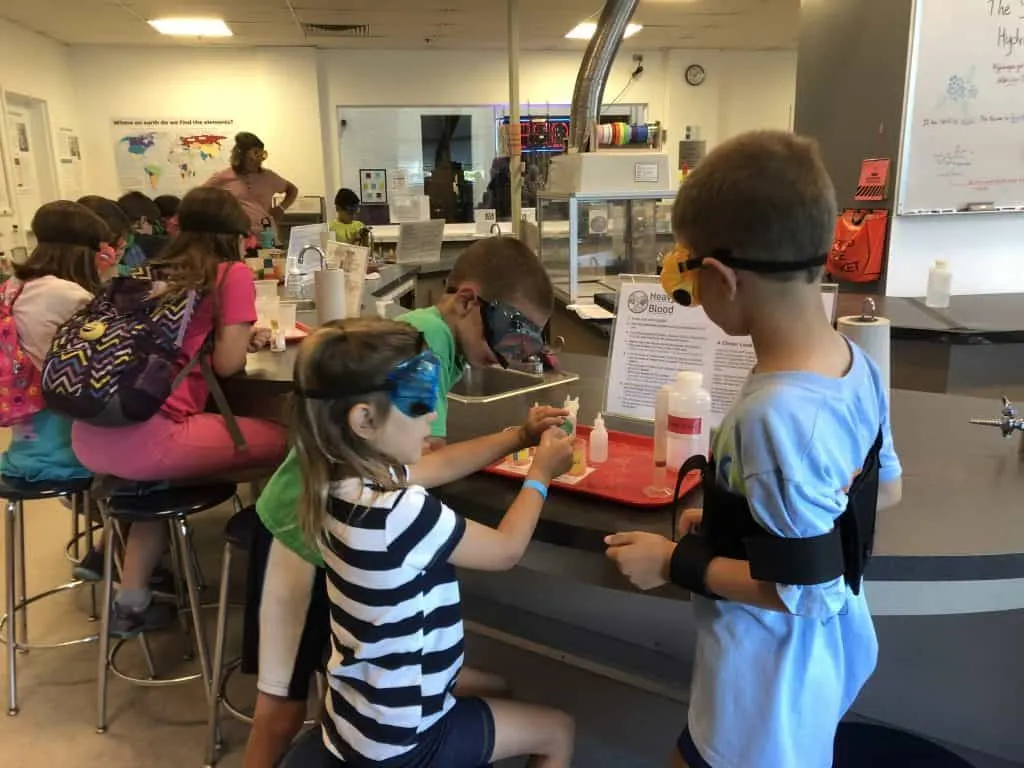 The Oregon Museum of Science and Industry is a truly remarkable museum, with tons of kid-friendly and hands-on activities for the entire family. The museum is huge, with five unique halls.
Around every corner is another way to play and learn at the same time. Where else can a toddler play in a huge kids' area while others in the family tour an attack submarine parked right outside? There's also a movie theater and planetarium for even more fun.
10. Explore All The Attractions Washington Park Has to Offer Families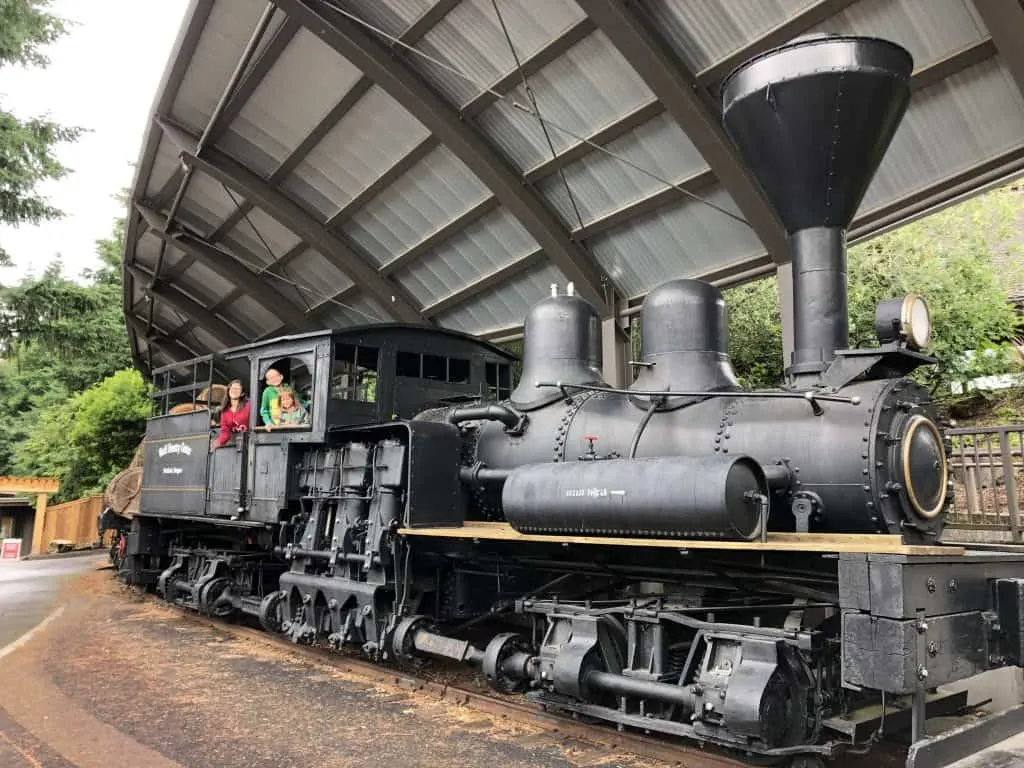 Washington Park is also home to the best kid's activities Portland has to offer- the Oregon Zoo and the World Forestry Center. These two fun and family-friendly destinations are all conveniently located next to one another and even share a parking lot.
Located next door, the World Forestry Center teaches families about trees and their place in our world. There are exhibits on different types of wood, logging, "riding" through rapids in a big raft, and trying to land a parachute in the smoke jumper display. There is also an exhibit about forests around the world. In this exhibit you sit on a train in Russia, ride in a jeep in South Africa, a boat in China and a canopy crane in the jungle!
The Oregon Zoo is the home to many animals from all over the world, like Asian elephants, Arctic polar bears, and even Peruvian penguins. There is also a great exhibit which features animals from all over the Pacific Northwest.
Great Places to Eat in Portland with Kids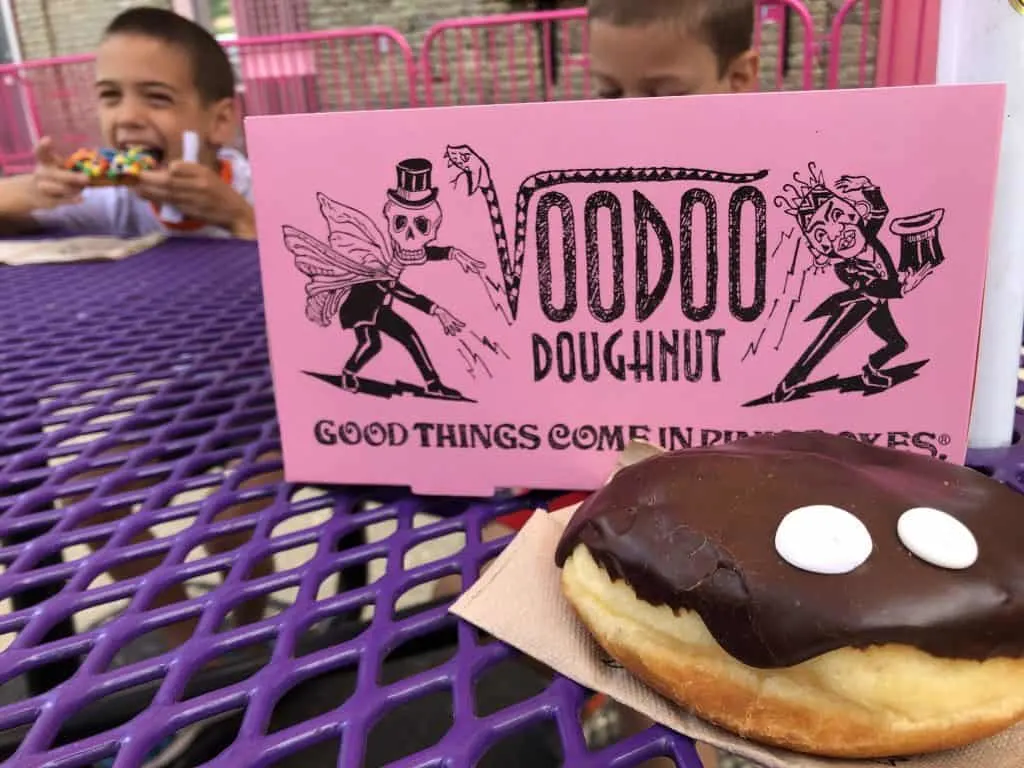 Voodoo Doughnuts: Voodoo Doughnuts is a very popular and well-known destination for unusual and delicious donuts! There may be a wait, but Trekaroo families say you must eat here when visiting Portland, Oregon.
Salt & Straw: Ice cream doesn't get much better than this southeast Portland joint. Salt & Straw creates small batches of ice cream using local ingredients to create delicious and unique flavors the whole family will enjoy. Flavors range from classic to creative, chocolate gooey brownie to bleu cheese and pear!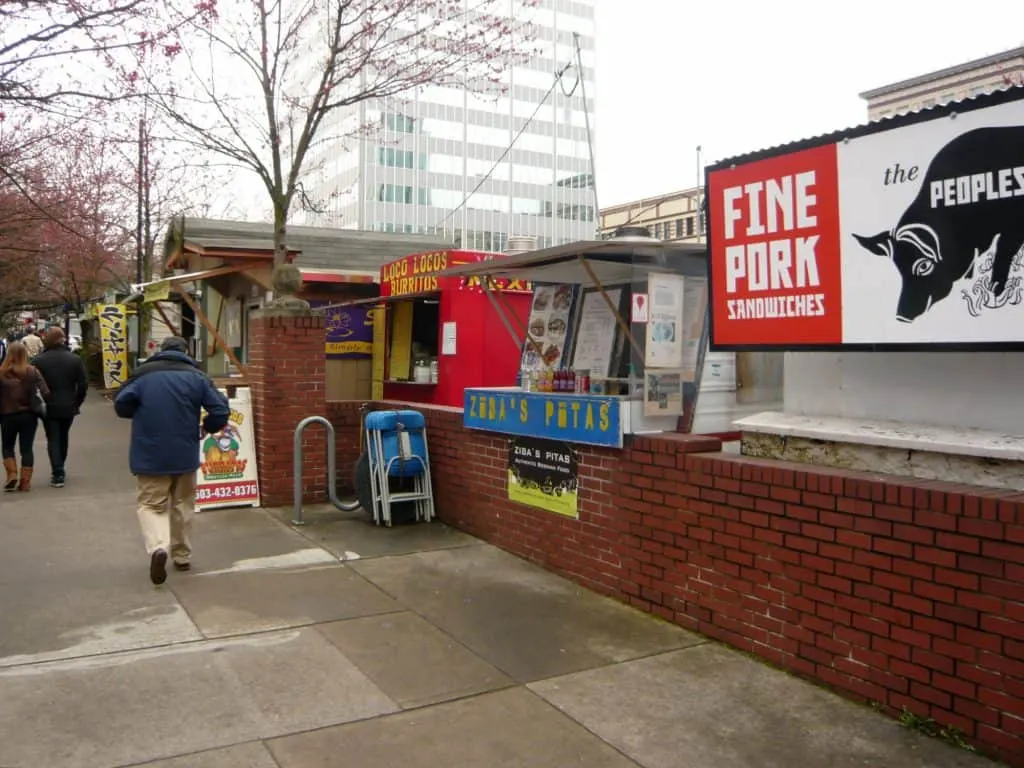 Food Trucks: Portland is well-known for its food truck "pods" which feature large groups of food carts offering all different types of food. Everyone in the family will surely find something that sounds yummy! Prices are reasonable too.
Seating is rarely available on-site, so get the food and find a nearby park to enjoy the yumminess. Pods are located in various locations in downtown Portland- just ask someone to point the way to their favorite pod!
Laurelwood Brewery: There are two locations of this fantastic, family-friendly restaurant in Portland. It features craft beer and food for the grown-ups and play areas for the kids! It's a perfect family date night spot!
Mother's Bistro: This restaurant offers made-from-scratch food using favorite recipes of mothers from around the world! Families rave about their meals and love the play area in the restaurant as well!
Where to Stay in Portland with Kids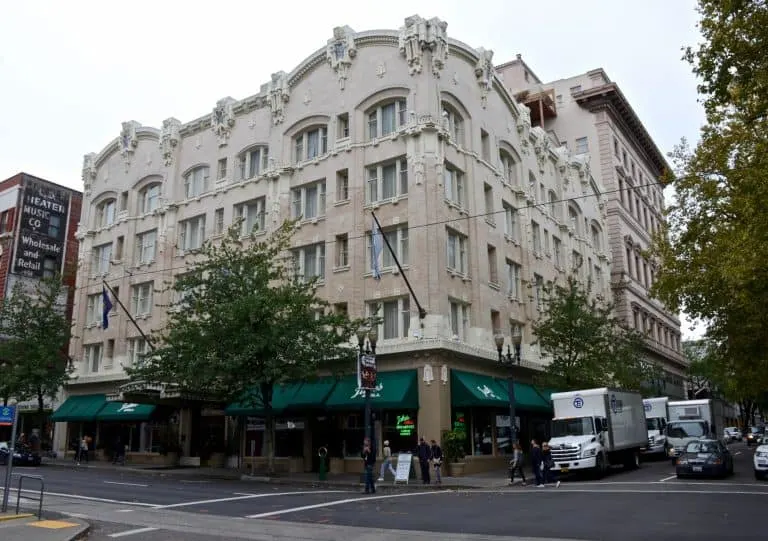 Kimpton Hotel Monaco: Families rave about how family-friendly this hotel is. Everything from pet goldfish (for the duration of your stay), to large and comfortable rooms, a complimentary wine and snack happy hour in the lobby, and an upscale and colorful décor make this a great choice for families who are traveling to Portland.
Residence Inn by Marriott Downtown/River Place: This hotel is a favorite of families. It features full kitchens, a clean indoor pool, laundry facilities, and a great (and free) breakfast!
The Sentinel: If your family loves historic hotels, then check out the Sentinel. There's no beating the location of this hotel; it's just steps from everything downtown has to offer, as well as the MAX line for going further afield.
Day Trips from Portland with Kids
Mount Hood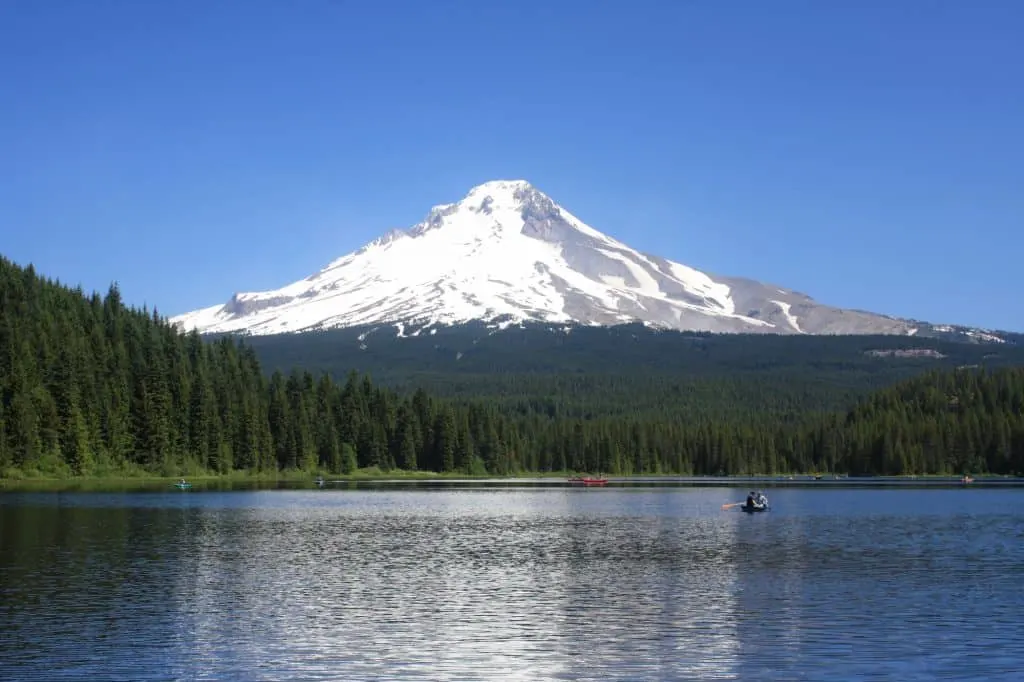 Mt. Hood is a familiar site to people in Portland, as it towers magnificently behind the city. It's a great destination in its own right.
Go to the Mt. Hood Skibowl in the winter for great skiing, snowboarding, snowshoeing, and other snow fun. Visit in the summer for wonderful hiking, biking, alpine sliding, and much more!
Columbia River Gorge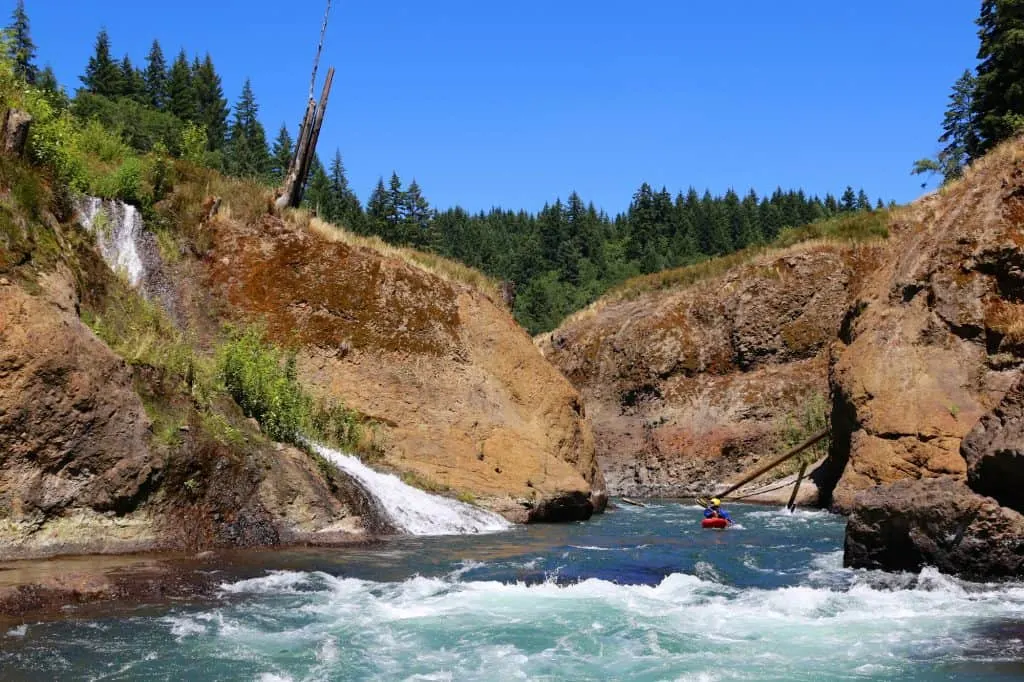 Just a short drive from downtown Portland you will find one of the most picturesque places in the pacific northwest; the Columbia River Gorge. Come here to visit the parks, the beautiful Columbia River, and thundering Multnomah Falls. Be sure to also check out Bonneville Dam with its fish ladder and fish hatchery!
Astoria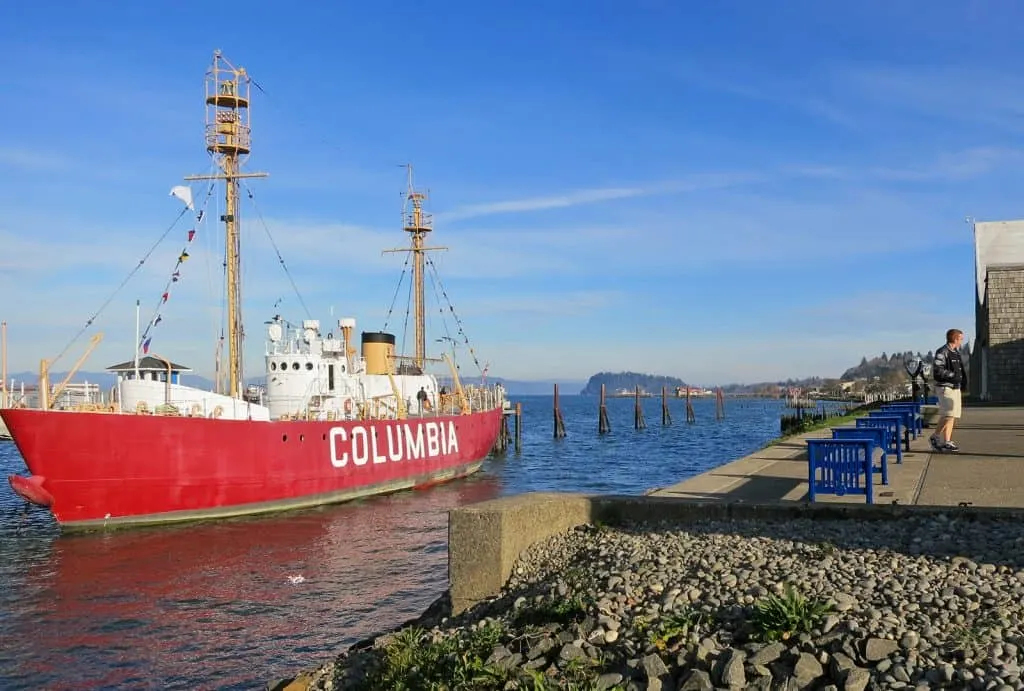 Astoria houses state parks, lighthouses, shipwrecks, lots of wildlife, and the Lewis and Clark Interpretive Center. It's also home to the Oregon Film Museum and the Goonies House! Spend the weekend in Astoria and enjoy both the great outdoors and movie history. We have an entire article dedicated to things to do in Astoria.
Special thanks to Carrie Yu who wrote the first version of this article.