Did you know that Brooklyn, one of New York City's five boroughs, is home to America's first roller coaster? Or that if you separated Brooklyn from the rest of New York City it would become the fourth most populous city in the U.S.? Immigrants from all over the world occupy pieces of the borough, and the food, shops, and personality of different parts of this region give it an incredibly unique flavor all its own. For many folks, visiting NYC means taking in Manhattan, yet traveling across the Brooklyn, Manhattan, or Williamsburg Bridge (or going one subway stop further than Manhattan) brings you to this interesting and entertaining area with a history and persona all its own. Don't miss visiting Brooklyn with kids.
Lead image by: Bigstock/holbox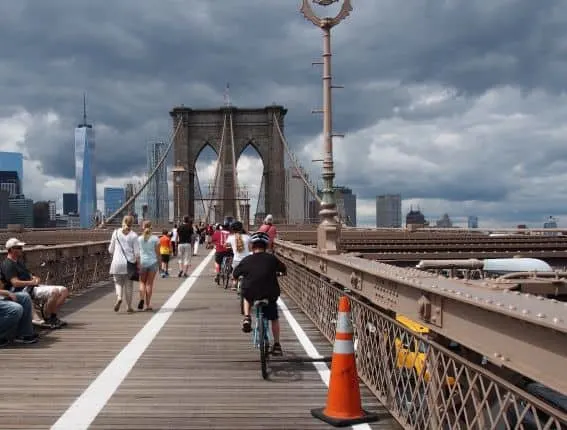 What To Do in Brooklyn with Kids
Not sure what to do in Brooklyn? Depending on the ages of your kids, there are playgrounds, parks, museums, group activities, seasonal celebrations, tours, and solo activities, just to name a few. If you've got good weather, take the time to scout out the nearest park or playground to let the little ones run around and let off steam. You can even head over to the Coney Island Boardwalk and take in a little sun, sand, and swim time, as well as shop, eat, and enjoy some of the amusement rides. Cotton candy and a roller coaster? You bet!
When you're in the mood for an inside activity, try the New York Transit Museum. As the largest museum in the U.S. dedicated to urban public transportation, you can see all kinds of subway, bus, commuter rail, tunnel, and bridge information detailing their history and development through the years. It was surprisingly interesting. There are hands-on displays and activities and the opportunity for kids to learn about things while they are here.
Tip: Other great museum options include the Brooklyn Children's Museum and the Jewish Children's Museum.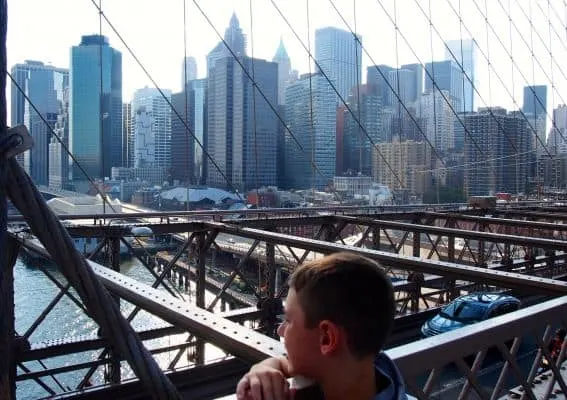 Should you want to tour the area, treat yourself to a seat on A Slice of Brooklyn Bus Tour, which offers the chance to see Brooklyn and learn a wealth of fun facts about the borough. Choose between a pizza tour, a holiday lights tour, or a neighborhood tour. Once on the bus you'll see interesting landmarks where movies were filmed, for example, learn some local lore, and enjoy an altogether entertaining time while experiencing Brooklyn.
Tip: I'd especially recommend the pizza tour for teens, as feeding them is sure to score you at least a point or two in the coolness area.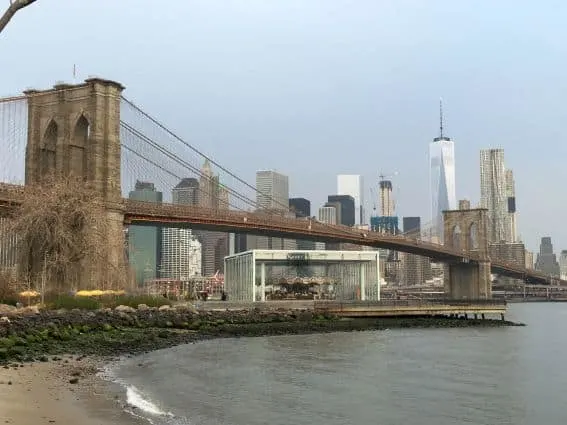 Looking for more fun? Head down towards DUMBO (Down Under the Manhattan Bridge Overpass) and see if you can catch a festival or activity; they happen regularly. Rent a bike from Bike and Roll NYC and bike Brooklyn or head across the Brooklyn Bridge and take in a little of Manhattan. I did this activity with two teens and a tween and it was very enjoyable, plus a nice way to see parts of the city we might've simply passed right by. Walking across the Brooklyn Bridge is also fun and a pleasant way to take in some sightseeing. While at the base of the Brooklyn Bridge, enjoy the promenade area where there are beautiful views of the Manhattan skyline that make for terrific photos. Enjoy a ride on Jane's Carousel or spend time at the playgrounds at Brooklyn Bridge Park. There is space to walk, climb, swing, slide, run, play ball, boat, and have a great time out in the sunshine. Visit the Brooklyn Botanic Garden and Prospect Park (which offer options like the Prospect Park Zoo, nature and walking trails, lawns for lounging, areas to bike, boat, and participate in sports, seasonal events, a playground and plenty of space to run around). You'll also have your choice of places to grab a bite and eat should all that activity cause your stomach to grumble.

Where To Eat in Brooklyn with Kids
Deciding what to eat in Brooklyn is almost as important as deciding what to do. There are no shortages of eateries and part of the fun is finding a gem that appeals to your crowd. Parents looking to duck out for a quick and refined dinner have their choice of places close by to treat themselves, and those looking to dine with kiddos can certainly find a venue that's appealing. From burgers to pizza to deli sandwiches to ice cream and more, it's all here to enjoy. Here are a few great choices:
Shake Shack: There's a location of this burger and shake venue right by the promenade, as well as one closer to Borough Hall, so take your pick as far as which is more convenient. It's a fun place to dine. For many, there's no Shake Shack in their town, so visiting this one can be a great way to get something familiar, yet try something new. The place was busy when we dined here, but moved quickly. The staff were friendly and the food was good. Grab a burger, fries, soda, milkshake or whatever you're hungry for and you'll be off and running in no time.
Bareburger: Bareburger is another Brooklyn eatery that specializes in burgers. This regional chain serves organic fare in a casual environment that prides themselves on their eco-friendly stance. You can get burgers made with more than just beef (think chicken, bison, veggie and others) with an almost unlimited variety of toppings and combinations. Their kid's meals are hefty portions and the environment is relaxed. When we dined here in the summertime, the windows were open and the place had a nice outside feel without being buggy or stuffy.
Heights Cafe: When you're interested in a sit-down eatery that's got your basic offerings with a bit of class, hit up Heights Cafe on Montague Street. Walking the street itself is a treat with shopping, dining, and residential offerings galore. At the cafe you can treat yourself to breakfast, lunch or dinner and they've got an extensive array of cocktails should you choose to indulge. It's a nice way to get out of the chain restaurants without drifting too far into the unknown.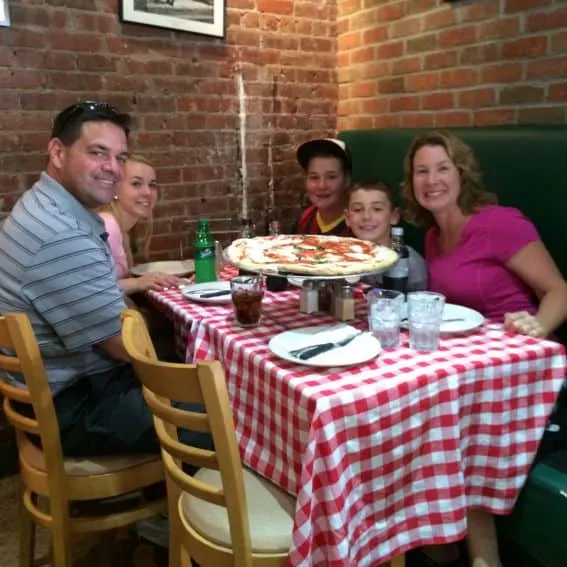 Deserving of it's own category, pizza is serious business in Brooklyn. The debate over which pizza place to hit up here is never ending and will differ depending on who you talk to. Some of the delicious places we visited and would recommend include Grimaldi's located near the Brooklyn Bridge Promenade and waterfront area. The lines out front often bear testimony to the fact that folks just love their pizza. Go here with the intention of getting a pie to go or eating on site. It's fun to experience the fun and even more delicious if you stumble upon the place when it's not crowded.
Juliana's is located right next door to Grimaldi's and some say their pizza is tops. Perhaps you can visit both and judge for yourself. I did and had a definite preference, but really, it was fun to experience both and satisfy my hunger at either venue. L&B Spumoni Gardens in Bensonhurst is another great option. This well-known shop is not too far from Coney Island and serves up some great food. Be sure to try a spumoni when you're here. We also stumbled on some great quick bites like Sweetleaf in Williamsburg (for coffee tea and sweets), the Peter Pan Donut and Pastry Shop, and the Brooklyn Ice Cream Factory that are worth your time.
Where To Stay in Brooklyn with Kids
Families with more than four members with them will delight in the Hampton Inn Brooklyn Downtown's ability to house them comfortably and conveniently. This hotel is located close to shops, restaurants, and the Brooklyn Bridge area, so there's plenty to see and do. Traveling into Manhattan is quick and convenient as well, as the subway is not far, and its possible to walk to the bridge and cross it should you and your crowd decide to to so. The Hampton Inn here makes starting your day convenient with a hot breakfast and parking next door (for a fee). Should you need to get up and out, this is done easily.
Another option for lodging in the Brooklyn area is the New York Marriott at the Brooklyn Bridge. This hotel is located near Borough Hall and plenty of activities, shopping venues and eateries are within walking distance of this hotel The hotel is undergoing a wonderful face-lift, and now delivers a more authentic Brooklyn experience, as grab and go foods and coffee are sourced from the neighborhood. The decor in the guest rooms are more modern and the walls show off cool art depicting the Manhattan skyline, reminding you where you are and delivering more than just a generic hotel room. Amenities are family-friendly as well as good for business travelers, and the hotel boasts one of the largest event venues in Brooklyn.
For folks looking for a hotel stay that packs a bit more personality, the Box House Hotel is just that. This venue offers contemporary apartment-style lofts, a complimentary shuttle to help you get around the area, fitness room, large windows and bright colors. Your room emits a vibrant personality and is a nice break from the same-old cookie-cutter hotel room scenario. Enjoy contemporary artwork in each room, hardwood floors, antique furnishings and large windows, some with great views of the Manhattan skyline. The place was funky and simply adorable, and parking was free on the street!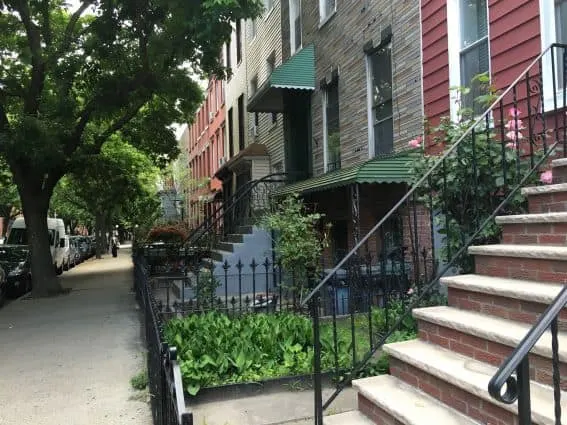 All in all, Brooklyn is a wonderful place to visit for families. Incredible dining, entertaining and educational activities, as well as comfortable and affordable lodging options make this a place you'll want to add to your must-see list this year.
You may also like: Top 10 Things To Do In New York City With Kids or Free Activities In New York City: Hidden Treasures of NYC.
*Disclosure: Some of the venues listed herein provided me with a complimentary visit or stay in order to facilitate this post. The opinions stated, however, are entirely my own.
Note: Unless otherwise stated, pictures are via Sharon Rigney.
Featured photo by: Shutterstock