There are so many fun things to do in NYC with kids, it can be hard to know where to start! Taking a bite out of the Big Apple can be daunting, but the rewards are many. Families will experience culture, urban living, culinary delights, and adventure in this city that never sleeps!
Note: the suggestions below are for Manhattan. For attraction reviews in other New York boroughs, see Trekaroo's full New York City activity pages.
Fun Things to do in NYC with Kids
Getting Around NYC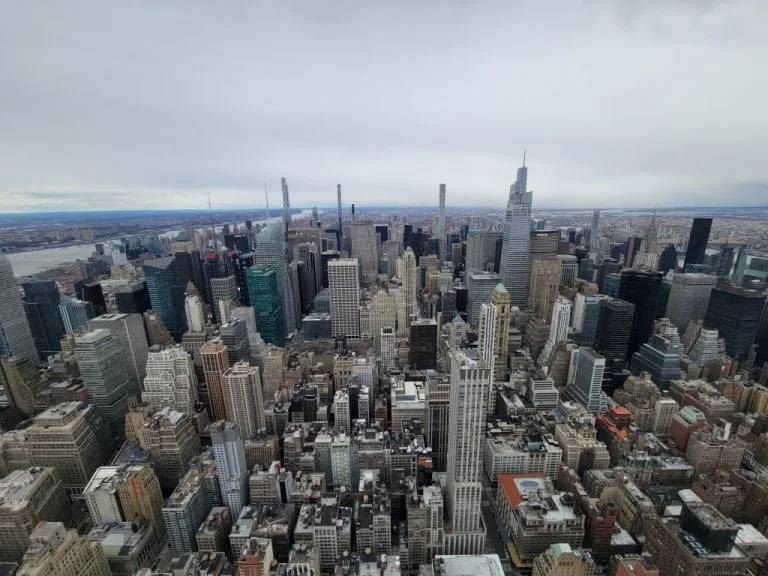 If you are flying into the city, you are likely arriving at one of three airports: Newark (in New Jersey), JFK, or LaGuardia. Of the three, JFK is the easiest to connect to with public transportation via the Jamaica line of the Long Island Railroad. The easiest method, of course, is going to be taxi, Uber, or Lyft, but the convenience does come with a fee.
We LOVE taking public transportation when in big cities, and that includes NYC. NYC's subway and transit system is one of the best in the world; now you can pay for your journeys with a simple tap of your credit card, Apple Watch, or iPhone.
When our kids were small, we always held them or carried them in carriers through subway stops so we didn't get split up. As my children got older, we always created a "lost subway" plan upon arrival: if you get separated from your family, always get off at the next stop. Of course, cell phones are certainly handy for this, but you won't always get service underground.
We also do a lot of walking when in NYC, but if you are feeling tired, there are tons of cabs and ride share services that can take you anywhere. Taxis still seem to be a bit cheaper than Uber/Lyft in the city, but that will likely change.
Need more help figuring out New York City transportation options? Check out this post on NYC subways, taxis, and trains.
Consider a Ticket Bundle for Your Trip to NYC with Kids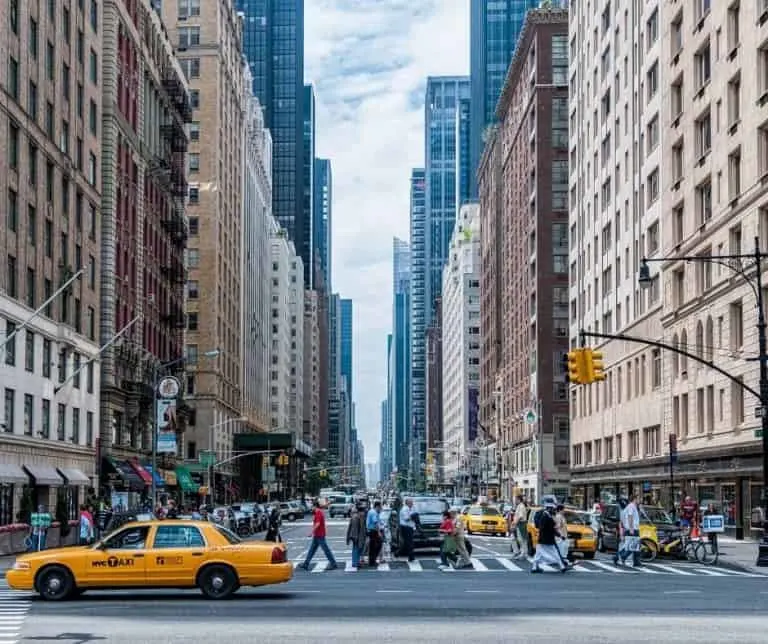 When planning a trip to NYC, there is so much to see and do that your itinerary will likely get full very quickly. The prices of the admissions to all of the various museums and attractions will definitely begin to add up. As can the stress of planning the adventures.
I recommend that families consider purchasing a discount ticket bundle like the New York Pass by Go City when planning their trip.
On our most recent trip, we used the New York Pass app on our phone for admission to al of the activities we wanted to explore (walking tours, the Statue of Liberty, 9/11 Museum, a harbor cruise with Circle Line, and the Guggenheim) without worrying about individual ticket costs. You can even plan itineraries on the app in advance securing your timed-entry reservations to busy attractions.
There are a lot of options for ticket bundles in NYC, but the New York Pass has some great perks including access to over 115 of NYC's best attractions, 1-10 day ticket options, child pricing, and a single-app to manage all of your reservations and tickets- no extra lines, apps, or paper tickets required! The best part is NOT having to feel choosy: the pass gets your family in to as many attractions as you can squeeze into your day.
The Best Things to do in NYC with Kids on a Family Vacation
Walk or Bike the Brooklyn Bridge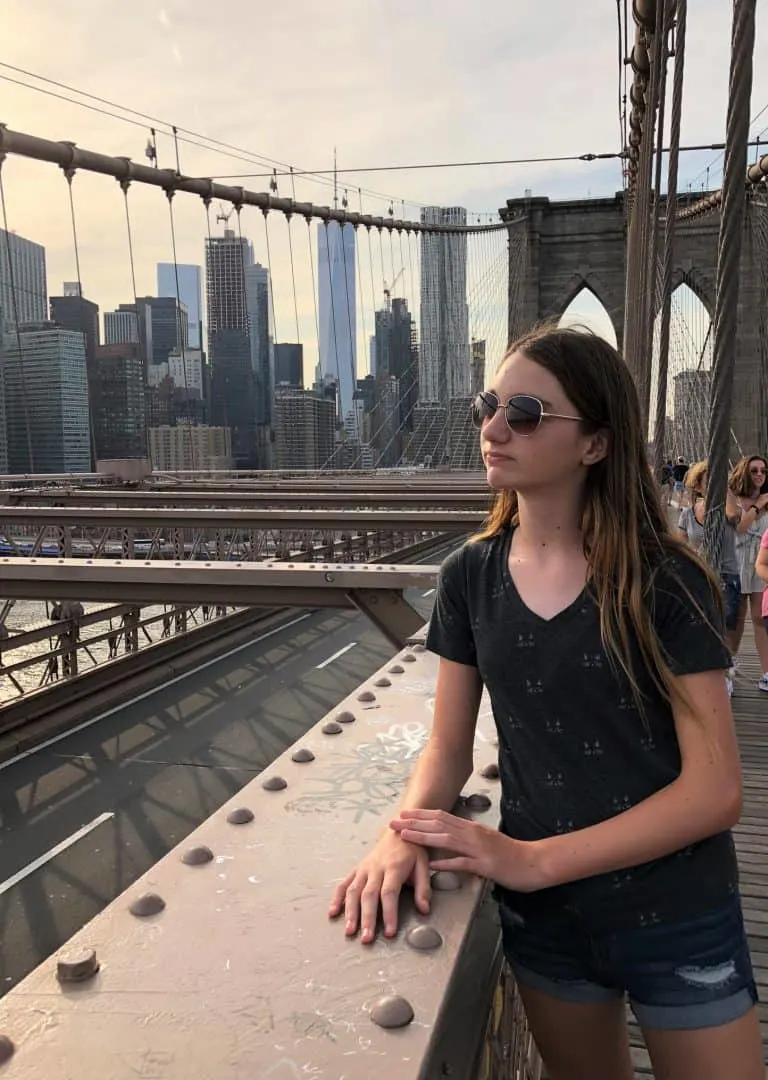 Walking over the Brooklyn Bridge an exciting opportunity to explore the views, marvel at the architecture, and then explore the borough of Brooklyn.
Biking the bridge used to be an even better option, but bikes have officially been relegated to the lower levels of the bridge. The "top of the bridge" suspension pictures are now only available by foot, which is a bit of a hike from the closest Subway line, but well worth the up-close and East River views.
If you are a biking family, you will notice bike rental stations throughout cycle-friendly areas of Manhattan, namely in Central Park and along the Battery.
From Bike and Roll and Blazing Saddles to Bike Rent NYC and even the pay as you go Citi Bikes, taking a bike ride through New York to see more of the city is a best bet. You can find a variety of bike rental deals and tours on TripAdvisor.
Perfect for families with older kids and teens (due to the necessity for kids to obey directions and traffic rules), cruising the city by bike provides a fun perspective! Got teens? Then you definitly don't want miss our guide to visting NYC with teens!
Take in the Views from the Top of the Empire State Building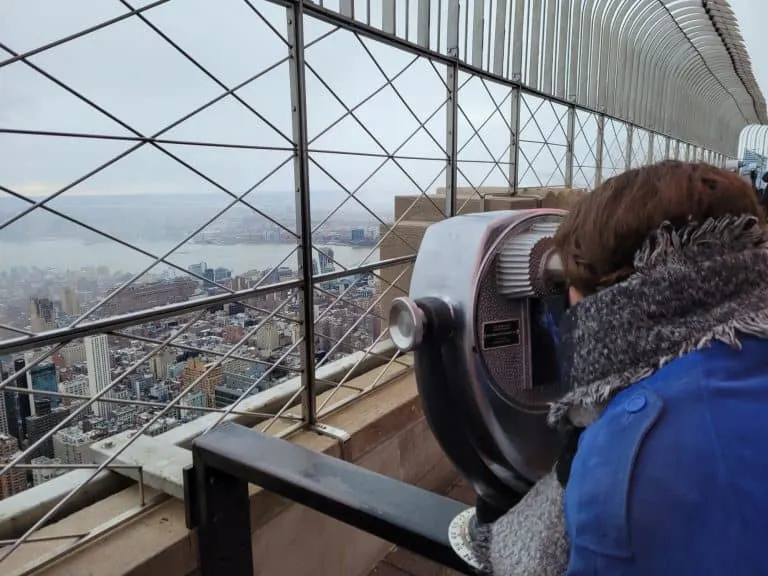 Want a quintessentially New York experience? Head to the top of the Empire State Building for iconic views of the city!
Of course, everyone else will be doing this too, so make this your first stop of any sightseeing day. Expect long lines after the first hour after the building opens. We visited during right after opening on a Sunday and had zero wait!
To save time and money, buy tickets ahead of time with a New York Pass by our friends at Go City, and bring coins to operate the binoculars at the top.
During our most recent visit early spring, it was quite cold and actually started (magically) snowing as we took in the views. We definitely enjoyed the newly implemented heat lamps that helped us beat the chill.
Experience the Hustle and Bustle of Grand Central Terminal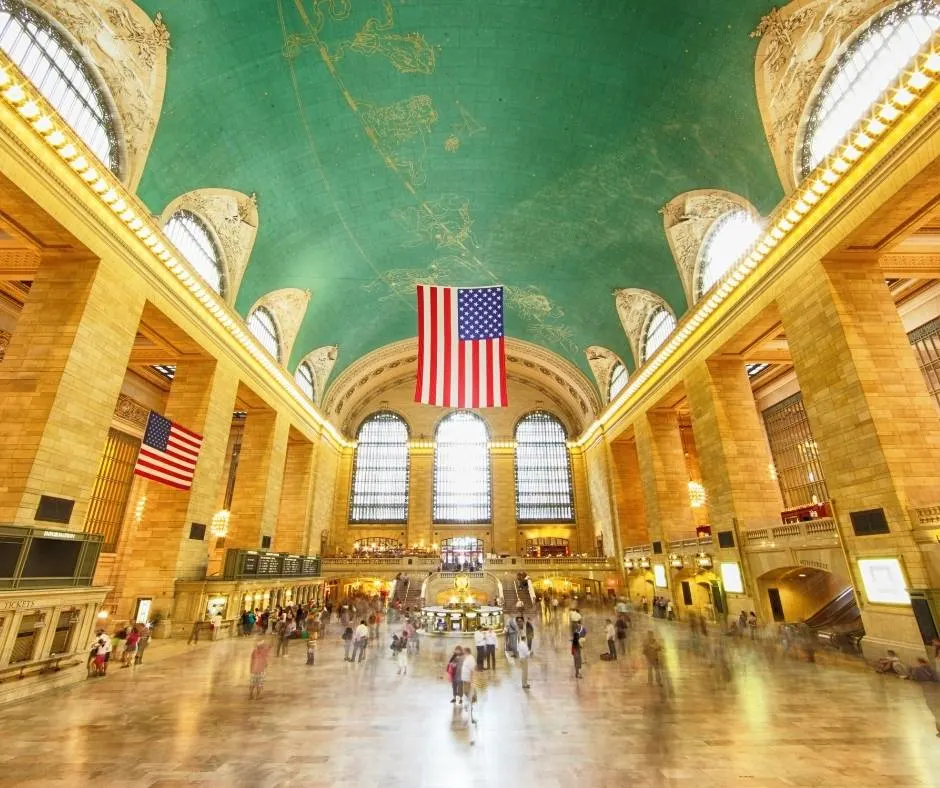 The ambiance may be busy inside Grand Central Terminal, but kids love it! Grab an easy meal from one of the many food vendors, and check out the stunning decor on the ceilings and walls.
The sheer scope of this place is awe-inspiring. Best of all, this classic New York City experience is free! There are even walking tours and guided tours offered daily.
Adjacent, find Grand Central Market with its fresh fruits, vegetables, cheeses, and meat. Take a walk down the street to the Chrysler Building or Summit ONE Vanderbilt, one of the city's newest "observation" experiences.
Shop Rockefeller Center and See the Top of the Rock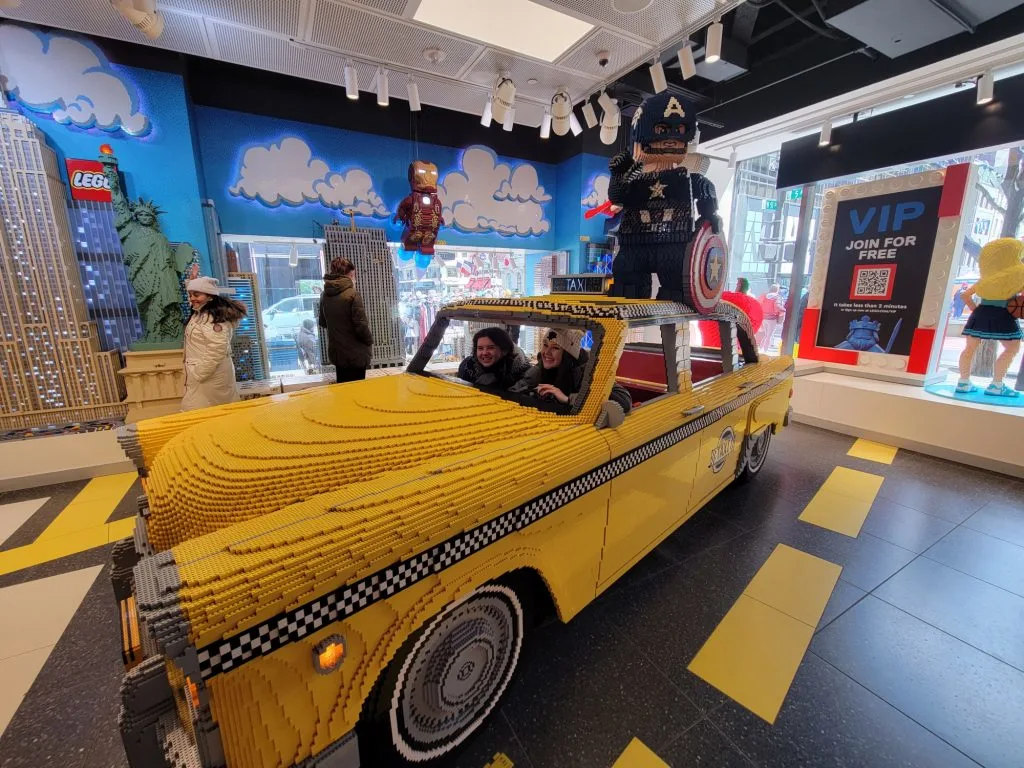 Fun for adults as well as kids, Rockefeller Plaza offers great shopping, celeb spotting, and, of course, ice skating in the winter (we sadly missed this tradition this year by one day!).
Let the kids meander through the huge LEGO, FAO Schwartz, or Nintendo stores, and take in the famous 30 Rock building. Avoid the morning hour if you don't want to get caught up in the Today Show crowds, or arrive early with a clever sign and be part of the masses!
If you're not visiting the Empire State Building on your New York City trip, a visit to Top of the Rock offers competitive views, and is less crowded (especially at night).
The LEGO Store Fifth Avenue boasts one of the few minifig factory stations where you can design and print your own LEGO clothes for your minifig. These adorable guys and gals come printed with a LEGO Store NYC stand making it a fantastic souvenir for your trip.
The food court underneath 30 Rock boasts an expansive lineup of grab-and-go food. Its underground location also is a great escape if it starts to rain or there is bad weather.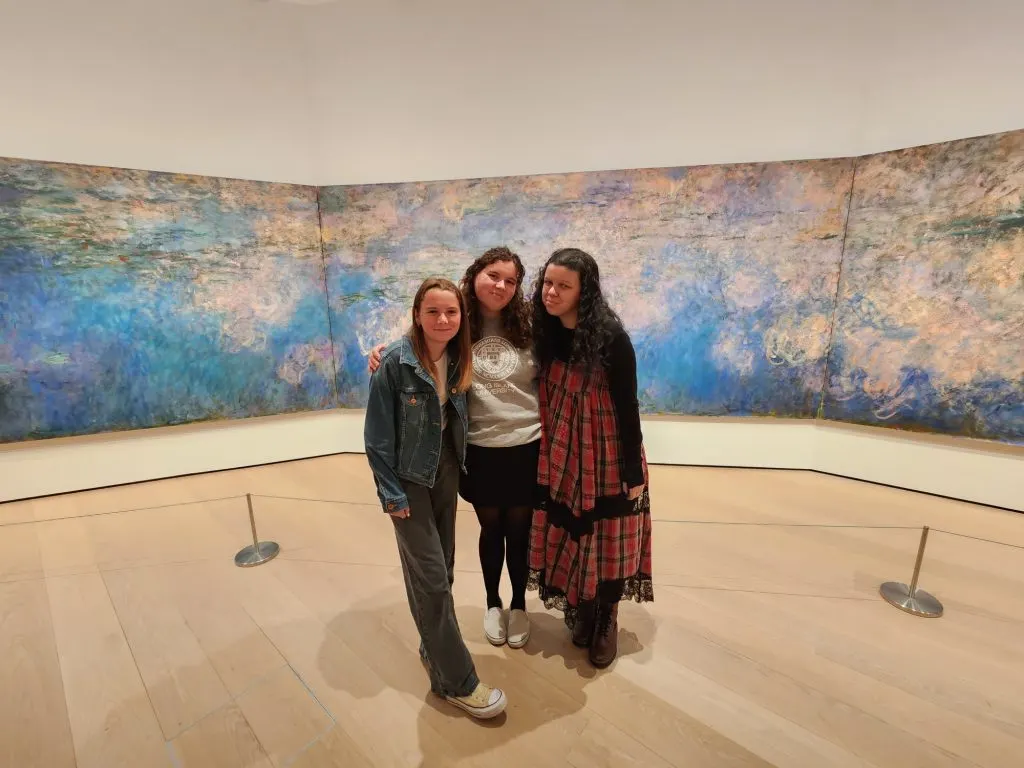 Have a Museum Day at Some NYC Classics
No family should visit New York City and not plan a day for museum touring! We love the American Museum of Natural History, both for its subject matter (animals and primitive humans and nature, oh my!) and for its Upper West Side location adjacent to Central Park. This museum is perfectly paired with an afternoon outside.
On the other side of Central Park (and easily accessible via subway), the Metropolitan Museum of Art is ideal for older kids (with younger kids, focus only on smaller sections of the museum, or check out the ongoing programs for preschoolers and toddlers).
Be sure to ask the museum information desk for their interactive Family Guide to follow along with while exploring. Family Audio Tours are also available and can be played from your smart phone.
The nearby Guggenheim Museum is much smaller (although still large) and might be a bit more navigable for families with small children. Their famous spiraling ramp (see Mr. Popper's Penguins for a visual) makes getting lost much less likely. A kid's guide is also available.
On our most recent visit to NYC, we finally visited The Musuem of Modern Art (MOMA) and my kiddos loved it. Highlights include Monet's Waterlilies, Van Gogh's Starry Night, Jackson Pollack masterpieces, and lots of quirky modern art installations that had my kiddos pondering.
Pay Your Respects at the National 9/11 Memorial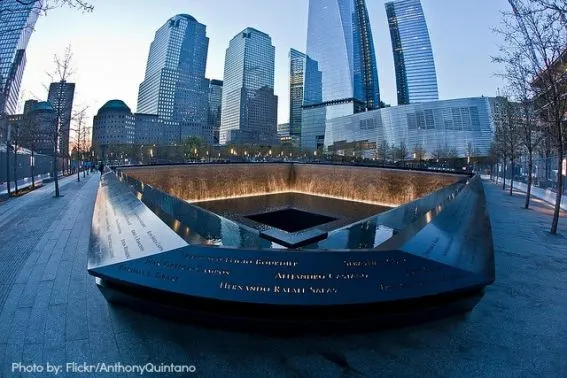 Take time out of your New York City sightseeing to devote a few hours to the World Trade Center and its National 9/11 Memorial and Museum.
The site is certainly hard for many American families to see, but the museum includes a well-constructed memorial and displays. The location is worthy of a pilgrimage, and will be especially sobering for adults who remember the twin towers while they stood.
Even though they weren't alive at the time, our middle school aged-children felt that the museum was helpful for them to process what happened on that day. They said that the museum helped them feel more connected to Patriot Day events and helped them to connect with the stories that are often told of this day.
Note: The museum is currently closed on Tuesdays.
Ride the Staten Island Ferry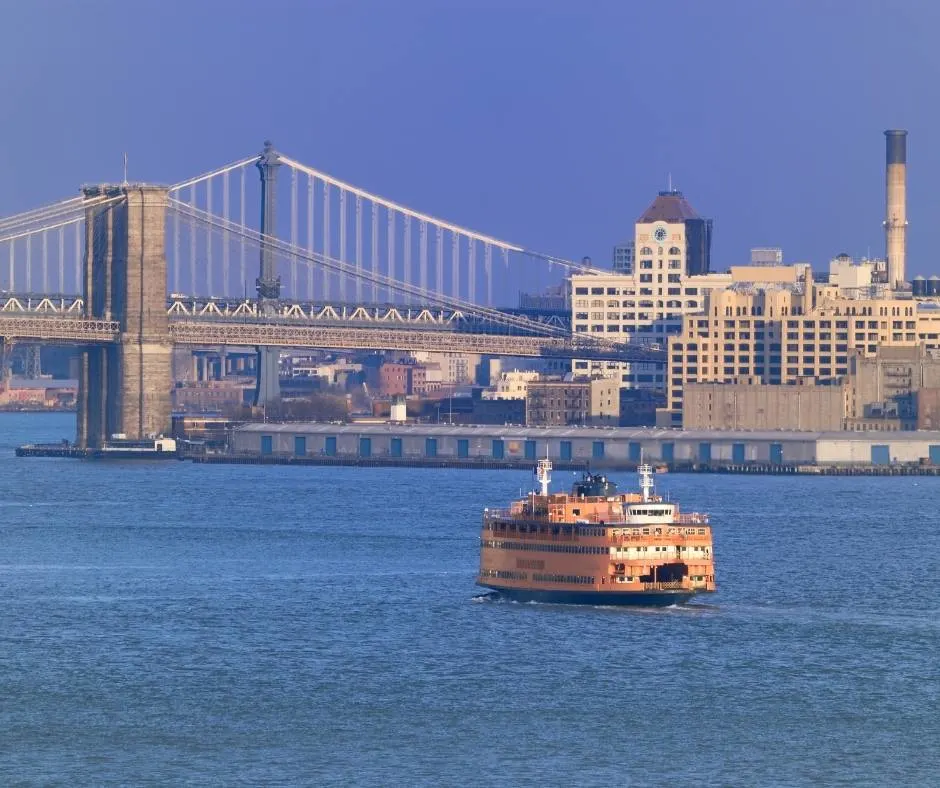 Looking for another free New York City experience? Instead of paying for a water taxi or ride to the Statue of Liberty, hop on the free Staten Island ferry (boat dock at Battery Park).
Perfect for young kids who don't need to make a stop at the statue to appreciate it, or for families who have done a previous statue tour, the Staten Island Ferry offers iconic views of the harbor without the ticket price. Grab dinner from a street vendor and eat it on the ferry!
Visit the High Line and Hudson Yards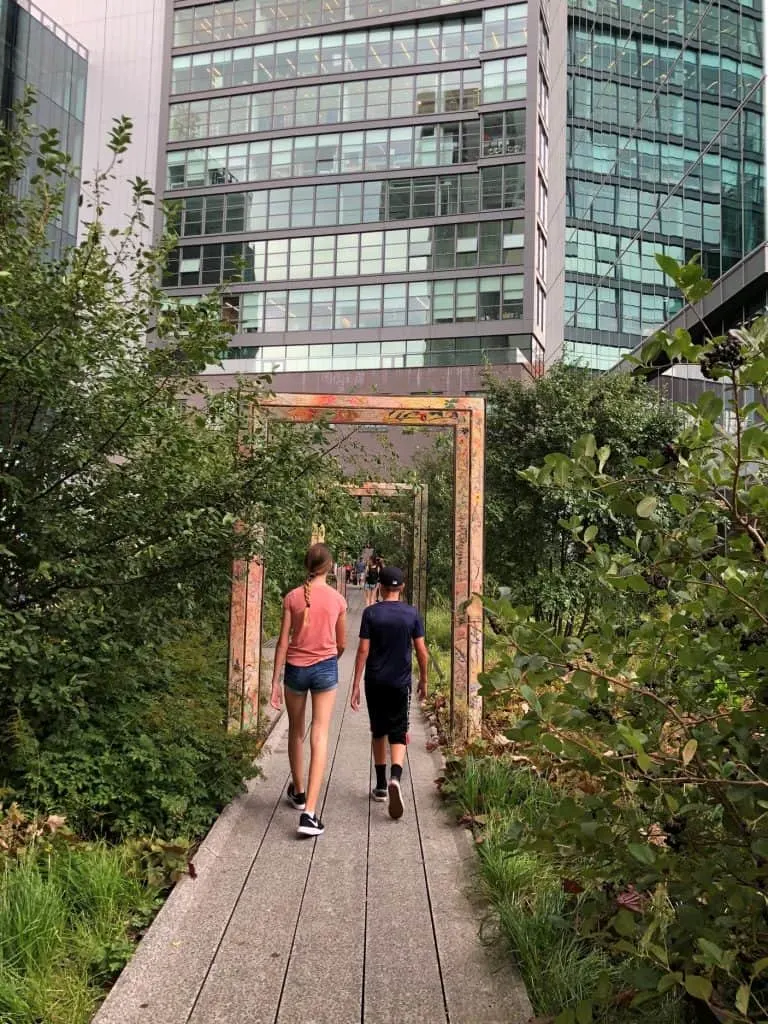 Starting at 14th Street, the High Line is a 1.45-mile-long elevated linear park, greenway and rail trail created on a former New York Central Railroad on the west side of the city. The High Line has nature walks, dance performances, food vendors, and art installations all year long. It's a great place to take photos
There are a ton of restaurants, bakeries, chocolate shops, and food vendors right underneath the railway in Chelsea Market.
At the top of the High Line at 34th Street, you'll find Hudson Yards, a new part of New York City with skyscrapers, a shopping mall, a performing arts center called The Shed, and The Vessel- a 150-foot shiny sculpture made from 154 interconnected staircases, which are fun to climb.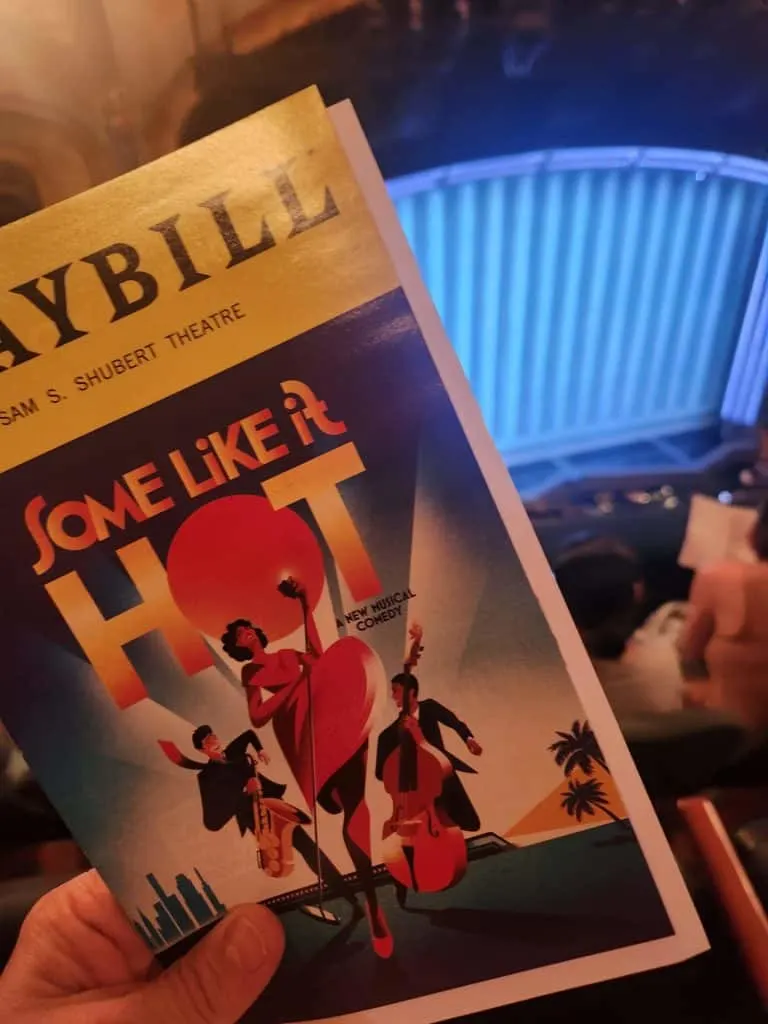 Explore Times Square and Go to a Broadway Show
Times Square can be touristy and busy (ok, it's always touristy and busy), but it's still worth a stop on your New York City trip.
In addition to seeing a Broadway show (family-friendly shows are often available), there are lots of kid-friendly restaurant chains and activities to keep them interested including Bowlmore Lanes (with 48 lanes & family specials), Hershey's Chocolate World, Ripley's Believe It or Not, and The Disney Store.
For last-minute Broadway tickets, head to the TKTS booth under the red steps at Times Square. Available tickets for shows are listed on their display boards, including the prices.
Discounts are typically near 20-50% off the price of purchasing in advance, although not all shows are available. You can download the TKTS app to see what is available before making the trek to stand in line.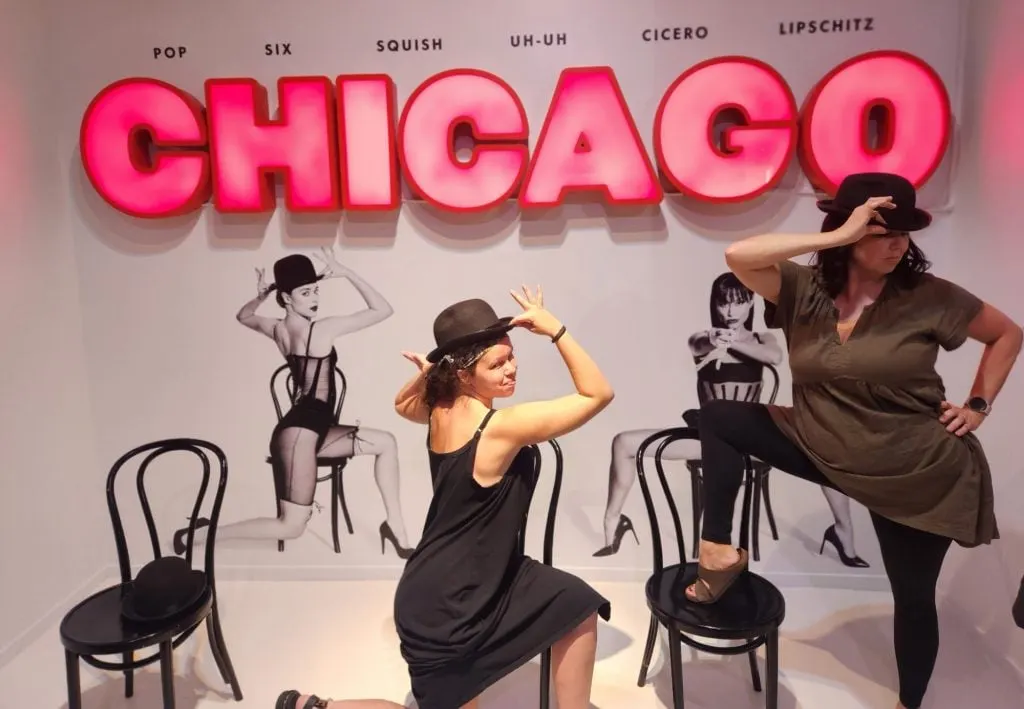 Hot tip: Broadway fans must make a stop at the newly-opened Museum of Broadway. The immersive museum walks you through Broadway history with the sets, props, costumes, sounds, and historic moments that made Broadway shine. We spent about 2 hours in the Instagram-friendly museum and can't wait to come back when exhibits start rotating in.
Spend the Day in Central Park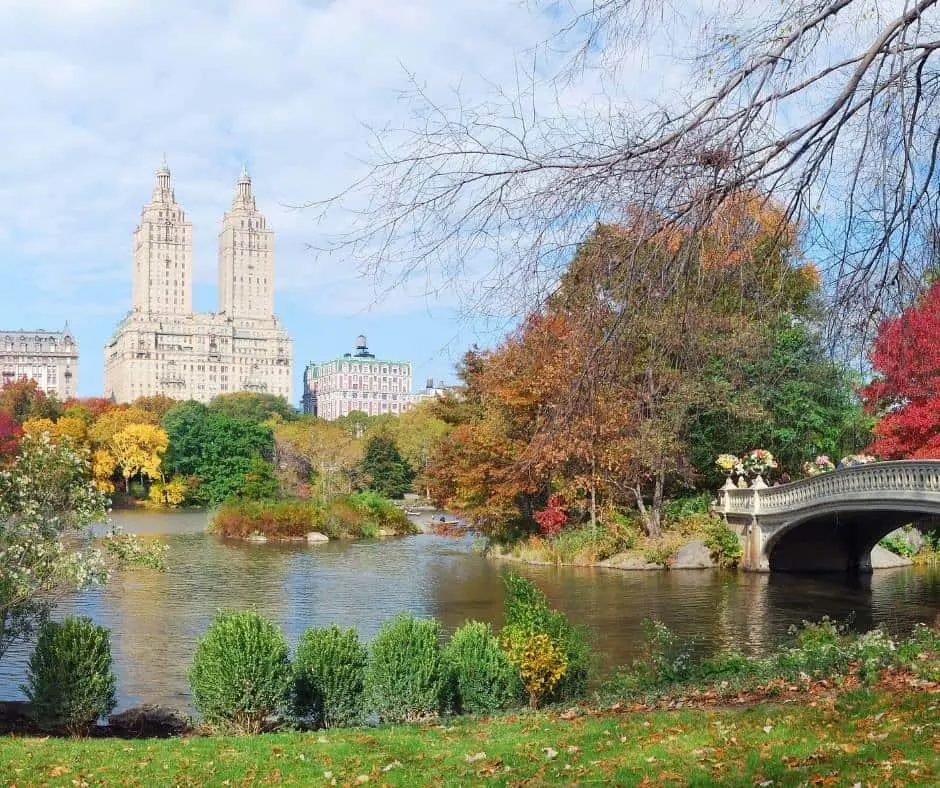 Our favorite place in New York City is Central Park. If you're not sure where to start in this massive green space, try Heckscher Playground, with its soccer fields, water features to play in during warm weather, and play equipment. You'll find food vendors nearby, and the playground has almost a carnival-like energy to it during the summer months.
For a quieter venue, head to Conservatory Water, where kids can rent motorized sailboats to navigate on the pond, and parents can get a well-deserved coffee at the cafe adjacent.
Make time to stop at the Central Park Zoo, a historic institution filled with fascinating creatures and a cool rainforest exhibit. If you visit in the the summer don't miss Shakespeare in the Park at the outdoor Delacorte Theater.
Explore the park in your own way, staying to the pedestrian streets and letting kids stop to play at will. We love the large boulders on the West Side!
Want to swim in a pool with an amazing view of Central Park? See which hot spot made our list of the best hotel pools in the USA for families.
Take the Ferry to the Statue of Liberty and Find Your Roots at Ellis Island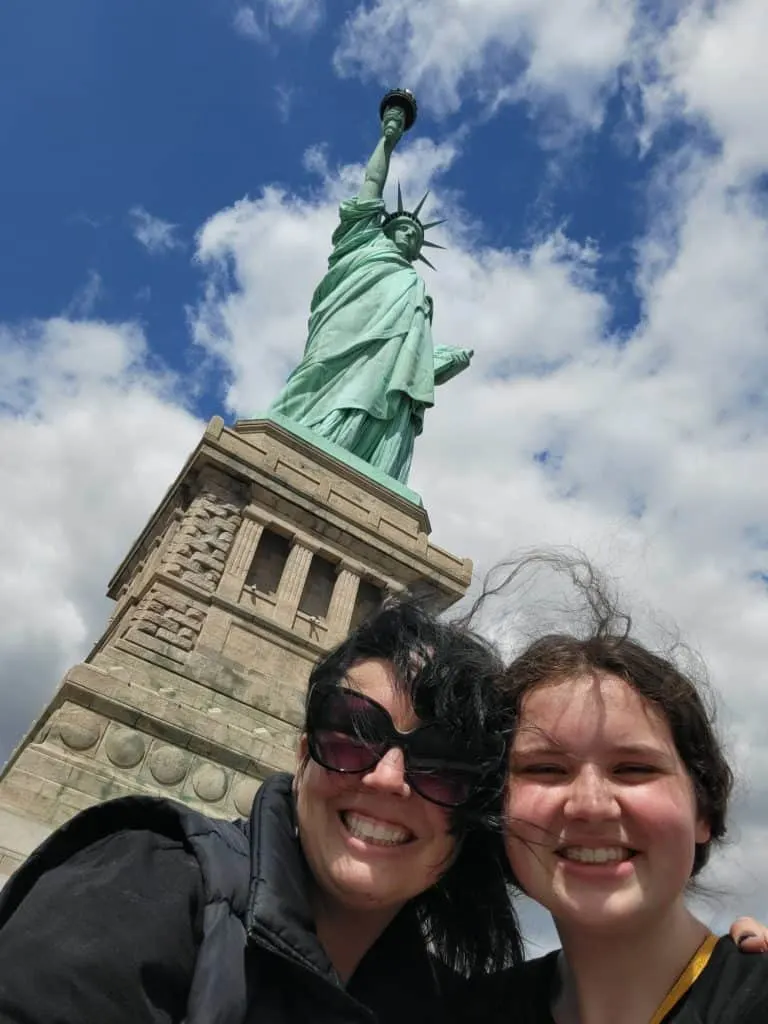 You can't go to New York City and not take a trip to the Ellis Island and Statue of Liberty. For our family, the tour of the immigration museum at Ellis Island was even more rewarding than the statue, due to the excellent way this museum is set up to show the experience of America's many immigrants.
Both attractions are free, but do require a ferry ticket from Statue Cruises (the only ferry that make stops at the attractions). You'll depart from Battery Park, and kids will enjoy the ferry ride as well as the historical sites.
Advanced tickets are required to climb to the top of the statue on a first-come, first-served basis, but if you don't get them, don't sweat it: seeing the statue from the water actually offers the best views. Plan to spend several hours at Ellis Island, especially with school-aged kids and teens.
Where to Eat in NYC with Kids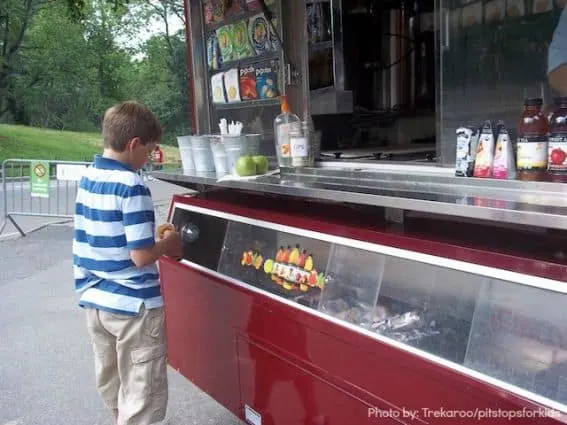 Dining during a New York City vacation can get expensive (hint: hit hot dog carts for a quintessential New York experience that doesn't break the bank). Markets like Chelsea Market are great places to grab quick meals as well.
When you don't want to eat standing up, try 5 Napkin Burger or Shake Shack for a NYC original, kid-friendly atmosphere that's still upscale for adults too.
If you are in the Lower East Side, head to Little Italy for a shared pizza on the patio of any number of 'hole in the wall' restaurants lining the street. Lombardi's is the original: they first brought their pizza technique to America and have been serving it up since 1905.
Near the park, Alice's Tea Cup is a fan favorite, as is Dylan's Candy Bar. Near the American Museum of Natural History, we highly recommend brunch at Cafe Lalo (you might remember it from the movie You've Got Mail).
If you are in Battery Park, don't miss Fraunces Tavern. This restaurant and museum is where George Washington went with his troops after winning the Revolutionary War!
Where to Stay in NYC with Kids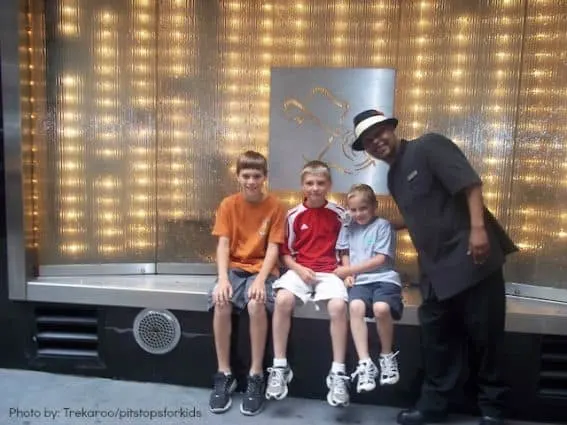 Accommodations in New York City that fit your family's size and budget can be challenging, but great locations can be found! Consider a boutique hotel: they abound in the city, and often provide unique extras that will enhance your urban experience, such as fun doormen or complimentary walking tours.
I recommend focusing your hotel search in Midtown Manhattan: families staying in this area will be safe, and in easy walking distance of the subway, as well as destinations such as Rockefeller Center, Times Square, Central Park, and Grand Central.
Check out our recommendations for the best lodging in NYC for families.
Day Trips from NYC with Kids
The Hamptons and Long Island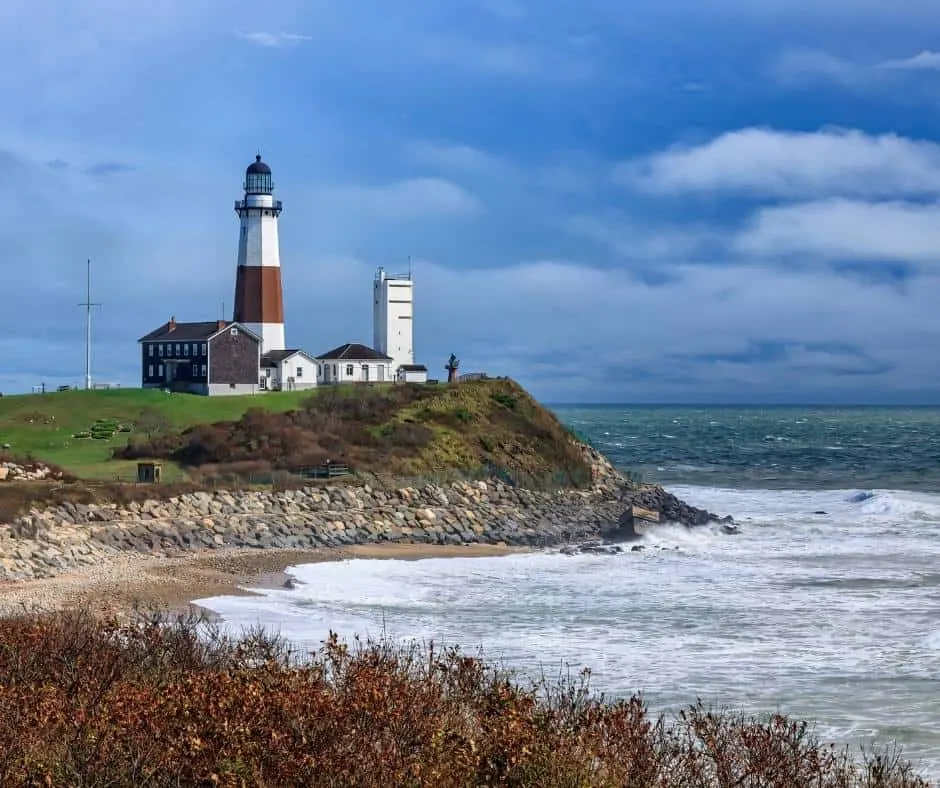 For a day trip out of the city that still has the idyllic New Yorker feel, take a day to explore the Hamptons. Insider tip: it's not just mansions of famous New Yorkers!
Start in the Long Island town of Freeport, or Smithtown, or visit Montauk. The Montauk Point Lighthouse is a historic park and open year round, with the museum open May through September for a summer visit.
Fire Island National Seashore is another good option for families wanting to get away from urban areas for a day, as is Cold Springs Harbor.
Check out all Trekaroo Hampton reviews.
Hudson Valley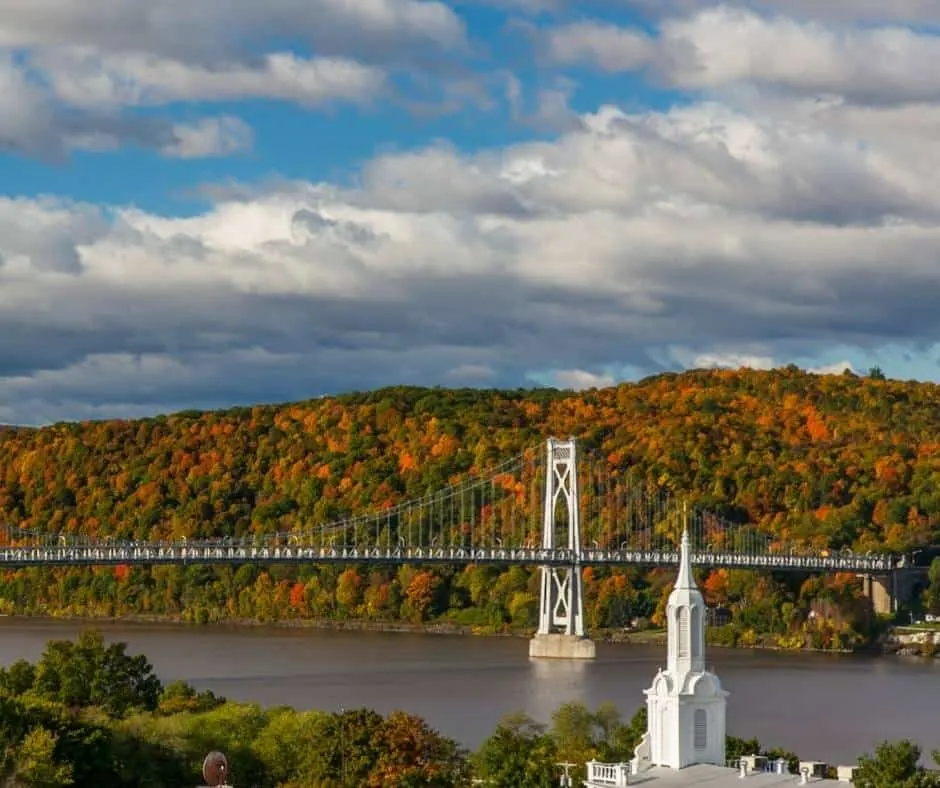 The Hudson Valley area is under two hours from Manhattan, and has a lot to offer visiting families. In Wappingers Falls, the Stony Kill Environmental Center has something for families every weekend, with a distinctly rural feel.
Kids can see animals and learn about ecology and agriculture. At Bear Mountain State Park, kids can swim, hike, and explore the Hudson Highlands. The entire Hudson Valley region feels a world away from New York City; you'll just need a rental car (or your own) to get there. You can even see Sleepy Hollow, New York!
Mt. Laurel, New Jersey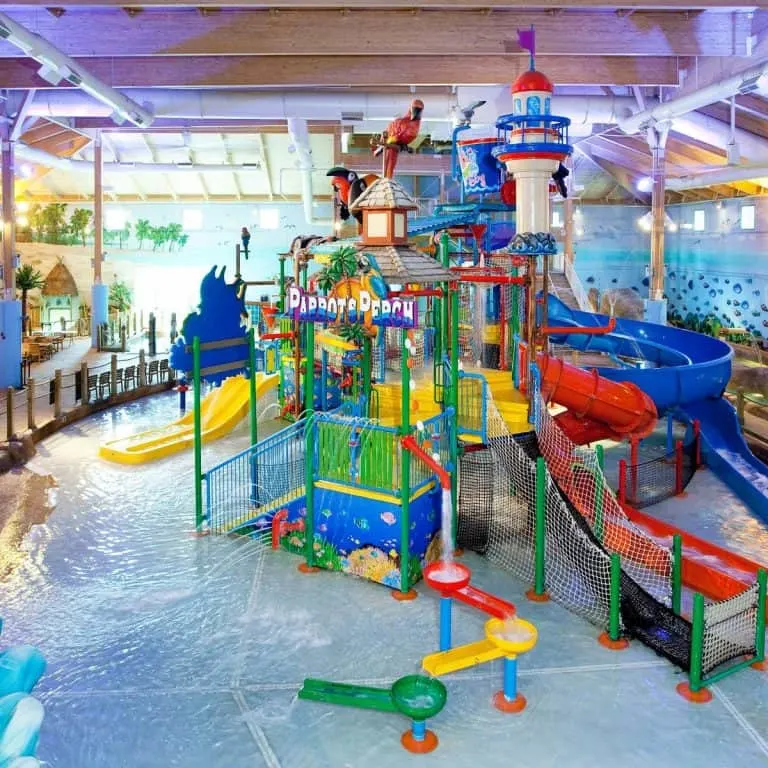 Not far from the city, Mt. Laurel is the home of CoCo Key Water Resort, a fun day trip for young kids or anyone during poor weather. When you need to get away from it all and just let the kids play, this is the place. Families can come just for the day, or spend a night.
Disclosure: The author was given two passes by GoCity in order to help keep this article current and visit some of the attractions mentioned. She was not required to state a particular view; all opinions are my own.
From coast to coast, we're determining the Top 10 Things to do with Kids in each state and dozens of cities of our great nation.
Featured photo by: Shutterstock