There's so much to do in New York City with kids, it can be hard to know where to start! Taking a bite out of the Big Apple can be daunting, but the rewards are many. Families will experience culture, urban living, culinary delights, and adventure in this city that never sleeps! Here are the things you must do in NYC with kids!
Note: the suggestions below are for Manhattan. For attraction reviews in other New York boroughs, see Trekaroo's full New York City activity pages.
Top 10 NYC: What you must do in NYC with kids
10. Bike the Brooklyn Bridge with Bike and Roll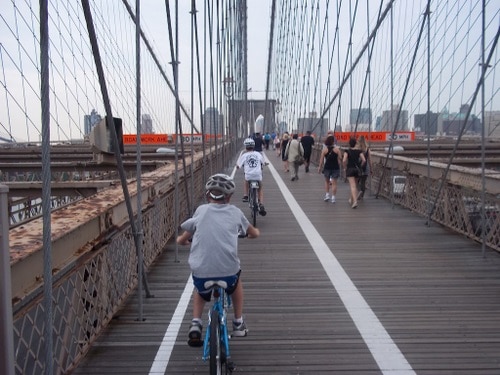 Families visiting New York City will notice bike rental stations throughout cycle-friendly areas of Manhattan, namely in Central Park and along the Battery. From Bike and Roll to At any Bike and Roll kiosk, the staff will be able to give you detailed maps and route information for biking to nearby attractions, or doing a bike loop to see more of the city. Perfect for families with older kids and teens (due to the necessity for kids to obey directions and traffic rules), cruising the city by bike provides a fun perspective! We loved biking over the Brooklyn Bridge with Bike and Roll's Bike the Brooklyn Bridge, Water Taxi Back route. We started at the Greenway, biked over the bridge, and then boarded a Brooklyn water taxi for a scenic ride back to our point of origin at Pier 84. The experience took us a few hours, and was great fun for our school-aged kids. Bike and Roll does offer bikes with trailers for younger kids.
9. Ride to the Top of the Empire State Building
Want a quintessentially New York experience? Head to the top of the Empire State Building for iconic views of the city! Of course, everyone else will be doing this too, so make this your first stop of any sightseeing day. Expect long lines after the first hour after the building opens. To save time and money, buy tickets ahead of time with a CityPASS or GoCard, and bring coins to operate the binoculars at the top.
8. Experience the Hustle and Bustle of Grand Central Terminal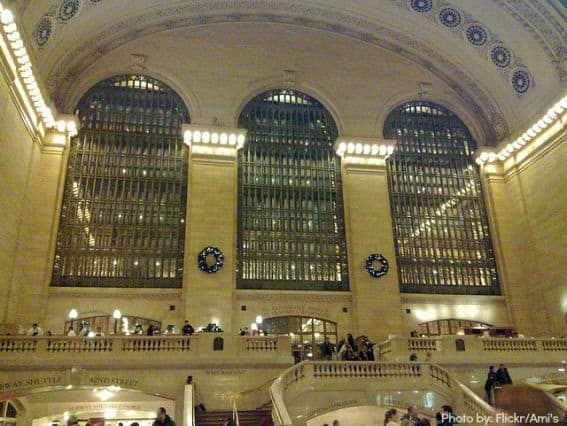 The ambiance may be busy inside Grand Central Terminal, but kids love it! Grab an easy meal from one of the many food vendors, and check out the stunning decor on the ceilings and walls. The sheer scope of this place is awe-inspiring. Best of all, this classic New York City experience is free! There are even walking tours and guided tours offered daily.
7. Shop at Rockefeller Center and see Top of the Rock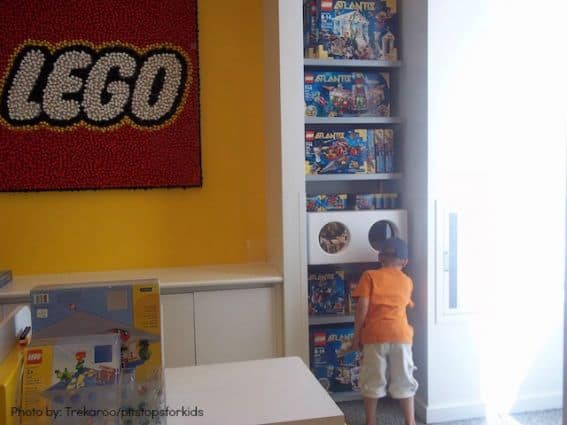 Fun for adults as well as kids, Rockefeller Plaza offers great shopping, celeb spotting, and, of course, ice skating in winter. Let the kids meander through the huge LEGO or Nintendo stores, and glimpse famous 30 Rock. Avoid the morning hour if you don't want to get caught up in the Today Show crowds. If you're not visiting the Empire State Building on your New York City trip, a visit to Top of the Rock offers competitive views, and is less crowded (especially at night).
6. Explore the American Museum of Natural History and the Met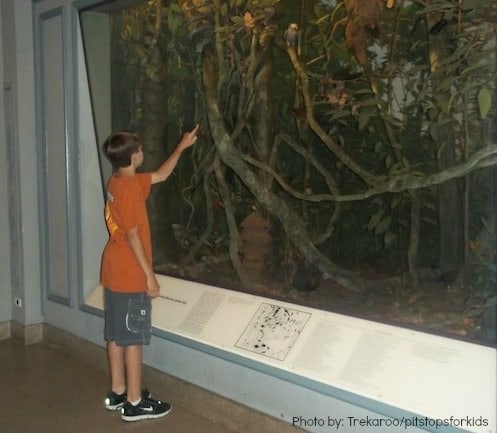 No family should visit New York City and not plan a day for museum touring! We love the American Museum of Natural History, both for its subject matter (animals and primitive humans and nature, oh my!) but for its Upper West Side location adjacent to Central Park. This museum is perfectly paired with an afternoon outside. On the other side of Central Park (and easily accessible via subway), the Metropolitan Museum of Art is ideal for older kids (with younger kids, focus only on smaller sections of the museum, or check out the ongoing programs for preschoolers and toddlers).
5. Visit the National September 11 Memorial and Museum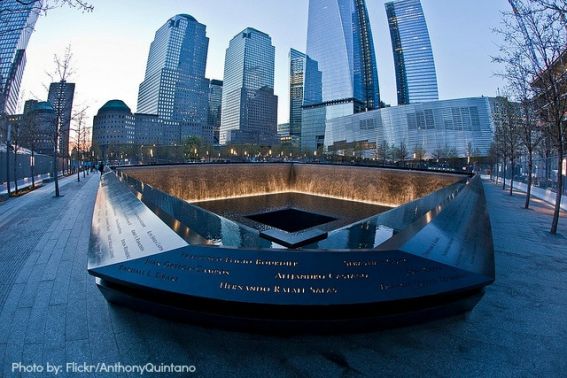 Take time out of your New York City sightseeing to devote a few hours to the World Trade Center and its National September 11 memorial and museum. The site is certainly hard for many American families to see, but the museum includes a well-constructed memorial and displays. The location is worthy of a pilgrimage, and will be especially sobering for adults who remember the twin towers while they stood.
4. Ride the Free Staten Island ferry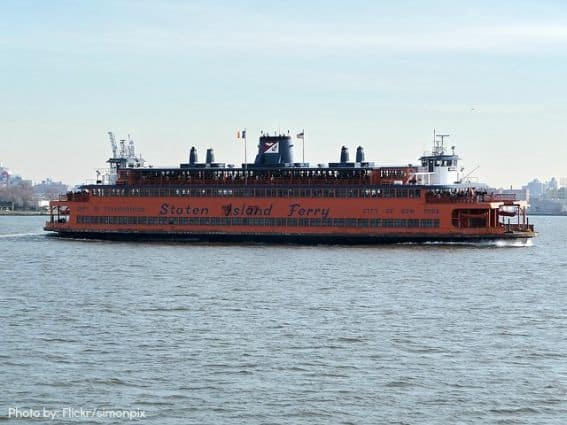 Looking for another free New York City experience? Instead of paying for a water taxi or ride to the Statue of Liberty, hop on the free Staten Island ferry (boat dock at Battery Park). Perfect for young kids who don't need to make a stop at the statue to appreciate it, or for families who have done a previous statue tour, the Staten Island Ferry offers iconic views of the harbor without the ticket price. Grab dinner from a street vendor and eat it on the ferry!
3. Go to a Broadway Show and Explore Times Square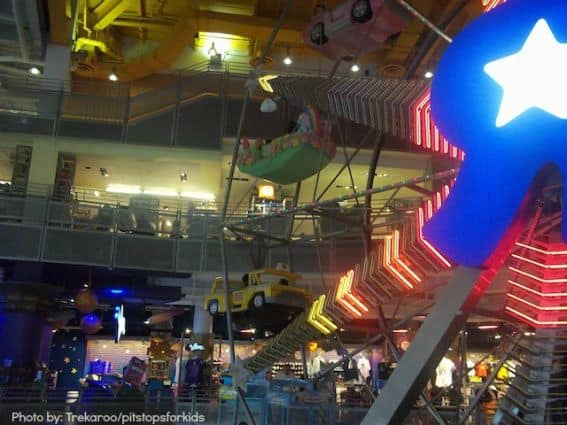 Times Square can be touristy and busy (ok, it's always touristy and busy), but it's still worth a stop on your New York City trip. Kids will want to see the ferris wheel located inside the flagship Toys R Us, and everyone will enjoy gaping at the huge billboard ads for current Broadway musicals, even if you don't have tickets to one! Before arriving, check out which current exhibits are on display at the Discovery Center (run by the Discovery Channel). On our visit, we were lucky enough to catch the Harry Potter interactive display. Street performers will be present in Times Square, but keep kids close: the streets can be packed, making it easy to become separated.
2. Spend a day in Central Park at Heckscher Playground and Conservatory Water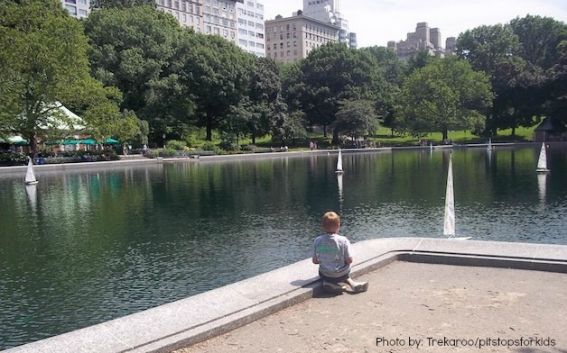 Maybe it's because we're from a rural area, but our favorite place in New York City is Central Park. If you're not sure where to start in this massive green space, try Heckscher Playground, with its soccer fields, water features to play in during warm weather, and play equipment. You'll find food vendors nearby, and the playground has almost a carnival-like energy to it during the summer months. For a quieter venue, head to Conservatory Water, where kids can rent motorized sailboats to navigate on the pond, and parents can get a well-deserved coffee at the cafe adjacent. Explore the park in your own way, staying to the pedestrian streets and letting kids stop to play at will. We love the large boulders on the West Side!
Want to swim in a pool with an amazing view of Central Park? See which hot spot made our list of the best hotel pools in the USA for families.
1. Take the Ferry to the Statue of Liberty and Find your Roots at Ellis Island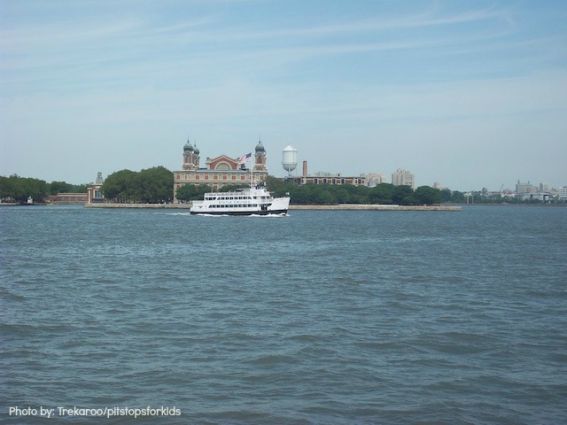 You can't go to New York City and not take a trip to the Ellis Island and Statue of Liberty. For our family, the tour of the immigration museum at Ellis Island was even more rewarding than the statue, due to the excellent way this museum is set up to show the experience of America's many immigrants. Both attractions are free, but do require a ferry ticket from Statue Cruises (the only ferry that make stops at the attractions). You'll depart from Battery Park, and kids will enjoy the ferry ride as well as the historical sites. Advanced tickets are required to climb to the top of the statue on a first-come, first-served basis, but if you don't get them, don't sweat it: seeing the statue from the water actually offers the best views. Plan to spend several hours at Ellis Island, especially with school-aged kids and teens.
Must Eats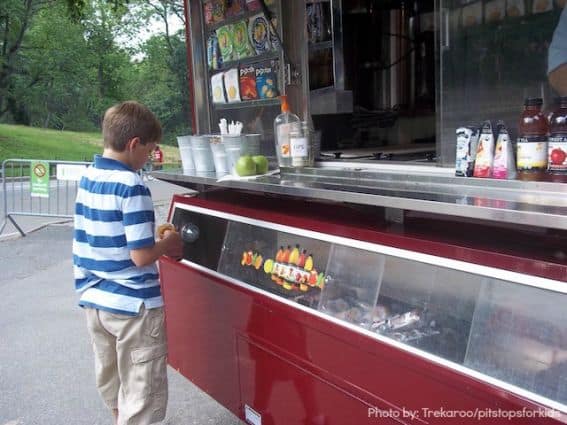 Dining during a New York City vacation can get expensive (hint: hit hot dog carts for a quintessential New York experience that doesn't break the bank). When you don't want to eat standing up, try 5 Napkin Burger for a kid-friendly atmosphere that's still upscale for adults too, or head to Little Italy for a shared pizza on the patio of any number of 'hole in the wall' restaurants lining the street. Near the park, Alice's Tea Cup is a fan favorite, as is Dylan's Candy Bar. Near the American Museum of Natural History, we highly recommend brunch at Cafe Lalo. Additional favorites: Sugar and Plumm, John's Pizza, and Blue Ribbon Sushi.
Stay Here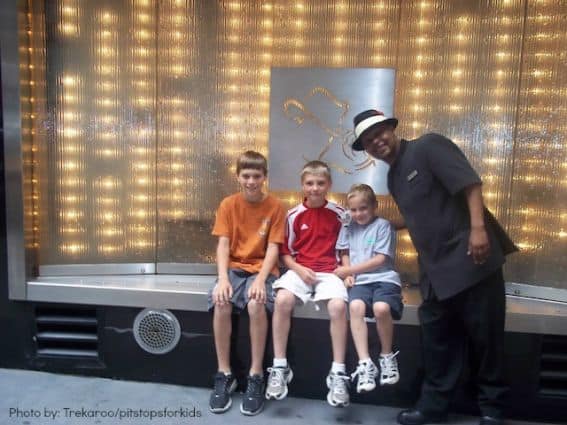 Accommodations in New York City that fit your family's size and budget can be challenging, but great locations can be found! Consider a boutique hotel: they abound in the city, and often provide unique extras that will enhance your urban experience, such as fun doormen or complimentary walking tours. I recommend focusing your hotel search in Midtown Manhattan: families staying in this area will be safe, and in easy walking distance of the subway, as well as destinations such as Rockefeller Center, Times Square, and Grand Central. We love Affinia 50 in Midtown, or families can peruse a full list of New York City hotel reviews.
Need help figuring out New York City transportation options? Check out this post on NYC subways, taxis, and trains.
Top Day Trips
The Hamptons and Long Island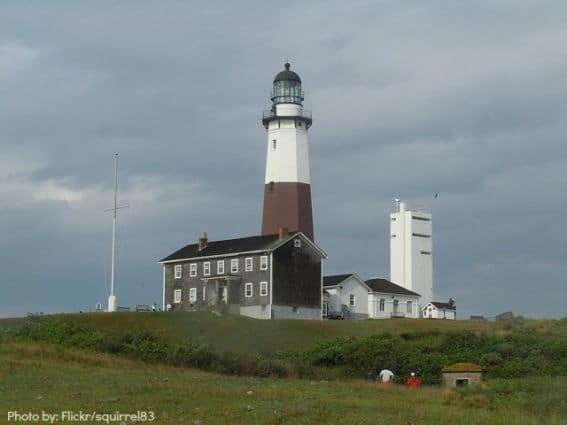 For a day trip out of the city that still has the idyllic New Yorker feel, take a day to explore the Hamptons. Insider tip: it's not just mansions of famous New Yorkers! Start in the Long Island town of Freeport, or Smithtown, or visit Montauk. The Montauk Point Lighthouse is a historic park and open year round, with the museum open May through September for a summer visit. Fire Island National Seashore is another good option for families wanting to get away from urban areas for a day, as is Cold Springs Harbor.
Check out all Trekaroo Hampton reviews.
Hudson Valley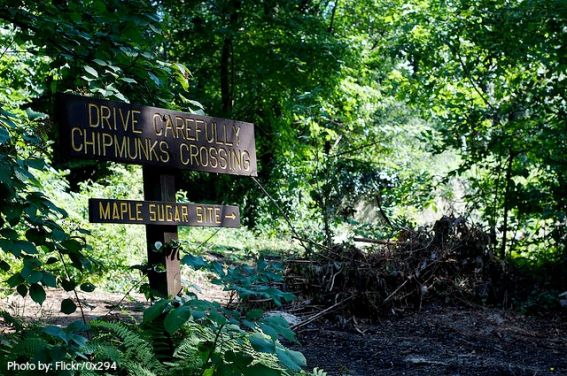 The Hudson Valley area is under two hours from Manhattan, and has a lot to offer visiting families. In Wappingers Falls, the Stony Kill Environmental Center has something for families every weekend, with a distinctly rural feel. Kids can see animals and learn about ecology and agriculture. At Bear Mountain State Park, kids can swim, hike, and explore the Hudson Highlands. The entire Hudson Valley region feels a world away from New York City; you'll just need a rental car (or your own) to get there. You can even see Sleepy Hollow, New York!
Mt. Laurel, New Jersey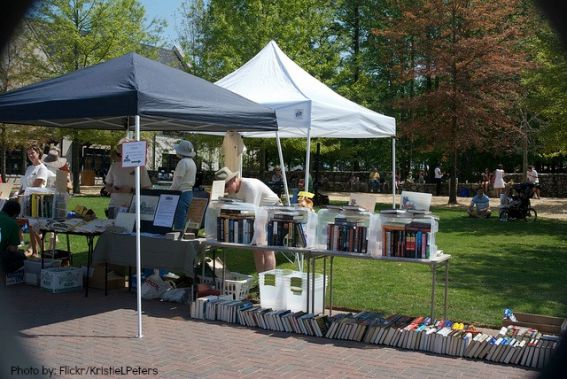 Not far from the city, Mt. Laurel is the home of CoCo Key Water Resort, a fun day trip for young kids or anyone during poor weather. When you need to get away from it all and just let the kids play, this is the place. Families can come just for the day, or spend a night.
Want more kid-friendly fun in New York? Check out our top ten things for families to do in New York!

Where do you want to visit next?
From coast to coast, we're determining the Top 10 Things to do with Kids in each state (and now major cities!) of our great nation. Head here to see what tops the list in your neck of the woods.
Featured photo by: Shutterstock