It's beginning to look a lot like Christmas in Southern California! There may not be snow on the ground and it might be a perfect 75 degrees, but Christmas in Los Angeles is filled with fun!
There are so many special Christmas events in Orange County, the Inland Empire, and the rest of the region as well. If you live here or are visiting, we hope you enjoy our guide to Los Angeles Christmas events, Orange County Christmas events, and even holiday happenings in San Diego. Updated for the 2021 season!
Christmas in Los Angeles- Christmas Events in LA, Orange County, & More!
Holiday Boat Parades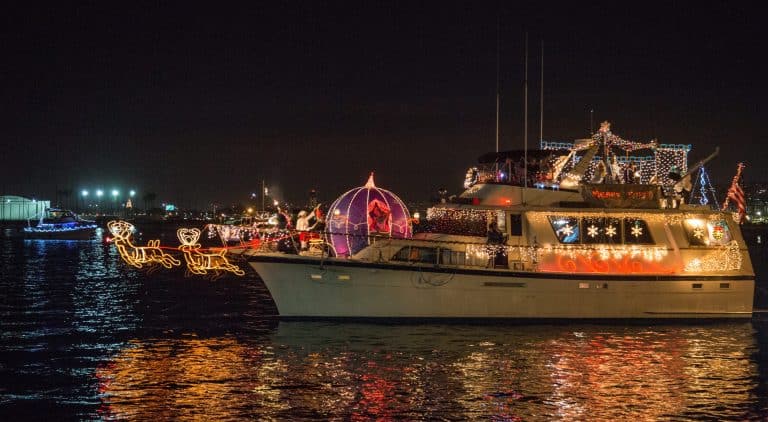 Over a million lights twinkle on cleverly decorated boats floating through harbors and canals up and down the Southern California coast. Bundle up your kids, breathe in the cool marine air, and enjoy this quintessential Christmas in Los Angeles event.
Be sure to find out where the parade starts so that you know the approximate time of when it will float by your location.
Marina del Rey Boat Parade– December 11, 2021 from 5:55 – 8:00pm. There will be fireworks before the parade. This year's theme is "Joy on the Water".
Naples Long Beach Boat Parade: December 18, 2021. The parade begins at 6pm and the theme is "Diamonds on the Bay".
Dana Point Harbor 46th Annual Fiesta Boat Parade of Lights- December 10, 11, and 12, 2021. Begins at 7:30pm on the 10th and 11th and 6pm on the 12th.
Newport Beach Christmas Boat Parade– Now in its 113th year, this boat parade is a big one! . This year's parade will be held Wednesday through Sunday, December 15-19, 2021. The parade begins around 6:30pm each night.
Huntington Harbour Boat Parade– December 11 and 12, 2021. This year's theme is "American Dream- Rock the Harbour 2021".
Channel Island's Harbor Parade of Lights in Oxnard- This tradition takes place the second Saturday in December- December 11, 2021. There will also be free pictures with Santa and 36 tons of snow! The parade starts at 7pm.
Ventura Harbor Parade of Lights– There will be fireworks in addition to the boat parade which takes place December 17-18, 2021 from 6:30 – 8:00pm.
Oceanside Harbor Parade of Lights – This year's event takes place December 11, 2021.
San Diego Bay Parade of Lights– Celebrating its 50th year with a "Twelve Days of Christmas" theme. It will take place December 12 and 19, 2021 at 5:30pm.
Christmas Shows and The Nutcracker for Kids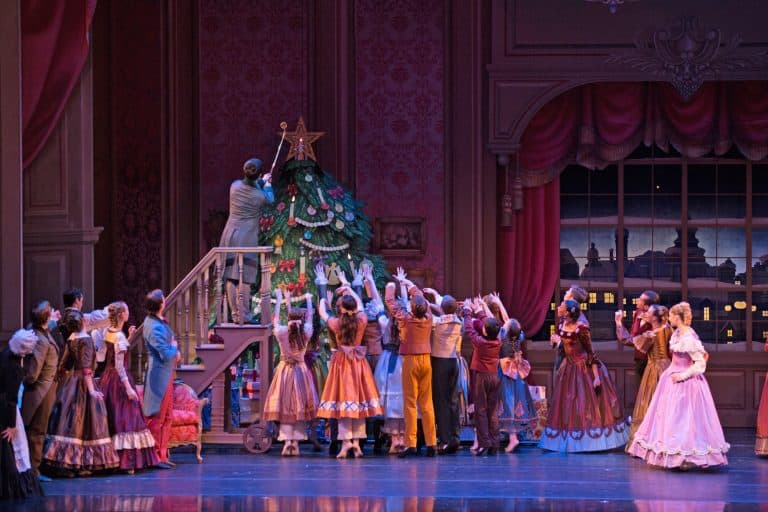 Panto Theater
You'll laugh, you'll cry, you'll sing – and then you'll boo and hiss the evil queen! Sounds like a strange way to enjoy a holiday play but our friends in Great Britain have enjoyed the tradition of Panto for many years, and now thanks to the Lythgoe family, we can enjoy this family-friendly introduction to the theater here in Southern California.
Panto is basically an interactive musical theatre production using classic fairy tale stories with modern scripts and twisting in pop songs, dancing, and interaction with the audience, and then tying it up with a big red Christmas bow.
In the 2021 Christmas season, enjoy performances of "Robin Hood and Maid Marion- A Holiday Panto" at the Laguna Playhouse December 3-29, 2021.
The Nutcracker
Dancing Sugar Plum Fairies and sword battles with monkey kings will delight many children. However, it can be hard on kids who can't sit still for long periods of time. If you have young boys like me who like to blurt out loud, "those tight pants look funny" in a quiet theater, you may enjoy one of these special Nutcracker performances for kids.
The Segerstrom Center for the Arts in Costa Mesa will be performing the Nutcracker for kids. Regular performances of the American Ballet Theatre's production of The Nutcracker will take place December 10 – 19, 2021.
The Festival Ballet Theatre will be performing Nutcracker shows at the Irvine Barclay Theatre. There is an abridged version designed with young kids in mind riday, December 10, 2021 at 9:30am & 11:30am. The full version will be running December 11 – 24, 2021.
The San Diego Civic Youth Ballet presents The Nutcracker at the historic Casa Del Prado Theatre in Balboa Park . There are special dates for schools and scout groups.
All ages will be enchanted by the children performers of the Red Chair Children's Production of the Nutcracker at the Alex Theatre in Glendale December 11 and 12, 2021.
Also at the Alex Theatre, the Los Angeles Ballet is presenting a performance of The Nutcracker December 4-5, 2021. The Los Angeles Ballet will also be performing The Nutcracker at the Redondo Beach Performing Arts Center, Royce Hall at UCLA, and the Dolby Theater.
Check for amazing deals on family-friendly hotels in California.
Christmas in Southern California- Special Teas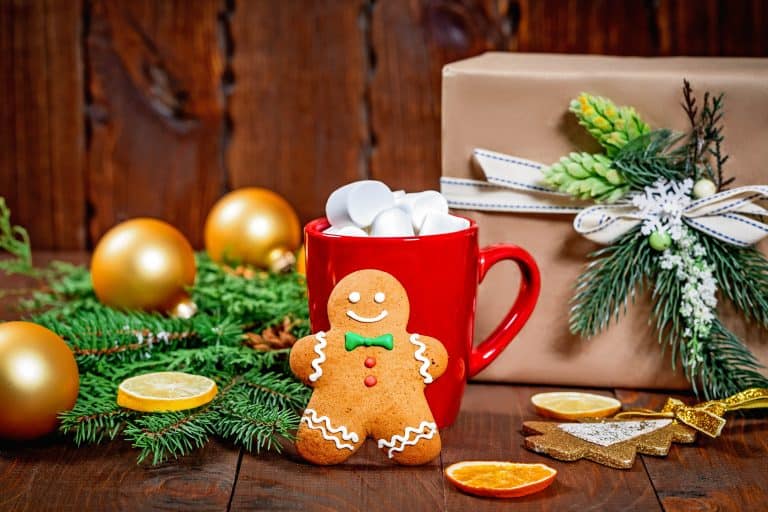 A good friend of mine loves taking her daughters to a special Christmas tea every year. They have become holiday treats for families across the Southland. The Langham Huntington, Pasadena will hold their annual Teddy Bear Tea. It includes a story time, photos with Santa, and a marionette puppet show. Note: This event appears to be canceled for 2021 due to Covid-19.
At the Ritz Carlton – Laguna Niguel enjoy a relaxing afternoon at their Holiday Tea which will take place Monday through Thursday, November 29 to December 16, 2021.
Make time to view the resort's impressive gingerbread display. Visit on November 21, 2021 for their Open House and Tree Lighting Ceremony.
At the Great Wolf Lodge of Anaheim, there are several special events and experiences taking place for 2021. Check out our guide to Christmas at Great Wolf Lodge for more information.
Make a reservation for the elegant high tea served in the beautiful Rose Garden Tea Room at The Huntington Library of Pasadena (closed until winter of 2022) or The Tea House on Los Rios in historic San Juan Capistrano. No matter where you take tea, enjoy the sights and tastes of a relaxing and beautiful holiday season.
All tea events require reservations. Please see details on resort websites for ticket prices and reservations.
Experience Theme Park Fun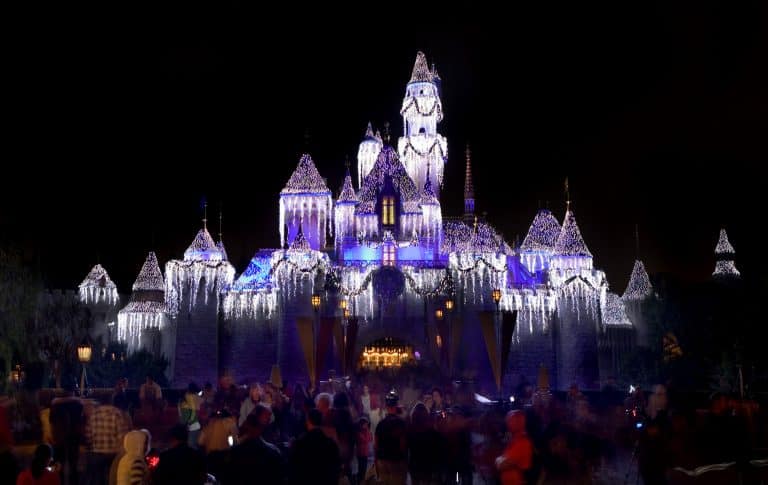 Southern California is known for its world-class theme parks. Each one celebrates the holidays in grand style with extensive decorations and special events.
Visiting these parks during the Christmas season can be twice as fun, extra special, and provide decorative backgrounds for really great photos of your kids!
Orange County Christmas Events at Theme Parks
Visitors to Knott's Berry Farm in Buena Park experience Knott's Merry Farm which runs November 19, 2021 through January 2, 2022.
This event celebrates with the "Home for the Holidays" musical revue, "Merry Christmas, Snoopy" ice show, "Snow and Glow" light show, plus parades, carolers and a special Christmas shopping village.
The Disneyland Resort is the place to be for a full-fledged holiday celebration. Disney knows how to make memories magical during the holidays with decor, attractions, shows, parades, and fireworks which are sure to get you in the Christmas spirit.
When things are back to normal, we continue to have a full guide to Christmas at Disneyland as well as plenty of "can't miss" Disneyland tips.
Los Angeles Christmas Events at Theme Parks
Universal Studios Hollywood is the place to be in Los Angeles for holiday-spirited them park fun! From the magic of Christmas at Hogwarts to Grinchmas, there is so much to get excited about.
We have a full guide to Universal Studios Hollywood Christmas attractions and experiences.
San Diego Christmas Events at Theme Parks
There are several exciting happenings at theme parks and zoos across San Diego County.
LEGOLAND
LEGO Santa, his reindeer, and elves are waiting at LEGOLAND California this holiday season for pictures and greetings! The LEGO Christmas tree will be lit each night and twinkling to holiday music. The tree is 30 feet tall and has 400 LEGO ornaments.
Santa, the Toy Solider, and the Gingerbread Man will all be around for pictures. Don't miss the sleigh with a life-sized LEGO Santa. There will also be a new show to enjoy, Santa's Top Elf.
Make a weekend out of it! Book your stay at the LEGOLAND Hotel.
We have plenty of great LEGOLAND tips as well as a guide to finding LEGOLAND discounts.
Also, don't miss the annual Kids' New Year's Eve! There are kids' bands, party favors, fireworks and a 6pm giant brick drop!
SeaWorld
Santa is friends with the sea life of SeaWorld! At SeaWorld's Christmas celebration families can still experience holiday fun in a safe and fun way!
Classic shows such as the Dolphin Island Christmas show and Clyde and Seamore's Christmas Special are back for another year. There will also be holiday music-activated Tunnel of Lights, a sea-themed Christmas tree, lots of seasonal food and treats, and, of course, lots of sea life to enjoy.
This event runs on select dates from Nov 12, 2021- January 2, 2022.
San Diego Zoo
The San Diego Zoo gets into the holiday spirit during Jungle Bells, Hop aboard the Twinkle Light Trolley to see lighted animal sculptures throughout the zoo.
This year's will take place December 10-25, 2021 (except for Dec. 24) as well as January 1-2, 2022. During this special event the zoo is open until 8PM.
Meet Santa or enjoy Dr. Zoolittle's fun version of "Twas the Night Before Christmas." Watch acrobatic trampoline elves, walk through a lit up forest of winter-loving animals, stop to take pics with Santa at his igloo, and enjoy so many more fun holiday activities.
Read more about San Diego holiday events. We have a full guide to the fun!
Santa's Village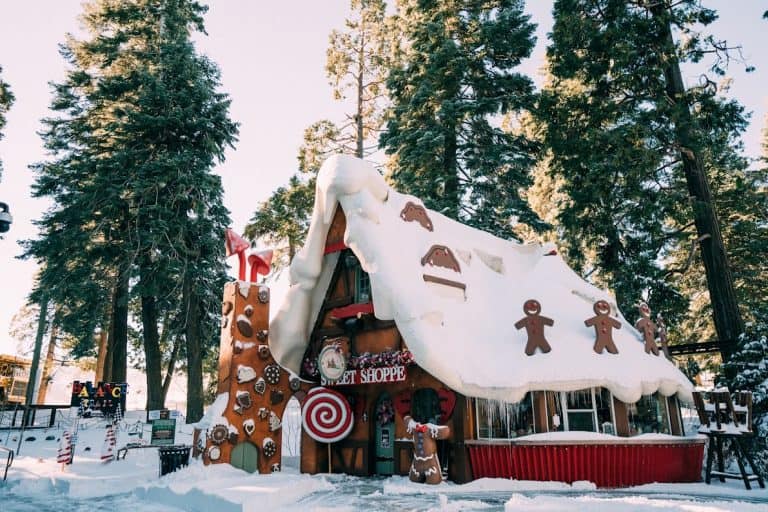 Santa's Village in the San Bernardino Mountains near Lake Arrowhead is a dream destination for Southern California families look to enjoy a wintry Christmas experience.
Of course, Santa lives at Santa's Village so there will be opportunities to meet Santa, visit his workshop and paint your own toy, decorate cookies, and more. There will also be puppet and magic shows and plenty of holiday treats to go around.
At 4pm head to the Village Tree to meet characters like Princess Sugar Plum, Frosty, Snap and Crumblesbefore the Village Tree Lighting Parade.
Every night after sunset, Village Lights Spectacular will happen as the village twinkles with lights and sings with festive Christmas music.
There is also ice skating Floki's Frozen Falls Climbing Tower, Princess Evergreen's Archery Range, King Celwyn's Ax Challenge and much more.
Santa's Village is open year round, but the special Christmas offerings are from November 17, 2021 through January 2, 2022.
Outdoor Ice Skating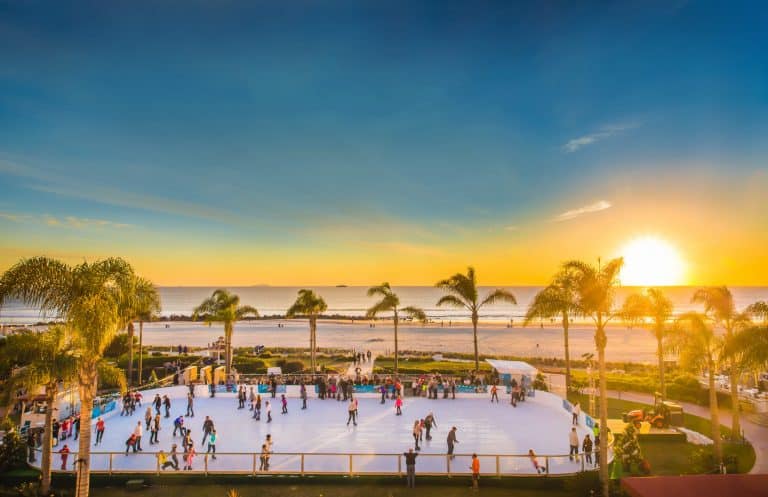 Gliding over the ice, or rather, inching along with your clinging son at your side, can be a great event that creates memories through laughter and exercise. Ice skating outside is twice as fun with sparkling holiday lights and music.
If you are in the Los Angeles area, don't miss ice skating by the beach at Ice at Santa Monica. You will also enjoy skating under the lights of Holiday Ice at L.A. LIVE. Cancelled for 2021 due to damage to facility.
Pershing Square ice rink in Downtown LA is another rink you don't want to miss. Note: Pershing Square has not yet updated its website for 2021. We will update as soon as we can.
In 2021, two outdoor ice rinks will be located in Huntington Beach- Oceanfront Ice Rink at Pasea Hotel & Spa and Surf City Ice Rink. Pasea's Oceanfront Ice Rink feautres special holiday cocktails, s'mores kits, and even VIP firepits. The Surf City Rink will be on the beach at Plaza Pier.
For families in San Diego, what could be a more beautiful picture of winter in California than ice skating next to the beach at the picturesque Hotel Del Coronado with its red peaked roofs and white sandy beach. Skating by the Sea will take place November 22, 2021 through January 2, 2022.
The Fantasy on Ice in Liberty Station is another San Diego skating spot you don't want to miss.
Ice skate under the stars and the lights of the Giant Wheel at the Irvine Spectrum Center in Orange County. This year the rink will be open Novmber 5, 2021 through January 2, 2022.
Explore more places to ice skate in Southern California.
Special Christmas Light Displays in Southern California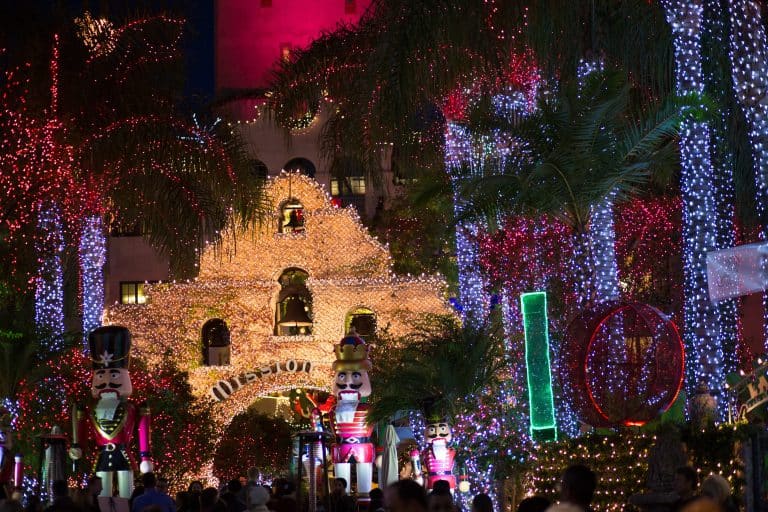 All during December, I hear my little ones shouting in the back seat of the car, "Christmas Lights!!!" at the top of their lungs, just to make sure I see any and all of the twinkling lights that delight them.
We often enjoy driving around neighborhoods with hot chocolate or walking the streets with sticky candy canes to enjoy the lights of the season. Here are some extra special light displays to visit this year:
Inland Empire
The Festival of Lights is held at the Mission Inn Hotel and Spa in Riverside. It is the most popular Christmas attraction in the Inland Empire.
It is free and open to the public nightly from November 26, 2021 – January 6, 2022. Enjoy thousands of lights and decorations, visits to Santa, carolers, horse-drawn carriage rides, live reindeer, and more!
Lake Elsinore's Downtown Main Street will host 2021 Winterfest on Saturday, December 4, 2021 from 3-9 p.m. There will be a Christmas Parade, food and craft vendors, a tree lighting, as well as visits with Santa at Santa's Village.
Lake Elsinore's Hashtag Selfie Experience Gallery will be having their annual Grinchmas Holiday Experience November 18 – December 31, 2021. Come early to take selfies and pictures from 2-4pm and then stay to enjoy a live interactive experience with the Grinch and all his Whoville friends from 5-9pm.
In Temecula, head to Ronald Reagan Sports Park on December 18, 2021 from 12-8pm to experience Chilled in the Park. This holiday festival will have an ugly sweater contest, a kids zone, food, entertainment, and fireworks.
Los Angeles County
Don't miss Christmas Tree Lane in Altadena. It has been recognized as the oldest large-scale outdoor Christmas display in the world. The trees on Santa Rosa Avenue, have been lighted annually since 1920.
In Griffith Park, enjoy LA Zoo Lights. Prepare to be surrounded by glowing animals, a disco ball forest, sparkling snowflakes, and a tunnel filled with twinkling, swirling lights. Hot cocoa and treats are available for purchase. This year's event takes place November 19, 2021 – January 9, 2022.
Kids will love to dance across lily pads of lights at the Enchanted Forest of Light at Descanso Gardens from Nov 21, 2021 – Jan 9, 2022. Buy your timed ticket in advance.
Orange County
A towering LED-lit Christmas tree near the Giant Wheel of the Irvine Spectrum in Orange County will come alive with a choreographed light and music show every 30 minutes, from 5 pm until 11 pm throughout the Christmas season.
WinterFestOC has been replaced by Night of Lights OC for 2021. It is a drive-thru experience that will run November 26, 2021through January 2, 2022. Advanced tickets are required for timed session from 5-9:30PM each night.
There will be one million lights to enjoy on the mile-long route. Music will be synched via a car radio or smart phone. Food will be available for purchase including hot cocoa, cinnamon sugar donuts, cookie buckets, brownies, and tamales.
San Diego County
The San Diego Botanic Gardens host Botanic Wonderland Holiday Nights on select nights December 4- 30, 2021. Enjoy a stroll through the wonderland of lights in the garden, a musical light show, snow mound, pictures with Santa, crafts, marketplace, and food trucks.
Seasonal festivities for the whole family along with beautiful lighting makes Balboa Park shine at December Nights. There are several vendors and plenty of entertainment at this wildly popular event. Most of the park's museums open their doors for free during the evening.
Note: December Nights 2021 will be a drive-thru event due to Covid-19. The drive-thru 2020 event featured 20+ food trucks and vendors offering food from around the world. Info on the 2021 event is still forthcoming but it will take place December 3-5, 2021.
Explore this list of Where to Enjoy Holiday Lights in Los Angeles.
Holiday Arts and Culture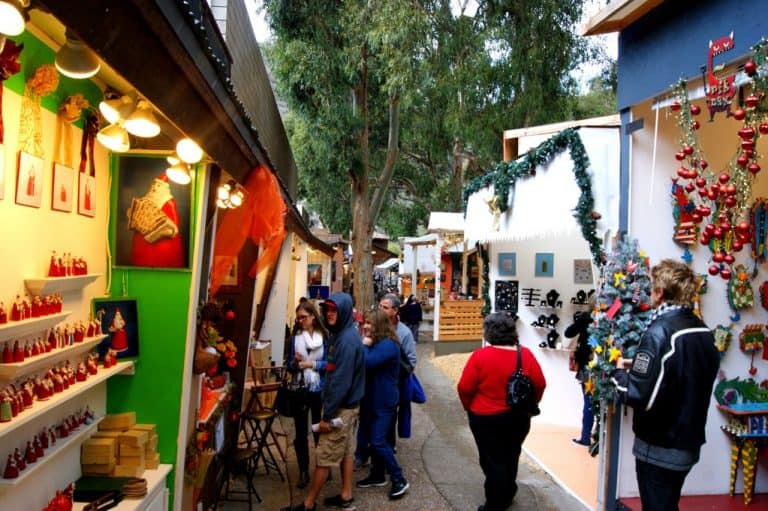 Last December we attended the Sawdust Art Festival Winter Fantasy (November 20 – December 19, 2021) in Laguna Beach after hearing rave reviews of the annual summer festival.
I'd heard much of the fun crafts, art demonstrations, and beautiful displays that kids and parents enjoy, but what we enjoyed the most was getting to throw clay on a pottery wheel and watch the glass blowing demonstrations.
Los Angeles is a culturally diverse community and there are many ways to celebrate the holidays with kids.
Las Posadas, a nightly tradition of acting out the journey of Mary and Joseph through the streets of Nazareth takes place at Olvera Street in Los Angeles nightly from Dec 16-24. Live music begins at 5:30, the procession at 7pm, along with pinatas for children, free sweet bread, and live entertainment.
"Christmas Around the World " is a great exhibit at the Ronald Reagan Presidential Library . It features 26 decorated Christmas trees representing the 26 countries President Reagan visiting while in office. This year's event will be held November 13, 2021 – January 9, 2022.
Other cultural events occur at the Skirball Cultural Center's Hanukkah Family Festival (December 5, 2021) and the Japanese American National Museum's Oshogatsu Family Festival celebrating the Japanese New Year.
Look for the best hotel prices in California
Enjoy History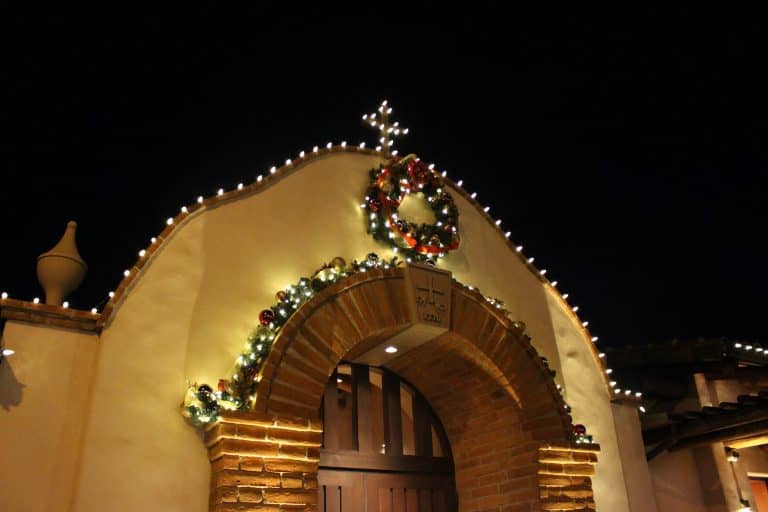 Celebrate the holidays at historical sites in SoCal and let an old-fashioned Christmas come alive for your family.
Beginning December 3rd, Mission San Juan Capistrano will host Capistrano Lights December 4- 30, 2021. It involves a nightly tree lighting and live musical program. Check out their website for more info and tickets.
Christmas comes to Heritage Hill Historical Park in Lake Forest with the annual Candlelight Walk December 10 – 12, 2021 from 5:30 – 8:30pm. There will be more than 1,000 luminarias lighting the park's pathways. Strolling carolers and musicians help set the holiday scene.
The Holiday in the Village, A La Mesa Tradition transforms the historic downtown streets of La Mesa into a holiday wonderland. There are Victorian decorations and special events on December 4 2021.
Book a room or take a tour of the historic Queen Mary, docked in the harbor of Long Beach to be transported to a Christmas of yesteryear. Light displays and holiday carolers will be on deck to delight guests as well as family-friendly activities and visiting the new captain – Santa! Note: Sadly, the Queen Mary remains closed due to critical safety issues and needed repairs.
Train Rides to Visit Santa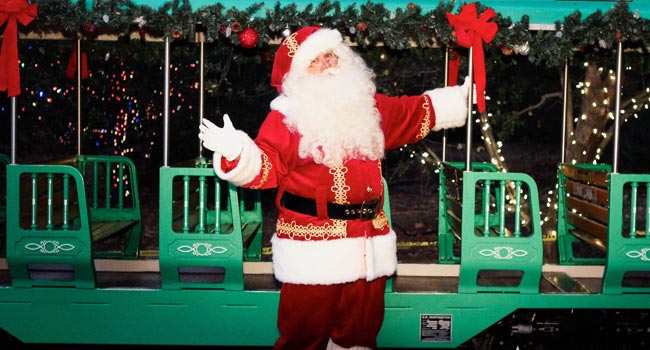 Visiting Santa is often at the top of most family's checklist for the season. How much more fun to visit him on a farm or at the end of a train ride!
Take a Polar Express ride to visit Santa Claus and then enjoy live entertainment, crafts, a living nativity, and more. Hop aboard the Christmas Train on the Irvine Park Railroad to visit Santa from Nov 26 – Dec 23, 2021.
Kids will be delighted to find Santa at the North Pole after their nighttime ride on the train through the park. This event will sell out early!
Near Santa Clarita, take the North Pole Express to Santa's Village on the Fillmore & Western Railway Co or the "Sugar Plum Express" to pick out your perfect tree while Santa rides onboard to visit with everyone. Advance purchase is required and reservations are limited.
Down south in Campo, reserve a ticket on the Santa Train North Pole Limited and bring kids dressed in jammies for a trip to see Santa at the Pacific Southwest Railway Museum. This will take place on select days November 26 – December 19, 2021. It will sell out so book early!
Take the train to Santa's Workshop at the Southern California Railway Museum in the Inland Empire on select dates in December. Kids can enjoy singing songs on the train, visiting Santa and Mrs. Claus, making crafts at Santa's Workshop, and so much more.
There will be a Polar Express train at this location November 24- December 31, 2021. Book your tickets now to secure your spot.
Make reservations for a train ride to Santa today as many of these events book up in advance.
Experience the Rose Parade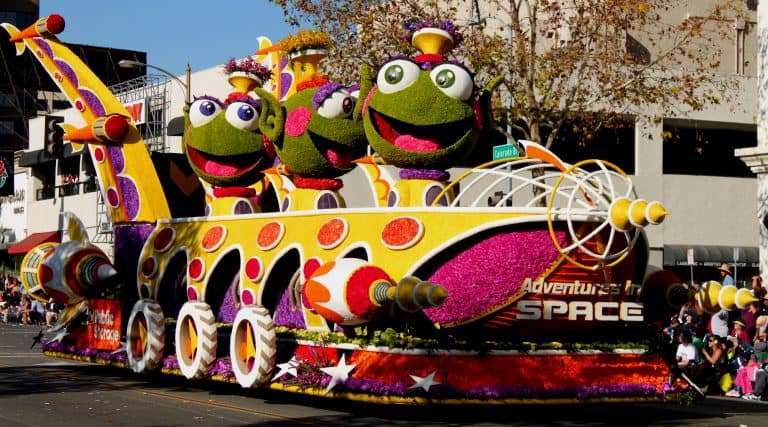 The biggest holiday event in all of Southern California is the world-famous Tournament of Roses Parade. It is held every January 1 in Pasadena.
Every year that I watch the parade and see the sun shining down on the beautiful floats covered with flowers, I am reminded of the blessing of living in sunny SoCal.
Our family hasn't been able to make the commitment of spending the night on the street, yet. We did drive down Colorado Blvd. two days before New Years and our kids were fascinated with the preparations for the grand parade.
Take you family to the Showcase of Floats at the end of the parade to see the amazing structures up close.
See more of the Top 10 Southern California Holiday Events

This article was the winner of a 2015 Visit California Eureka! Award for travel writing and multimedia. Congratulations to Michelle McCoy (author) for this awesome recognition.
Find more Christmas events near you! Trekaroo has guides for dozens of cities across the country.
Lead image by: Michelle McCoy
Pin this to bookmark all the holiday fun; we update it yearly: