Topnotch Resort: A family travel paradise in Vermont
Visiting the Stowe, Vermont area is a real treat to the senses. It's a wonderfully pretty area with green mountains and plenty of outdoor activities. The town itself is very quaint and begs you to walk around and wander in and out of the shops and restaurants. Whether you visit in the warmer weather or the colder season, you're sure to find plenty to occupy your crowd. When your day is done, you've also got a host of great lodging options to retire in comfort. Topnotch Resort is a lovely upscale resort choice that'll truly make your getaway special.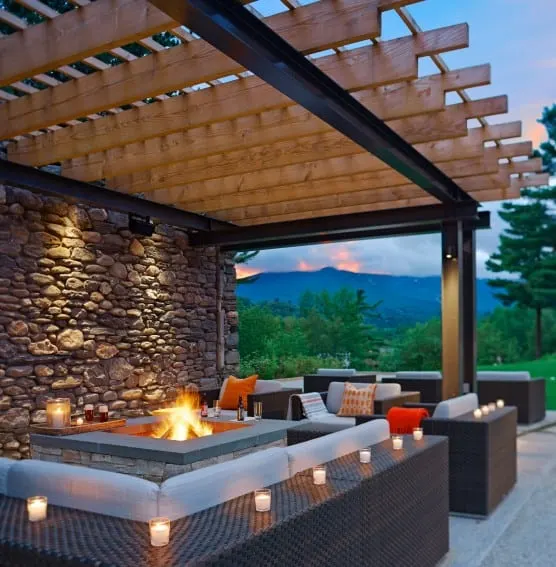 Photo courtesy of Topnotch Resort
Topnotch Resort sits in Stowe with beautiful views of the area mountains. Should you be a skier, snowboarder, or other winter-sport-loving person, it's nice to know you don't have to go far to enjoy partaking in them. Stowe Mountain is nearby, Sugarbush is not all that far, and there are plenty of trails and areas to get out and enjoy the snow the way you love. In the summer months, you're able to indulge in a variety of outdoor activities that'll refresh and invigorate you the way that only nature can. The staff at Topnotch can assist you in arranging the outings of your choice no matter what the season. Should you already know what you'll be doing, they'll be there to greet you when you arrive back to your room.
Look for current deals in Topnotch Resort and Spa
Lots of options for families of all sizes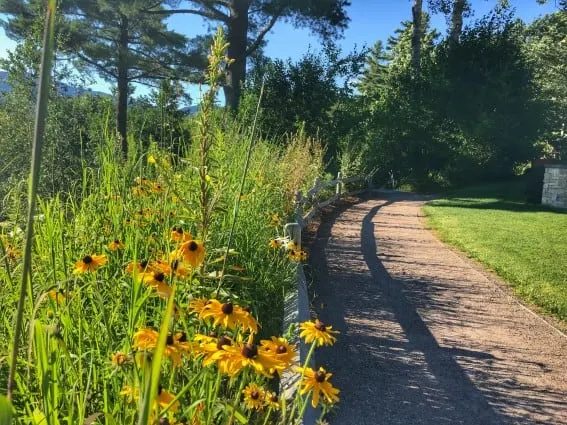 Photo courtesy of Sharon Rigney
Lodging at Topnotch is flexible. If you've got a small family or are getting away as a couple (good for you!) you can stay in the main building for convenience. If your group is larger or you're vacationing with additional friends or family, condos are available that let you spread out, have a kitchen for cooking at home, come with a washer and dryer, and make you feel comfortable and cozy while you're vacationing. It's nice that the resort gives you options so that you can pick the setup that's right for you.
Eating Well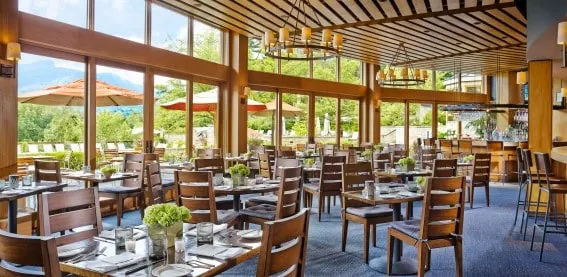 Photo courtesy of Topnotch Resort
While many families enjoy cooking in their condo, Topnotch knows you also may want to eat out. The resort has two restaurants to tempt your palate: The Roost and Flannel. Flannel is a bit more upscale and serves breakfast, lunch, and dinner. The Roost offers a more casual vibe and is a terrific choice for lunch or dinner or a drink at the bar. Both places offer outdoor seating in warmer weather and seasonal fresh food offerings that are not the same-old, same-old. Flannel and the staff there aim to impress you with both their food and their service, so you leave feeling like you've been really taken care of. From steak to fish to salads to delicious omelette and pancake choices at breakfast, there are options to chase away your hunger. Don't go to Flannel in a hurry, however, as the purpose here is to slow down and relax with a good meal.
Check for hotel availability in Topnotch Resort and Spa
Activities to keep families entertained and happy with the resort
Your family won't be bored when you stay here thanks to the array of activities available onsite. Take a tennis lesson, play a few lawn games in the grassy area near the restaurants, check out the modernized game room for teens, go horseback riding, enjoy the indoor or the outdoor heated pools, take a dip in the adult pool or the hot tub, treat yourself to the spa, rent bikes to conquer the trails of your liking, or simply sit and enjoy the views. You can stay as active as you wish here and really make your vacation your own. There's free parking here should you have your car with you, and the airport is just 45 minutes away if you're coming in from a more distant place, which makes it a pretty convenient vacation destination. You'll be enjoying s'mores by the fire pit or sipping a glass of wine on your condo deck before you know it.
Nearby attractions for family fun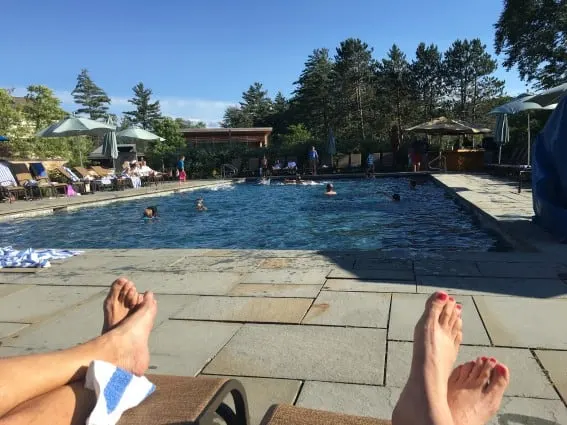 Photo courtesy of Sharon Rigney
When my family stayed at Topnotch during the summertime, we appreciated the option to go into town or arrange activities through the resort. There is a shuttle available to take you to some of these activities should you need it. We did a terrific local guided hike and were able to get dropped off at the start and picked up at the finish which made things easier. Check with the concierge for specifics when you stay here. After all, it's easy to blast boredom while in a place like Stowe, since it's a great big outdoor playground. Mountain attractions, swimming options, brewery and factory tours, and plenty of active opportunities are here to enjoy. Topnotch gives you a great home base from which to try these things. Get your family out on the slopes together if that's something you've always wanted to try. If you're seasoned skiers, you'll have plenty of time to take to the trails. If you visit in the Fall, the foliage will amaze you and give you a great reason to hike or walk around the area. It's a wonderful place to make memories no matter what time of the year it is. Make your next vacation a Topnotch vacation.
Look for the best hotel prices in Topnotch Resort and Spa
You may also like: Top Ten Things For Families To Do In Vermont
*Disclosure: The author and her family were hosted at Topnotch Resort as part of a press trip. The opinions state, however, are entirely her own.
Lead Image by Shutterstock