When some families start planning a family vacation to Pennsylvania, thoughts of the Liberty Bell, Hershey chocolate bars, and Amish horse-drawn buggies begin to fill their mind. But I know better; having explored Pennsylvania, I know its beauty is found outdoors in its forests and gently rolling mountains. Consequently, my favorite time of year to visit Pennsylvania, the state with the longest and most varied fall foliage season, is during the autumn months. Last October my family had the opportunity to take two weekend treks up to family-friendly Northern and Northeast Pennsylvania from our home in Washington D.C. to experience fun fall festivals in PA to celebrate autumn.
Northeast Pennsylvania: Fall Festivals in PA to Enjoy with Your Family
Photo by: BigStock/SNEHITDESIGN
Look for current hotel deals in Pennsylvania
Take a Train Ride through the Pocono Mountains in Northeast Pennsylvania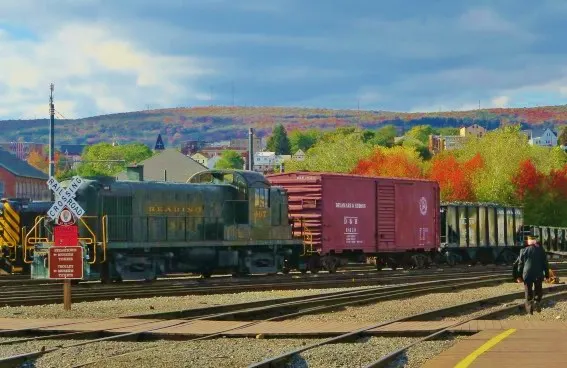 Photo by: Melissa Moore
Over 150 years ago rail lines began crisscrossing the state of Pennsylvania transporting coal and providing the framework that would later lead to the success of the Industrial Revolution in this part of the country. Now, it's the sole purpose of many of these rail lines to transport sightseers through the gorges and woodlands of Pennsylvania. In October and September, the Steamtown National Historic Site in Northeast Pennsylvania offers several excursion train rides to nearby Moscow and even a couple of trips further afield to the Delaware Water Gap during the peak of fall color. While we didn't have the time on our itinerary for a full day excursion, my family was able to hop an hour-long trolley excursion from the neighboring Electric City Trolley Museum. Our ride took us along the same route that the longer excursion trains take through Scranton's Nay Aug Park at the beginning of their journey through Northeast Pennsylvania.
For a complete itinerary of family-friendly fun near Scranton in Northeast Pennsylvania, check out Where to Learn, Eat and Stay in Northeast PA with Kids.
Wander through a Corn Maze at Roba Family Farms – Fall Festivals in PA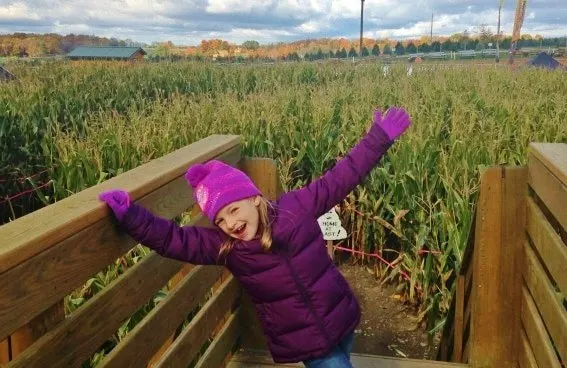 Photo by: Melissa Moore
One tradition that I hope that my military kids will always remember from our time stationed in the eastern United States, is bundling up on a crisp fall day to run through the corn maze at a fall festival in PA, followed by fresh hot apple cider. I doubt my son will forget shooting apples and pumpkins from the canons at Roba Family Farms outside Scranton. And, neither of my California-born kids are likely to forget that day when we experienced snow flurries on our hayride at the fall festival in PA.
Check for hotel availability in Pennsylvania
Learn about Halloween Traditions at Scranton's Bonfire at the Iron Furnaces – Fall Festivals in PA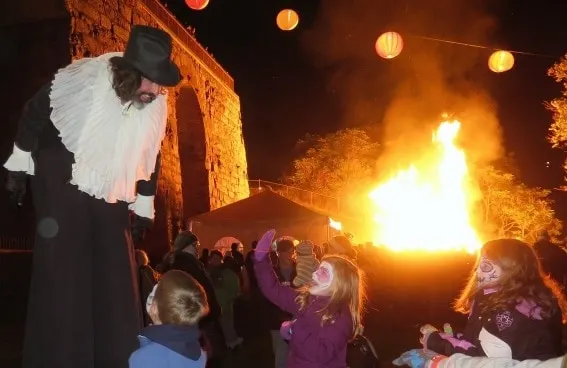 Photo by: Melissa Moore
In 2015, my family experienced the lighting of the 5th annual Bonfire at the Historic Scranton Iron Furnaces. This event is so much more than just a bonfire! Prior to the bonfire being lit at 8PM, we enjoyed watching kid-friendly musical performances while sipping warm drinks. Many groups were at the event to share Halloween traditions from around the world; my kids enjoyed having an artist paint their faces like the sugar skulls traditionally used in Mexico to celebrate the Day of the Dead. The nearby Everhart Museum was on hand with displays of mummies to tell the legends of Egyptian afterlife beliefs in a warm tent near the entrance to the furnaces. As the bonfire burned at the end of the evening, the kids enjoyed jumping around as music played in the background and the warmth of the fire radiated through the entire venue.
Hear the Elk Bugle at Elk Country Visitor Center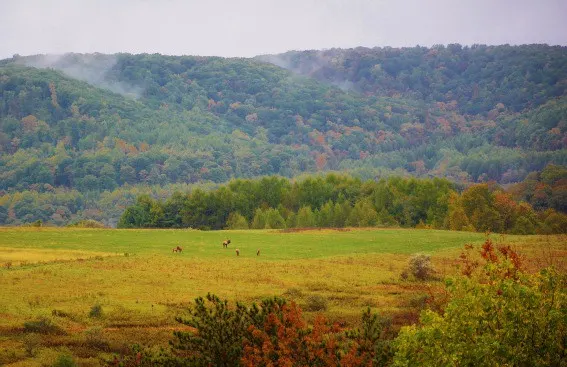 Photo by: Melissa Moore
Fall is one of the best times of year to make the trek out to the remote part of Pennsylvania where the state's population of elk lives. After driving miles of windy country road surrounded by gorgeous fall foliage, my daughter and I arrived to a full parking lot at the Elk Country Visitor Center the first Saturday in October. I had no idea that viewing the mating rituals of Pennsylvania's elk was such a popular activity! After gathering as much information as we could through the interpretive displays and ranger talks at the visitor center, we ventured out on our own to try to hear the elusive elk bugle. Further up in the mountains from a distance, we were eventually able to hear the male elk's bugling call, and yes, trying to spot these large creatures through a set of binoculars was quite addictive. We'd like to come back next year to hear the elks' bugle.
Look for the best hotel prices in Pennsylvania
Ride Horseback through Cook Forest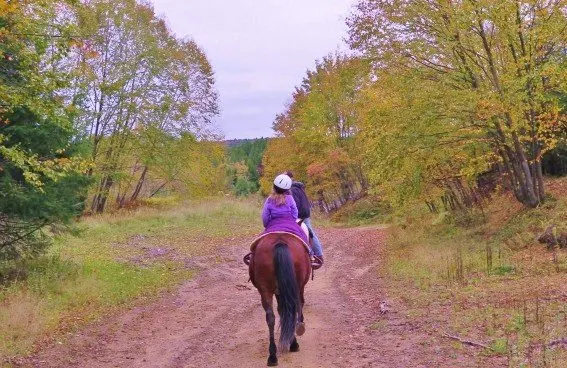 Photo by: Melissa Moore
Riding through the Cook Forest on the back of a horse is one of the best ways to slow down and enjoy the colorful leaves in northwestern Pennsylvania. Cook Forest has been recognized as one of the most beautiful areas of Pennsylvania for almost a hundred years; the forest of white pine and hemlock trees was first made a state park in 1927. Cook Forest Scenic Trailride takes visitors and locals out on horseback trail rides on land adjacent to and overlooking the state park and Clarion River for peaceful rides through the forest.
For a full itinerary of places to stay, eat and play, check out this list of Activities for Families to Enjoy in Autumn in Pennsylvania's Great Outdoors Region.
Feel the Small Town Charm at the Autumn Leaf Festival in Clarion – Fall Festivals in PA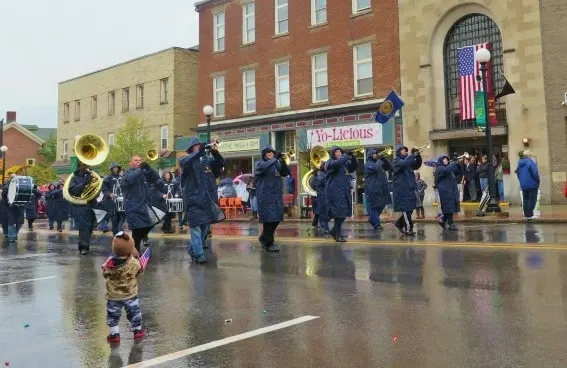 Photo by: Melissa Moore
I admit it. I love big city holiday celebrations. The thought of ice skating in Rockefeller Center or watching the Tournament of Roses in Pasadena is thrilling to me. However, there's still part of me that thoroughly enjoys a small town celebration like the Autumn Leaf Festival in Clarion. It's easy to become immersed while listening to marching bands from the local high schools and nearby university parade beside floats as folks throw candy to the crowd. The small town atmosphere simply adds to a whole day of fun and it would take more than just one weekend to sample all the yummy food that can be found at the festival. From the taffy to the Stromboli, the food is amazing and unlike anything that I've ever found in a city. Heading out to northwestern Pennsylvania to celebrate fall showed my daughter, who is especially fond of busy places like Times Square, that one doesn't need millions of lights, thousands of people, and tall buildings in order to enjoy celebrating a change of season; the slower-paced, simpler traditions of America's small towns can be just as much fun.
Disclosure: The author and her family were hosted by Visit Pennsylvania and the Lackawana County CVB. All opinions are her own.