Smugglers Notch Resort is often rated a number 1 family resort because of its family friendly, organized, and attentive ski programming. However, summer is just as fun at Smuggs. Families with children of all ages will find a wide variety of activities to have fun and keep kids busy with something for everybody. There is always something new to keep traveling families returning year after year! And return they do. We met a family that has been coming every summer for more than 20 year!
Vermont is one of our family favorites too because of the cool mountains, fresh air, terrific weather, local foods and friendly folks. Smuggs takes advantage of all that Vermont has to offer regardless of the season but there is certainly something special about a Smugglers Notch summer.
We'll get you the lowest prices on Booking.com
Top 10: Smugglers Notch Summer
10. Reconnect with family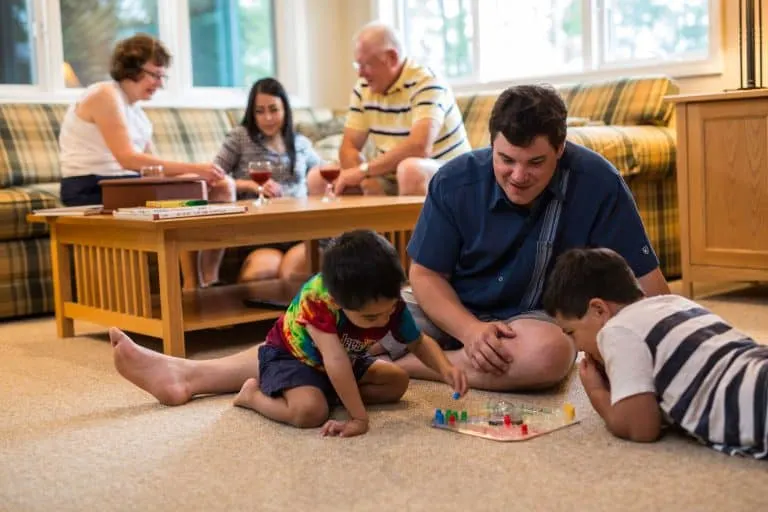 Photo Courtesy of Smugglers Notch
Cozy condos make family time a treat at Smuggs. Our well-appointed unit was large enough to accommodate our family of 5 with 3 bedrooms and 2 bathrooms, but with so much common area we were able to prepare meals together in the spacious kitchen, eat together on the screened porch overlooking the mountains, or play a raucous card game in the living room. Additionally, there is always something for families to do together after a long day of adventuring. We participated in family karaoke, played a game show-like Family Phew'd with fellow guests, yelled out bingo to win a few candy bars during family bingo, and watched a belly splitting comic magician. We always had a fun time and we are still giggling about the antics of Marco the Magician.
9. Climb a Mountain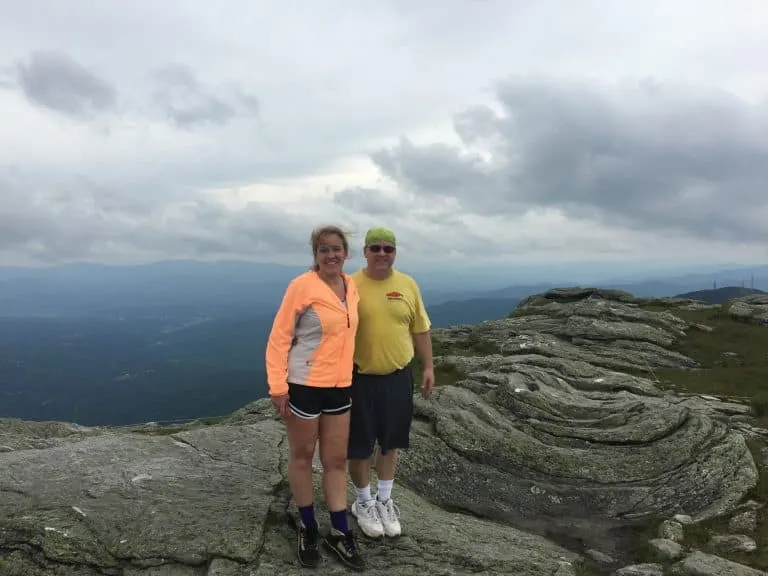 Vermont is the Green Mountain state and therefore has no shortage of peaks to climb. Lace up a pair of hiking boots, pack a day pack, and pick a peak. Smuggs prides itself on the ease at which guests can reach activities. Right on the property families can hike Madonna, one of Smuggs ski mountains, for a nearby hearty stretch of the legs. However Smuggs also offers guided hikes. We decided on hiking Mount Mansfield and although one of us forgot our boots we were successful and felt the safety in numbers. At over 4300 feet, Mount Mansfield also happens to be the highest peak in Vermont. The guided hike was open only to older children, but families can opt to take the hike on their own if they believe their group can safely handle it AND they are properly outfitted. While we went without our children and were decidedly two of the oldest on the hike we were certain our brood could have done the hike with us as well.
Check for availability at Smuggler's Notch Resort
8. Send the kids to Summer Fun University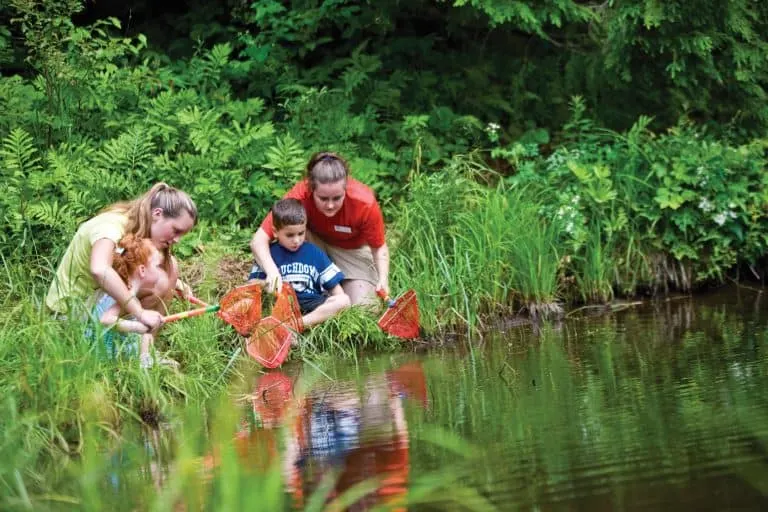 Photo Courtesy of Smugglers Notch
Summer Fun University is Smugg's version of day camp. If you are looking to give your children a bit of adventure and independence there are a variety of camps from which to choose. Camps focusing in tennis and mountain biking are available but so are age related traditional camps and specialized camps. Survival and High adventure camps challenge older children to get out of their comfort zones and try something new. Our three tried out the High Adventure camp and had a blast learning how to rock climb at a nearby ledge. This was the real deal and Smuggs supplied everything. Helmets, shoes, ropes, instruction, and lunch! They can't wait to try it again. Camps run daily from morning to mid-afternoon and lunch can be provided.
7. Go Pool Hopping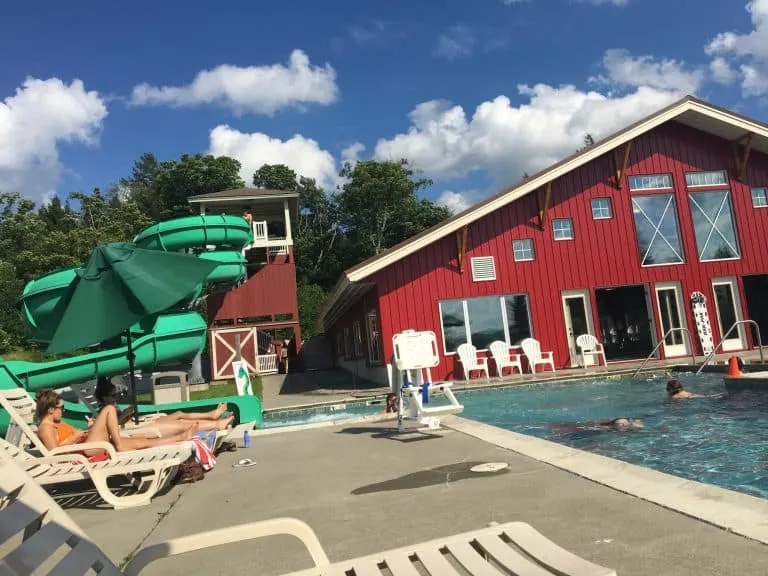 Like most, our kids ALWAYs ask about the pools when we go on vacation. You can assure yours there will be plenty of pool options as Smuggs. From regular swimming pools, to pools with obstacles like netting and lily pads to cross the kids (and Mom and Dad) will never be bored. The pools all have some type of waterslide and there are even mini-slides for the younger set and a splash pad for those not quite ready for swimming and sliding. Hot tubs for adult relaxation are steaming at select locations. Our condo was nearby a fabulous indoor/outdoor pool with a fun waterslide. The kids never waited and spent a good amount of time at the slide. Chairs and umbrellas are readily available. If you truly want to go pool hopping grab a towel and take advantage of the Smuggs shuttle system.The Smuggs shuttle will take you anywhere on the expansive property you would like to go.
6. Jump in a Lake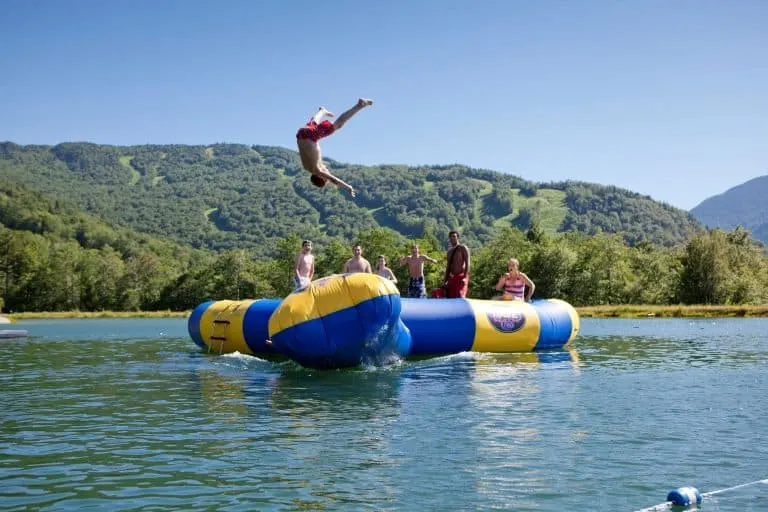 Photo Courtesy of Smugglers Notch
If you do not get cooled enough with your swim consider taking advantage of one of Smuggs lakes. Used for snowmaking in the winter for the slopes, the lakes convert into summer fun havens for the off season. Bootleggers Basin has a swimming area, inflatable Zoom Flume slide, and paddle boarding. There are even ball fields and volleyball nets at this sunny mountain retreat. Just bring the sunscreen and call the shuttle. Rum Runners Hideaway is more of an adventure. From the resort you must either drive yourself to the entrance and hike 15 minutes in or walk from the heart of the resort. The Hideaway treats guests to mountainside lake with views. Here the family can swim, use the water swing, water trampoline, and aqua jump pillow. The staff will provide life jackets and lifeguards are on duty. The return hike is downhill and definitely easier and you will be cooler!
5. Animal Adventures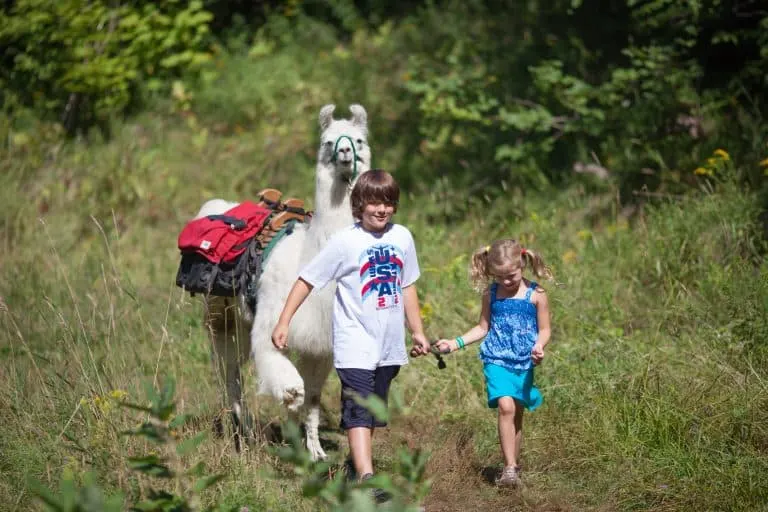 Photo by: Smugglers Notch Resort
Smuggs will take care of the animal lover in your group. Staff will arrange for a horseback tour, a llama trek, or for a mushing of sled dogs even in the summer. We checked out the sled dogs during the summer a few years ago. It is one of the most memorable experiences our group has ever encountered. We fondly remember the 'unchained gang' of Eden Dog Sledding and the friendly working dogs that gave our children so much love. While a visit to the gang was not possible on this trip our kids were excited to see the Disc Dogs in the common area after their rock climbing camp. The border collies and trainers put on quite a show with the dogs catching the airborne discs. Kids even received the opportunity the throw the discs to the dogs themselves.
4. Follow a Trail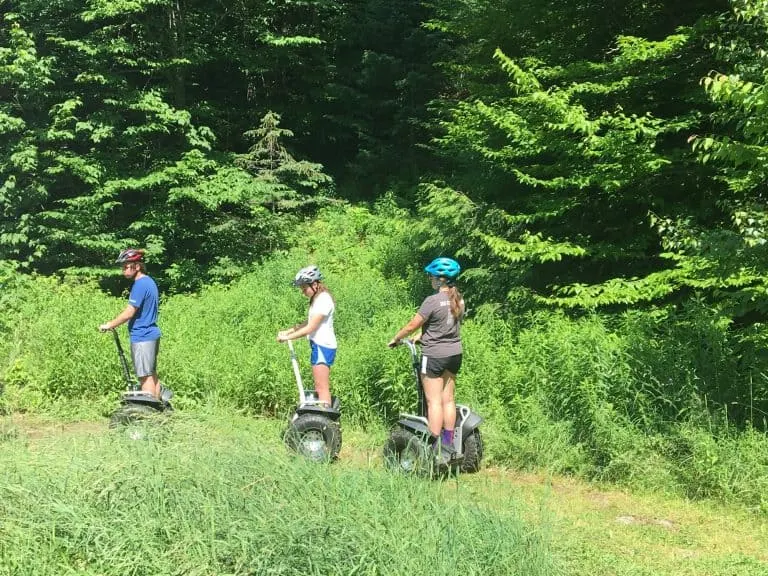 There is no shortage of trails at Smuggs. Ski trails, snowshoeing trails, and cross country trails all become a natural hiking paradise in the summer. There are numerous trails accessible everywhere on Smuggs and you don't have to climb heights to enjoy the natural surroundings of the resort. While walking may be the easiest way to explore nature why not try mountain biking, horseback, or perhaps even an off road Segway. We opted for the Segway. After a quick lesson from the resident expert we hopped on a fat-tire Segway and rolled out into the trails. We had so much fun we'd like to invest in one if we had the funds. Our guide was careful to instruct and watch us but adventurous enough to give us freedom. We were zooming up and down the off road trails with ease and we actually found it to be akin to downhill skiing with the weight shifting. We all learned relatively quickly and would love to off road with the Segway again.
3. Funzone 2.0
Photo Courtesy of Smugglers Notch
Looking for something fun to do on a rainy day? Need a place to beat the heat on a sunny day? Kids will love the new Funzone 2.0. This 26,000 square foot indoor playground has something for everyone. Gamers will while away a few hours with the arcade games complete with winner tickets for prizes. The competitive family might also like to sign up for laser tag. The active folks will relish the chance to be a Ninja Warrior on the timed indoor obstacle course or maybe even climb the rock wall. Whatever your style you are sure to find some indoor fun. Teens can also gather at Teen Alley for a pick up game of basketball or volleyball or for special themed evenings such as dance party or jam bands.
Check out what Trekaroo families loved about Smuggs.
2. Treetop adventure with Arbortrek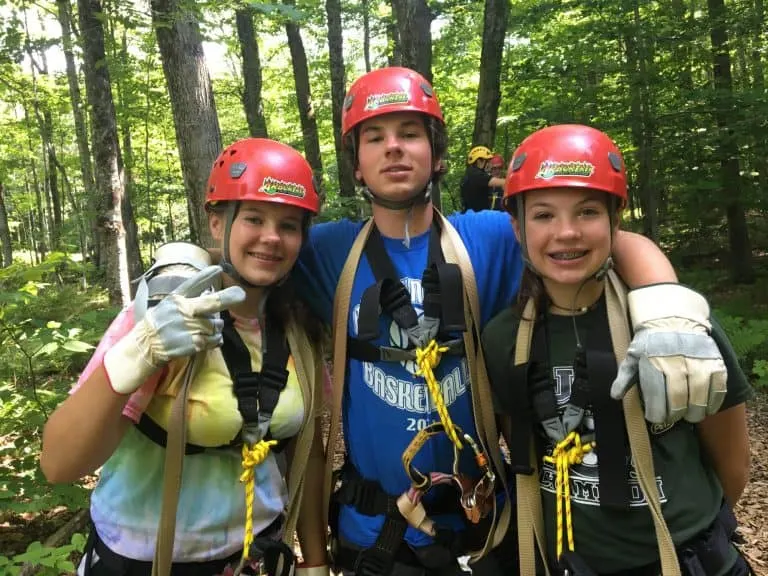 Arbortrek is the nearby treetop canopy tour. Rugged folks are harnessed in and begin either a canopy obstacle course or zip-lining tour. We were very impressed by the care with which this outfit has shown the tree forest while building and maintaining the course but also with the safety practices displayed by our guides as we completed the course. Our guides always made sure our clips and harnesses were appropriately attached before sending us zooming down the zip lines cut through the Vermont forest. As a bonus we learned to repel down the tree stand. While this may have taken a bit of coaxing for yours truly, the rest of the family swung down like pros. Arbortrek also has a treetop obstacle course available for the younger set which is a great addition since at our last visit one of the family wasn't heavy enough to complete the zipline course. Luckily she has grown since then!
1. Flyboard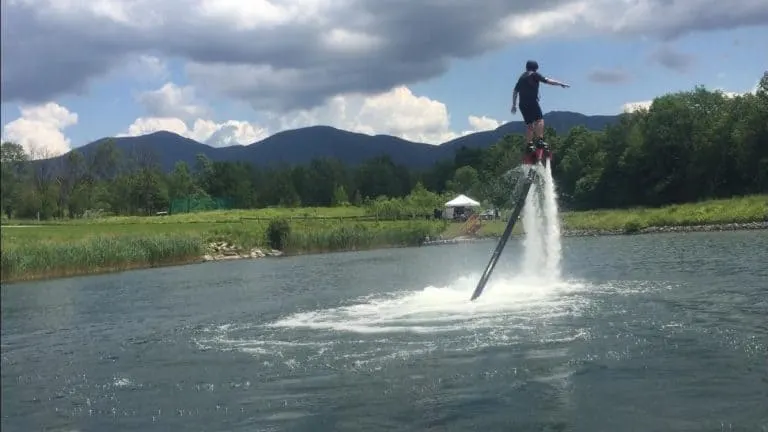 Flyboarding makes you feel like a superhero. It is water skiing on helium and steroids. While at Smuggs, this is a must-do activity. The staff will fit you with a wetsuit and life vest. Your feet enter a pair of boots permanently attached to a wakeboard-like plank tethered to a jetski. The water propulsion from the jet ski recirculates from the jet ski to your Flyboard and you are pushed out of the water into to air to fly around the lake. Sure it takes some acclimation and tons of balance but our family were all able to effectively get into the air (some better than others) and experience the joy of flying over the water. We even watched the local pro demonstrate with a mini-show so we could see what could be done on the Flyboard. I'm not sure how many lessons would be required to match his skill but I know that the learning part would be fun!
Read to go? Book your trip to Smugglers Notch Resort
Your Smugglers Notch summer can be as low key or as adventurous as you would like. They constantly find new activities for guests while sticking with their tried and true winners. Try out any and all of these activities for a summertime blast with your family!
Interested in Smugglers Notch in the winter? We have all the information on what makes it a perfect family ski vacation.
Disclosure: The author was hosted on assignment for Trekaroo. All opinions are her own. This post contains affiliate links.
Lead Photo Courtesy of Smugglers Notch. All other photos by Michelle Brennan unless otherwise noted.