Most people who have never been to Arizona probably only know it for two things- cacti and the Grand Canyon. While both of these things are central to Arizona's identity, the state offers so much more to families looking to explore. Arizona is full of diverse natural beauty, fun urban attractions, and some fantastic family-friendly resorts. Here are our picks for the top ten  things for families to do in Arizona.
10.  Discover ancient native cultures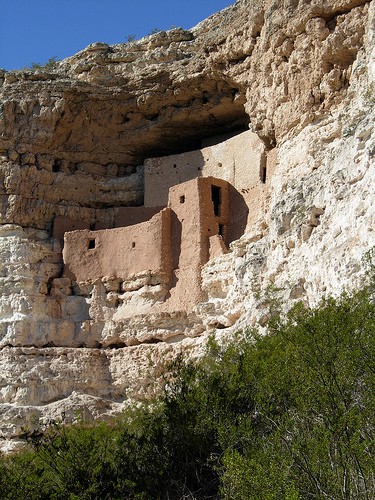 With over 250,000 Native Americans living within the state's borders and the largest reservation in the country, the Navajo Nation, native culture plays in important role in Arizona's present as well as its past. Much of the ancient culture is preserved by the National Park system including Casa Grande Ruins National Monument which preserves the 13th ruins of the Hohokam people, Montezuma Castle National Monument which protects 800 year old cliff dwellings, and the ancient native homes of Wupatki and Walnut Canyon National Monuments near Flagstaff. Phoenix's Heard Museum features 10 galleries filled with American Indian art and artifacts. Kids will enjoy hands-on activities such as making Yaqui-inspired paper flower or a bandolier bag and older children will gain a better appreciation and understanding of America's first inhabitants.
Look for current hotel deals in Arizona
9. Experience the Old West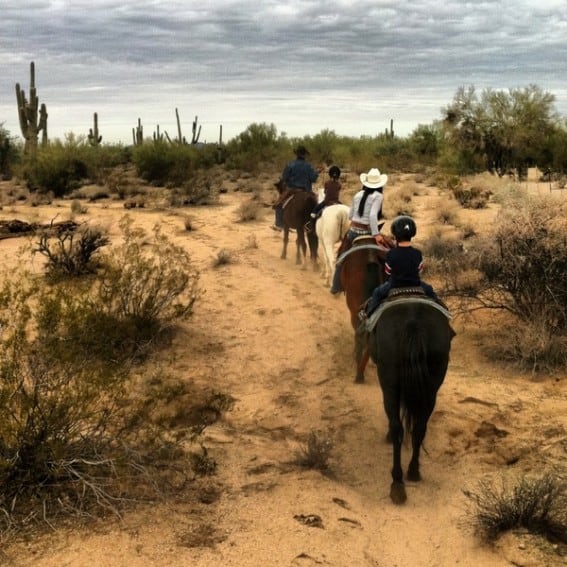 When Arizona was first settled by Americans, it was a wild and wooly place. Characters like Wyatt Earp and Doc Holliday called the silver boomtown of Tombstone home back in the 1880's and participated in the legendary Gunfight at the OK Corral. These days, visitors will find Tombstone to be much less dangerous and much more family-friendly with a mine tour, historic buildings and cemeteries, and Wild West shows such as the one that is held today at the original OK Corral. Those looking for Western-style fun in the Valley of the Sun should check out the entertainment and activities at Rawhide Western Town in Chandler or kid-friendly horseback riding at North Scottsdale's McDonald's Ranch.
Was there an Old West experience that your family loved? Write a review and share you story.
8. Explore the Sonoran desert

Much of the Arizona landscape is desert, with the Saguaro cactus standing as the state's most famous living icon.  Saguaro National Park flanks either side of Tucson metropolis, providing protection for an important ecosystem and the opportunity for families to truly get to know the desert.  The ideal time to visit is late winter or early spring when the temperatures are mild, the wildflowers are in bloom, and desert hiking won't result in heat exhaustion.  If your family makes it to the area in June, don't skip the park. There are some very nice scenic drives, the visitor centers are first rate, and the Saguaro cacti are showing off their short-lived blooms. If you are in the Phoenix area and eager for some desert exploration, consider a day hike up Pinnacle Peak or a leisurely float down the chilly Salt River.
Find kid-friendly lodging in Tucson and Phoenix.
7. Have some educational fun at the Arizona-Sonora Desert Museum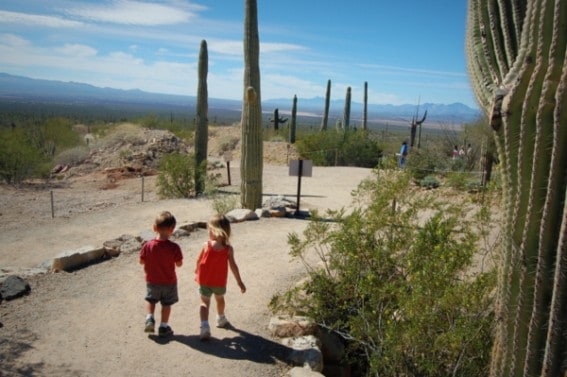 Located just south of the Saguaro National Park's Tucson Mountain District, The Arizona-Sonora Desert Museum shows off all that is wonderful about the Sonoran Desert.  Part zoo, botanical garden, and natural history museum, the Museum does an impeccable job of seamlessly blending its animal enclosures into the surrounding desert landscape. Families can stroll along a trail and discover a coyote peeking out from behind a Saguaro cactus, watch a javelina saunter past a silvery agave plant, and see a Ferruginous Hawk soar freely above their heads all while being surrounded by 140 different cacti and other desert plants. Must see exhibits include the hummingbird aviary, Cat Canyon, and a cave that gives visitors a glimpse of what life is like underground.
Have you visited this amazing museum? Write a review of the Arizona-Sonora Desert Museum.
6. Enjoy the national pastime at Spring Training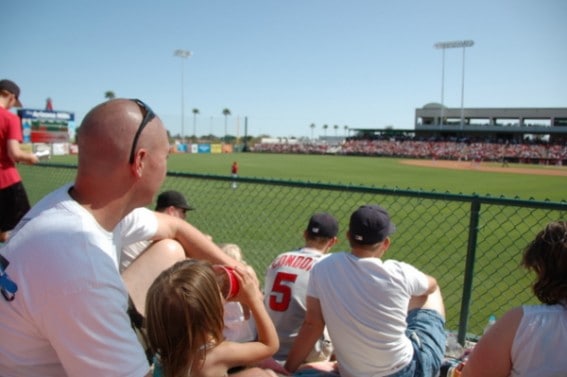 Every March, thousands of fans flock to Arizona to watch their favorite major league teams get play pre-season baseball and prepare for the coming year.  Spring Training games are relaxed, inexpensive, and perfect for kids. The smaller Cactus League stadiums often have grassy areas behind the outfield which are ideal for letting little ones stretch their legs between innings.  The relaxed atmosphere results in players being more willing to sign autographs before and after games or toss practice balls to eager kids.
Looking for a place to stay during Spring Training? Check out these kid friendly hotels in the Phoenix area.
5. Ride a train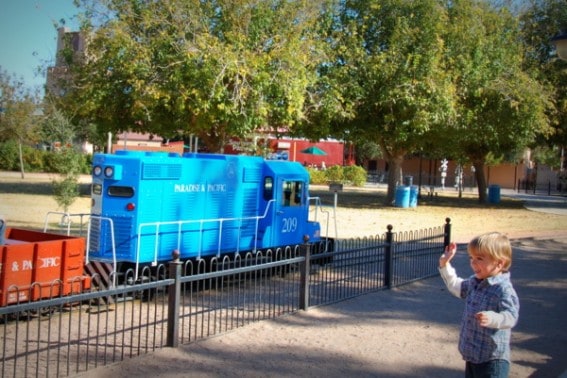 We all know that kids and trains go together like peanut butter and jelly so little train enthusiasts will be happy to hear that Arizona offers plenty of railroad-themed fun. Scottsdale's McCormick-Stillman Railroad Park is like heaven on earth for train-loving little kids. Visitors can take $2 rides on the Paradise and Pacific Railroad, enjoy carousel rides,  explore the expansive indoor model train display, and play the day away at two large playgrounds (one is shaded from the hot Arizona sun).  Those looking for a uniquely Arizonan experience should hop on board the Verde Canyon Railroad or Grand Canyon Railway. Both of these Northern Arizona railways feature classic train cars and stunning vistas.
Find more family-friendly fun in Scottsdale.
4. Cool off in Arizona's desert lakes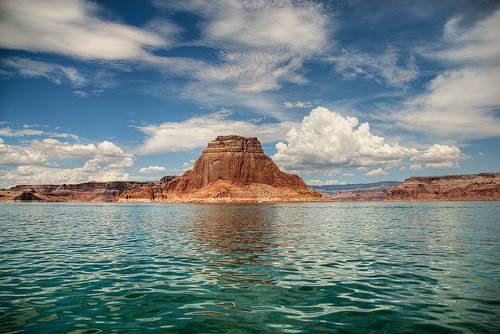 There is no denying that Arizona summers are hot, hot, hot! Luckily, the state has lakes that are perfect for camping, boating, and of course, swimming. Lake Havasu, formed by a Colorado River reservoir that straddles the border between California and Arizona , is a popular destination for water sports enthusiasts. In between jet skiing, water skiing, and tubing, make time to stop by the original London Bridge which spanned the River Thames in England until it was dismantled in the late 1960's and brought to Lake Havasu City. Houseboaters love Lake Powell in the Glen Canyon National Recreation Area. The narrow lake has plenty of quiet coves surrounded by painted desert canyons and mesas. Rainbow Bridge, the world's largest natural arch, is a 1.25 mile hike from the lake.
Been to Lake Havasu or Lake Powell? Share your experiences.
3. Spend the day at Papago Park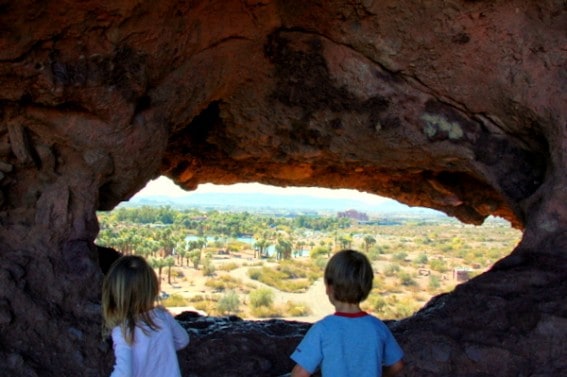 Tucked up in the Northeast corner of Phoenix, Papago Park is a must-visit for those traveling to the Valley of the Sun.  Families will find picnic areas, several small lakes which are great for little fishermen, hiking trails, bicycle paths, and Hole in the Rock, a sandstone butte with a large hole in the middle that offers great views of the city beyond. It is also home to Desert Botanical Garden , a garden set on 145 acres featuring more than 50,000 desert plants and a variety of programs geared towards kids including Cacti Quest which incorporates desert ecology, map reading, nature observation, and adventure to create a fun experience for children ages 8 and up.
The most popular destination within Papago Park is the Phoenix Zoo, recently named one of the top 5 zoos in the country. While many folks explore this sprawling zoo on foot, guests are allowed to bring their bikes and ride from exhibit to exhibit, making a day at the zoo that much more fun.  Popular experiences include the Arizona Trail, Monkey Village, the Giraffe Encounter, pedal boats, a Safari Train, and a fun playground with a Saguaro cactus shaped slide.
Find family-friendly lodging in and around Phoenix.
2. See the red rocks of Sedona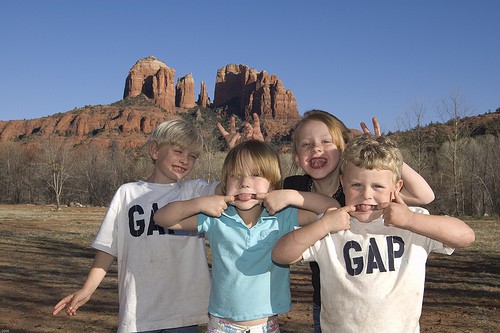 There is an old adage that says "God created the Grand Canyon but he lives in Sedona." Those that have had the privilege of experiencing the splendor of the red rocks can certainly understand how a saying like that came to be. Pink Jeep Tours take families on off-road adventures to destinations with names like Diamondback Gulch and Chicken Point while entertaining passengers with their knowledge of local history, geology, and native culture. Families looking to stretch their legs will enjoy hiking in Red Rock State Park while those yearning for a thrilling day in the water will have a blast whizzing down the natural water chutes of Slide Rock State Park.
Do you love Sedona? Share your experiences and write a review.
1. Visit the Grand Canyon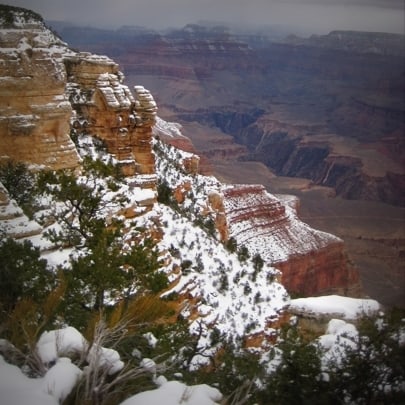 Arrive at the Grand Canyon in style on board one of the restored Pullman cars of the Grand Canyon Railway. The two and a half hour ride is filled with fun including a Wild West shootout and roving actors and musicians that entertain passengers in frontier-style. The ride concludes 200 yards from the edge of one of the world's great wonders, the Grand Canyon.  Families get to choose their adventure once inside the park whether they take a mule ride down into the canyon, a tough hike down to the canyon floor via the Bright Angel Trail (experienced hikers only, it's a steep 10.5 miles back up!), or ride the Colorado River rapids in a dorie.  Those with younger children find the views and wildlife of the Grand Canyon Rim Trail just their speed.
Look for the best hotel prices in Arizona
Find more fun and family-friendly things to do in Northern Arizona.
Lead Photo by: Flickr/harshlight
What state do you want to visit next?
From coast to coast, we're determining the Top 10 Things to do with Kids in each state of our great nation.   Head here to see what tops the list in your favorite state.