Families who love the outdoors will be thrilled to discover that there are so many great things to do in the Poconos in the summer. The Pocono Mountains of Pennsylvania are an affordable destination with friendly people and there are plenty of activities to stay cool when the heat is high.
Whether you like adventure or look for quieter activities the Poconos have something to offer your group. Here are some of the best things to do in the Poconos in the the summer on a family vacation.
15 FUN Things to do in the Poconos in the Summer
1. Go Whitewater Rafting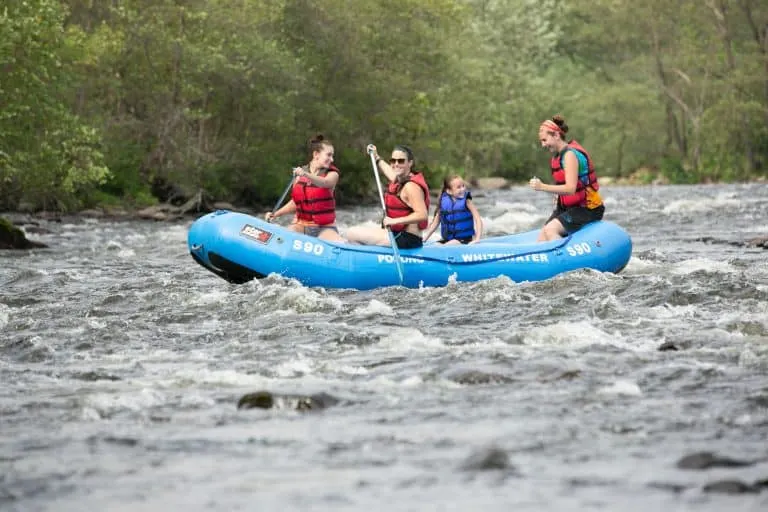 One of the best ways to cool off during summer in the Pocono Mountains is rafting with Pocono Whitewater. They offer options specifically designed for families to enjoy time on the water and includes a bbq lunch on the riverside.
Want more adventure? One of their most popular trips, the Big Day Out, includes hiking, biking and rafting. Ride over 20 miles of beautiful Rail Trail, enjoy a hike in the Lehigh Gorge, and raft the Pocono Mountains' mighty Lehigh River.
You can also embark on a guided, 3- to 4-hour family style whitewater rafting adventure. The 8-mile, Class I and II whitewater rafting is ideal for everyone- beginners, kids ages four and older, and even adults that just want to relax.
Whether you're paddling through whitewater rapids, enjoying the passing scenery or taking a swim in the river, your summer in the Pocono Mountains will be filled with great memories.
Explore more of the state! Here are the best things to do in Pennsylvania with kids.
2. Trot Through The Trails On A Horse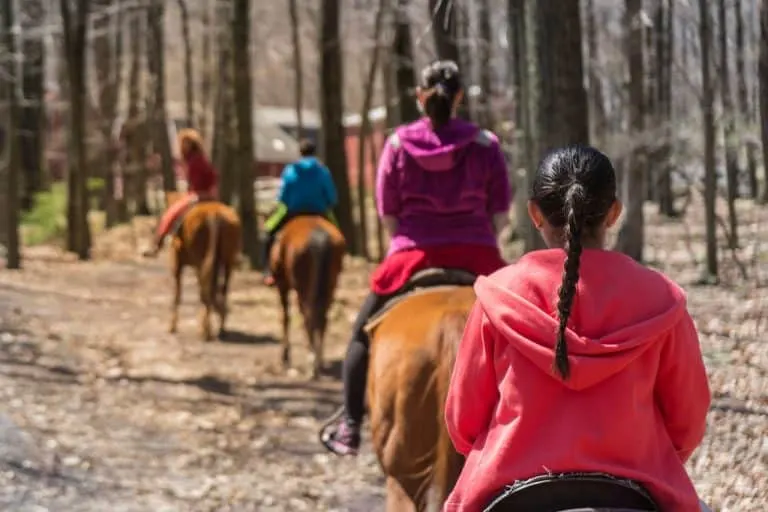 Animal-loving kiddos and their families can take to the trails on a horse for some active adventure. Explore the less-traveled trails and see nature up close and personal during this fun activity.
If riding is not your forte, rest assured there are other options such as hay wagons, carriage, and pony rides as well.
Many places will help you learn to ride, and the stables are open year round. Rides of 30-45 minutes are perfect for anyone looking to get a taste of the adventure, and they can be guided or non-guided.
Reservations are usually required, so do call ahead. Costs vary by package, but settle in the $40-$45 range.
3. Go for a Bike Ride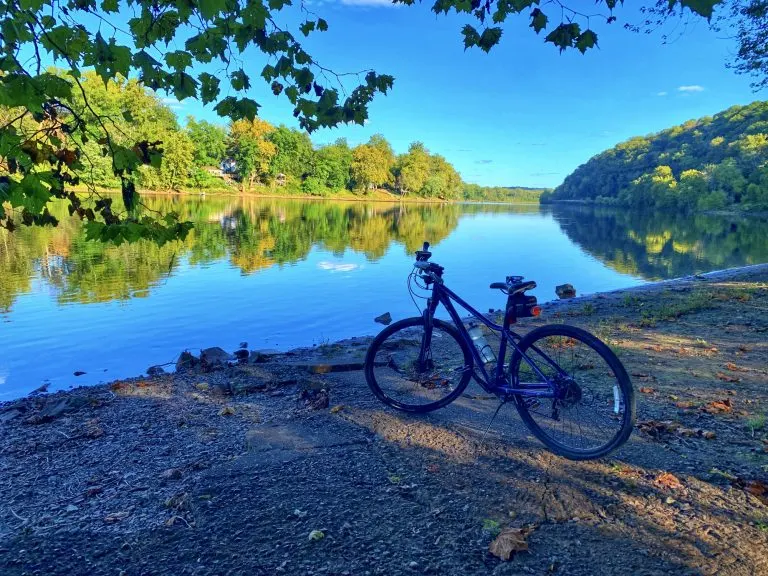 Biking is a terrific summer option for families in the Pocono Mountains. The region is home to many trails full of scenery, waterfalls, places to picnic, and waterside picture spots.
Pocono Biking in Jim Thorpe rents Trek bikes and provides shuttle services to the Lehigh Gorge sections of the D&L Rail Trail.
You're also able to do specialty biking trips that include hiking and whitewater rafting, multi day adventures, as well as bike train rides through Lehigh Gorge State Park.
4. Hit Up A Waterpark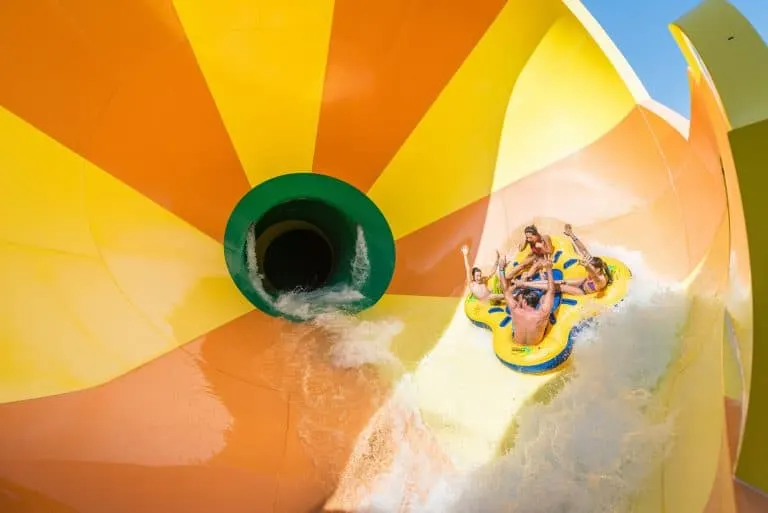 What says summer more than a waterpark day with the family? The Pocono Mountains offers up options to keep cool and splash and slide and swim.
Camelbeach, a huge outdoor waterpark, is the perfect place to slide the slides, ride the rides, and enjoy the mountainside setting. Camelbeach is the biggest outdoor waterpark in PA and is perfect for all ages. Splash & slide along the mountain slopes, laugh, play, race, and cool off from the summer heat in a fun and family-friendly place that allows you to embrace speed and adventure, or enjoy the lazy river or sunning by the pool.
Book your stay at Camelback Resort.
Reserve your ticket online to assure admission as well as the best pricing. Prices start at $42 for day passes to Camelbeach, or $75 for passes that also include their mountain coaster and sun bowl tubing.
If the weather isn't cooperating or you would rather just enjoy an indoor water park, Camelback Resort is also home to Aquatopia, the largest indoor waterpark in the United States.
Great Wolf Lodge fans will be happy to know that there is a Great Wolf Lodge in the Poconos as well. This indoor waterpark hotel chain is well known for its adorable Wolf Den and Kid Cabin suites, MagiQuest game, and lots of water-based fun.
Don't plan a stay at the Great Wolf Lodge without reading our full guide to the Great Wolf Lodge which is filled with amazing tips.
5. Take a Hike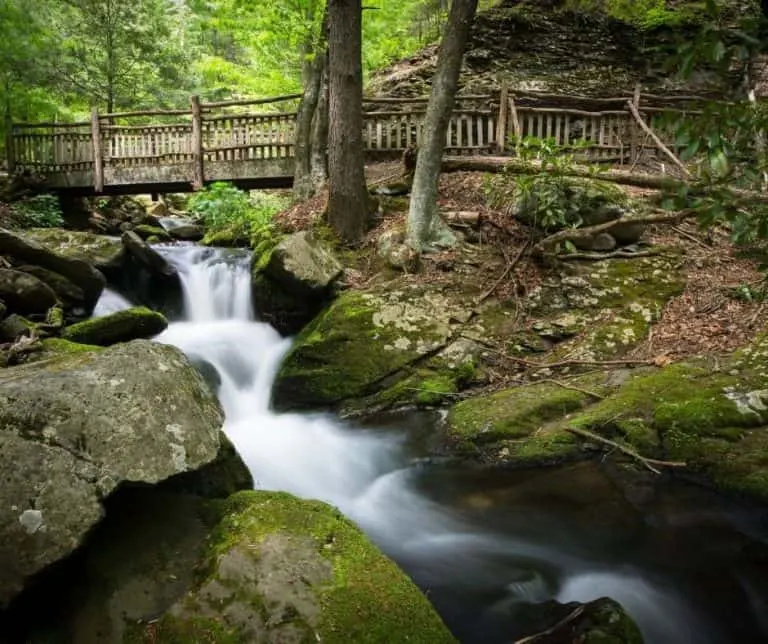 With its more than 2400 square miles of outdoors, the Pocono Mountains are a fantastic hiking destination during the summer months. The Pocono Mountains are known for pristine, protected natural areas. Parks of all sizes offer trails that are scenic or leisurely, while others are self-guiding, educational or rigorous.
Some excellent places to lace up your hiking boots on include Bushkill Falls, Cliff Trail in Milford, Shohola Falls Trail, Lehigh Gorge Trail, Irving Cliff Trail, and Wallenpaupack Lake Trail.
6. Enjoy Time At A Lake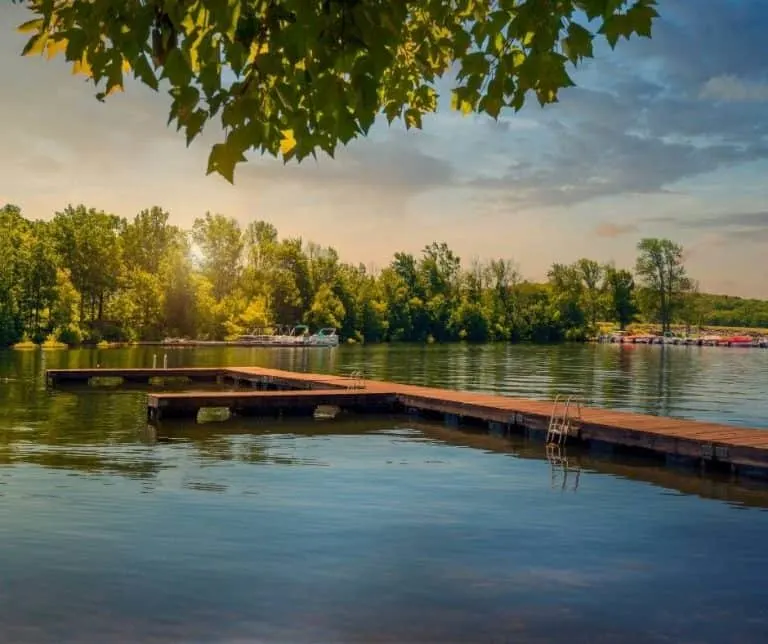 There are more than 150 lakes in the Poconos Mountains. Rent a boat, paddleboard, kayak, jet ski or water tube and experience the waters for yourself. Grab the kids and go fishing, exploring, snorkeling, swimming, or take advantage of beach time to relax.
As the second largest lake in Pennsylvania, Lake Wallenpaupack is a terrific choice for things to do in summer in the Pocono Mountains. If you happen to be visiting during the Independence Day holiday, the fireworks show over the lake is something truly special.
Other lakes that are great for families include Mauch Chuck Lake Park, Arrowhead Lake, Lake Harmony, Brady's Lake, and Lake Naomi.
Looking for some special time away? Use this guide to plan a Poconos romantic getaway.
7. Go Camping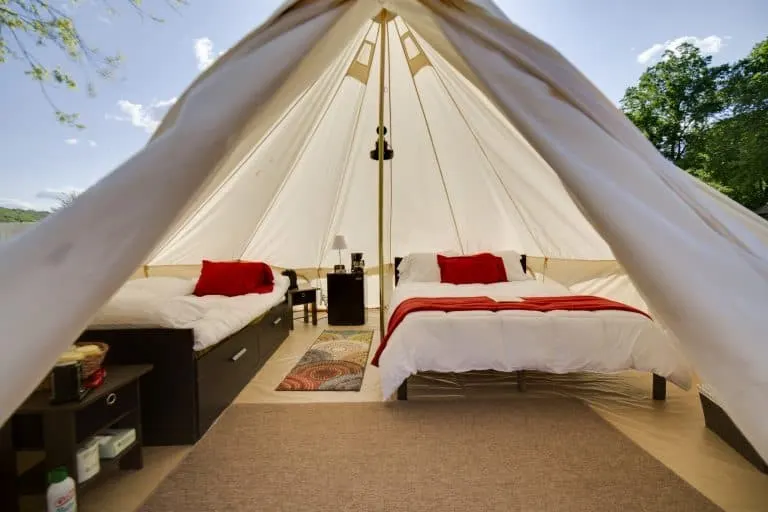 Summer camping is a tradition for many people, and the Pocono Mountains offers plenty of places to put up a tent and settle in for fun. Whether your idea of camping is a little more rustic, more of an RV experience, or glamping, there are sites to cater to your family's preferences. Many offer community amenities to round out the experience and allow your family to socialize with others if you'd like to.
Glamping is the camping experience you didn't know you needed. Check out the glamping facilities at Blue Mountain Resort, Keen Lake Camping Resort, and Shawnee Inn & Golf Resort among others.
Mount Pocono Campground, Mountain Vista Campground, Delaware Water Gap/Pocono Mountain KOA, and Jim Thorpe Camping Resort, among others, can accommodate families looking for a more traditional camping experience. Roasting marshmallows by the fire, anyone?
8. Attend A Festival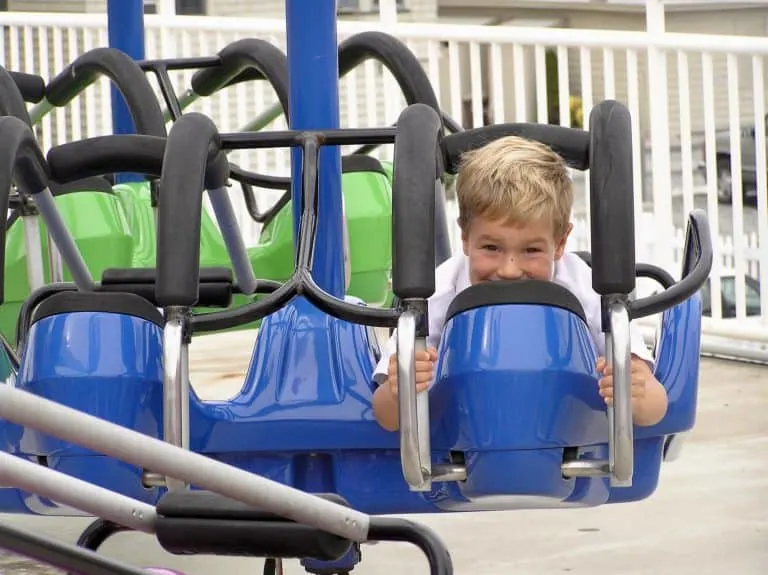 Plenty of festivals, fairs and seasonal activities are available in the Pocono Mountains during the summer months to provide memorable fun for everyone.
Wander through the flower fields during the Sunflower Festival at Yenser's Tree Farm, enjoy the eclectic Elements Music & Arts Festival at Pocono Raceway or head to Wally Lake Fest at Lake Wallenpaupack in late August. In addition, your crowd can head to one or all of the area's county fairs for classic summer fun.
9. Hop On Scenic Train Ride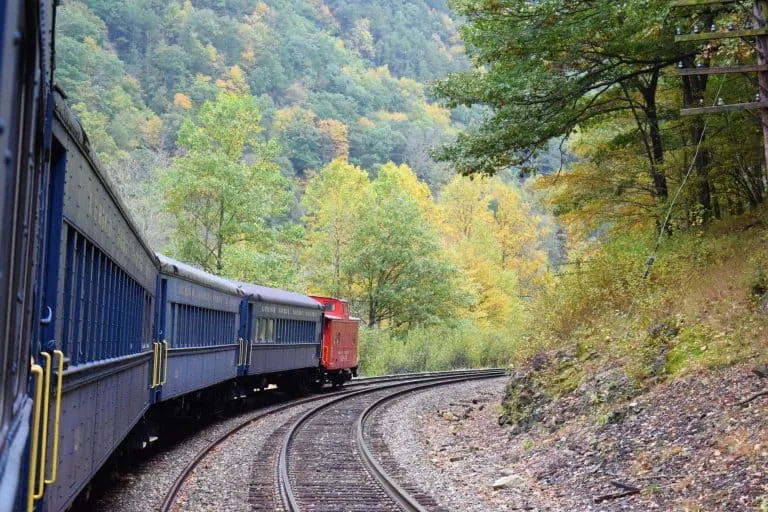 A great way to get out and add some fun to your visit is to hop on a scenic train ride through the region. Perfect for all seasons and all ages, this relaxing ride is a wonderful opportunity to enjoy a little more scenery while taking a slow-moving train ride.
The Lehigh Gorge Scenic Railway offers rides on vintage coaches pulled by diesel engines. The train follows the Lehigh River and meanders from Jim Thorpe to the Lehigh Gorge State Park and back.
They offer special events and holiday trains that change with the seasons. Trains are handicap-accessible, non-smoking, and pet friendly. Cost: Approximately $19 for adults, $9 for children, and free for those under age two.
10. Visit a State or National Park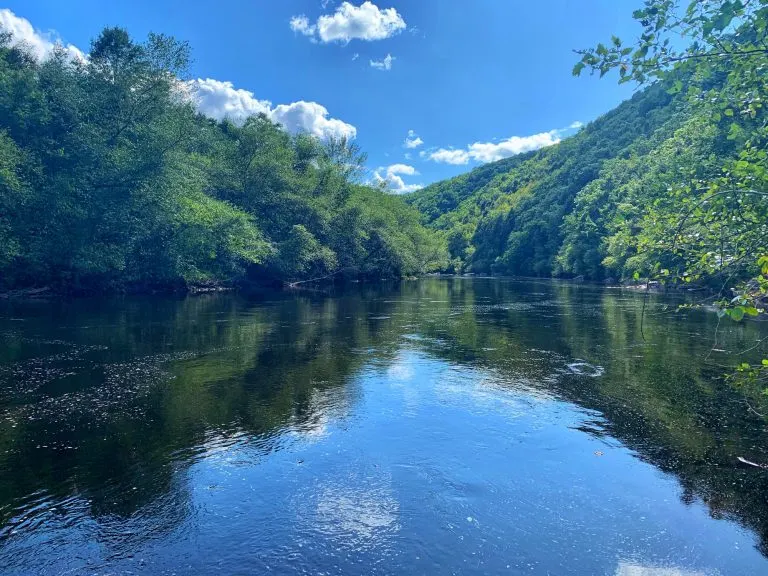 Nine state parks, two national parks and hundreds of acres of state game lands deliver on scenery, options for outdoor activities and splendid opportunities to experience nature up close and personal.
Discover waterfalls, panoramic views, pretty flowers, picturesque bodies of water, beaches, places to fish, and more. All state parks in the Pocono Mountains are free to visit, as are the national parks, but some have expanded amenities fees you may want to take advantage of.
The two parks managed by the National Parks Service in the Pocono Mountains region include Delaware Water Gap National Recreation Area and Upper Delaware Scenic & Recreational River. The Delaware River is the last major undamned river in the East and is known for great fishing and paddling.
11. Pump Up Your Adrenaline at a Treetop Adventure Course or Ziplining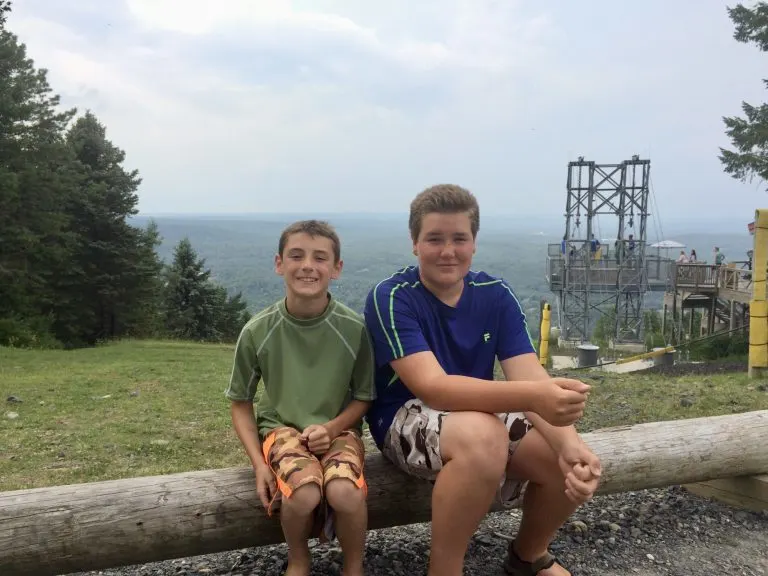 For families looking to add some daring, heart-pumping fun into their stay in the Poconos, ziplining and adventure parks are a great way to do just that.
Check out options like the Adventure Center at Skytop Lodge, Blue Lightning Tubing (in summer and in winter) in East Stroudsburg, Blue Mountain Resort's Summit Aerial Park, Camelback Mountain's Adventure Park (this one is the biggest in the Poconos), Gorilla Grove Treetop Adventures at Kalahari, Howler's Peak Ropes Course at the Great Wolf Lodge, or Pocono TreeVentures.
Elevated bridgeways, aerial challenges, cargo netting to climb on and zip lines of all lengths and speeds are available to choose from. Most of these venues require you to purchase tickets online and not at the activity, so remember that when planning your trip.
Check websites for individual activity height, weight and age limits, as kiddos need to be over the age of seven at most places. Prices vary, but are in the vicinity of $20 for ropes courses and $50-$65 for the bigger adventure centers.
12. Venture Out On An ATV Ride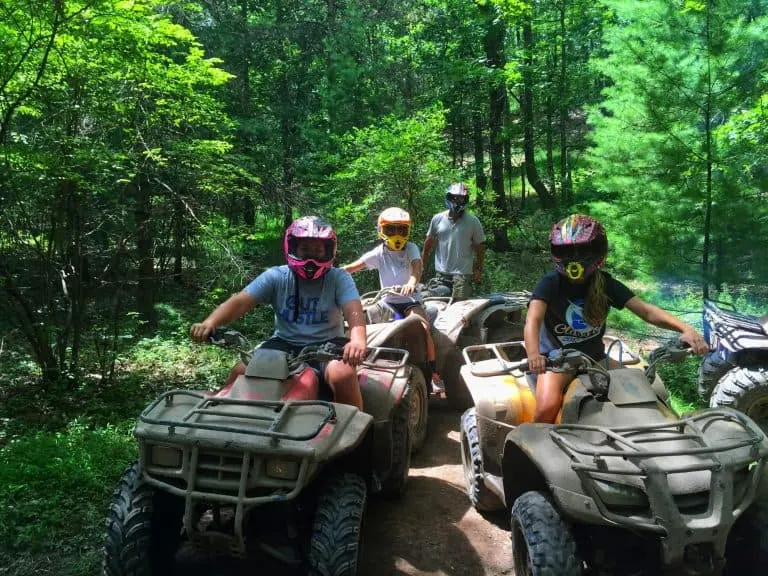 Got adventure-loving kiddos? Try something like an ATV ride through trails and to scenic overlooks in the region. Several companies offer rides, some featuring guided tours as well as self-guided.
Book by the hour at Pocono ATVs at Memorytown with driver rates around $89 (you must be over 18 to drive most ATVs) and passenger rates $39 (you must be over the age of five to ride). Helmets are provided and fun is included.
13. Learn On A Historic Trolley Tour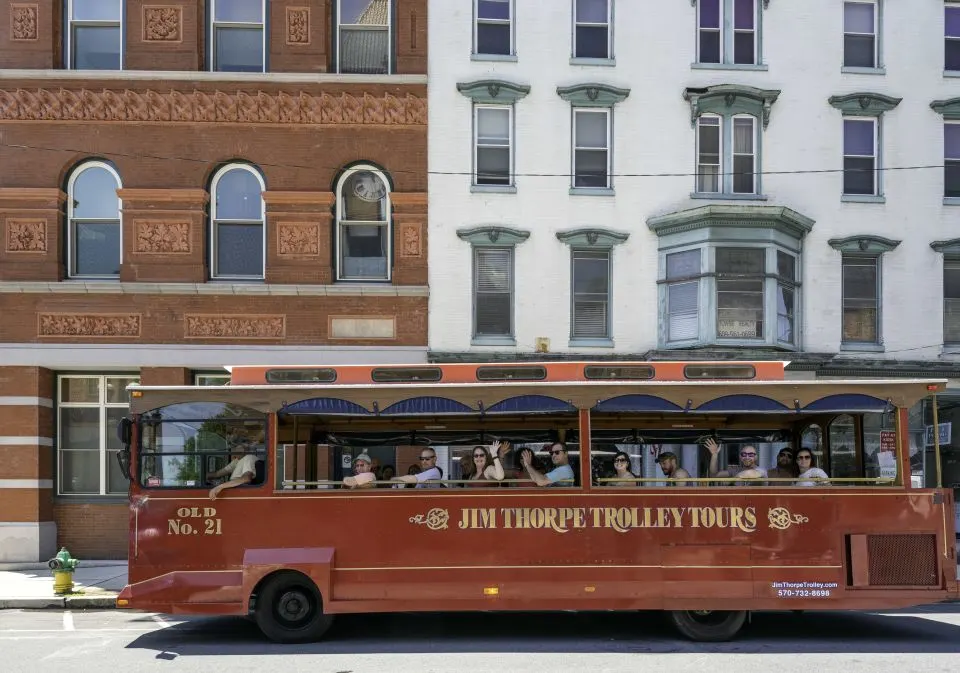 For additional fun that can work for all ages, try a historic trolley tour. Grandparents, parents, teens, kids and babies can join in the fun as the trolley takes a trip to specific spots that were meaningful in history.
Explore and view some of the oldest buildings and roads in the Pocono mountains all while learning about the rich history of the region. Incredible scenery and natural wonders are a part of the trip as well.
Tours average 70 minutes long, are perfect for all ages, are available at a variety of times during the week as well as weekends, and cost roughly $17 per person. There's a booth in front of the visitor center in Jim Thorpe for easy ticket purchasing for the trolley there.
14. Zoom Down the Hillside On The Mountain Coaster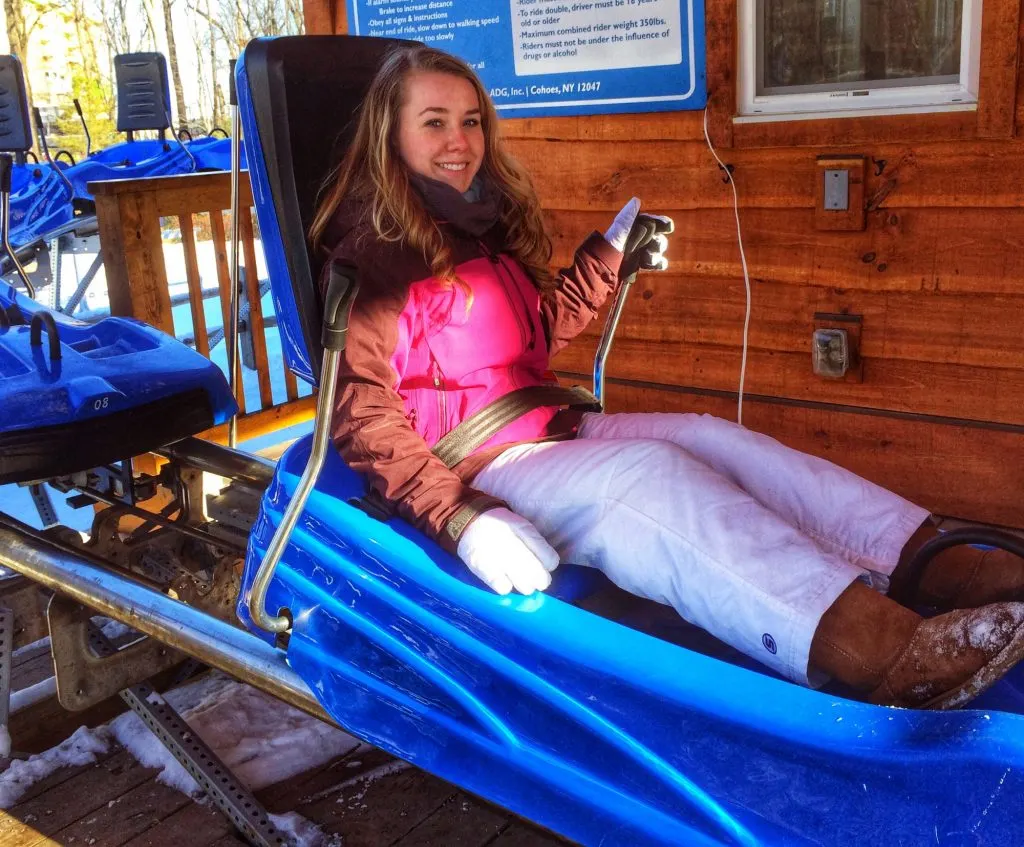 The mountain coaster ride at Camelback Mountain Adventures is not to be missed. The 4500-foot steel track coaster lets you whiz through the treelike and down the mountain at the speed you choose to go.
This is PA's only mountain coaster, so trying it when vacationing in the Pocono Mountains is a must. Drivers of the ride must be at least 52 inches tall and at least nine years old. Riders must be at least 36 inches and at least three years old and must be driven by a responsible driver over the age of 18.
Combined passenger weight cannot exceed 300 pounds to enjoy the fun. Be sure to wear closed-toed shoes, as well – no flip flops or crocs are permitted.
15. Race Your Family On A Go Kart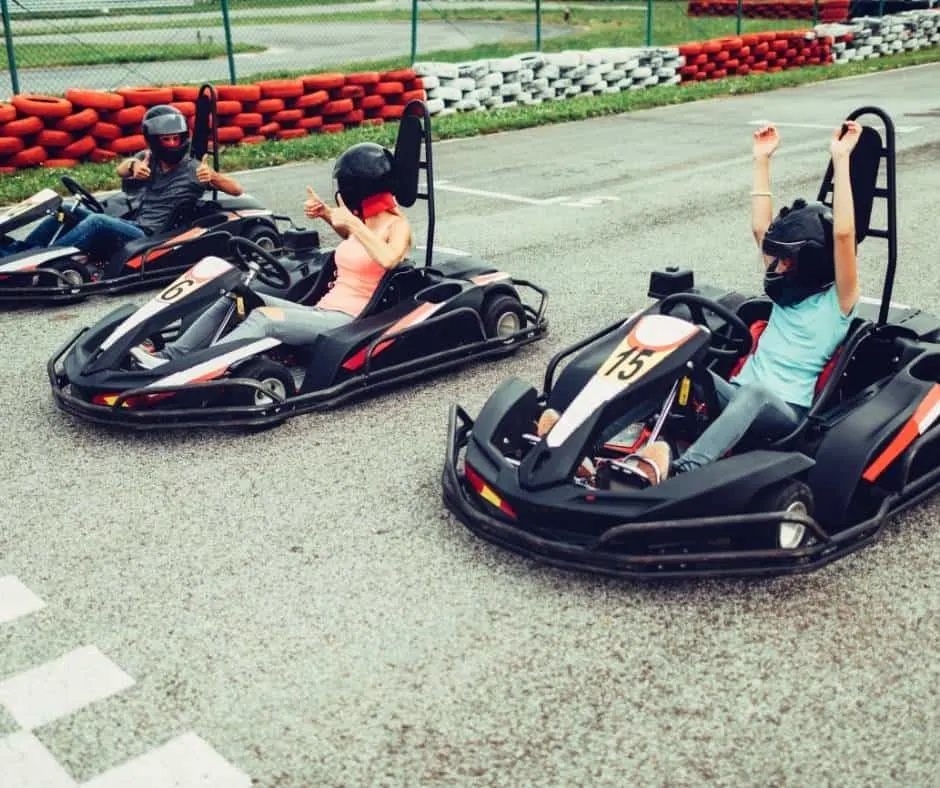 Go karts are the perfect option for families who like a little more speed in their lives. Visit businesses like Pocono Go Karts, a family-run venue that was the Northeast's first full-size go kart track.
This location offers both adult and kiddie outdoor karting, and has lighting for evening racing. Race your siblings, your parents, your friends, or that random kid next to you if you'd like.
To ride on the adult track you need to be at least 10 years old and 54 inches tall. If your child does not meet those requirements, they may ride as a passenger. All other children may ride in the kiddie track.
Visit from Memorial Day weekend to Labor Day weekend, 11am to 8pm. There are other activities are available onsite as well, including mini golf and target paintball.